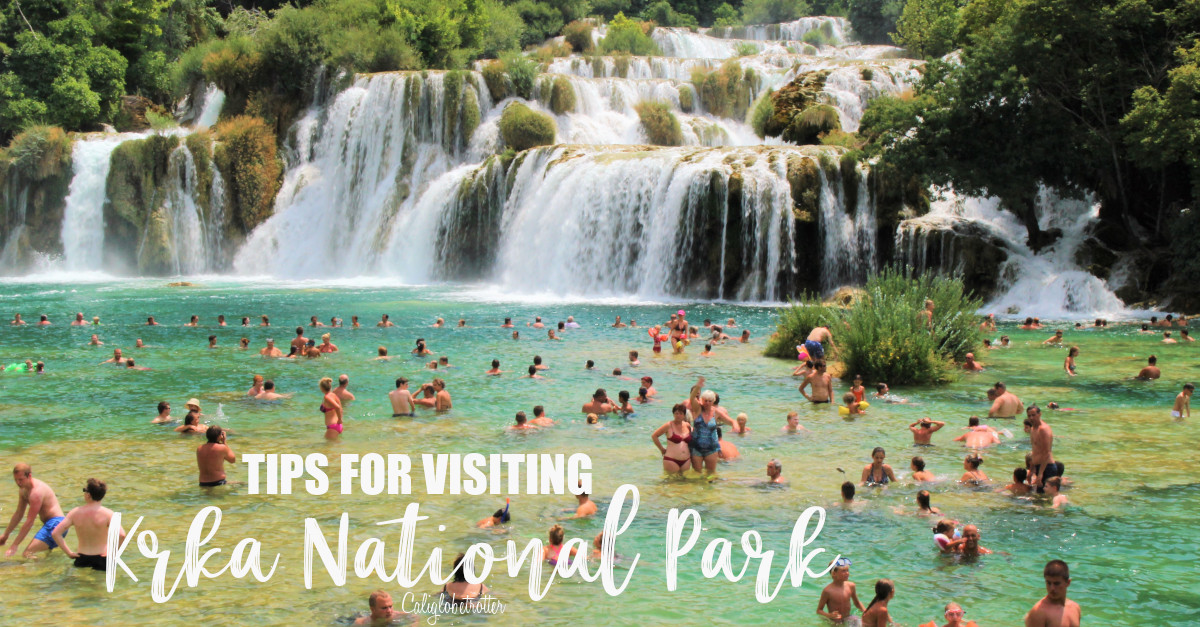 Disclaimer: This post contains affiliate links. If you click on one and make a purchase, I might make a little extra spending money, at no extra cost to you. As always, all opinions are my own and these products/services have been found useful during our travels and come highly recommended to you from yours truly!
Upon deciding which National park to visit, Plitvice Lakes or Krka, I could not possibly decide which one I wanted to visit the most. So we visited both. And for good reason: they are both stunningly beautiful.
Located almost in the center of Croatia close to the coastline, stopping at Krka made the perfect afternoon destination along our road trip through Croatia and is an easy day trip from Zadar to Split. Krka National Park is reachable in about an hours drive from both cities, therefore, is also a great excursion from either city.
Want to Swim Beneath a Waterfall? PIN IT FOR LATER!!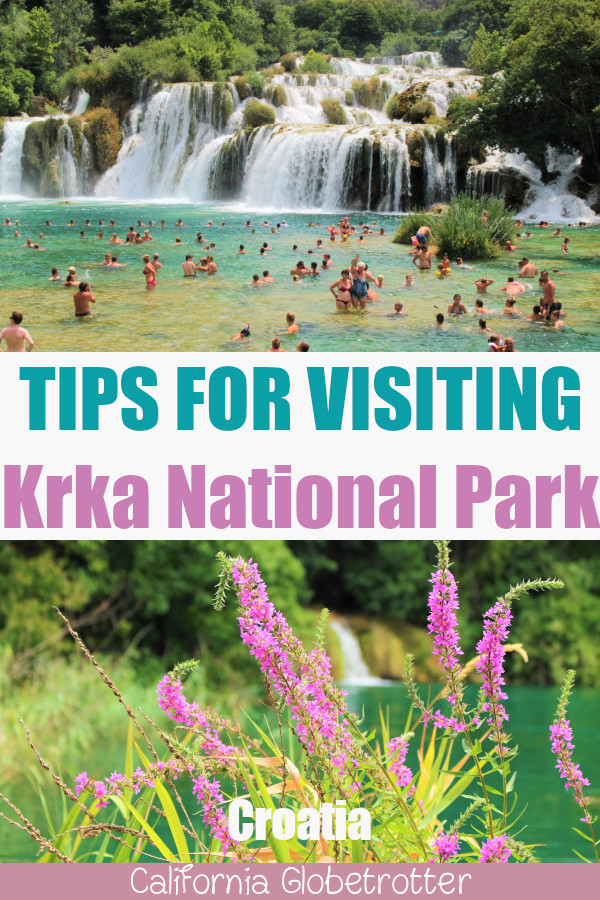 How to AVOID Looking Like a Tourist in Europe
Your ESSENTIAL Guide to Europe
10 Day Road Trip Guide to Croatia
History of the Krka National Park
The park was proclaimed a National Park in 1985 due to its exceptional beauty of its natural phenomenal waterfalls. The waterfalls are made of Travertine, which is limestone that has been formed and carved out by Mother Nature. The most popular and sought after park of the park is the Skradinski buk waterfall which can be viewed year round thanks to an intricate network of wooden pathways, similar to Plitvice Lakes, although in much better condition.
How To Get to Krka National Park
Krka National Park has two main entrances. From Lozovac, the waterfalls are much easier to reach as it requires buying your ticket, taking a bus down to the falls for 5 minutes or walking/hiking downhill for about 900m before walking about an hour along the wooden pathway before reaching the best swimming pool in Croatia. I do not suggest hiking downhill unless you are prepared for hiking as it is very steep and very rocky. Unfortunately, this is the path we took down as the Park employees said it was only a 10 minute walk. With the extreme heat Croatia had been having, taking the bus would have been much more pleasant.
The second entrance to the park is from the small town of Skradin where visitors can catch a boat, only from April-November which takes around three hours before reaching the waterfalls. While that would have been even more enjoyable and relaxing as you float downriver, there just wasn't enough time to do that. However, both the bus and the boat price is included in your ticket, so you have the decision to decide which you would prefer.
Follow the Wooden Paths
As we begun our walk to the waterfalls, we were absolutely overwhelmed by the incredible amount of people who were visiting the park. We had thought for sure there would be less people here than at Plitvice Lakes. While both attract untold numbers of tourists, we were surprised that it would be so crowded. It was almost worse than Plitvice Lakes and at times, we stood in line waiting for the human traffic to continue moving. Turns out the problem was group tours stopping along the small walkways which made it difficult for non-tourist group visitors to pass. (Tips for AVOIDING Crowds When Traveling)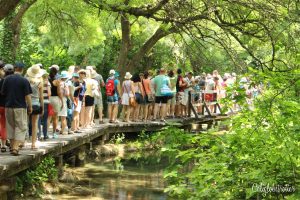 The walk to the waterfalls was beautiful, but it had nothing on Plitvice Lakes. But the water was still just as clear and the fish were just as entertaining to watch, swimming upstream. There were wooden paths over streams and flowing waterfalls, but there was no climbing up and down above large waterfalls. Walking the wooden paths here are much more relaxed that at Plitvice Lake National Park.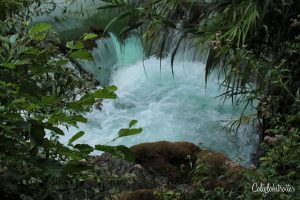 Before reaching the waterfalls, there is a look out point which over looks the Skradinski basin where everyone is swimming. It's here that every possible tourist tries to cram into this little view point for a great picture, and yes, I did it too. But it was worth it to get a glimpse of what was waiting for us just around the bend!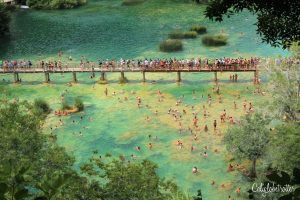 Bring a Picnic and Enjoy the Afternoon!
Finally, upon reaching Skradinski buk, there was a huge lawn for people to spend the afternoon laying out and swimming. There were so many people, it was almost impossible to find a place to lay out in the shade or relax without a tourist trampling over you, so if you want a good spot, get there early! I also wouldn't leave any valuable belongings laying around unless someone in your group will stand guard!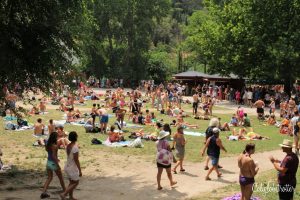 There is only one small bridge which crosses the lake where you can grab that iconic image of the falls. If you visit during peak season, you will be pushing your way through the crowd. There was such a traffic jam on this tiny bridge with people moving in both directions and stopping to take a memorable photo with the waterfalls. It was almost impossible to get a great shot with all the people passing and there was a lot of huffing and puffing from surrounding tourists when you were the one to stop traffic for a picture. At this point, I really had to just not care about the other people. I was entitled to a picture of my time at the park just like anyone else. One younger guy even rudely asked if "the rest of us could take a picture". Hold your horses you terrible tourist!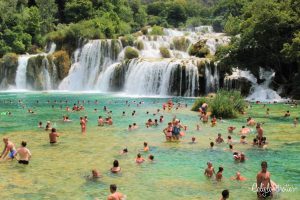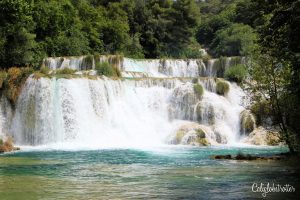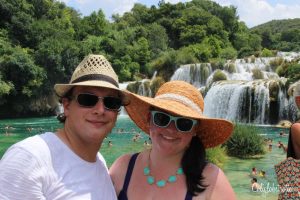 So, then came the problem of finding a place to put down our stuff where we could still see it while swimming. There were just so many people wandering around, there was no way I was comfortable enough with leaving our backpack and camera laying around for anyone to just pick up and walk away with. So we found a small corner at the end of the bridge closest to the waterfalls, and shoved our belongings into a bush before dipping into the water.
The water was incredibly clear and relatively warm, it made for a pleasant afternoon swimming around for a while. Unfortunately, that day we had forgotten our water camera and were not able to take pictures. But maybe that's how something amazing should be experienced. It should be felt and appreciated more deeply than viewing everything you visit through a lens. Although to be honest, I still wanted that picture!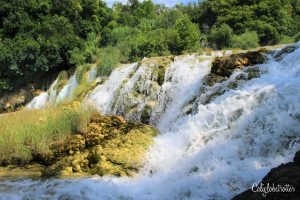 You can not swim right up to the waterfalls as the Park has it roped off at a certain point. But it was a once in a lifetime experience to swim at the bottom of such a natural phenomenon such as this stunning waterfall.
After finishing swimming, we climbed up the staircase leading to the buses, only to find people climbing on rocks along the wall which prevents crazy tourists from swimming on the top of the waterfall. Here we got some great pictures of from the top of the waterfall looking down and you could see the different levels of Travertine which had been carved our, forming the waterfalls.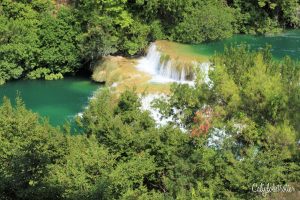 I am glad we chose to come to Krka National Park, if only for the waterfall but if I had to chose which park to do again, it would definitely be Plitvice Lakes National Park as the water there is so glorious and crystal-blue/turquoise. I couldn't take my eyes off of the water the entire time, while at Krka I kept wondering when the crystal-blue waters would come. Yes, the waters by the waterfalls are a pool of emerald-green waters, it has nothing on Plitvice Lakes!
Things to know BEFORE visiting Krka:
The toll road from Zadar to Krka costs 22 Kuna/3.10€
Take the E71/A1 to Lozovac for a more direct route to the waterfalls
Use Entrance 2 at Skradin for the longer boat tours down the river. There is also a shorter boat cruise to the Visovac Lake and monastery on the island.
During peak season June-September adults are 110Kuna/~14€, children 80Kuna/~12€
Parking is free for the entire day at Lozovac entrance
It takes about 1 hour to walk the wooden pathways before reaching the waterfalls
Swimming is not allowed at Plitvice Lakes, so if you want to swim, Krka is the place to go!
Tips for visiting the park:
Plan to arrive early as many people arrive around noon
Bring plenty of water and snacks for along the way
Wear comfortable sandals as walking on the wooden planks pathway can start to hurt the feet
Take the bus!! Do not walk up/down the hill unless equipped for rocky hiking!
If you're looking to visit Croatia this summer, I highly suggest buying any of the following travel guides which I have personally used to help you navigate through this beautiful country! These are my travel bibles!
Disclaimer: This post contains affiliate links. If you click on one and make a purchase, I might make a little extra spending money, at no extra cost to you. As always, all opinions are my own and these products/services have been found useful during our travels and come highly recommended to you from yours truly!
Croatia Day Trips:
and a detour side trip to Mostar, Bosnia-Herzegovina!
Liked this post? PIN IT FOR LATER!!
Save
Save
Save
Save
Save