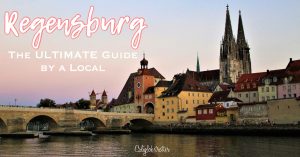 Disclaimer: This post contains affiliate links. If you click on one and make a purchase, I might make a little extra spending money, at no extra cost to you. As always, all opinions are my own and these products/services have been found useful during our travels and come highly recommended to you from yours truly!
Regensburg really is the hidden gem of Bavaria and is actually quite often overlooked by visitors to Europe. As it was once the bustling empire of the entire Holy Roman Empire, it was one of the most important cities in Europe from 788 to 1806. Yet, it's often overlooked for larger and more popular towns like Nuremberg or Munich but is one of the most scenic destinations in Bavaria!
As an expat who has lived in this city for 10 years, I have come to learn all the treasures this town has to offer and I can never stop raving about it. It truly is a diamond in a world of trendy hot spots, but has also been named as one of the most beautiful cities in the world, so I'd say I hit the jackpot when I moved to one of the most STUPID PRETTY towns in Europe! And I can say 100%, after 10 years here, Regensburg is definitely one of the best kept secrets in Germany and one of the best secret cities in Germany that is just so beautiful it's surprising that we are not drowning in mass tourism.
Want to Visit this Charming City? PIN IT FOR LATER!!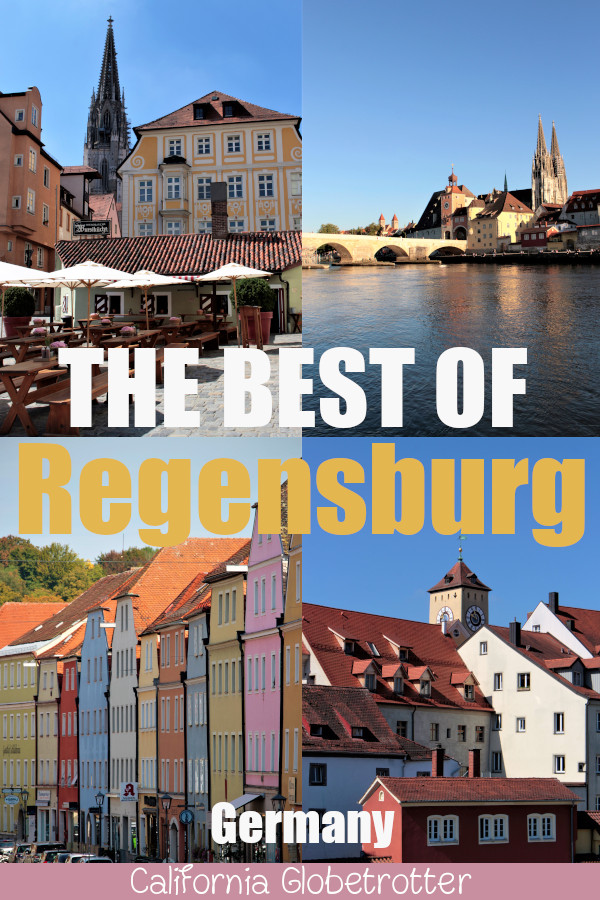 How to AVOID Looking Like a Tourist in Europe
15 Things to Do When You Travel
Goethe once proclaimed, "Regensburg is beautifully situated! The area had to attract a city!"
History of Regensburg
As an easy day trip from Munich, Regensburg is a great place to immerse yourself into Bavarian history and architecture! Many people call Regensburg the "Northern Most Italy" because the summer is fantastic here and the streets are lined with cafes and small alleys that meander and wind through the whole town and many beautiful colored buildings. It's impossible to get lost with the spires of the Regensburg Cathedral always leading you home. With three rivers, the Naab, the Regen and the Danube, the first settlement was founded during the Stone Age and because of its great location, a Roman fort was built here called Castra Regina in 79 AD. It was then the capital of Bavaria from 530 to the 13th century and grew into a vital medieval trading route when the Stone Bridge was built between 1135 and 1146. After the Napoleonic Wars, Regensburg was into the Kingdom of Bavaria in 1810.
Regensburg was lucky to escape the Second World War with almost no damage even though it was the home of an aircraft factory and an oil refinery. Both of these were destroyed and luckily only one of Regensburg's most important cultural buildings was lost and never rebuilt. Otherwise, the entire town is still in its original state and is protected by a law which saves cultural buildings in Germany. Therefore, the entire city center is a UNESCO World Heritage Site! Regensburg is definitely one of the must-see destinations in southern Germany and still very much one of Germany's hidden gems!
Today, Regensburg is also rated as one of the happiest places in Germany, beating Hamburg, Berlin and Munich with a whopping 61% of residents (including myself) who are "very happy" with our beautiful city! I get that makes Regensburg the Best of Bavaria!
How this Guide Works:
I have written this post by dividing the Old Town into sections which will include points of interest, places to eat and places to stay in each region. This guide can have two different starting points, depending on how you arrive to the city. If you arrive by train or bus, then I suggest starting with Maximilianstraße, the main shopping area. Either or, you will follow a simple round about walk through the Old Town! If you arrive by car, I suggest parking at Dachauplatz (Dr.-Wunderle-Straße 8, 93047 Regensburg). With this self-guided walking tour of Regensburg, you won't need to do a walking tour! I've got you covered the whole way!
This article is now available as a mobile app. Go to GPSMyCity to download the app for GPS-assisted travel directions to the attractions featured in this article!
Maximilianstraße
As soon as you exit the Hauptbahnhof (Main Station) or get off the bus at Albertstraße, you will head straight for the main thoroughfare. Not the most exciting street in the Old Town, so don't get bummed out. Instead, it offers a few restaurants, a historic cafe and some affordable shopping. 
Where to Stay: 
Hotel Weidenhof: Located along Maximilianstraße, this charming little hotel has recently been renovated and is within 5 minutes walking distance from the train station.
⭐⭐⭐⭐ – Eurostars Park Hotel Maximilian – By far the most impressive hotel in Regensburg with a soft yellow and white stucco facade, the hotel offers absolute comfort and class in the heart of the Old Town!
Where to Eat:
Ganesha: For delicious Indian food and a great cultural ambiance, come here, however, take the customer service with a grain of salt. 
Cafe Fürstenhof Cafehaus: a historic cafe offering delicious coffee and cafe with a flair of Viennese charm as well as a wonderful breakfast and a balcony to enjoy the day.
Dachauplatz
Here, you'll find one of our largest & closest parking garages to the Old Town. On the ground floor of the parking garage, you'll surprisingly find a portion of the Ancient Roman Walls of Ratisbona which once surrounded the entire city. Upon exiting the parking garage, you'll find the Neues Rathaus (New City Hall), the Historical Museum of Regensburg and a lovely little square.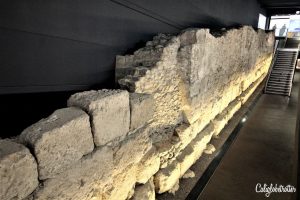 Where to Stay:
Ferienwohnung Sonnenschein: Recently built, the hotel is decorated in a fresh modern look and is located directly above a Rewe grocery store. 
Where to Eat: 
Anadolu Döner: Everyone has their favorite Döner shop and this is mine! Just a few feet away is my favorite ice cream shop! 
Unter den Schwibbögen
If you continue walking north from Dachauplatz in the direction of the Danube (Donau) River along Adolph-Kopling-Straße, you'll eventually turn left and walk down Unter den Schwibbögen, but before you do, check out the recently built and slightly controversial new Museum of Bavarian History (opening 2018). Why are you walking down this small lane? Because you'll eventually come to Porta Praetoria, the northern gate of more ancient Roman ruins which was discovered in 1885 during renovations to the Bischofhof Brewery. Be sure to walk through the gates for a glimpse of the back side of the Regensburg Cathedral. 
The Porta Preatoria is Germany's oldest above-ground structure and the only preserved camp gate.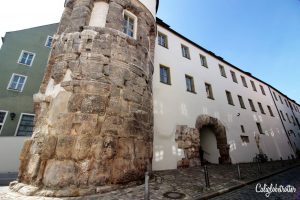 Domplatz
The Regensburger Dom (Cathedral)
Also known as Dom. St. Peter, the cathedral dominates the center of the Altstadt (Old Town). It was originally built to look like the Notre Dame Cathedral in Paris in the classic French Gothic style, but King Ludwig I of Bavaria commissioned the cathedral to add spires and was completed in 1872 after nearly 600 years of construction! The stained glass windows are still originals from the 13th and 14th centuries and are the largest collection of medieval original glass north of the Alps. They were thankfully taken out and protected during the Second World War. 
Standing in front of the cathedral always reminds me of EXACTLY WHY I moved to Europe. They just don't make 'em like this back home!
The Regensburg Cathedral is home to the world's oldest boys' choir called the Domspatzen which dates back over 1,000 years! You can also hear them live on Sundays at 10am during mass except during the summer break August-mid September.
The Cathedral also houses the world's largest suspended cathedral organ weighing 36 tonnes!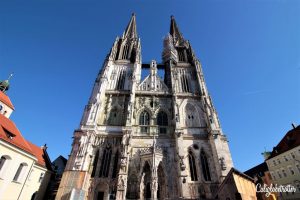 My favorite place in the whole city is one of the top rated attractions in Regensburg. Directly in front of the Dom are several café shops and an ice cream shop. I love spending a beautiful day sitting outside and looking up at this big, beautiful, gargantuan cathedral and look at the differences between the left and the right side while sipping on a Café Latte with Baileys at Haus Heuport. Nothing makes for a better afternoon!
For the best view in town, head to the Galleria Kaufhof located at Neupfarrplatz and head to the top floor to the restaurant which has a balcony that overlooks the square and has an awesome view of the cathedral. This is honestly one of the best things to do in Regensburg!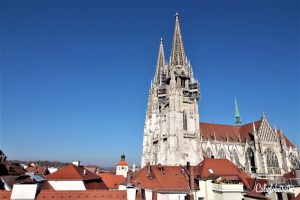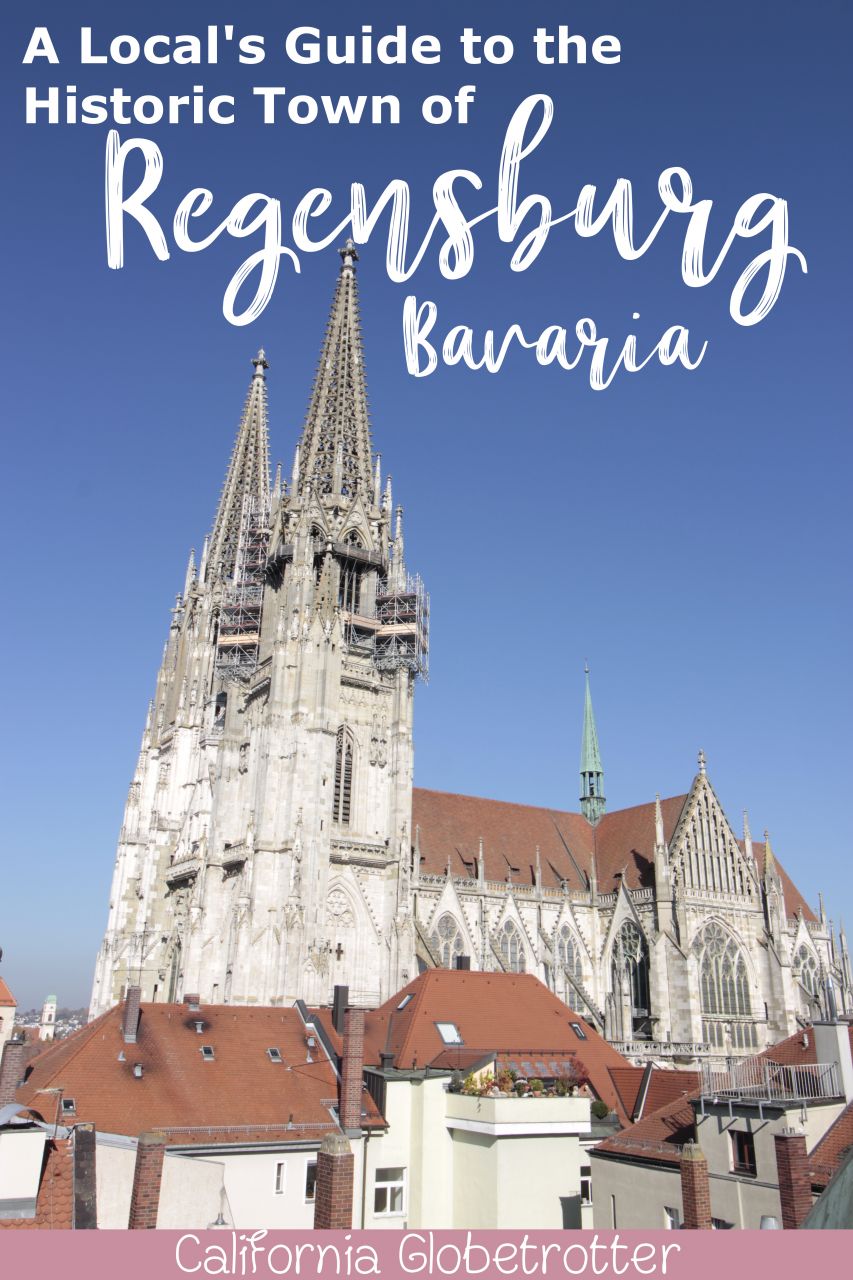 Where to Stay:
⭐⭐⭐⭐ – Hotel Bischofshof am Dom – this historic and quaint hotel is just feet from the heart of the city center and the Regensburg Cathedral with period furnishings and a deliciously classy restaurant. Highly recommended by family reviews as one of the best hotels in Regensburg!
Hotel Kaiserhof am Dom – For more affordable accommodation directly in front of the Regensburg Cathedral and near several cafes & restaurants, you couldn't get a better location!
Where to Eat:
Haus Heuport: My favorite cafe/restaurant to have a cuppa Cafe Latte with Bailey's while enjoying a direct view of the cathedral. On a rainy or cold day, meander inside and go upstairs for a unique atmosphere, however, should the weather be nice, sit outside!
Weltenburg am Dom: If you're looking for the best place to eat in Regensburg, this would be it! For the BEST schnitzel and beer in town with adorable Bavarian decor, come here, but make a reservation before hand! Seating is limited and it's quite popular with tourists and locals alike! Be sure to order the Weltenburger Bockbierschnitzel! Your welcome! Plus, they have a great biergarten!
Alter Kornmarkt
Just behind Weltenburg am Dom, you'll find the Alter Kornmarkt square which also has a small parking area. But what's important here is that you'll find several churches here and a weekly farmer's market on a Saturday morning. Of importance here because it's pretty on the inside is the Alte Kapelle (Old Chapel). 
This is a Marian collegiate church which has been remodeled several times and contains some of the most stunning Rococo stuccoes in Regensburg. However, you won't be able to walk around the chapel as it is fenced off on the inside, so you'll have to admire it from behind the iron gate. The defining characteristics of the Old Chapel is the gold leaf – everywhere.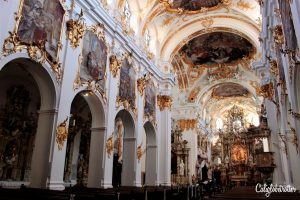 Neupfarrplatz
To the left of the Dom, you will come to Neupfarrplatz which is dominated by another small church in the square called the Neupfarrkirche. It is here, around the entire church that the Christmas market is predominantly built and people gather to sip of glühwein. During the rest of the year, this square is filled with locals and tourists hanging out enjoying an ice cream on a bench. Here, you'll also find several banks to fill your pockets for souvenirs!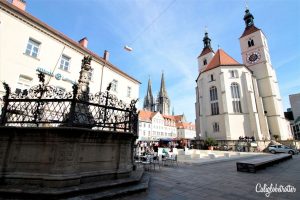 However, the secret to this square is the large, out-of-place, 70's style cement building which houses the Galleria Kaufhof. Once inside, take the elevator all the way to the top floor for an amazing and FREE view of the beautiful square and of the Regensburg Cathedral & Neupfarrplatz.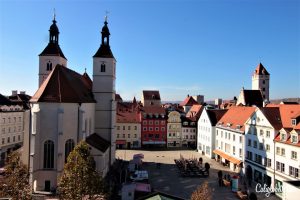 Where to Stay:
Regensburg-Apart – directly above the ALEX Regensburg restaurant, the hotel is totally affordable, comes with simple decor and an amazing view over Neupfarrplatz!
Where to Eat:
ALEX Regensburg: For a mixture of any and all food, with a great atmosphere inside and outside, Alex offers a variety of food for anyone who is picky. From burgers to schnitzel to salads and pasta. 
Hacker-Pschorr s'Wirtshaus im alten Augustiner Kloster: For more traditional Bavarian cuisine and a biergarten, walk through a small tunnel into the inner courtyard.
Kramgasse & Tändlergasse
Either from Domplatz or Neupfarrplatz, you can meander these small alleys which are so small a car cannot even drive through here, although they have certainly tried. Here, you'll find quaint antique shops, jewelry shops and even der Hutmacher – famous for having made the Mad hatter's Hat from Alice in Wonderland. It's incredibly romantic to see the Regensburg Cathedral peaking out through the small alleys.
Brückstraße to The Stone Bridge
If you turn left from Hotel Bischofshof am Dom when near Domplatz, you'll walk along a "pedestrian only" street, only residents may drive here. Here you'll find a bakery, an Italian restaurant and most importantly the Goliath Haus, which was built in 1260 and is considered one of the most well-known landmarks of Regensburg with its painting of David and Goliath done in 1573. Theology students were called Goliards as their guardian angel was called Golias. It is believed that the present Goliath house was built on the location of the quarters in which these traveling theology students often stayed during the 12th century.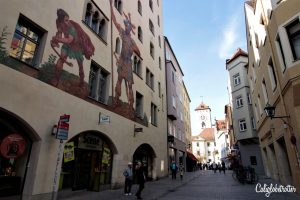 From here, you can walk down Brückstraße to the Steinerne Brücke (Stone Bridge). At one end of the bridge, you'll find a the Bridge Museum and UNESCO World Heritage Visitor Center. To feel like a local, grab some beers and head down to the banks of the Danube and watch the sunset or smoke some hookah!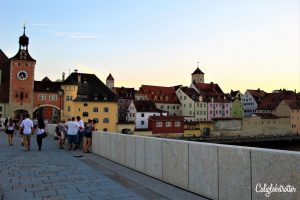 Where to Stay:
⭐⭐⭐⭐ – Hotel Goliath am Dom – this elegant hotel provides exquisite comfort in the heart of the city center just feet from the Stone Bridge and has a sauna to relax!
Where to Drink:
Irish Harp: A quaint little Irish pub located on the banks of the Danube river and next to the Stone Bridge. Get here early because space is limited but the vibe is awesome, especially when there is live music! Don't come here for a Bachelor/ette party as they won't serve you!
The Stone Bridge
The historic 16 arched stone bridge dates back to the 12th century and is the oldest bridge in Germany which has never been rebuilt. The title of oldest bridge in Germany in general goes to Trier. However, Charlemagne had a wooden bridge built here but was inadequate, so it was later built in stone. For more than 800 years, this was the only bridge to cross the Danube linking the Old Town with Stadtamhof until 1930. Halfway over the bridge, you'll find a secondary bridge jutting off to the left which will lead you down to the best biergarten in town, the Alte Linde, which has the best view of the Old Town & cathedral.
What makes the Stone Bridge important is the fact that it is also the only bridge on the Danube between Ulm and Vienna. 
The Stone Bridge was used as a model for the Charles Bridge in Prague.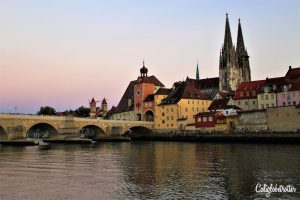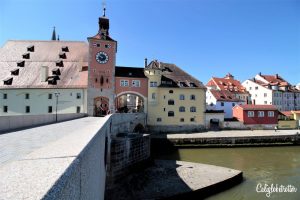 There is a legend that the Bruckmandl, who built the bridge, made a bet with the Master builder of the cathedral as to who would finish first. Seeing that the cathedral was making far more progress than the bridge, the Bruckmandl made a deal with the devil so that he could finish the bridge before the cathedral was finished. The devil agreed to help him but promised that the first three souls to cross the bridge would die. The Master builder of the cathedral was so over come with despair he jumped from the top of the cathedral. On the day the bridge was to be inaugurated, before the devil could collect his three souls, the Bruckmandl shooed two birds and a dog. The devil was so enraged that he tried to destroy the bridge, which would explain its crooked shape.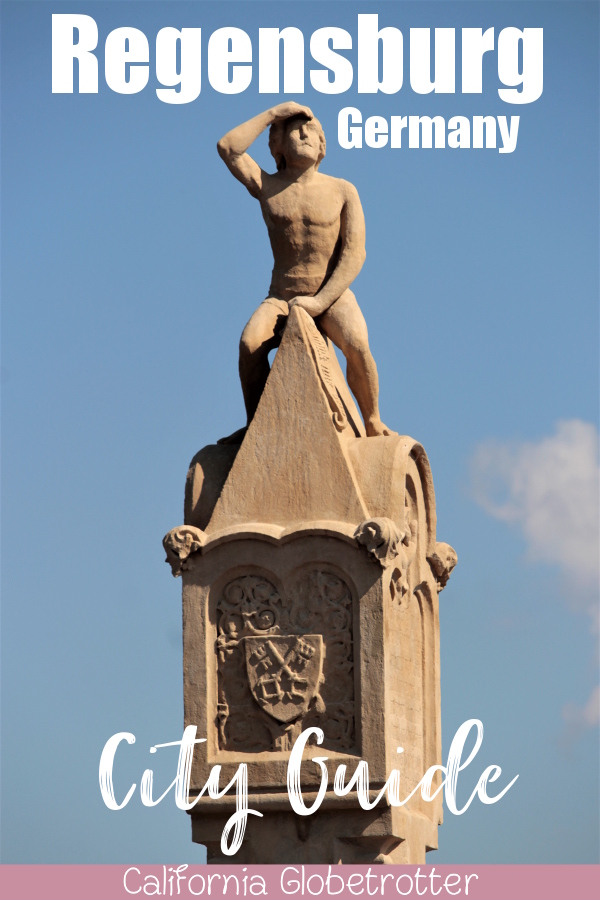 If you want to visit Regensburg like a local, then be sure to catch a sunset down by the banks of the Danube River. Be sure to bring a few beers, perhaps a little Brotzeit or even your hookah bong and just simply enjoy the long summer nights!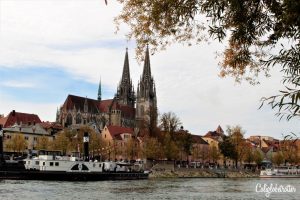 Just east of the Eisener Brücke along the banks of the Danube River, you'll also find the Königliche Villa, which is another Royal Palace, but is not related to the Thurn and Taxis castle, but instead was built by the Bavarian King Maximilian II in 1854-56 as a summer residence. Next tot he Royal Palace is one of Regensburg's small but lovely parks, Villa Park. Just in front of the villa is the Ostentur, the east gate that was once part of the Medieval walls that surrounded the city.
The Historical Wurstküchl
Also by the river is the historical Wurstküchl – a sausage kitchen which dates back hundreds of years. Here you can enjoy a delicious sauerkraut with bratwurst with Regensburg's famous Händlmaier Senf (Sweet Mustard) and drink a good beer while looking at the Stone Bridge and the Danube river. The kitchen was built in order to cater to the workers who were building the bridge and has been around for 900 years.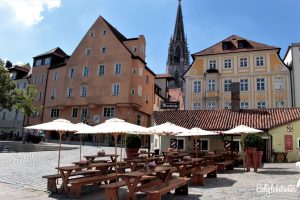 Stadtamhof
If you walk over the entire length of the Stone Bridge, you will find a small island called Stadtamhof with a main street of colorful rainbow houses with a beautiful view of Dreifaltigkeitskirche up on the hill overlooking Stadtamhof.  Technically, Stadtamhof was a small neighborhood in the middle of Regensburg and wasn't incorporated into the city until 1924, therefore, you'll you'll enjoy quite a different vibe than the historic city center. Along the banks of the river, people love to lay out on the grassy weisse on sunny days and BBQ or hang out with their hookah bongs. There is also another beautiful church which overlooks a portion of the grassy lawn. Here, you'll find several ice cream shops, a few restaurants, second hand shops and the Spital Biergarten. 
Stadtamhof is one of the best preserved medieval metropolis with over 1,000 UNESCO heritage-listed buildings.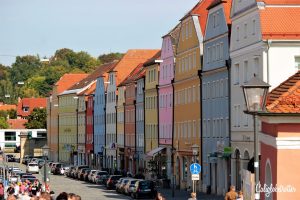 Where to Stay:
⭐⭐⭐⭐  SORAT Insel-Hotel Regensburg – located on a small island on the Danube River, this hotel decorated in 1930s decor offers the BEST view in town of the Old Town & Cathedral and is next to the best biergarten in town! Can't get much better than that!
Hotel Lux – Located at the northern end of Stadtamhof, this charming little hotel is decorated with classy antique decor, this new hotel is affordable for all and is pet friendly!
Where to Eat:
Early Bird Frühstücksküche: For a delicious breakfast, come to this quaint little restaurant which brings in local produce from around the region. 
Haidplatz 
Just beyond the Altes Rathaus is Haidplatz which is the central square of Regensburg popular for all the different types of restaurants with endless rows of tables outside to enjoy the beauty of this square. Every building in this square in unique in it's own right with a water fountain in the center to top off the glory of this part of town. During the Medieval Ages, jousting tournaments were held here when it was originally a grassy field.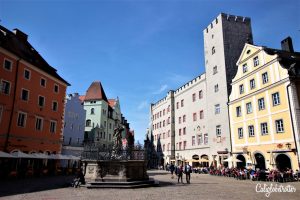 Where to Stay:
⭐⭐⭐⭐ Hotel Goldenes Kreuz – Stay in one of Regensburg's best hotels, once used for emperors in former centuries which dominates this square which are elegantly decorated to receive your highness!
⭐⭐⭐⭐ Altstadthotel Arch – just opposite is another historic hotel dating back to the 12th century and offers modern rooms, along with two restaurants and a bar!
Where to Eat: 
Da Tino: a popular Italian restaurant for having large portions of pasta in the afternoon for an affordable price! In the evenings though it's highly recommended to make a reservation!
Peppers Regensburg: For a taste of Mexico, try this popular restaurant, especially for Fajitas on Monday nights. If you're not into Mexican food, they also serve Burgers and Spare Ribs!
Where to Drink: 
Just off Haidplatz is another little alley where you can find Hinterhaus, a very small medieval style bar which serves German beers and other drinks. You'll find locals often playing card games here!
Arnulfplatz
As you continue walking west, you'll eventually come to Arnufplatz, a main bus hub and a beautiful square lined with colorful buildings, each more unique than its neighbor. Of importance here is without a doubt Kneitinger, one of Regensburg's local beer producers which is often crowded with locals coming for a beer throughout the day. They have been brewing beer here for over 150 years!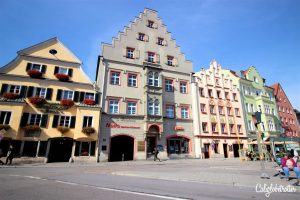 Where to Stay:
Arnulfsplatz Aparts: Recently renovated, this hotel is offers comfortable & modern rooms with an outside Jacuzzi!
Where to Eat:
Kneitinger: Offers traditional Bavarian cuisine in a beer hall style restaurant where you can pair any meal with a delicious beer!
Sushihaus: Hidden back in a corner of Arnulfsplatz is this super tiny Japanese cuisine restaurant. Space is limited and the food is FANTASTIC, so make a reservation beforehand! My favorite: Duck Sushi!
Jakobstraße
Walk around the corner from Arnulfsplatz via Neuhausstraße to Jakobstraße where you will the Scots Monastery which was founded in the 11th century by, you guessed it, Scots. The most famous architectural element of the church is the Schottsportal (Scots' Portal)  on the northern side of the church and is richly decorated with both ornamental and sculptures. It is the last piece of the original structure and is today, enclosed in a protective glass case and has been thoroughly interpreted since the 19th century.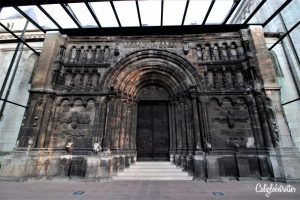 Bismarkplatz
Just around the corner from Arnulfsplatz is the popular hang out spot for all Regensburgers of all ages. Don't ask me why. In the summer months, this square is crowded with locals wanting to enjoy a drink with friends sitting anywhere and everywhere. Here, you'll find the Regensburg Theater and Haus der Musik. So if you want to feel like a local, grab a drink and somewhere to sit on the ground or one of the two fountains and hang with friends! Grab an ice cream from Stenz Eis which offers organic ice cream and don't be surprised if you have to wait 20+ minutes in line!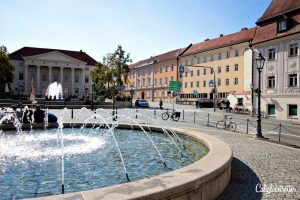 Gesandtenstraße to Neupfarrplatz
Head back towards Neupfarrplatz by casually strolling down Gesandtenstraße which is lines with more restaurants, shops and cafes. Eventually you'll come upon Dreieinigkeitskirche which I highly recommend checking out and climbing the tower for 2 €. You'll be greeted by yet another amazing view over the Old Town and the Regensburg Cathedral. 
Obere Bachgasse to Schloss Thurn & Taxis
Before you completely reach Neupfarrplatz, turn right and stroll down Obere Bachgasse where you'll find a few restaurants, bars and more colorful crooked buildings. Continue on and turn right on Emmeramsplatz which will lead you to Regensburg's castle.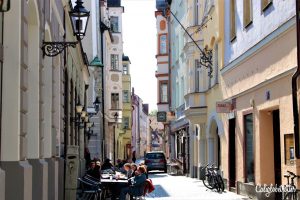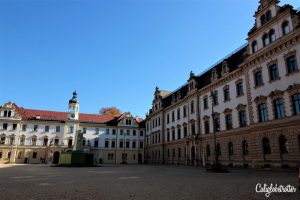 Thurn and Taxis Palace which is also known as the St. Emmeram's Abbey. In 1812 the monastic buildings were granted to the Princes of Thurn and Taxis, who had St. Emmeram's Abbey converted as a residence known from then on as Schloss, although it's mostly a bnch of mismatched buildings with beautiful turrets crowned by a golden crown. The St. Emmeram Abbey is a hidden treasure in Regensburg with beautiful stucco and lavish gold throughout the church. But you have to stand behind a metal gate in order to get a view of the church.
Thurn & Taxis is Europe's largest inhabited palace which has more rooms than Buckingham Palace in London!
The Thurn and Taxis is a noble family which played a large part in the postal service of Europe during the 16th century. The family gained its wealth in the middle of the 18th century when the princes of Thurn & Taxis founded the first large-scale postal service in Europe. They also host a beautiful Weihnachtsmarkt (Christmas market) during the Christmas season and the Princess Gloria participates in the festivals.
Where to Stay:
Brook Lane Hostel – For two weeks I lived in this comfy and affordable hotel in the heart of the Old Town which has a small supermarket downstairs, so don't be fooled that this isn't a hostel. It is definitely one of the best hostels in Regensburg!
Where to Eat:
Brauhaus am Schloss: Associated with the castle, this brewery restaurant serves traditional Bavarian cuisine, has large copper distillers and a quaint biergarten in the back. 
The Towers of Regensburg
Throughout the town, you might have noticed that there were numerous towers. Why? What's with all of the towers? Well, when they were built, they were symbols of that time, when that town belonged to the wealthiest metropolises of Europe and today Regensburg is home to the largest number of "dynasty towers" (Patrician Towers) north of the Alps. The most impressive one of these towers is the Golden Tower, which rises up to 50 m with nine floors. They say that wealthy patrician families competed against each other to see who would be able to build the highest tower of the city. Rumor has it that there are at least 94 towers in Regensburg, but some are hard to spot as buildings have been built higher over the centuries. 
Hiking in Regensburg
If you're interested in stretching your legs and getting out for a bit of a leisurely or brisk walk, then head over to Auf der Winzerer Höhe by taking Bus 17 to Schelmengraben (or drive and park further up the hill to the parking lot which saves about 10 minutes walking) Then after about 40 minutes walking (give or taking stopping for pictures and playing in the leaves), you'll come to a big grassy field which has amazing views over the Danube and the entire Old Town. We are quite lucky here in Regensburg that every autumn, we are plunged into a "Golden October" for as far as the eye can see, therefore, Regensburg is one of the best places to visit in Germany in autumn!
Events in Regensburg
Germany's Largest Craft Beer Festival / Deutschland's Größtes Craft Bier Festival
For a few short days a year in May, the main square, Neupfarrplatz, turns into Germany's largest craft beer festival in Regensburg. Considering that the square is not very large, you definitely get the impression that Craft Beer is not a full blown trend here and it is still catching on. Nonetheless, thee festival takes place every year and there are over 50 different varieties offered from around the regional, nationally and internationally. By attending, you pick up your special Craft Beer glass before meandering from on brewer to the next and sampling whatever tickles your taste buds!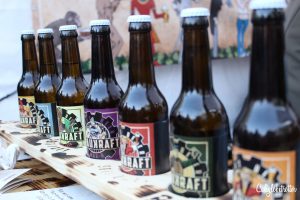 Regensburg's Dult – The New Oktoberfest!
Twice a year, on the Dultplatz across the river you'll find the town's biggest party, Dult – a smaller, quainter, cheaper version of Oktoberfest where you can actually get into a tent and afford more than one beer! Known as Maidult and Herbstdult, the beer festival takes places in May and end of August-September. Coming for HerbstDult is one of the best fall festivals in Germany!The two large tents at Dult are the Hahnzelt and the Glöckl. If you're looking for a real hardy-party tent, Hahnzelt would be the one!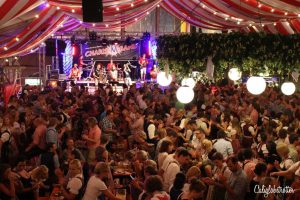 Regensburg's Christmas Market / Regensburger Weihnachtsmarkt
Typically from the last weekend in November until December 23rd, you can find several magical Christmas Markets in Regensburg, scattered throughout the town, including at the Thurn & Taxis Palace. Like many Christmas Markets in Germany, you can find a variety of Christmas gifts, Glühwein (mulled wine) and delicious festival food.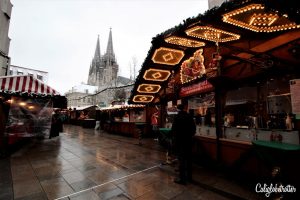 Day Trips from Regensburg
If you're looking to spend a few more days in Regensburg, then I highly recommend check out Walhalla, a large hall of fame to Germans who have contributed to the country. The memorial offers beautiful panoramic views over the surrounding country side and locals love to come here in the evenings to watch the sunset! Either go by boat, by bus 5 to Donaustauf or by driving and parking up at the memorial. 
Also recommended is doing a boat cruise down the Danube from Kehlheim to Weltenburg Abbey, a abbey built on the curve of the Danube river which has the world's oldest brewery dating back to 1060! 
Consider making a day trip to the small town of Abensberg and visit the Kuchlbauer Brewery which is known for producing delicious Weissbier! Assocaited with the brewery is with Hundertwasser Tower, designed by the Austrian artist Friedrich Hundertwasser.