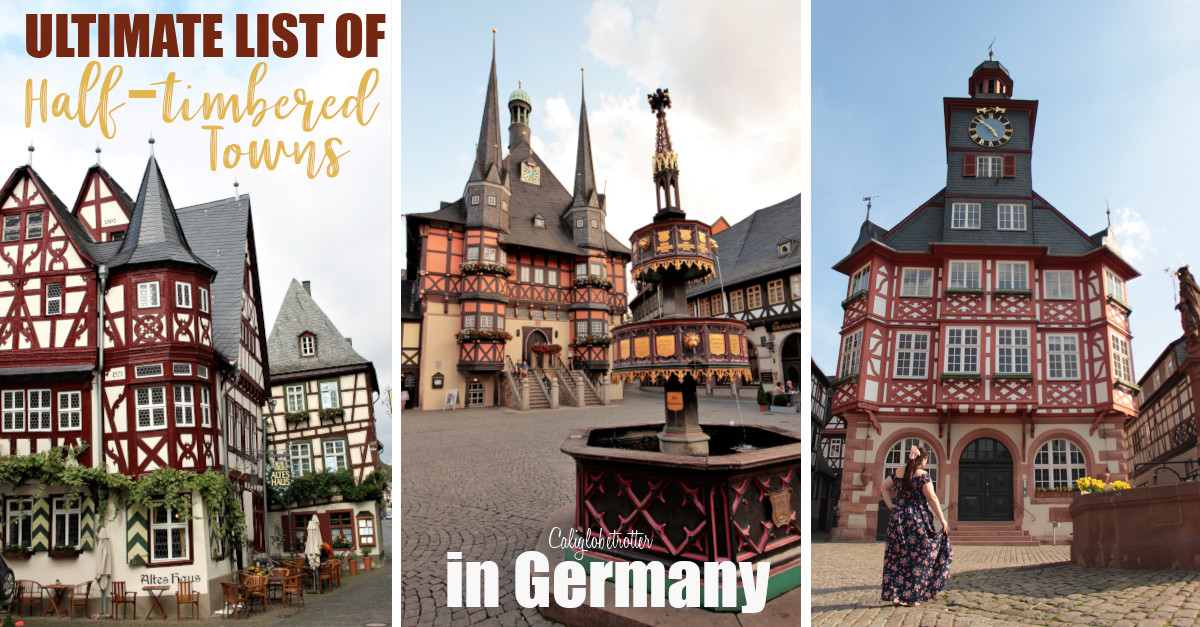 Disclaimer: This post contains affiliate links. If you click on one and make a purchase, I might make a little extra spending money, at no extra cost to you. As always, all opinions are my own and these products/services have been found useful during our travels and come highly recommended to you from yours truly!
When it comes to Germany, there's so much more to this beautiful country than all the big cities like Munich, Nuremberg, Berlin etc. For me, it's all about the small towns where time just stopped and the rest of the world moved on. Germany's half-timbered towns are like stepping back in time and walking through the pages of a Disney fairy tale book and then you realize that it's towns like this which inspired Disney movies. And it's so much better in person! And best of all, so many of these half-timbered towns are some of Germany's best kept secrets and hidden gems!
In case you LOVE Half-timbered Towns, PIN IT FOR LATER!!

How to AVOID Looking Like a Tourist in Europe
The Most Beautiful Towns on the Alsace Wine Route
Things I'll Miss About Living in Germany
My Top 10 FAVORITE Towns in Germany
Unfortunately, these are a dying breed and only make up a small fraction of Germany. There are dozens of amazing small towns, especially along the Deutsche Fachwerkstraße –  "German Timber-Frame Road", leading from the river Elbe in northern Germany to Lake Constance in the south. Along this route, 98 towns have united to protect these historic half-timbered towns aka Germany's most beautiful small towns and I share with you some of the lesser known towns in Germany as well as some of the most popular fairy tale towns in the country! Pick and choose the towns you want to visit along the German half-timbered houses route.
Here are some of the most hidden, half-timbered towns throughout Germany, some not on the Half-Timbered route, all worth a visit if you're looking to truly learn about the history and architecture of this amazing country. If you make it to the end of this post, you'll find an interactive map showing the towns if you're interested in a fairy-tale road trip through Germany! 
What is 'half-timbered'?
Half-timbered is a form of building in which both the external and internal walls are built using timber frames (wood beams) in intricate designs and patterns and  then filling the spaces between with materials such as brick, plaster or wattle and daub that was predominately used to build structures during the Medieval Ages, similar to Tudor style timber-framed houses in England.
State: Bavaria
Rothenburg ob der Tauber
One of Germany's most beautiful towns is without a doubt Rothenburg ob der Tauber for its plethora of half-timbered houses surrounded by its Medieval walls that looks straight out of a Disney pop-up fairytale book! Located along the "Romantic Road", there are endless lanes of cobbled-stoned allies and colorful buildings, offering an endless opportunity for picture perfect snaps! See for yourself! But be warned, Rothenburg ob der Tauber is one of the most iconic half-timbered towns and therefore, one of the most popular places to visit in Germany and can get quite crowded! The secret is definitely out here.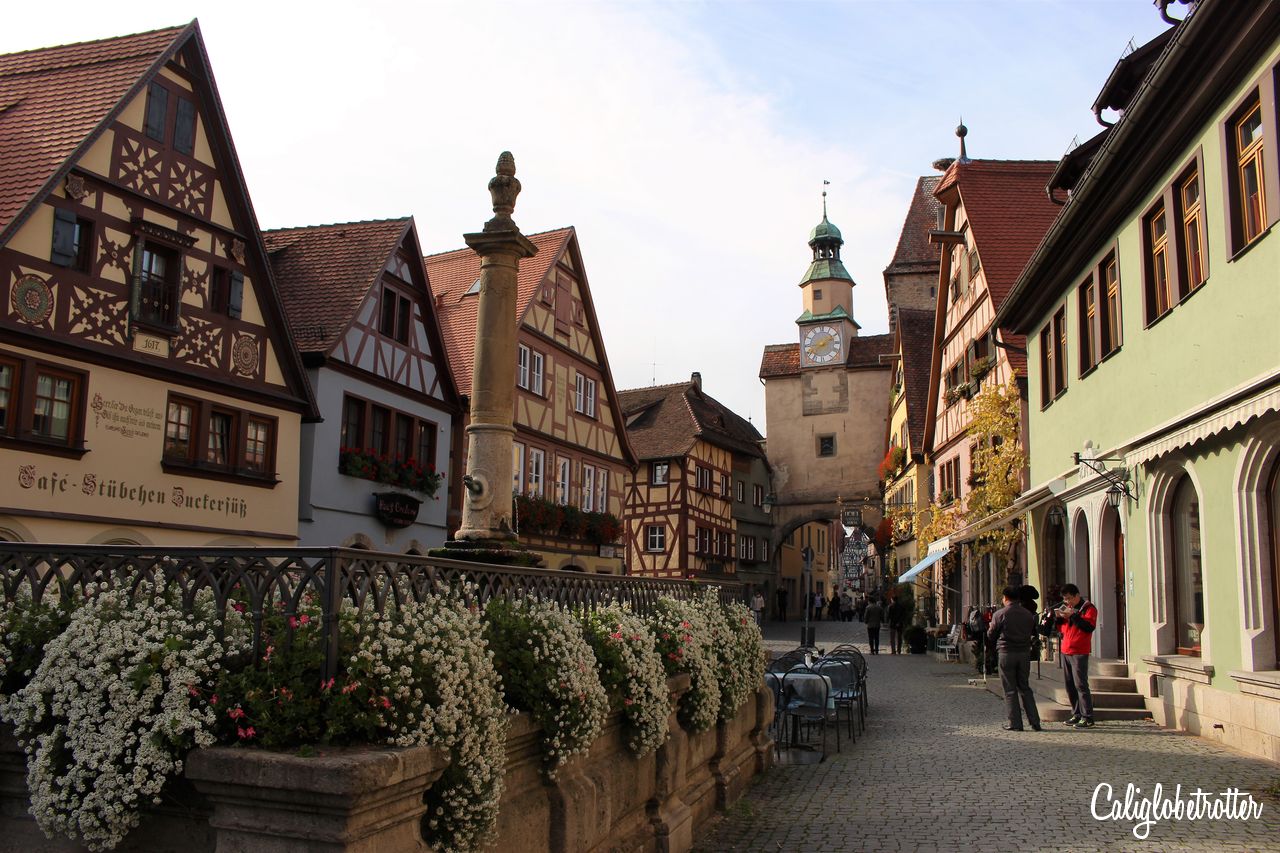 Nördlingen
Not far from Rothenburg is the small town of Nördlingen, which is surprisingly built entirely inside of a massive crater, that was created some 14 million years ago when a meteorite struck the Earth, but it wasn't until 1960 that two American scientists discovered that the town was in fact built inside of a crater! Today, it's called the Nördlinger-Ries, or the Ries Crater. But while walking around inside the town, you can't tell that the town was built inside of a crater. For that, you would need an aerial view. But you certainly don't need an aerial view to walk around and admire all of the beautiful half-timbered houses in this town as well as walking along the Medieval walls which still surround the city, the second of three left in Bavaria.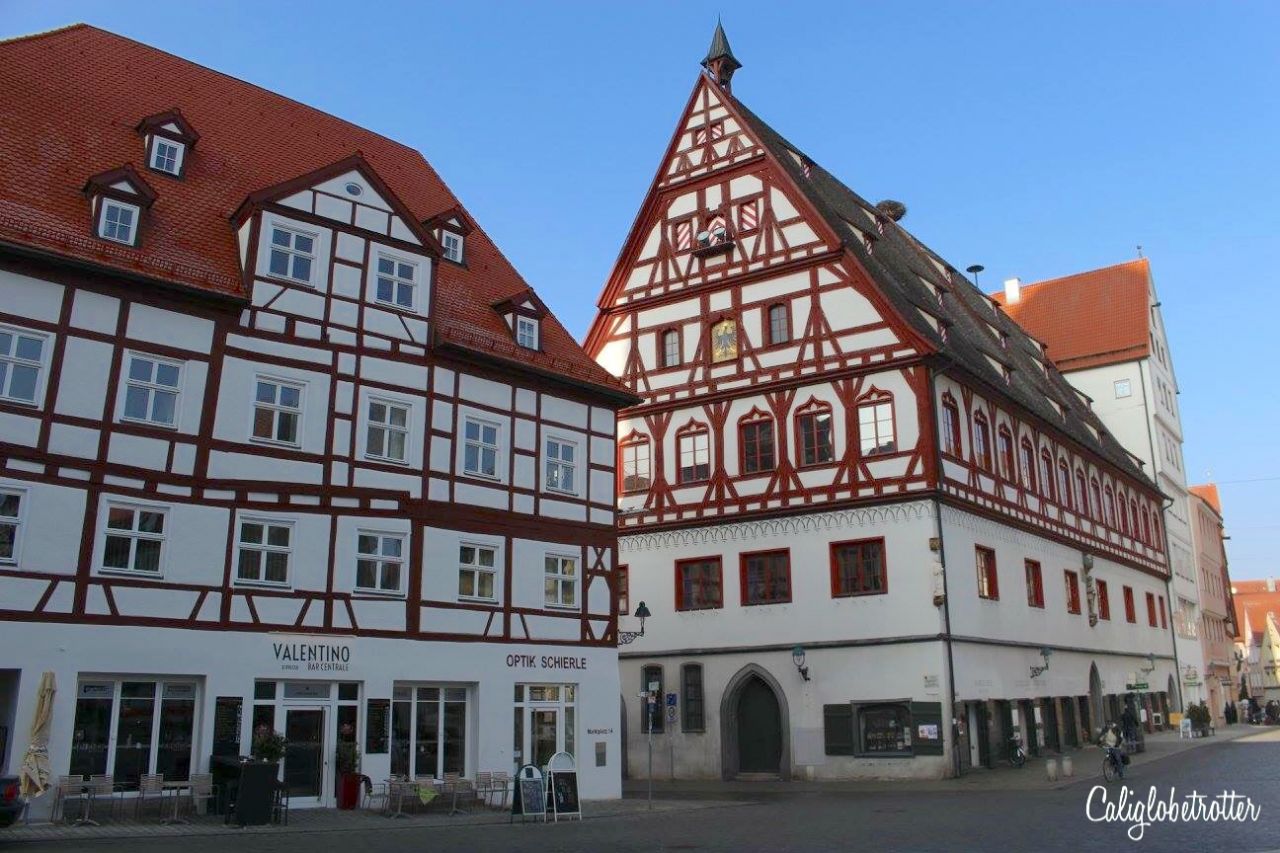 Dinkelsbühl
Dinkelsbühl is located in Central Franconia and is definitely worth a visit. Luckily, the entire town escaped the Second World War completely unscathed, which means that it remains just as beautiful today as it did in the Medieval Ages. Although, the town claims it is "the most beautiful town in Germany", which we feel is definitely ONE of the most beautiful towns in Bavaria, but far from being the MOST beautiful. The town is also the last of the three medieval-walled towns left in Bavaria!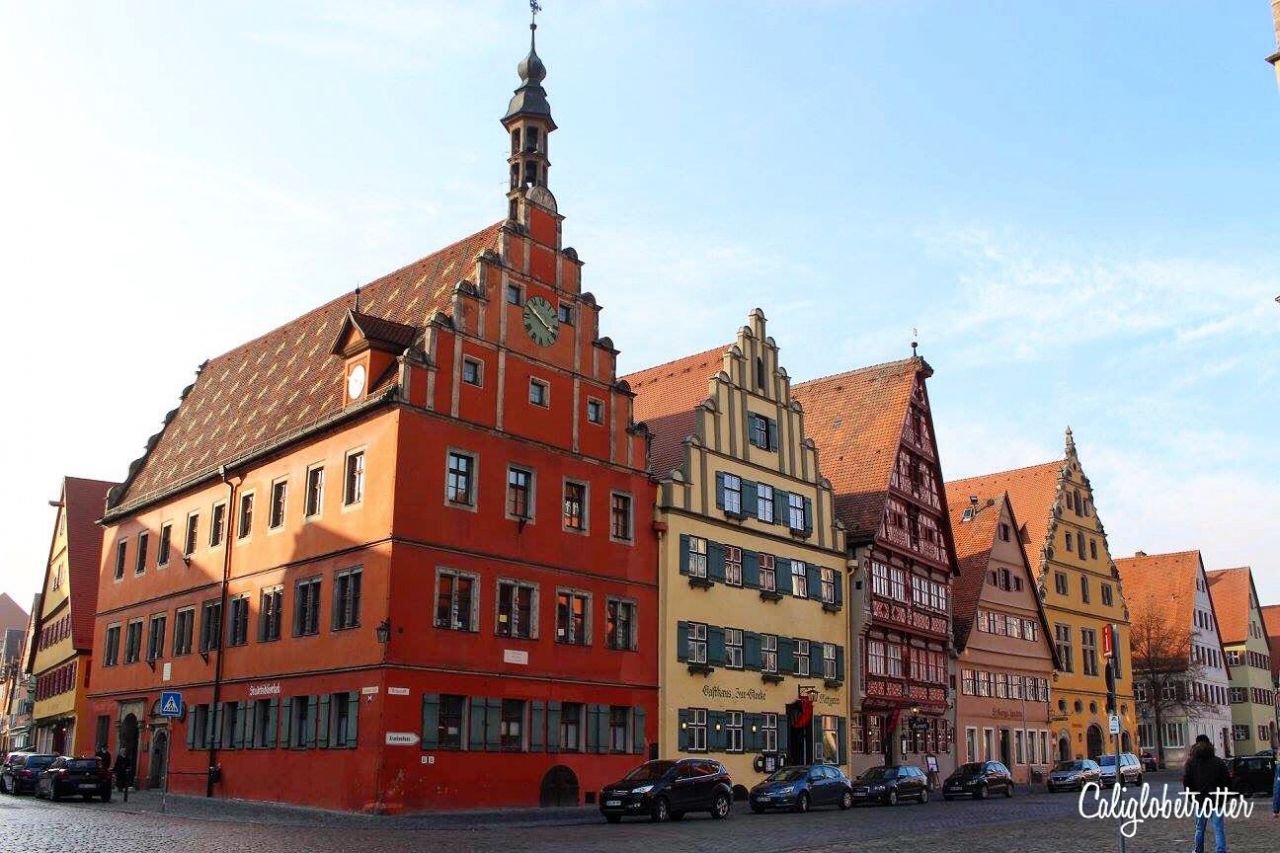 Bamberg



Easily one of the best towns in Bavaria when compared to Rothenburg ob der Tauber and other amazing towns in Bavaria. But, Bamberg offers plenty of half-timbered houses to get you excited, including a Rathaus (City Hall) regally straddling the bridge over the Regnitzarm River. Plus it helps that the town is famous for it's Smoked Beer.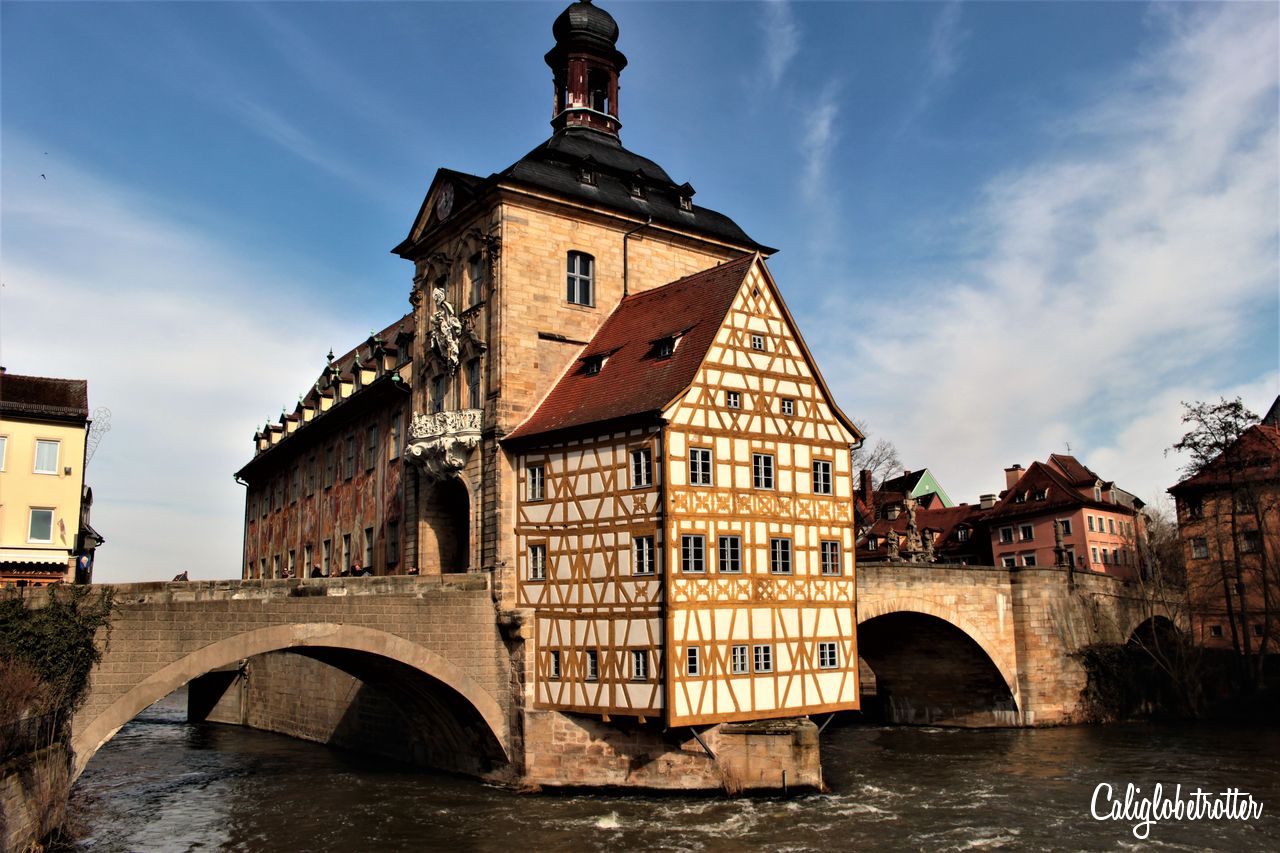 Nuremberg
While a huge portion of Nuremberg was destroyed during WWII, there is just but one picture perfect alley, reconstructed to its former glory – Weißgerbergasse. There are a few other tidbits of half-timbered houses in Nuremberg, including the Kaiserburg Castle. The rest of Nuremberg is covered in pink sand stone buildings, so not all of Nuremberg is covered in half-timbered buildings.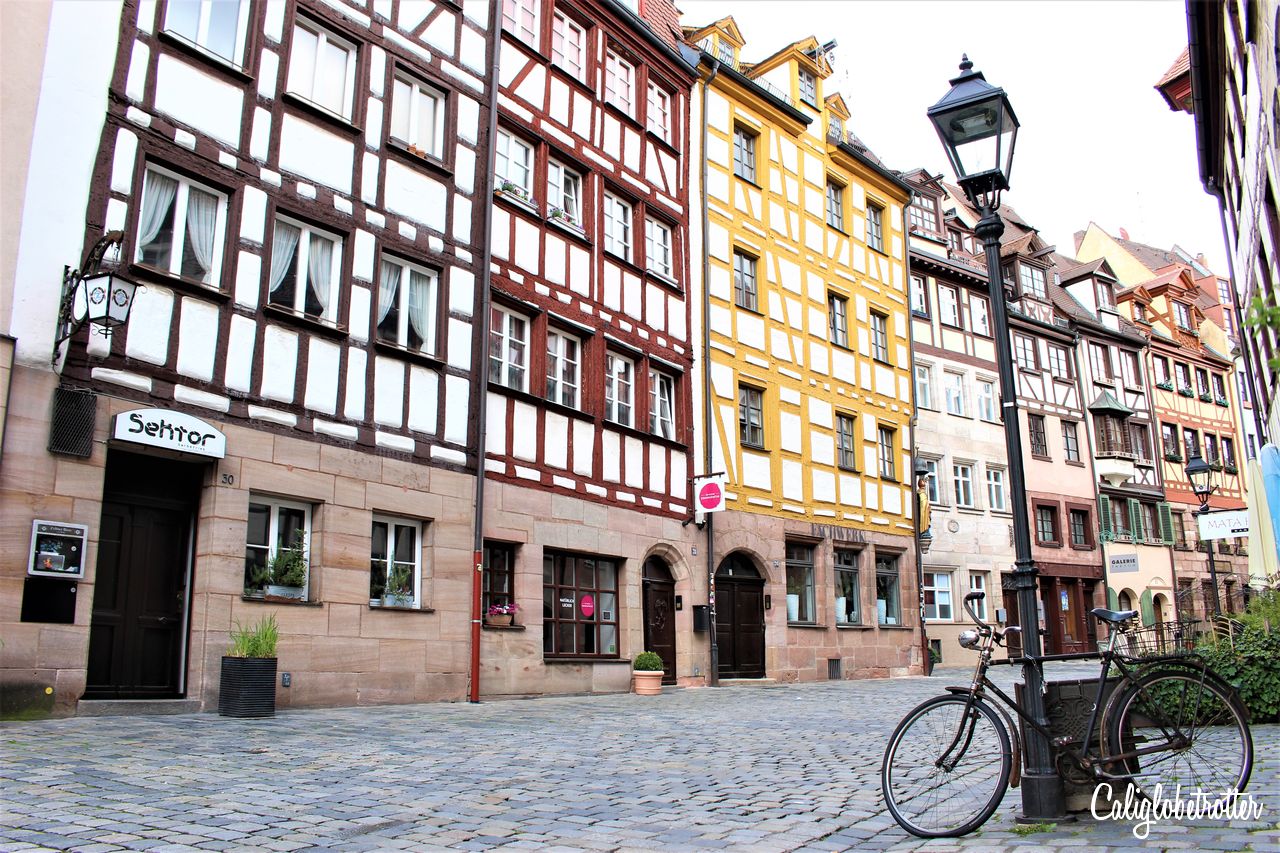 Miltenberg
Nicknamed "the Pearl of the Main", Miltenberg is one of the loveliest towns you'll come across on the Main River. Along its Hauptstrasse (Main Street), and scattered about the town are 150 half-timbered frame houses. Small in comparison to many other towns, it's still a charming town to visit if you're looking to escape to one of Germany's small towns. Elvis Presley was even a visitor here when he stayed in the historic Hotel zum Riesen. Be sure to stop by and see their Easter Fountain decorated for the Easter season.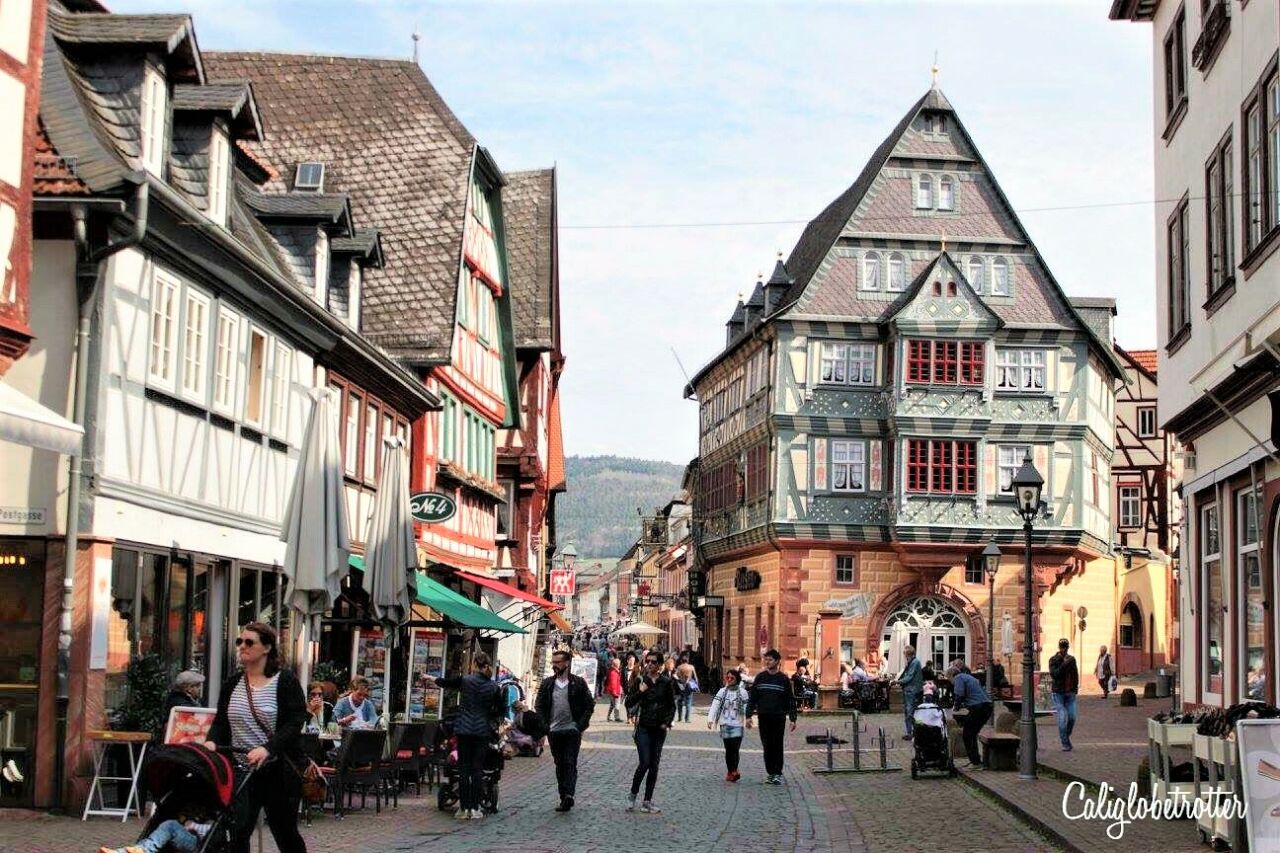 State: Baden – Württemburg
Esslingen am Neckar



Probably one of Germany's best kept secrets. Esslingen is located about 20 minutes outside of Stuttgart and is one of the few towns in Germany to survive the destruction of the war without any damage. Here, you'll find Germany's oldest lane of half-timbered houses as well as over 200 half – timbered houses throughout the entire town encompassed by steep hills full of lush grapevines. Be sure to explore the Esslingen Medieval Christmas Market, one of the best in Germany!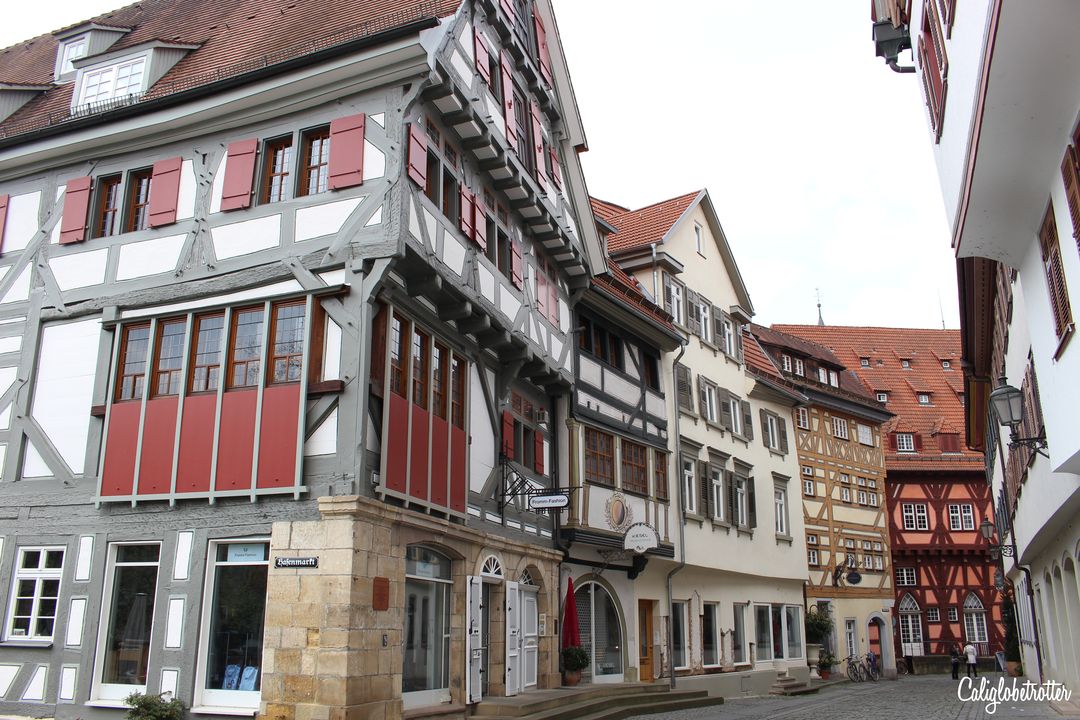 Blaubeuren
Another hidden town off the beaten track from many tourists, and even from Germans is this small half-timbered town of Blaubeuren. Not only does the town lay along the German Half-Timbered Houses Route, but there is also the hidden gem of the Blautopf –  the mystical spring with crystal blue waters and an amazing wood framed house. Can you say Hansel & Gretel anyone? It honestly doesn't get more magical than this!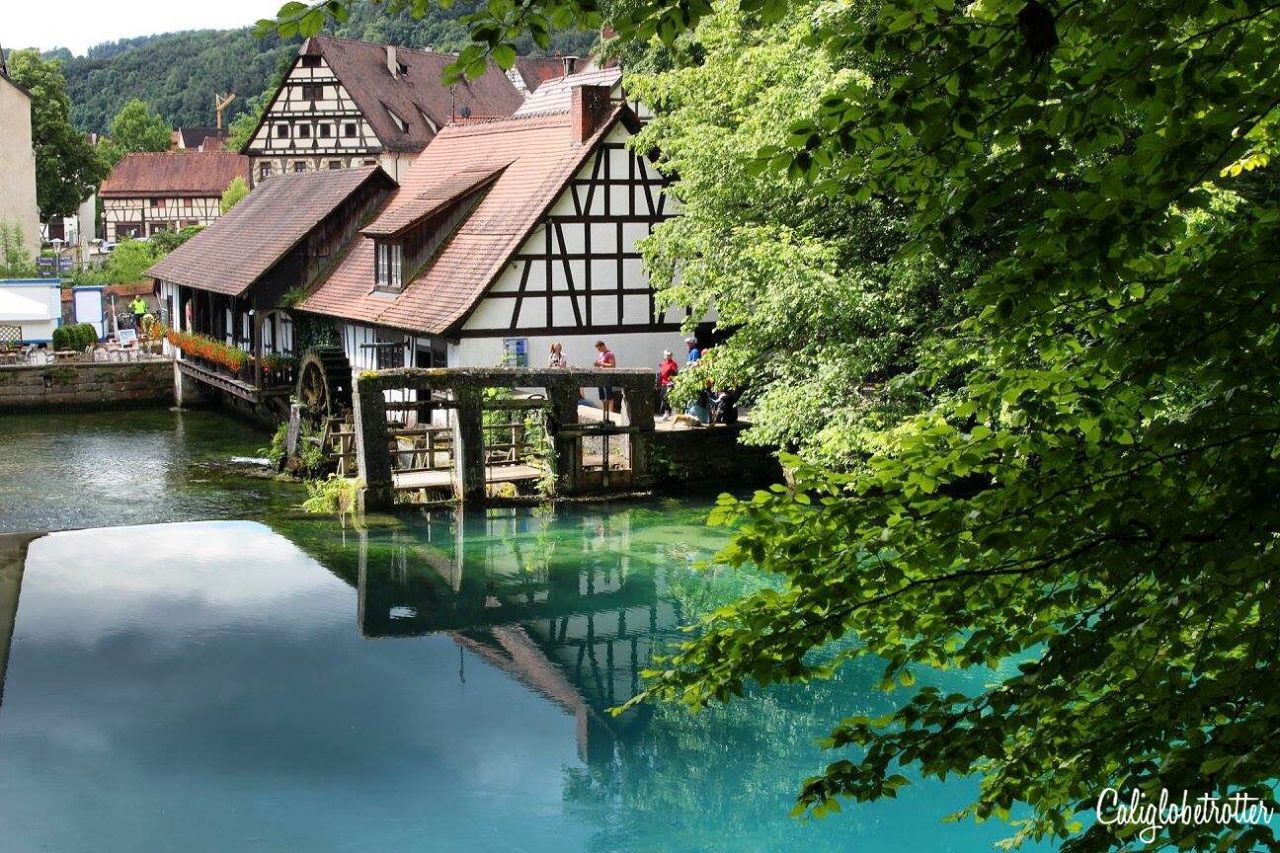 Kirchheim unter Tech
If you're ever looking for a day trip from Ulm or Stuttgart, look no further than this incredibly quaint little half-timbered town of Kirchheim unter Teck. While there isn't much to see and do here, it's a charming town to while away the day. Beautiful half-timbered houses and a gorgeous City Hall (Rathaus) which offers it's own show on the weekends from its tower.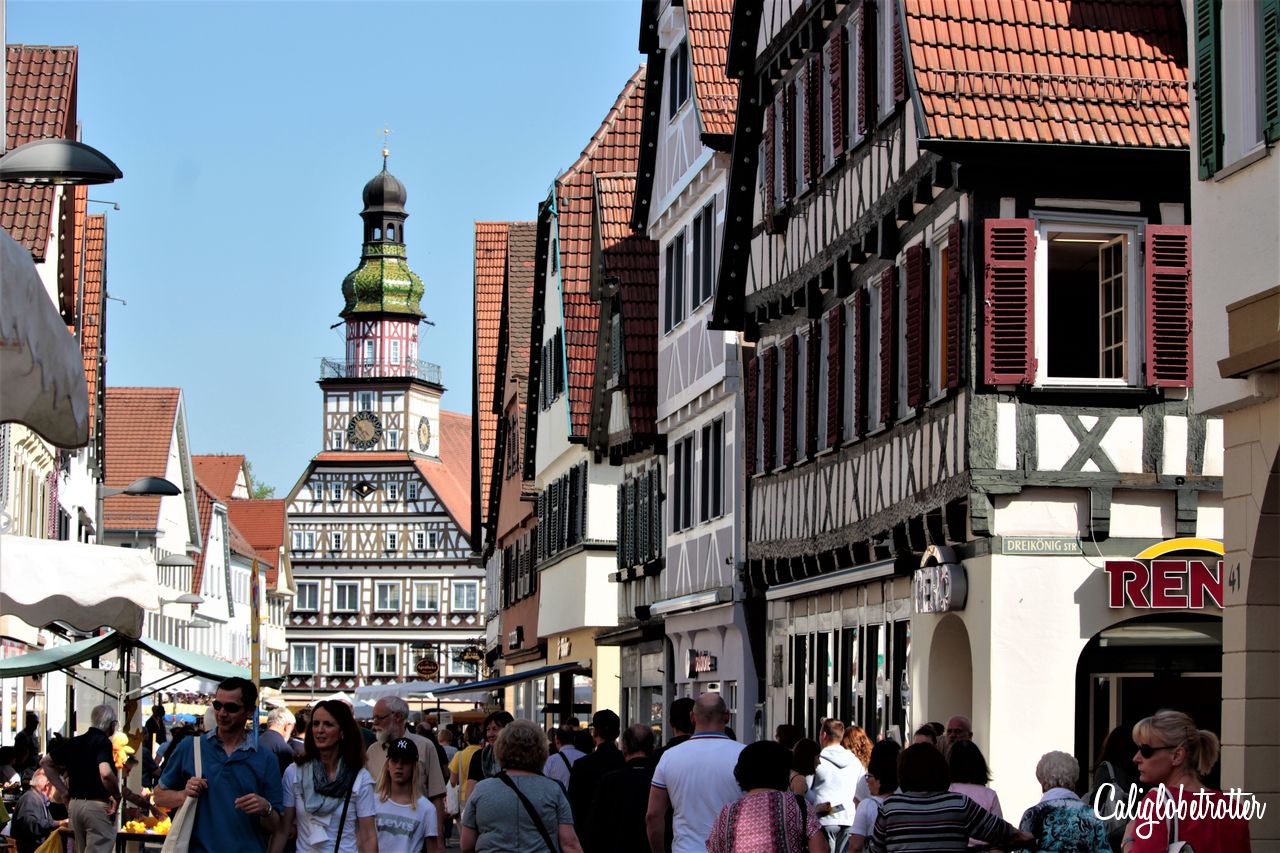 Bad Urach
Not far from Kirchheim unter Teck is another quaint little town worth a quick visit. Bad Urach is littered with half-timbered houses and their City Hall (Rathaus), also in the timber frame style is certainly an eye catcher.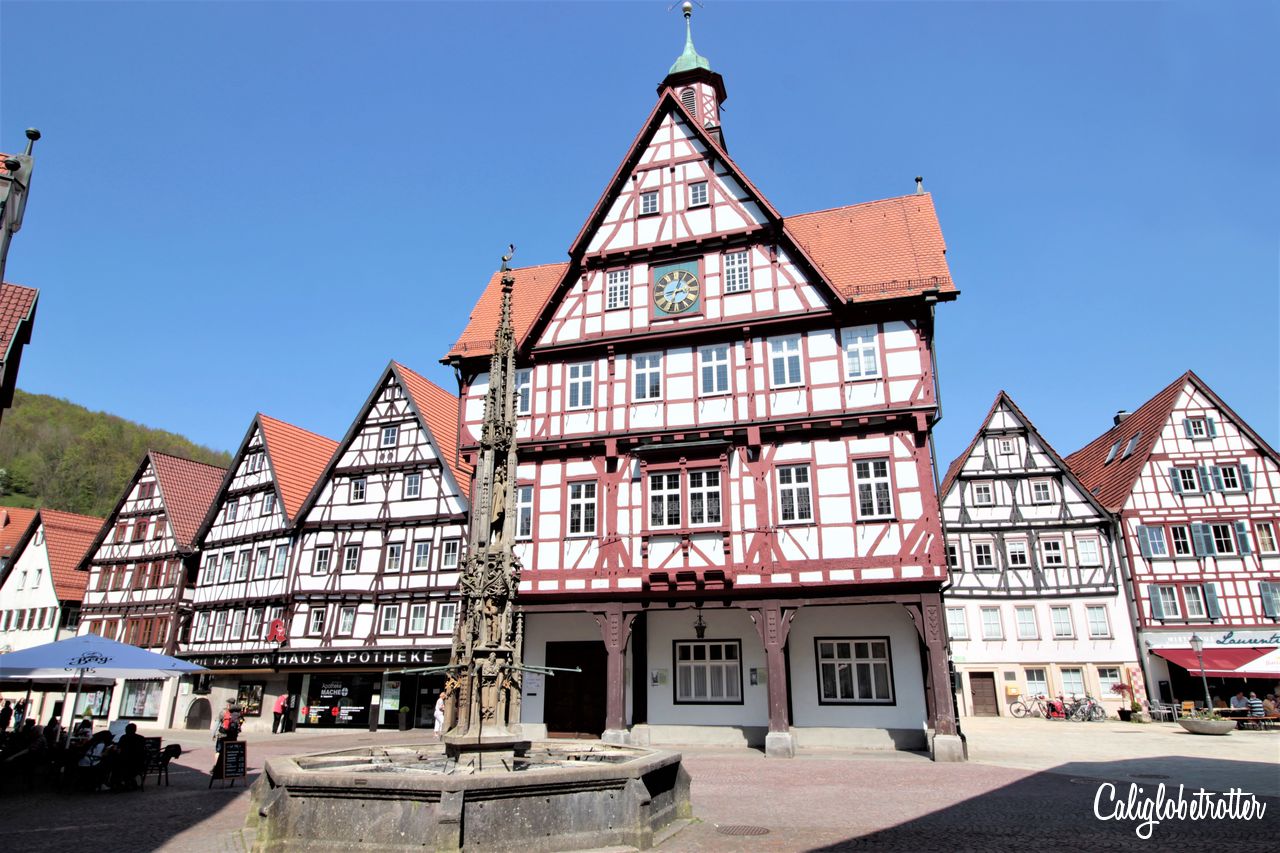 State: North-Rhine Westphalia
Monschau
Monschau is probably my favorite of all the half-timbered towns we have visited is this small, almost forgotten town with over 300 historic wood framed houses virtually unchanged over the last 300 years. Located just 20 minutes away from Aachen, near the border to Belgium, this adorable little town was by far the most picturesque town yet, rivaling Rothenburg ob der Tauber for the title. It's without a doubt one of the best half-timbered towns to visit in Germany!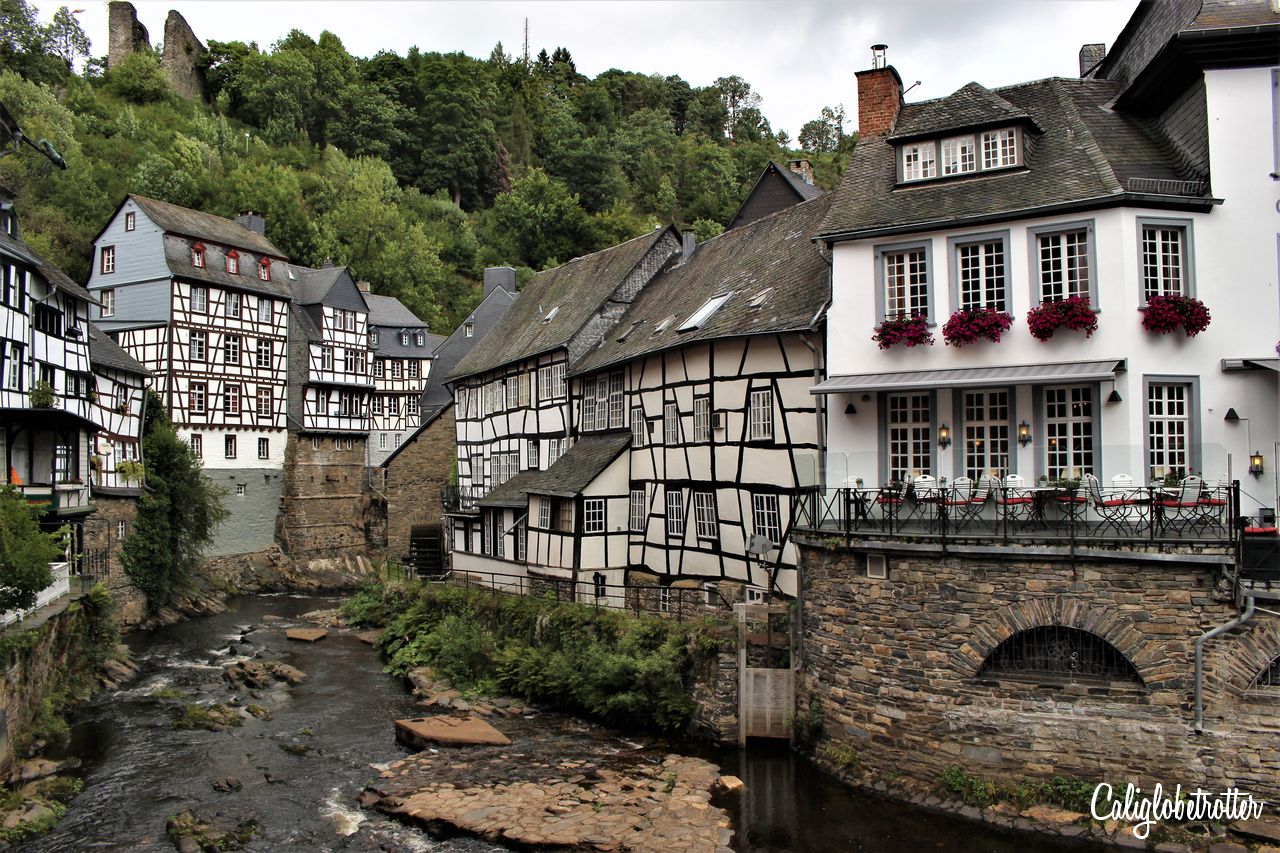 State: Rhineland – Palantine
Bacharach
What could possibly be better than half-timbered houses and wine flavored ice ceam? Bacharach! Located along the Rhine River, this idyllic town is surrounded by steep rolling hills of grapevines, topped with a castle turned youth hostel. Small charming cobbled-stoned alleys lead you to lovely little hidden corners that just scream Disney! How could a town possibly be any more delectable?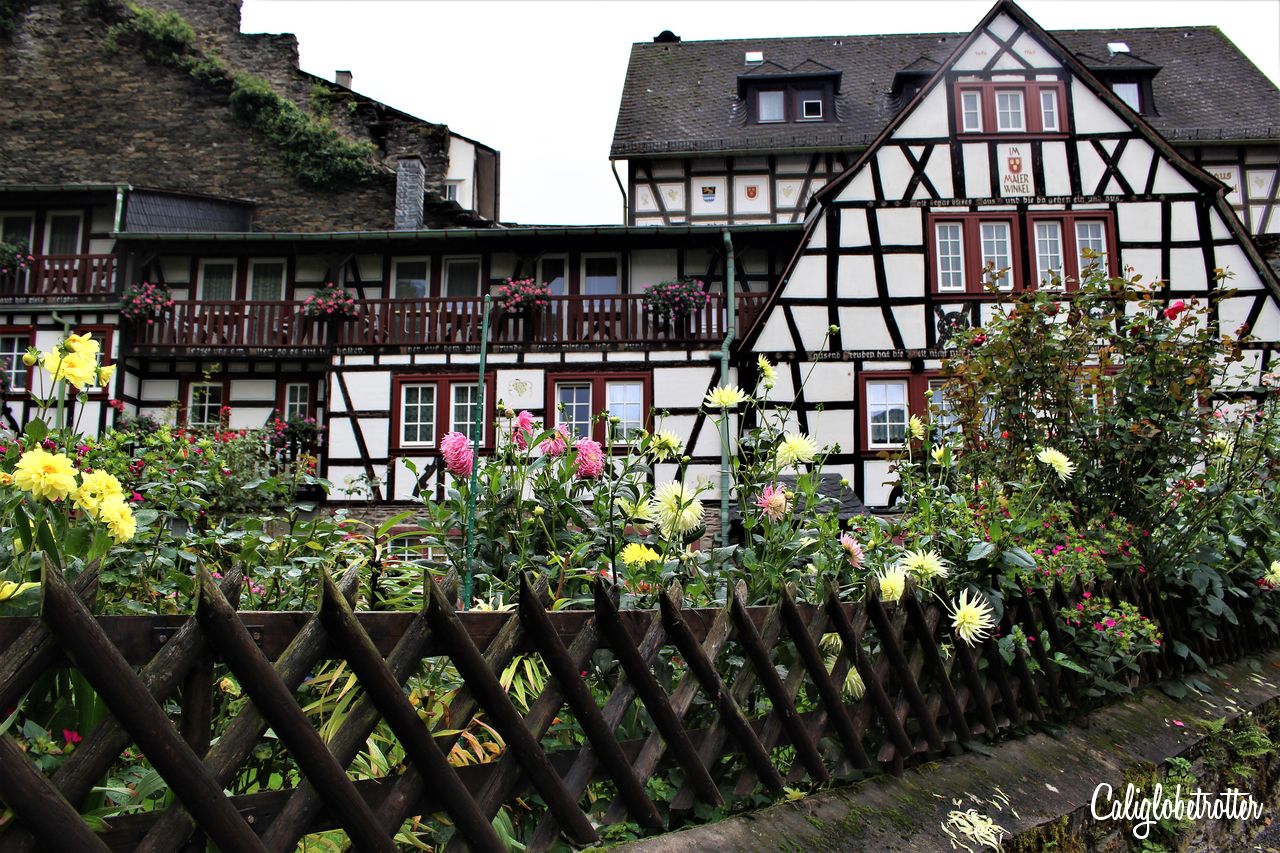 Cochem
Nestled along the Mosel River, surrounded by vineyards and snuggled up beneath the Reichsburg Castle, Cochem is every bit of one charming town! While Cochem is easily one of the cutest towns to visit in Germany year round, for me, it's one of the best places to visit in Germany in Autumn with all the vineyards changing colors into vibrant reds, oranges and yellows on the surrounding hillsides. A combination of half-timbered houses, fall foliage and wine makes it one of my favorite half-timbered towns in Germany!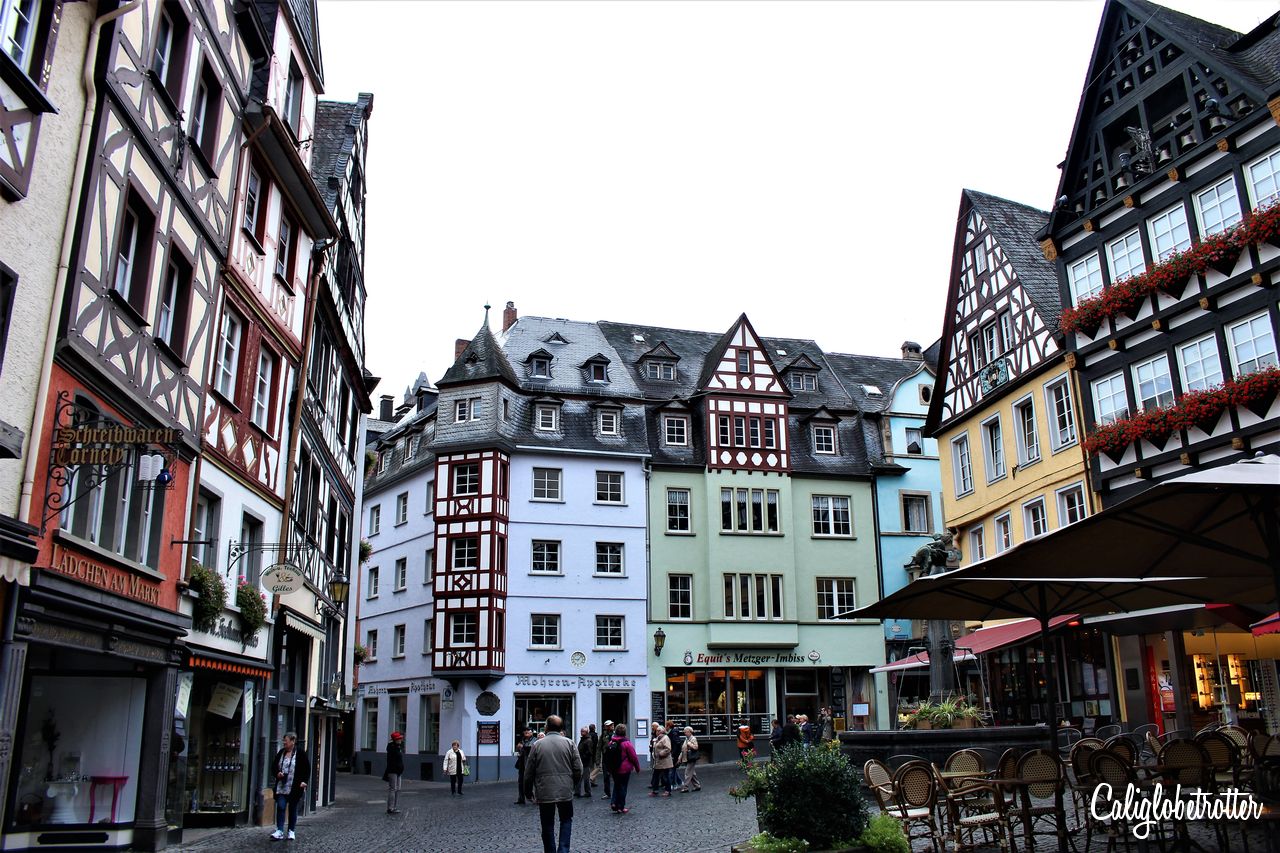 State: Hesse
Rüdesheim am Rhine
Not far from Bacharach, further down along the Rhine River, Rüdesheim am Rhine is an adorable town which offers the most picturesque alley in all of Germany. Drosselgasse is lined with several half-timbered houses, wine taverns and cafes to stop and sip on freshly produced Federweißer wine. Also found in the town is the old aristocratic residence of Brömser Hof.
While there are certainly a plethora of half-timbered houses throughout Germany, they are far and in between. Some take a little bit of extra effort to get to than others but they are well worth the visit, especially if you're looking for an authentic and historic atmosphere of a time long gone.

Should you not be able to make it to any of these towns, there are plenty of other large cities which offer a few timber-frame houses, some of which had to be rebuilt to their original beauty after the war.
Idstein
Just one of the many easy day trips from Frankfurt is the charming and practically unheard of town outside of Germany, Idstein. With a plethora of half-timbered buildings, one crooked half-timbered house, a dark history related to witch trials and a charming main square, Idstein is without a doubt one of the best kept secrets in Germany! You definitely won't run into many foreign visitors in Idstein, but definitely more Germans, especially those out for a bike cruise in large groups going from one adorable town to another.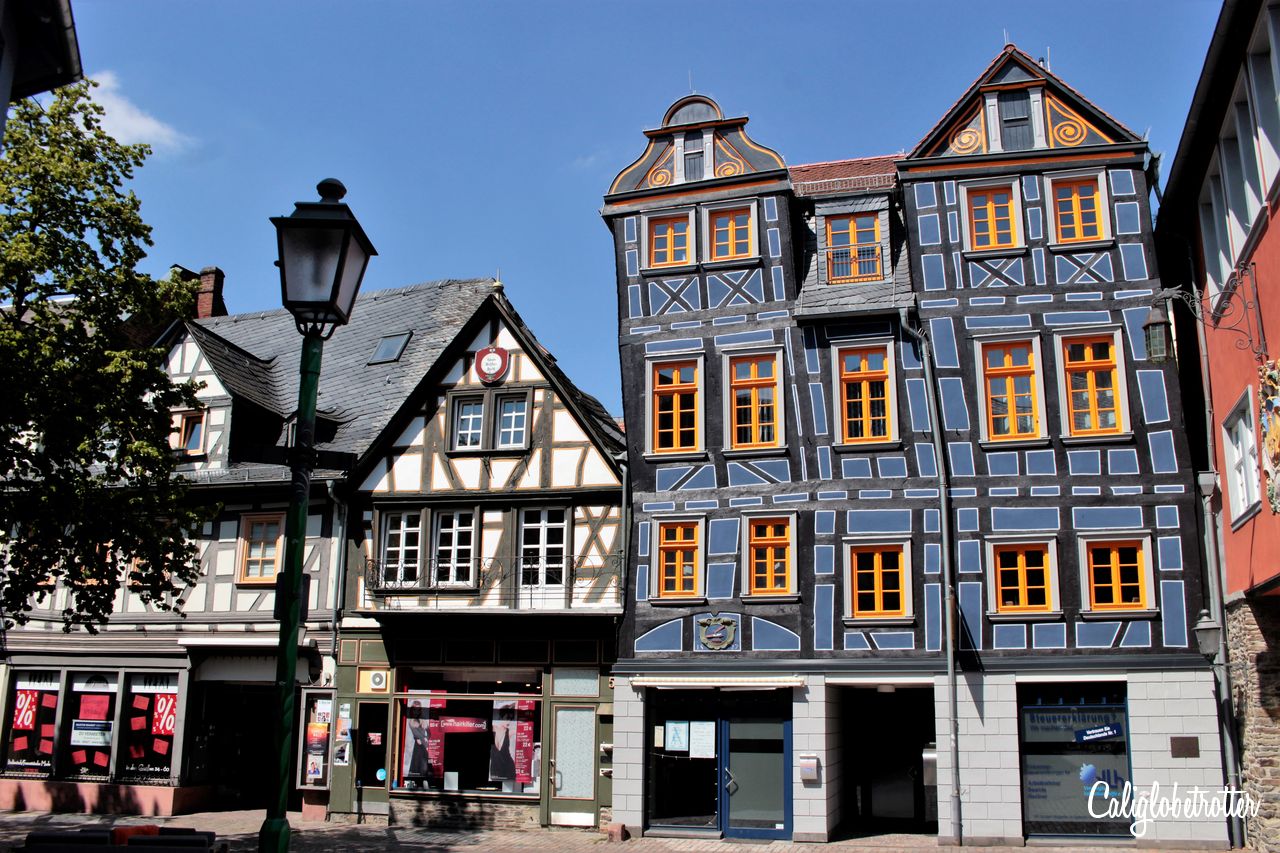 Michelstadt
Most likely a town you've never heard of or thought about visiting, Michelstadt is a quaint little town and while there isn't much to see or do here, the highlight and main attraction of this adorable little town is the half-timbered Medieval style City Hall (Rathaus) in the center of town. It's so charming that it was once even idolized on stamps in Germany as it is one of the prettiest city halls in Germany.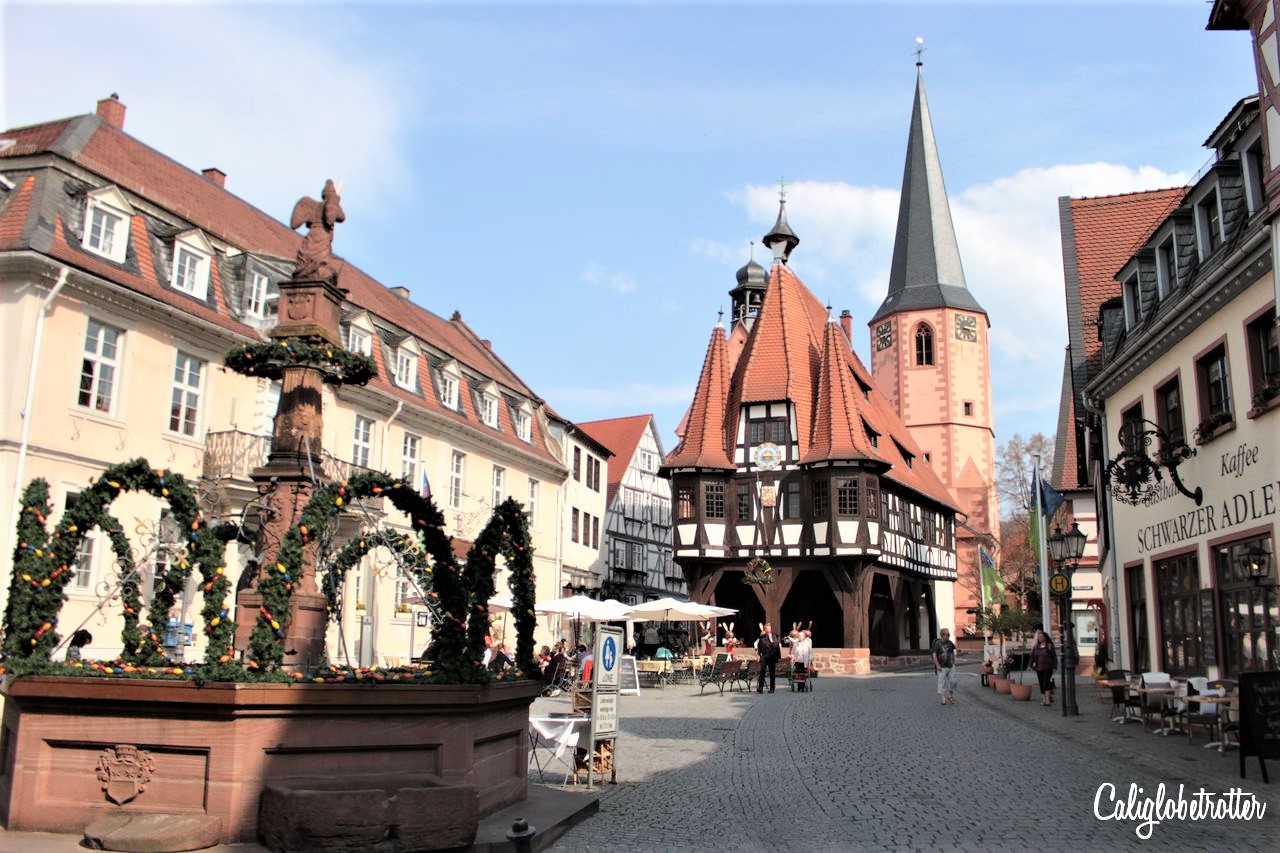 Heppenheim

Not far away, is definitely a town only Germans are likely to visit or have even ever heard of. Heppenheim cannot be found in any Germany tour guide book. As a super small town, there's not much coming here specifically for, but for me, even the mention of half-timbered and I'm there. Here there are a few timber framed houses, but what drew my attention here was the charming pink City Hall (Rathaus) in the main square.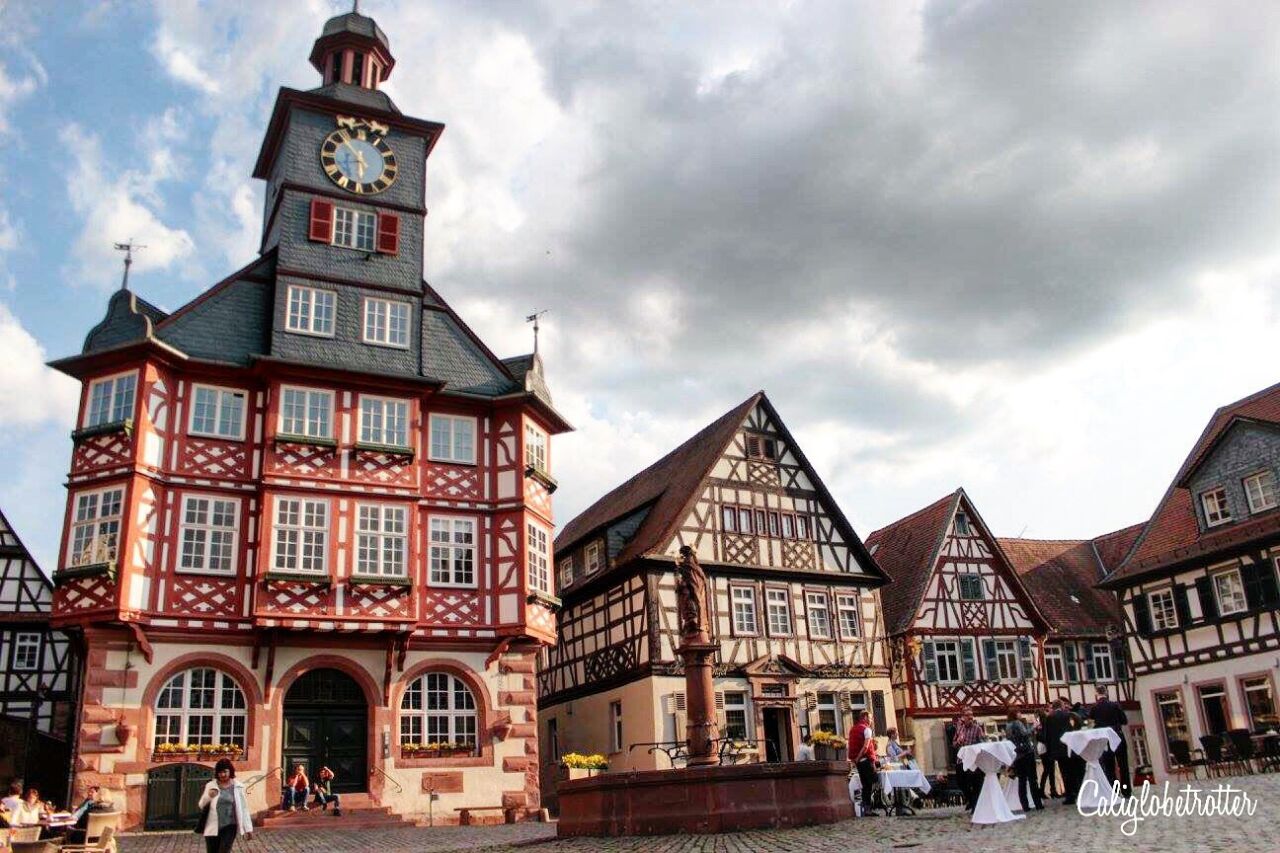 Frankfurt am Main
The most picturesque portion of Frankfurt is undoubtedly the row of houses commonly known as Ostzeile which date back to between the 15-18th centuries in the Main Square. The houses were practically completely destroyed during the war, but have been rebuilt to their former glory making for one of the most picturesque squares in Frankfurt.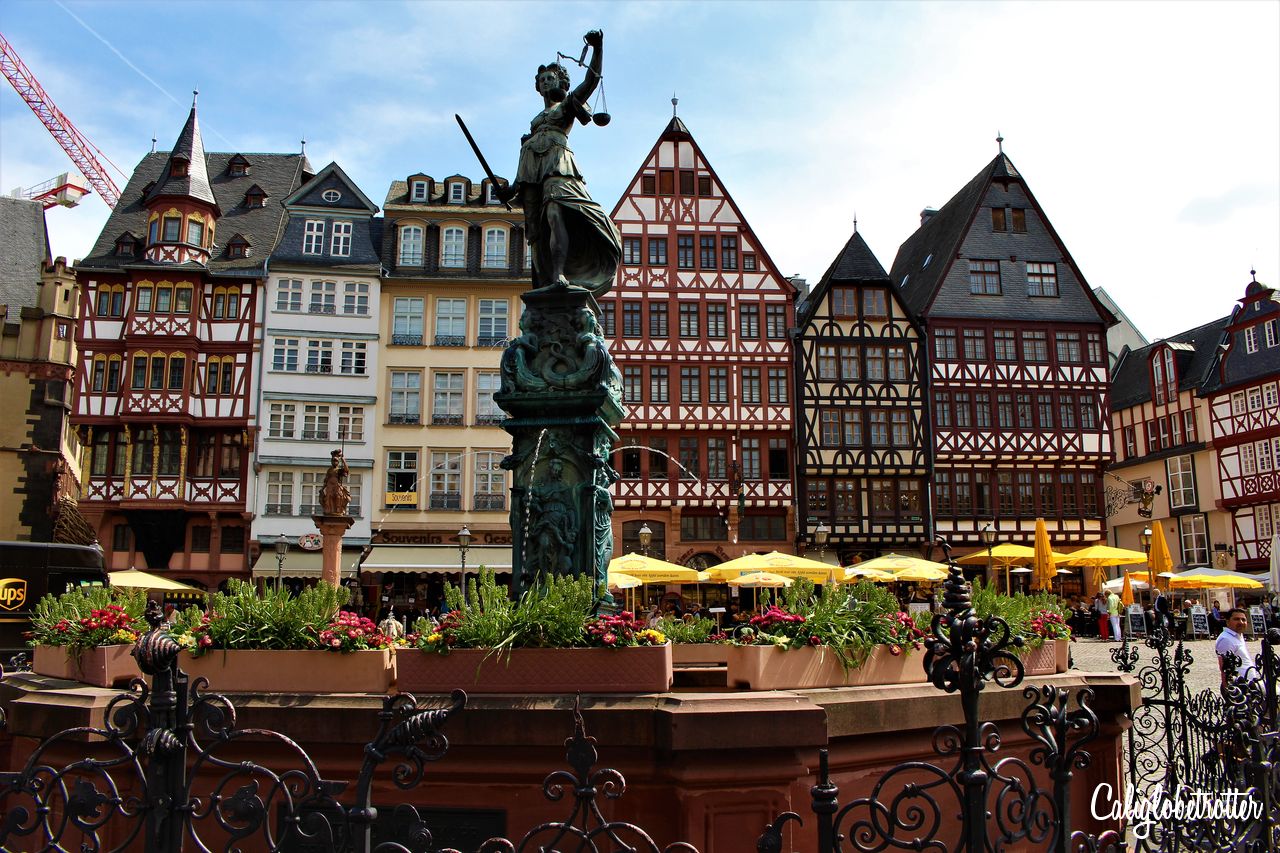 Lower-Saxony

Goslar
Located in the Eastern Germany in a region nicknamed a "mini Black Forest" by locals called the Harz Mountains, this region is just littered with one adorable half-timbered town after another and easily makes for a great weekend trip in the Harz Mountains. Goslar was once a very prosperous town when the local mining mills were in operation, thus nicknaming it the "Treasure Chest of the North". Over time, the mines closed up, and this half-timbered town never left the Medieval ages and is today a UNESCO World Heritage Site as it has a rich history and over 1,800 half-timbered houses.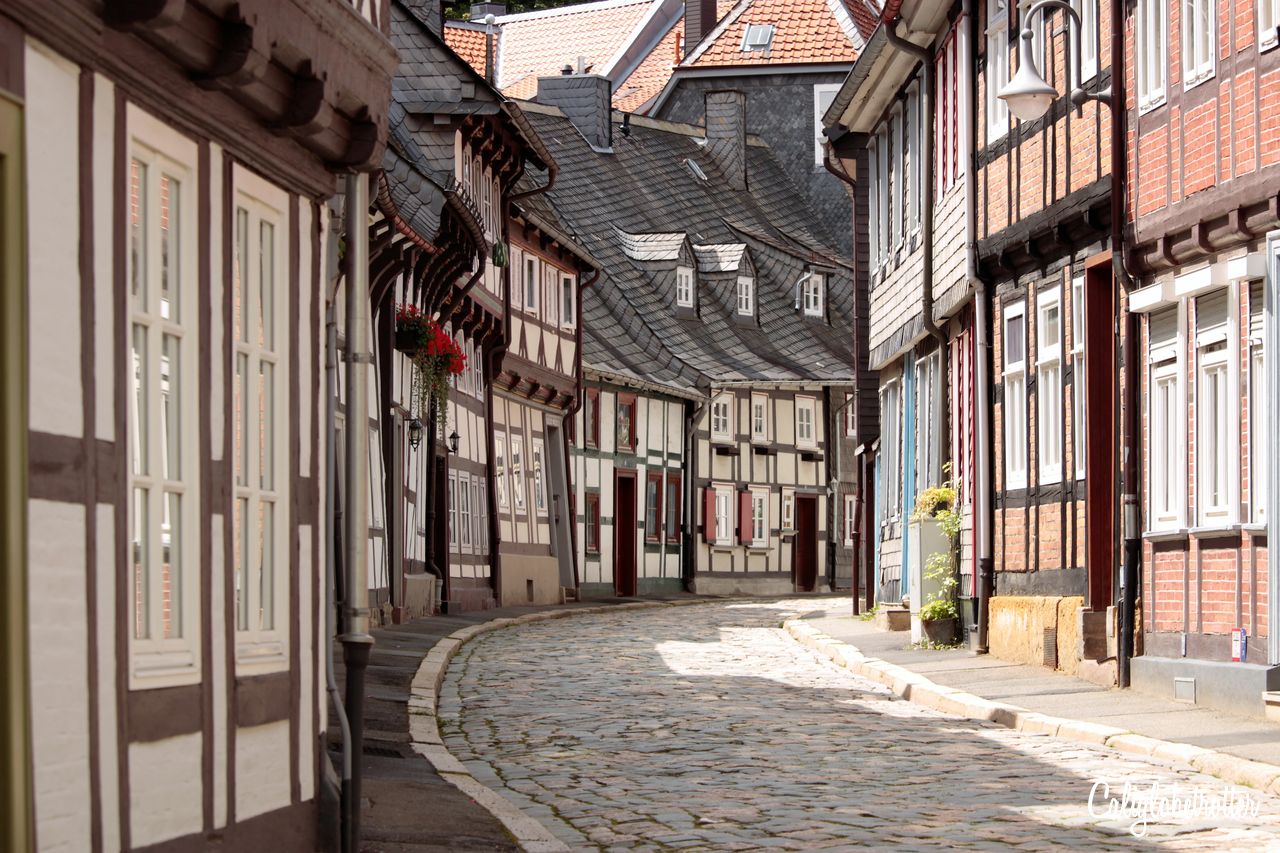 Saxony-Anhalt
Wernigerode
Also located in the Harz Mountains, Wernigerode is 100% my ABSOLUTE FAVORITE half-timbered town. Not only is it absolutely stunning a plethora of half-timbered houses and rows and rows of colorful streets, giving it the nickname "the colorful city in the Harz", it has a gorgeous half-timbered City Hall (Rathaus). Best of all, it's an easy day trip from Hamburg though it's still very much one of Germany's best hidden gems! This beautiful town maintained its Medieval appearance because it was sparred destruction during WWII and the Russians didn't bother change, improve or maintain it, and once the Berlin Wall fell and the USSR moved out, it was renovated to its former glory. It's also home to Germany's smallest half-timbered house!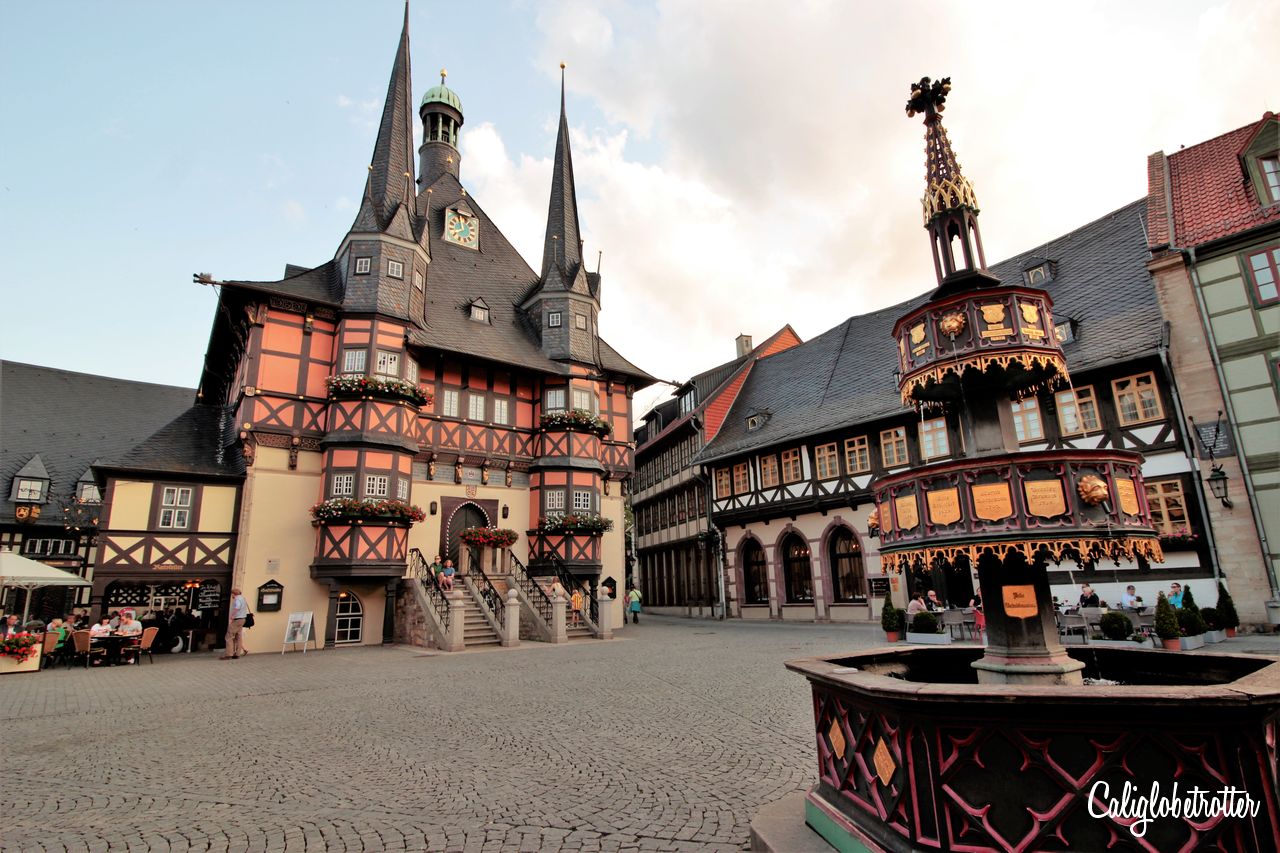 Quedlinburg
Another adorable town located in the Harz Mountains, Quedlinburg is another UNESCO World Heritage Site and every bit worth visiting with a rich history dating back to the 10th century. Littered with 1,400 beautiful half-timbered houses, and rows and rows of cobbledstone streets, it's easy to think you've stepped back into the Medieval Ages here and around every corner is another picture perfect corner.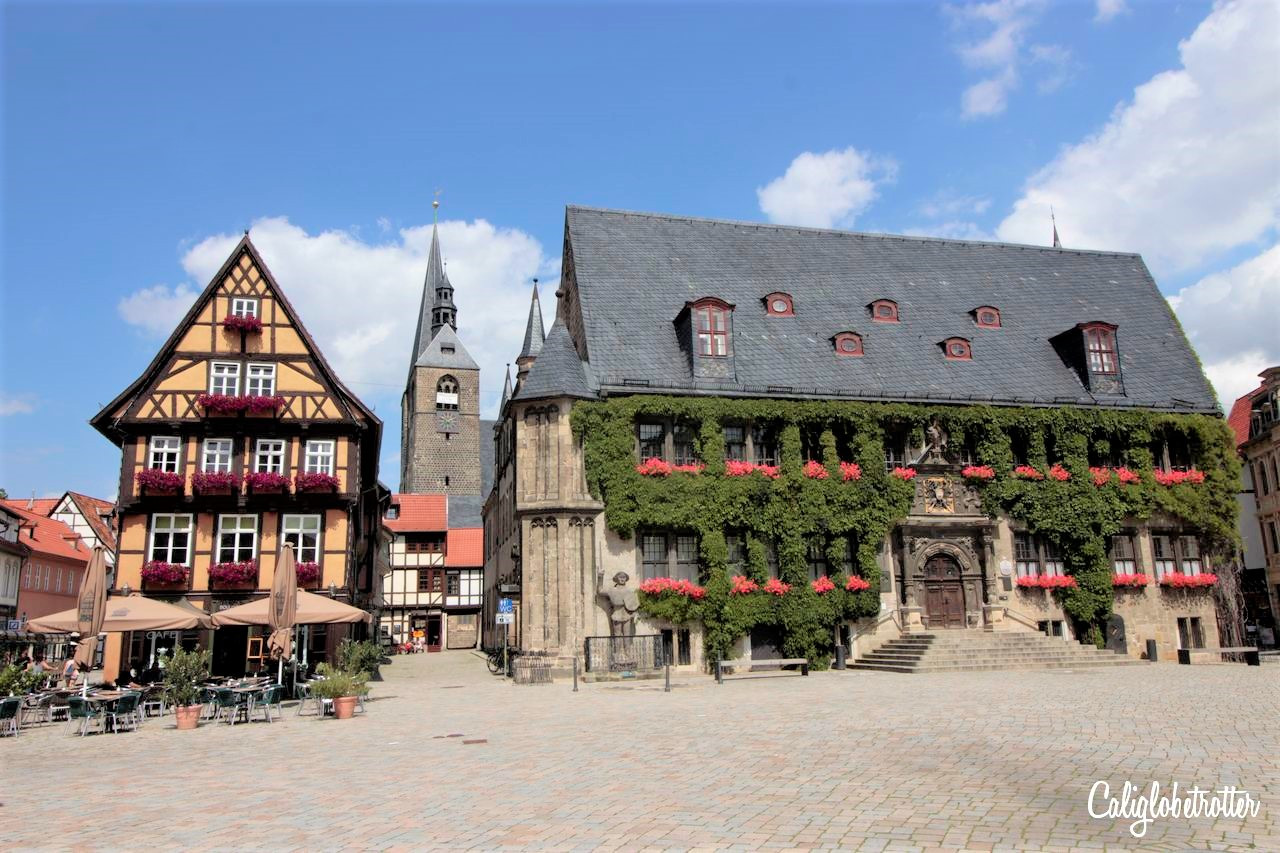 Wondering where all of these towns are located in relation to one another?



If you're incredibly motivated to visit all of these in one big go, then I congratulate you. While Germany is easy to drive to get from East to West, it will still take some time. However, if you can hit up a few places because they're not far apart, then I highly recommend combining a few towns. This would be the ultimate fairy tale road trip through Germany if ever such a thing were possible!
It's always my goal in life to search out Germany best kept secrets and picturesque towns and they're always my favorite places to visit. They lack the crowds of people, charm just oozes out of every crevice of each town and they're not nearly as expensive to visit as many of the larger towns. I love to support small town life and avoid mass tourism as much as I can.
Check back often as I am always adding to this list as I check off my half-timbered town bucket list. There are hundreds of picturesque towns in Germany but they so often get forgotten about and overlooked so it is my goal on this travel blog to share a bit of charm and convince you to visit these small towns in Germany.
If you're interested in visiting Germany and are looking for more information, I highly recommend using the DK Eyewitness Travel Guide! Without these guides, I would be lost! This is my travel Bible!
Disclaimer: This post contains affiliate links. If you click on one and make a purchase, I might make a little extra spending money, at no extra cost to you. As always, all opinions are my own and these products/services have been found useful during our travels and come highly recommended to you from yours truly!
Want More Adorable Towns in Germany?
Top 10 Adorable Towns in Europe
The Historic Town of Regensburg
The DEFINITIVE Guide to Heidelberg
Liked this post? PIN IT FOR LATER!!