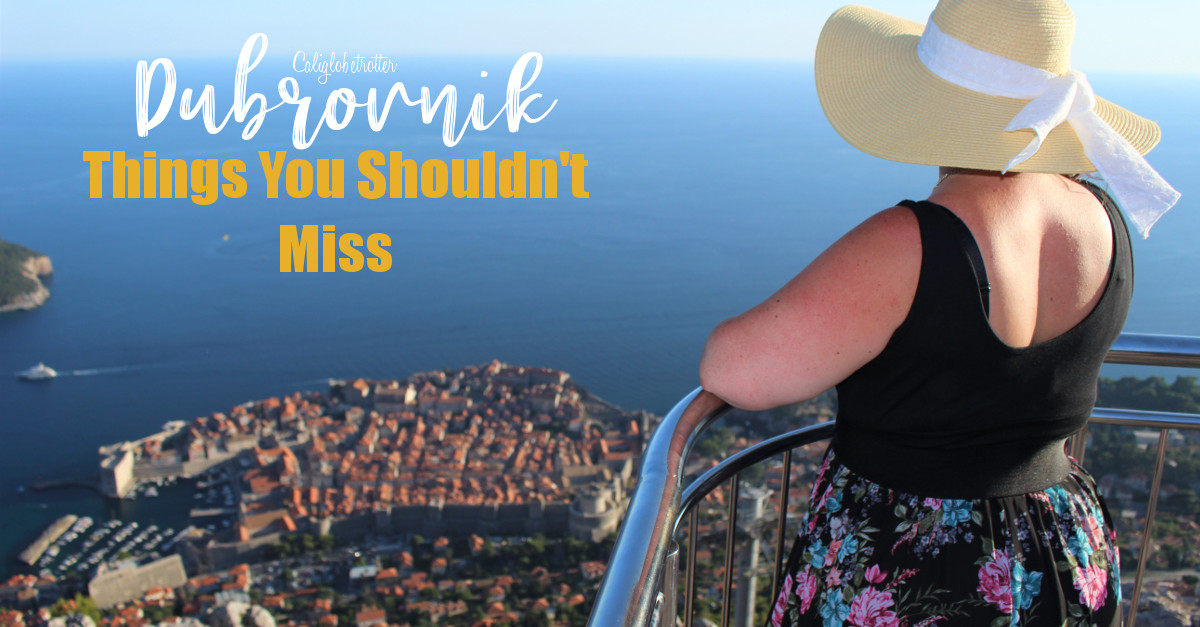 Disclaimer: This post contains affiliate links. If you click on one and make a purchase, I might make a little extra spending money, at no extra cost to you. As always, all opinions are my own and these products/services have been found useful during our travels and come highly recommended to you from yours truly!
Situated at the very southernmost tip of Croatia, sits the ancient city town of Dubrovnik which is still fortified by massive grey stone city walls. The stunning blue green waters of the Adriatic Sea hug its walls adding to the beauty of a place which seems more like a dream than a reality. It's no wonder then that this beautiful part of Croatia is considered to be the "Pearl of the Adriatic!"
After the last two years of the city of Dubrovnik as my wall paper on my computer and a country I have been obsessing about visiting for at least the last decade, I couldn't believe I was finally here. This was the ultimate highlight of our trip was finally making it to Dubrovnik! I had waited so long.
Want to Visit the Pearl of the Adriatic? PIN IT FOR LATER!!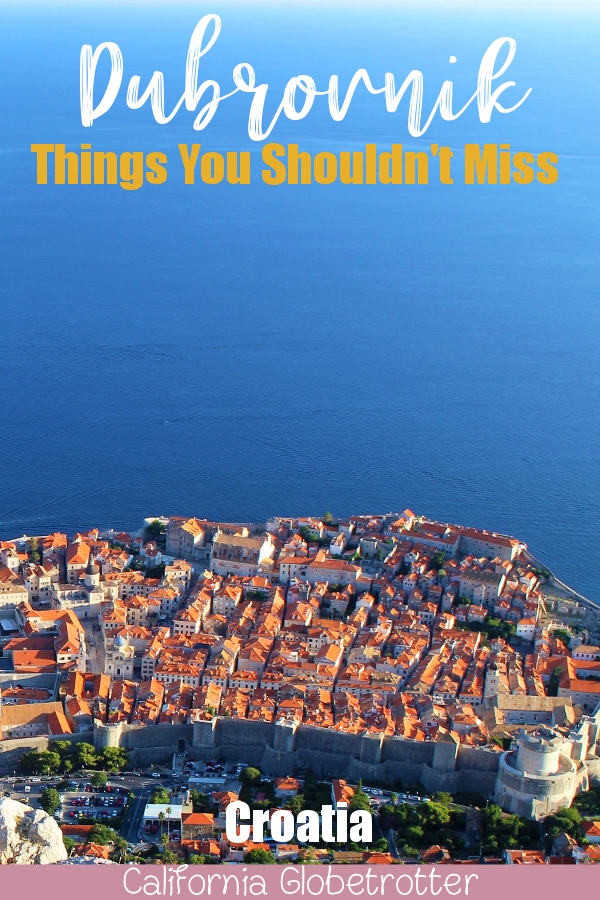 How to AVOID Looking Like a Tourist in Europe
10 Day Road Trip Through Croatia
2 Week Balkan Road Trip Itinerary
2 Day Montenegro Itinerary – Places to Visit on Montenegro's Coast
Gorgeous Seaside Towns Along the Adriatic Sea
Like this post? Take it with you as GPS Guided App directly to your phone via GPSMyCity!
Before you do anything, find a watering hole to go cliff jumping in!
After having just spent the afternoon driving in the car forever from Split to Dubrovnik with a detour to Mostar, Bosnia-Herzegovina, we felt the need to go directly to the nearest swimming hole. It had been incredibly and unbearably hot in Mostar and the heat was no better by the time we reached Dubrovnik. Our hotel was a bit outside of Dubrovnik and I found this much more enjoyable than staying within the city walls. While I would have loved to stay within the walls, by the time we reached Dubrovnik I had had about enough of the massive amounts of people visiting Croatia.
Unfortunately, by the time we got to our swimming hole, the sun was already going down and it was almost completely in the shade. While we didn't mind not having the sun shining directly on us, it was still incredibly beautiful to go swimming here. The water was such an amazing emerald green I could not believe my eyes. There was even a small cave to explore! This beach was small enough and probably only known by the tourists who were staying in the hotels near here or visiting the Golden Sun Casino. There was even a water polo team training in progress when we reached the swimming hole and I thought, "How lucky you are to swim here every day!"
Croatia is a popular destination for those who are looking for some thrill seeking adventures like cliff diving. I seriously contemplated whether or not I would have the guts to do this prior to going swimming and every part of me wanted to do it, but something like a small ounce of fear was holding me back from doing it. Although, this person makes free falling look angelic, don't you think?
Find Some Amazing Seafood!
Unfortunately, while writing this I've realized I didn't write down the name of the restaurant, but I can only assume the restaurant was on Ul. Između Polača directly behind Porto. It was amazing! I had a chicken stuffed with cheese and bacon, similar to a Cordon Bleu with delicious vegetable while Hans had Grilled Octopus.
Get Up Early and Avoid the Crowds and the Heat!
We got up at 5am the next morning and left the hotel by 6am to enjoy the town in a peaceful state before it became too overwhelming. It was perfect. We were able to check out the sights without dozens of people getting into our pictures, there was no rush and we could see how the people of Dubrovnik start their typical day but if you're doing a Mediterranean Cruise to Dubrovnik and are short on time, then consider doing a guided tour. 
The Pile Gate which dates back to 1537 where you must cross a moat bridge before entering the city. Standing near the walls, I was immediately overcome by the magnitude of the walls. In a picture, they don't look that big, but standing in front of them, you can understand why these walls have successfully protected the city from outside invaders. They are gargantuan and make you feel small.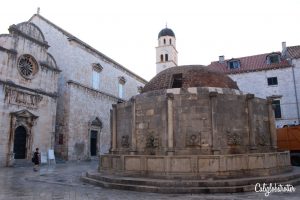 Once inside the walls, we came upon the Big Fountain of Onofrio. It was built in 1438-44 by Onofrio de la Cava who also designed the city's water supply system. It once had two stories, but was partially destroyed like many other buildings during an earthquake in 1667. Most of Dubrovnik was built after this massive earthquake. Only a few buildings survived the earthquake as well as the stone floors, which date back to 1460!
Directly at the opposite end of Stradun, the main street is the Sponza Palace which dates back to the 16th century which is right next to a large clock tower. Directly across from this is the Church of St. Blaise that was rebuilt in the 18th century based on 17th century designs.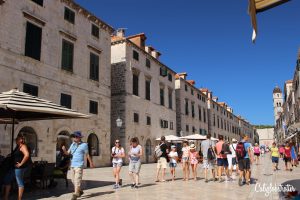 Just behind to the and to the left of the church is one of the most important buildings in Dubrovnik, called Rector's Palace as it was the seat of the government institutions of the Dubrovnik Republic. Today it houses a museum that still has an authentic jail on the ground floor.
From here, we just meandered around through the many different allies Dubrovnik has to offer, putting the map aside and just seeing where we ended up. We checked out the Old Port of Dubrovnik. Dubrovnik was one a rich and powerful republic thanks in part to its strategic location with a huge fleet of merchant ships which carried goods back to Western Europe.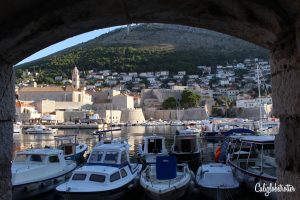 Have a Drink on the Outer Walls of Dubrovnik!
We eventually stumbled upon the Jesuit Church where we went inside for shelter from the sweltering heat. Mind you at this point it was probably only about 7:30am. Not far from here, you can find one of the coolest bars in Dubrovnik, the Café Buza which is a café situated on the outside of the walls of Dubrovnik right on the cliffs with the Adriatic Sea lapping at its feet. We had every intention of going here for a drink when the café opened, but we eventually headed back to the main gate so that we could walk the walls surrounding the town. Unfortunately, we were melting and dying of heat by 9am we couldn't have been bothered to go back.
Stroll the Fortress Walls which surround the town!
Finally, the city walls surrounding the town opened to the public at 8am. You can buy your ticket for 100Kuna per person at a little shop to the left of the Pile Gate, directly in front of the Big Fountain of Onofrio. They do not accept Euros or visa, so make sure to have cash on you!! Walking to fortress walls is one of the absolute must-do things in Dubrovnik, but you're going to want to do it early enough before it gets too hot and too crowded!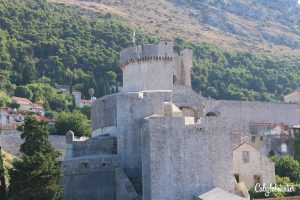 The city walls were built in the 10th century and were reinforced in the 15th century with towers to further protect the city. The walls are around 2km (just over a mile long) and 82 feet high which takes about 2 hours to walk the entire thing. I highly suggest walking the walls at first thing in the morning when they open to avoid the abundance of tourists and extreme heat. By 9am, we could hardly stand the heat anymore and had no desire to walk the other half of the walls. We walked the most important part of the walls which hugs the coastline and offers the most amazing views of the town. I must warn you though, bring extra water and be prepared for a lot of walking and a lot of steps. They do have cafes a water stands waiting to sell you ice cold water for you at a hefty price.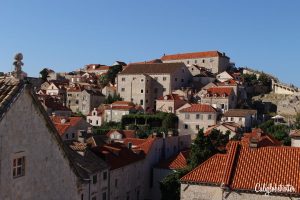 For Game of Throne Lovers, head over to Fort Lovrijenac!
Immediately from the top of the walls, you can see Fort Lovrijenac which provided extra protection of the town from both land and sea and is separate from the rest of the town.  One of the best things to do for nany lovers of The Game of Thrones will be to enjoy a visit to the fort. During the summer, it is used as a theater. had it not been so hot, I would have been all over this and wanting to check it out, but we didn't.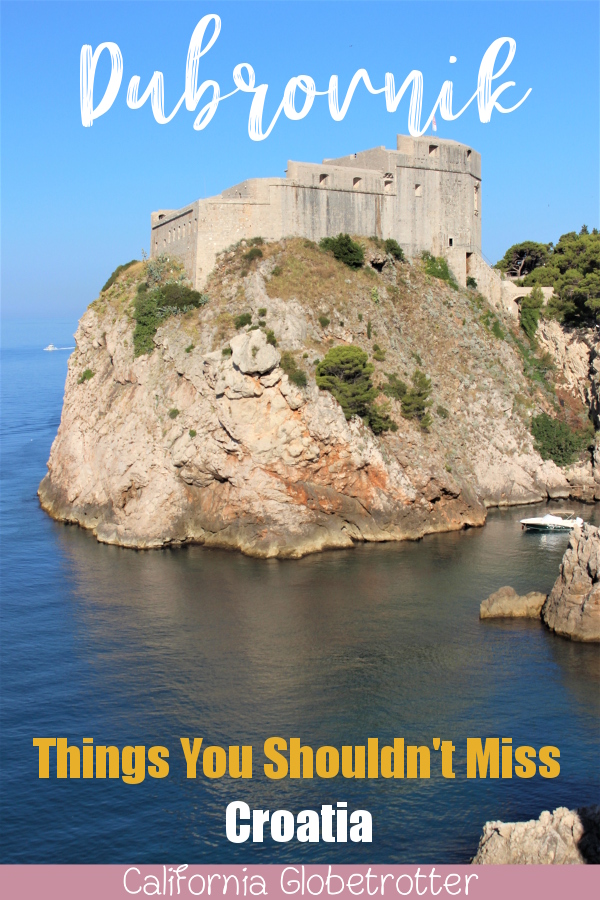 Take a Boat Tour or Kayak Over to the Island of Lokrum!
Just 600 meters away from Dubrovnik is the small island of Lokrum. Doing a kayak tour or taking the Dubrovnik ferry to the Island of Lokrum is one the most popular things to do in Dubrovnik, but for us, it was just far, far too hot! Again, we had every intention of going to this little island as I had heard the island is swarming with wild peacocks. Being a peacock lover, I did not want to miss this island. But I did. All I could think about was going swimming away from all the tourists. This little island has a Benedictine monastery which was founded in 1023 as well as palace that was built by Archduke Maximilian of Hapsburg in 1859.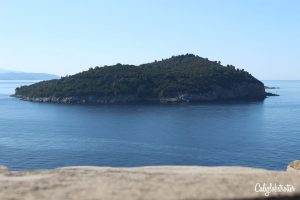 Halfway through walking the city walls, the heat was so unbearable, we just couldn't handle it anymore so we decided to call it quits and head back to our hotel so we could go swimming. Seeing people swimming below, we knew we just had to get in that water! The sad thing was it was barely 9am!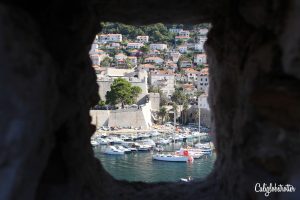 Get Away From the Crowds and Go For a Drive!
We quickly grabbed our swimming gear and hopped in the car with the air conditioning on full blast. We drove about 30 minutes along the coastline away from Dubrovnik to look for our own little swimming hole. While I very much wanted to swim at the famous swimming area which has a view of Dubrovnik, I couldn't be bothered by the loads of people. And turns out, where we went swimming was a million times better than anything I could have imagined.
In the small, very small town of Brsečine we found our own personal watering hole with turquoise green to dark blue water to swim. There were a few random people but there were times when we were completely alone here. What made this beach interesting for me was to see that there were still the ruins of an old house just feet away making for one of the best beaches near Dubrovnik!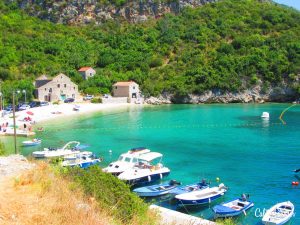 The water was incredibly warm and crystal clear. We even brought our snorkel and had a look around. It wasn't the most exciting area to snorkel, but there were plenty of small fish. I even saw a fish about a foot long with black and white stripes. I could have stayed here forever. Unfortunately, after a few hours our stomachs were rumbling and we had no drinks or snacks with us as we rushed out the hotel and forgot everything.
Take a Ride on the Dubrovnik Cable Car for the most iconic view of the town!
For the ultimate best thing to do in Dubrovnik, you absolutely must take the Cable Car up to Mount Srd which offers the most spectacular views over the old town of Dubrovnik. The car ride takes just three and a half minutes to get from the city walls to the top. It was built in 1969 and on a clear day, they say you can see 60 km (37mi). The views really are quite unparalleled! 
Once up there, we spent a good amount of time taking as many pictures as is possible. In our opinion though, the best view isn't from the viewing platforms connected with the building, but by going out the back door, walking over a rocky area which you can tell hasn't been completed and head towards the massive cross. It is here, that you will get a great view over the city without the cable car lines in your picture.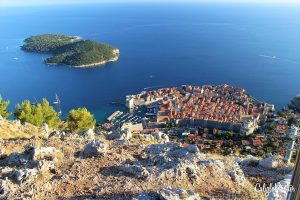 Take an Evening Stroll and See What You Find!
Afterwards, we headed back into town for another amazing dinner before spending the evening walking around enjoying the Blue Hour sunset. We even stumbled upon another church called the Church of the Holy Annunciation which is a Serbian Orthodox church. It had the most beautiful, golden alter ever!
If Dubrovnik wasn't already beautiful enough, by nightfall it is absolutely stunning. The whole town lit up in golden lights backed by a deep blue hour sunset. Clearly, one of the top things to do at night in Dubrovnik is exploring the city when it's cooler! Visitors flocked to the town, pouring in through the gates in search of dinner, drinks or ice cream to cool off once the evening began to cool down.
I was incredibly thankful to get the chance to go to Dubrovnik finally, but I was incredibly disappointed about the mass numbers of tourists here in the tiny city center as well as the sweltering heat. We had known prior to going that it would be hot and crowded, but not that much! Croatia was still experiencing a wave of extreme heat, like the rest of Europe. And as Croatia is being advertised as the new must see destination in Europe, it felt everyone from Europe was here at the same time. I will never visit Croatia again in July/August and next time I will certainly stay longer!
Where to Stay in Dubrovnik: Hotel Vis ⭐⭐⭐- Located 15-20 minutes from Dubrovnik, you can relax away from the crowds with amazing views of the Adriatic, a private beach for guests. Don't worry, there's a bus that will shuttle you into town!
There are more recommendations of places to stay in Dubrovnik if you're on a tighter budget or looking for some fancier options.
Things you need to know before visiting Dubrovnik!:
If you are driving to Dubrovnik, you will need to bring your passports as you will have to drive through a 5km portion of Bosnia-Herzegovina before you can reach Dubrovnik! There is no getting around this! (Not yet at least! Croatia wants to build a bridge around Bosnia so to avoid this!
July/August are the hottest and most crowded months to visit! They say May/September are better to visit!
A Day Pass on the City Bus costs 30 Kuna/~4€ and is good all day!
The Dubrovnik Cable Car costs 108 Kuna/~13€ per person and there is a restaurant up there which offers the best views over the town! I highly suggest making a reservation well in advance!
The City Walls are open from 8am-7pm daily. After 5pm, they no longer allow new visitors to walk the wall as it takes 2 hours to walk the walls! Tickets cost 100Kuna ~10-12€ per person! The shop does not take Credit Card or Euros! You must pay in Kuna!
If you're looking to visit Croatia this summer, I highly suggest buying any of the following travel guides which I have personally used to help you navigate through this beautiful country! These are my travel bibles!
Disclaimer: This post contains affiliate links. If you click on one and make a purchase, I might make a little extra spending money, at no extra cost to you. As always, all opinions are my own and these products/services have been found useful during our travels and come highly recommended to you from yours truly!
Croatia Day Trips:
with a detour to Mostar, Bosnia Herzegovina!
Slovenia Travel Inspiration:
Picture Perfect Lake Bled, Slovenia
City Guide: Ljubljana, Slovenia
Liked this post? PIN IT FOR LATER!!
Save
Save
Save
Save
Save
Save
Save