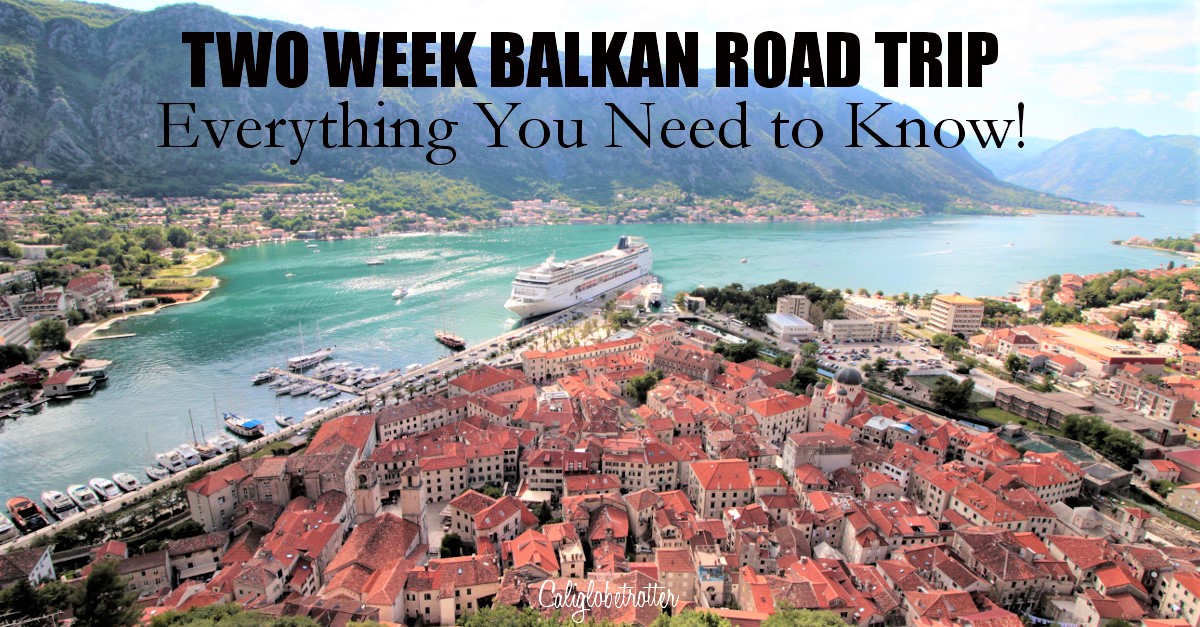 Disclaimer: This post contains affiliate links. If you click on one and make a purchase, I might make a little extra spending money, at no extra cost to you. As always, all opinions are my own and these products/services have been found useful during our travels and come highly recommended to you from yours truly!
We traded in Roman ruins, Venetian architecture, delicious pasta and gelato in Italy for a two week road trip through the Balkans visiting new, up & coming destinations as the mysterious veil over Eastern Europe is slowly disappearing. While we had wanted the romance of Tuscany and the Almafi coast, we decided that Italy is 1. Expensive. 2. Crowded 3. Typical for honeymooners. Don't get me wrong, I have a serious love affair with Italy and I still want to go, but I found myself more intrigued by the lesser known. 
We craved new exotic foods, interesting and unfamiliar architecture, unknown cultures waiting to be explored and after two full weeks, we knew we had made the right choice and now I share with you a complete guide to honeymooning in the Balkans!
Want to Honeymoon in the Balkans? PIN IT FOR LATER!!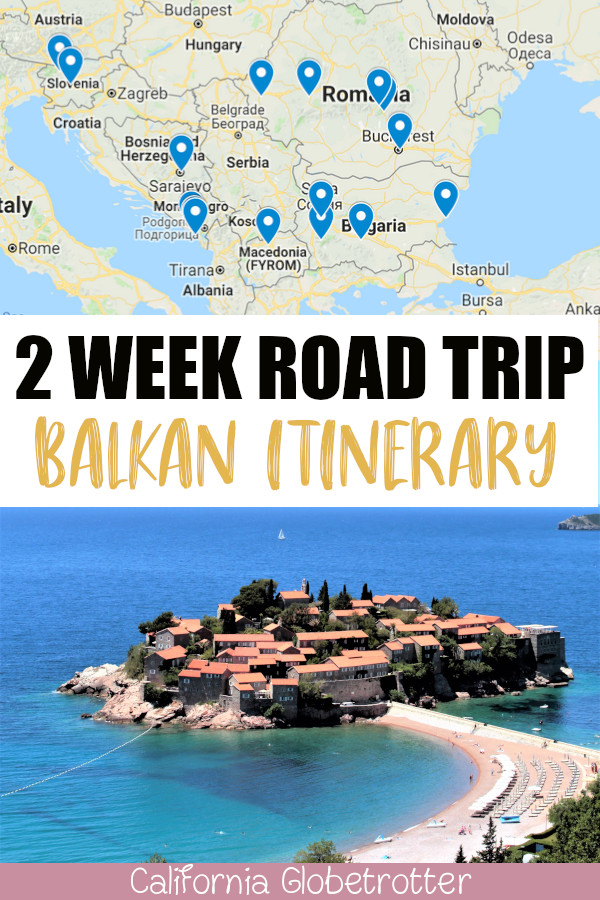 How to AVOID Looking Like a Tourist in Europe
2 Day Itinerary – Places to Visit on Montenegro's Coast
Two Week Balkan/Eastern Europe Itinerary:
Day 1: Lake Bled, Slovenia
Day 2: Ljubljana, Slovenia
Day 3: Sarajevo, Bosnia-Herzegovina
Day 4: Kotor, Montenegro
Day 5: Budva, Sveti Stefan and Perast, Montenegro
Day 6: Skopje, Macedonia
Day 7: Rila Monastery / Sofia, Bulgaria
Day 8: Plovdiv, Bulgaria
Day 9: Old Nessebar, Bulgaria
Day 10: Sunny Beach, Bulgaria
Day 11: Bucharest, Romania
Day 12: Bucharest, Romania
Day 13: Peles Castle / Bran Castle, Romania
Day 14: Corvin Castle / Timisoara, Romania
Day 15: Bratislava, Slovakia
Day 16: Home bound via Melk Abbey, Austria
While I look back on our EPIC road trip, I sit here in disbelief that we managed all these stunning places in 2 weeks. We hustled our way though 8 countries, driving through Croatia, Albania, Kosovo, and Hungary, yet we still found plenty of time to relax, have a few beach days and enjoy a couple of romantic massages.
Our honeymoon was unlike any other I have ever heard of and that alone makes it special. But what reallllly touched my heart, was that a co-worker of mine in Germany, originally from Slovenia who also lived in Macedonia for a while, was so excited and proud that we were going to her home country that she gifted us a few Macedonian buckaroos. At that moment, I felt so touched and honored to be visiting her home country, as it's not one of the most visited countries compared to the rest of Europe. After visiting, I feel a deeper connection with my amazing coworker and so proud that we went and I will do my best do share her country with justice in the hopes that more tourists will take the time to visit this beautiful region!
Western Europe can be so crowded and so incredibly expensive and sometimes slightly overrated, so it was so nice and refreshing to go somewhere new and exciting, away from the crowds at more affordable prices! People were friendly everywhere we went and everyone was so excited that someone would come to their country for a visit, let alone for their honeymoon! We truly felt honored to visit and explore the Balkans and I am proud to share them with you and encourage you to visit now, because lord knows one day, it too will become engulfed by tourism. It's best to explore it now before things change and you still have a sense of authenticity! 
What's the trade off for visiting the Balkans?
The Balkans are budget-friendly! Stay in luxurious accommodation for not even a fraction of the price you would pay in Western Europe. 
Eat like kings! An appetizer, two full meals, two beers and a water will set you back a whopping 20€! 
Less crowds = less time standing in line for attractions and less tourists in your photos! 
More authenticity which means less tourists shops catering to tourists.
Overall, taking the path less traveled! There's so much to explore and so many detours to be had!
Why Should You Drive?
Driving through the Balkans is the perfect way to see as much of the region as possible and here's why:
You can stop whenever you please. You'll pass lots of interesting things and can stop to check it out and stay as long as you want!
You can go anywhere! Taking a bus or train might make things much more difficult, although not impossible. 
You can make your own schedule, leave as early or as late as you want! No wasting time waiting for a bus!
Gas prices are much cheaper and affordable in the Balkan countries!
While some roads are pretty terrible and you need a Navigration guide wherever you go, it's still better than the public transportation, which I've read is somewhat unreliable. 
But be forewarned, driving in the Balkans can be somewhat dangerous and driving rules and regulations are much more relaxed and drivers tend to push the limits. 
When is the best time to visit the Balkans?
While the summer months between July and September are typically hotter and better for swimming in the water, we found that visiting at the end of May/beginning of June allowed us the same warm weather and sunny days without the crowds. Beaches were empty and more enjoyable and at times we felt like we had the place to ourselves! We had only 1 day of rain in the 15 days we were there which was perfect! 
I've heard that even October is a preferable month to visit, especially if you plan to head to Croatia which can be tremendously crowded in the summer months. By October all students are back in school and the summer holidays are over. 
Do I need a Visa to visit the Balkans?
Citizens of the EU, USA, Canada, Australia, New Zealand and a plethora of other countries can visit visa-free for up to 90 days to Bosnia-Herzegovina, Kosovo, Albania, Montenegro and Serbia. However, if you visit Slovenia, Bulgaria, Romania, Croatia or Greece, these are all part of the EU and the Schengen Zone. 
Is Eastern Europe Safe?
I'm going to give you a resounding HELL YES! The Balkan Wars have been over for 20+ years. Stick to paved roads at all times and never drive on dirt roads. There are still many un-detonated land mines. Signs are posted (even if you can't read them) with a skull sign or something similar telling you not to go there. 
As a female and an American, we never ran into any problems while driving through the Balkans. Everyone was super friendly (with the exception of the hotel in Sofia) and excited to host us! Eastern Europe is ready for tourism and they want you to come! (They have no idea what they're asking for!) To minimize any risk of getting lost or something happening on the road, we planned to do most of our driving at first light and early morning, never getting anywhere in the evening (except Bratislava). We obeyed all road rules despite the honking and zooming by of locals annoyed we slowed for potholes. We generally did all of our sightseeing in the day time and almost never stayed out too late (with the exception of Kotor and a few other places where we felt ultra safe). 
So, now I share with you some of the top destinations to visit in the Balkans, where to stay in the Balkans and things to see and do in each location!
Day 1: Lake Bled, Slovenia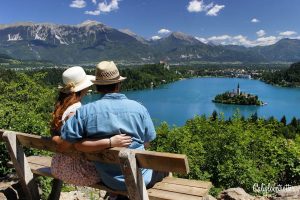 There is no question, no doubt as to the most beautiful place in all of Slovenia. Lake Bled is about as picturesque as any mountainous region can be, and it really is just as magical in person as it is in a picture rain or shine, summer or winter, making for one of the most popular tourist destinations in the country!
While here, hiking up Ojstrica for the most iconic viewpoint over the lake and the island located smack in the middle of the lake is one of the top things to do in Lake Bled! When you're done, reward yourself with a slice of "Kremsnita" (creme cake), a local sweet puff pastry filled with cream! Then, work it off by row, row, rowing your own boat (or take a traditional Plenta boat) to Bled Island and take a leisurely stroll around the perimeter of the lake. Afterwards, head up to Bled Castle for more amazing views over the lake! You'll need a full day to truly take in all the sites! (More on Lake Bled here)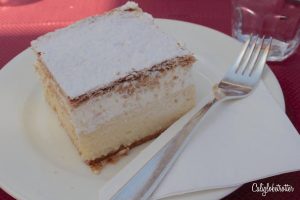 Where to Eat in Lake Bled:  Panorama Restaurant – offers a dream worthy view of Bled Castle and Creme Cake!
Address: Panorama Restaurant, Cesta svobode 12, 4260 Bled, Slovenia
Tips for visiting Lake Bled, Slovenia:
You will also need to buy a Slovenia vignette. You can buy either a 7 day or 30 day. We bought a 7 day vignette for 15 €.
When driving into Lake Bled, you'll likely approach the lake from the HWY 209 on the north eastern side of the lake. There is lots of parking over here, but more crowded. If you plan to hike or take a row boat, head to the southwestern end of the lake and you'll find less crowded parking for 5 € all day.
Day 2: Ljubljana, Slovenia
As the capital is only a mere 45 minute drive from Lake Bled, head to Ljubljana for the night and rest up for a full day of sightseeing of one of Europe's less visited treasures!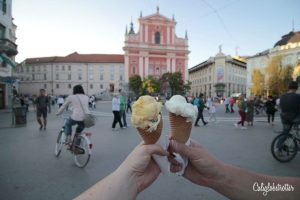 There are quite a few things to do in Ljubljana, and the first port of call is the iconic pink church, also known as "Franciscan Church of the Annunciation" which can be found in the main square called Prešernov trg (Prešernov Square) followed by a scoop or two of ice cream directly next to the Triple Bridge!

Then stroll across the Triple Bridge which is a group of three individually unique bridges clustered together connecting two parts of downtown Ljubljana together. Located along the river, you'll find various spots to take a boat ride! For 5€ each, you can take a 30 minute boat tour through the city.
Don't forget to visit the "Dragon Bridge" which opened in 1901 and was dedicated to the Jubilee of Franz Josef I when Ljubljana was part of the Austro-Hungarian Monarchy. Take a peak inside of the Cathedral of St. Nicholas, also known as the Ljubljana Cathedral. If you have extra time, head up to the Ljubljana Castle which is perched above the town. This is accessible via a funicular. (More on Ljubljana here)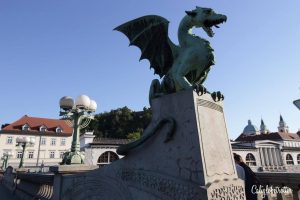 Where to Eat in Ljubljana: Bar Lokal – for the best Slovenian schnitzel! (Across the river from the Central Market)
Address:

Petkovškovo nabrežje 23, 1000 Ljubljana, Slovenia
Where to Stay in Ljubljana: City Hotel Ljubljana ⭐⭐⭐– Just feet from the iconic "Pink Church", soft cushy beds and comes with air conditioning!  We've stayed here twice and wouldn't stay anywhere else!
Tips for Visiting Ljubljana:
Driving is not permitted directly in the Old Town as it is a pedestrian zone.
Consider parking at Parkirna hiša / Parking Garage Kapitelj – parkiraj (Address: Poljanski nasip 4, 1000 Ljubljana, Sloveni). 
Border Controls
Between Slovenia and Croatia: During the summer, the lines can be long so prepare for extra time, possibly up to an hour. 
You will need to show your car registration, passports, and driver's license. 
You will need to pay for each toll road you use, many accept credit card but have cash on you just in case!
Between Croatia and Bosnia-Herzegovina, the lines can take between 30 min – 1hr. Again you will need to show your car registration, passports and (international) driver's license. 
If you're driving your own car, you will need a country sticker from where your car originates for non-EU countries. For example, we have 'D' for Deutschland (Germany).
Read More on Slovenia: Piran: Slovenia's Prettiest Town!
Day 3: Sarajevo, Bosnia-Herzegovina
Having already been to Zagreb, Croatia, we opted to skip this destination and drive the 6 hours to Sarajevo, Bosnia-Herzegovina. We had planned to stop in Jajce for a few hours, but road infrastructure is pretty terrible, it took a bit longer to get to Sarajevo than planned.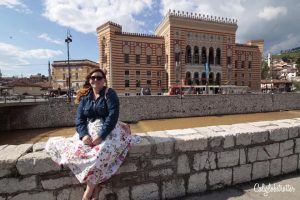 After one of the modern world's longest siege in history, Sarajevo has risen out of the ashes into a once again beautiful city. While here, one of the top things to do in Sarajevo includes a visit to the Vijecnica, the National Library, which has been restored to its former glory. Afterwards, go across the Miljacka River, and have lunch/dinner at "Inat kuća" (The Spite House), which was formally in the location of the now National Library. 
Sarajevo sightseeing would be incomplete without strolling through the Old Bazaar for some copper knickknacks for traditional coffee pots and cups. Afterwards, check out the Gazi Husrev-bey Mosque, the largest in Bosnia-Herzegovina! Don't forget to head to the Baklava shop for a variety of flavors of Baklava!
Be sure to visit some of Sarajevo's museums to learn more about the city's rocky history. Consider visiting the Austrian Archduke Franz Ferdinand Museum, commemorating the moment that led to the devastating First World War. (More on Sarajevo here)
Where to Eat in Sarajevo: Inat kuća – head here for traditional Bosnian cuisine and and authentic atmosphere with a great view of the National Library and full of history!
Address:

Veliki Alifakovac 1, Sarajevo 71000, Bosnia and Herzegovina
Where to Stay in Sarajevo: Hotel Latinski Most ⭐⭐⭐, in the heart of Sarajevo, just opposite the historic center. Built between 1881-1883, the hotel is just 15 meters from the Latin Bridge.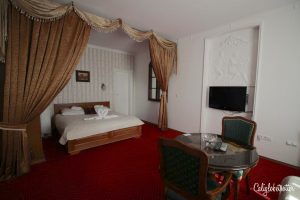 Tips for Visiting Bosnia-Herzegovina:
BiH currently has ZERO highways. You will be driving on mostly one lane back roads. A highway is currently under construction outside of Sarajevo. There is a new toll road which has been built, and is being continuously extended stretching from Zenica and Sarajevo (6 KM), but that's about it.
Prepare yourself for potholed roads for the entire length of your drive, and drive slowly!
A navigation guide will not come in handy unless it is up-to-date, otherwise you'll need to rely solely on old school paper maps.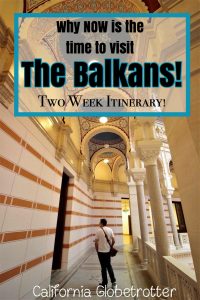 Border Control
Between Bosnia-Herzegovina, you'll come out through a mountain pass and be greeted to the sea. You'll need to show your car registration, passport and (international) driver's license again. 
If you're driving your own car, you will need a country sticker from where your car originates for non-EU countries. For example, we have 'D' for Deutschland (Germany).
Day 4: Kotor, Montenegro
Hopefully you're an early riser, because you'll want to leave early to make the 4 hour 45 minute journey to Kotor! Trust me, you'll want to get up early to make the most of your day! Kotor is one of the most popular destinations to visit in Montenegro and for good reason: it's stupid pretty!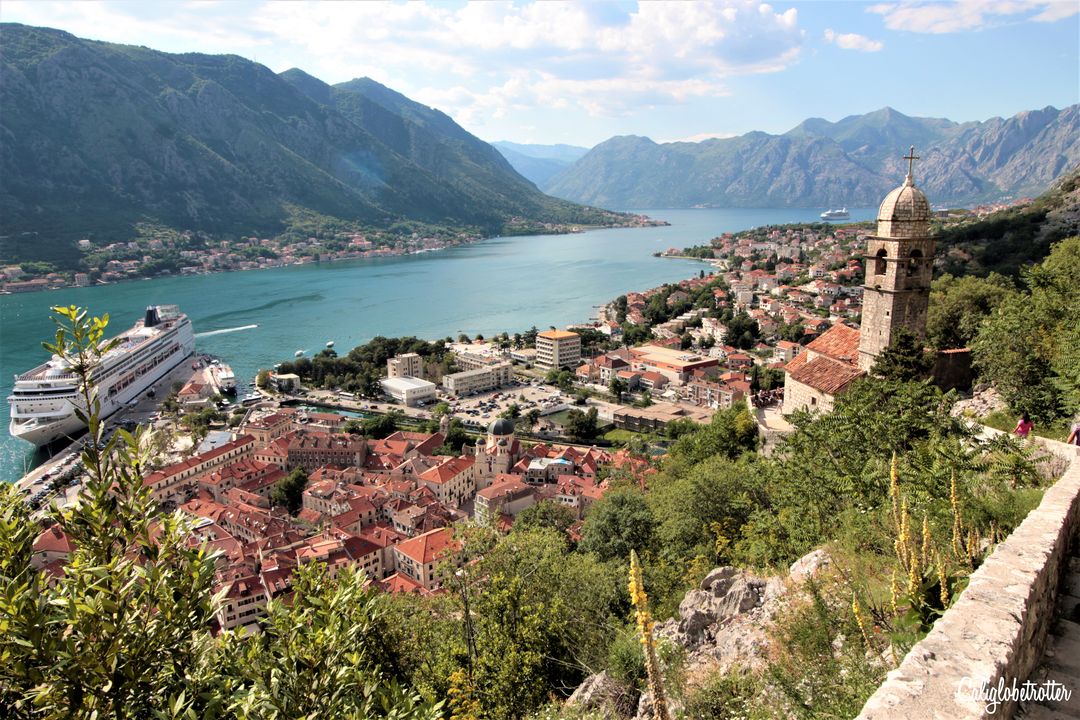 After you've checked into your hotel, you'll want to hike up to the Castle of San Giovanni before it gets too hot and too crowded. You'll have to pay a 3 € per person fee to make the hike. The best view point is from the white Church of Our Lady of Remedy but the ultimate view is from the top. The entire hike should take you around 2-3 hours to complete and is one of the best things to do in Kotor! Trust me, you do not want to skimp out on this hike!
Once back down in town, you'll want to put down the map and get lost meandering through romantic alleys filled with Venetian architecture and a few stray cats. Take a gander inside the St. Triphon's Cathedral for a small fee of 2.50 € per person and head upstairs to the balcony. Hang out in the main square where you'll find the Old Town Clock and the Main Gate to the fortified town. (More on Kotor here)
Where to Eat in Kotor: Scala Santa – you'll want to stop by here for delicious seafood pasta or a simple but delicious chicken Caesar salad. Head to Astoria for the best dessert in town!
Address: Scala Santa: Trg od Salate, Old Town, Bay of Kotor, 85330, Montenegro
Where to Stay in Kotor: Palazzo Drusko Deluxe Rooms  ⭐⭐⭐⭐was the perfect hotel right in the heart of the historic Old Town decorated in traditional style with 150-year-old furniture, stone walls and wooden elements. The owner played traditional Montenegrin music over a vintage radio in our rooms long into the summer night, adding to the romance of the town!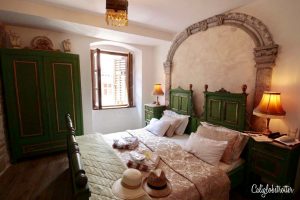 Tips for Visiting Kotor:
Driving in the Old Town of Kotor is not permitted. However, there are several places to park on the outside. The cheapest and safest is on the Kotor Bay Connect, a little stretch of island just on the outside of the town. Here, parking is .80

€

/hour and is monitored 24/7.
Should you make the hike, WEAR GOOD SHOES as the path is rocky and unstable. Bring water and wear lots of sunscreen!
Should you not have any water with you or not enough, water is sold on the hiking trail at various points, but increases with price the higher you go!
Day 5: Budva & Sveti Stefan, Montenegro
Most people only manage to visit Kotor, but if you have more time, I highly recommend visiting the next two towns. They are equally as charming, if not more magical! However, there are also a plethora of amazing places to visit in Montenegro!
Budva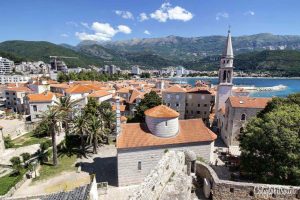 Budva is only a mere 28 minute drive and conveniently located along the 35 km (22 mi) stretch of Adriatic Sea. Slightly less crowded and way more peaceful, Budva is one of the oldest settlements along the Budva Riviera. Top things to do in Budva include strolling along the promenade and admire all the luxury yachts before making your way inside the fortress. Once inside, you can walk along the walls or go inside St. Ivan's Catholic Church. While here, take the time to go inside the fortress museum which gives you access to the Maritime Museum, Antiquarian books & maps, a panoramic view, a restaurant and more! Then head down to the Old Town Beach and chillax on the soft sandy beach, or perhaps you want to take a dip in the water! (More on Budva here)

Where to Stay in Budva: Avala Resort & Villas ⭐⭐⭐⭐- with an infinity pool stretching out into the Adriatic, right next to the Old Town Beach, what could possibly be better?
Address: Mediteranska, Budva, Montenegro
Tips for Visiting Budva:
Park across the street from City Cafe & Restaurant for 1

€

per hour.
Go early in the morning before the crowds arrive!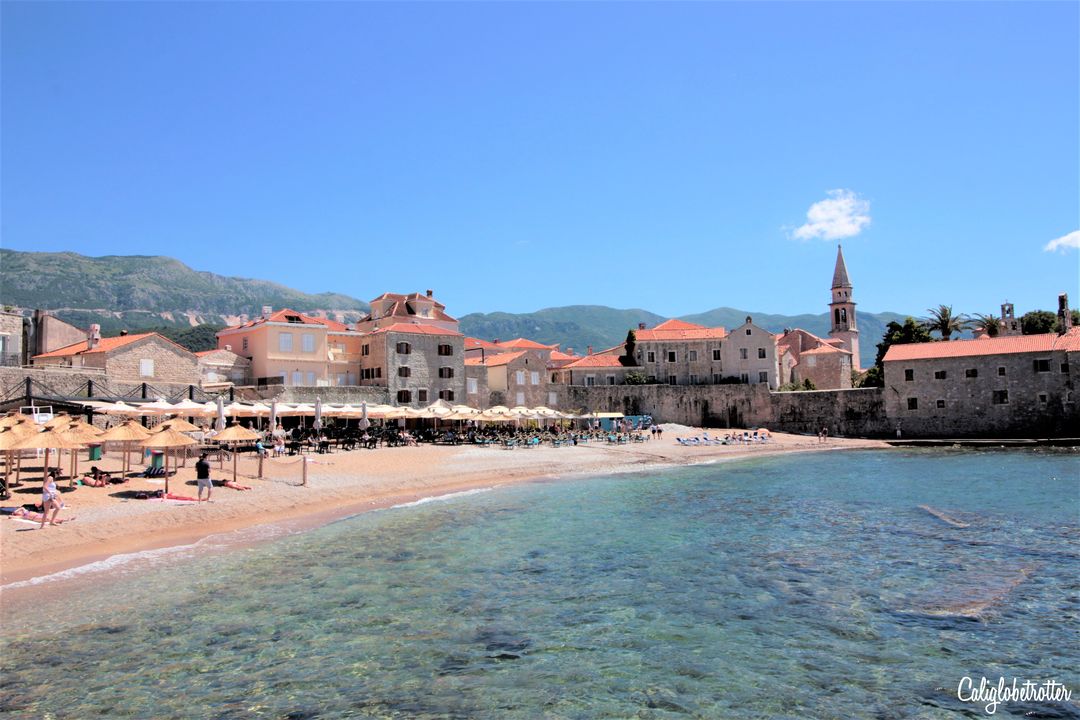 Sveti Stefan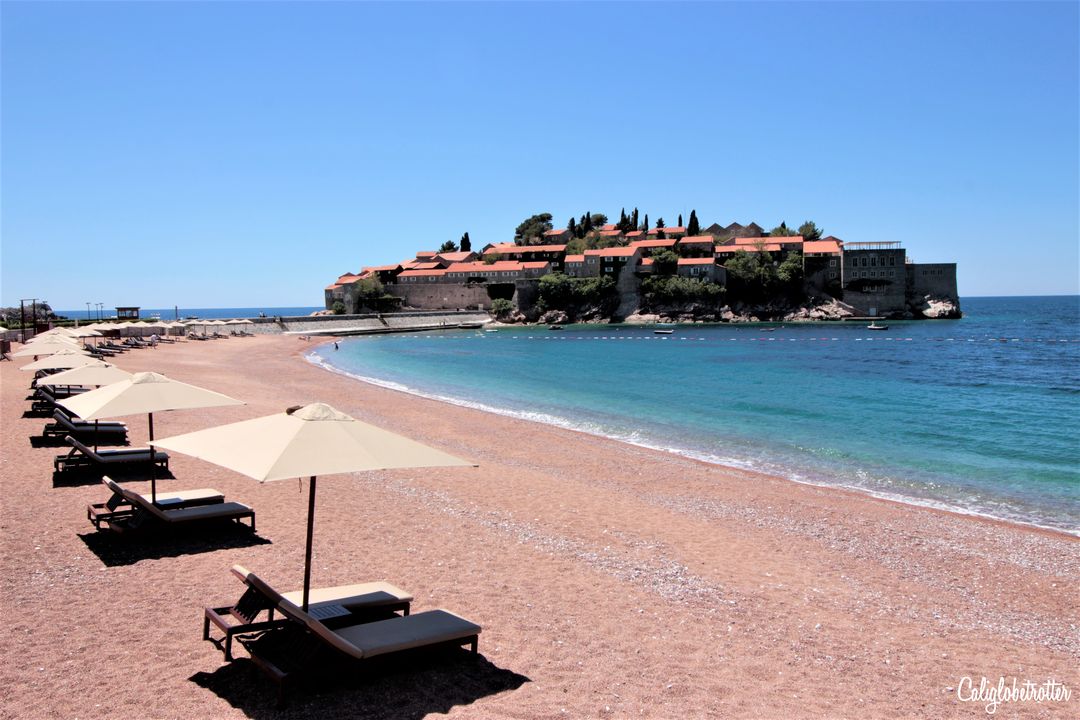 Sveti Stefan is just another 20 minute drive from Budva, and is one sparkling gem along the Budva Riviera you do NOT wat to miss! Of all the places to visit in Montenegro, Sveti Stefan is the cream of the crop! This tiny islet has been turned into a luxury hotel with a private beach for those willing to pay a hefty price for peace, quiet and privacy. If you're willing to spend the money, for 100 € you can rent two beach chairs, an umbrella and a table complete with exquisite service and complimentary water and watermelon. If you're not interested in breaking the bank, head to the left side of the islet for a more affordable experience. Being on our honeymoon and all, we splurged an opted for the practically empty private beach! (More on Sveti Stefan here)
Where to Stay/Eat in Sveti Stefan: Hotel Adrović ⭐⭐⭐– For the ULTIMATE view over the islet, head up here for the most delicious food and wine.
Address: Jadranski put bb, Sveti Stefan 85315, Montenegro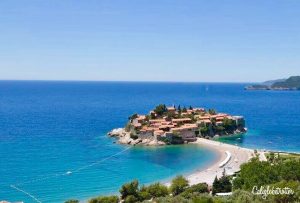 Tips for Visiting Sveti Stefan:
Park down by the beach for 2

€

per hour. Eat at Olive if you plan to be there all day. If you spend 20

€

or more, it is said you will get free parking.
No need for a towel if you plan to stay on the private beach and be sure to tip your attendants.
But, B.Y.O.T. if you use the public beach.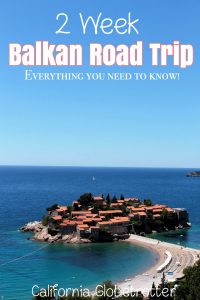 Border Control
To reach Macedonia from Montenegro, it is recommended that you drive via Tirana, Albania and through the southern portion of Kosovo! Since you'll be driving that way anyways, consider visiting Pristina, Prizren and Peja!
Do not drive through Podgorica, the capital of Montenegro, as the roads are incredibly terrible. To drive through Albania and Kosovo, you're required to have an International Drivers License, show your car registration and passport. However, in Kosovo, you'll be required to buy a temporary car insurance good for the duration of your time in the country, the smallest being 15 days for 15

€. You'll be surprised to know there is a wonderfully new and empty highway in perfect condition.

If you're driving your own car, you will need a country sticker from where your car originates for non-EU countries. For example, we have 'D' for Deutschland (Germany).
Related: Kosovo Travel Itinerary
Day 6: Skopje, Macedonia
 If you have extra time, consider driving down to Lake Ohrid– one of the gems and a top destinations in Macedonia! Unfortunately, we didn't make time to see this, which we highly regret now! Exploring Skopje turned out to be equally as amazing and we perused all of the best things to do in Skopje!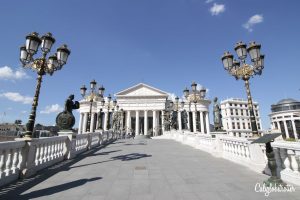 As soon as you're all checked-in, head straight into town. You'll notice right off the bat the plethora of massive and sometimes absolutely absurd monuments and statues sporadically scattered throughout the town. Head straight to Macedonia Street where you will find a Mother Theresa Museum, an Orthodox Church and many cafes and restaurants. Continue walking till you come to the impressive Warrior on a Horse Statue. From here, you'll notice the complete make over the town has received and the immaculate white buildings of Museum of Archeology and the Ministry of Foreign Affairs both of which are dominated by the equally stunning Bridge of Civilizations in Macedonia and the Art Bridge. Be sure to walk around at night time for night photos and playing in the synchronized water fountains!
Be sure to meander through the Old Bazaar, the largest in the Balkans and filled to the max with cafes, restaurants and jewelry shops. Perched up on the hill not far from the Old Bazaar is the Kale Fortress, where remnants of the country's oldest civilization has been found. (More on Skopje here)
Where to Eat in Skopje: Etno Bar was a hip little restaurant we found while strolling along the Vardar River. This area is popular for traditional Macedonian cuisine and we were able to enjoy the best Baklava along our entire trip!
Where to Stay in Skopje: Elsa Hotel ⭐⭐⭐⭐ – For an affordable and comfortable stay, we stayed right in the heart of Skopje and were able to book a couples massage through the hotel, right in our room! 
Address: 

 

Luj Paster 21, Skopje 1000, Macedonia (FYROM) (Pedestrian zone)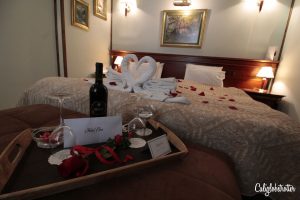 Skopje Marriott Hotel ⭐⭐⭐⭐⭐ was also an option we discovered later, directly in the main square near the Warrior on a Horse statue in quite an exquisite building. Prices are affordable, and had I found this first would have likely booked here.
Tips for Visiting Skopje:
Macedonian currency is only available IN the country and is illegal to take out of the country.
There are two tolls road from Skopje to Bulgaria's Rila Monastery for 40 den (1

€

) and the second is 60 den (1.50

€

).
There is a secure parking garage at Dame Gruev 12, Skopje 1000, Macedonia which is in the city center near the Ministery of Finance which I recommend parking in.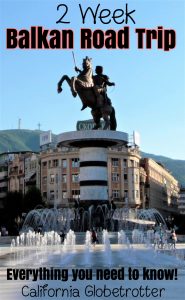 Border Control
Between Macedonia and Bulgaria, you'll need to show your car registration, passport and (international) driver's license again. 
You'll also need to buy a Vignette for 7 days (8 

€) to be placed in your front windshield. Directions are on the sticker where you need to place it!

If you're driving your own car, you will need a country sticker from where your car originates for non-EU countries. For example, we have 'D' for Deutschland (Germany).
Day 7: Rila Monastery / Sofia, Bulgaria
There's no time for sleeping in, when there is a world of wonder to see. You'll need to get up early to make the 4 hour drive from Skopje, Macedonia to Rila Monastery, Bulgaria's "Crown Jewel" deep within the Rila Mountains. You simply can't go to Bulgaria without visiting the most beautiful and the largest Orthodox monastery in the country! Considering that it's one of the top destinations to visit in Bulgaria, it would be a crime to miss this! After spending a few hours here, you'll drive the remaining two hours to the capital of Bulgaria, Sofia.
Rila Monastery
Once at the monastery, stroll around the courtyard and admire the church and the surrounding chambers of the monks, which at one time held over 300 monks! Take a peak inside the church and be amazed by its glory, but remember, to dress modestly! Pictures are not allowed inside, but the outside frescoes are equally stunning and photography is allowed. If you have more time, consider climbing the Hrelya Tower to the top and have a look at the small chapel for 5 lv. (More here on the Rila Monastery)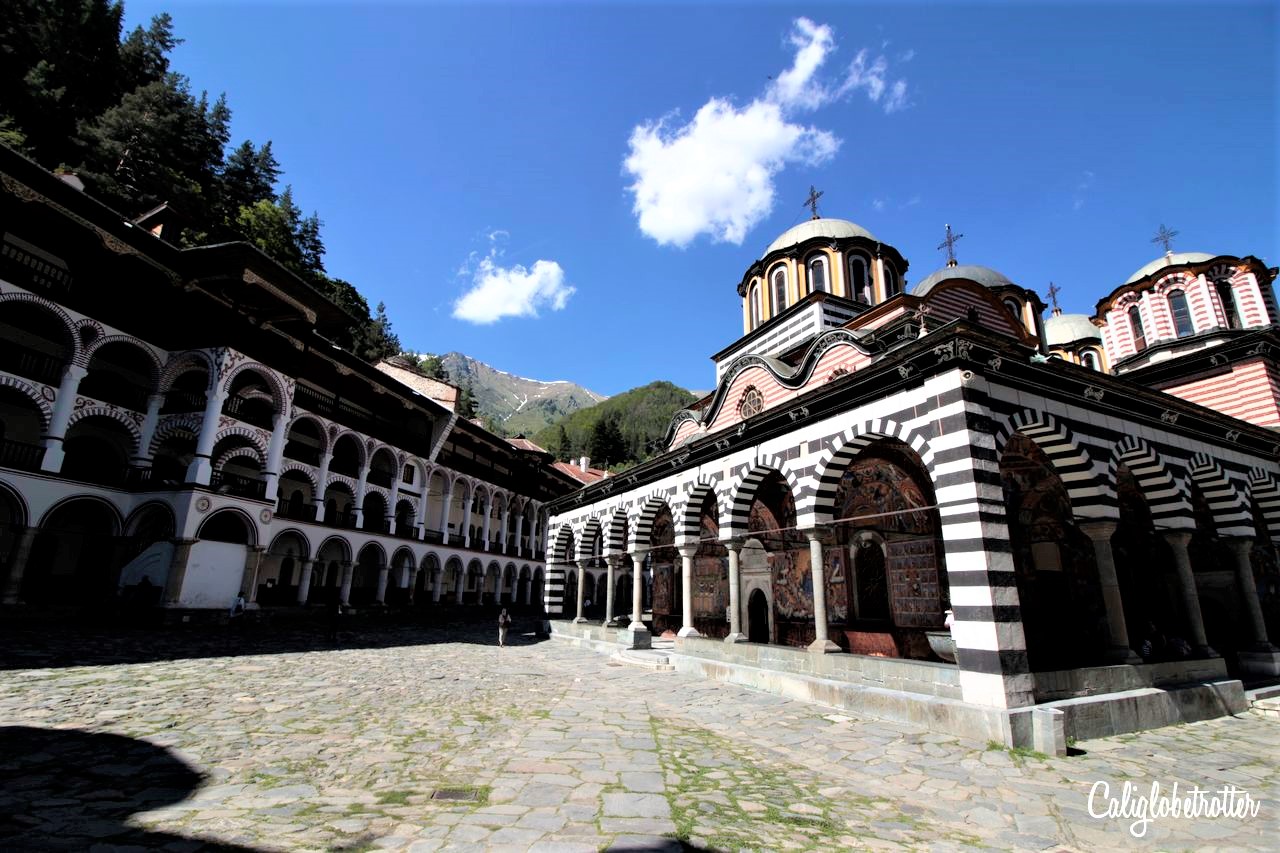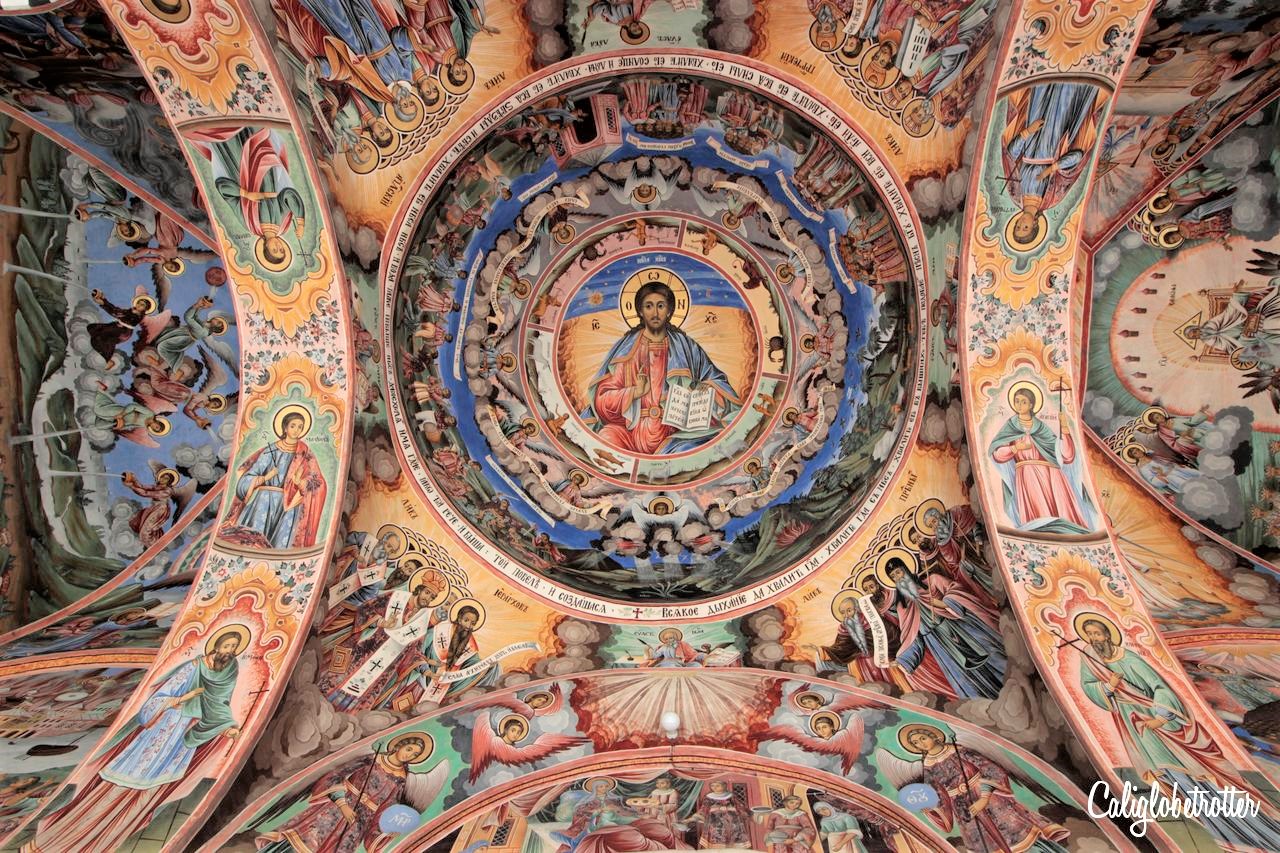 Tips for Visiting the Rila Monastery:
Arrive early to avoid the crowds. The monastery is open daily from 7am – 8pm. The tower is only open from 8:30am – 4:30pm.
Dress modestly! No bare shoulders or short shorts. Bring a scarf just in case, but it wasn't necessary.
Be sure to find a toilet PRIOR to visiting unless you're comfortable using a SQUAT TOILET. 
Sofia
As the capital of Bulgaria, you can imagine that the city is large. Having once been under Communism, many of the buildings, streets and monuments are not up to par. But try to go with an open mind!  (We had originally planned two days in Sofia, but we personally didn't have a good experience and therefore, headed to Plovdiv, which I recommend spending more time in than Sofia.)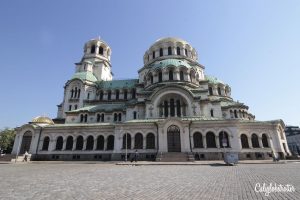 Upon arrival, you'll immediately want to visit the Alexsandur Nevski Memorial Church, which looks like a magnificent wedding cake. It's free to enter, so take a peak inside and admire the fading frescoes which are in desperate need of restoration. It's worth a visit to check out The Rotunda of Sveti Georgi which is a pre-Christian temple that can be found within the inner courtyard of the Presidency building. Just outside, you can watch the Changing of the Guards which takes place hourly. Just caddycorner, you'll find the former Communist Party House, one of the most imposing Stalinist-era buildings in the city.
As our 2 days in Sofia was cut short, I can not personally recommend anything else to do, but I will tell you other items on my list I had wanted to see. The Mineral Baths, the Sofia Synagogue, and the National Theater all looked like beautiful architectural sites well worth a visit, for which I was sad to have missed these in our desire to leave ASAP. (More on Sofia here)
Where to Eat in Sofia: Chevermeto – If you're looking for authentic Bulgarian cuisine with the added bonus of traditional folk singing and dancing, then look no further! This was the best part of visiting Sofia! Make a reservation prior to going!
Where NOT to Stay in Sofia: Having had a TERRIBLE hotel experience at the Best Western Hotel Europe, I can not recommend to stay here unless you're ok with nothing being updated since the 80's and having bed bug bites. Instead, possibly consider the Hilton Sofia for a better stay.
Tips for Visiting Sofia:
You might be wondering "Is Bulgaria Safe?" and for the most part yes it is, but like anywhere else you need to be careful of beggar, pickpocketers, fake money, inflated dinner bills and scummy hotels.
Search for "parking lots" prior to driving into town, as we could not find any parking garages.
Really do your due diligence when it comes to finding a hotel. Make sure the standards will be up to your expectations, read the reviews and don't just book a hotel in Sofia by its pictures. 
Do a guided tour of the city, as everything is so spread out and there is no condensed "central" city center like most European capitals.
Day 8: Plovdiv, Bulgaria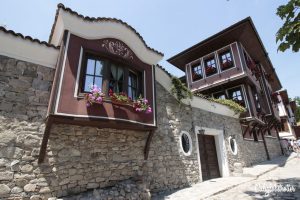 Quite possibly Europe's oldest city, and therefore, the world, Plovdiv is a wonderful mixture between Roman ruins, Bulgarian National Revival architecture dating back to the Ottomans and a young hip vibe. There are many things to do in Plovdiv and we begin by exploring Plovdiv's ancient ruins, both the Roman Theater and the Stadium of Trimontium for a glimpse into the past. Explore the inner city's youthful spirit by chillaxin' in the Creative District of Kapana, aka "The Trap". With bunting streamed from one street to the next and vibrant art installation of colorful streamers, you could find yourself trapped here for hours of good fun! 
When you've managed to fill up on art, music and food, head over to the Old Town of Plovdiv, loaded with some of the finest examples of National Revival houses dating back the beginning of the 19th century! Stepan Hindlyan House, Balabanov House and the Kuyumdzhiogh House are well worth a visit inside! Consider getting a combination ticket which gives you access to 5 houses of your choosing! Before you leave this neighborhood, head up to Nepet Tepe for a wonderful view over the city and more ancient ruins! (More on Plovdiv Here)
Where to Eat in Plovdiv: Turkish Coffee and Pastry Shop "Dzhumaya" is located on the side of the Dzhumaya Mosque in the heart of the city and offers traditional Baklava and Turkish Coffee. 
Where to Stay in Plovdiv: Imperial Plovdiv Hotel & SPA ⭐⭐⭐⭐ – After our terrible experience in Sofia, this hotel was HEAVENLY! We couldn't have scored a better deal as it has free parking, spa facilities with a hot tub, lovely gardens and comfortable rooms! They welcomed us with an adorable honeymoon cake and we booked us both an amazing one hour massage for 45 lev. The hotel is a 5 minute drive away from the city center or a 15-20 minute walk.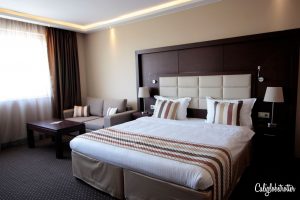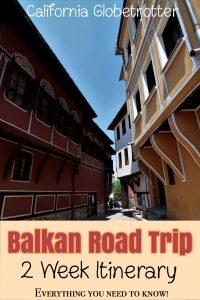 Day 9: Old Nessebar, Bulgaria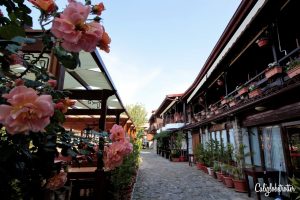 Jutting out into the Black Sea, the peninsula of Old Nessebar is one of Bulgaria's few UNESCO World Heritage Sites often nicknamed "the Pearl of the Black Sea". With exceptionally beautiful wooden houses in the traditional "National Revival" style, Old Nessebar is a popular tourist spot hidden behind the remains of the old Roman fortress walls.
Founded by the Romans well over 3,000 years ago, the tiny peninsula is covered in the remains of 23 out of 40 churches which once littered the tiny peninsula. By far the most beautiful in the town is the Church of Christ Pantokrator with a row of brick arches built with alternating bricks and stones typical during the 13th and 14th  centuries. The remains of the Hagia Sophia Church is perhaps the most impressive with its brick arched columns which dates back to the 5th  century. 
Beyond the churches and Roman ruins, there aren't many things to do in Old Nessebar other than simply put down the map and stroll through the picturesque lanes or down along the shore of the peninsula. Stop for a drink and enjoy the views or do a little bit of shopping at one of the many tourist shops. When visiting Old Nessebar, don't forget to soak up the sun on Bulgaria's largest and most popular beach, Sunny Beach, not far from the old town. (More on Old Nessebar here)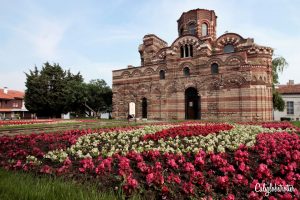 Where to Eat in Old Nessebar: Finding somewhere to eat is not difficult as there are a plethora of restaurants scattered throughout the town, many of which offer sea side views. Typical food you will find here are fish platters, however it is possible to find burgers and fries, as well as even schnitzel! If you're not hungry, sip on a Piña Colada. 
Where to Stay in Old Nessebar: Originally, we had booked the Boutique Hotel St. Stefan ⭐⭐⭐ in the heart of the historic peninsula with simple decor but with views of the Black Sea. I would have kept it, had I not been casually perusing and found an all inclusive resort towards the northern end of Sunny Beach. 
Day 10: Sunny Beach, Bulgaria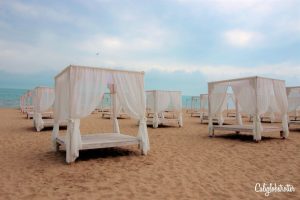 Not far from Old Nessebar is Bulgaria's first, largest and most popular beach resort, lined with one all-inclusive hotel after another. The region was established in the 1960's to draw tourists and it quickly became a the hot spot on the Black Sea but is only now becoming known to Westeners since the fall of the Iron Curtain. 
With soft sandy beaches stretching 5 miles (8 km) lined with beach umbrellas, sun chairs and the occasional private sun beds to rent at the White Bar, this is the perfect paradise to come and get your relaxation on! Hopefully, with a mattress! 
When you're not laying out on the beach, hang out on the main promenade loaded with restaurants, bars, night clubs and even a few fun park rides! If you're looking to party hardy for a bachelor/bachelorette party, Sunny Beach was made for you! Or even consider Golden Sands not much further! (More on Sunny Beach here)
Where to Stay in Sunny Beach: ⭐⭐⭐⭐ Fort Noks Premier Fort Cuisine – with a beach front view, outdoor pools, private beaches and restaurants, this all-inclusive hotel was exactly what we needed for an incredibly low price! Highly recommended for families!!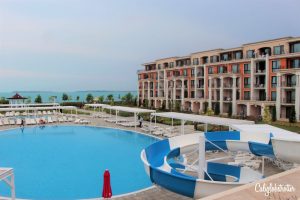 Border Control
Between Bulgaria and Romania, you'll need to show your car registration, passport and (international) driver's license again. 
You'll also need to buy a Vignette for 7 days (4 

€) to be placed in your front windshield. Directions are on the sticker where you need to place it!

Passing through border shouldn't take very long, 15 minutes at the least!
Day 11: Bucharest, Romania
The sprawling capital city of Bucharest has over 500 years of fascinating history and culture, blending old crumbling buildings with new, hip cafes and shops. Bucharest is often nicknamed the "Paris of Eastern Europe" for it's classical feel, lovely parks, cafes and nightlife as well as the fact that it was literally modeled after Paris. Joining a free walking tour through the capital is the best way to explore the city, whether it's the Old Town or even a Beautiful Decay tour of abandoned buildings. There are a lot of things to do in Bucharest and dividing your time between a tour and strolling on your own is the best way to see Bucharest!
The Old Town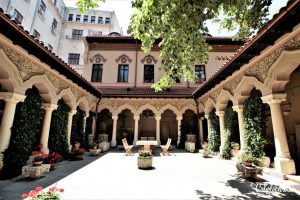 Begin your sightseeing by starting at Hanul Lui Manuc – Bucharest's oldest inn and one of the main sights to see in Bucharest. While here, enjoy some traditional Romanian cuisine. Afterwards head over the The Urbanist and blend history with a new hipster scene. Other top things to do in Bucharest include wandering over to the Stavropoleos Monastery and admire the architecture before checking out the coolest bookstore in Europe at Carturesti Carousel. Then stop to have lunch at Caru' cu Bere which is a vaulted ceiling tavern dating back to 1875. Make your way over to Macca Villacrosse Passage where you can lounge around at one of the many shisha bars or simply admire the glass ceiling passage way. 
Then head to the north of the Old Town where you will find the former Communist Party Headquarters with several memorials dedicated to those who perished during the Revolution of 1989. Near here, you'll also find the Royal Palace, the National Library and the Romanian Atheneum – a jaw-dropping Neoclassical concert hall definitely worth taking a peak inside.
Head west of the Old Town to visit the megalomaniac brainchild of the former dictator Ceaușescu – the Palace of Parliament which is 350,000 M² making it the heaviest building in the world as well as one of the largest. Near here is The Mihai Vodă Monastery which was meticulously moved by tracks to make way for the dictator's master plan of revamping the city with Soviet style buildings. (More on Bucharest here)
Where to Eat in Bucharest: Hanul Lui Manuc, Caru' cu Bere, The Urbanist, City Grill – Bucharest is loaded with tons of restaurants offering traditional Romanian cuisine as well as a blend of innovative fresh bars and restaurants. 
Where to Stay in Bucharest: ⭐⭐⭐⭐  Hotel Boutique Lafayette – decorated in a classy 19th century French inspired decor, this hotel is just a 5 minute taxi drive away from the Old Town, offers free private parking on sight, 24 hour front desk service with super friendly employees who speak fluent English.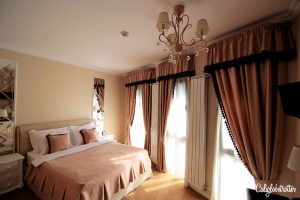 Tips for Visiting Bucharest
Metro tickets (cards) can be bought in every metro station. Two-journey tickets cost 5 lei (about 1.10 €), 10-journey – 20 lei (about 4.50 €) and 1-day pass costs only 8 lei (about 1.80 €).
Download the Clever Taxi App!!!!!!!!!!!! Do not take a taxi just waiting on the side of the road! You will get ripped off!
Conversion rates to RON are incredibly good, making everything AFFORDABLE and CHEAP! An average meal will set you back roughly 15-20 € for two.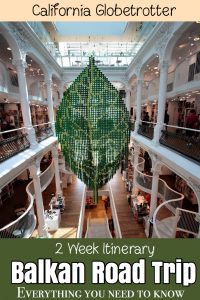 Day 12: Bucharest, Romania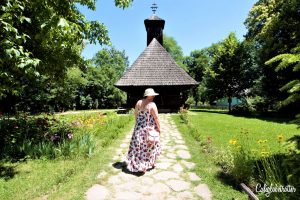 Day 2 in Bucharest will be spent visiting some other unique locations in Bucharest a bit further out from the Old Town center. Remember how I said Bucharest is like the "Paris of Eastern Europe"? Well one of the many reasons why is because they have their very own Arc de Triumpf which was modeled after the original. Unfortunately, I didn't see a way to go up. Continue on with the Metro to get to one of the best outdoor museums in the Balkans, the Village Museum which has the largest collection of house, farmsteads, windmills and more from around the country which can be found along the shores of Lake Herăstrău, where you'll find black swans and paddle boats to rent. Cool off by enjoying a drink at the Hard Rock Cafe near the Island of Roses.
Day 13: Peles Castle / Bran Castle, Romania
Peles Castle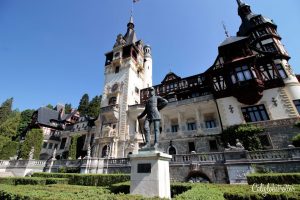 In the heart of the Carpathian Mountains is Romania's most impressive and famous castle. If you're looking for romance in Romania, look no further than this Bavarian inspired castle set in a large English-style park built as a summer residence for Carol I, the first Romanian King in 1875-83 with his own personal finances. With the help of his wife Elisabeth of Wied, it was designed and decorated with a flair of Germany's romantic castles while incorporating all the best architectural aspects from around Europe. (More on Peles Castle here)
Because of its location, the Peleș Castle is in the perfect spot for a day trip from either Brașov or Bucharest. Tours are divided into two guided tours:
Ground Floor and First Floor (Adults: 30 RON / 6.50 €, Children/Students 7,50 RON /1.63 €) is the basic tour option and shows you the living quarters including the King's study and library. 25 minutes
Complete Tour (60 RON / 13 €, Children/Students 15 RON 3.20 €) includes the ground, first and upper floors. Upper floors include the Private quarters and the Imperial Suite. 45 minutes

Photography charge (35 RON / 7.50 €)
Large bags are not allowed inside and visitors are required to wear slipper socks over their shoes when inside. 
Opening hours (Closed Nov):
Wednesdays 11am – 5pm
Thursdays – Sundays 9:15am – 5pm
Where to Eat/Stay near Peles Castle: ⭐⭐⭐⭐ Complex La Tunuri – Vila Economat – Located just feet from the castle, in a Bavarian half-timbered style building is the hotel and restaurant Carol Gastro Bierhaus which serves traditional Bavarian cuisine like Schnitzel and fries.
Bran Castle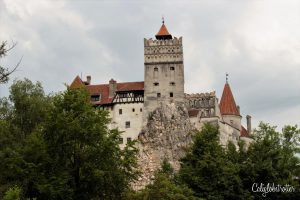 Often associated with Bram Stoker's Dracula, Bran Castle is probably the most famous Romanian castle and one of the top destinations in Romania. It's also just an hour away from Peles Castle, easy enough to visit both in the same day. While you might expect to find blood sucking bats and threatening skies chilling you to the bones, the castle actually has no real connection to the story.
The true inspiration possibly originates from the infamous Prince of Wallachia Vlad the Impaler who earned the nickname as he was well known for impaling his foes. It is believed that he may have even laid siege to the castle. However, the castle itself does sort of look like it would be the home of Dracula, perched atop a rocky bluff with rising tiers of towers set against a mountainous backdrop. (For more on Bran Castle)
Tickets cost 35 RON / 7.60 € for adults, including free photography – self-guided 
Opening hours April to October:
Mondays – 12pm – pm
Tuesdays – Sundays 9am – 6pm
Day 14: Corvin Castle / Timisoara, Romania
Corvin Castle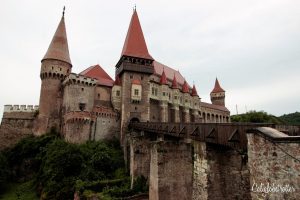 An easy day trip from Timisoara, Romania's greatest fortress is located in the rather run-down industrial town of Hunedoara and is one of the spookiest buildings in the world according to Lonely Planet. It is also one of the largest castles in Europe, as well as one of the most fairy-tale like castles. Wait, what? How can it be both one of the spookiest and fairy-tale like castles at the same time? Well, when you think about most fairy-tales, many are actually quite scary when you think about it. Them evil villains gotta live somewhere, right? 
With the Gothic architecture, high rising turrets, weaponry on display and some dark history, you might expect to find real life vampires swooshing about. With a torture hall where replicas of people enduring different forms of torture in a dungeon below, this real life castle is a real life nightmare. Do you have the will & determination to visit this 'house of horror'? (More on Corvin Castle here)
Tickets cost 30 RON / 6.50 € for adults plus an additional 5 Ron to take photos. Self-guided
Opening hours (March, April, September & October):
Mondays: 10:30am – 5pm
Tues – Sun 9am – 5pm 
Just below the castle are a ton of touristy gift stands, a few restaurants and snack shops which you will first walk through before reaching the ticket office. An actual ticket office before walking up a rather steep hill for about 5-10 minutes. 
Where to Stay near Corvin Castle: ⭐⭐⭐Motel Cincis – Located up a winding hill out in the country on a cliff overlooking Lake Cincis, this lovely hotel has chic decor and is owned and operated by a mother and her daughters. On days with lovely weather, you can sit outside on the terrace and enjoy the views over the lake. Just a 5-10 minute drive away from Corvin Castle!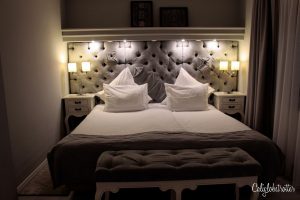 Timişoara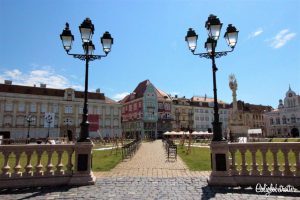 Often nicknamed "The Little Vienna of Eastern Europe", Timişoara is being reborn into a thriving youthful city with colorful buildings, with fascinating history which includes proudly boasting the title of being the birthplace of the 1989 Revolution in Romania. Being just a short drive from Corvin Castle, we made a long afternoon stop here to stretch our legs before driving to Bratislava. 
Upon arrival, we strolled through all of the main squares, starting with the Newly Renovated Piata Unirii (Union Square) which is one of the top places to visit in Timişoara with its colorful buildings, cafes and urban park loaded with beautiful street lamps. You'll find the Roman Catholic Church as well as the Serbian Orthodox Cathedral here. Next stroll through Piata Libertatii (Liberty Square) where you'll find the Town Hall. Finally, you'll come to Piata Victoriei (Victory Square) which is an elongated pedestrian zone with shops, cafes and restaurants flanked by the rather bland Opera House at one end and the impressive Romanian Orthodox Cathedral at the opposite end. (More on Timişoara here)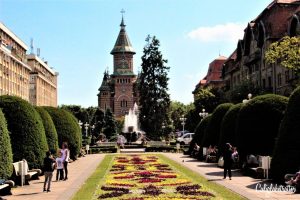 Border Control
Between Romania and Hungary, you'll need to show your car registration, passport and (international) driver's license again. 
You'll also need to buy a Vignette for 10 days (15 

€) to be placed in your front windshield. Directions are on the sticker where you need to place it! 

If you're driving your own car, you will need a country sticker from where your car originates for non-EU countries. For example, we have 'D' for Deutschland (Germany).
You'll need to buy another Vignette for Slovakia 10 days (10 

€)!
Ok, So the next two stops aren't considered the Balkans, but they made for a great last day and a half of our road trip! 
Day 15: Bratislava, Slovakia
You'll get into Bratislava in the evening after visiting Timişoara, so you can spend the evening relaxing and head into town to find dinner. The next day you'll make a full day of sightseeing the entire city center as there are a lot of things to do in Bratislava!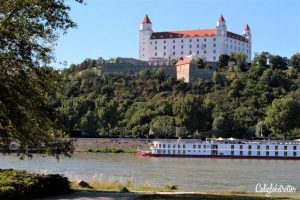 Head straight up to the Bratislava Castle – one of Bratislava's main sights where you can enjoy the views over the city and the Danube River as you catch your breath, as well as wander around the Baroque Gardens. When you head back into town, check out St. Martin's Cathedral and if you love climbing towers, then don't miss St. Michael's Gate for more views over the city. Be sure to check out the Grassalkovich Palace which is the seat of the Slovak President. When you're done, head back into town to grab lunch and some later enjoy some coffee and cake at Cafe Mayer. Wander around the Main Square where you'll find several iconic statues which provide a plethora of fun!
Continue on to the most popular sights to see in Bratislava, Church of St. Elisabeth "Blue Church" and check out this pale blue Gaudi-esque church. I promise it's worth the 10-15 minute walk! If you're looking for unique things to do in Bratislava, enjoy a coffee and cake at  Konditorei Kormuth, a beautifully restored cafe with antique chinaware, furniture and stunning artwork. Afterwards, walk it off by strolling through the alleys, checking out the Slovak National Theater and making your way across the Danube River to the Sad Janka Kráľa Park for a lovely view of the Old Town, SNP Bridge and the Bratislava Castle. End the evening by having dinner up at the Observation Deck UFO, a tower in the middle of the SNP Bridge which offers stunning panoramic views over Bratislava! (More on Bratislava here)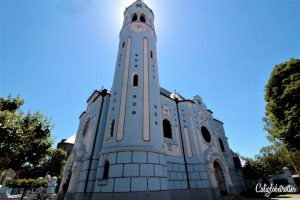 Where to Stay in Bratislava: Hotel Devín ⭐⭐⭐⭐ – Located in a prime location along the banks of the Danube River in the Old Town, rooms are incredibly luxurious and spacious while the beds are comfy-cozy for affordable prices! In the evening, we enjoyed the swimming pool and a relaxing massage after a full day of sightseeing! 
Border Control
You're back in the EU, so you have freedom of movement! No border controls, however you will still need to be a Vignette for Austria for 7 days (8,90 

€).
Day 16: Home bound via Melk Abbey, Austria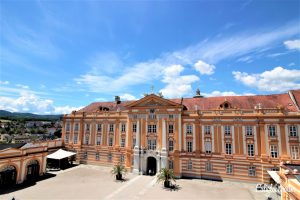 By now, we're reaching the end of our road trip, and although Austria is not part of the Balkans, it made for a great final destination to visit. Just an hour away from Vienna, is Austria's most beautiful and impressive abbey and UNESCO World Heritage Site, perched on a hill overlooking the town of Melk and the Wachau Valley. What started out as a castle, quickly turned into the world's continuously used Benedictine monastery in the world when the primary structure of the abbey was gifted to Benedictine Monks in the 11th century. Today, its library has one of the greatest collections of medieval manuscripts and the the abbey managed to survive the Reformation and even the occupation of both Napoleon and Hitler.
The highlight of the Melk Abbey is without a doubt the church. The interior is richly decorated with soft rose and hues of yellow marble, accented with touches of gold with a stunning 200 foot frescoed dome tops the church.
At either end of the church, are the world's most stunning spiral staircase, equally resplendent with frescoes of pinks and yellows. When we entered the Abbey, we were told no photographs allowed, so I snuck the one and only picture I wanted. Since then, I've seen several posts with a plethora of pictures inside. (More on Melk Abbey here)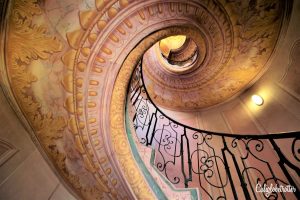 Entry Fee:
Adults with tour: 13,00 €, without 11,00 €
Family with tour: 26,00 €, without 22,00 €
Recommendations for this Road Trip:
If you'd like to extend your road trip to include destinations to Croatia then I'd suggest checking out my 10 Day Road Trip Guide Through Croatia and adding places like Dubrovnik or Split to your road trip.
There is no major form of traffic like you would find in Munich in most cities and highways, but be prepared for some badly maintained roads which are slowly being renovated. However, we did have a lot of traffic in Skopje.
Consider swapping out Timişoara to make more time to stop in Budapest along the drive from Romania to Slovakia.
You'll need to get vignettes or paying for toll roads for every country upon reaching a border. Try to have local currency on hand, otherwise they also accept euro and credit cards. 
Avoid driving at night time, and to save precious day light you'll need to get up at the crack of dawn to maximize the most out of your trip. 
Driving in the Balkans can be surprisingly challenging on back roads full of potholes and dangerous speed demons, however, the infrastructure is beginning to take shape and the highways are quite nice, new and empty! Just drive as fast as you feel comfortable and let the speed demons pass you. 
Always find hotels with private parking with security or a parking garage! Don't park out on the street!
Looking for more practical information on Balkan Travel? Grab a copy the following travel guides which we found incredibly useful on our trip and has something for everyone from outdoor activities to historical sites!
Disclaimer: This post contains affiliate links. If you click on one and make a purchase, I might make a little extra spending money, at no extra cost to you. As always, all opinions are my own and these products/services have been found useful during our travels and come highly recommended to you from yours truly!
Other Balkan Travel Guides:
10 Amazing Cities You Have to Visit in the Balkans
12 day Itinerary for Prague, Vienna, Bratislava & Budapest 
10 Day Road Trip Through Croatia
7 Day Road Trip Through Austria
Liked this post? PIN IT FOR LATER!!