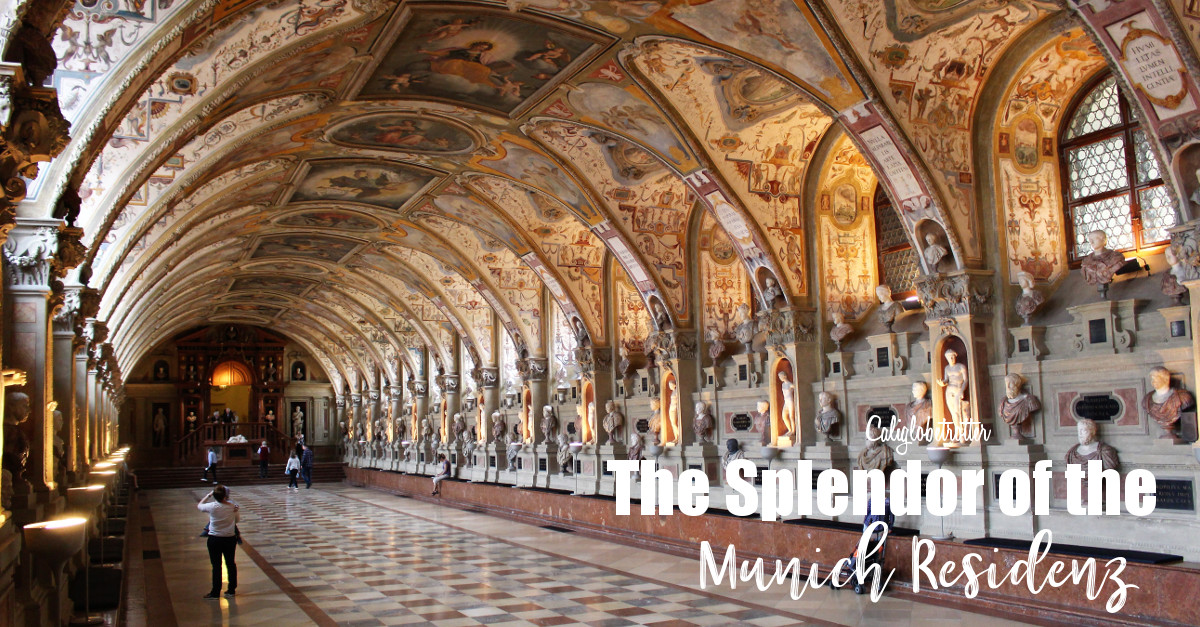 Disclaimer: This post contains affiliate links. If you click on one and make a purchase, I might make a little extra spending money, at no extra cost to you. As always, all opinions are my own and these products/services have been found useful during our travels and come highly recommended to you from yours truly!
Of all the times I had ever been to Munich, I had never much been interested in visiting the Munich Residenz. From the outside, it looked like a boring, plain building in the city center, no different from the other buildings. And then I was on Pinterest one day, you could call me a Pinaholic and I stumbled upon a picture that was so beautiful of the a room inside the Residenz. I pinned it for later and it soon got buried in my list of things to see and do in Germany.
Until one rainy day…
We had planned to go down to Munich for the day, but as the weather would have it, it was a day with torrential rain and a bit cold for a late Spring day (yes, this post is a bit late in coming). Well, I grew up traveling and never letting rain stop me from seeing what I want to see….Ok, maybe a little bit. It wasn't the kind of day you wanted to do any sightseeing in Munich or sitting out at a biergarten.
So, we headed in doors for the day. To the Munich Residenz. And booooy, was I WRONG!
In case you're interested, PIN IT FOR LATER!!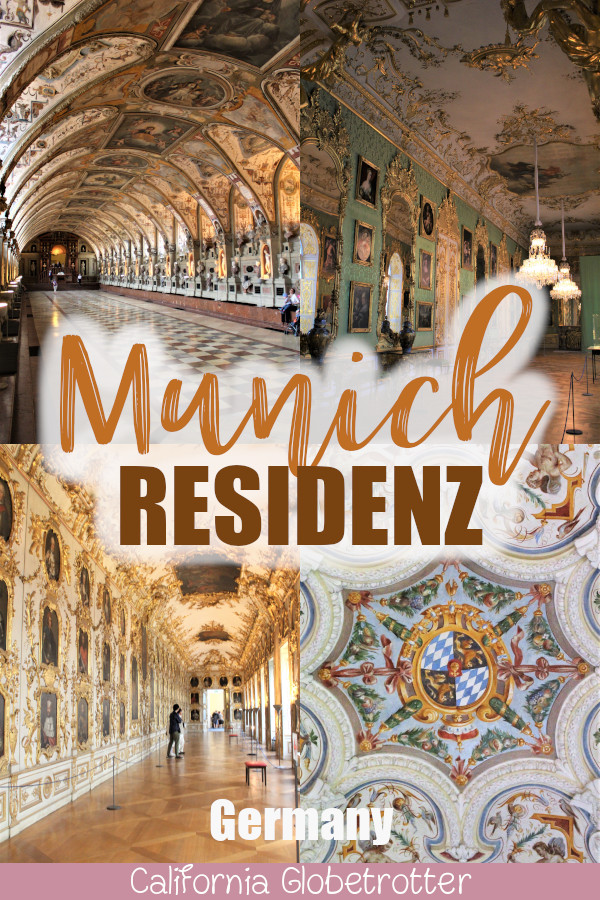 This article is now available as a mobile app. Go to GPSMyCity to download the app for GPS-assisted travel directions to the attractions featured in this article!
How to AVOID Looking Like a Tourist in Europe
With over 100 rooms spewling with beautiful furniture, art, chandeliers and splendid treasures, it made for the perfect rainy day activity in Munich. We spent the entire afternoon going from one room to the next, imagining grand royal balls and learning the family history of the Wittelsbach family. Turns out, the Munich Residenz is one of the best things to do in Munich!
Originally built as a city castle in 1385 and eventually turned into the royal residence of the royal residence of the Wittelsbach family (The family of King Ludwig II of Bavaria who built Schloss Neuschwanstein), as well as a government seat from 1508 – 1918. During WWII, much of the Residenz was heavily damaged, but thankfully many of the priceless masterpieces were moved to safety. Reconstruction and restoration began immediately in 1945 and finished in 2003. Today, it's one of the top tourist attractions in Munich and now I can see why!
As the Residenz is one of the largest city palaces in Germany, it has 10 courtyards, each unique. As you head to the entrance of the Residenz Museum, you will pass the Brunnenhof or Fountain Court which had once been used as a carriage entrance and has a statue of the first Duke of Bavaria, Otto I.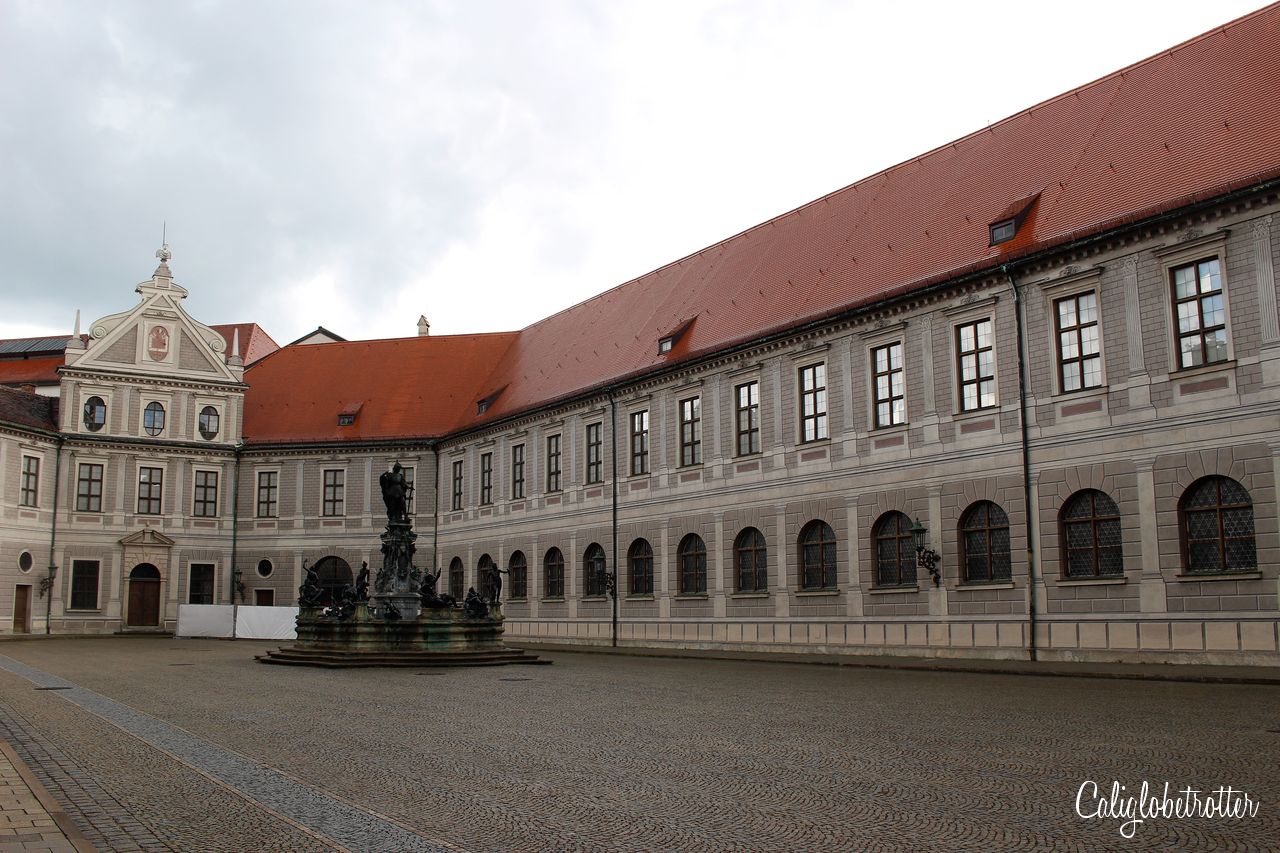 Since it was a rainy day and we had the entire afternoon to kill, we went all out and bought the Combination Ticket which gave us access to the Residence Museum, the Treasury and the Cuvilliés Theatre for 13 € each, which included a free audio guide. Every exhibit was numbered and all we had to do was punch in the numbers to the corresponding room or items.
Upon entering the Residenz, one of the first rooms we walked through was this unique grotto decorated entirely with seashells, although partially being refurbished.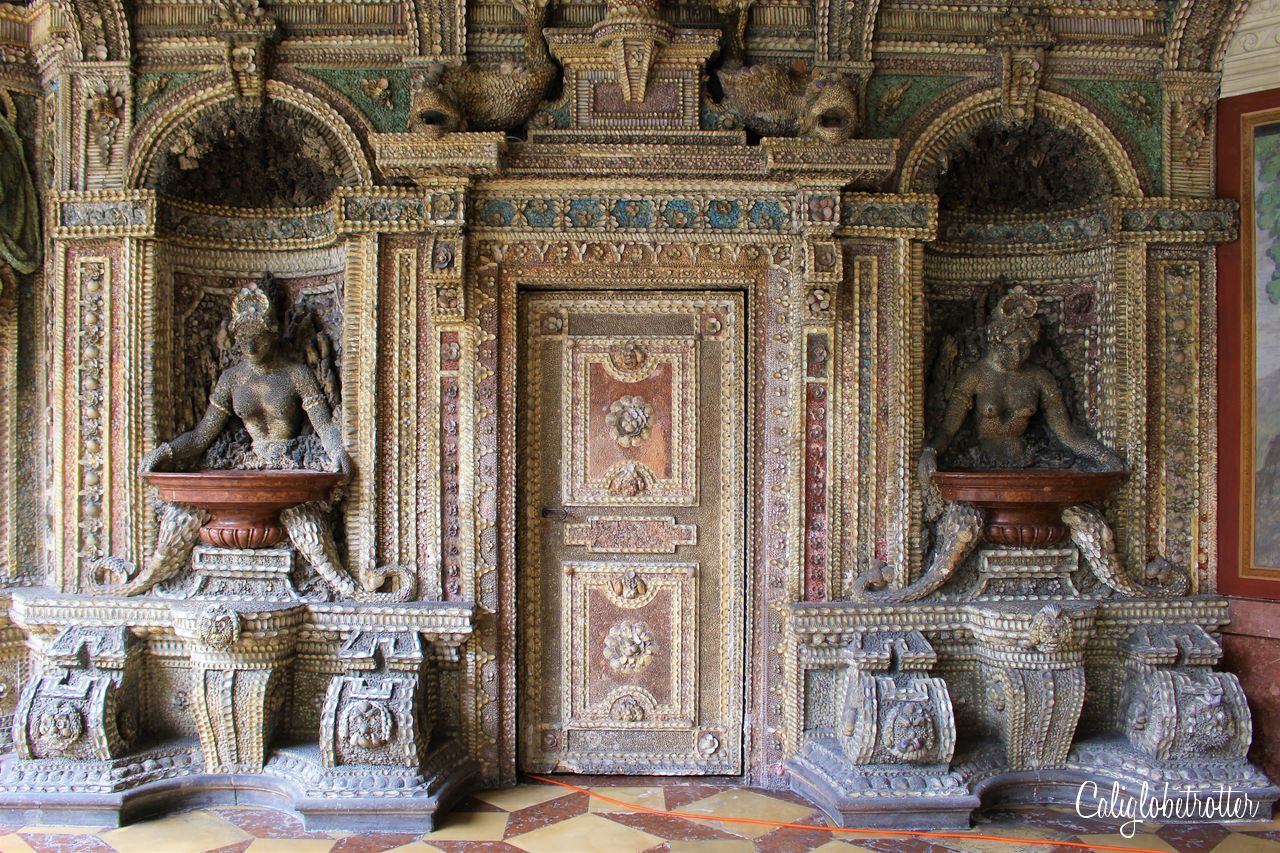 But for the whole reason why we had finally broken down to visit the Residence was the room that would seriously leave me breathless and which I did not want to leave was the Antiquarium. Stretching 216 feet (66 meters) long, the room is was built by Duke Albrecht V in 1568 to showcase his antique sculpture collection, hence the name. It is the museum's oldest room.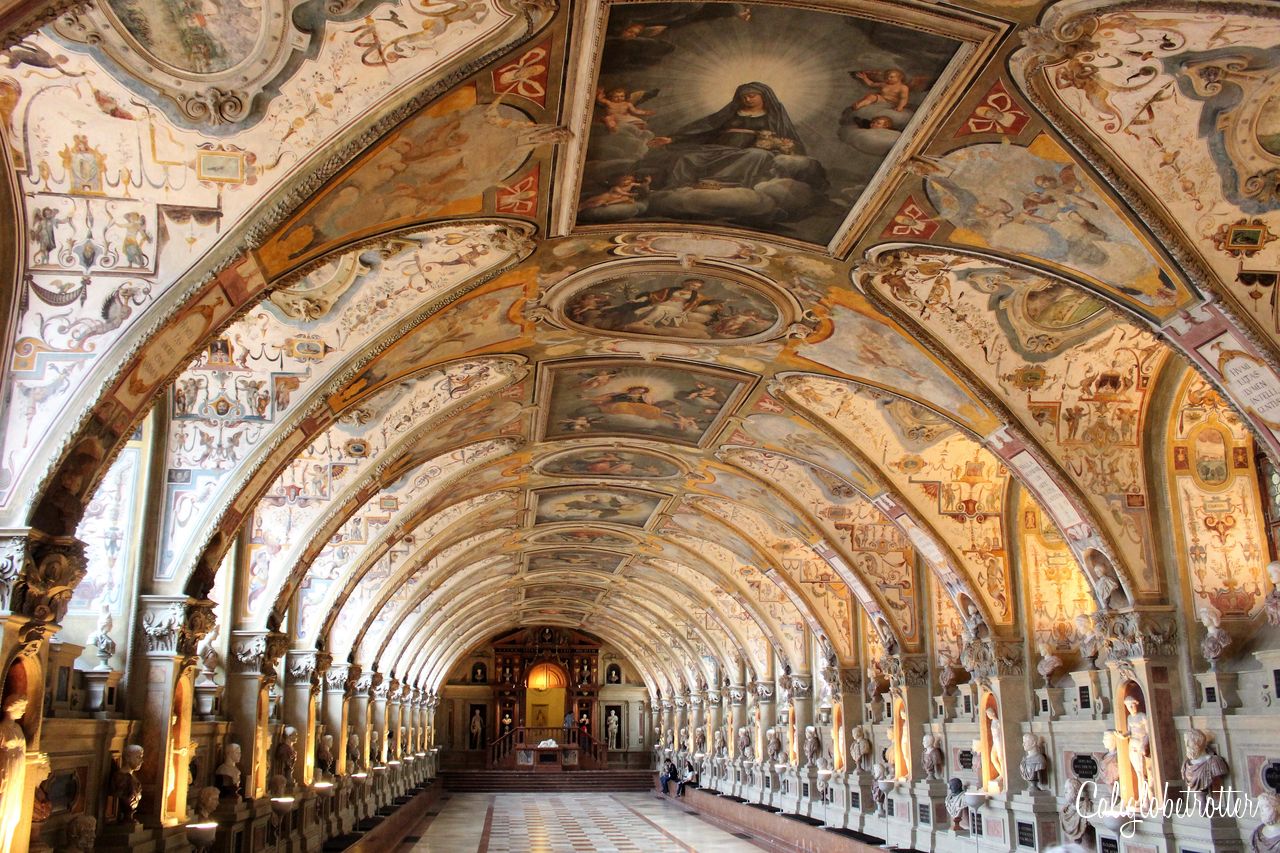 Not only that, but this room was also used as a banquet room! Could you possibly imagine dining in such an opulent room showcasing some of the most beautiful artwork and sculptures!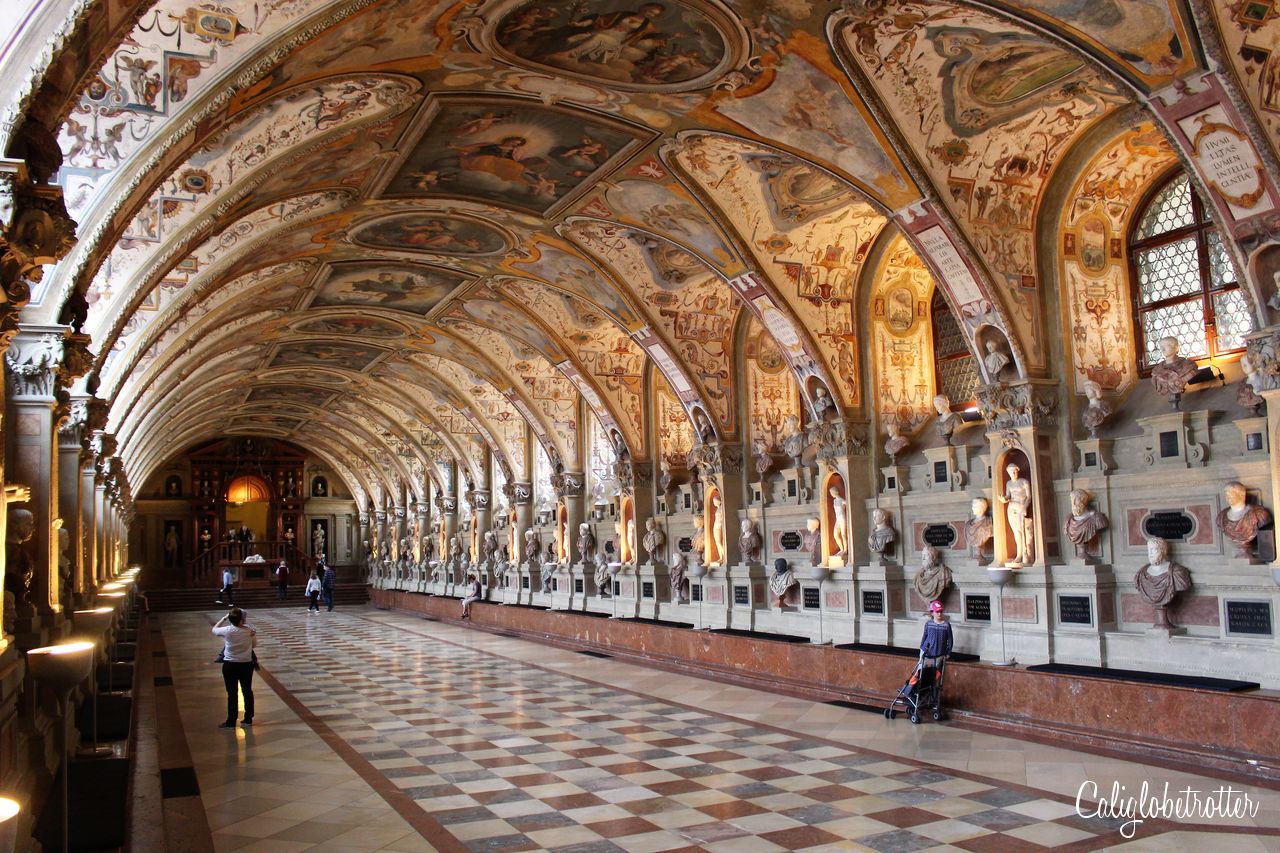 Afterwards, As any girl who loves jewelry, we naturally headed straight to the Schatzkammer (the Treasury) which houses the Bavarian Crown Jewels for which I was incredibly excited to see! Not only were there priceless jewels, crystals and other sparkly objects, there was even weaponry and religious artifacts spread out through 10 rooms! Overall, there are more than 1,250 items!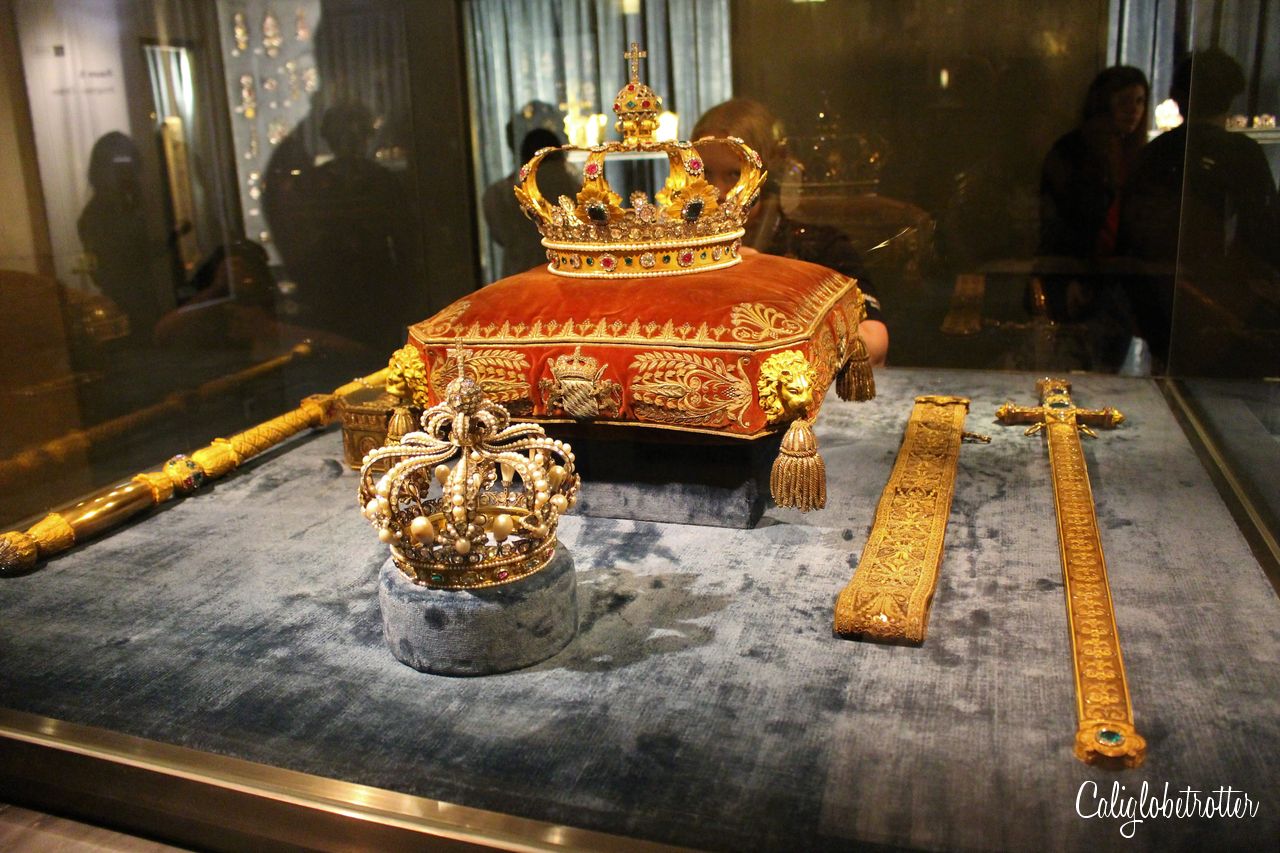 I was completely and utterly mesmerized by the crown jewels! I would have visited sooner if I had realized these were here!
After spending a good amount of time perusing the sparkly items, we headed to the Residence Palace Museum. Even though it has been magnificently reconstructed after the war, today it is considered to be one of the most important palaces museums in Europe and one of the best things to do in Munich!
The opulence of the royals who have lived in the Residenz is shown throughout the entire architecture of the building. Renaissance, Baroque, Rococo, Neoclassicist and Historicist styles can be seen not only in the architecture but even the furnishings, dating back from between the 16 -19th centuries. The rulers were from the Wittelsbach dynasty which was the longest dynasty in Europe, dating back to the 17th century!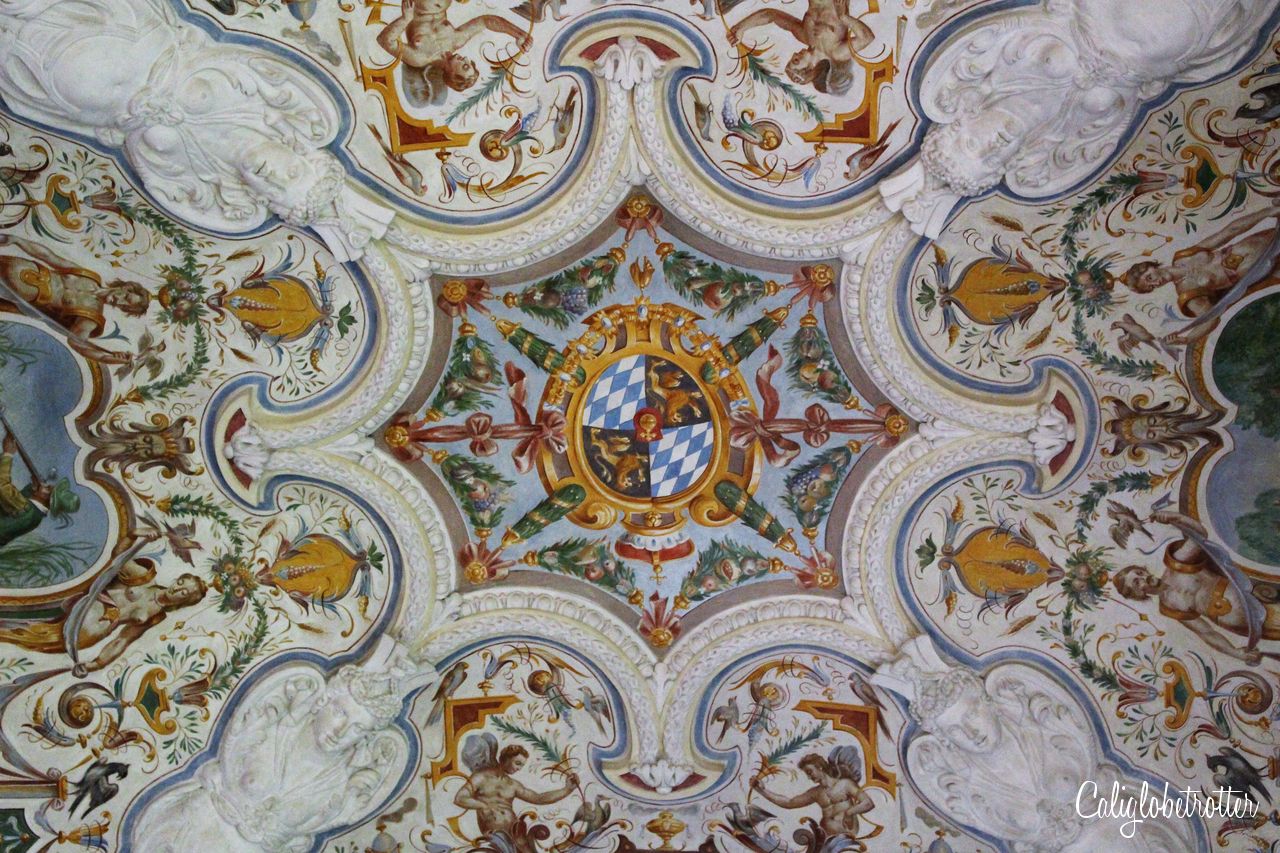 We moved from room to room, checking out the different apartments, the throne room, Emperor's room and chapels. Thankfully, there are little information boards in each room to give you some historic insight into each room and what they were used for and when they were built. I was absolutely drooling over the beautiful red velvet looking damask walls!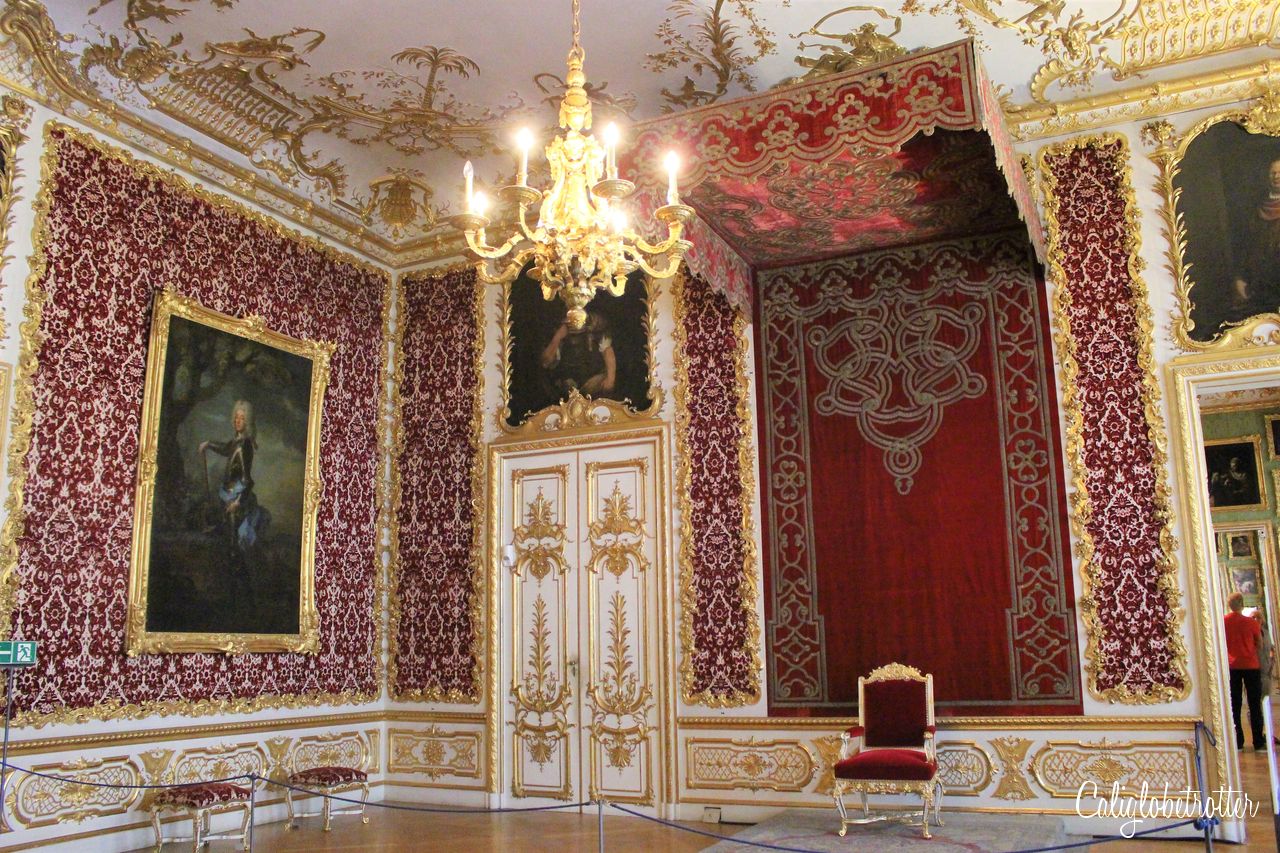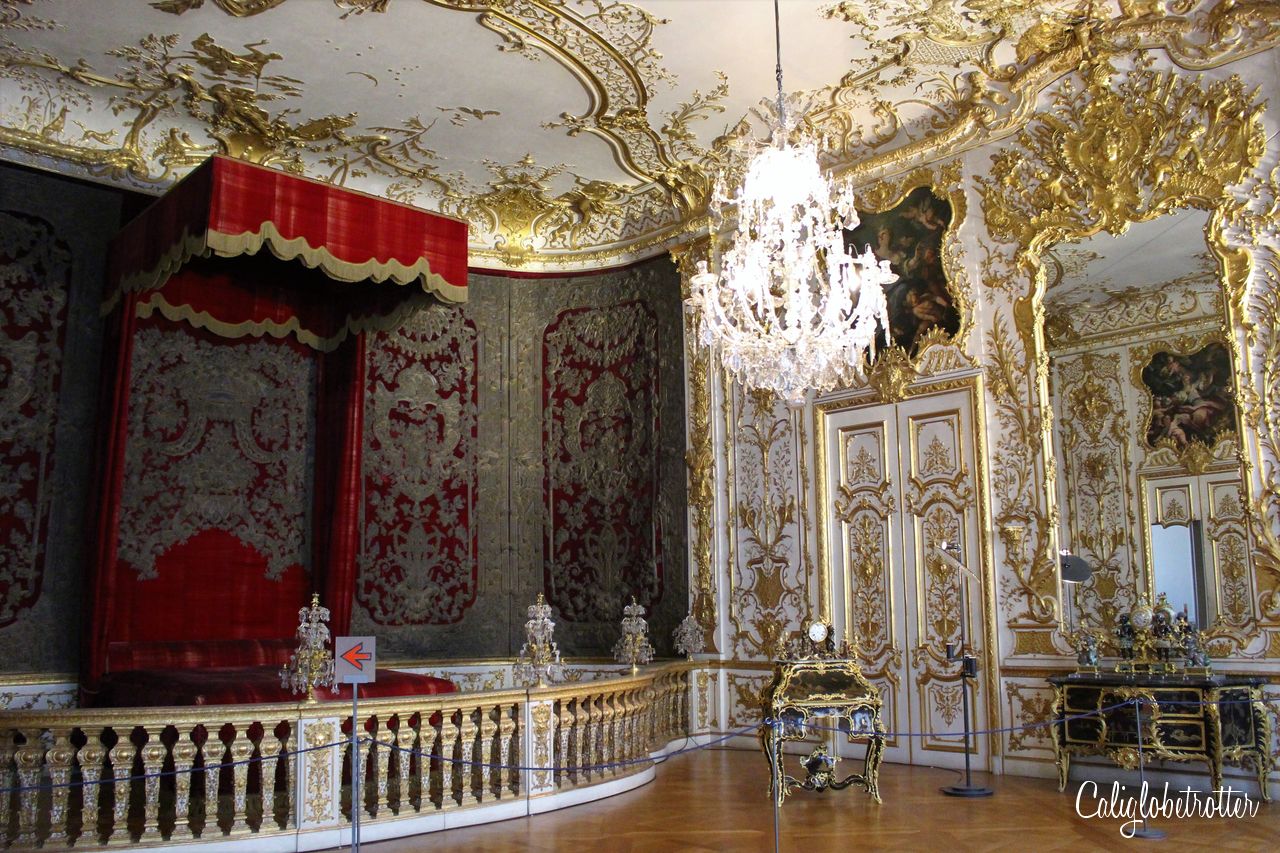 I seriously loved how each room we visited had a different color or style, magnificent chandeliers and furnishings.
After a while, you just become so overwhelmed by the splendor of each room. Some rooms start to blend into room after room. There were some parts of the Residenz that we quickly glided over, for example, the exhibit of the silverware and china. After having done a huge tour in February while visiting the Hofburg Palace in Vienna and seeing all of their silverware, we didn't feel the need to spend the time checking out Munich's.
There are also several little chapels in residence museum that the royals used for their own private mass. In the Hofkapelle, Royalty was able to watch mass from the gallery which overlooked the chapel below where members of the court worshiped.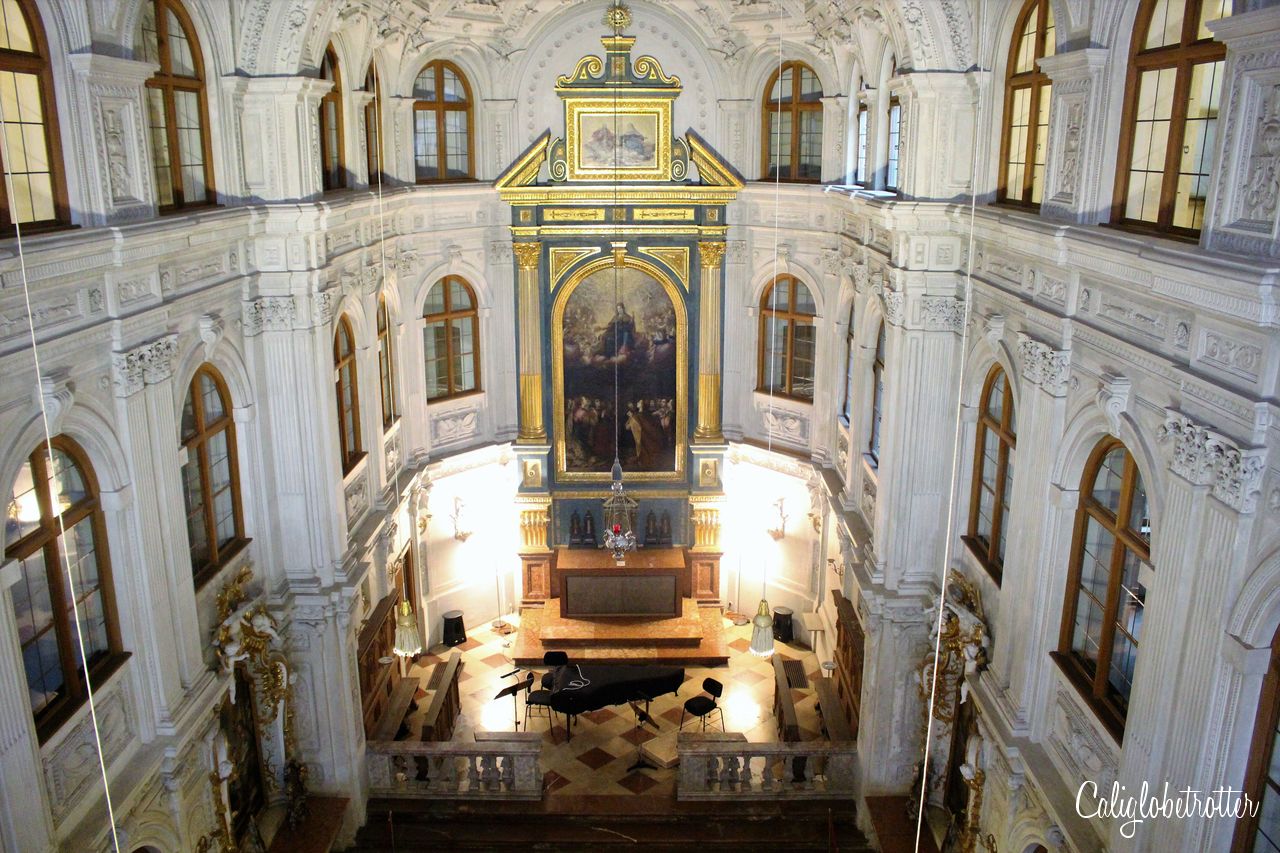 Just after the Hofkapelle was the Reiche Kapelle or Ornate Chapel.This chapel was rightly named because it was incredibly ornate with a stunning blue ceiling, decorated in gold accents. This was the Duke's private worship area and therefore was pretty small, only allowing for a few people at a time, therefore making it difficult to take the time to snap any good pictures. Although most of the residence was destroyed during the war, the chapel's centerpiece is an original. Not being the religious person, I was more interested in the stunning ceiling.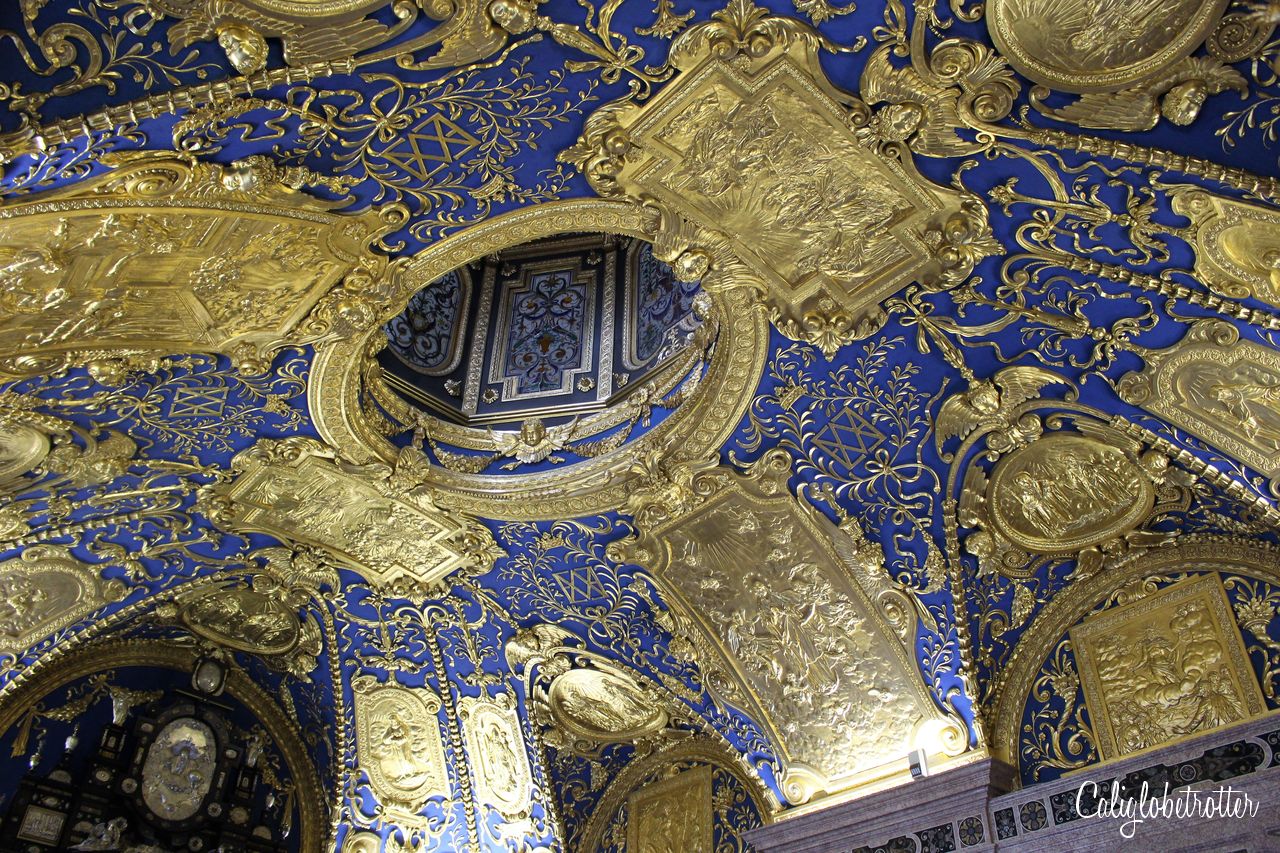 Finally, we came to one of the last rooms, which in my opinion was one of the most magnificent. The Green Gallery was absolutely jaw-dropping with its opulent chandeliers (yes, I have an obsession), green silk damask walls and gold embellishing. I seriously didn't want to leave! It was once used as a ballroom as well as a gallery for mirrors and paintings.
The last room we ventured into was the Ahnengalerie or Ancestral Gallery, which displayed over 100 portraits of the Wittelsbach family dynasty, each framed by delicate gilded, golden frames on the walls.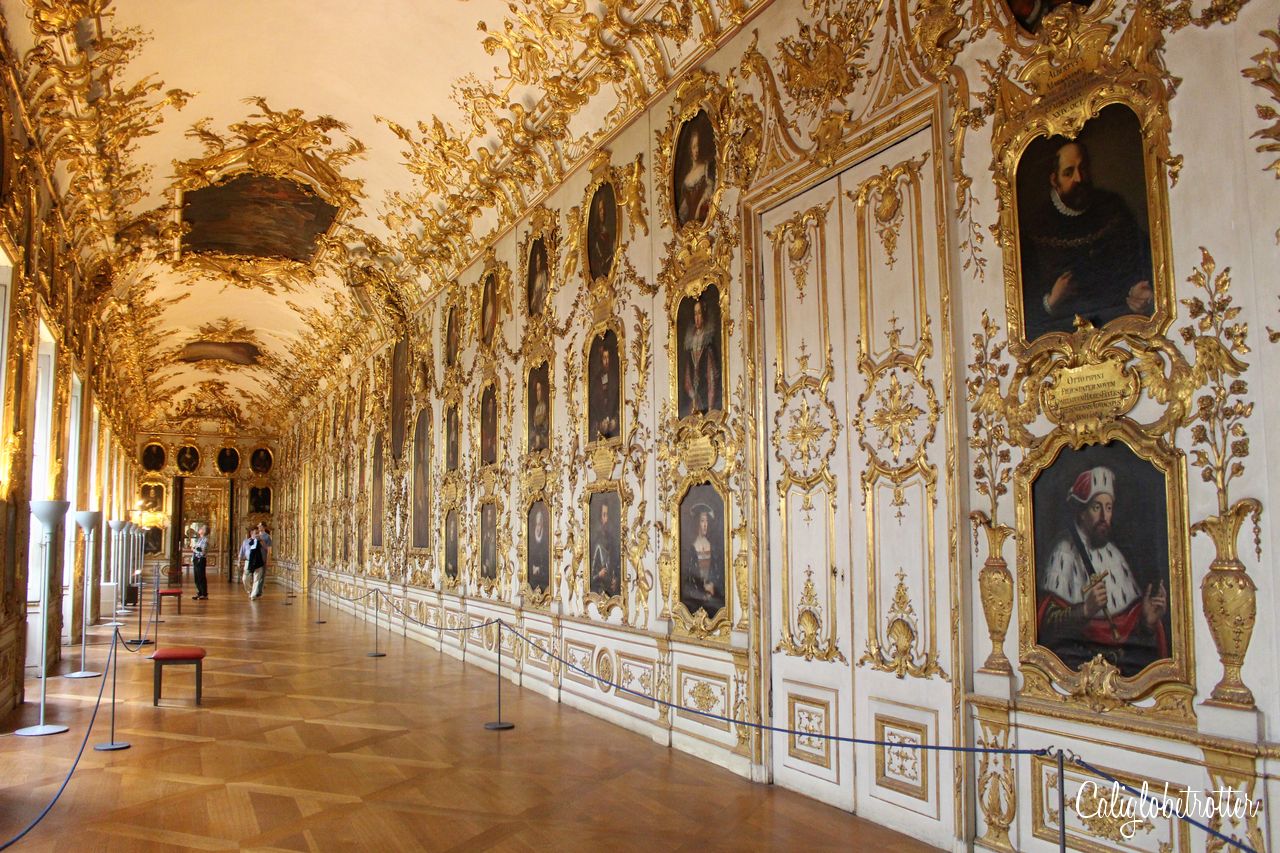 After leaving the Residenz Museum, we headed over to the Cuvilliés-Theatre. I had seen pictures of this as well on Pinterest and knew I just had to see it. I had never seen any royal theaters in Europe before and I wanted my first peek. And boy did I fall head over heels in love! Now, everywhere we travel from now on, we will make the time to visit royal theaters! You can't miss this part of the Residence!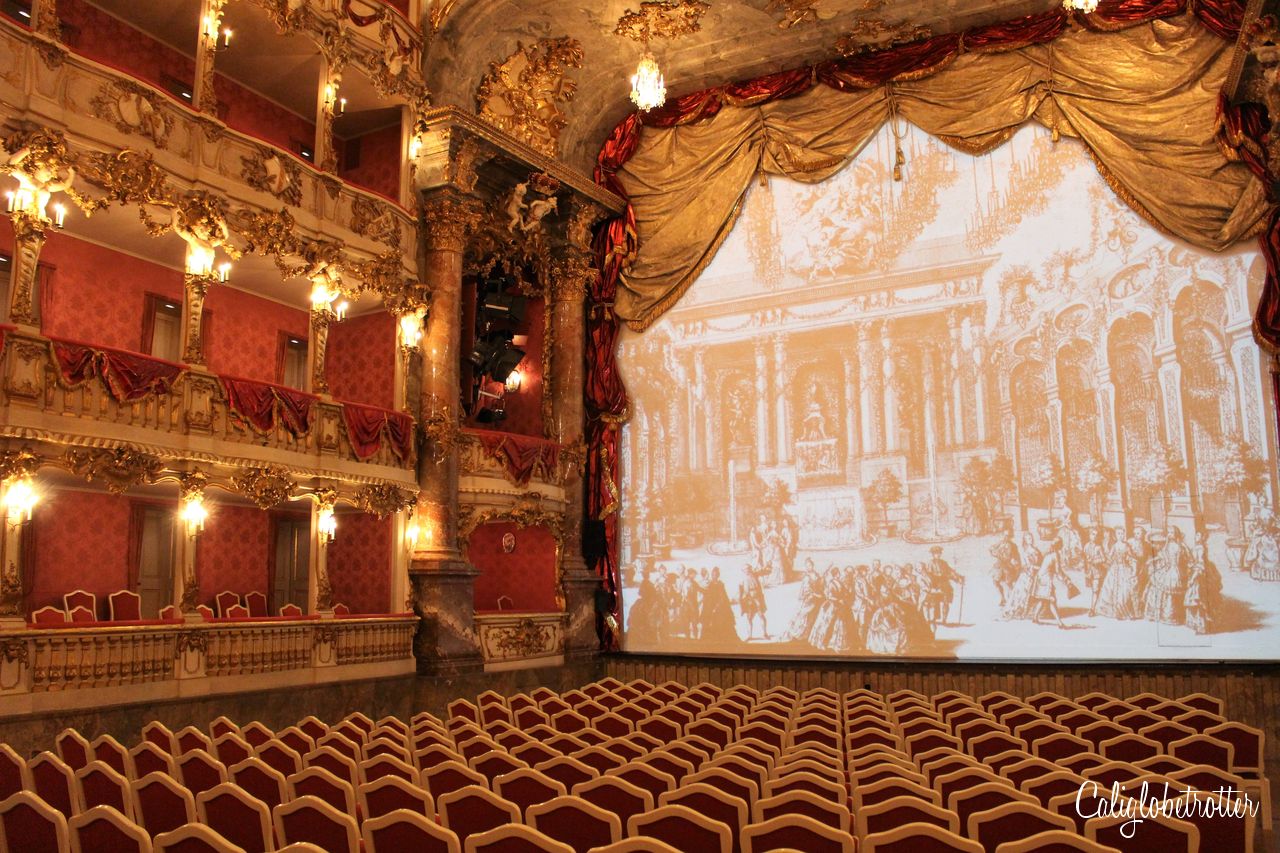 Unfortunately, this theater is a replica of the original that was destroyed during the war. The original theater was built in 1751-55 by Elector Maximilian Joseph III as his "new opera house", in a different location from where today's theater is. It was exclusively for members of court before being destroyed in the war.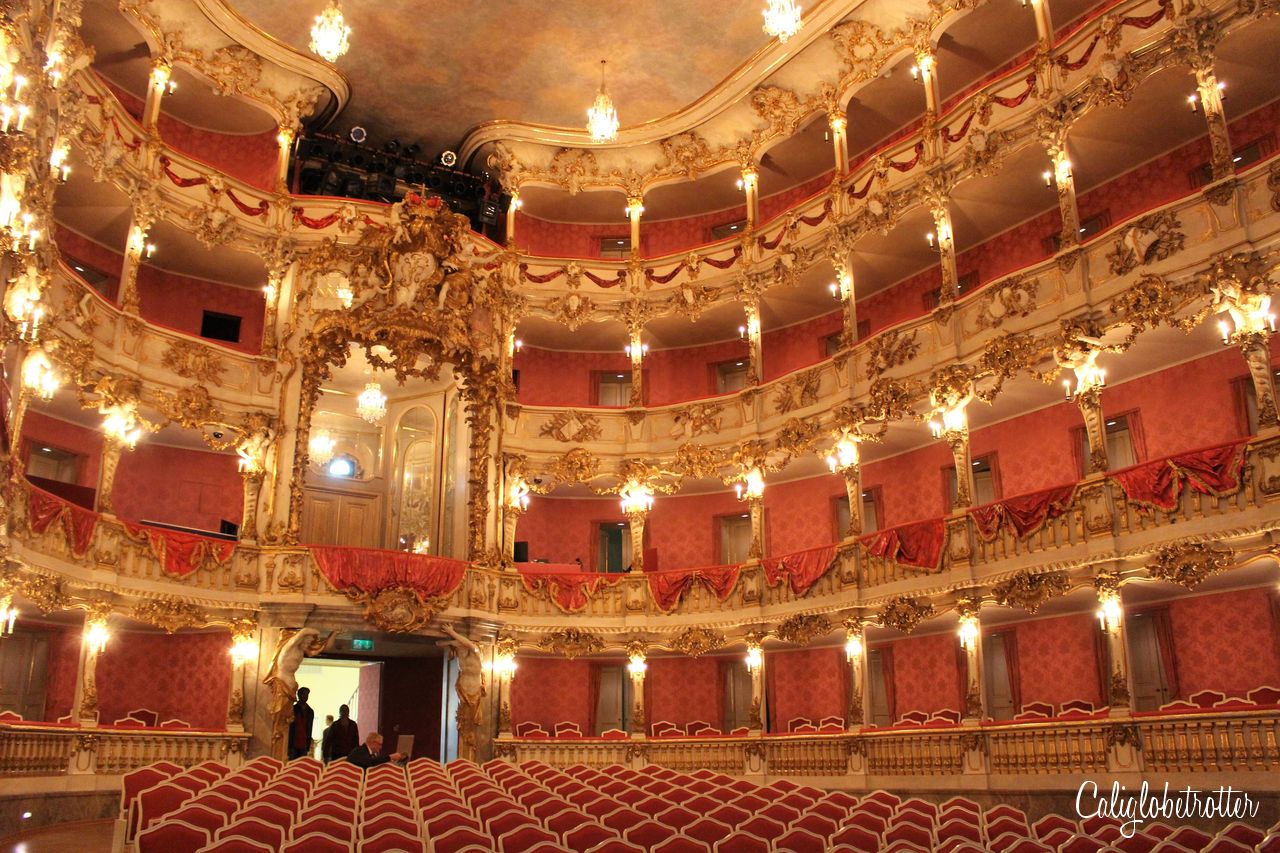 Today, the painted wood carvings and other tier fittings are original pieces of the theater which had been safely removed prior to its destruction.
I could have stayed here all day daydreaming about the lavish opera productions that had once been performed here, admiring the intricate wooden decorations.
At the northern end of the palace is the Hofgarten (Court Garden) which was laid out by King Maximilian I in the typical French style with a circular temple built in 1615. It's considered to be one of the most popular parks in Munich after the English Garden!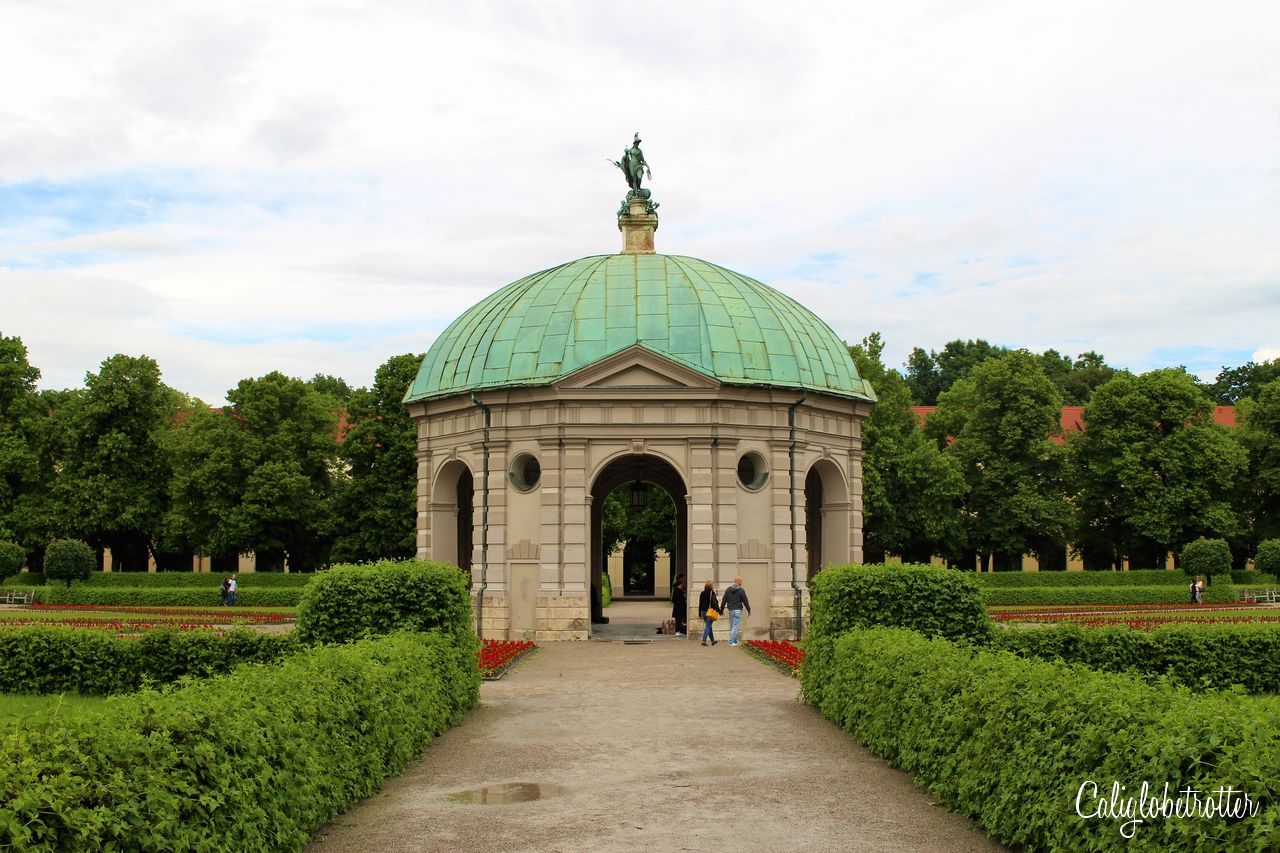 I would say that this concludes your tour of the Munich Residenz, but there is so much to see and do, it would take you forever to really see every single corner of the the Munich Residenz.
So, what did I learn by visiting this Munich castle? Don't judge a book by it's cover. It might not look very interesting from the outside, but it will leave you jaw-gaped through the whole thing! It was definitely the perfect thing to do on a rainy day and is definitely NOT to be missed! You should definitely add it to your Munich itinerary!
Last but not least…
On your way in or out of the Residenz, look for the lions at the entrance to the castle which can be found in Odeonsplatz. Take a moment to stop and watch as locals rub the bronze shield the lion is holding. Apparently, this will bring you good luck, so get to rubbing!!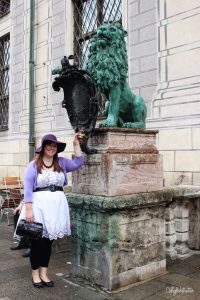 Tips for Visiting the Munich Residenz
Tickets can be purchased individually for the Treasury, Residence Museum or Cuvillies Theatre or go for the "Combination Ticket" (Residence Museum/Treasury 11

€

) or (Residence Museum, Treasury & Cuvilliés-Theatre 13

€

). Check the

Munich Residenz site

for more information.

Entrance is FREE to everyone 18 years old and under.

 Give yourself PLENTY OF TIME as there is a lot to see

Audio guide comes in English, German, French, Italian and Spanish versions with a purchase of your ticket.

April -October1 15th: 9 am-6 pm (last entry: 5 pm)
October 16th – March: 10 am-5pm (last entry: 4 pm)
Where to Stay in Munich:
⭐⭐⭐⭐ Hilton Munich City – a S-bahn ride away from the heart of Munich, this Hilton hotel provides comfy rooms and a fabulous breakfast!! 
⭐⭐⭐⭐ Holiday Inn Munich City Centre – Just down the street from the Hilton Munich City, the Holiday Inn is incredibly comfy and provides a large international breakfast, including Bavarian cuisine!
If you're interested in visiting Germany and are looking for more information, I highly recommend using the DK Eyewitness Travel Guide! Without these guides, I would be lost! This is my travel Bible!
Disclaimer: This post contains affiliate links. If you click on one and make a purchase, I might make a little extra spending money, at no extra cost to you. As always, all opinions are my own and these products/services have been found useful during our travels and come highly recommended to you from yours truly!
Other Posts Related to Munich:
The ULTIMATE List of Day Trips from Munich
A Beginner's Guide to Oktoberfest
The Best Sights to See in Munich
Liked this post? PIN IT FOR LATER!!
Save
Save
Save
Save