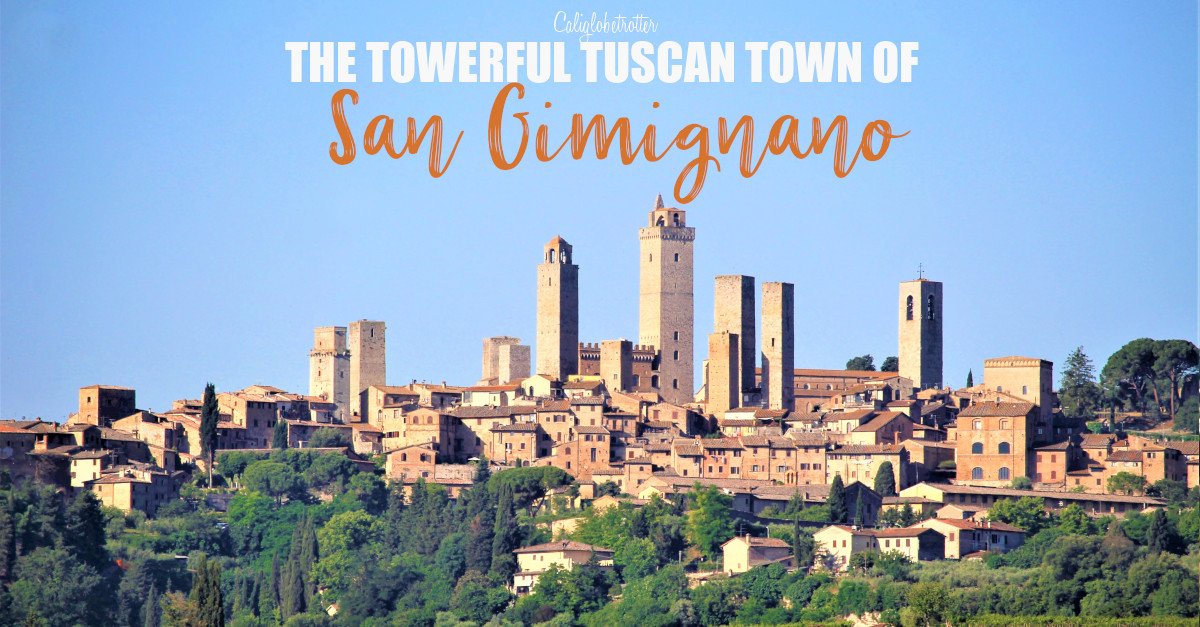 Disclaimer: This post contains affiliate links. If you click on one and make a purchase, I might make a little extra spending money, at no extra cost to you. As always, all opinions are my own and these products/services have been found useful during our travels and come highly recommended to you from yours truly!
As one of the best preserved medieval towns in Tuscany, San Gimignano is considered a "Medieval Manhattan" with its medieval skyline of towers dominating the Tuscan countryside. This hilltop town is one of the best towns to visit in Tuscany and there are plenty of things to do in San Gimignano worthy of spending a full day here. Wander down picturesque cobble stone alleys, gaze over the lush Tuscan countryside, enjoy a panoramic bird's eye view from one of the many towers and take a step back in time!
Medieval Town Lover? PIN IT FOR LATER!!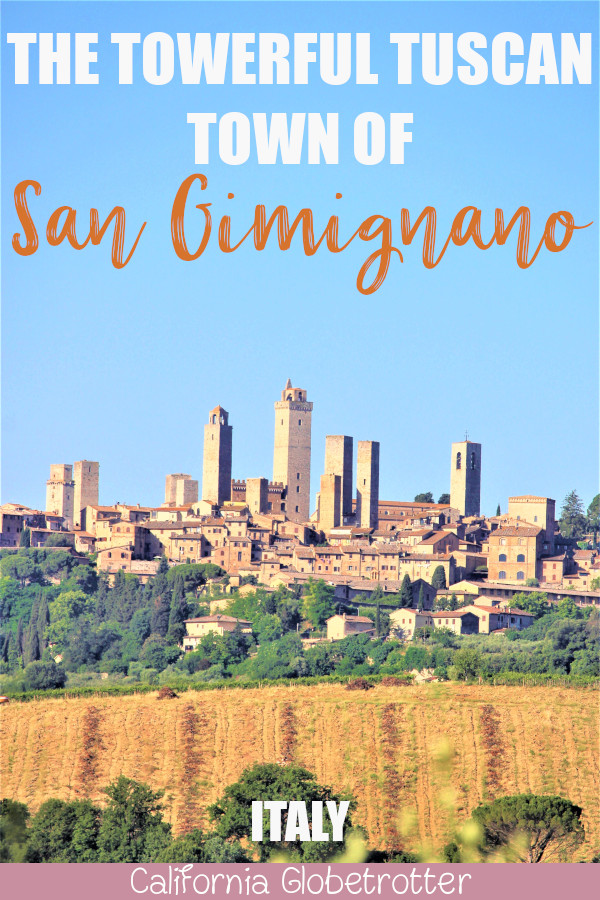 A Guide to Tuscany's Chianti Wine Trail
Planning Your First Trip to Italy
This article is now available as a mobile app. Go to GPSMyCity to download the app for GPS-assisted travel directions to the attractions featured in this article!
This "City of Towers" is absolutely one of the best must-see towns in Tuscany and definitely should not be skipped! This honey colored town obviously gets its charm from the 14 "Bella Torres" which make up this unique Medieval skyline. Just 25 miles from both Florence and Siena, adding San Gimignano to any Tuscany itinerary is easy enough to check off!
Though these towers make for a beautiful skyline today and a tourist hot spot, they were the norm in the Medieval Ages when feuding noble families each had their own armies defending the town from their mighty towers, which were also a sign of wealth and today are every reason why you should definitely visit!
A Short History of San Gimignano
Located in the province of Siena, San Gimignano is a small Tuscan hilltop town with only 8,000 inhabitants with a history dating back to the ancient Etrucans, a civilization that preceded ancient Rome. At the peak of the town's Golgen Age, between the 11th and 13th centuries, there were once 72 patrician families who were incredibly influential and amassed their wealth from both the wine trade and saffron. The town was an important stop along the pilgrimage route between Rome and Canterbury, known as Via Francigena.
However, like Siena, the town's prosperity and wealth came to a screeching halt in 1348 with the outbreak of the Black Death. The plague wiped out nearly half of the town's population which eventually led to falling into the hands of Florence in 1354 and ultimately preserving this historic town in its tracks. In the 19th century, San Gimignano was rediscovered and became the tourist attraction it is today, and became one of the most important places to visit in Tuscany. In 1990, the town received its UNESCO World Heritage Site status.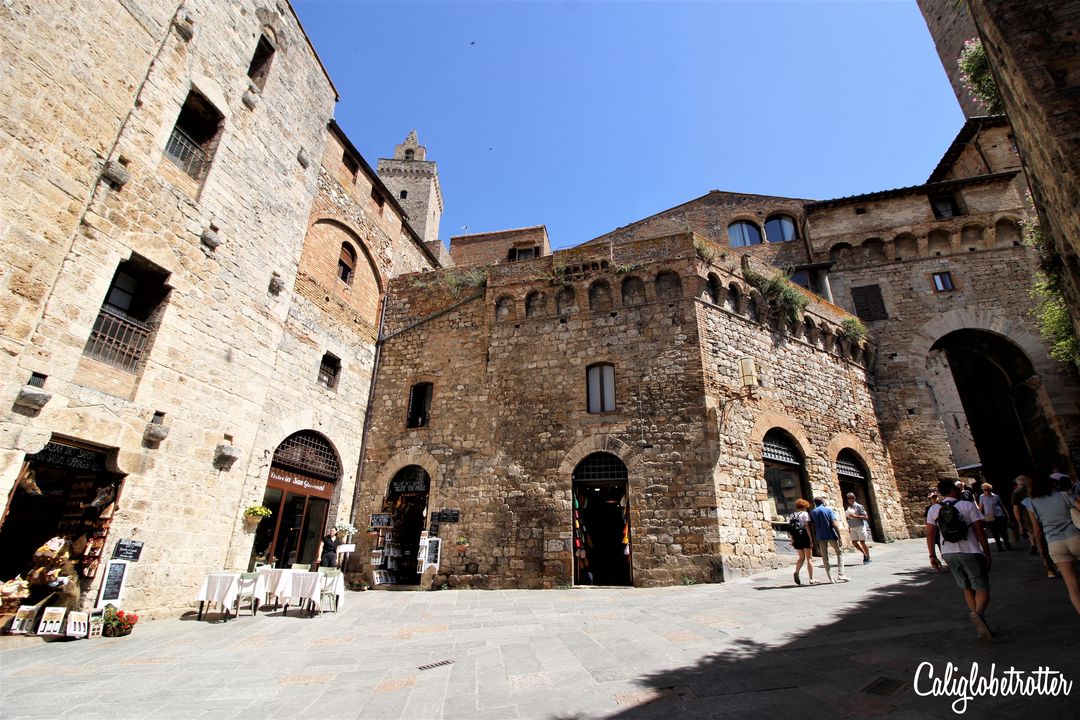 The Best Things to do in San Gimignano
There are plenty of sights to see in San Gimignano to fill up your day! From climbing medieval towers, wandering the winding alleys, strolling the many romantic piazzas to perusing the goods on market day, there is enough to see. Not to mention the churches, the museums, enjoying an espresso or gelato or even having a glass of the town's local wine. So let me introduce you to the town of your dreams!
Towers of San Gimignano
Today, 14 of the 72 towers which once dominated the town still stand, enticing us to visit and making it one of the most unique places to visit in Italy!
But what's the obsession with all the vertical towers?
In the 14th century, wealthy merchants ruled and each family had their own armies. Some towers were used as defense, while others were essential empty phallus-like structures only built to boost the egos of wealthy merchants, trying to out build bigger other rival merchants to showcase their wealth and status, like here in Regensburg, Germany. But because there was no room to build grand palaces, they had to build vertically, hence the towers.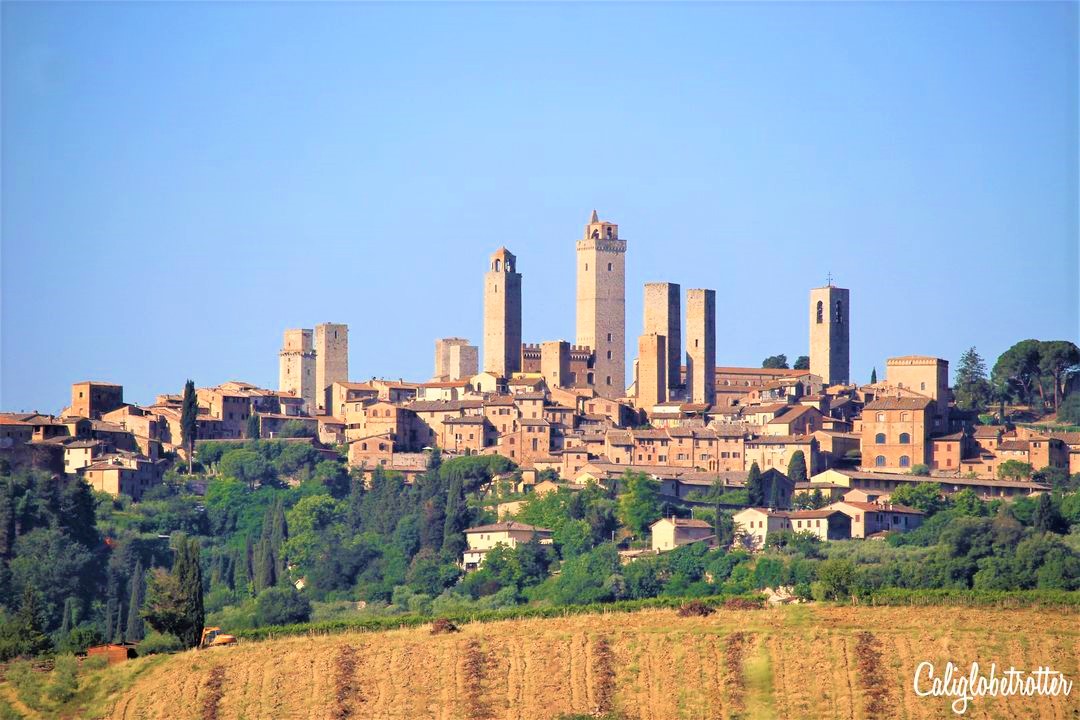 Unfortunately, when the Florentines assumed control over San Gimignano, they chopped the egos of the wealthy merchants by demanding that they slice their towers down to size, hence why only 14 towers remain,.
Campanile della Collegiata (bell tower of the Duomo)
Torre Grossa (Big Tower)
Torri degli Ardinghelli
Torre di Palazzo Pellari (Tower of Pellari Palace)
Torre dei Cugnanesi
Torre dei Becci
Torre Campatelli
Torre Chigi
Torri dei Salvucci (climbable when not rented out as an Air B&B)
Torre del Diavolo (Devil's Tower)
Torre Rognosa
Torre Ficherelli or Torre Ficarelli
Casa-torre Pesciolini
Torre Pettini
Torra Grossa (The Big Tower)

One of the most important towers is the 54-meter high Torre Grossa, which can be climbed and offers some of the best views over San Gimignano, but not before climbing a total of 220 steps upwards. Dating back to 1311, they say that Dante lived in this tower during his time in San Gimignano.
Normally, I would provide pictures of said panoramic views, but as I am currently dealing with knee issues, I sadly was forced to forgo climbing this tower, but take my word for it when I say, it's worth it!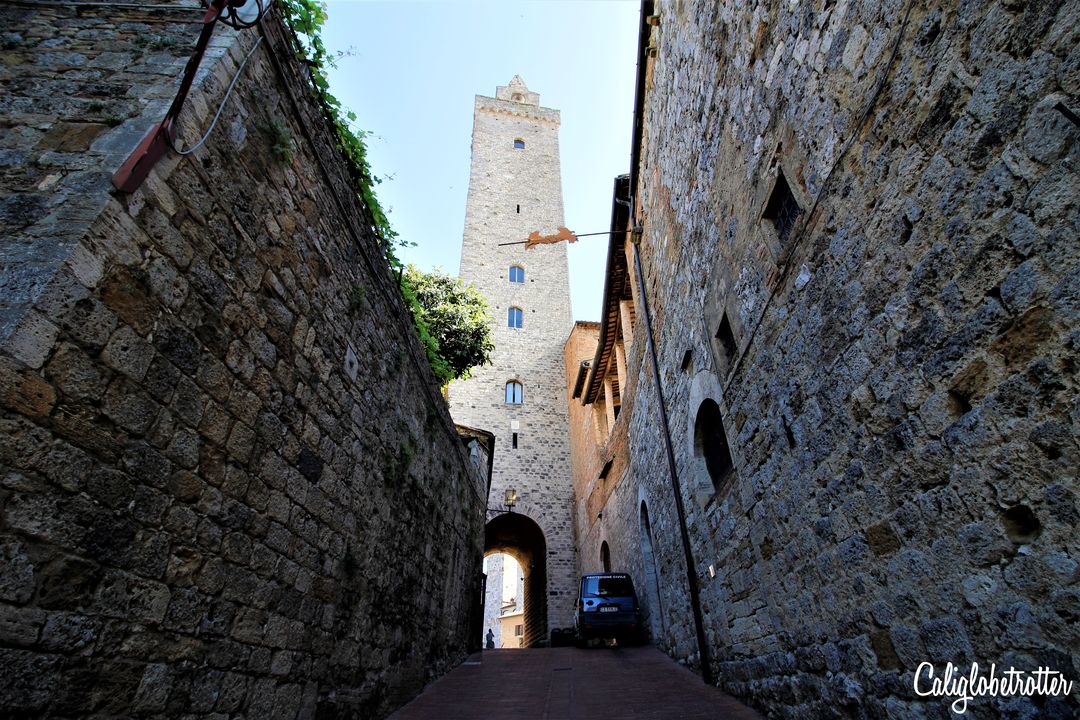 Piazza della Cisterna
As one of two main squares in San Gimignano, the Piazza della Cisterna is one of the town's most important monuments. The piazza gets its name from the underground cisterns which were built as far back as 1287 to provide rain water for its citizens and in the center of the square is a picturesque fountain. The square is home to several cozy cafes, gelaterias and shops.
Tip: On Thursdays and Saturdays, the weekly market takes places around the medieval stone fountain from 8:00am to 1:00pm.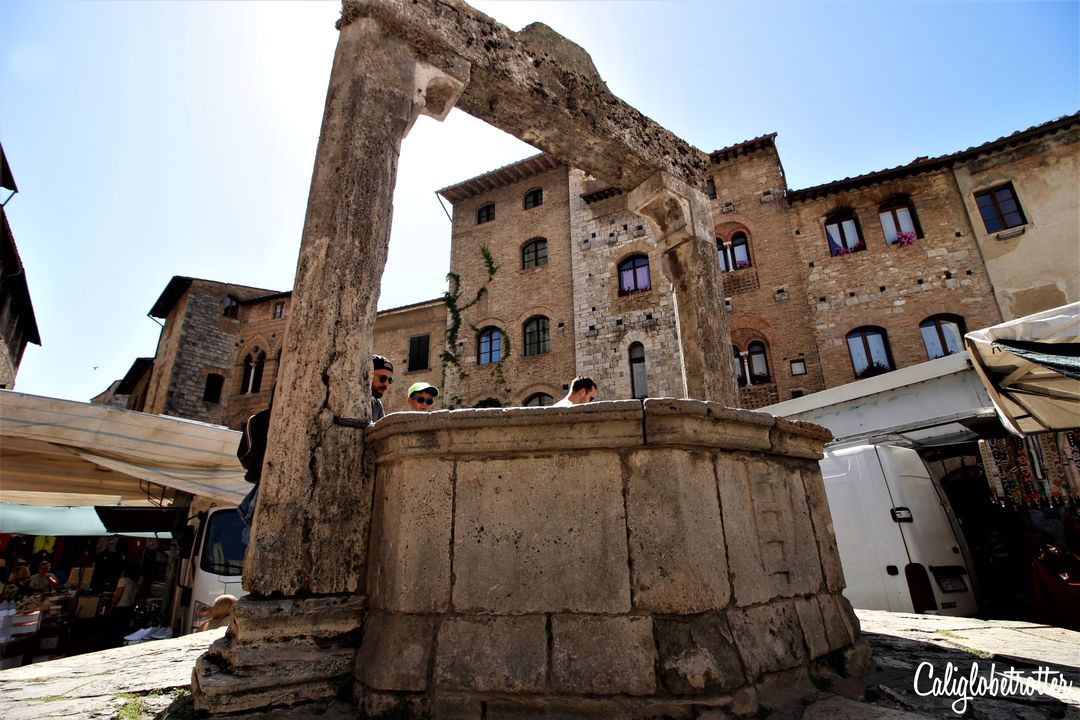 Piazza del Duomo
The second main square in San Gimignano is the Piazza del Duomo, just caddycorner from Piazza della Cisterna. It's here you'll also find the San Gimignano Duomo (Cathedral) also known as the Collegiata Santa Maria Assunta as well as the Town Hall.
You'll also find the Torre Grossa (The Big Tower) which is the tallest tower in the town by walking through one of the small alleys.
This square will also be filled on market day selling anything from table runners and table cloths to clothes, as well as a pop up garden store.
The best way to take in this impressive piazza is by standing on the staircase from the cathedral.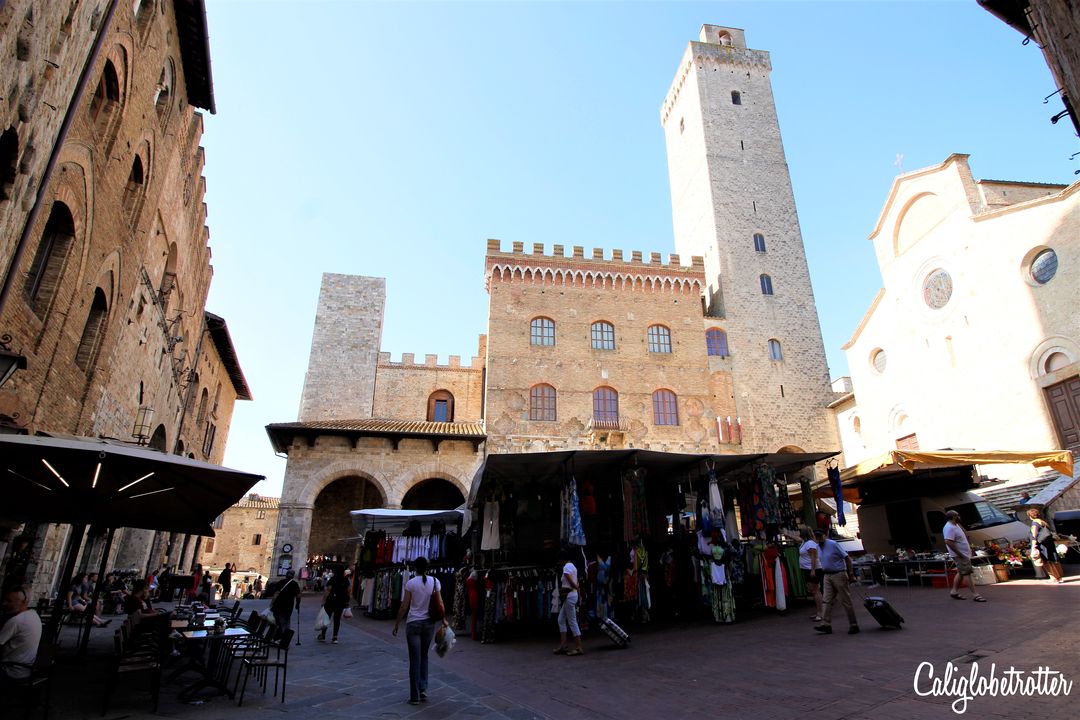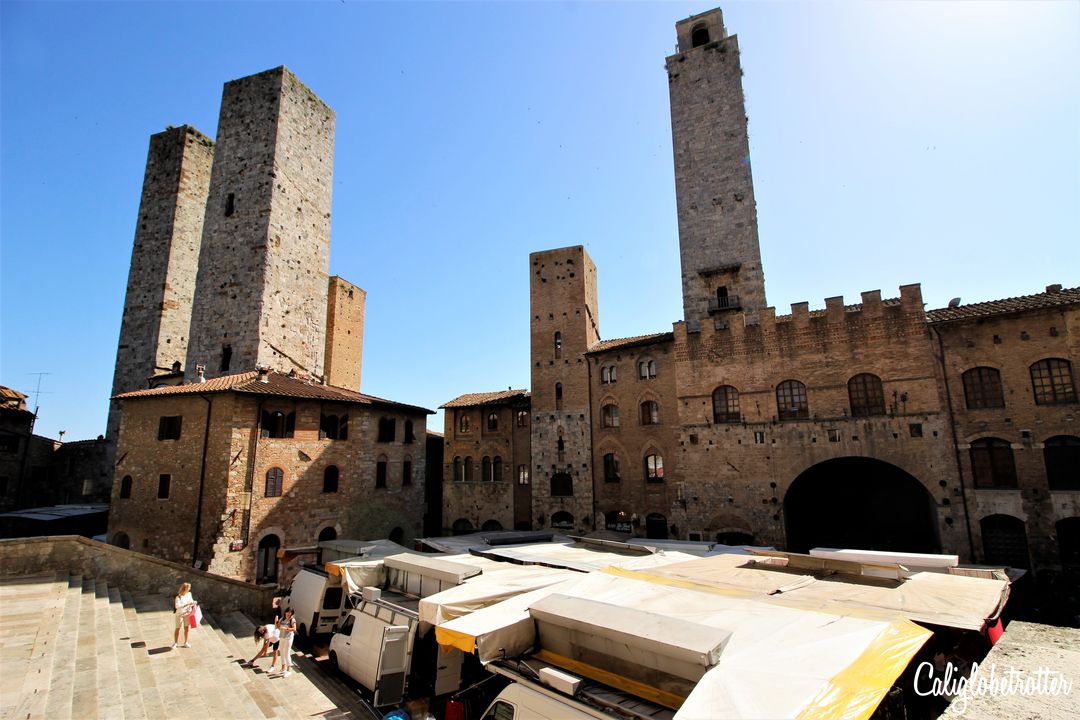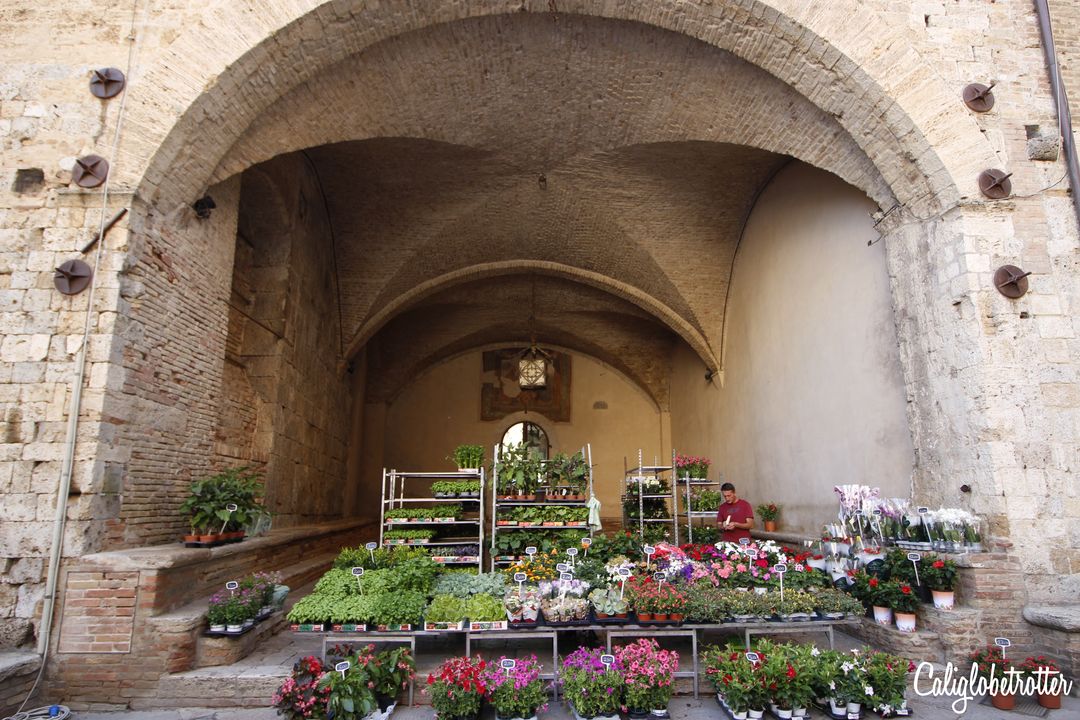 Collegiata Santa Maria Assunta
The Duomo of San Gimignano, also known as Collegiata di Santa Maria Assunta is one of the most important sights to see in San Gimignano dating back to the 11th century. This Roman Catholic church has several important works of art by the likes of Taddeo di Bartolo, Domenico Ghirlandaio and Lippo Memmi.
Tip: With the purchase of a combined ticket, you can visit the Torre Grossa, the Civici Museum and the church. For more information, click here.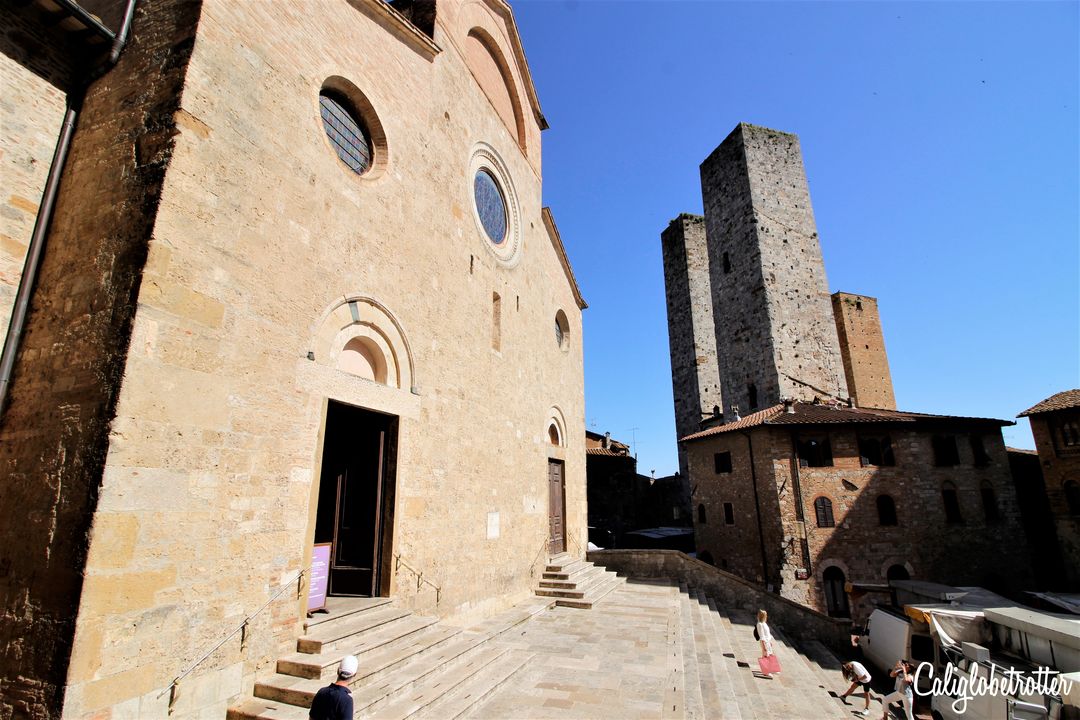 Other Churches in San Gimignano:
Church of San Lorenzo in Ponte
Church of Sant'Agostino
Palazzo Comunale | Palazzo del Popolo
As mentioned, the Town Hall is located in the Piazza del Duomo, dating back to the 13th century, which is also known as the Palazzo del Popolo (Palace of the People) built in a traditional Romanesque fashion, topped with a tower and arched windows.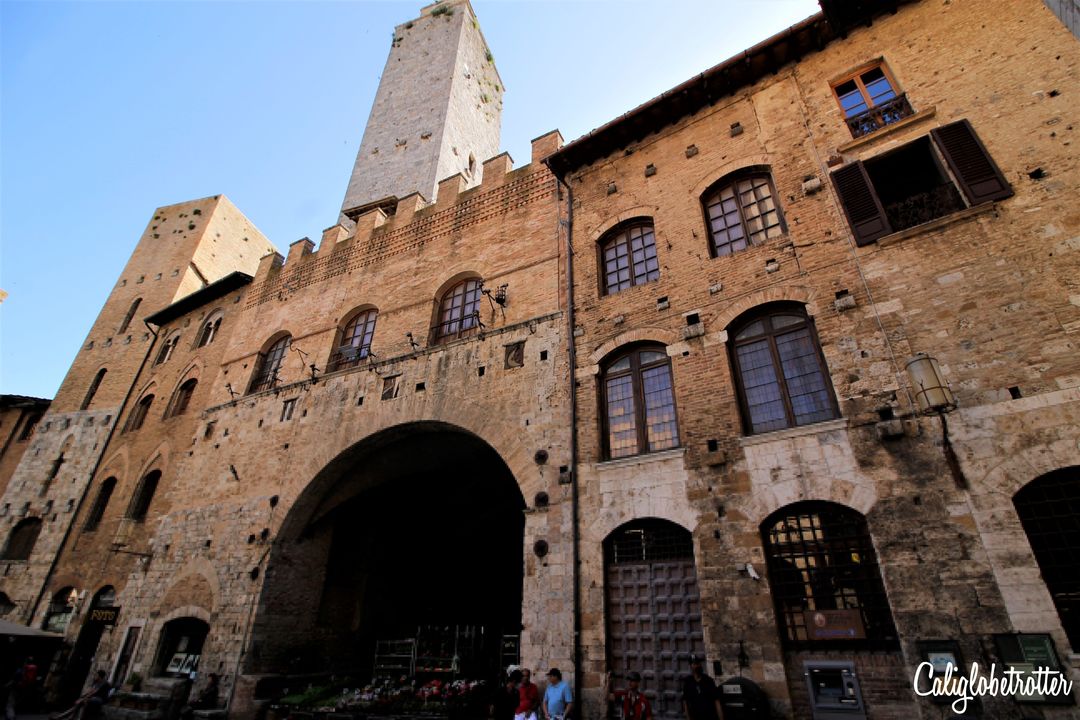 Fortress of Rocca of Montestaffoli
Just a five minute walk from the Piazza del Duomo are the remains of the 14th century Rocca Fortress which once provided protection for the city and was built by the Florentines in 1353 when they took control of the town. The fortress was later demolished in 1555 under the orders of Cosimo I de Medici and today only fragments remain, however, it provides a brief respite from the crowds and offers a stunning panoramic view of the Tuscan countryside.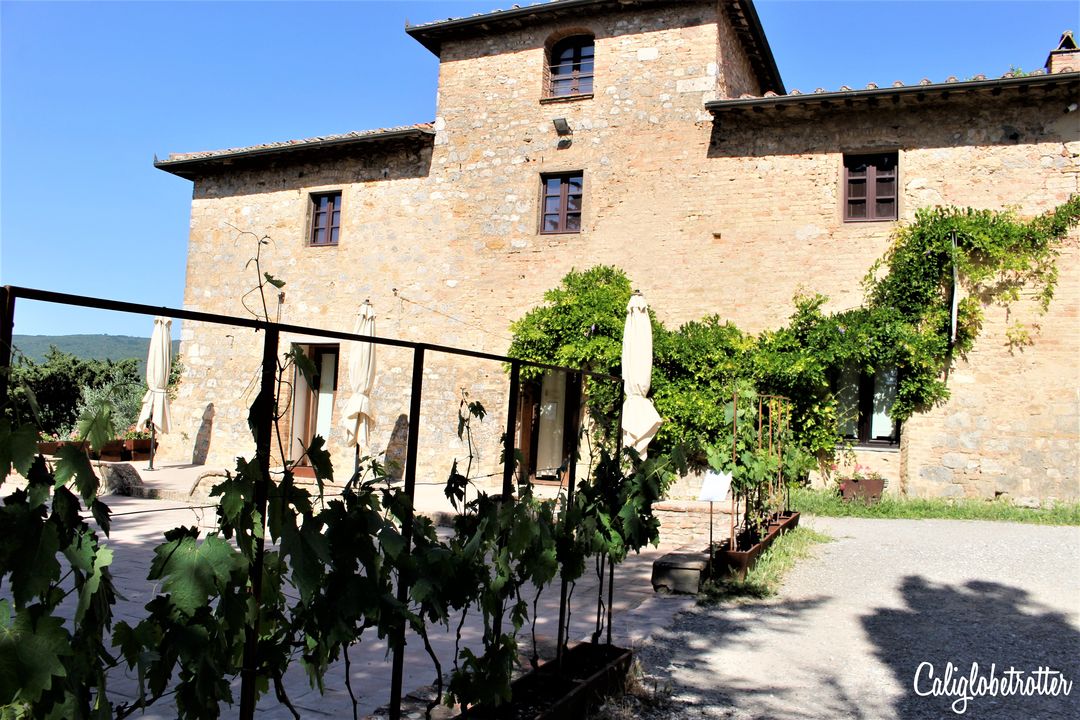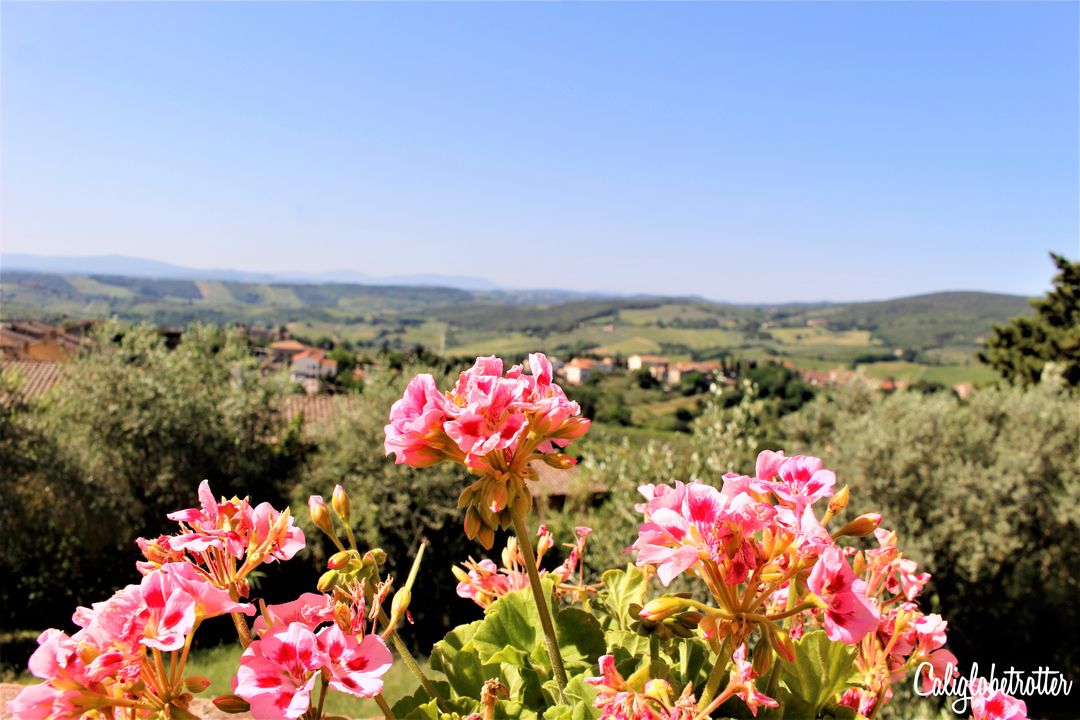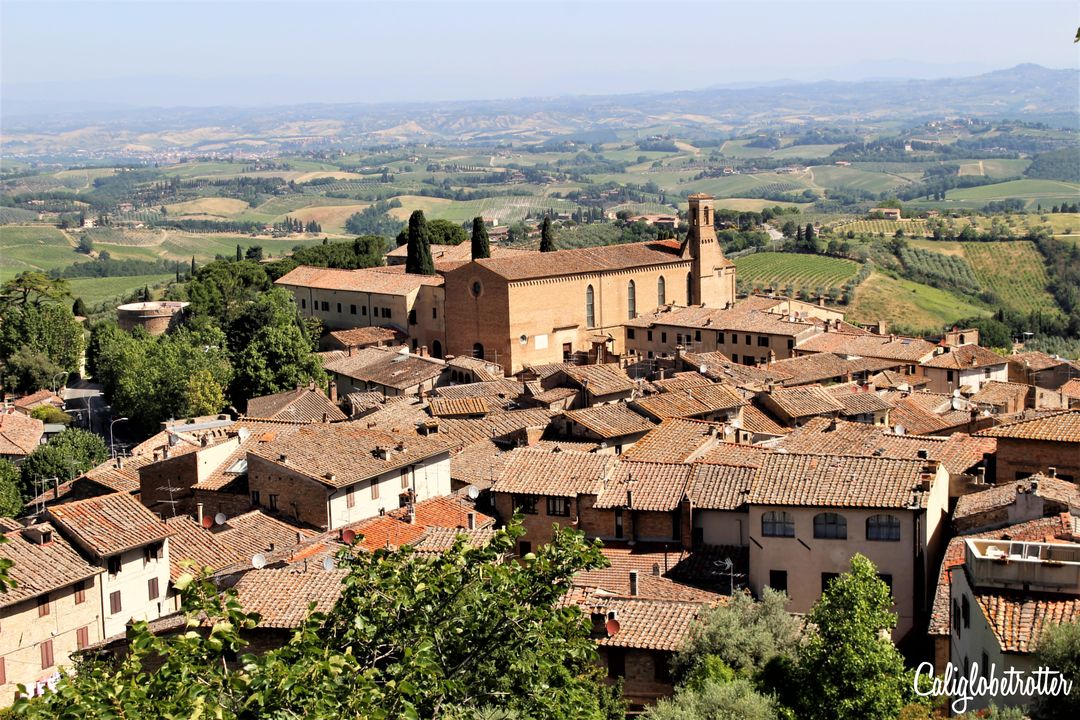 Museums in San Gimignano
If you have enough time, then it's worth considering popping into one of the following museums, which each in their own way offer more interesting bits and pieces to the history of San Gimignano.
Museum of Sacred Art
Torture Museum
Modern & Contemporary Art Museum
Archeological Museum
San Gimignano 1300 Museum
San Gimignano's City Walls
San Gimignano is encircled by three walls, with the highest being the Rocca Fortress. There are also eight entrances into San Gimignano all dating from the 12th and 13th centuries. Of the eight gates, the main gates are the Porta San Giovanni in the south, Porta San Matteo to the north west and Porta S. Jacopo to the north east.
Wander San Gimignano's Alleys
Don't bother with a map. Let your feet do the walking. See a charming covered, brick alley way? Follow it and see where it leads you. You never know the views of San Gimignano you'll discover or what cozy cafes, shops or restaurants you might stumble upon. Perhaps you'll stumble upon views of the Tuscan country side, discover yet another tower or find yourself listening to live Italian music. Stop and smell the roses. Literally.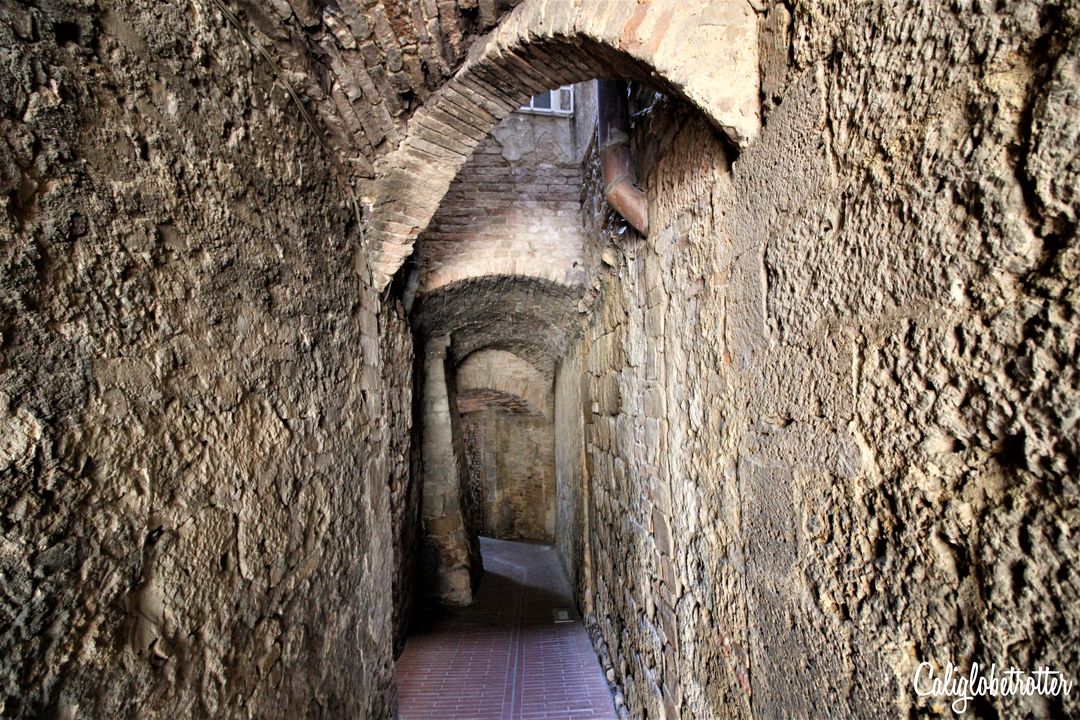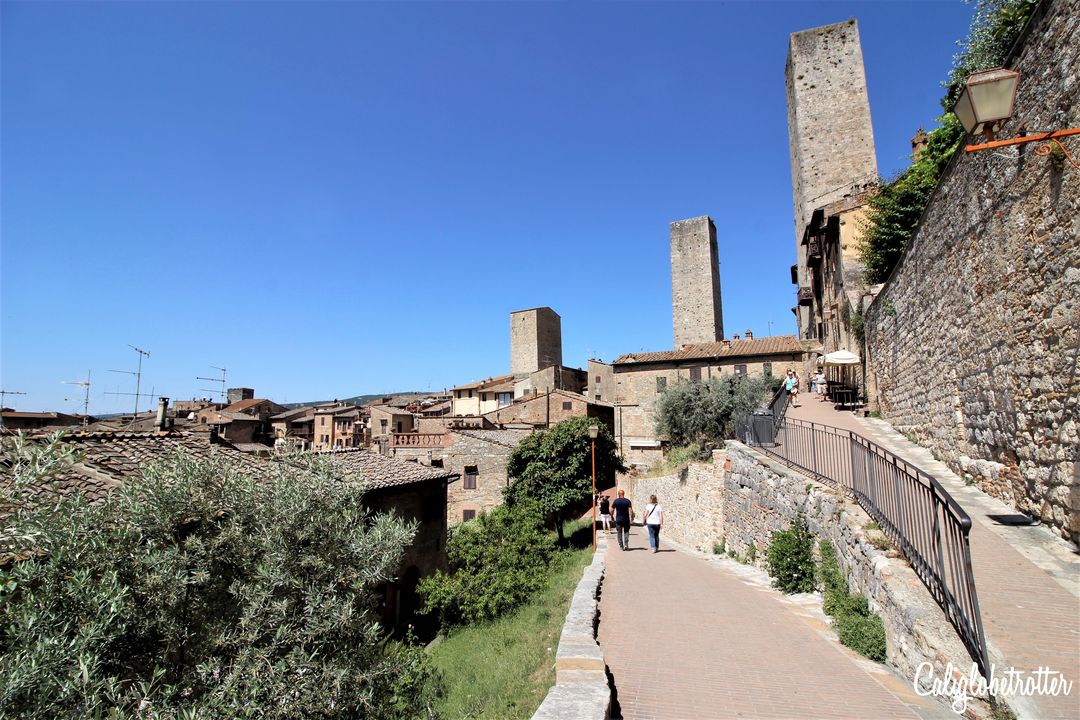 Tips for Visiting San Gimignano
How to Get to San Gimignano
The best way to get to San Gimignano is without a doubt by car, however, it is also possible to arrive by bus or by joining a tour. As there is no train station in San Gimignano and no direct bus connections, getting to San Gimignano by car will be the best option.
By Car:
If you're wondering where to park in San Gimignano, one of the most convenient parking lots in San Gimignano is Parcheggio N 3/4 "Bagnaia". You'll park at the bottom of the hill, and then there is a staircase to climb up, but there is also a semi-functioning elevator.
It's also recommended to park at Parcheggio Montemaggio near the Porta San Giovani. Should you park here, there is a shuttle bus which will drop you off in Piazza Cisterna for a small fee.
By Train:
If you want to do a day trip to San Gimignano, then you can take a train ride from either Florence or Siena and go to Poggibonsi. For a day trip from Florence, the trip takes about 1.5 hours, while from Siena, it's 45-60 minutes.
By Bus:
From Poggibonsi, it's still an additional 25 minute bus ride to San Gimignano, where you will be dropped off in Piazzale del Martiri near Porta San Giovanni.
Guided Tours of San Gimignano
There are no shortages of guided tours of Tuscany. There are any number of great guided tours from Florence to San Gimignano. If you're on a short schedule and want to explore the best of Tuscany, then this tour will guide you from Florence to San Gimignano, Siena, the Chianti Tour with lunch and a wine tasting.
Another alternative tour of Tuscany takes you to San Gimignano, Siena and Pisa with wine.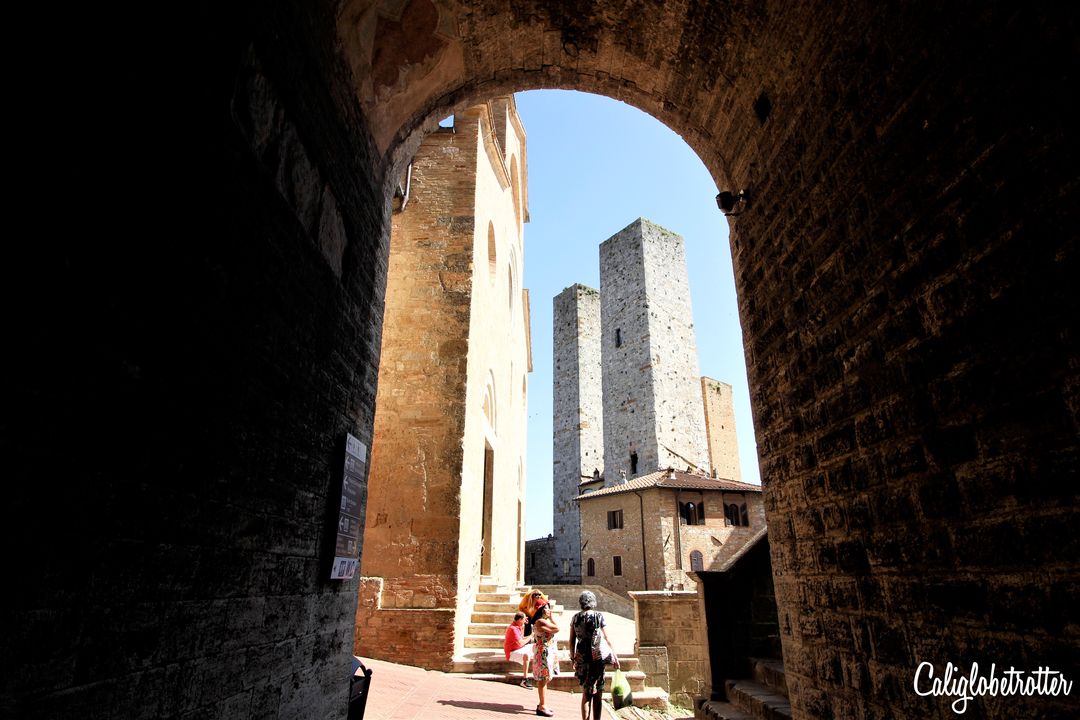 However, you can also plan your own Tuscany itinerary and book your accommodation in a central location to all of these amazing locations and plan day trips by car to each on your own schedule, which is always best.
But can you visit San Gimignano and Siena in the same day? It's possible, but I highly don't recommend it. Both are such amazing towns, you do not want to rush through both and therefore it's best to give each town a full day of it's own.
When in the Best Time to Visit San Gimignano?

As a general rule, it's best to avoid traveling to Italy during June-August, which is not only the hottest part of the year, but also the most crowded and the most expensive. Therefore, this rule applies to Tuscany.
I always recommend visiting Italy in the shoulder seasons, particularly April/May or September/October as the crowds have dispersed and the weather has cooled down.
It's best to avoid visiting Italy in August as most Italians close up shop and on holiday.
However, on a daily basis, it's best to arrive early in the morning to enjoy this hilltop town before both the crowds arrive and the sun gets hot. We arrived by 8am and were surprised that the parking lot was empty and the town was still silently sleeping. So we were able to wander and see a bit of the town before tourists started pouring in by 10am. By noon, it was packed.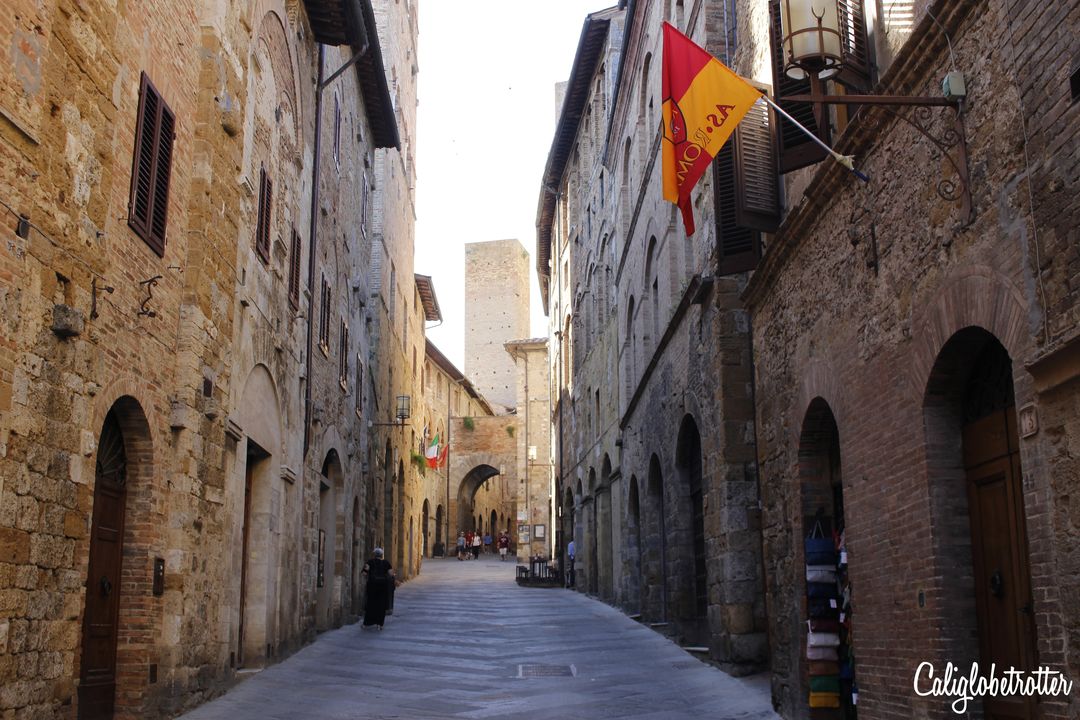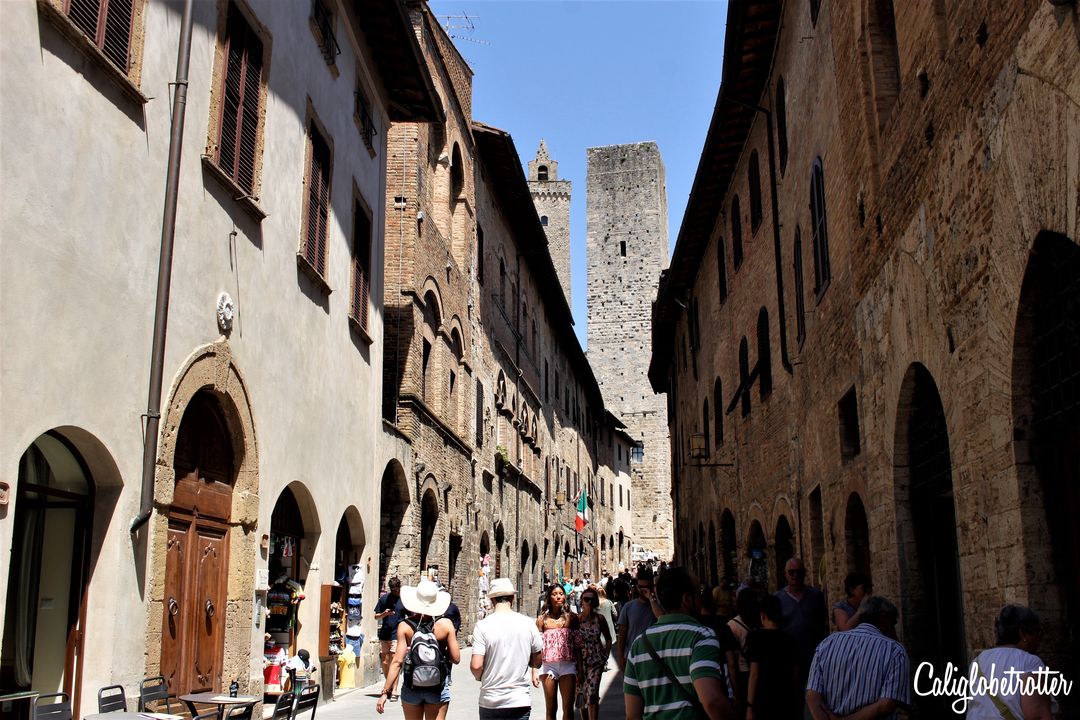 Where to Stay near San Gimignano
Quite personally, I chose not to stay in any particular city in Tuscany as originally planned once I discovered Agriturismo Hotels.
What is 'Argiturismo'?
It's an Italian play on words, combining 'Agriculture' and 'Tourism' into one word invented by the Italian government in the mid 1980's to offer financial aid and incentives to struggeling land owners. By providing financial aid, old farms, farm houses and estates were refurbished and turned into holiday accomodations, where people could book a holiday and live off the land while providing an extra source of income for locals.
We chose to stay at Casalta di Pesa⭐⭐⭐⭐, an agricultural hotel (agriturismo), which means that our hotel was actually an old family farm house, surrounded by nothing but rolling hills lined with vineyards. We had an entire apartment, with a kitchenette, a terrace, two bedrooms and two baths completely to ourselves. The hotel also came with a swimming pool to cool off on hot evenings. Couldn't have asked for a better location, at al equal distance from San Gimignano and Siena, as well as to Florence.
You can also have a look at agriturismo.it with listings in English for more agriturismo accomodations in Tuscany, including near San Gimignano.
What to Eat in San Gimignano
If you're looking for local specialities for San Gimignano, wonder no more!
First and foremost, you'll definitely need to try/buy/take home San Gimignano's local wine called Vernaccia di San Gimignano. It is the perfect crisp, dry, white wine for a hot summer day with hints of citrus fruit flavors, which has been refined in the last decade.
Like Siena, another local speciality is Wild Boar Sausage, best eaten on a Panini sandwich with cheese. Likewise, you'll also see several shops focusing on selling and introducing you to the world of Truffles. We personally chose to have a panini sandwich for lunch at La Buca di Montauto. They had exactly two small tables in the back, so we enjoyed our paninis with a glass of Vernaccia di San Gimignano. 
Be sure to also try a slice of "panforte", a dense fruitcake with nuts which tastes like Christmas and is one of the most popular Christmas treats.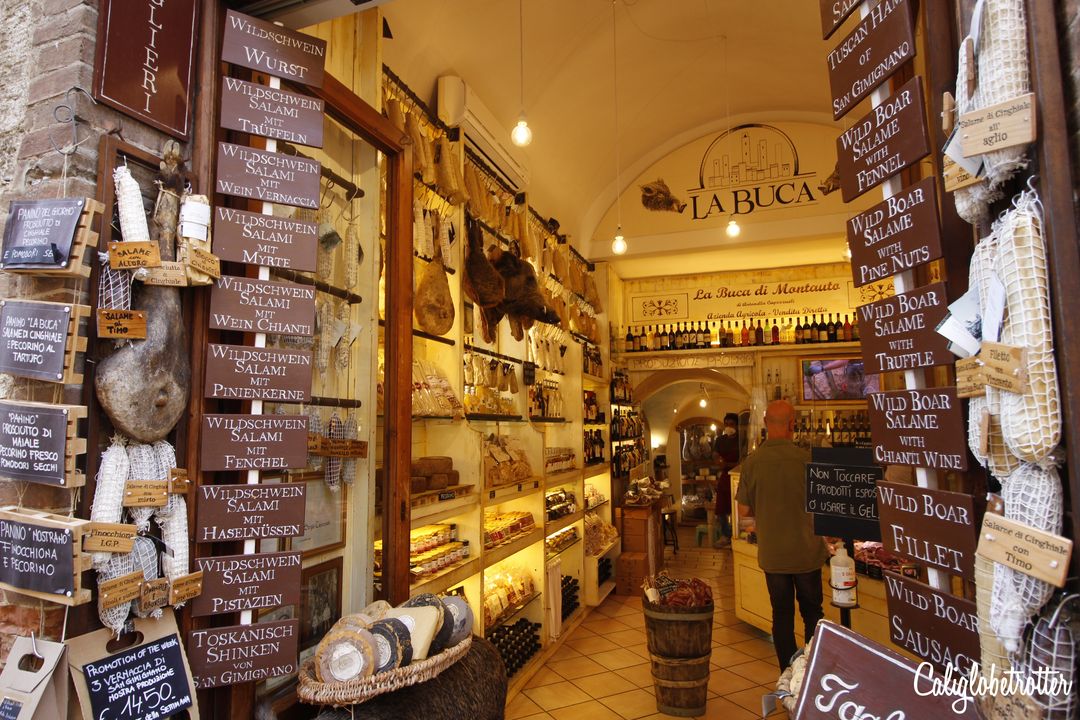 Where to Find the Best Gelato in San Gimignano
Gelateria Dondoli
No matter where you go in Italy, there is a gelateria on every corner ready to make your dreams come true!
The Gelateria Dondoli, however, is an award-winning gelateria which can be found in Piazza della Cisternia. This many times over Ice Cream World Champion serves up a variety of unique gelato flavors as well as more traditional varieties. Unusual flavors include raspberry and rosemary, walnut and gorgonzola, or for the coffee aficionados, a cappuccino and rum which my husband was really excited about. But to enjoy your gelato, you'll have to wait a lines worth of fellow gelato hunters.
Unfortunately for you, no photo to entice you as it was so hot, our gelatos were melting too quickly for a photo! But do you really need a photo to entice you??
Overall Opinion of San Gimignano
Go. Just GO. It's without a doubt one of the most unique and beautiful small towns in Europe I've ever visited and I've visited quite a few! And honestly, make the time to be there for the whole day. Take your time, see everything, stop in every shop and don't rush through it. I'm kicking myself a bit for letting the heat get to me and we rushed a bit through San Gimignano so that we were done by the time the sun was at its hottest. However, we did miss a few things.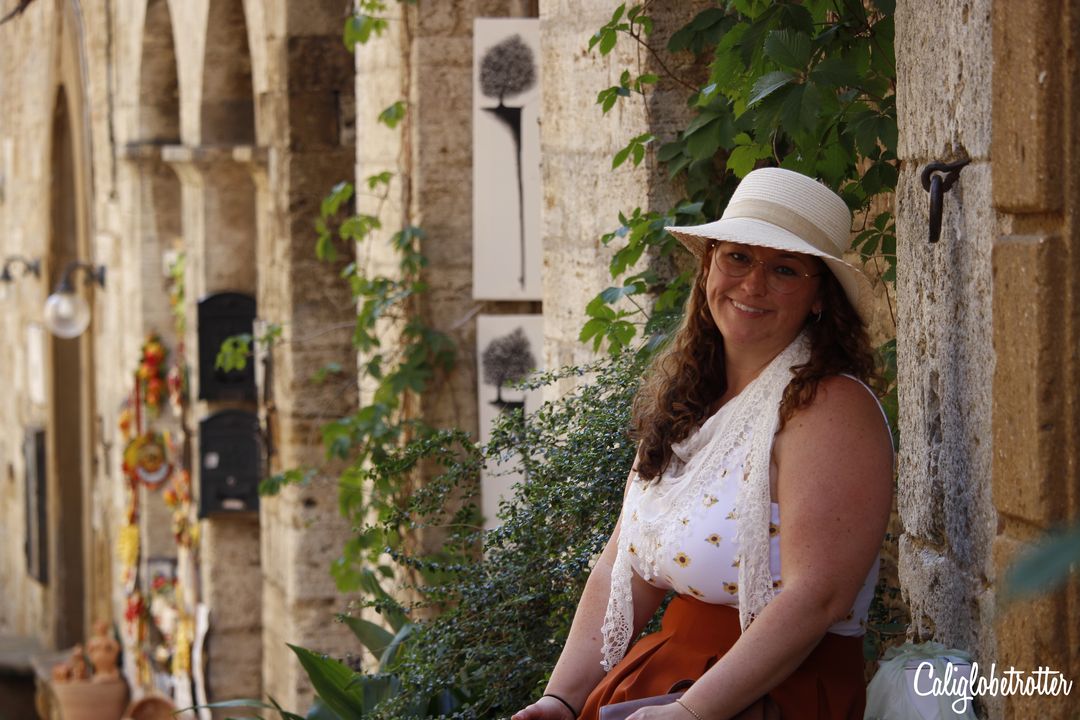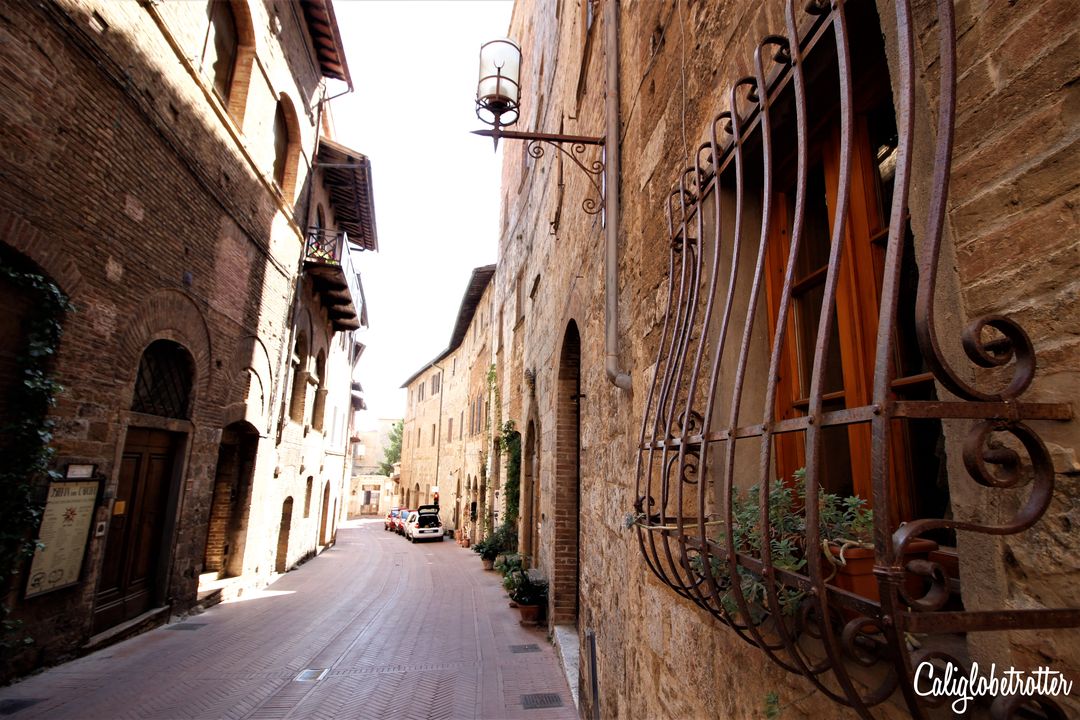 Liked this post? PIN IT FOR LATER!!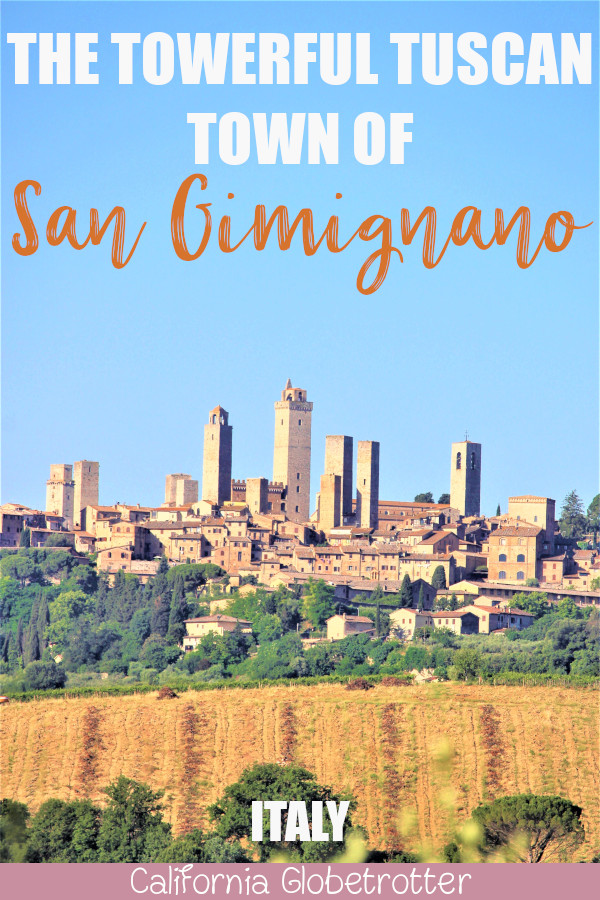 Other Related Posts:
Siena: The Medieval Jewel of Tuscany
Coming Soon:
Volterra
Florence
Pisa
Looking for more practical information on Italy? Grab a copy the following travel guides which we found incredibly useful on our trip and has something for everyone from outdoor activities to historical sites!
Disclaimer: This post contains affiliate links. If you click on one and make a purchase, I might make a little extra spending money, at no extra cost to you. As always, all opinions are my own and these products/services have been found useful during our travels and come highly recommended to you from yours truly!