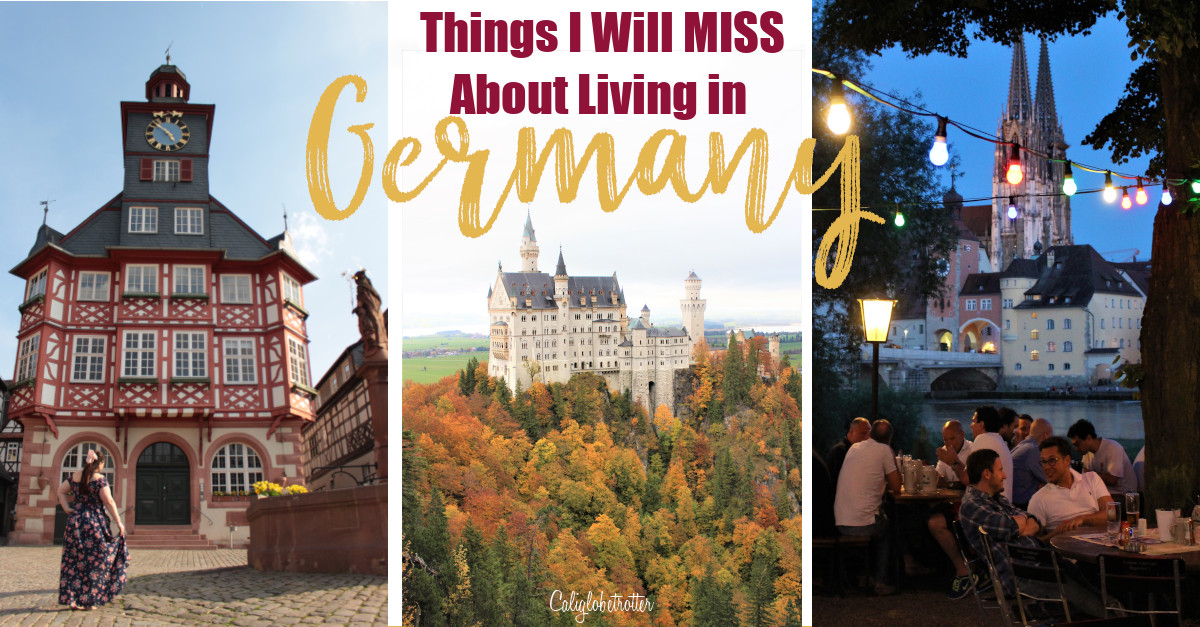 My time living abroad in Germany is slowly coming to an end. 11 1/2 years is a long, long time to fall in love with my expat homeland and became fully integrated into the culture. There are many things I have both struggled to adapt to during my time here and have fallen head over heels in love with. Leaving behind both is a bit bittersweet and as the time comes to an end, it's making me a bit more emotional. Here is my list of favorite things I will miss about Germany!
My days in
Germany
as an e
xpat
are now numbered and the final countdown is on and because my time here is coming to an end, I've been very sentimental about leaving and reminiscing about the amazing 11 1/2 years I've spent here. It was never intended for me to stay so long, but as they say, life happens. And during that time, I've been very blessed to explore many corners not just of Germany but of Europe.
There are many many aspects of life in Germany that I will certainly miss, from
ChristmasMarkets
to
autumn
foliage to schnitzel and health care. But while I will miss many of these things, I know it's not goodbye forever, but more like see you again soon. With a German husband, I'm sure we will return as often as possible.
This is my love letter to Germany and everything I will miss about it as a I say Auf Wiedersehen to my
expatlife
and return home to the US with open arms, a positive outlook, excitement and a bit of trepidation.
Like this Post? PIN IT FOR LATER!!
Federweisser Season
Every August/September I anxiously anticipate the release of Federweißer, a young wine that is still a bit fizzy and sweet. It's this time of year that grocery stores throughout Germany release bottles of red or white Federweißer which is always perfectly paired with an Onion Tart (Zwiebelkuchen). It's the first sign that Autumn is approaching and it gets me excited for the upcoming holiday seasons. It's one of the best things to eat in Germany so look out for it!
Vibrant and Fiery Autumns
Coming from Southern California and moving to Montana, I was introduced to four seasons and the vibrant colors autumn has to offer, but I didn't know the true beauty of it until I was completely immersed in it in Germany. It's here in Germany that I found my autumn soul. From the autumn colors palette of my clothes, to my obsession with all-things pumpkin flavored, to the crisp cool mornings that nip at my nose and the warm sunny afternoons that make me regret putting on that fall sweater. I wait ALLLLL year for autumn in Germany, the short 4-6 weeks of vibrant autumn foliage that illuminates almost every inch of Germany!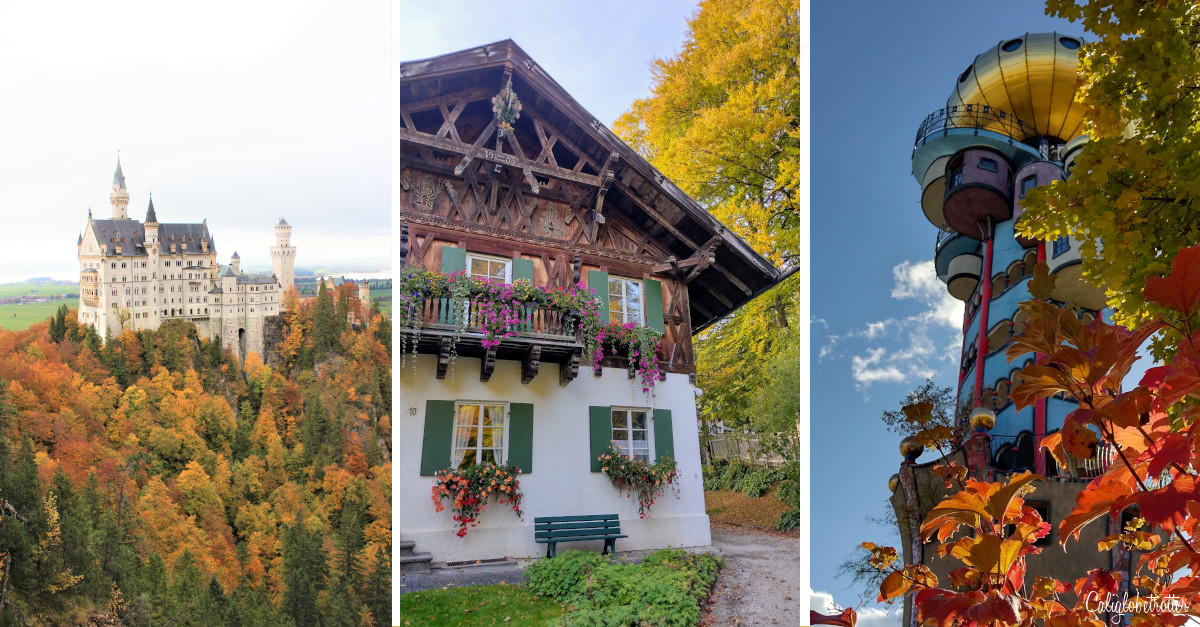 Related:

Ludwigsburg's Pumpkin Festival – The World's Largest Pumpkin Festival

Königssee Almabtrieb – Bringing the Cows Home from the Alps
Magical Christmas Markets 
I've always been a Christmas girl and loved decorating for the holidays, but my time in Germany has spoiled me rotten with endless magical Christmas Markets! I will miss finding new towns, villages and cities to explore their Christmas Markets, looking for magic in every cup of Glühwein and every Christmas stall. I love freezing my tooshie off, all bundled up in my cutie Christmas outfit, strolling up and down the rows of stalls, looking for the perfect little Christmas gift or souvenir. It's the time of year I encourage my friends and family to come to Germany the most (after autumn). 
I'll especially miss enjoying adding to my collection of Glühwein cups, warming up with a delicious Nutella Crepe or snacking on some Quarkbällchen and freshly roasted Chestnuts or sugar-coated almonds. 
I will not however miss the fear of walking in the presence of a Krampus. While I was excited to see them the first time, they were terrifying enough for me to stay out of reach of this particular Christmas tradition. No amount of fear can undo a year's worth of naughtiness before the fat man brings Christmas gifts! I'm hopeless!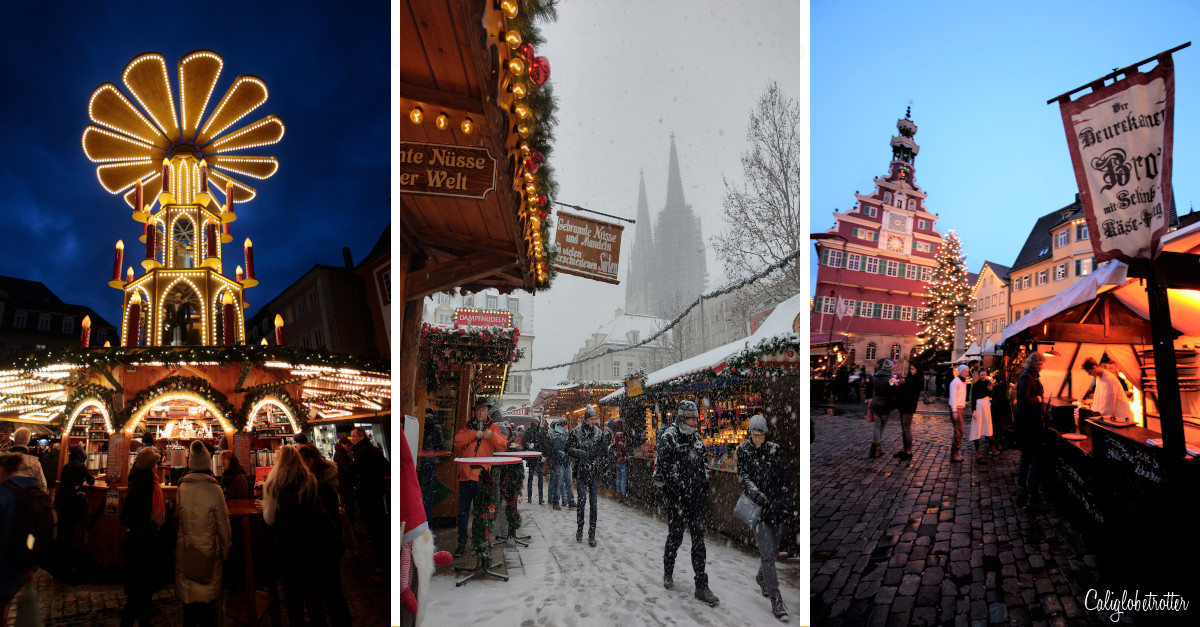 Related:

How to Celebrate Christmas Like a German
White Asparagus Season aka "Germany's 5th Season"
Before moving to Germany I had no idea there was such a thing as white asparagus. Green asparagus, yes. White? No. And Germans LOVE LOVE LOVE their white asparagus so much, it's often joked as Germany's 5th season. They love it so much, that they even crown an Asparagus Queen every year, celebrating this eatable white gold! It's always paired perfectly with cooked potatoes and slices of ham, drizzled in delicious hollandaise sauce. You can find it in every restaurant and every German home. And Asparagus huts pop up on every other corner selling the locally grown deliciousness!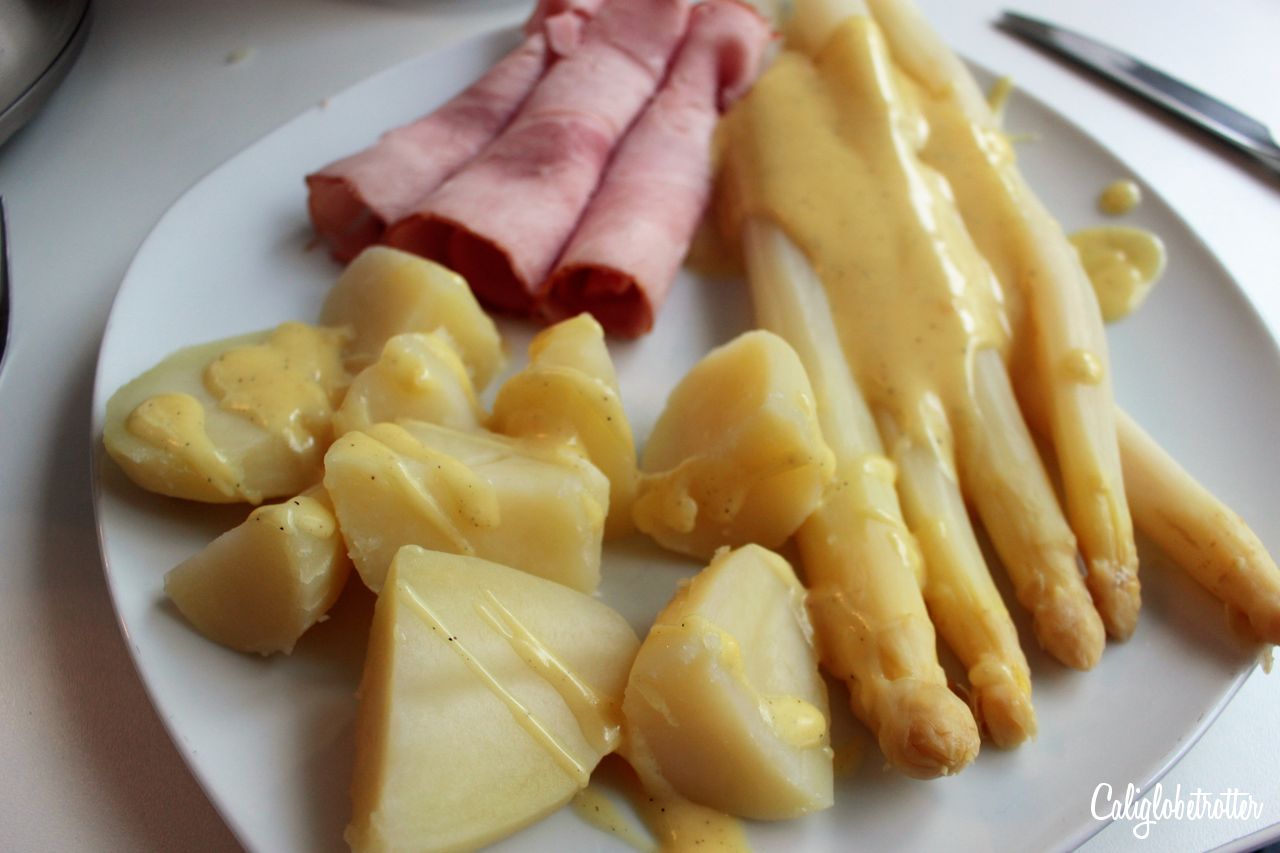 Good German Beer
Germany might not have a HUGE variety in beer types, but they do have a HUGE variety of brewers, who focus on producing many of the same beers in their own unique styles, such as Weizen, Helles, Pils, Radler, Bockbiers, Dunkles, Zwickl, Kölsch, Schwarzbier and so many others. You can always count on the fact that German beer is great, unless it's one of the cheaper beers.
Every time we have visitors, we take them to one of our favorite breweries in Bavaria, the Kuchlbauer Weissbier Brauerei in Abensberg, as well as the Weltenburg Abbey which is the oldest monastic brewery in the world and home to some of the best beer ever!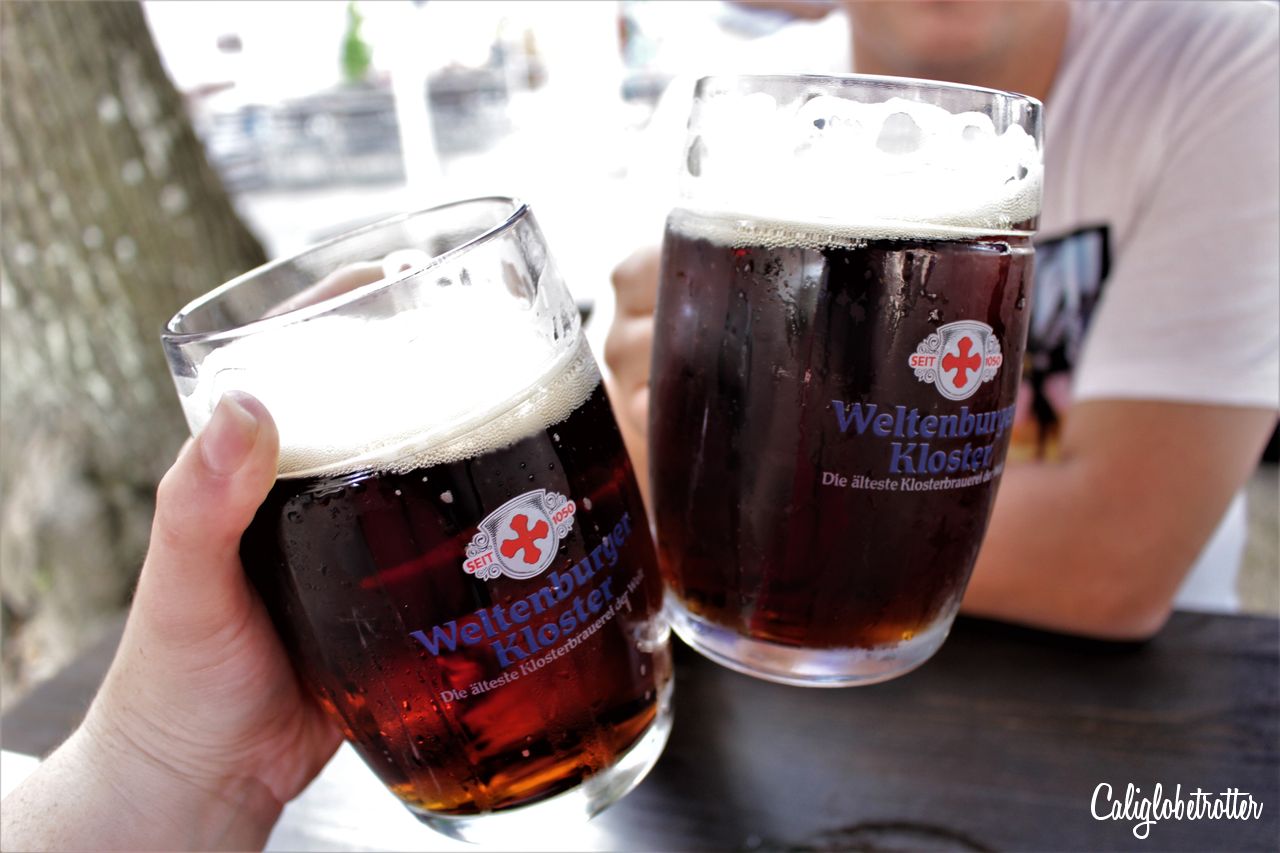 Long Bike Rides along the Danube
Before moving to Germany, I did not bike. After a terrible childhood bike accident, I avoided biking like the plague. But after 3 months living in Germany, I invested in my beautiful blue bike cruiser I named Gretl. She took me far and wide and to every corner of Regensburg and beyond. I went from not biking to biking up to 15 miles for special bike excursions. I came to really enjoy biking and the wind blowing through my hair. 
I will miss the perfect summer days, biking along the Danube to any random Biergarten we came upon. There was nothing better to cool down with than drinking a classic Radler.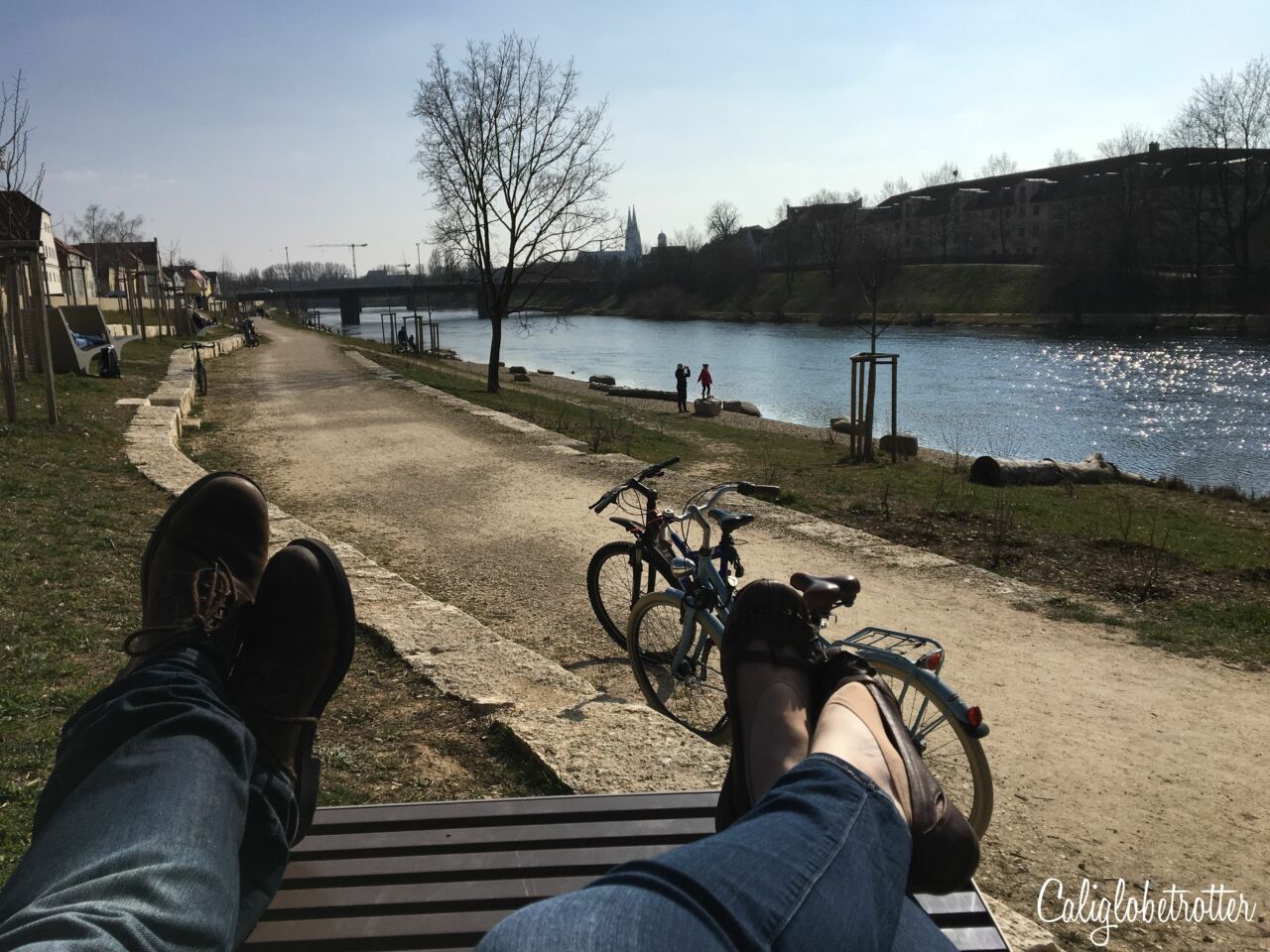 Germany's Quaint and Charming Half-timbered Towns
Little did I know, that when I visited my first half-timbered town, Monschau, along the Belgian/German border, that I would forever be changed. It quickly became one of my signature niches in the blogging world, searching out the cutest half-timbered towns in Germany (and Europe)! Besides finding these towns UTTERLY PICTURESQUE, I also felt they gave a clear glimpse into Germany's historic past and quirky little details of superstitions. Best of all, besides Rothenburg ob der Tauber, half-timbered towns in Germany lack mass amounts of tourists and they all make you feel like you've stepped by in time into a fairy book town.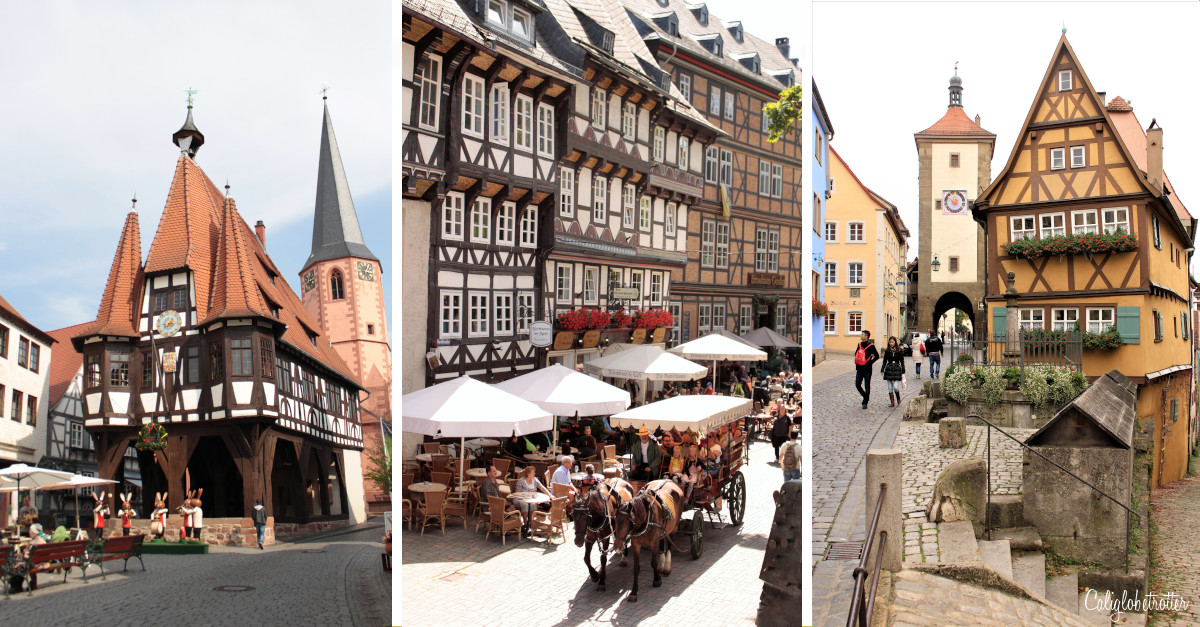 Related:

3 CHARMING Half-timbered Towns You've Never Heard Of!

A Weekend in the Harz Mountains
Perfect Summer Evenings at the Biergarten
Biergarten season is one of the best seasons in Germany and such an iconic part of life in Germany. Biking to one, as previously mentioned is one of the greatest joys of living here. But the best part of chilling at a Biergarten are the nights when the conversation is so good, in the presence of great company and the temperature is just right that you talk late into the night, enjoying a great view! 
Some of the best German food can also be found at a Biergarten, from local delicacies such as Obatzda in Bavaria to your more classic meals like Schnitzel and Bratwurst.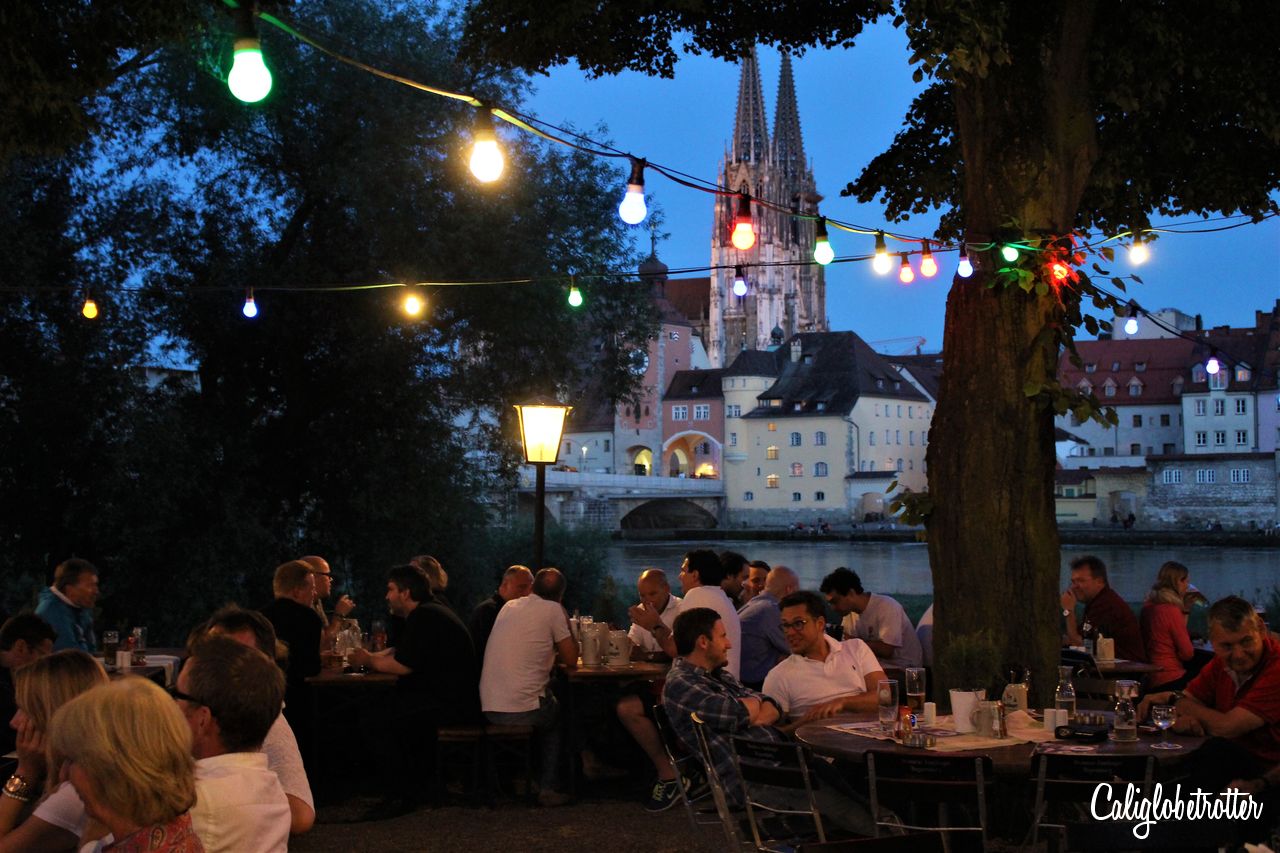 Related:

The Ultimate Guide to Eating in Germany
A Plethora of Swans All Year-Round
It's swanderful all the time! No matter the time of year, you can find pairs of swans gliding gracefully across lakes or down rivers. They make for beautiful scenery and I have a particular little pond I will miss driving by where I can always rely on a pair of swans. In the winter, it just makes driving the backroads that much more magical, when everything is just covered in snow and mist.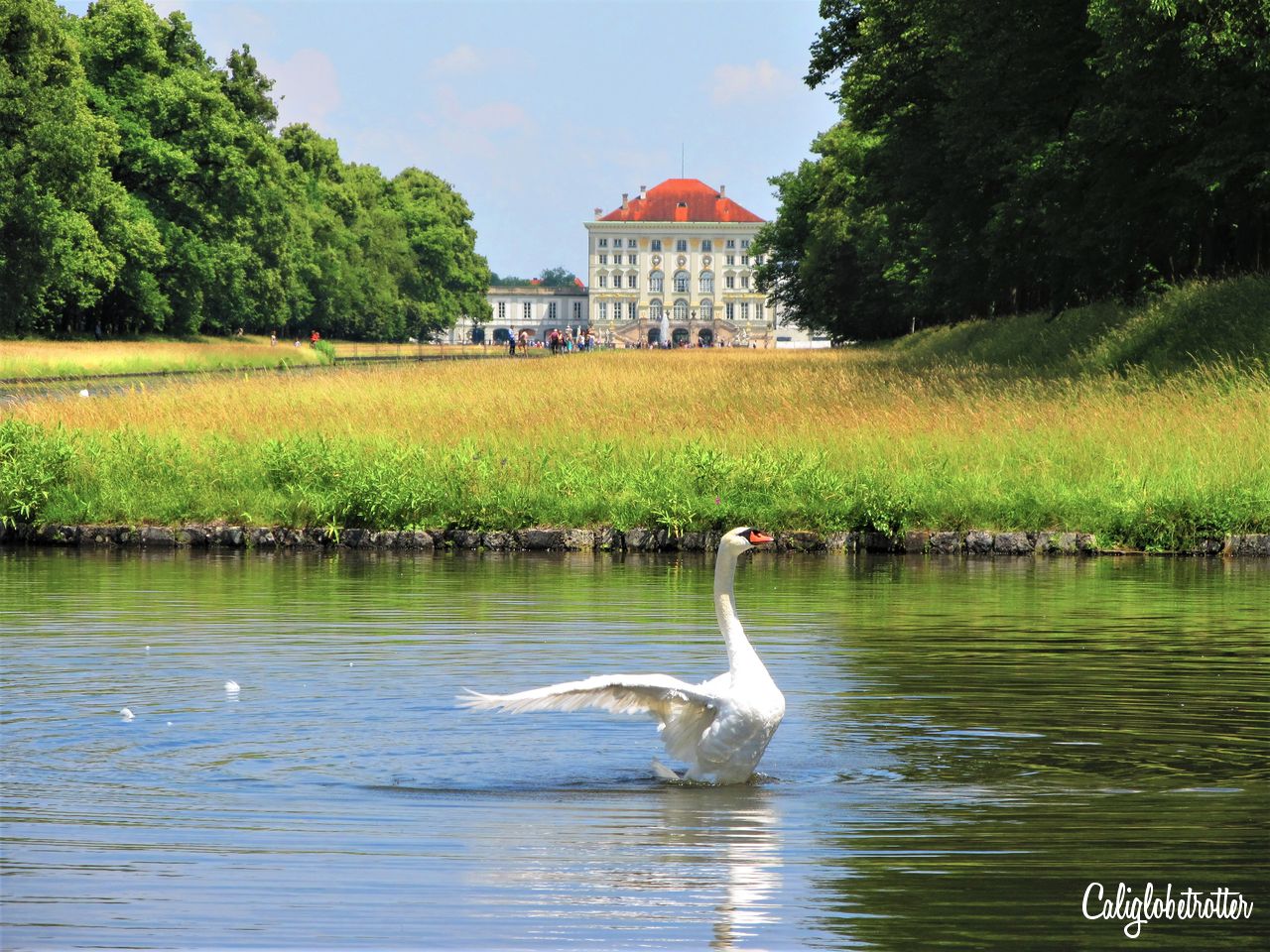 Stunning Libraries Belle Would Die For!
Europe was once considered the cradle of knowledge and that can certainly be seen in any of the impressive and jaw-dropping libraries in Europe! Beautifully bound leather books on every topic imaginable from theology, astronomy, religion, history and more, beautifully displayed on rows and rows of bookshelves. Stunning sculptures and artwork adorn the bookcases and leave you wanting to visit every single library possible and Belle would be jealous of any one of these libraries. As a book nerd myself, my husband practically has to pull me away from the libraries we have visited.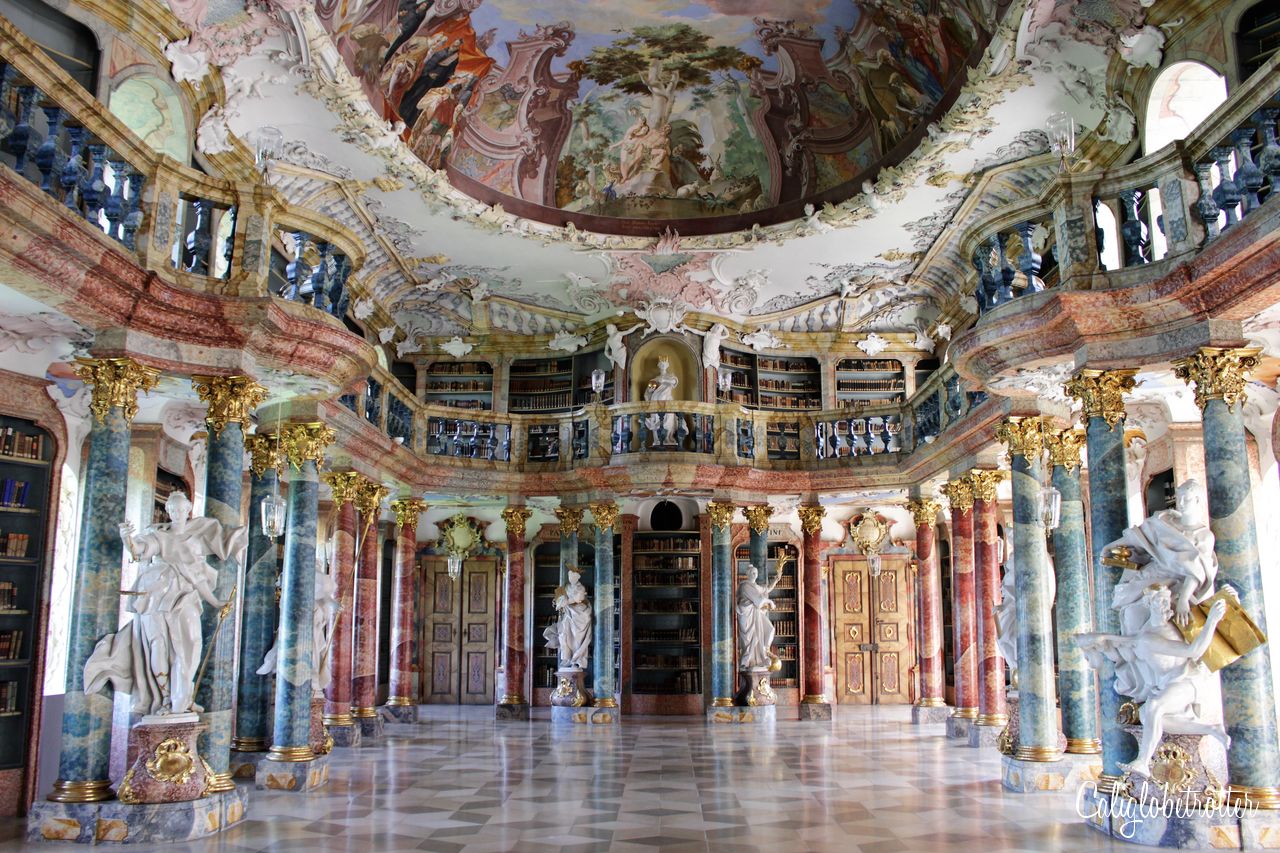 Quiet Sundays 
Sundays are quiet days of relaxation, made for spending time with family and catching up, typically for coffee and cake or going to dinner. Stores and many businesses are closed on Sundays, giving everyone in Germany a day of rest, unless you work in a restaurant or cafe. Many families choose to catch up on Sundays because it's the one day everyone is free to meet. 
If you don't find yourself catching up with family, then usually, you can find Germans spending some quality time outdoors, soaking up the health benefits of exercise, be it a casual walk, Nordic walking, hiking, biking, water sports etc.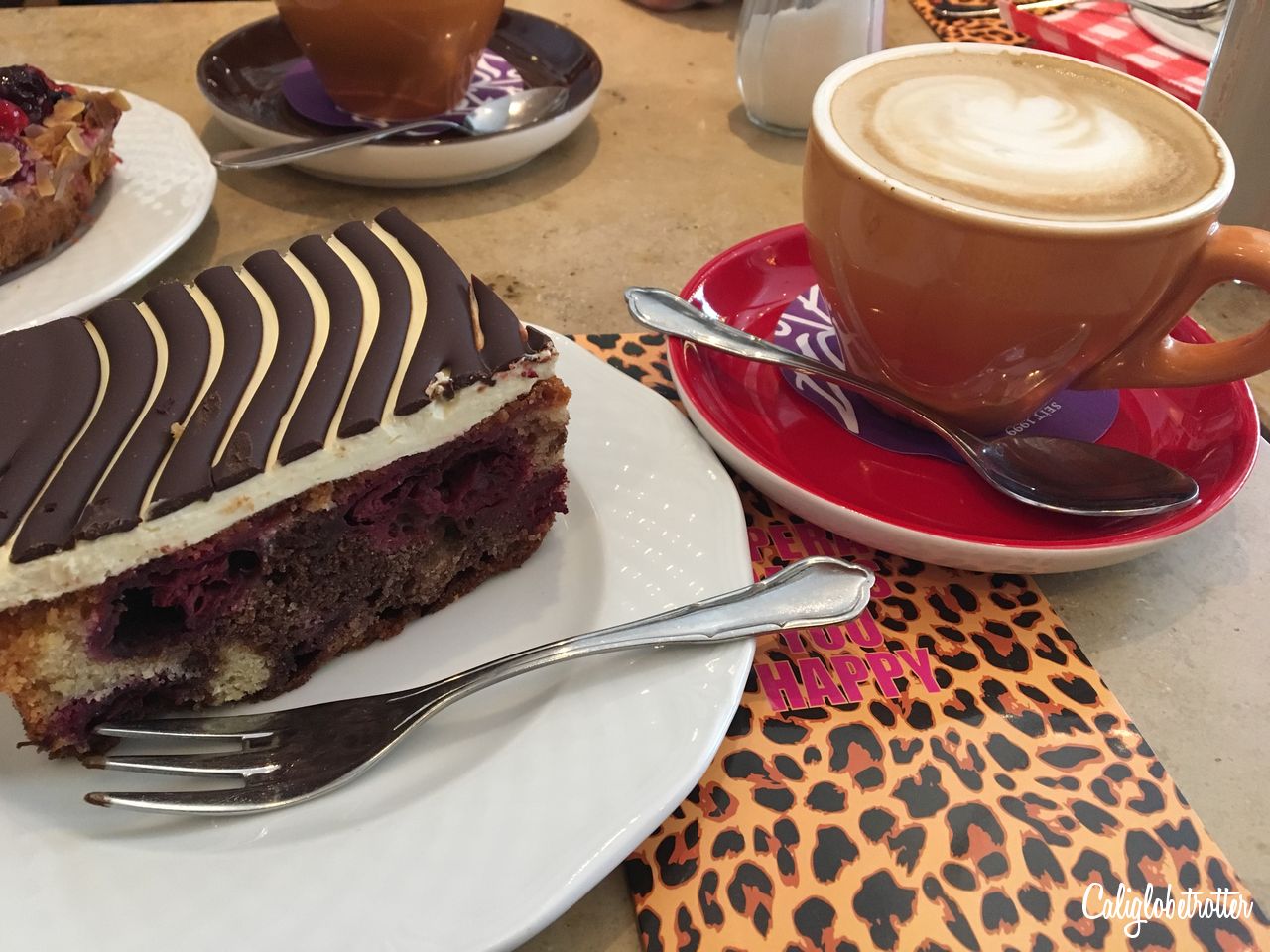 Sundays are a day for recuperating after a long week and resetting your mind to prep you for the next week. It's the quietest day of the week and that helps sooth the soul. You'll never hear someone gardening, doing any form of construction or loud parties. Sundays are sacred in Germany, and so is the silence! 
Coming from the US, quiet Sundays were hard to adjust to, especially when you needed groceries or some other item of importance. It grated against me for the longest time that things were closed on Sundays, but over the years, I've come to appreciate counting on Sundays, knowing that it would be a day of much needed rest to lounge on the sofa, snuggle up with a good book, go for long walks with our pupster or a bit of biking.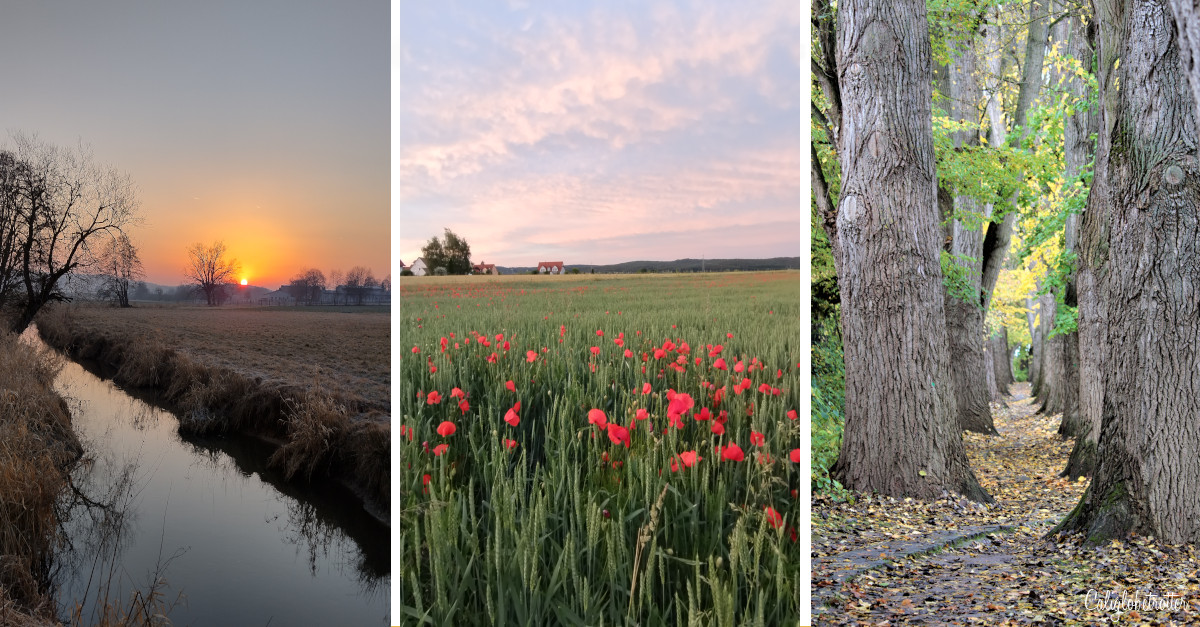 The Chime of Church Bells in the Distance
The sound of church bells ringing off in the distance was not something I grew up with. One of the first things I did when I moved to Regensburg, was sit at a cafe directly in front of our massive cathedral, enjoy a hot cup of Cafe Latte mit Bailey's and admire the view, listening to the chime of the bells. More than anything, THAT made me officially feel like I had made my dream come true to live in Germany. We just don't have many massive cathedrals in the US, and none that I knew of within driving distance of my hometown.
And every day since, whenever I walk by, I ALWAYS take the time to stop to listen to the chime of the bells, or admire the cathedral. And no matter where I am in Germany, somewhere nearby there is always a church bell ringing in the distance at any hour of the day. I love to wake up to the soft sound of the bells off in the distance or know that when I fall asleep at night with the windows open, it'll be the last thing I hear, besides the sound of crickets and the rustle of leaves.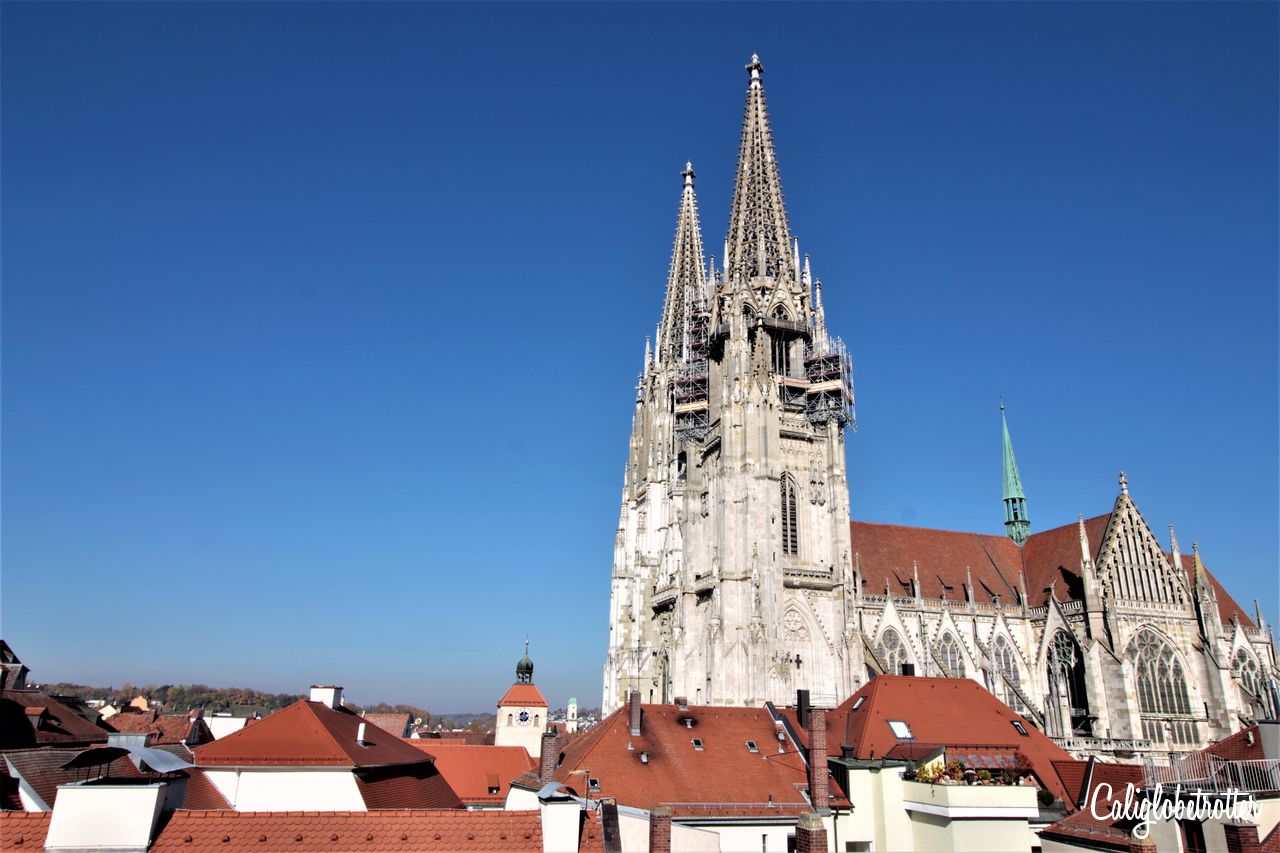 The Adorable Tradition of Easter Fountains
Every year, the 40 days leading up to Easter, many towns scattered across Bavaria decorate their town fountains with colorfully painted easter eggs, known as Easter Fountains (Osterbrunnen). It's an odd tradition, a quirky tradition, but a beautiful one and you never know when you might stumble upon a town that has decorated their fountains. It's something simple, but one of the cutest things I'll miss about living in Germany!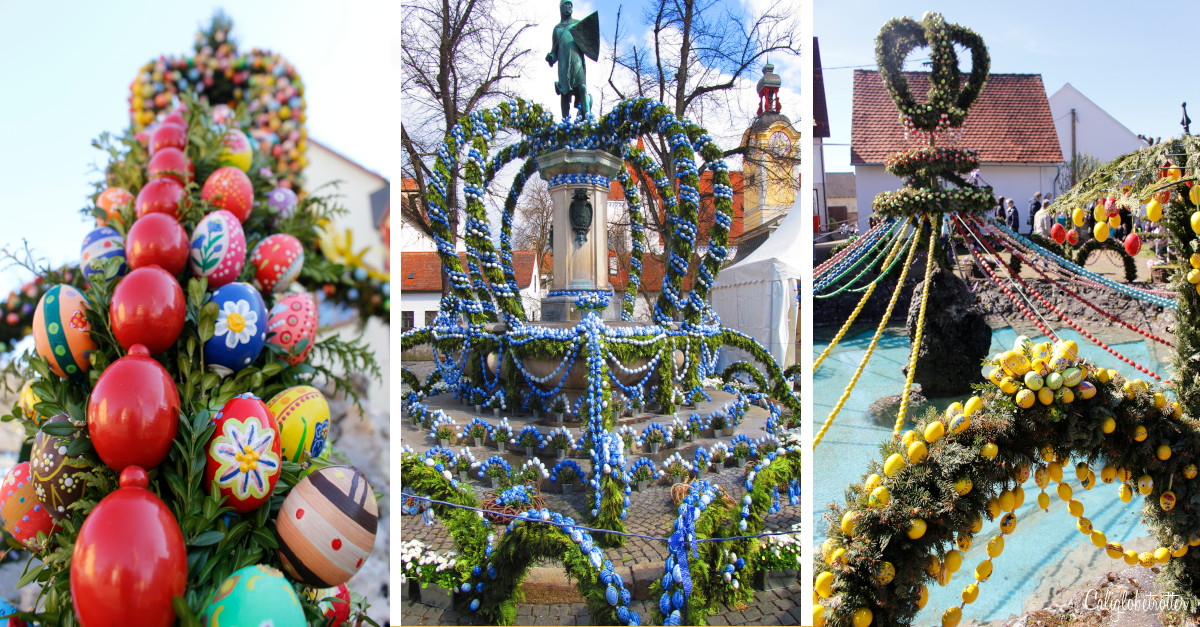 Amazing Bakeries
One of the best thing about Germany is that you can always find a great bakery nearby, offering up some of the best varieties of bread and pastries. Depending on where you are, there are local favorites. Ours is always either a Schifferl or a Wünsche. Depending on the time of year, you can find great seasonal treats. In the Autumn, you can find Kürbisbrot (Pumpkin Bread) to take home to enjoy with some pumpkin soup. You'll find other delicious breads such as Bauernbrot, Zwiebelbrot and so many other delicious options. 
In January-February you can find jelly filled donut-like Krapfen. These come out right before the Carnival (Fasching) festivities. The point of Krapfen is to fatten up before the 40 days before Lent. Of course, you'll always find classic pastries such as Chocolate Croissants, Plain Croissants, Nussschneke, Apfeltaschen, Kirchtaschen, Mohnenschneke and more!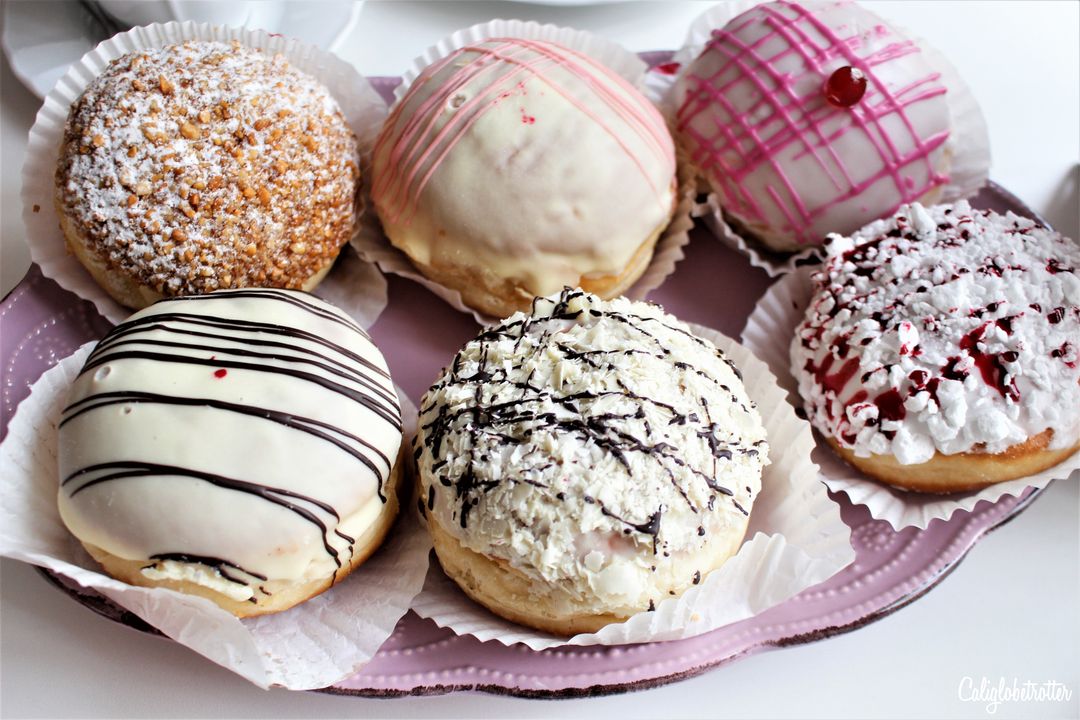 Long Walks Through Nature to Reset the Soul
Between all of Germany's towns is endless amounts of nature, especially forests. Just a 5 minute drive in any direction of Regensburg and we can find ourselves in beautiful forestry. And since we got our pupster, we're always on the lookout for new places to go for walks. Even if we don't have the time to drive further away for a walk, just beyond our neighborhood is farmland brushing up next to forestry. If we it's not a forestry place we're either walking or running through, we're walking or biking along the any of the rivers that surround Regensburg. There is something truly relaxing about leaving your phone behind, immersing yourself in nature and leaving behind the sounds and clutter of a bustling city to set you right before you start another week.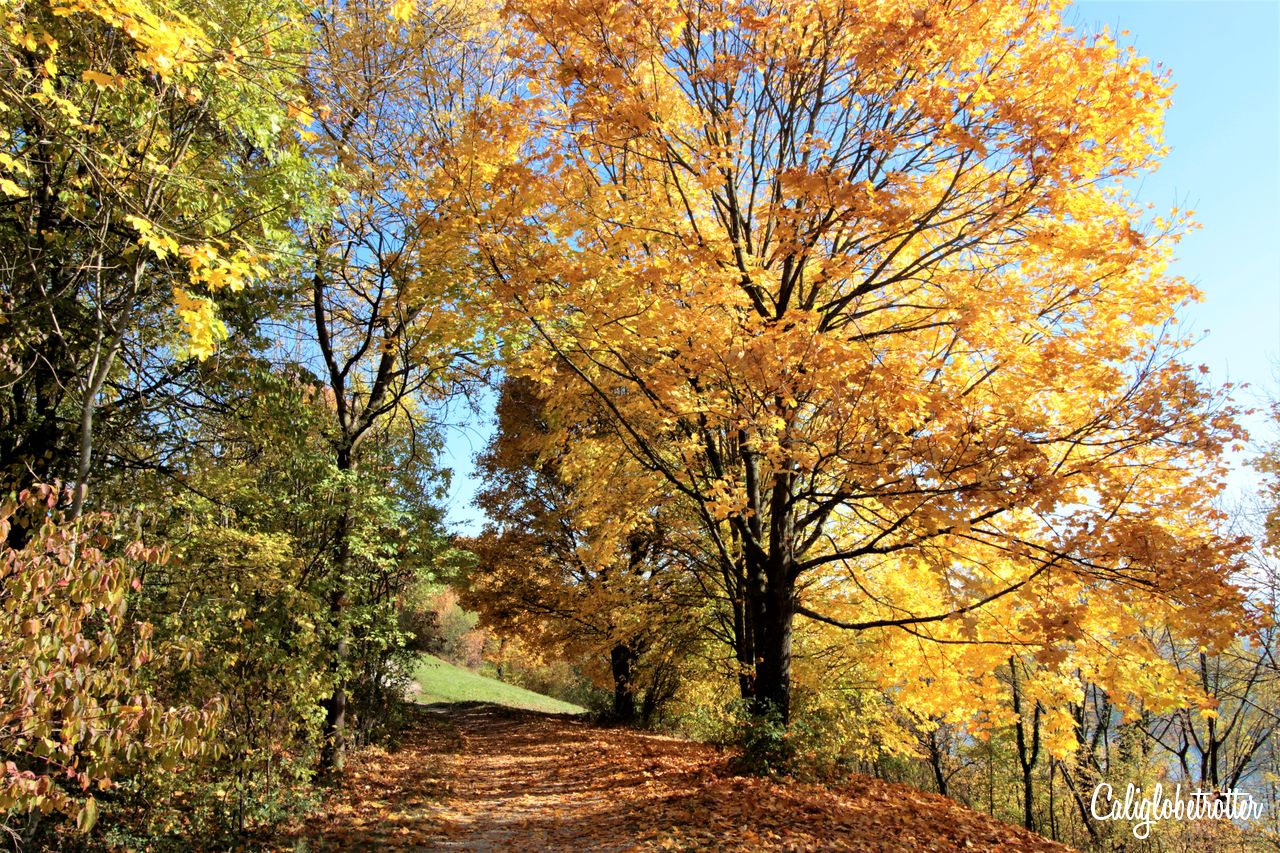 Related Hikes:

A Hike for all Ages: Leutasch Spirit Gorge

Tips for Visiting Partnach Gorge

Is Walchensee the Prettiest Lake in Germany?
Bierfests and Wine Festivals
Throughout the summer months, between May and October, you can find any number of beer festivals throughout Germany, especially southern Germany. Beer festivals are yet another one of those iconic cultural events that take place that can be found taking place from small villages like the Gillamos in Abensberg, to MaiDult or Herbstdult in Regensburg, to big beer festivals like Oktoberfest. It's a great reason to go with friends or coworkers, get dressed up in traditional Dirndls and Lederhosen and sing along to Ein Prosit der Gemütlichkeit, bumping our Maß krugs and just having a jolly good time. 
And if you just so happen to be in the wine growing regions of Germany, those beer festivals are replaced with any number of wine festivals. Not quite as rambunctious as a night out at a bierfest, wine festivals offer the best of the region's local wine. Würzburg is my favorite town for endless wine festivals in Germany which is also combined with great views.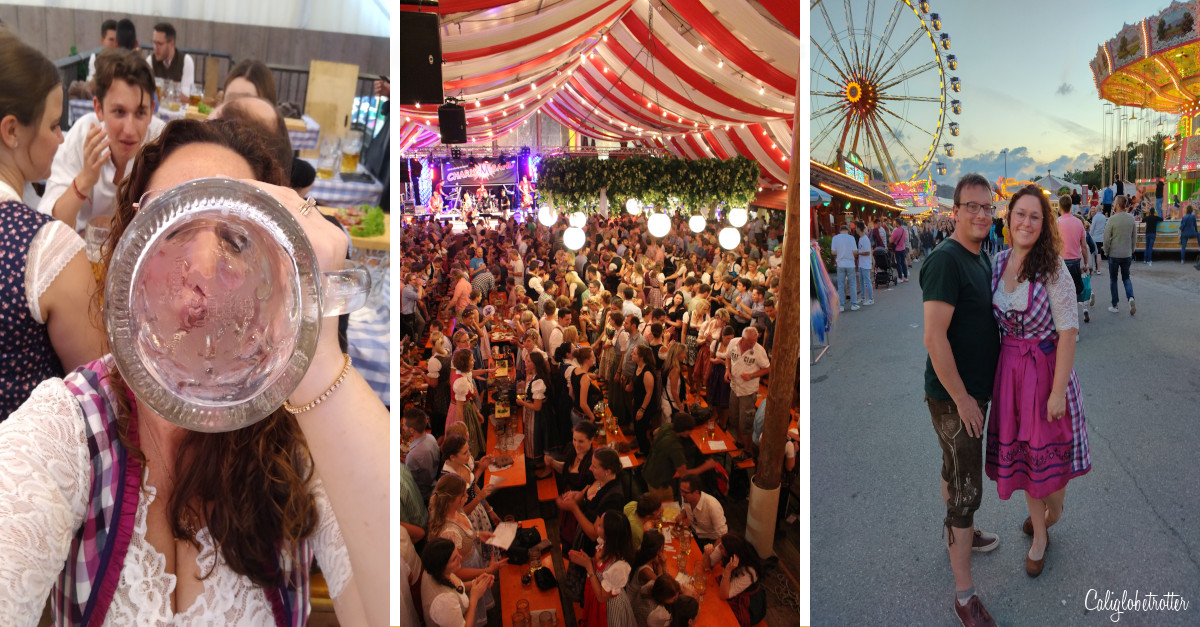 Wine Tasting in Germany
I've been a long time wine drinker, but only in the last 5 or so years, I have become a bit more obsessive about learning about the wine process and transitioning from drinking wine for fun to enjoying wine tasting and visiting historical wine regions in Europe. Wine regions with charming towns surrounded by vineyards for days is what I live for. Nothing is more enjoyable to me than enjoying a glass of local wine and admiring some breathtaking views. As soon as we head away from the Oberpfalz, we find the landscape changing from hops fields to vineyards.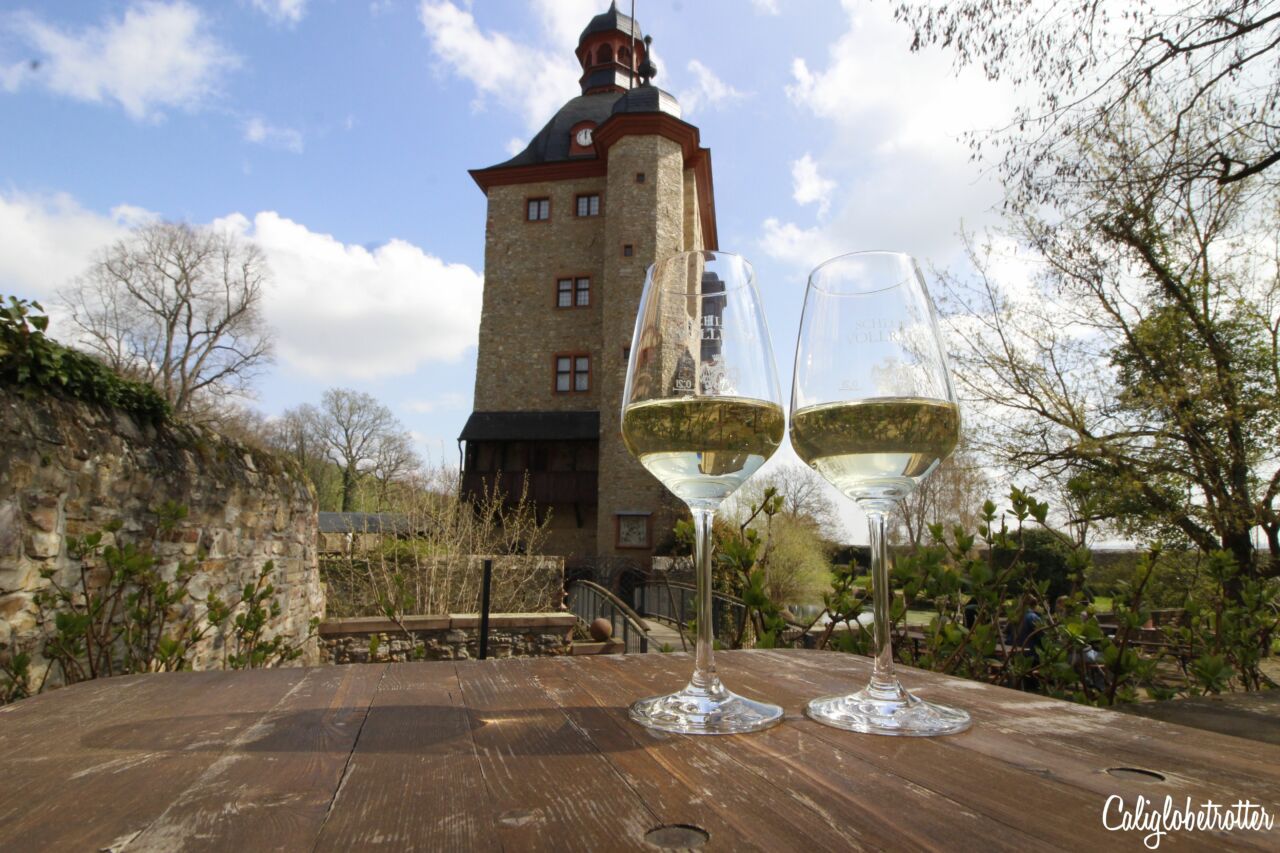 Related: 

Exploring Germany's Romantic Rhein Valley

Schloss Johannisberg – The World's First Riesling Winery

A Guide to the Alsace Wine Route
Driving Super Schnell on the Autobahn
There is something really and truly cathartic about putting the petal to the metal when driving on the autobahn, on a long stretch of highway that is void of any Stau. The thrill of driving 160kmh + (100mph) is exhilarating. And it all works perfectly when everyone else on the autobahn also knows the rules. No passing on the right, only on the left. You get over quickly, especially if you see someone driving faster than you approaching from behind. Move it or loose it! And with the right car, you barely even feel the speed and it's super easy to just focus on the road with some good tunes! And as someone who LOOOOVES to sing during road trips, I get all the road therapy I need!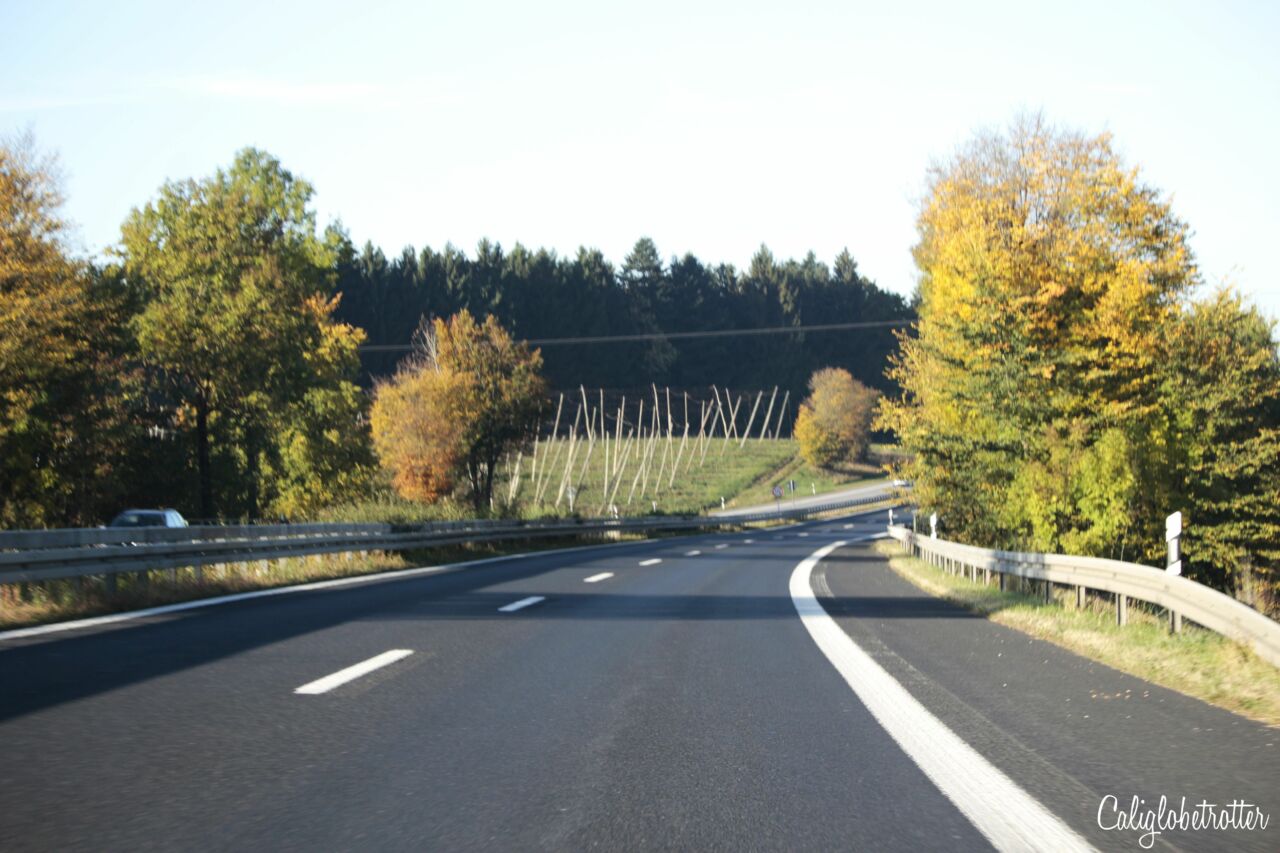 The Fact that Germany is Surrounded by 9 Countries
Makes for the best excuse to go on a road trip! From where we live, Prague and Salzburg are 2 hours away, Vienna is 5 hours in case we're in need of delicious coffee and cake, Lucerne was 5 hours, the Alsace wine region is 5 hours, Belgium is 8 hours should we ever want Belgian waffles, Amsterdam 9 and the farthest, would be Copenhagen or Gdansk at 10 hours when we're craving pierogi. We drove everywhere. We love being able to hope in the car, make a road trip and stopping at multiple spots along the route. 
Within a few hours we were always in a different country, with a different culture and cuisine. Being so easily immersed into another culture was one of the best things about living abroad. You learn so much about world cuisine and get to know different people.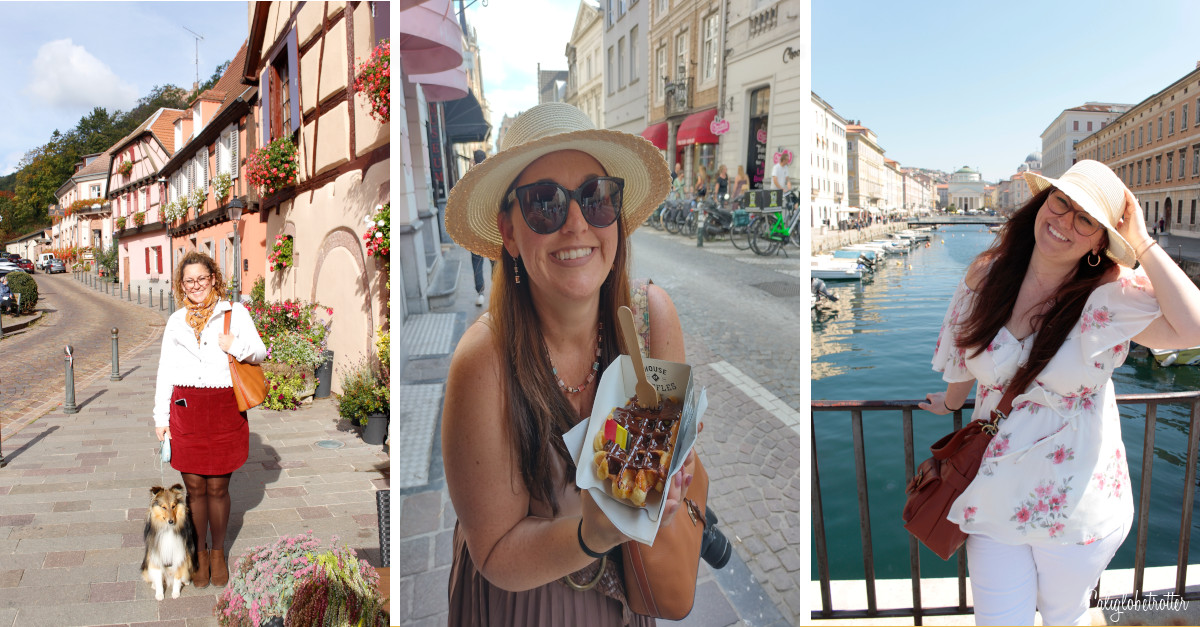 Related:
Local Bavarian Delicacies
At the beginning, many Bavarian Delicacies were obviously foreign to me, made me wince at the thought of trying them. Before I met my husband, I hated trying new food and was always hesitant, afraid I'd hate it right off the bat. But what is an adventure without trying lots of new food?
Over the years in Bavaria, I've come to love Weißwurst, Lekerkäse, Obatzda, a variety of sausages and salamis perfect for your traditional Brotzeit platter. Of course, I'll miss our local Sweet Mustard made right here in Regensburg called Süßer Senf!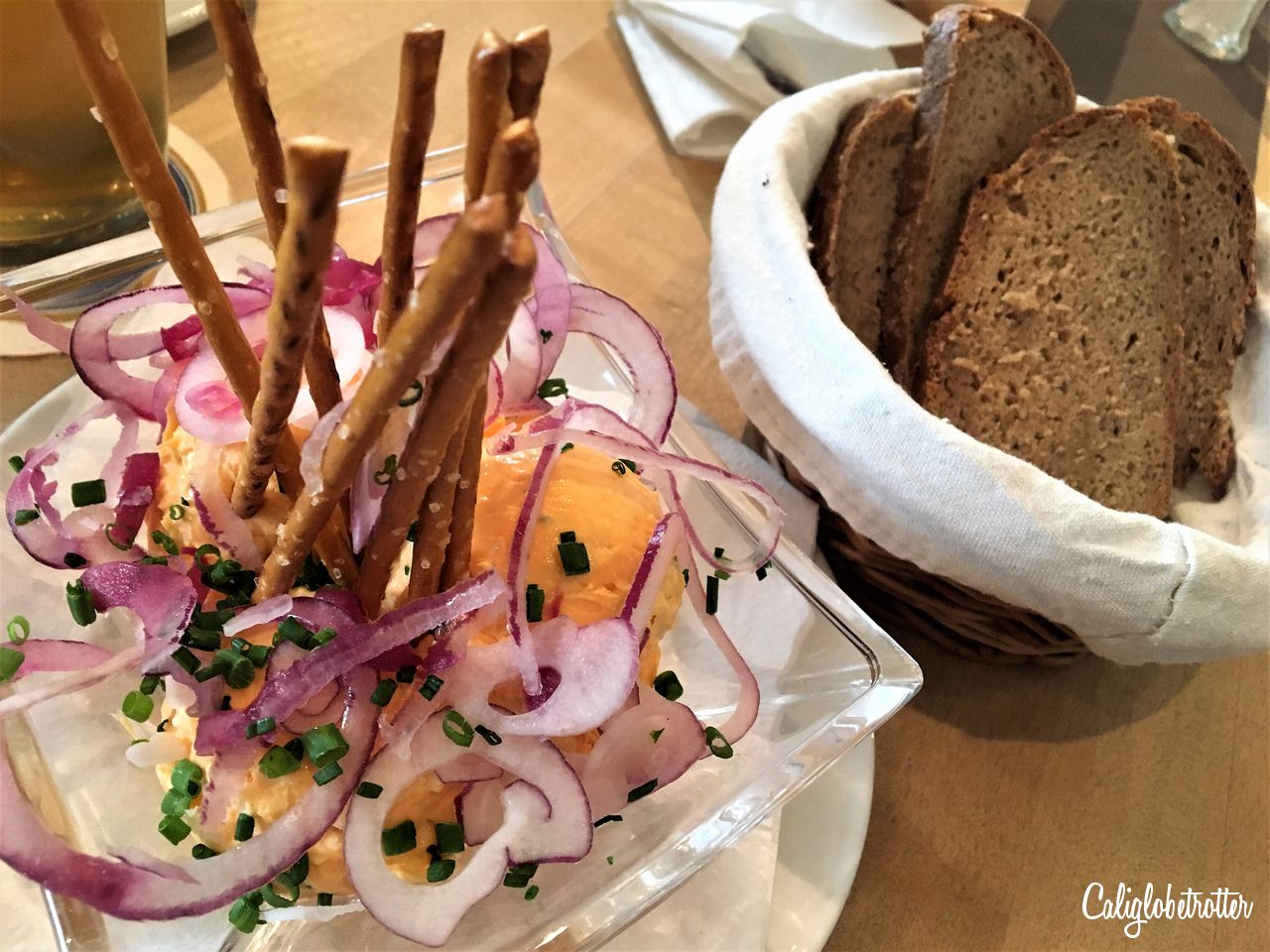 The Great Healthcare System
During my 11 1/2 years in Germany, I've found myself more times than I care to count either in hospital or in the ER. And for all of it, I paid to date 100€ for a total of 10 days in hospital. It was one of those cultural shocks during my time here when all I had to pay for after my surgery was only 10€ per night for my hospital bed. Everything else was covered by my health insurance, and that's WITHOUT a copay. I never had to worry if I would be able to pay my rent OR pay to have a necessary surgery. 
I'll miss the ease with which I don't feel the need to go to work when I'm sick. If I'm sick, I'm sick and with a doctor's note, I'm out until I'm well enough to go back to work, without pressure or harassment from my employer, nor am I shamed for taking time off, longer than planned after my surgery. And I still get my full paycheck. 
Endless Fairytale Castles Perched Here & There
It does not matter where you are in Germany, no matter which direction you look in, there is a castle perched somewhere on a hill or snuggled up into the mountains, overlooking a cute and charming town. You can always rely on a castle or fortress or even a monastery to be within a 5km radius. It's like constantly driving through a fairy tale painting or story book. All that's missing are the knights in shining armor on a white horse and streets covered in gold. 
But you have to understand the difference why some are called 'Schloss' and others are called 'Burg'. 'Burgs' are more like fortresses, built to protect and defend, with very little glamor and can be a bit cold and more stone-like, whereas a 'Schloss' is a castle, built more to showcase a passion for the arts and literature, which is clearly seen in the amount of decor, paintings and fine architecture. But then, you also have what are known as a 'Residenz', which is where Prince-Bishops lived quite a luxurious life, for example in Würzburg or the Munich Residenz.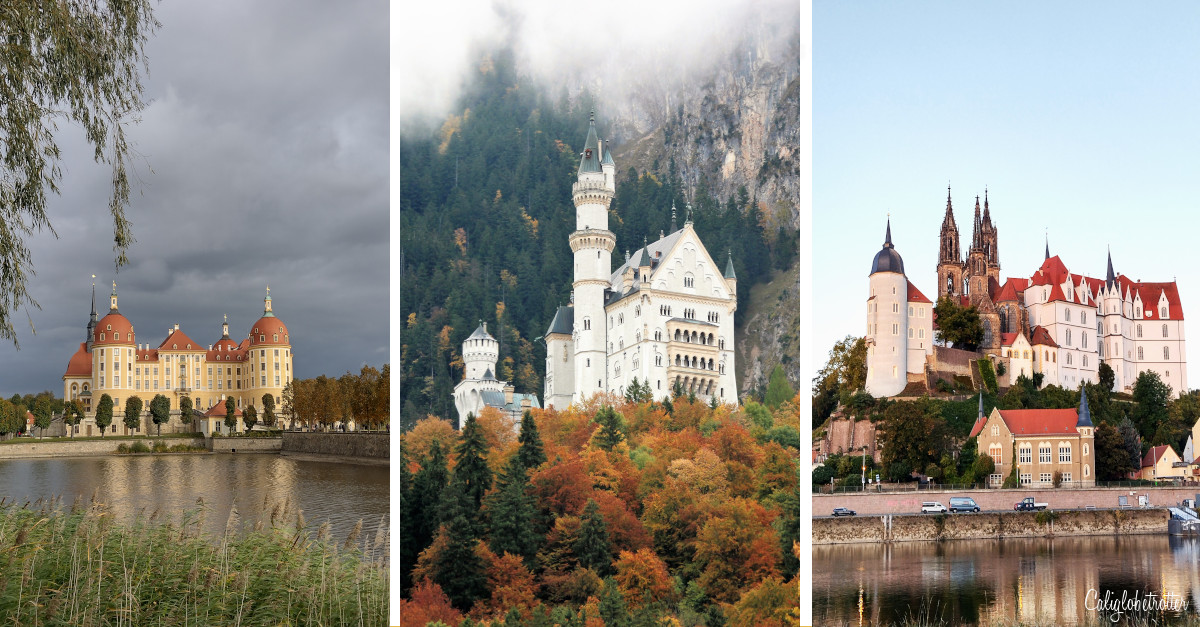 Related: 

Beautiful Castles in Germany to Visit

30+ Castles to Visit in Europe
The Ease of Public Transportation
When in Europe, public transportation is an every day part of life and there is no shame in using it. All classes of society use the public transportation to get around and it's so nice to not have to rely on self-driving or needing a designated driver every time. And it's incredibly relaxing (when everything goes smoothly) to travel by train. Though it's far from perfect, the German public transportation system is extensive and makes it totally possible to get around without a car.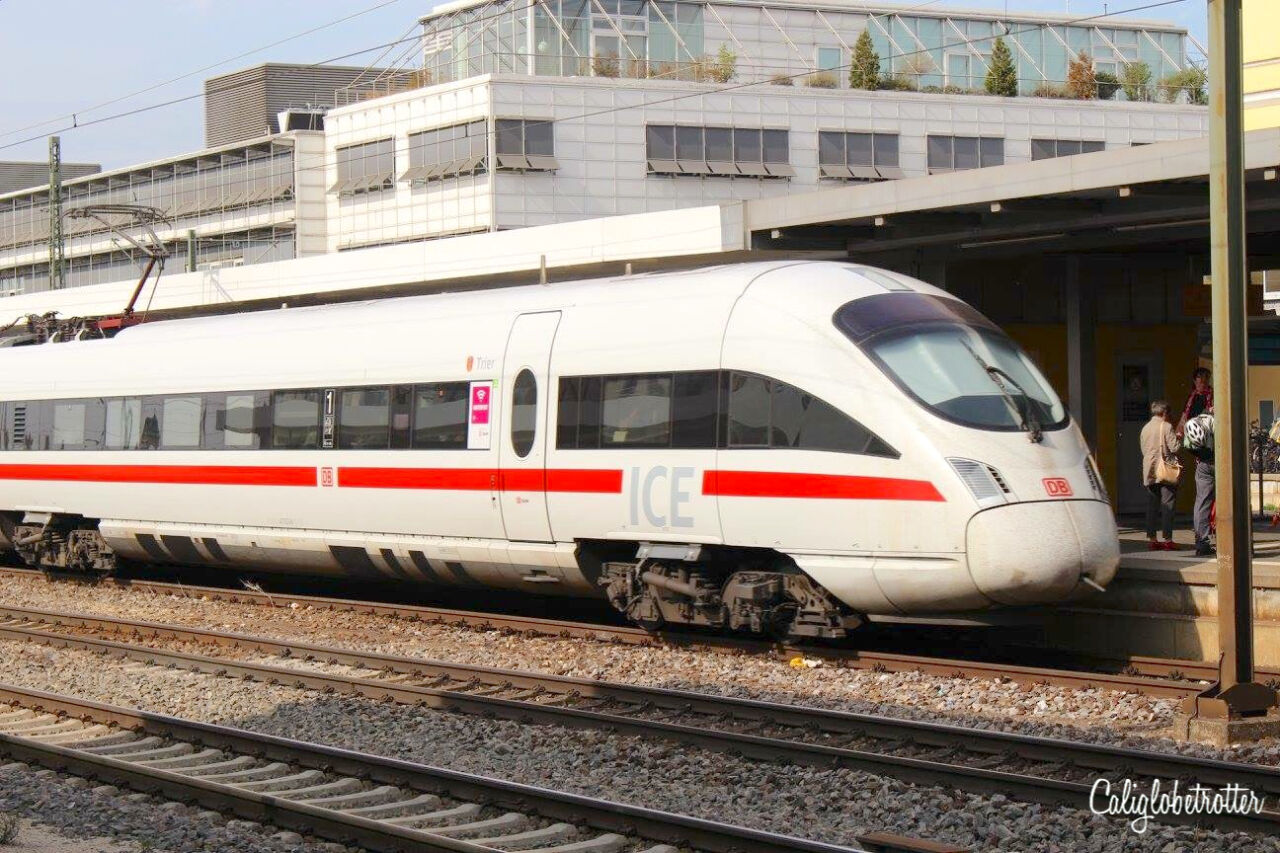 Related:
Germany's Unique City Halls 
There are stunning city halls scattered all across Europe in every town. Some are basic, some are charming, and others are glorious. It's always my favorite place to begin any sightseeing adventures in any new town we visit. You get a good sense of the historical architectural style for the rest of the town. Be sure to pop into the city halls, because some offer guided tours, but they are all still working buildings. Many weddings still take place at the city hall, mine included at Regensburg's Old Town Hall where I needed a professional translator to communicate to me that I understood I was night signing my life away to a washing machine or a stranger.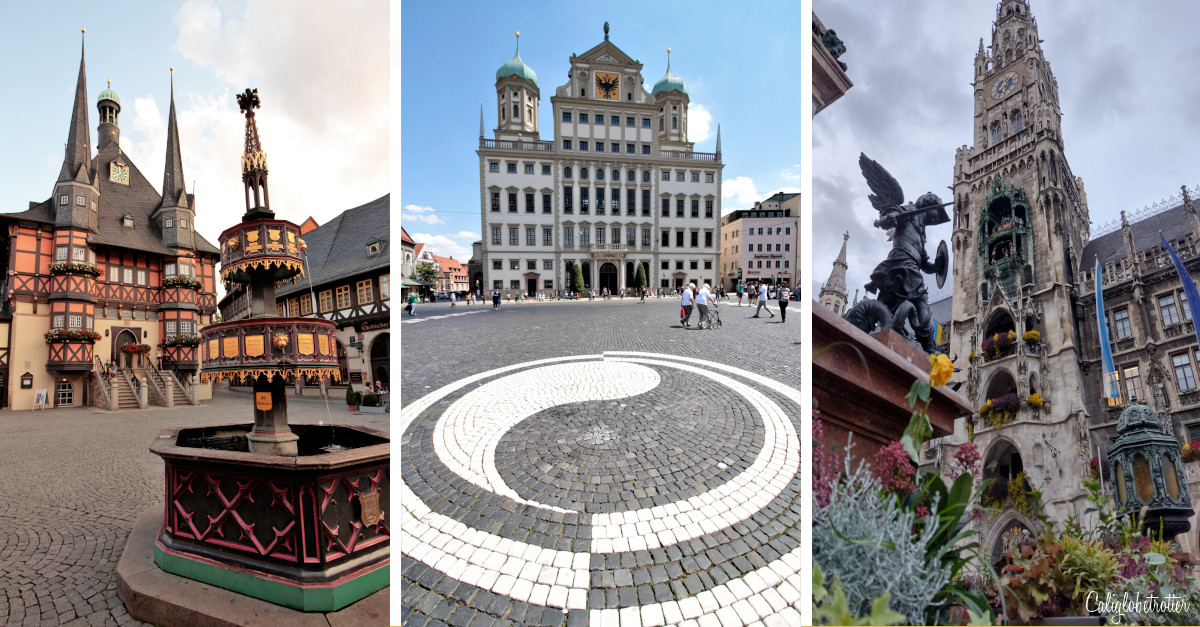 Related:

STUNNING City Halls in Germany
Returning Stateside a New Woman
My list of favorite things about Germany could go on and on and on. I could easily keep going. But for now, I'll just have to cherish every little bit. Who knows at the moment whether we will be moving to the US permanently or temporarily. Nothing is forever. If it doesn't work out for us, perhaps we'll come back to a different part of Germany, or perhaps we'll find ourselves somewhere else in Europe. 
While I love all of these wonderful aspects about Germany, they also make for great reasons to encourage you to move abroad yourself! If ever given the chance to move abroad, I hope you take that chance. Living abroad is a great opportunity and I wish everyone had the possibility to do it. It's a great way to get to know new people, new cultures, new ways of doing things while getting to look at your homeland from an outsider's point of view. It will challenge you and it will change you. There will be tough times and your heart will eventually be torn between two countries, and one day you'll have to choose. And it may be the hardest decision of your life. You will NOT be the same and moving home will never be the same again once you've left for any amount of time. 
All of these aspects of life in Germany have changed me and I am not the same girl I was when I arrived here. I was a girl of 26 and today I'll be leaving as a woman of 29H. I feel like I will be returning home a new woman, cultured and more self-educated from the extensive amount of traveling we have done.