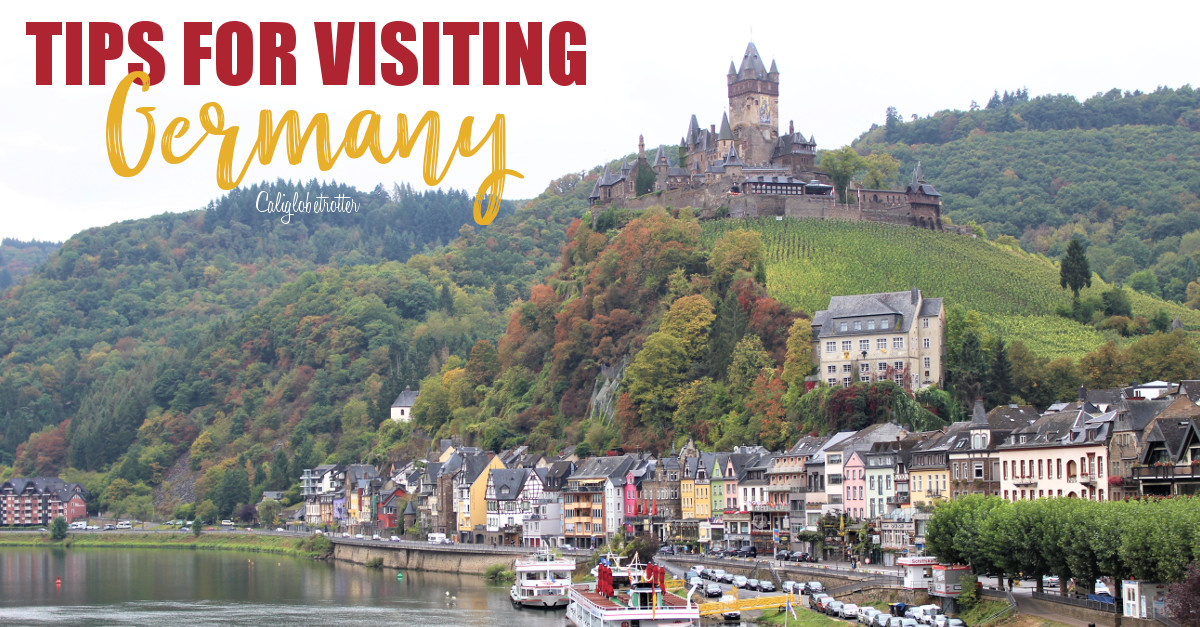 Disclaimer: This post contains affiliate links. If you click on one and make a purchase, I might make a little extra spending money, at no extra cost to you. As always, all opinions are my own and these products/services have been found useful during our travels and come highly recommended to you from yours truly!
After six years of living in Germany as an expat, I can now provide you with budget-friendly tips for visiting Germany, from booking your flight to getting around the country with public transportation to things to eat in Germany! Hopefully this Germany travel guide will allow you to navigate Germany with ease, reaching some of Germany's top places to visit and leave you wanting to come back for more!
Planning a Trip to Germany? PIN IT FOR LATER!!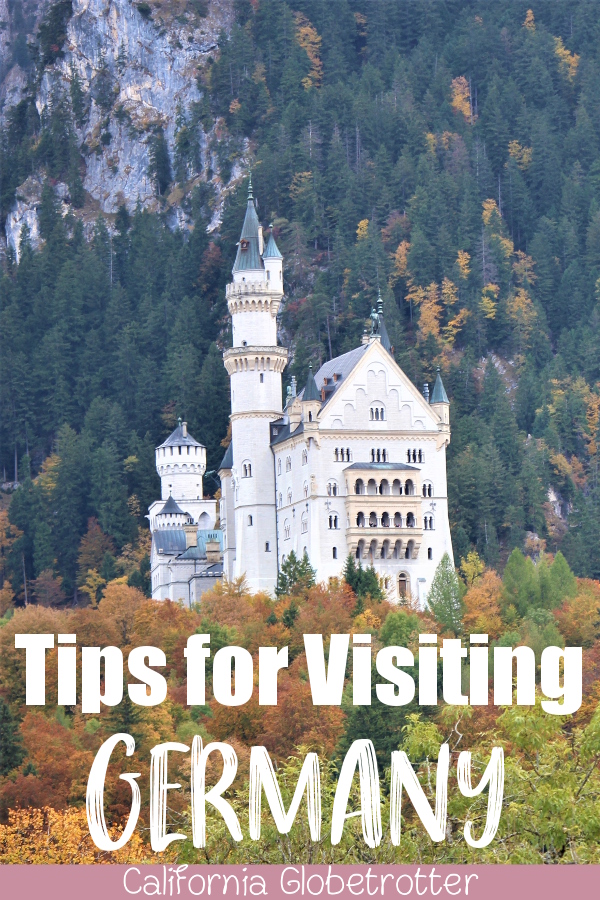 100 Signs You've Lived in Germany For Too Long!
Your ESSENTIAL Guide to Europe
50+ Places to Visit in Germany
Quick Facts About Germany
Capital: Berlin
Language: German
Currency: € Euro which is made up of 100 cents. Coins come in 1c, 2c, 5c, 10c, 20c, 50c, €1 and €2 denominations and notes in €5, €10, €20, €50, €100, €200 and €500 denominations.
Electricity: 230 volts AC, 50Hz. Plugs with two round pins are standard. Outlets for 110 volts for small appliances can be found in most hotels.
Visa: 90-day Schengen visa on arrival for most nationalities (click here for more info)
Safety Rating: Ranked 17 on the Global Peace Index with a score of 1.53 (USA is ranked 121 with a score of 2.30)
Solo Travel Friendliness: Germany is one of the easiest countries to solo travel through in Europe, as communication is rarely a problem. Safety is also hardly ever a concern, however, you should always keep a close eye on your belongings in case of pick-pockets in bigger cities. 
Related: 100 Interesting Facts About Germany
Geography
Germany is centrally located in Europe and is therefore bordered by 9 countries: Austria, Belgium, Czech Republic, Denmark, France, Luxembourg, The Netherlands, Poland and Switzerland, therefore, making any travel to or from Germany as easy as 1,2,3!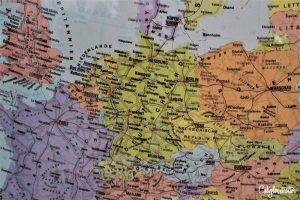 A part of the European Union (Eurozone), Germany is also part of the Schengen Zone which therefore allows an EU national to travel to / from Germany visa free for up to 90 days, which include most america countries, Australia and New Zealnd to other countries via all forms of public transportation and flights, which allows those living within Europe to travel without the hassle of stopping at border control when entering/leaving the country. 
If you plan on traveling to German for more than 90 days, you must apply for a Schengen Visa. If EU nationals wish to stay longer in Germany, they must register with the Burgeramt (Citizens Office) within 2 weeks of arrival, while non-Eu citizens must register with the Auslandersamt (Foreigner's Office),
Germany is divided into 16 states with Bavaria and Baden-Württemburg the largest in southern Germany. Germany's landscape is diverse, with the Bavarian Alps to the south, thick forests in the west, stunning lakes to the east and the Baltic Sea to the north. 
Do's & Don'ts in Germany
Smoking is illegal inside of bars and restaurants in Germany, as a new law was passed a few years ago. Sitting outside though, there are no non-smoking / smoking areas and it's free for all. 
Drinking can start as early as breakfast in some areas, especially Bavaria where it is traditional to enjoy a beer with Weisswurst, though one should drink responsibly. Absolutely DO NOT drink even one beer if you plan on driving. Germany has very low alcohol levels when it comes to driving. 
Rules are to be followed to a T! Germans live by the rule book and take laws very seriously, so seriously that they even refuse to cross the street at a red light for fear they will loose their driver's license. 
Be Punctual! Never leave a German waiting for you. Always be on time where ever you go. 
Closed on Sundays – Stores and shops and businesses are closed on Sundays. Even grocery stores! Only restaurants and bars are open on Sundays. Plan ahead to buy any groceries or products. 
Things to do in Germany
There are many great reasons to visit Germany year round and there are so many amazing place to visit in Germany, it'll keep you wanting to come back for more! Not only are there a plethora of castles and palaces in Germany, but there are a variety of things to do for beer lovers, wine lovers, history nerds, architect admirers for people of all ages, solo-travelers, family-friendly destinations and so much more!
For the Beer Lover: Go to Oktoberfest or any other beer festivals in Germany. Oktoberfest is only the beginning! Many cities, especially in Bavaria have annual or bi-yearly beer festivals with massive tents set up to allow the maximum experience!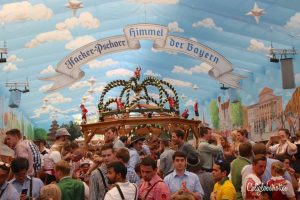 For the Wine Lover: Cruise along the Rhein River stopping at ridiculously charming towns like Rüdesheim am Rhein or Bacharach and enjoy some of Germany's famous wine, Riesling and Gewürztraminer.
For the Hiker: Head down to the Bavarian Alps and hike in one of Europe's most stunning regions, preferably either Berchtesgaden, Mittenwald or even Zugspitze – Germany's tallest mountain! Or, head north to the Harz Mountains, "the Black Forest" for Northerners. 
For the Hopeless Romantic: Get lost in unrealistic expectations by exploring "Mad" King Ludwig II of Bavaria's castles – Neuschwanstein Castle, Linderhof Palace and Herrenchiemsee Palace. But that's only the tip of the iceberg! Germany has over 25,000 castles, and these only three of 40 castles in Germany that are truly exquisite!!
For the Road Tripper: Embark on any of the 40 day trips from Frankfurt or even the 50 day trips from Munich to some of Germany's cutest towns and most famous cities!
For the Small Town Go-er: Explore Germany's Timber-frame Road and discover some of the most Disney-esque, picture perfect, redonkulously stunning half-timbered towns in Germany!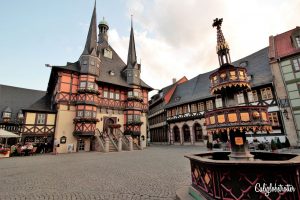 For the City Tripper: Head to some of Germany's most popular cities such as Nuremberg, Munich, Frankfurt, Berlin or Hamburg!
For Beach Lovers: Head up to Northern Germany and explore Germany's Baltic cities of Rügen, Lübeck, Rostock, Kiel or Flensburg!
For the Christmas Lover: Typically from the end of November until Christmas Eve, Christmas Markets spring up all over Germany, where you can shop for Christmas gifts and souvenirs, eat bratwurst and drink Glühwein (warm mulled red wine). 
Related: EVERYTHING You Need to Know About German Christmas Markets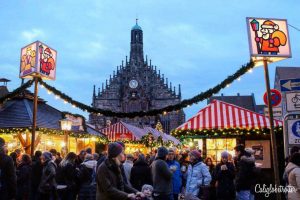 When to Visit Germany
While I personally feel that any time is the best time to visit Germany because I'm biased, I do, however, feel that when you're planning a trip based around the weather, I feel that November is a dull, grey month with nothing going on while April and May tend to be cold and rainy. 
Germany, however, is year-round destination best visited for season visits, for example December is great for Germany's Christmas Markets, while the end of September is great for Oktoberfest. 
Winter lasts from December to March, though March gives us a short reprieve before getting cold again for Spring in April and May. December – February is a great time to visit Germany is you're looking for a ski holiday in the Alps. 
Spring, April and May tend to be a bit rainier than the rest of the year, though June tends to get quite nice, however, the shoulder seasons are a great time to visit Germany as it is typically less crowded and accommodation and flights are cheaper.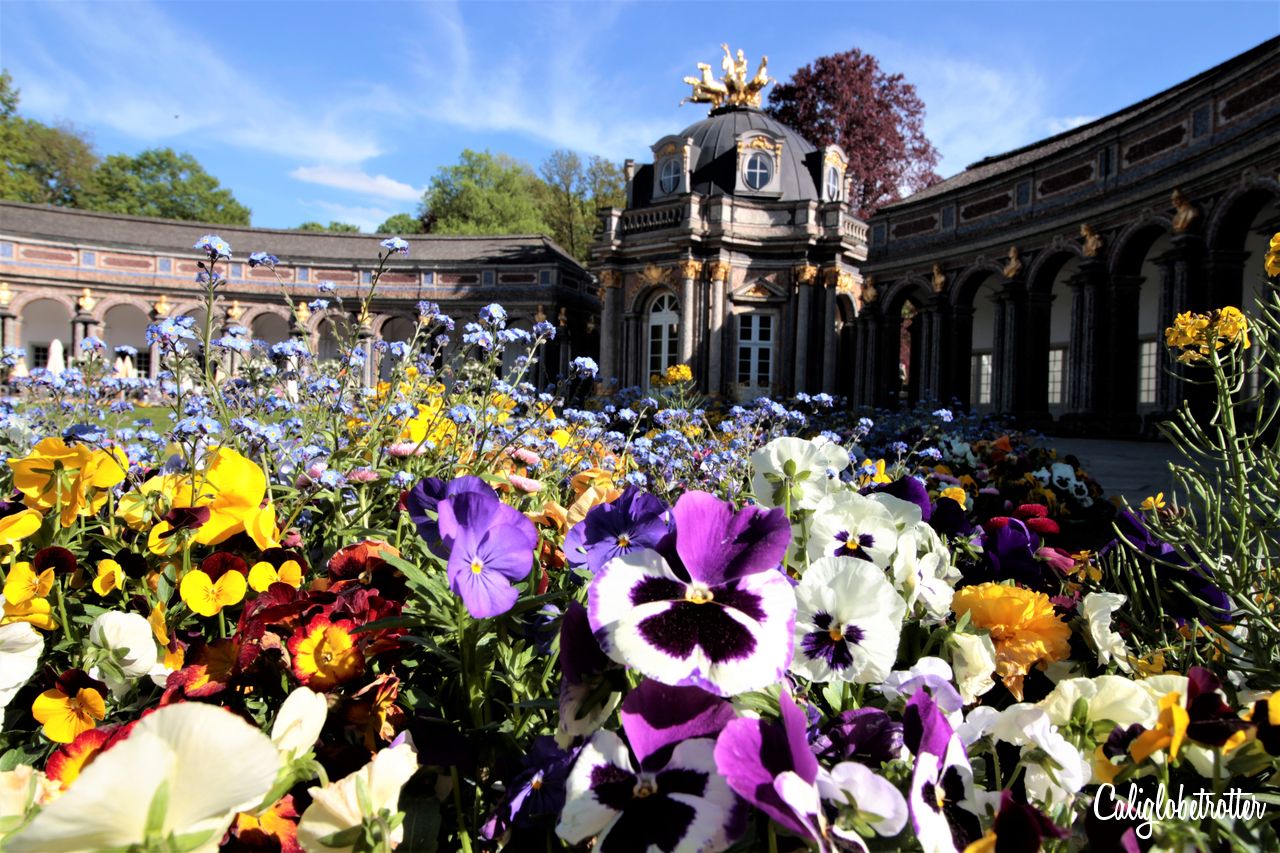 Summer begins around end of June and last typically until the beginning of September and can get quite hot as it enjoys a Mediterranean atmosphere. However, the occasional 10 minute rain storm is possible on a clear, blue sky day, so always have an umbrella on hand! If you're looking for beaches in Germany where you can lay out on white sandy beaches on the Baltic Sea or the Northern Sea, consider a visit to the Island of Rügen.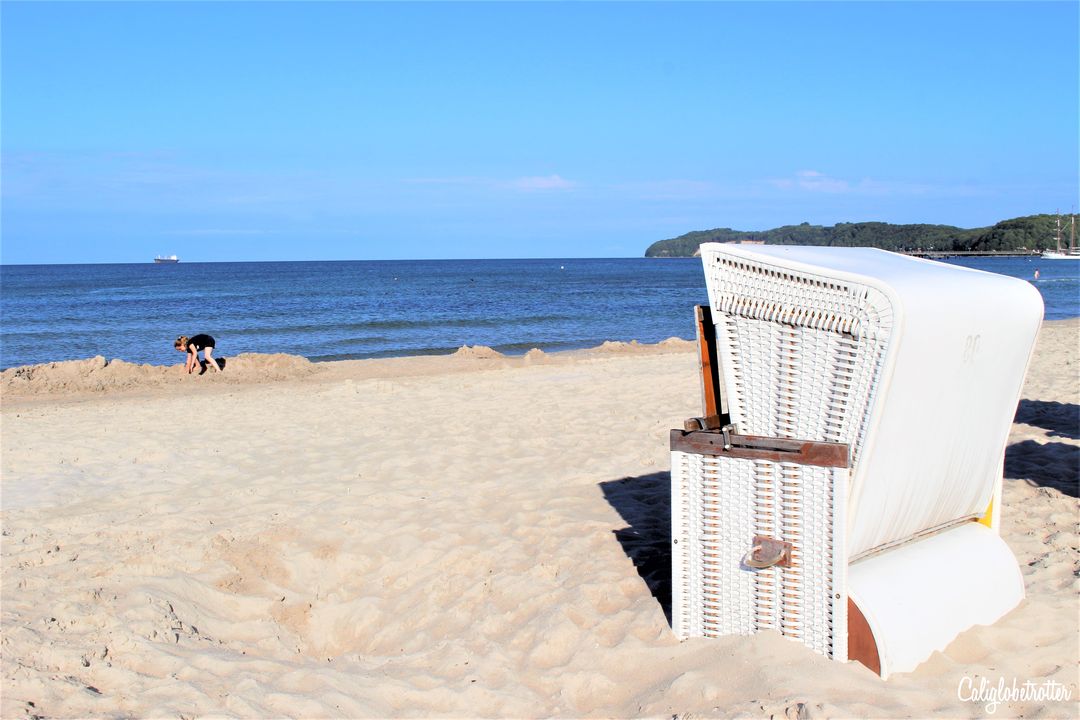 Autumn is personally the best time of year to visit Germany! End of September and October is fabulous when we have a "Golden October", but spring is equally as beautiful when cities around Germany bloom. Though by November, trees are bare, it's cold, gloomy and rainy and nothing is happening.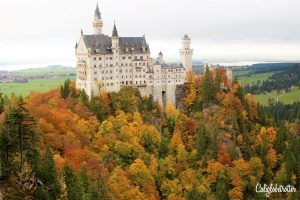 Money
Germany is a country where "Cash is King" and where some stores and restaurants still take cash only, though nowadays, it's becoming more and more frequent that businesses accept bank / Credit Cards, therefore, it's best to have a mixture between both. As a former banker, I DO NOT RECOMMEND TRAVELER'S CHECKS!
ATM's can be found everywhere in Germany, in all major cities and towns. However, the smaller the village, the less likely you'll find one. You may have to go to the next biggest village. 
When trying to convert Dollar to Euros, British Pounds to Euros, Canadian Dollars to Euros, Australian Dollars to Euros or any other form of currency, then I suggest using XE Currency Converter to figure out the equivalent in your home currency. 
Getting to Germany
Booking Your Flight to Germany
The sooner you book your flight the better. I recommend not booking your ticket at least than 3-4 months out, if not more. The farther out you book your trip, the more likely it is your flight will be cheaper. The closer you wait, the more it will jump! Germany has two big tourist seasons: summer (July-August) and then winter (December). Try to book a bit before or after these months. 
September is also a big tourist season, thanks to Oktoberfest. Any attempt to come during this time and you will pay hefty prices for airline tickets and hotels, especially anywhere near Munich.
Related: Stylish Carry-on Essentials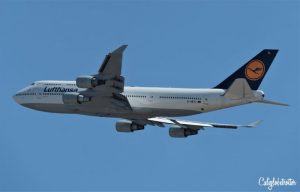 I recommend the following airlines for travel to Germany or within Germany:
Lufthansa – great for flying long distance to / from Germany!
Eurowings – the budget airline owned and operated by Lufthana for those looking for more affordable flights within Germany and Europe. 
For airline search engines:
Skyscanner – this is my favorite source of searching for flights, or other budget websites like Kayak.com or Expedia.com
Opodo – Another favorite, but be warned, this website is only in German, however, we often find the best deals on flights to Germany!
Traveling by Train in Germany
A COMPLETE Guide to Using the Deutsche Bahn in Germany!
Europe is excellently connected with a network of trains which means getting to Germany from any other European country is relatively easy! It is cost-effective if you're looking for affordable ways to travel to Germany, as well as being quite timely!
With the DeutscheBahn, German trains have a variety of trains, with the high speed ICE train better recommended for long-distance travel within Germany, as well as out of Germany. Intercity-Express Trains are extremely efficient, traveling up to 185 miles per hour, but a ride from Berlin to Munich can easily cost about $200 if you book on the spot. The Regional trains are better for within Germany and shorter distances and are generally much more affordable. 
Both types of trains offer two classes on the trains, 1st and 2nd class, with the only real difference being slightly more leg room and peace and quiet. 
You can either buy your tickets online or at all train stations via the Ticket Machine. High-speed trains may require you to buy your tickets in advance, especially if you want to make a seat reservation. Should you make a seat reservation, above the seat at arrival/departure of the ticket holder. If you don't make a seat reservation, look for seats that either have no destinations or if the ticket holder does not arrive for a much longer period before sitting down!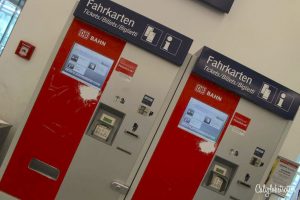 For traveling by train WITHIN Germany, I generally think it's easier to go to the machines in the main train stations to buy you ticket.
Each state in Germany has their own special Ticket. In Bavaria, it is called the "Bayernticket" (Bavarian ticket) and you can have up to 5 people per ticket starting at 23€ and an extra 5€ per person on the ticket. The ticket is good all day, anywhere in Bavaria, as many times as needed! Monday-Friday the ticket is valid from 9am until 3am the following day. On the weekend, its good for the entire day. Each passenger must sign the ticket.
*** Helpful hint: You can always find people standing around the machines, asking if they are using the BayernTicket (or whichever state you're in) and hoping to join in on someone else's ticket. This is very common since it is the cheapest way to ride the trains. Don't be shy to ask if someone is heading to Munich or Nuremberg – then you can divide the price of the ticket between how many people are riding on the ticket!***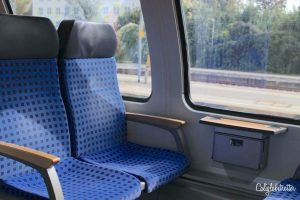 Unfortunately, with these tickets, you CAN NOT take the ICE trains (the super fast ones!) You must take only the regional trains.
Again, these tickets are only valid within the state you bought it in. For example, if you bought the Bayernticket, you can not use it to go to Baden-Württemberg. You have the following 3 options:
You can buy a normal ticket from one destination to the next, but this is the most expensive offer. You might find special offers for the weekends!
You can buy the Bayernticket + a Baden-Württemberg ticket (or whatever states you are visiting) separately and change trains at the border of the states.
You can also buy the

Quer-durchs-Land-Ticket

 which is good for traveling through the whole of Germany, only on regional trains!
Reminder: Always remember to validate your ticket after purchase!!
Traveling by Bus
Bus travel in Germany is one of the most affordable ways to get around the country. While I have not traveled long-distance in Germany by bus, I know many friends who have and say that it's comfortable and easy, despite the time it takes to reach destinations. Although I do see many bus companies driving around Germany which offer cheap tickets.
FlixBus –  This is a great Bus with tickets starting at 5€ ! Unfortunately, it seems that you can only book no more than a month out.
MeinFernBus – this is also a cheap Bus company, which has however merged with FlixBus.
**My personal secret** Once on a city bus, sit in the seats that are facing backwards and not the front of the bus. Bus drivers can sometimes be jerky stop-a-holics and I find myself sliding and falling out of my seat. I have recently discovered this does not happen when facing backwards!
Driving in Germany
Driving in Germany is very easy and in my opinion, the best option for getting around Germany, especially if you plan to visit smaller cities. It is possible to get to smaller cities, but the smaller they get, the more likely you'll have to take a train to a larger city and bus from there. 
However, the Autobahn is thrilling to drive on, but you MUST DRIVE WITH CAUTION! ONLY PASS ON THE LEFT, NEVER ON THE RIGHT!! Keep an eye out for bicyclists as they are everywhere! 
Related: The ULTIMATE Road Trip Guide for Germany, Road Trip Essentials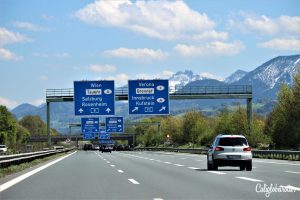 Myth debunked: The myth that there are NO SPEED LIMITS on the German Autobahn is incorrect! About 80% of the German Autobahn has set speed limits, though there are portions of the Autobahn with no speed limits. During these areas, drive with care as German drivers can reach up to 200 kmh (124 mph). 
If you're visiting Germany for less than 90 days on a tourist visa, you can drive in Germany with your home license. However, if you plan to stay longer than that, you will need to get a German Driver's License which depends on multiple factors:
First off, if you moving to Germany and not with the army, then your American license is only valid for 6 months. Anything longer than that and you must convert it into a German license. However, if you are staying longer than six months but less than one year, you can apply for a six month extension.

You can simply exchange your license if you come from Canada or the U.S. states of Alabama, Arizona, Arkansas, Colorado, Delaware, Idaho, Illinois, Iowa, Kansas, Kentucky, Louisiana, Maryland, Massachusetts, Michigan, New Mexico, Ohio, Oklahoma, Pennsylvania, Puerto Rico, South Carolina, South Dakota, Texas, Utah, Virginia, Washington State, West Virginia, Wisconsin and Wyoming.

If you come from Connecticut, Florida, Indiana, Minnesota, Mississippi, Missouri, Nebraska, North Carolina, Oregon, Tennessee or Washington D.C. you will need to take the written test, but not the driving test.

In order to get a German driver's license based on a license from any state in the USA, you must have had your stateside license for at least six months before coming to Germany. The German authorities may ask for some sort of proof of that.

If your license is any of the U.S. states not listed, you will most likely be required to take both the written and driving examination. There may be an extra requirement for a vision test, depending on which territory issued your current license.

If you are traveling to Germany from another EU country, your license will never need to be transferred into a German license.
Now, if you are driving by car into Germany from another EU country, don't worry about buying a Vignette because Germany doesn't use them. Their roads are free at the moment, but there is speculation that this may soon change, since many of the countries surrounding Germany require them.
Germany does require an emission sticker in some cities and towns when passing through "environment zones". If you are caught without a sticker, you could be fined €40.
Simple German Phrases to Learn Before Visiting Germany
Many people often say that German is one of the hardest languages to learn, and sometimes I can certainly agree, but other times I find a lot of similarities between English and German. With that said, I highly think everyone should learn a few basic German phrases prior to visiting, even though many Germans speak semi-fluent to fluent levels of English. 
Hallo – Hello
Guten Morgen – Good morning
Guten Abend – Good evening
Tschüss / Ciao – Bye!
Entschuldigung, wo ist/sind…? – Excuse me, where is/are…?
Haben Sie…? – Do you have…?
Nehmen Sie Visa/Mastercard…? – Do you take Visa/Mastercard…?
Wie viel kostet das? – How much does this cost?
Die Rechnung, bitte. – The bill, please.
Sprechen Sie Englisch? – Do you speak English?
Entschuldigung! – Excuse me
Es tut mir leid! – I'm sorry!
Nein, danke! – No, thank you!
Ja, bitte! – Yes, please.
Vielen Dank / Danke – Thank you very much / Thank you!
Willkommen! – Welcome!
Accommodation in Germany
Thankfully, Germany caters to a variety of travelers, therefore, accommodation in Germany is plentiful from cabins, to hotels, hostel, eco-friendly hotels, cruise ships, Air B&B's, pensions, apartments, Youth Hostels (Jugendherberge) and there are even plenty of vacation rentals in Germany to consider if you plan on staying for a longer period of time! There is never a shortage for booking a place to stay in Germany!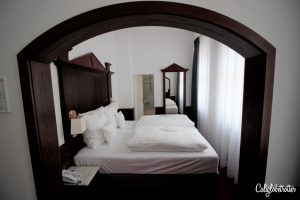 My favorite website for booking hotels in Germany are:
Booking.com – this is my favorite and after so many bookings, you can become qualified to receive discounts on certain hotels up to 20%! This website also allows you to book your hotel without paying for anything now. You book NOW, Pay LATER!

EuroCheapo 

– I have found that this website also offers super cheap deals all over Europe!
TravelSupermarket – is also a good website for booking your flight and hotels + renting cars!
Generally, hostels and hotels are relatively cheap anywhere between 30-90 € depending where in the city center you stay. Usually, directly in the city center is naturally the most expensive, but you can find cheap deals. Try staying a 10-15 minute walk outside the city center and prices will generally drop a bit.
When you book a hotel with Booking.com, you and I will both receive $15 when you use this link!
Eating in Germany
This definitely doesn't need to be expensive and there are many delicious things to eat in Germany! Some of the most popular things to eat in Germany include bratwursts or Currywurst with fries.
A popular meal in Germany is the Döner Kebab which is a German Turkish pita bread sandwich stuffed with rotisserie lamb or chicken or sometimes a mixture of the two, with lettuce, tomatoes, onions and a choice of spicy or garlicy sauce.
Find any local bakery and you will be greeted with a variety of cheap sandwiches that you can also order to be a Panini or buy a simple pretzel, roll or pastry. Some will even have Leberkäse sandwiches. No it is not Liver cheese. Just try it! They are amazing and are served with sweet mustard or normal mustard. (You can even bake these at home!)
However, one of the most traditional things to eat in Germany is a Schnitzel "Wiener Art" or any variation of schnitzel. Schnitzel is simply either veal or pork, breaded in bread crumbs and served us with a side of fries.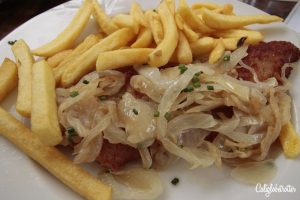 Other Germany Travel Planning Resources
Here is a collection of resources from around the web that I use on a regular basis to help you plan you dream trip to Germany:
Recommended Products for Germany
Below are products that I use on a daily basis while living in Germany. It's best to travel looking like a local to avoid any potential tourist scams while knowing where you're going and how to say a few basic phrases in German! You should also prepare to avoid looking like tourist with my helpful tips on how NOT to look like a tourist when traveling!
Disclaimer: This post contains affiliate links. If you click on one and make a purchase, I might make a little extra spending money, at no extra cost to you. As always, all opinions are my own and these products/services have been found useful during our travels and come highly recommended to you from yours truly!
Coming to Germany soon? Check out these posts!
A COMPLETE Guide to Using the Deutsche Bahn in Germany!
A Beginner's Guide to Oktoberfest
Top Places to Visit in Germany
The ULTIMATE List of Day Trips from Munich
40 BEST Day Trips from Frankfurt
Liked this post? PIN IT FOR LATER!!
Save
Save
Save
Save
Save
Save
Save
Save
Save