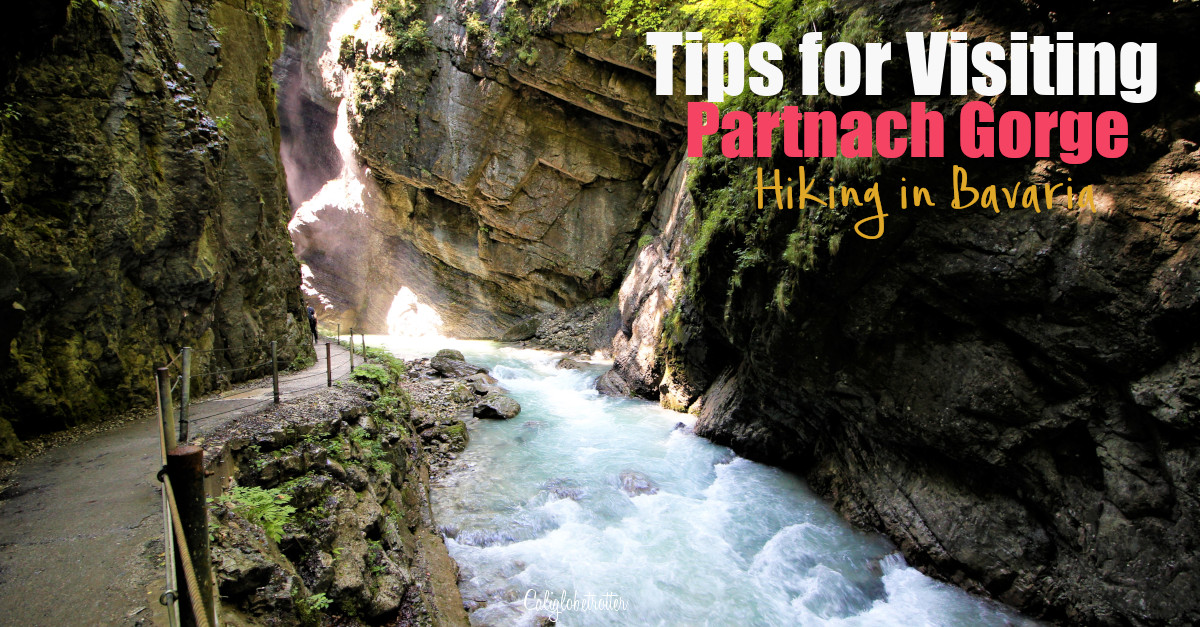 Disclaimer: This post contains affiliate links. If you click on one and make a purchase, I might make a little extra spending money, at no extra cost to you. As always, all opinions are my own and these products/services have been found useful during our travels and come highly recommended to you from yours truly!
All those images foreigners seem to associate with Germanny can be found in eastern Bavaria, in the lush Alpine region. Romantic castles, dramatic Alpine settings, lush green pastures with cows, onion-domed churches and crystal blue lakes. And deep within the crevices of those mountainous peaks, is a tiny sliver of beauty, known as the Partnach Gorge, with turquoise blue waters rushing between a carved out path waiting to be explored by avid hikers.
Want to Explore Partnach Gorge? PIN IT FOR LATER!!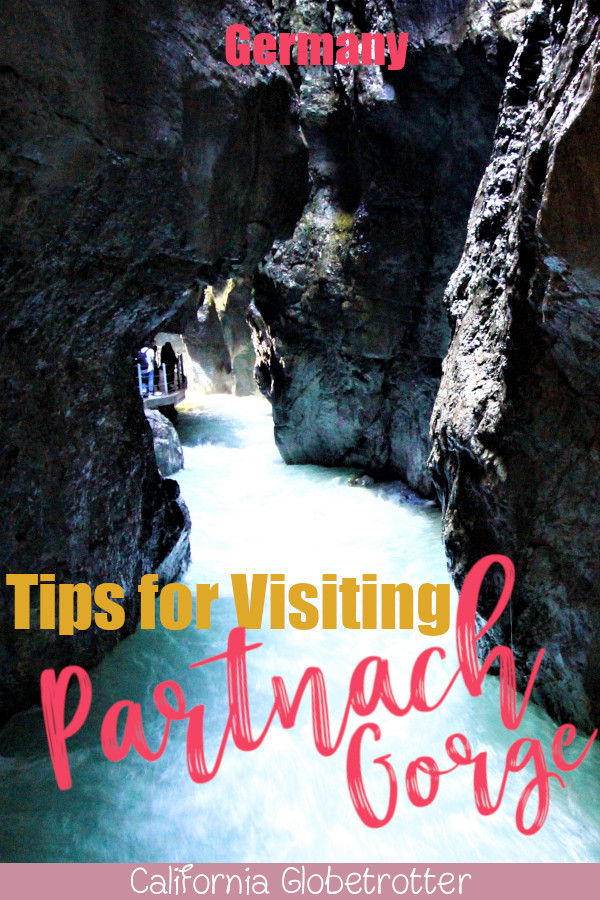 "Mad" King Ludwig II's Romantic Castles
I can still remember the moment I stumbled upon a photo of Partnach Gorge, also know as Garmish Gorge (Partnachklamm for the Germans). I had just been introduced to the wonders of Pinterest and was on the verge of moving to Germany. I was hours into exploring with a Pumpkin Spice Latte and bundled up on the couch. I didn't know where in Germany I would be moving to, but I hoped to land anywhere in Bavaria so I was looking for anything and everything that had to do with the most iconic German state. I wouldn't know it then, but I would land in Regensburg, and to my surprise, turned out to be just a few hours drive away.
Though it took me a while to get to this beautiful gorge with a sliver of walking platform built into the underside of a cliff with wisps of trickling water sprinkling from over head to the turquoise waters below, I made damn sure to visit this beautiful gorge before leaving Germany.
If it's not drinking beer, then one of the next best things to do in Bavaria is hiking. Hiking in Bavaria is definitely a favorite past time for many Germans and the weekends can get quite jam-packed on the highways for hikers heading south to the Bavarian Alps to do a bit of sport. Similar to the Leutasch Spirit Gorge, located just a half an hour away in Mittenwald, Partnach Gorge is without a doubt one of the best day trips from Munich perfect for those looking for one of Germany's hidden spots for hiking!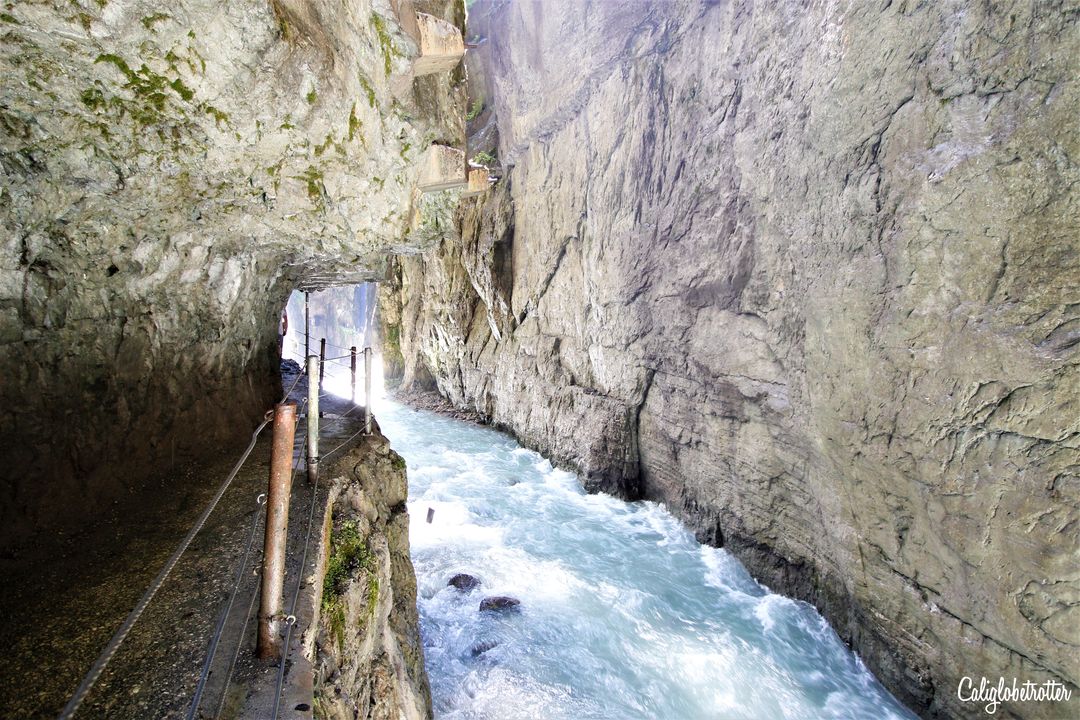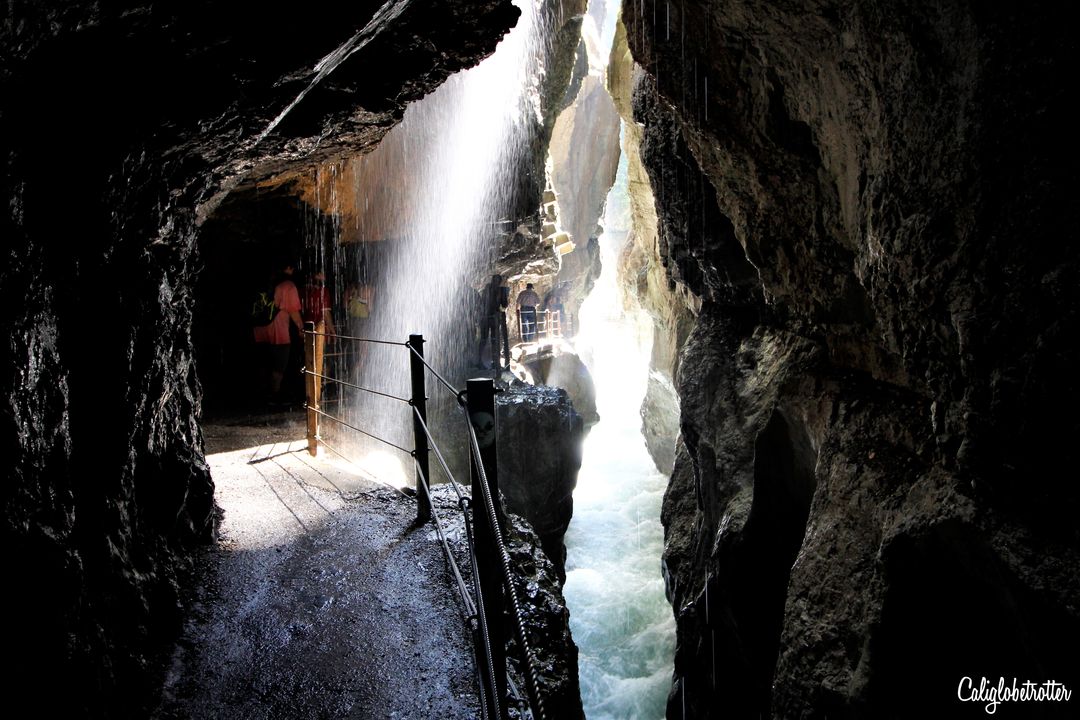 What is the Partnach Gorge?
Besides being a Gorge-ous natural wonder located near the small Bavarian village of Garmish-Partenkirchen in Southern Germany, it's a 702m (2,303 ft) long gorge carved in the mountains by the Partnach River, a stunning mountain stream which carved out tunnels and caves, thus allowing visitors to trek past trickling waterfalls and the rush of the river below.
Previously used as a source of timber transport, the gorge would finally be designated as a natural monument in 1912 and today, the Partnachklamm welcomes over 200,000 visitors per year. Needless to say, the secret is out about this Alpine gorge with wild waters, often referred to as the most beautiful gorge in the Alpine region.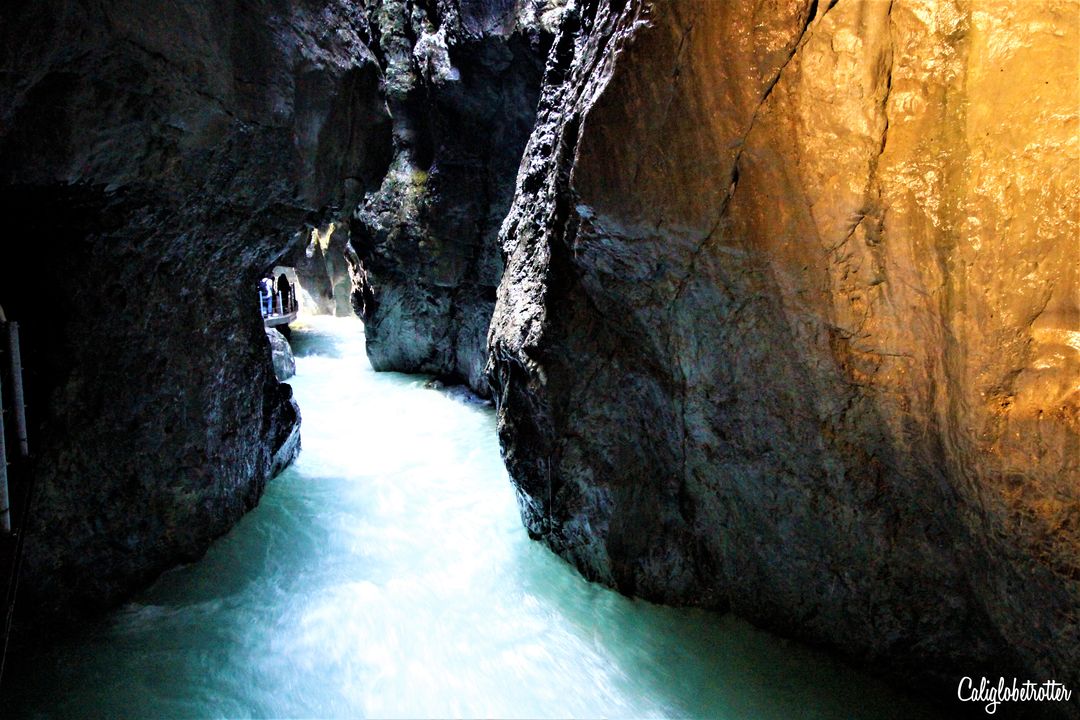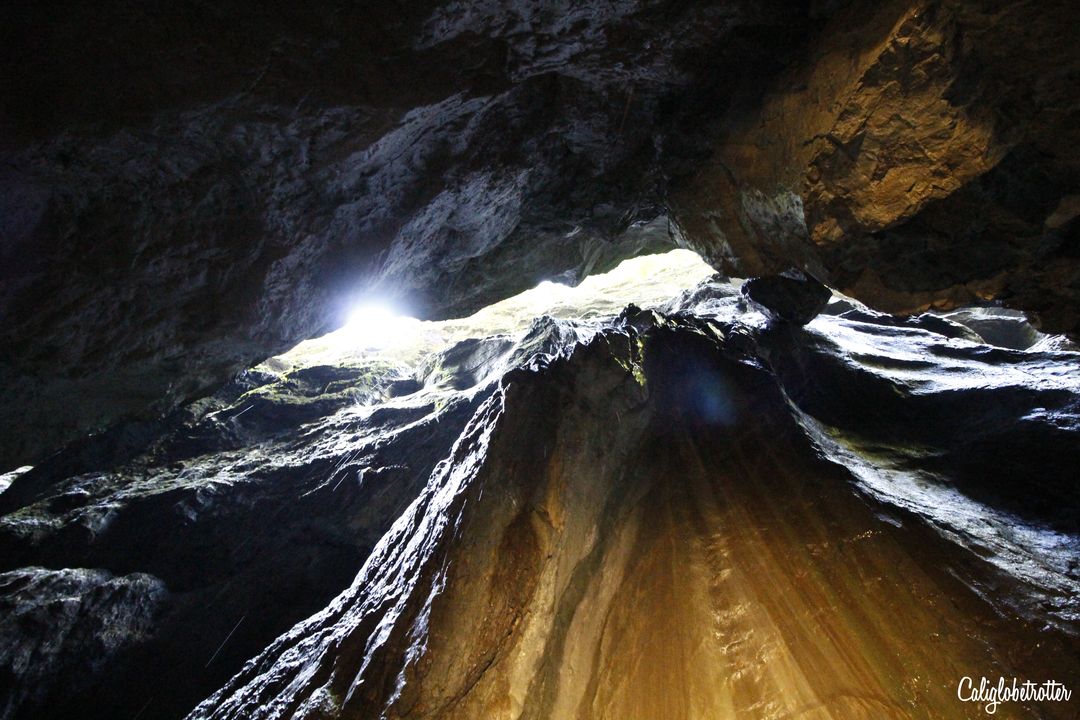 Getting to the Partnach Gorge
Reaching the gorge by car is not possible. Just a mere 25-minute walk from the Olympic Skiing Stadium parking lot (Olympia Skistadion), the hike to the Partnach Gorge is an easy and pleasant walk along a flat surface. Parking should cost no more than 5 €. I recommend visiting the Olympic Stadium either before or after your hike, which was used during the 1936 Olympics.
If you plan to visit by public transportation with DeutscheBahn, take bus 1 or 2 from the train station and get off at Skistadion in the direction of Klinikum/Skistadion.
A horse-drawn carriage ride also awaits you from the parking lot, but only saves you 10 minutes of easy walking, therefore, isn't actually necessary.
Hiking Partnach Gorge
There are two hiking routes for exploring Partnach Gorge. As you approach the ticket office to the gorge, there is a more strenuous hike for advanced hikers which will actually take you to the top of the gorge, allowing you to look down into the gorge, whereas the easier, more accessible path is beyond the ticket office, walking through the cavernous tunnels, following the path of the water.
Along the walking path, there are several opportune locations for taking photos while simultaneously allowing other visitors to pass by with ease. After all, this gorge-ous natural wonder will demand photos to capture its astounding beauty, which photos hardly do justice to.
The thundering river below carves it way through the gorge, with occasional glimpses of sunlight shimmering through as you make your way through the narrow, towering rocks. When you can, stop and turn around to take a glimpse behind you, offering yet another breathtaking vantage point.
After trekking about 30 minutes through the gorge, you'll come to the end where you have several options. Like us and many others, finding a comfy rock along the river to enjoy lunch is a relaxing way to enjoy your surroundings before back-trekking. You can also continue on with the hike, making a loop, where you'll eventually come upon Wettersteinalm, where the Apfelkuchen is reportedly pretty delicious.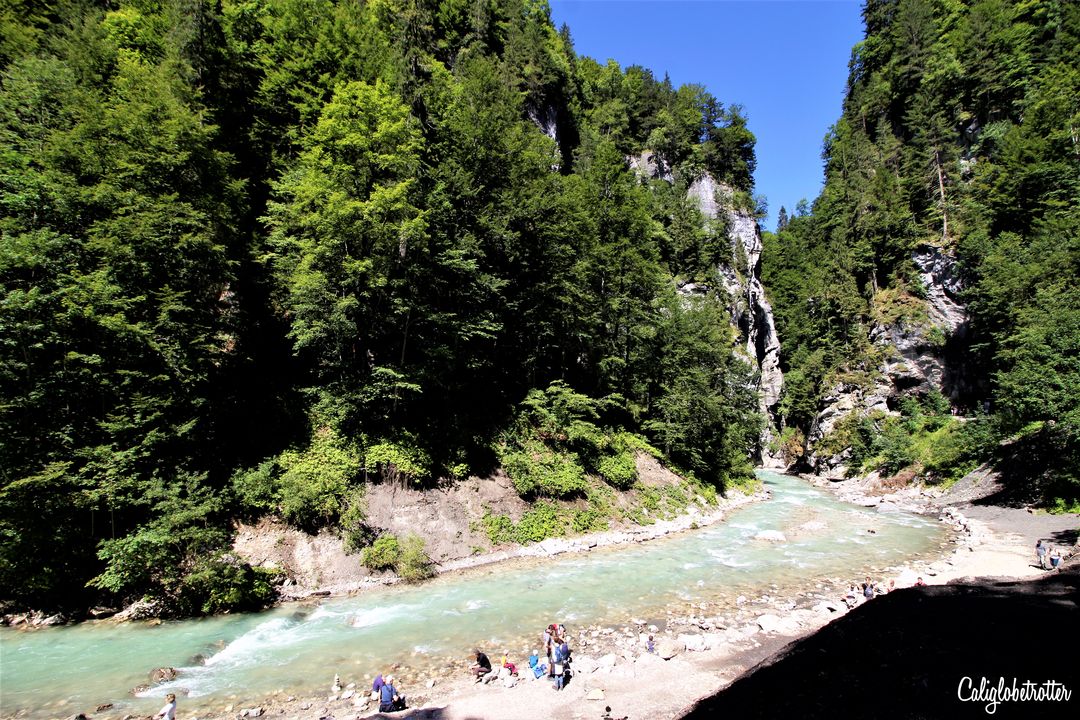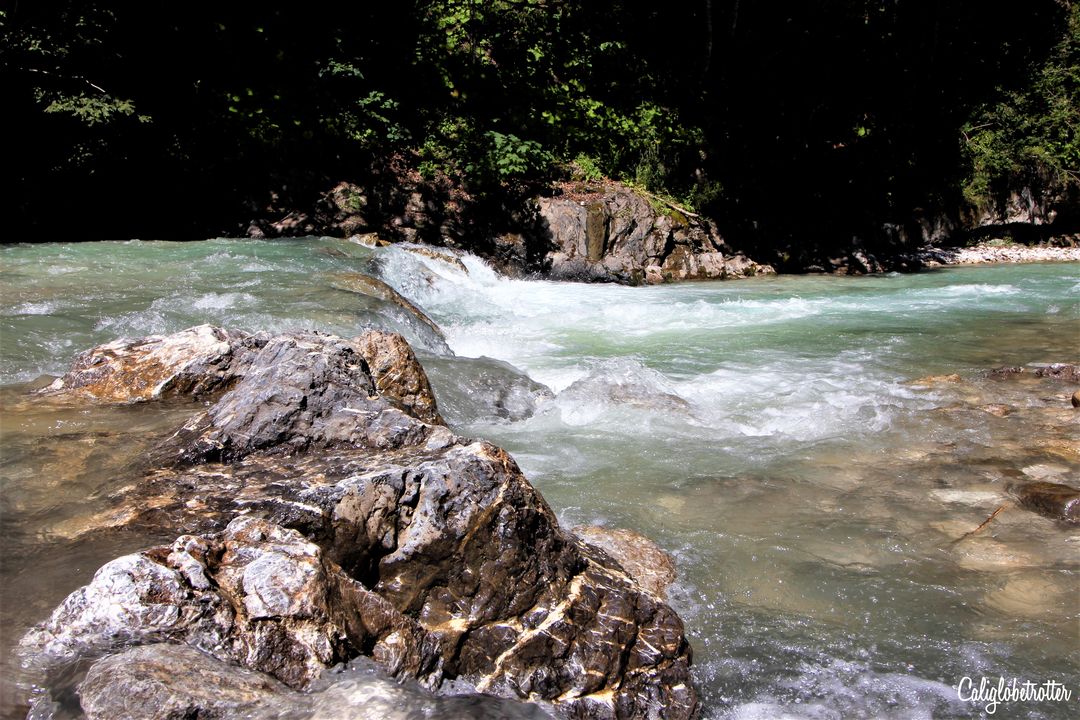 The gorge is the starting point for further hiking routes. While hiking Partnachklamm is easy, there are also other more strenuous hikes in the area, like hiking the Reintal Valley up to Mount Zugspitze (Germany's Tallest Peak!), Ferchenbachtal valley and other Mounts such as Eckbauer, Hausberg and Kreuzeck.
Click here for the Partnach Gorge English flyer for more tips on hiking in the region.
Tips for Visiting the Partnach Gorge
Opening Hours
According to the official website (in German), the gorge is open subject to good weather conditions & is subject to change.
NOTE: The last admission is 30 minutes before closing time.
May and October: 8:00 – 18:00
June-September: 6:00 – 22:00
November-April: 9:00 – 18:00
Cost of admission:
Adults: 6 €
Discounted price for nearby Spa guests, groups of 15 or more, locals and handicapped guests: 5 €
Kids (6-17 years): 3 €
Other Info:
Leashed dogs allowed
Canoes & Bikes are not permitted
The Gorge is not Wheelchair friendly
Leave your Umbrella at home. It won't help anyways!
Skill Level:
Easy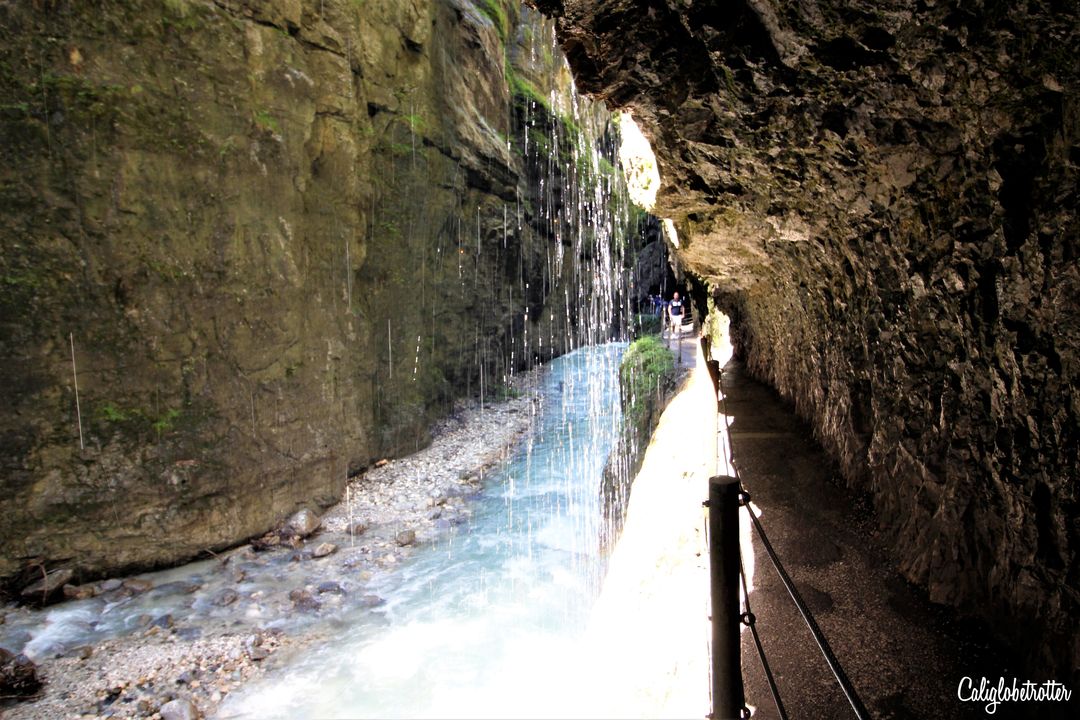 Visiting Partnach Gorge in Winter
Visiting Partnachklamm in winter is still possible, though they reserve the right to close the gorge at any time, depending on weather conditions. This can happen unexpectedly in the winter, as weather can change quickly in the Alps.
So, if you plan to visit Partnach Gorge in winter, expect that there might be a chance it could be closed, but should it be open, photos of the Partnach Gorge in winter are stunning!
Visit the official website prior to visiting, with an opening status on the right hand side. A yellow button will say either "Partnachklamm Geschlossen" (closed) or "Partnachklamm Geöffnet" (Open).
Things to Know Before Visiting the Partnach Gorge
Go early in the morning or later in the afternoon to avoid crowds
Wear appropriate hiking clothing
Wear non-slip shoes, leave your sandals behind
Bring a flashlight if you struggle to see in dark areas
Leave your umbrella at home as it will only hinder everyone walking in both directions on a narrow path
Bring an extra jacket should the temperature drop
Protect your camera as you will get wet
Always check the official website for an opening status
If you are a hotel guest in the area, take advantage of your GaPa card (Visitor's card)
Look for signs posted for the "Partnachklamm" (German for Partnach Gorge)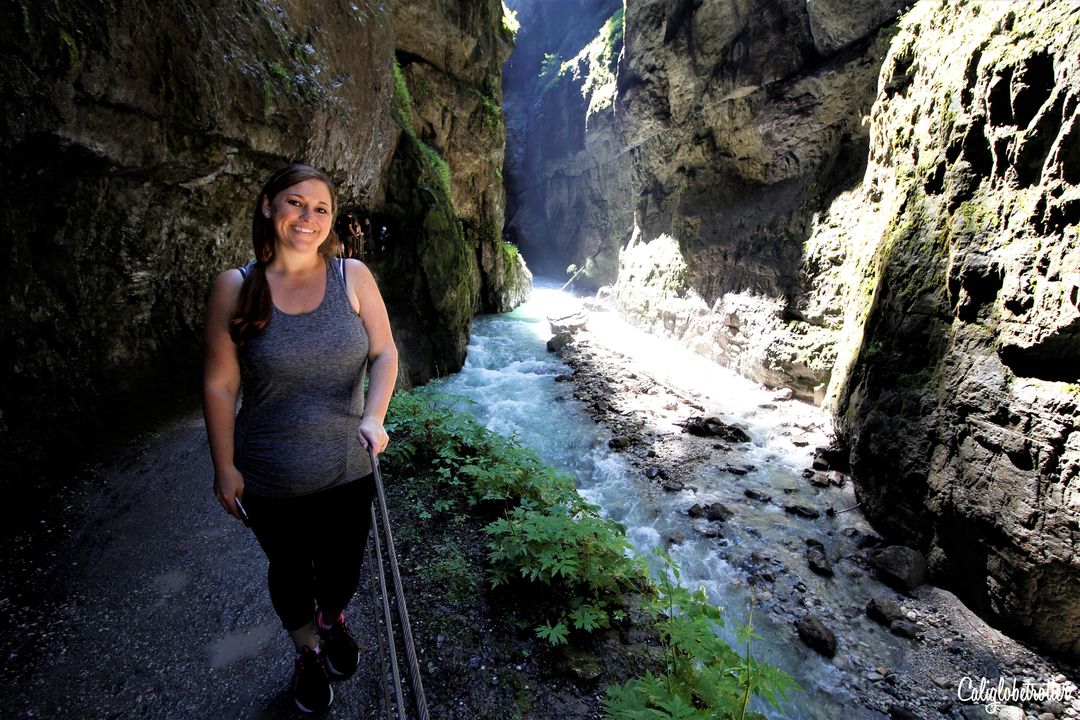 If you still have time after your hike, then I highly consider driving the extra half hour to Walchensee, the most beautiful lake in Bavaria. A turquoise green lake out of this world, you'll shake your head in disbelief at the color! This is what we did, enjoying a full day of hiking and soaking up the summer sunshine!
If you're interested in visiting Germany and are looking for more information, I highly recommend using the DK Eyewitness Travel Guide! Without these guides, I would be lost! This is my travel Bible!
Disclaimer: This post contains affiliate links. If you click on one and make a purchase, I might make a little extra spending money, at no extra cost to you. As always, all opinions are my own and these products/services have been found useful during our travels and come highly recommended to you from yours truly!
Other Great Hikes in Bavaria:
Hiking Walchensee: Germany's Prettiest Lake
Leutasch Spirit Gorge: A Family-friendly Hike
Ultimate List of Day Trips from Munich
Love Hiking in Germany? PIN IT FOR LATER!!