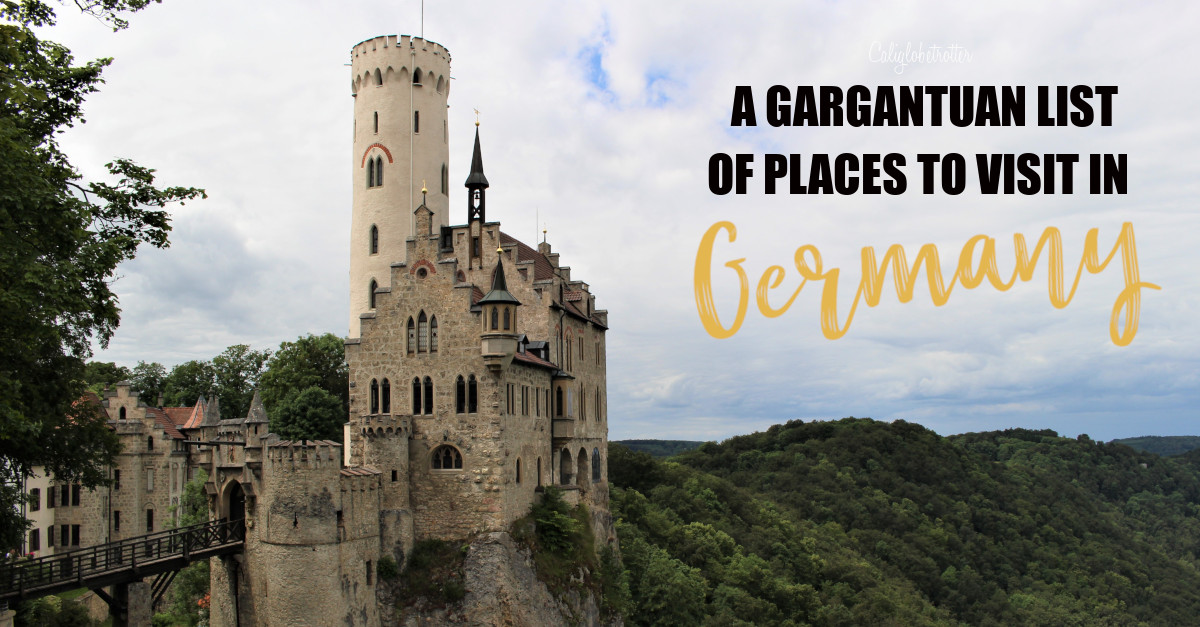 Disclaimer: This post contains affiliate links. If you click on one and make a purchase, I might make a little extra spending money, at no extra cost to you. As always, all opinions are my own and these products/services have been found useful during our travels and come highly recommended to you from yours truly!
If you're considering traveling to Europe, you should definitely add Germany to your Bucket List! Germany certainly has plenty of castles, fairy-tale villages and places of wonder that really need to be seen, drooled over & shared!
I receive a lot of people who always ask for some great suggestions of places to visit in Germany. So now, I share with you my favorite destinations in Germany, and even a few I hope to make it to! With each new place we visit, I add it to this list growing this ultimate list of top destinations to visit in Germany!
This list is full of great things, so PIN IT FOR LATER!!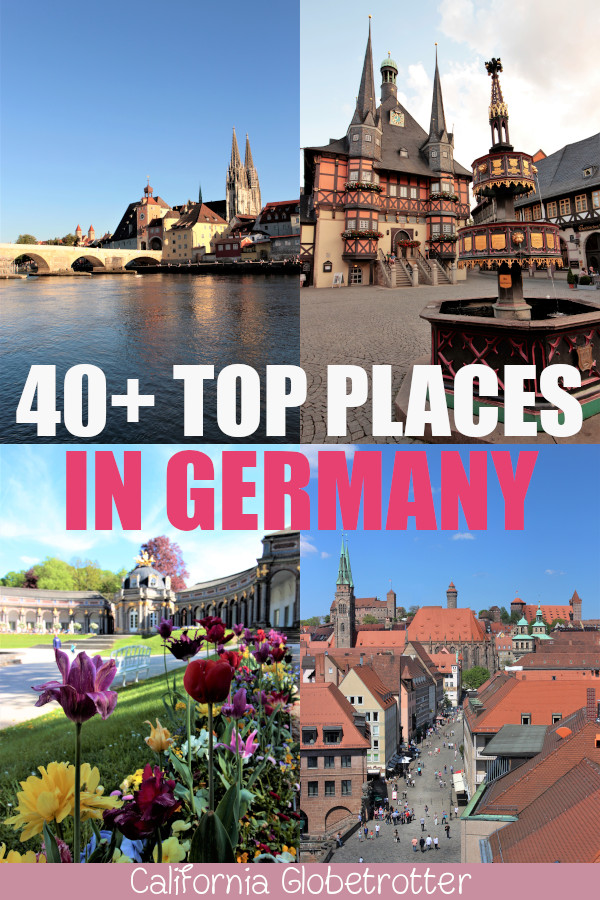 How to AVOID Looking Like a Tourist in Europe
1. Schloss Neuschwanstein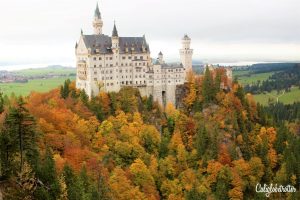 The number one destination to visit in Germany is, has been and will always be Schloss Neuschwanstein. THE most fairytale-like, romantic castle that all hopeless romantics are drawn to create their own fairytale story. Built by the mad King Ludwig II of Bavaria, it was never completed after his untimely death. Since its creation, it has inspired even people like Walt Disney and is often nicknamed "The Disney Castle"! (More on the Neuschwanstein Castle here)
2. Heidelberg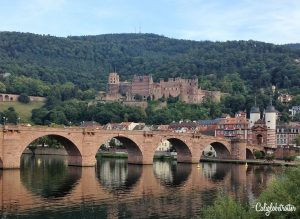 A historic town perfect for hopeless romantics to loose their hearts strolling the banks of the Neckar and wandering the ruins of the Heidelberg Castle. Take a stroll over the Alte Brücke, paddle up and down the Neckar or hike up to Schloss Heidelberg or up to Philosophenweg just opposite. Heidelberg is considered to be one of the top small towns to visit in Germany! (More on Heidelberg Here)
3. Munich's Oktoberfest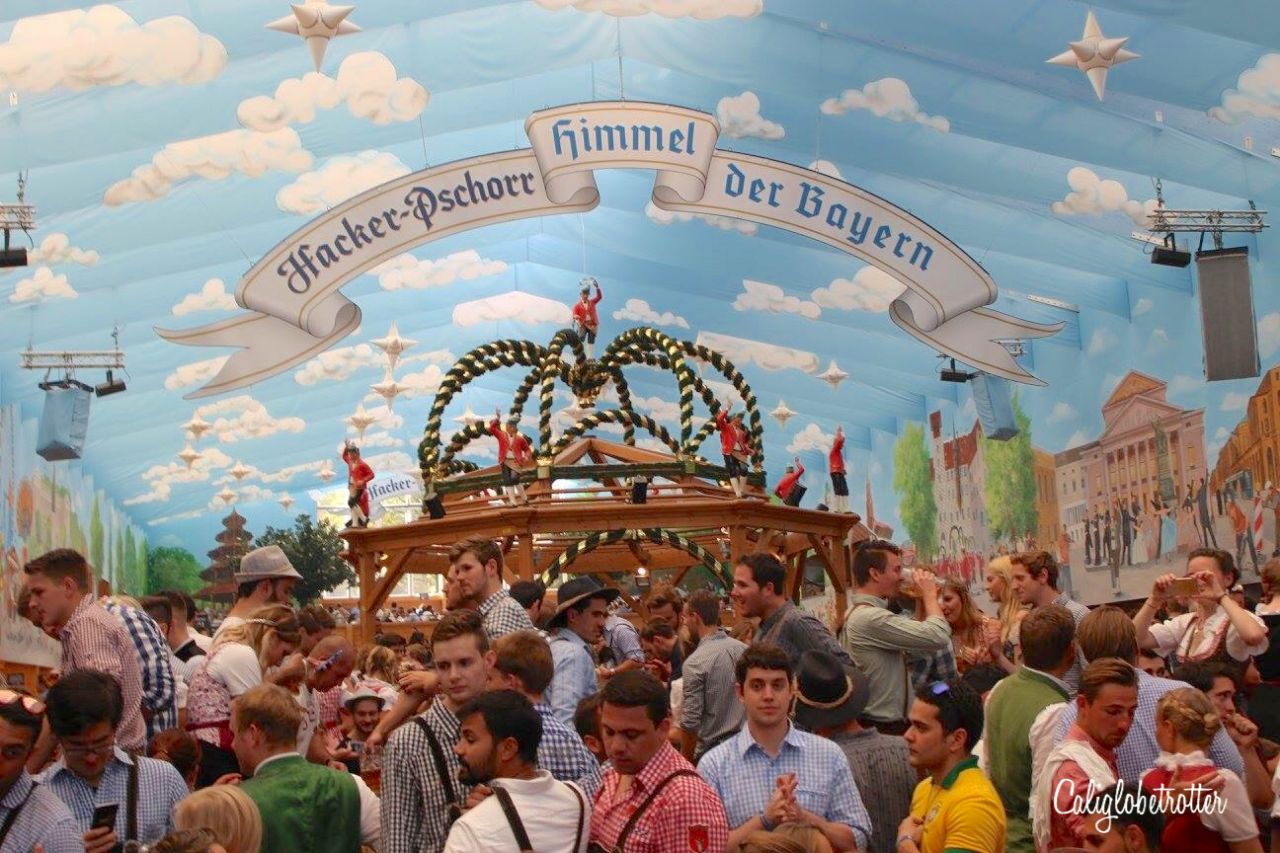 Oktoberfest – the world's most famous beer festival is unrivaled in Munich, Bavaria. A 16-day festival for the people is a must for those who love beer, crowds and absolute debauchery! This festival has been a yearly event since 1810 after it began to celebrate the marriage between King Ludwig I to Princess Therese of Saxe-Hildburghausen. This is the party of the year every year! (More on Oktoberfest here)
4. Munich's Marienplatz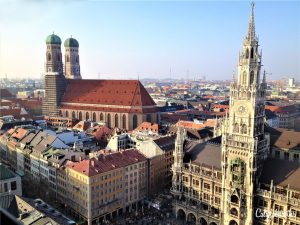 Besides Oktoberfest, visitors are drawn to the historic city center where they can find the Old City Hall (Neues Rathaus) which dominates Marienplatz. It is said this is the most beautiful square in all of Germany and is the heart of Munich! If you're looking for the best view over Munich then climb up the Peterskirche (Peter's Church) for a panoramic view not just over the city but a direct view of the city hall. (More on Munich Here)
5. Munich's Hofbräuhaus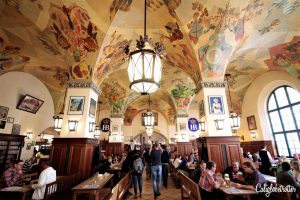 If there is one place you HAD to visit in Munich, it would be Hofbräuhaus as it is Germany's most famous beer hall. Most people come to Munich for two things: Beer and Oktoberfest. Locals who carry on true Bavarian traditions can be seen enjoying their beer while wearing traditional Tracht. It can get quite crowded and difficult to find somewhere to sit, but never give up if you want to experience a true beer hall! (More on Munich here)
The ULTIMATE List of Day Trips from Munich
5. Frankfurt's Ostzeile on the Römerberg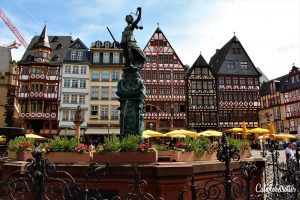 Another one of Germany's most stunning squares is the Römerberg square in Frankfurt am Main with the charming half-timbered row of houses. The Neo-Gothic style town hall just opposite has been the seat of government for over 600 years. There are a few quick things to do in Frankfurt during a layover. (More on Frankfurt here)
40 of the BEST Day Trips from Frankfurt
6. Bacharach in the Rhine Valley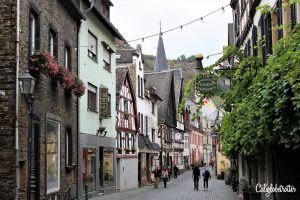 Quite possibly the most delectable and picturesque little town in Germany, easily rivaling many others is the adorable little town of Bacharach which is one of the most popular towns along the Rhine River. With endless half-timbered buildings, Riesling ice cream and rolling hills of vineyards, this is a fairy tale come true! (More on Bacharach here)
7. Reichstag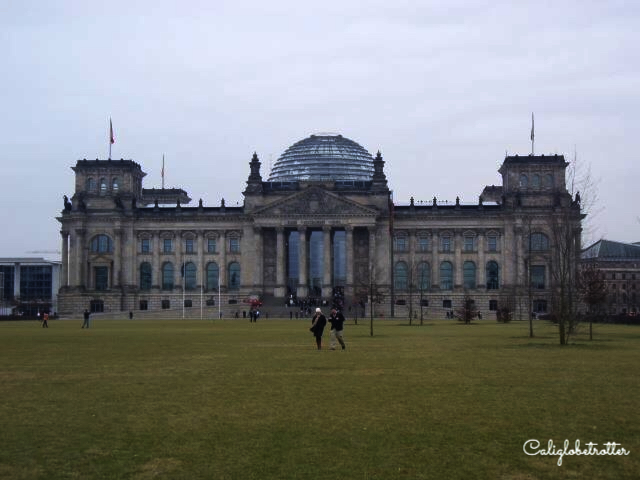 The seat of government for Germany, people are attracted to the capital building for several reasons, one of which is the beautiful glass dome that was added. Being the capital of Germany, a Berlin itinerary would be incomplete without one of the most popular sights to visit in Germany and is always evolving and changing, most recently into a hipster capital with plenty of unique things to do in Berlin!
8. Mittenwald & the Leutasch Spirit Gorge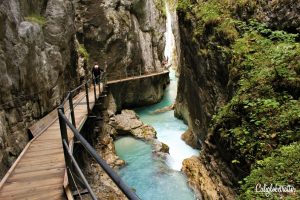 In the small little town of Mittenwald in southern Bavaria, down towards the Bavarian Alps near the border to Austria lies a gorge that is said to be inhabited by a spirit and his goblins. For a great hike and beautiful crystal blue waters, this little pathway which clings to the side of the mountain and stretches up and around the falls is a family-friendly hike near Munich and an easy outdoor day trip from Munich. (More on the Leutasch Spirit Gorge)
9. Loreley Rock in the Upper Middle Rhine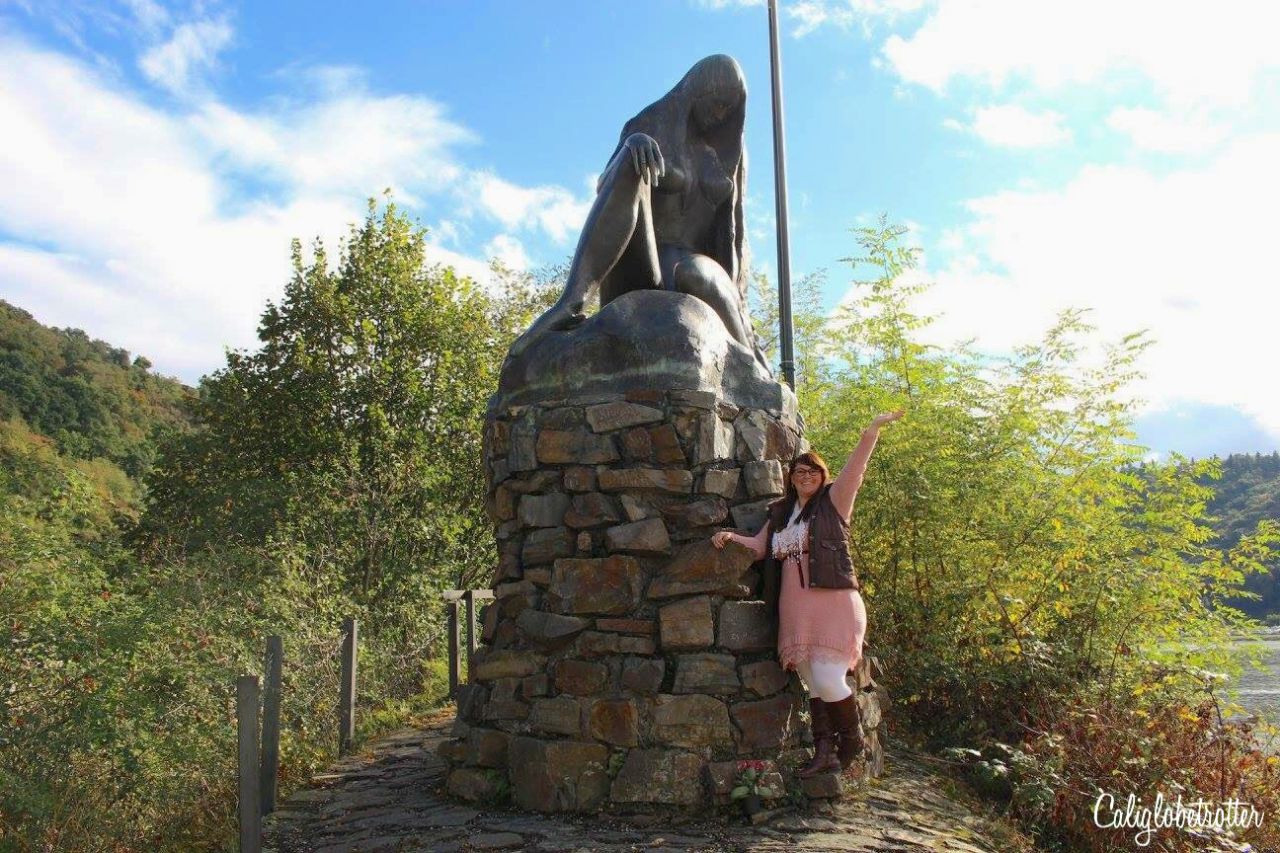 Located on a small strip of island in the Rhine River, a statue of the melancholy Loreley siren sits on a rock as she combs her golden hair. Her beauty and songs temporarily distract sailors as they cruise round one of the most difficult parts of the river to navigate before becoming shipwrecked. The Loreley am Rhine is one of the most interesting sights to see along the Rhine River. (More on the Loreley here)
10. Rothenburg ob der Tauber
If you're looking for the ultimate fairy tale town to visit in Germany, than look no further than Rothenburg ob der Tauber. A small town that packs a big punch of endless historical, colorful, medieval half-timbered houses, it's often rated as the most picturesque town in Germany…and it's easy to see why! Located along the Romantic Road, visiting for the Christmas Market or any other time of the year will be a magical experience. (More on Rothenburg ob der Tauber)
11. Dresden's Frauenkirche
Dresden's Frauenkirche, built between 1726-1743, the Church of Our Lady has had a rough history. Badly destroyed during a 1945 air raid, it sat in ruins until 1994 and was finally reconsecrated in 2005. Today it incorporated pieces of the original structure with new material, built to its former glory and is once again one of the top attractions to see in Dresden! (More on Dresden here)
12. Rüdesheim am Rhine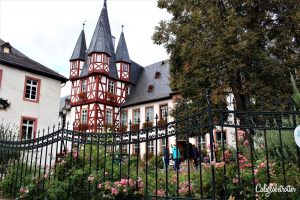 The gateway to the Upper Middle Rhine Valley and the endless vineyards, Rüdesheim am Rhine is set in an idyllic location with picture perfect, European half-timbered style houses. Rüdesheim is one of the most popular wine towns along the Rhine River and is a popular destination to stop at for the afternoon. Their Christmas Market is also one of the loveliest in Germany! (More on Rüdesheim here)
13. Chiemsee & Schloss Herrenchiemsee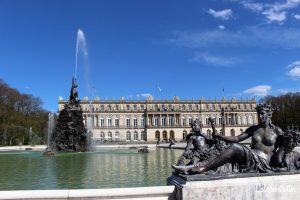 Another one of mad King Ludwig II's castles that he built, but never finished and one of the lesser known castles to visit in Germany. This castle is located on the Herreninsel (island) on Lake Chiemsee and was built as a replica to France's Palace of Versailles in honor of the 'Sun King' Louis XIV. Although it is a much smaller scale, the Hall of Mirrors is definitely worth a visit as well as the stunning gardens. (More on Herrnchiemsee Palace)
14. Schloss Linderhof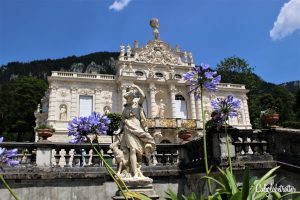 Of the three castles that mad King Ludwig II of Bavaria built, only Schloss Linderhof was completed before his untimely death. The King chose to live here in part because of its secluded location, as well as because of the splendor of the castle. One of the most popular attractions here is the Venus Grotto which was designed after stories from Richard Wagner. Schloss Linderhof is a perfect day trip from Munich if you're looking to get out and explore!  (More on the Linderhof Palace)
15. Schloss Nymphenburg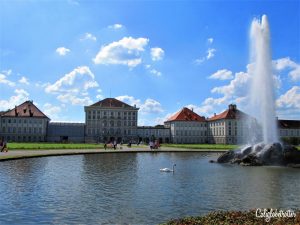 Located on the outskirts of Munich, Nymphenburg Palace is an easy Munich excursion. This beautiful palace is definitely a must for visitors who love stunning stucco artwork, beautiful architecture and lush gardens with hidden treasures! There are many things to do at Nymphenburg Palace and you can easily spend an entire day here! (More on Schloss Nymphenburg)
16. Eagle's Nest (Kehlsteinhaus) in Berchtesgaden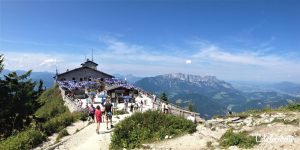 A day trip from Munich to the Bavarian Alps is always a good idea! The Eagle's Nest was built for and gifted to Hitler for his 50th birthday, it is one of the few locations that were not destroyed after the war to prevent Neo-Nazi gatherings. Instead, this beautiful house was saved as a feat of architecture for its era and was reinvented as a restaurant with breathtaking views of the Berchtesgaden National Park, one of the most beautiful national parks in Germany! (More on Kehlsteinhaus here)
17. Königssee & St. Bartholomew's Church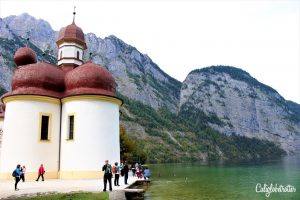 One of Bavaria's most unspoiled, fjord-like lakes, Königssee is a must for those who truly appreciate the beauty of nature. Enjoy a historic boat ride across the lake before reaching St. Bartholomews Church and even a bit further, the majestic Obersee. Königssee is the most beautiful lake in Germany and visiting the Bavarian Alps is always a great way to get away from the city and there are many hiking trips around here. (More on Königssee here)
18. Nuremberg's Christkindlmarkt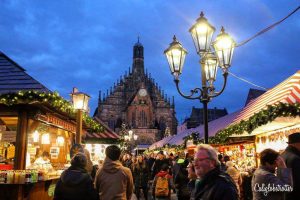 One of Germany's most popular Christmas markets is located in the main square in front of the Frauenkirche. People come here to stroll the market for Christmas goodies such as Nutcrackers, ornaments and of course drink some warm Glühwein with some Nuremberger bratwursts. Nuremberg's Christmas Market is by far one of the most visited Christmas Markets in Germany and can get quite crowded, but if you're willing to brave the crowds, then come on opening day for a show with the Christkind! (More on the Nuremberger Weihnachtsmarkt)
19. Nuremberg's Kaiserburg Castle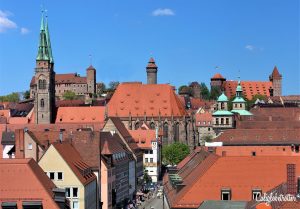 Perched upon a hill overlooking the city center of Nuremberg, the Kaiserburg Castle was home to every single Holy Roman Emperor between 1050 and 1571. There are many things to do in Nuremberg, but this is one of the main sights to see in Nuremberg and offers some lovely views over the city center. If you're looking for more about Nuremberg's Nazi Past, you can visit several museums and where the Nuremberg Trials were held. (More on Nuremberg here)
20. Old Town & Cathedral of Regensburg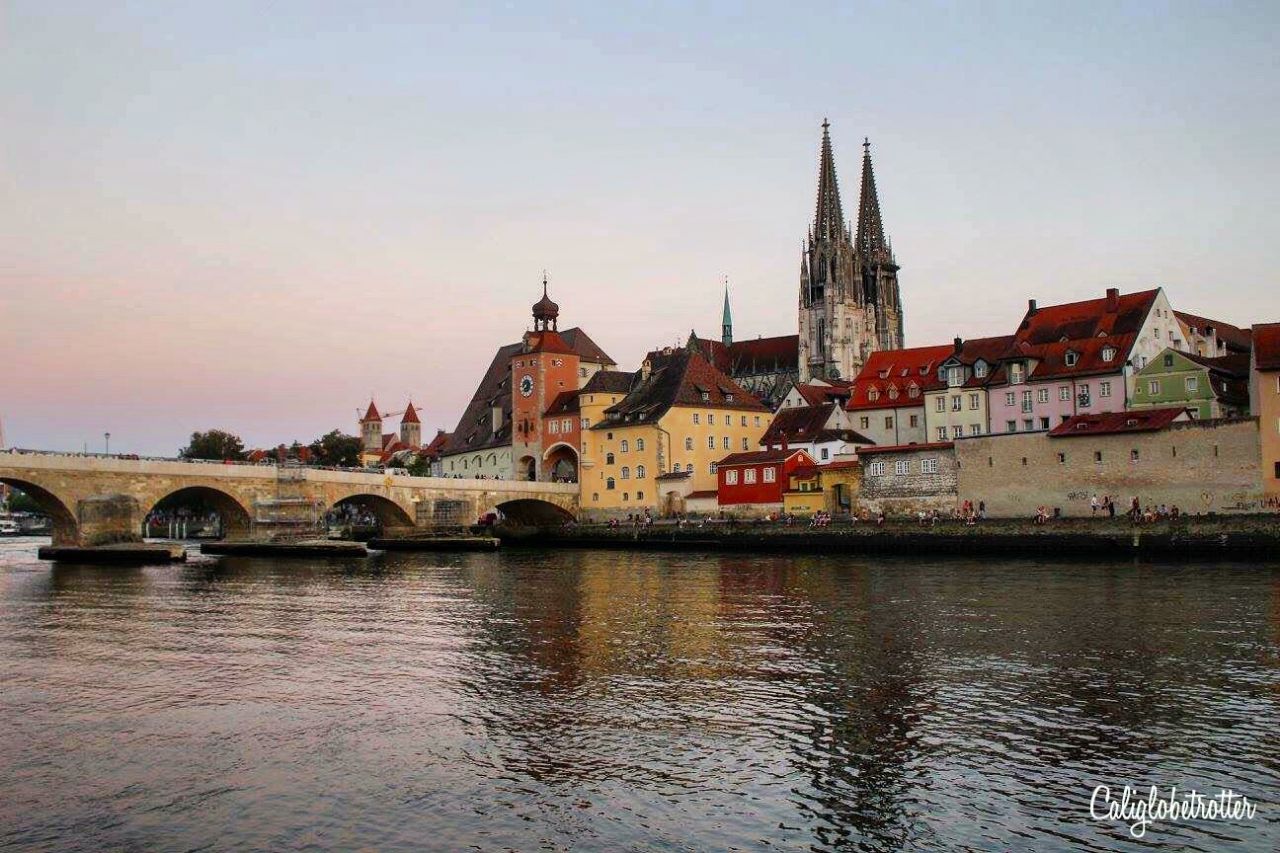 If you're looking for a top destination to visit in Bavaria without the crowds, then consider a visit to the historic town of Regensburg. The entire city of Regensburg is considered a UNESCO World Heritage site with 1,500 historic buildings in the city center as well as Stadtamhof. The cathedral is one of the only French Gothic style cathedrals east of the Rhine. The historical Stone Bridge was considered the 8th wonder of the world when it was completed in 1146. Beyond the Cathedral and Stone Bridge, there are many things to do in Regensburg like going to one of several biergartens in Regensburg or coming for the town's beer festival, Dult. (More on Regensburg here)
21. Zugspitze – Germany's Tallest Peak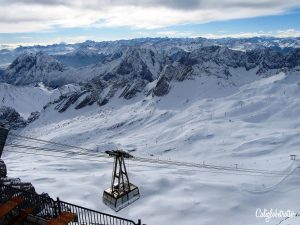 Germany's tallest peak sits at 2,962m high and offers endless views as far as the eye can see. Perfect year round for those who are interested in skiing, hiking or sightseeing! Here, you can also find Germany's highest beer garden where you can soak up the views with a good brew in your hand! Zugspitze is also one of the top destinations to visit in the Bavarian Alps in winter and in summer. If you're looking to do some hard core hiking, then a day trip to Zugspitze from Munich is a great option! Nearby, you can also find the town of Garmisch-Partenkirchen where the Olympics were once held! (More on Zugspitze here)
22. Passau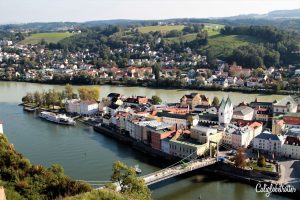 Located on a thin strip of land at the convergence of three rivers and on the border between Germany and Austria is the small pastel colored town of Passau, home to the world's largest cathedral organ. If you're looking for a charming small town to visit for a day trip in Germany, then consider wandering the cobbled-stoned streets of Passau or going up to Veste Oberhaus for a stunning panoramic view of Passau! Passau is also a popular destination on the Danube for boat goers! (More on Passau here)
23. Black Forest (Schwarzwald)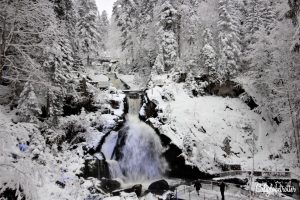 One of Germany's most popular and stunning nature parks, loaded with hilly meadows, farmland and medieval towns. It is also home to the world's largest Cuckoo Clock and Germany's highest waterfall, the Triberg Waterfall, escalating down seven stages. While the most popular time of year to visit the Black Forest is definitely in the summer, to visit the Black Forest in winter is a winter wonderland. (More on Triberg & the Black Forest here)
24. Würzburg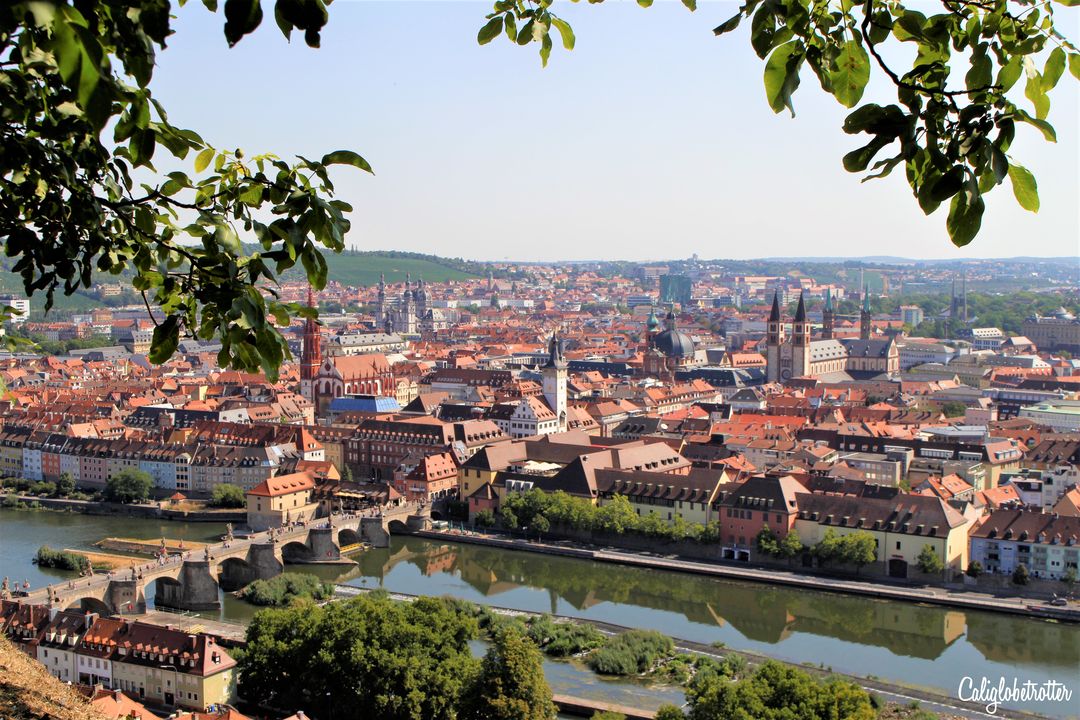 Towering over the stunning city of Würzburg is the Marienberg Fortress. Würzburg is considered to be the gateway to the Romantic Road which leads to Füssen with some of the most amazing German towns and is definitely a wine-lovers paradise! Würzburg is a popular city to visit in Germany as it is surrounded by beautiful rolling hills lined wine vines. The town was practically destroyed during the Second World War but has since been returned to its former glory. One of the main attractions in Würzburg is the Residenz for it's impressive ceiling, the largest fresco ever painted making for a great day trip from Munich! (More on Würzburg here)
25. Sellin Pier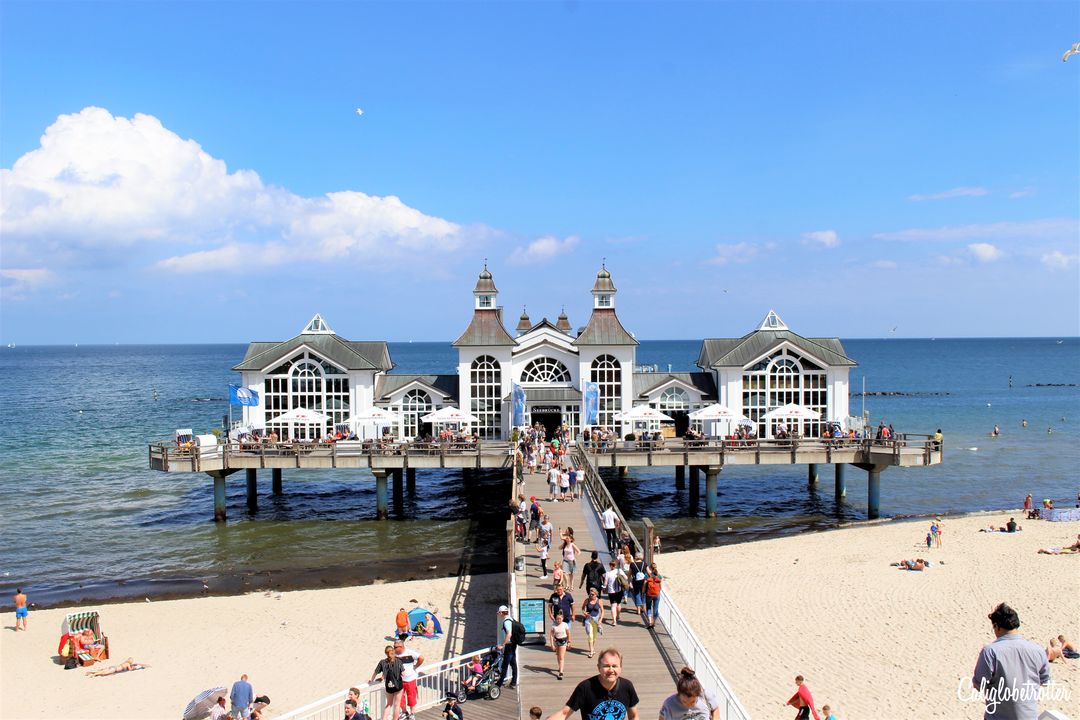 You're not likely to find this beautiful white pier stretching into the Baltic Sea in any travel guide, but allow me to introduce you. Located on the island of Rügen, the Sellin Pier has had quite the unfortunate history with having been destroyed multiple times by fire, ice and ultimately becoming so dilapidated it was eventually knocked down. Finally, the pier was rebuilt using original layouts from 1906 and 1925 and was finally reopened in 1998! But people don't just come here for the pier, but for the white sandy beaches nearby where one can rent a Strandkorb and lay out! (More on the Island of Rügen here)
26.  Burg Eltz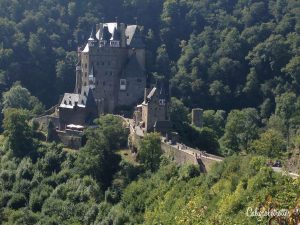 If you're looking for yet another magical castle to transport you back in time, then consider a visit to one of Germany's most popular castles, Burg Eltz. An authentic medieval castle that was once a fortress and was later turned into a castle. This castle is one of the few castles that are still owned and inhabited the original family from over 900 years ago! (More on Burg Eltz here)
27. Old Town of Bamberg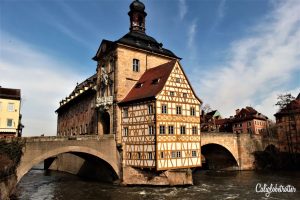 Bamberg is a town of historical importance and is situated over seven hills and is one of the most beautiful towns in Bavaria to visit! The most popular attraction is undoubtedly the Altes Rathaus (Old City Hall) which is located in the middle of a bridge on an island, and of course the unique taste of Smoked Beer! Bamberg is often referred to as "the beer capital of Bavaria". (More on Bamberg here)
28. Burg Hohenzollern
Perched upon a hill in the Schwabian Alb, this previous fortress has evolved into a castle with multiple towers and turrets over the centuries and is a wonderful example of neo-Gothic architecture with its turreted towers. Today, the castle still belongs to the Hohenzollern family and offers stunning views of the surrounding countryside and is one of the most popular castles to visit in Baden-Württemberg! (More on Burg Hohenzollern)
29. Aachen Cathedral
Charlemagne's Pfalzkapelle is one of the most historical places in Germany to visit as all future kings and queen of Germany had been crowned here. There are many things to do in Aachen from exploring the Treasury taking a tour of the City Hall. (More on Aachen here)
30. Dresden's Zwinger Palace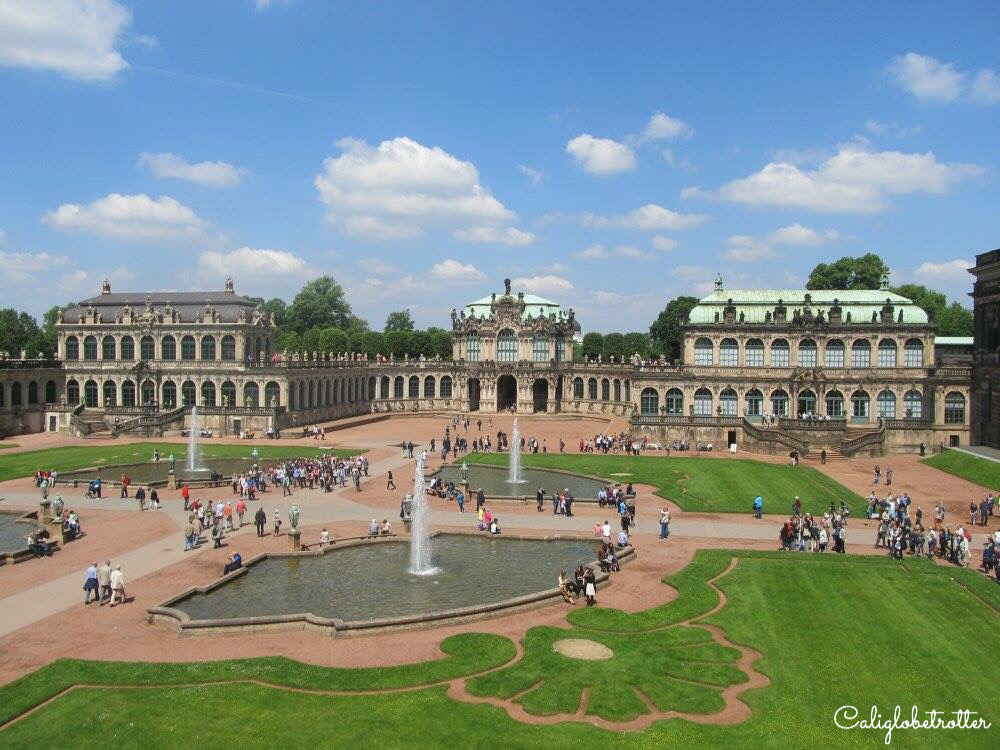 Another of Dresden's most popular tourist spots is definitely the old baroque building that is the Zwinger. What looks like a palace is actually just a large garden which was once used for tournaments and festivals. Today, various types of art galleries can be found at the Zwinger. The Zwinger was almost completely destroyed during WWII and has been beautifully restored. (More on Dresden here)
31. Ulm Munster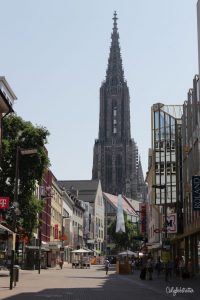 Ulm's Minster is the absolute focal point of the city and is also known as being the world's tallest church standing at a whopping 162 meters high! Tourists who aren't afraid of heights can climb the steep steps to the top for a fantastic view over the city! A trip to Ulm will also include walking around the town center and perhaps even over to Wiblingen's Monastery just a short drive away. (More on Ulm here)
32. Schloss Ludwigsburg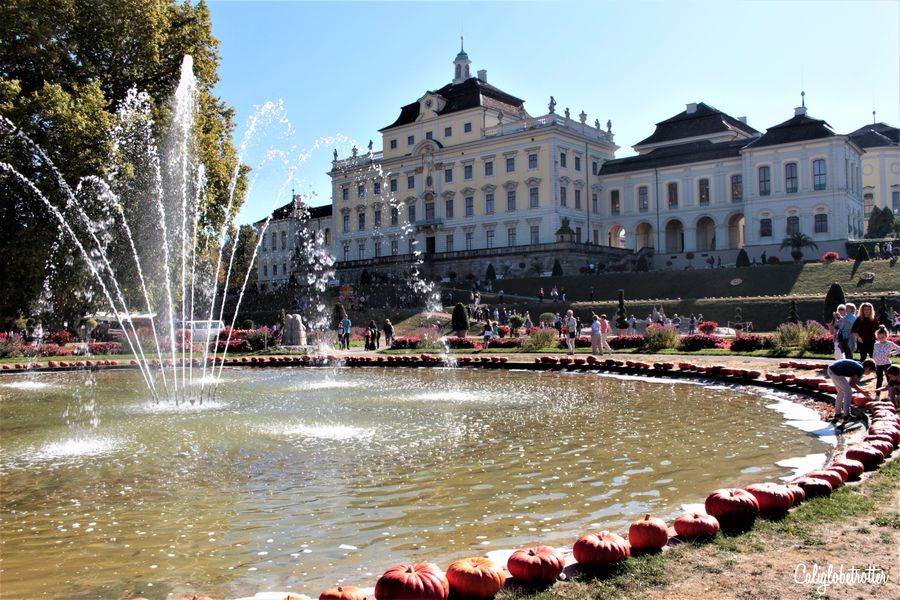 What was once a simple hunting lodge has over time evolved into a beautiful, sprawling palace. Today, people love to visit the Germany's largest baroque palace because of it's stunning gardens and of course for the deliciously fun and family-friendly annual Pumpkin Festival. Every year, the Pumpkin Festival has a unique theme while as Christmas, there is a Baroque Christmas Market here. If you're looking for a quick day trip from Stuttgart, then head on over here! (More on Ludwigsburg here)
33. Blaubeuren's Blautopf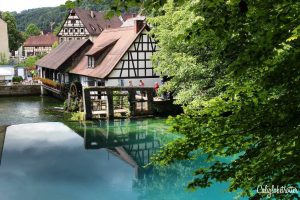 Probably one of Germany's best kept secrets lies in the small little half-timbered town of Blaubeuren along the German Timber-frame Road. So, if you're looking for unique places to visit in Germany, then consider a day trip to Blaubeuren! In a corner of the town, you'll find the most magical place of any fairy tale, the Blautopf! Sitting next to the whimsical crystal blue waters is the most adorable little house with a water wheel which is the source of the river. On sunny days, the water turns to an almost turquoise color. (More on Blaubeuren here)
34. Schloss Lichtenstein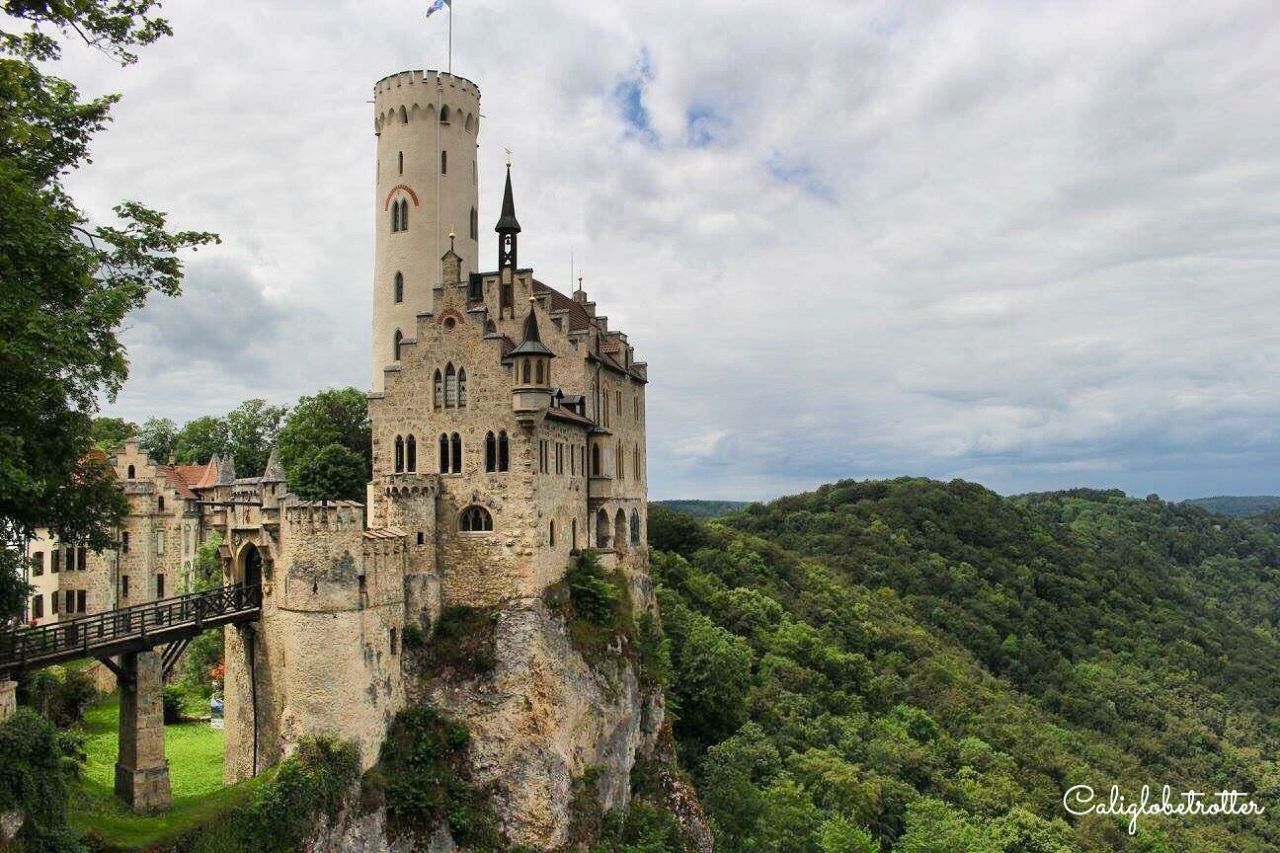 Lichtenstein Castle is considered to be a Gothic Revival Castle in Baden-Württemburg which was built to replace an older version of the castle. Today, it is one of the most fairy-tale like castles that pays homage to the Middle Ages and is often referred to as "the Little Brother to Schloss Neuschwanstein". Luckily, it's way less crowded than the former and is one of the main attractions in Southern Germany and makes for a wonderful day trip from Stuttgart. (More on Schloss Lichtenstein here)
35. Reichburg Cochem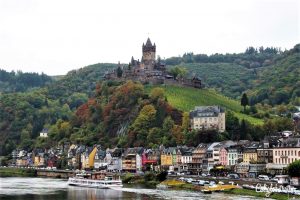 Cochem's castle, the Reichsburg, is perched high above the Moselle and is one of the highest fortresses along the river. Tourists enjoy this region for the stunning beauty of the wine valley and endless amounts of castles lining the river as well as the half-timbered hosues here. Cochem is a hidden gem growing more popular by the day and is one of the best places to visit in the Moselle Valley. (More on Cochem here)
36. Monschau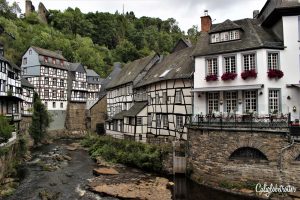 Monschau is tucked away in the hills of the North Eifel lies a historic and picturesque half-timbered town which has remained vastly unchanged over the last 300 years. Today it has over 300 historically protected half-timbered houses making it one of the top contenders for the title of "most picturesque town in Germany" making it one of the loveliest half-timbered towns in Germany to visit! (More on Monschau here)
37. Schloss Hohenschwangau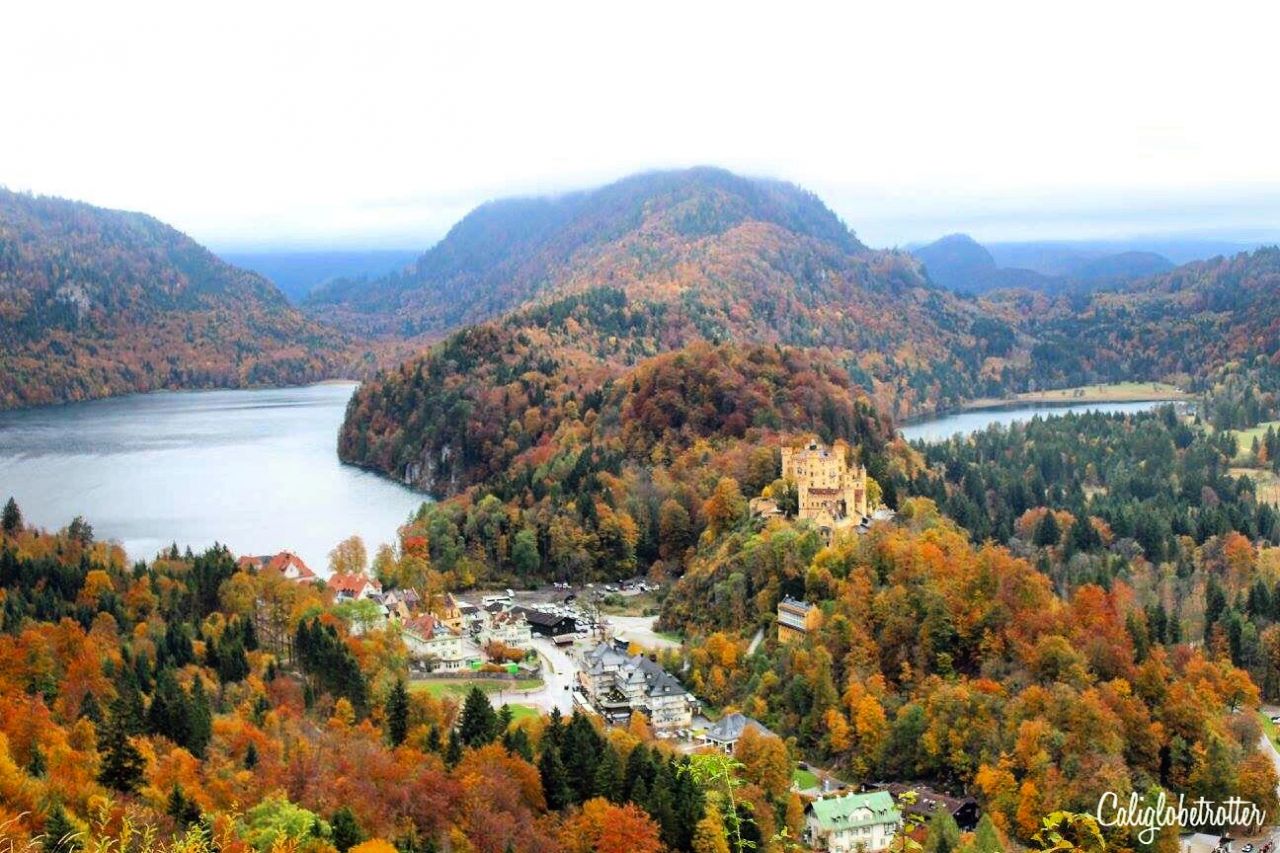 Towering over the small village of Schwangau, this beautiful castle sits across from the more famous castle of Schloss Neuschwanstein. It became the official residence of King Ludwig II while he was working on his masterpiece and is often overlooked by its more popular neighbor, but why pass up a beautiful castle when it's right there!? Plus by visiting Hohenschwangau Castle, you'll be greeted to fantastic panorama views of the Neuschwanstein Castle! (More on the Hohenschwangau Castle here)
38. Munich's Residenz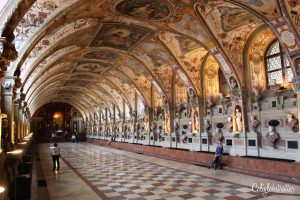 Located in the center of Munich, what might look like a collection of endless buildings is actually a magnificent palace that was once the royal residence of the Wittelsbach family. The Residenz is full of endless splendor, a must-see gem, making for the perfect thing to do on a rainy day in Munich and is one of the main attractions in Munich! (More on the Munich Residenz here)
39. Esslingen am Neckar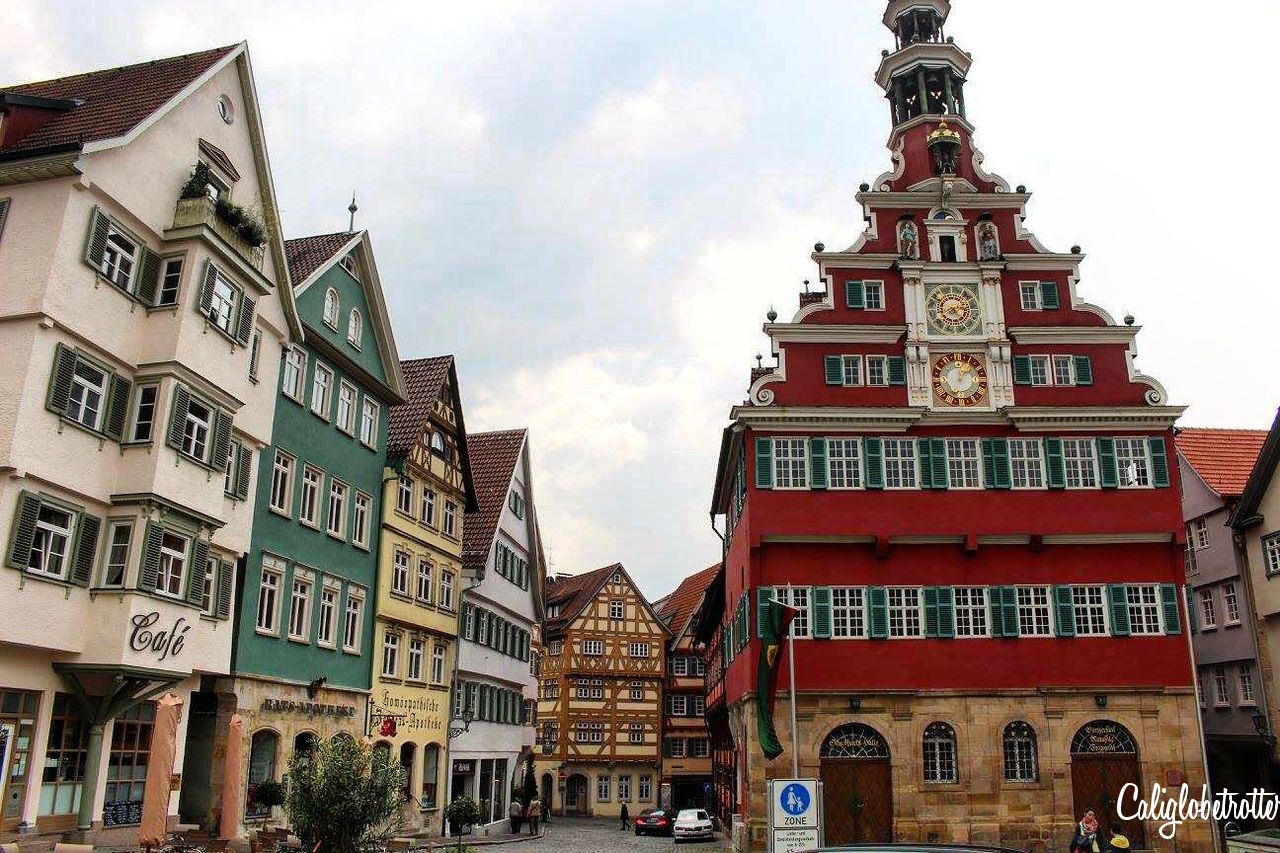 Just a 15 minute drive from Stuttgart is the absolutely picturesque half-timbered town of Esslingen, untouched by the ravages of war. Therefore, the town is exactly the same as it was in during the Medieval Ages, surrounded by rolling hills of vineyards. The Esslingen Christmas Market is also a medieval wonder with mead and knights! Esslingen is one of the best day trips from Stuttgart! (More on Esslingen here)
40. Berlin's Brandenburg Gate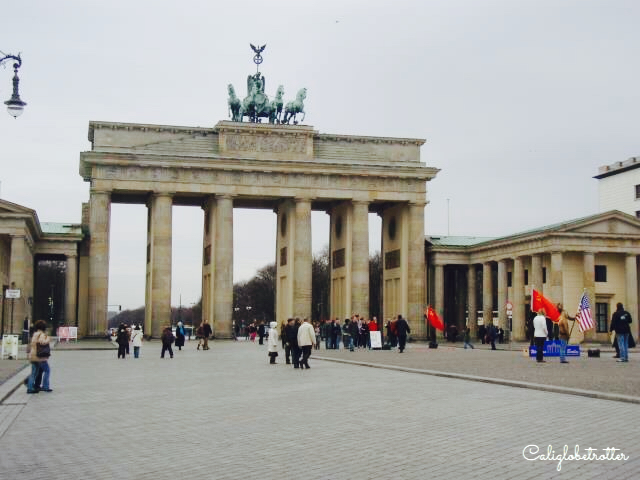 No other monument in the world is quite as famous as the Brandenburg Gate as it became a symbol for freedom, democracy and the reunification of Germany after the fall of the Berlin Wall. The Brandenburg Gate is one of the main sights to see in Berlin, not far from the Reichstag, the German seat of Government. 
41. The Kuchlbauer Brewery's Hundertwasser Tower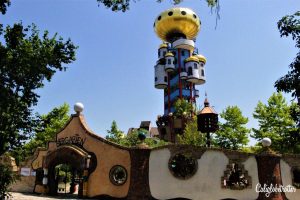 Just a 30 minute drive from Regensburg is the small Bavarian town of Abensberg and here you will find a brewery famous for their Weissbier (Wheat beer) as well as a futuristic tower designed and created by the Austrian artist Friedrich Hundertwasser. If you're looking for a unique day trip from Munich, then consider a visit to Kuchlbauer Brewery in Abensberg or visiting the Christmas Market here. (More on Kuchlbauer's Bierwelt)
42. Wernigerode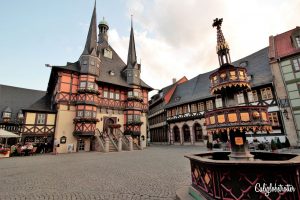 In the center of the Harz region, is the exquisitely picturesque half-timbered town of Wernigerode, dominated by the imposing Wernigerode Castle over looking the hill and the impressive medieval half-timbered Rathaus capturing your imagination. It's often nicknamed "the colorful city in the Harz", and for good reason! The town itself though is one of the most charming small towns in Germany well off the beaten track from your average tourists! (More on Wernigerode here)
43. Quedlinburg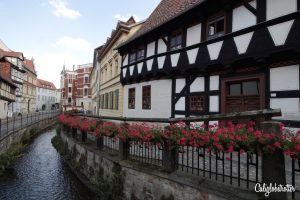 A medieval town with over 1,400 half-timbered houses down rows and rows of cobbled-stoned streets at the foothills of the Harz region in Saxony-Anhalt, Quedlinburg is one of the most romantic medieval towns in Germany. With  a UNESCO World Heritage badge to boast, the town is often accredited with being the first capital of Germany. (More on Quedlinburg here)
44. Goslar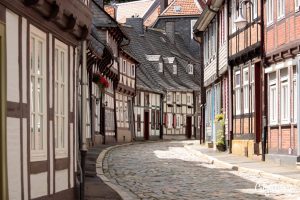 Another UNESCO World Heritage site boasting over 1,800 half-timbered houses at the foot of the Harz mountains is Goslar. Nicknamed "the treasure chest of the north" from stories of counterfeiting, the region became prosperous because of the nearby zinc, copper & silver mines and is today is one of the best day trips in northern Germany! (More on Goslar here)
45. Idstein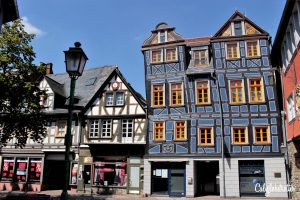 Just a thirty minute drive away from Frankfurt, in the heart of the Taunus Valley is Idstein, lined with colorful half-timbered houses, winding cobbled-stoned streets and leaning buildings. From the Witches' Tower to the Leaning House, this half-timbered town located along the Deutsches Fackwerkstrasse (German Timber-frame Road) is the cutest day trip from Frankfurt! (More on Idstein here)
46. Miltenberg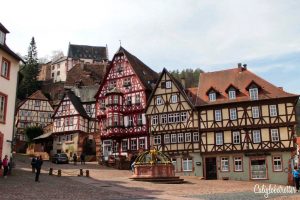 Located in the Lower Franconian region of Bavaria, the small half-timbered town of Miltenberg sits along the River Main and is often nicknamed "The Pearl of the Main". Loaded with over 150 historic picturesque half-timbered houses, including one of the oldest inns in Germany, Hotel zum Riesen. (More on Miltenberg here)
47. Heppenheim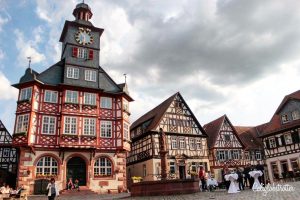 On the edge of the Odenwald, a 45 minute drive from Michelstadt is the romantic half-timbered town of Heppenheim, located along the Bergstrasse, a 50 mile long ancient trading route. While the town might be small, it is picturesque as it is set along gentle rolling hills lined with vineyards. The main sight here is the beautiful deep pink half-timbered Rathaus. (More on Heppenheim here)
48. Michelstadt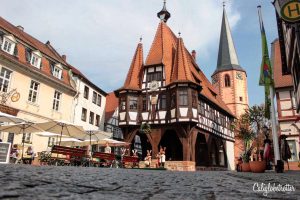 Set among the hills of the Odenwald (forest), the town has a plethora of perfectly preserved half-timbered houses and presents an idea of life during the medieval ages, and is one of the oldest settled locations in the region. This can be seen with the impressively medieval looking half-timbered Rathaus (City Hall) in the center of the town which is also one of the oldest town halls in Germany! (More on Michelstadt here)
49. Wartburg Castle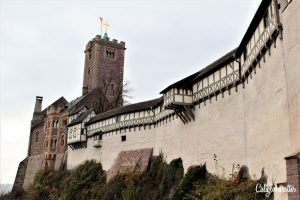 A mighty fortress with a conglomeration of a variety of styles of architecture over a period of many centuries towering above the town of Eisenach, is Wartburg Castle – one of Germany's most historic sites. Martin Luther took refuge here under an unassuming name while he translated the New Testament into German. You can even see the room where he lived and worked as well as an impressive Festsaal, a concert hall as well as the room from St. Elizabeth adorned with colorful mosaics. (More on Wartburg Castle here)
50. Bayreuth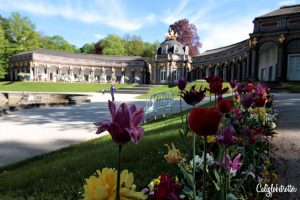 Had it not been for Wilhemine, Bayreuth might not even be on the list of places to visit. She transformed the city into a graceful Baroque Residenzstadt stretching from the Neues Schloss (New Castle) to the Bayreuth's Festspielhaus which has been recently renovated and reopened. Just a 5 minute drive away is the Old Hermitage Palace (Eremitage), the summer residence of Wilhemine surrounded by an expansive park. (More on Bayreuth here)
51. The Island of Rügen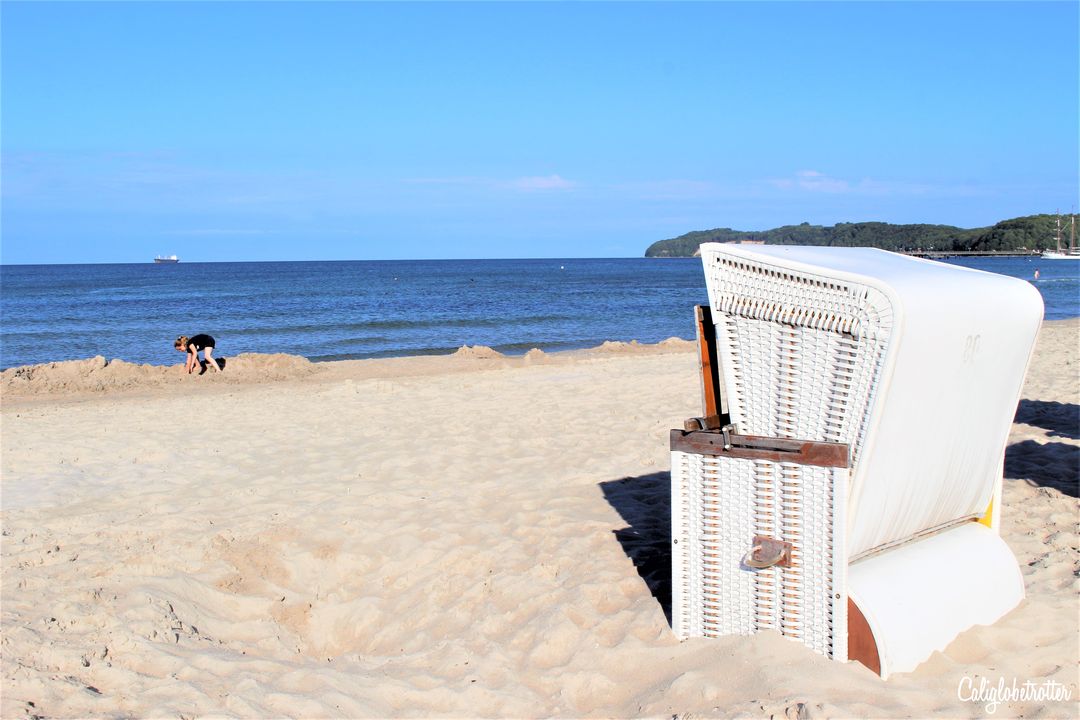 Now if you were ever wondering if there were beaches in Germany, look no further than the island of Rügen in northern Germany's Mecklenburg-Western Pomerania along the Baltic Sea. What's even more surprising is that here you'll find soft, white sandy beaches, which are without a doubt some of the best beaches in Germany! Best of all, you'll find traditional "Strandkorb" (Beach Baskets) to rent to your hearts content! (More on the Island of Rügen here)
52. Walchensee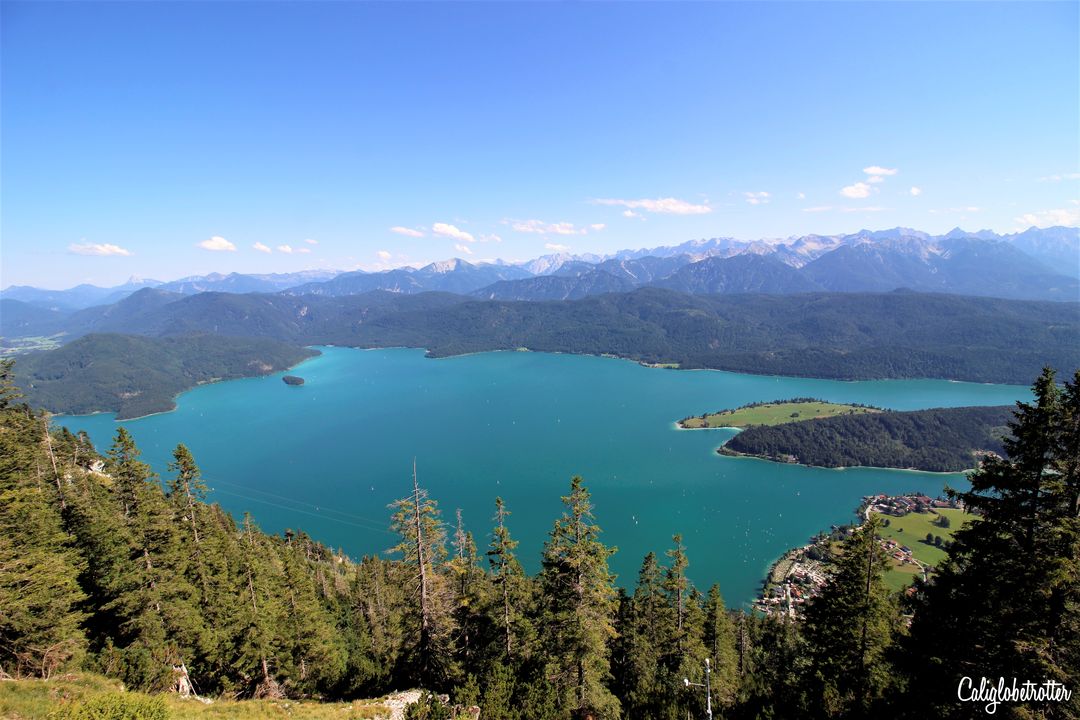 If you're looking for the most beautiful lakes in Bavaria, no other lake compares to the turquoise lake of Walchensee. While you can certainly take a dip in this glorious water, it is also gloriously cold! However, other activities to do at Walchensee include windsurfing, sunbathing or hiking nearby. Or, you can also take the Herzogsbahn Cable Car up the mountain for stunning panoramic views of Walchensee. You'll never  see anything else quite so beautiful! (More on Walchensee here)
53. Partnach Gorge (Partnachklamm)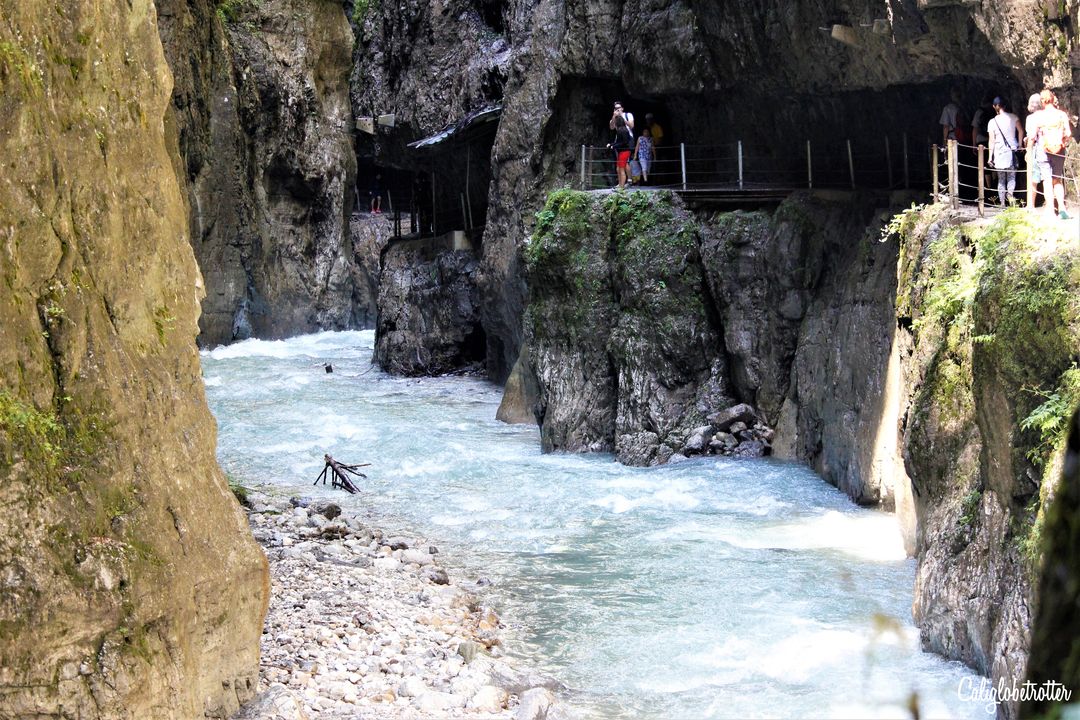 Deep within the Bavarian Alps is a GORGEous sliver of nature worth hiking. Carved out over centuries, this hiking path is just feet above the rushing Partnach River. Ever since 1912 the gorge has been a natural monument, enticing visitors to trek through caves not far from the Olympic Skiing Stadium used in the 1936 Olympics. (More on Partnach Gorge)
54. Schloss Johannisberg
Since 1720, Schloss Johannisberg in Geisenheim has been the world's first Riesling winery producing high quality German Riesling wines! Perched atop Johannisberg mountain, a visit to Schloss Johannisberg is worth the day trip from Frankfurt. If you book in advance, you can have a tour of the history wine cellar, parts of which date back to 1100 A.D before having a wine tasting!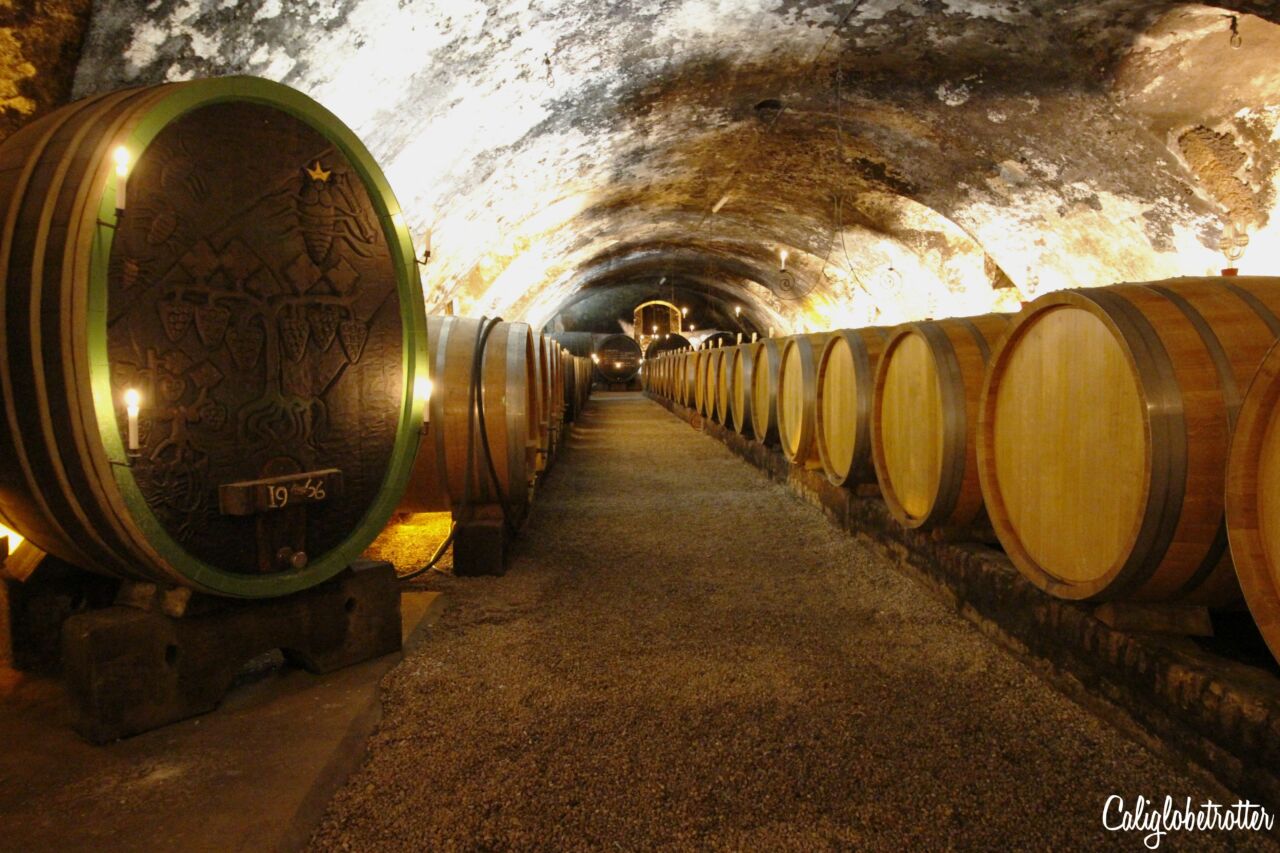 Stay tuned for more! 
If you're interested in visiting Germany and are looking for more information, I highly recommend using the DK Eyewitness Travel Guide! Without these guides, I would be lost! This is my travel Bible!
Disclaimer: This post contains affiliate links. If you click on one and make a purchase, I might make a little extra spending money, at no extra cost to you. As always, all opinions are my own and these products/services have been found useful during our travels and come highly recommended to you from yours truly!
Best Things to do in Germany:
40 of the BEST Day Trips from Frankfurt
A Quick History of Traditional Bavarian Beer Gardens
The Romantic Castles of King Ludwig II of Bavaria
What is the Difference Between a Burg or a Schloss?
Heidelberg's Romantic Christmas Market
Liked this post? PIN IT FOR LATER!