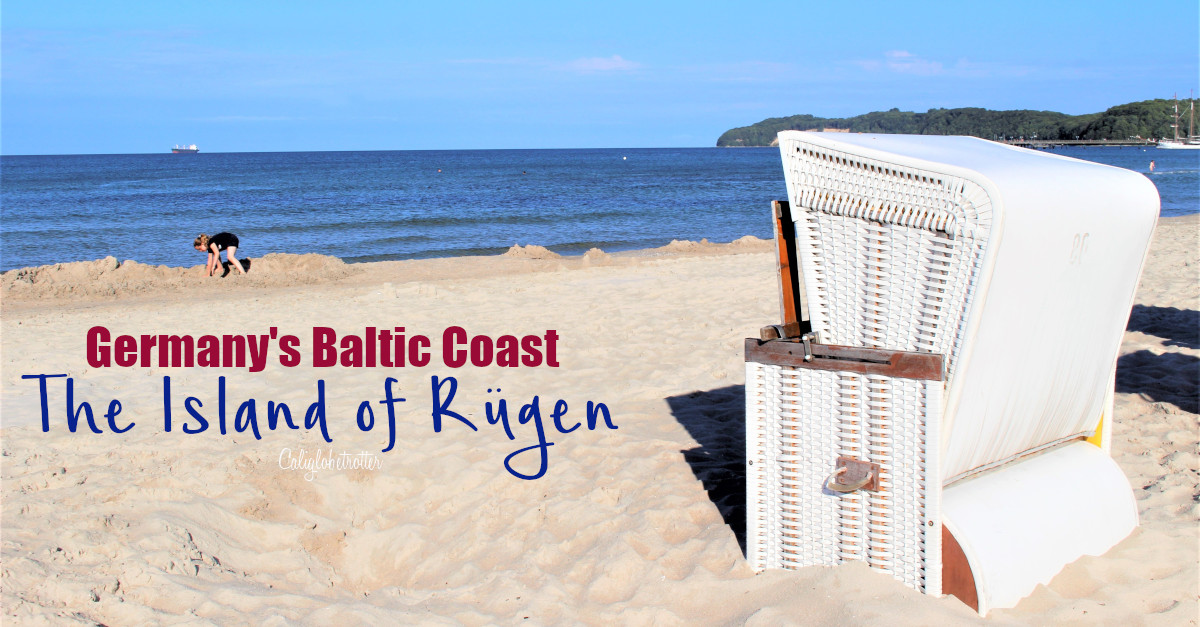 Disclaimer: This post contains affiliate links. If you click on one and make a purchase, I might make a little extra spending money, at no extra cost to you. As always, all opinions are my own and these products/services have been found useful during our travels and come highly recommended to you from yours truly!
Did you know that Germany has a few islands? You'd have to zoom in on your Google Maps to see them, but they're there. And one of the most popular islands to visit on the Baltic Sea is the relatively large island of Rügen. You've probably never heard of it, so allow me to tickle your travel buds and entice you to swap out your holiday in the Alps for a beach holiday on Rügen.
Want to go on a Beach Holiday in Germany? PIN IT FOR LATER!!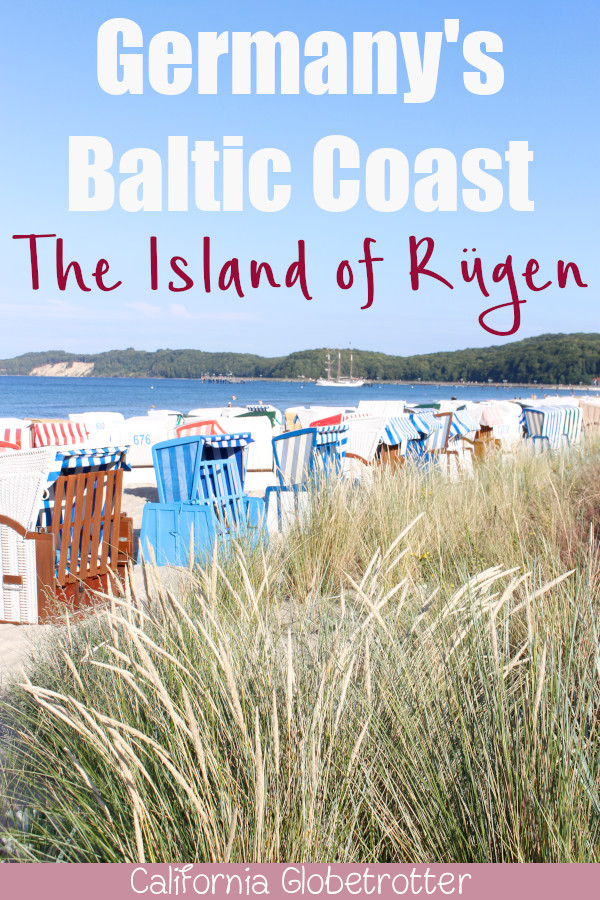 The ULTIMATE List of Day Trips from Munich
The BEST Day Trips from Frankfurt
Superlatives of Germany (The Biggest, The Oldest, The Tallest…)
This article is now available as a mobile app. Go to GPSMyCity to download the app for GPS-assisted travel directions to the attractions featured in this article!
Located at the back of my Germany travel guide, I find a chapter on Mecklenburg – Western Pomerania and it crosses my mind that perhaps this is because it's one of the states that receives the lowest amount of foreign visitors in Germany, thus it's relatively unheard of outside of Germany making it one of Germany's best kept secrets. And that's a gosh darn shame because there is so much to see and do in Mecklenburg – Western Pomerania despite the fact that it's one of the least populated states in Germany!
You also likely wouldn't picture Germany as having white sandy beaches, considering that Germany is almost completely landlocked, with only just 1,484 miles of coastline divided between the North Sea and the Baltic Sea, which is typically more cold than other popular beaches in Europe. However, don't give up hope yet! In the summer, the weather can be ideal for a day on the beach, and Rügen certainly has some of the best beaches in Germany! Like the time we discovered the white sandy beaches of Blankenberge Beach in Belgium, we were pleasantly surprised such hidden beaches in Europe are not more popular, considering when people think of beaches in Europe, they tend to think of Mediterranean beaches.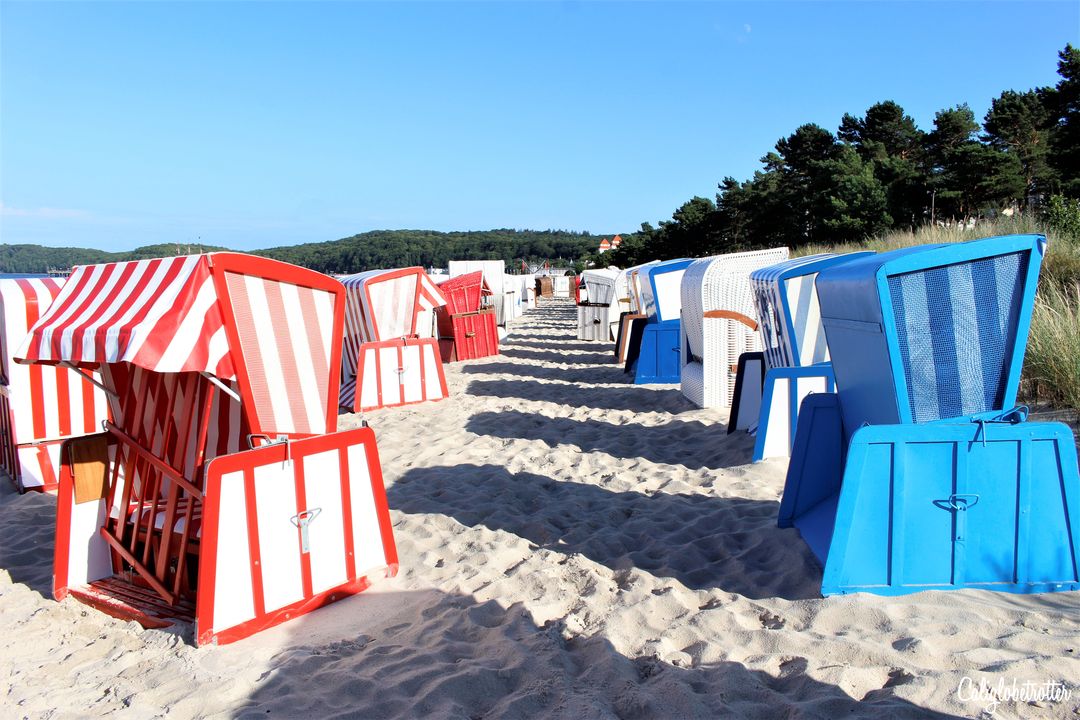 History of Rügen
The island of Rügen was once the preferred playgrounds of the German elite during the late 1800s. Then good ole Caspar David Friedrich whose paintings of Rügen's landscapes brought the beauty of the island to everyone's attention and the likes of Germany's Kaisers, Hitler, and millions of German families have flocked to the coastline to dip in the waters.
After receiving a bit of a financial boost that revitalized the island after falling into neglect under the GDR, Rügen is now Germany's most popular island to spend the summer, always in competition with Sylt for the title of most popular beach destination in Germany. Today, the island is celebrated for its former imperial pomp, white chalk cliffs and its iconic Belle époch architecture.
With a quick glance at more of the history of Rügen, you'll likely notice that the island has been under the ownership of the Danish, Slavic, Swedish, Prussian, and French before finally returning to Germany in the 1800s. Shortly after this transfer, the islands first bathing resort opened in 1816, enticing Germans to vacation on the coast.
However, the popularity of Rügen didn't fully gain traction until Hitler came along and implemented the "Strength through Joy" motto and began building a massive resort complex on the island's coastline to house up to 20,000 people at a time. Hitler encouraged the idea of vacations for the working/middle class folk and spending quality time with one's family, which to this day is still a big deal! However, the construction of Prora was halted due to the onset of WWII and was later abandoned. However, Hitler also had a bridge to the island built, thus making the island much more accessible and replacing ferries.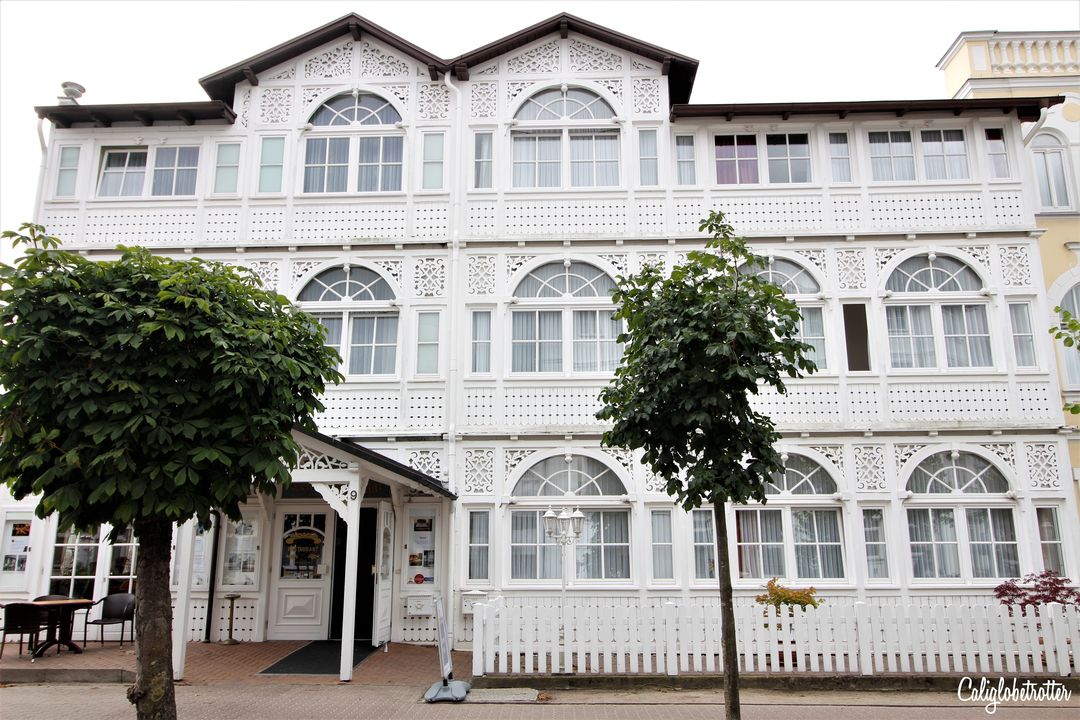 Things to Do on the Island of Rügen 
Visit the Cute Villages of Gager & Gross Zicker on the Mönchgut Peninsula
If you know me by know, you know I always seek out Europe's most picturesque villages! Barely a blip in my travel guide but definitely worthy of more attention is a quick peak at the pretty villages of Gross Zicker and Gager nestled between the island's lovely countryside and shoreline. While not exactly a lot to do here, the towns are sprinkled with many picturesque thatched-roof houses known as "Reethaus", many of which are actually vacation rentals I wish I had known about beforehand but sadly didn't show up in my hotel/apartment search for our holiday.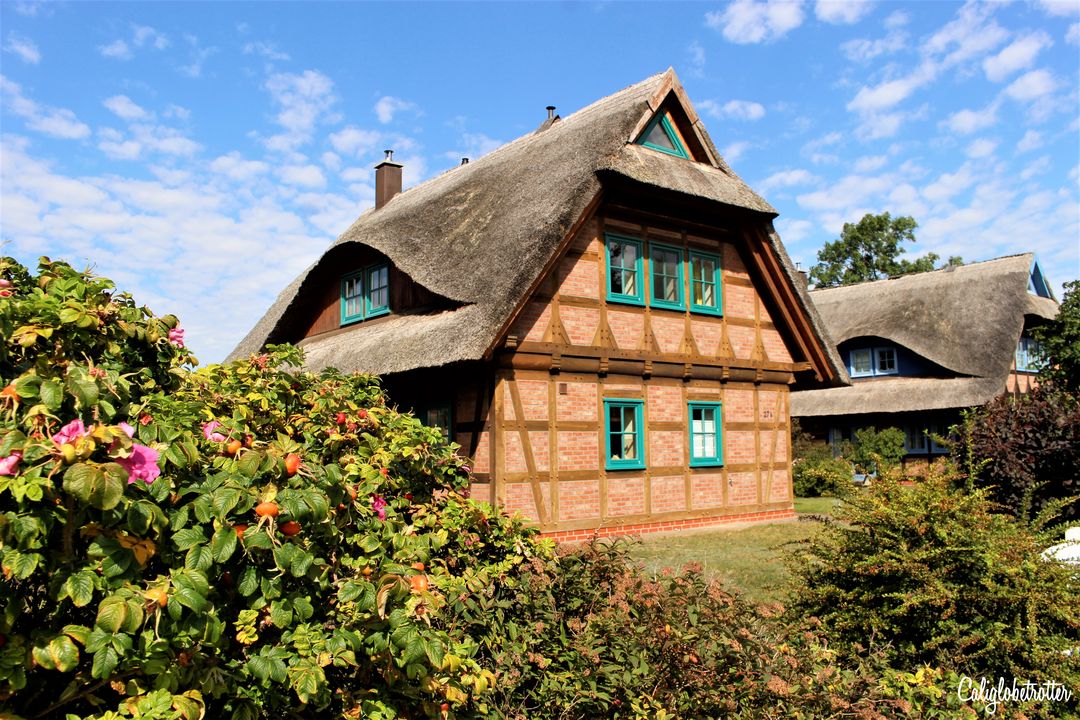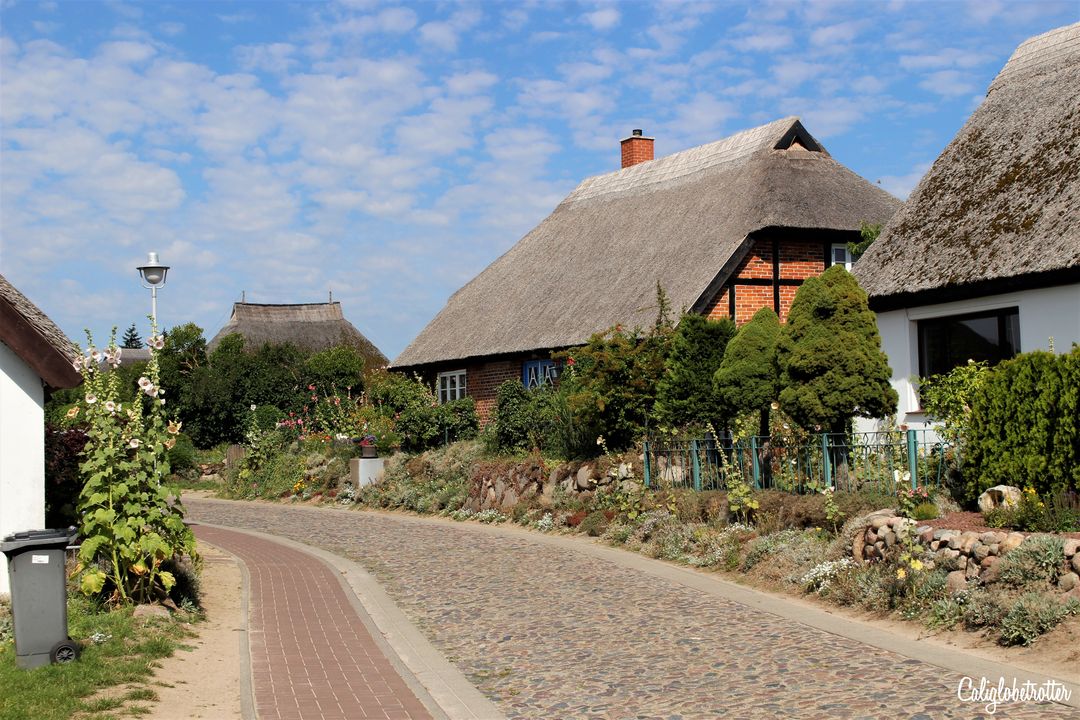 The Parish Widow's House (Pfarrwitwenhaus) in Gross Zicker is one of the main attractions you'll find here, as you meander down the main cobblestone street. It's one of the oldest houses on Rügen dating back to 1719-1720, so it literally just celebrated it'd 300th birthday! For a few euros, you can pop inside to get a glimpse of the interior, however, it was certainly pretty enough from the outside to admire. It was originally built after the Pastor Johannes Cadow died in 1718 and the Danish government had a home built for the parish widow and her four children. Ever since, other parish widows have lived there, stayed within the family and was also used as a school house and a residential house.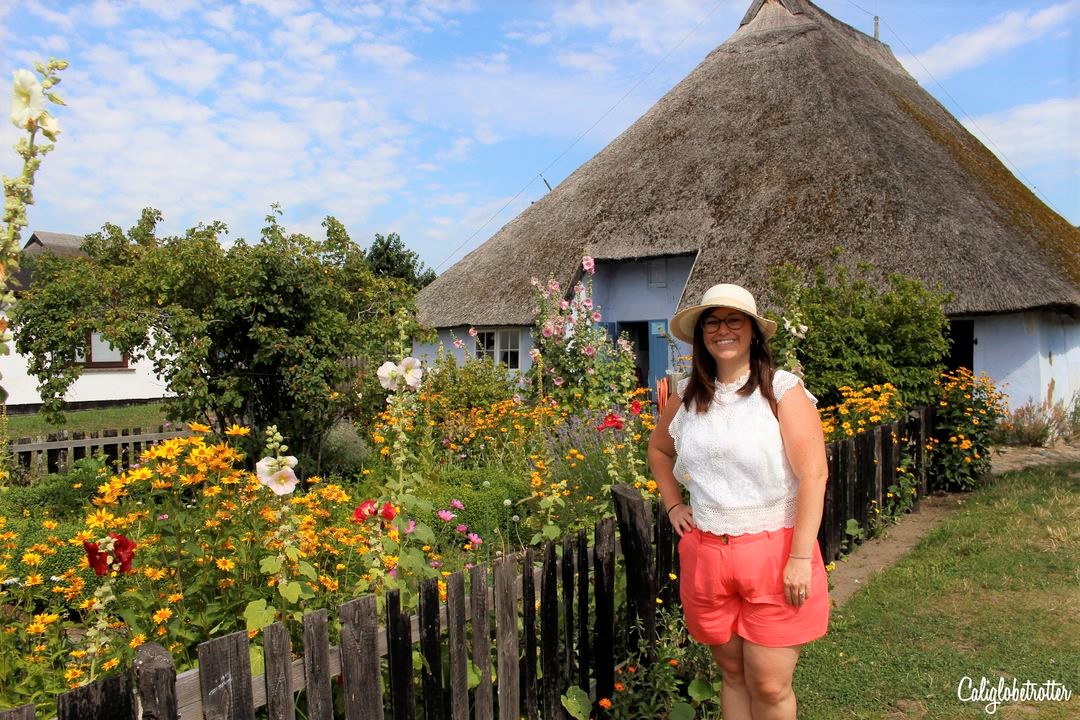 Sellin + Sellin Pier
Sadly, you're not likely to find this iconic pier mentioned in any travel guide, yet, it's one of the man reasons why I so badly wanted to visit Rügen! Jutting out into the the Baltic Sea, the Sellin Pier's white facade against a blue backdrop of sky and water is just stunning. And with a small strip of white sandy beach littered with perfectly distanced Strandkörbe (Beach Baskets) to rent for the day, it is easily one of the best beaches on Rügen!
Interestingly, the pier, which is the longest on Rügen, has had many facelifts since its original construction in 1906 after having been destroyed by fire in 1920, then again by ice in 1924, then extended with a concert hall which was again destroyed by ice in 1941/42. Between 1950-1970, the structure was left in a very dilapidated condition and was later demolished in 1978. So, what you see before you today was actually commissioned to be rebuilt according to original designs from 1906 and 1925, in 1991 and wasn't completed until 1997 and opened in April of 1998!
Sellin itself is a lovely little lively town which has been one of the most important spa towns on the Baltic Sea since the 1800s! Like, Binz, you'll find much of that Belle époch architecture, with glistening white facades and stunning wrap around porches.
There is also a small bergbahn (Cable Car elevator) to use to get down to the pier and boardwalk for those in wheelchairs and with strollers. Otherwise, you'll have to walk up/down 87 steps, known as the "Stairway to heaven".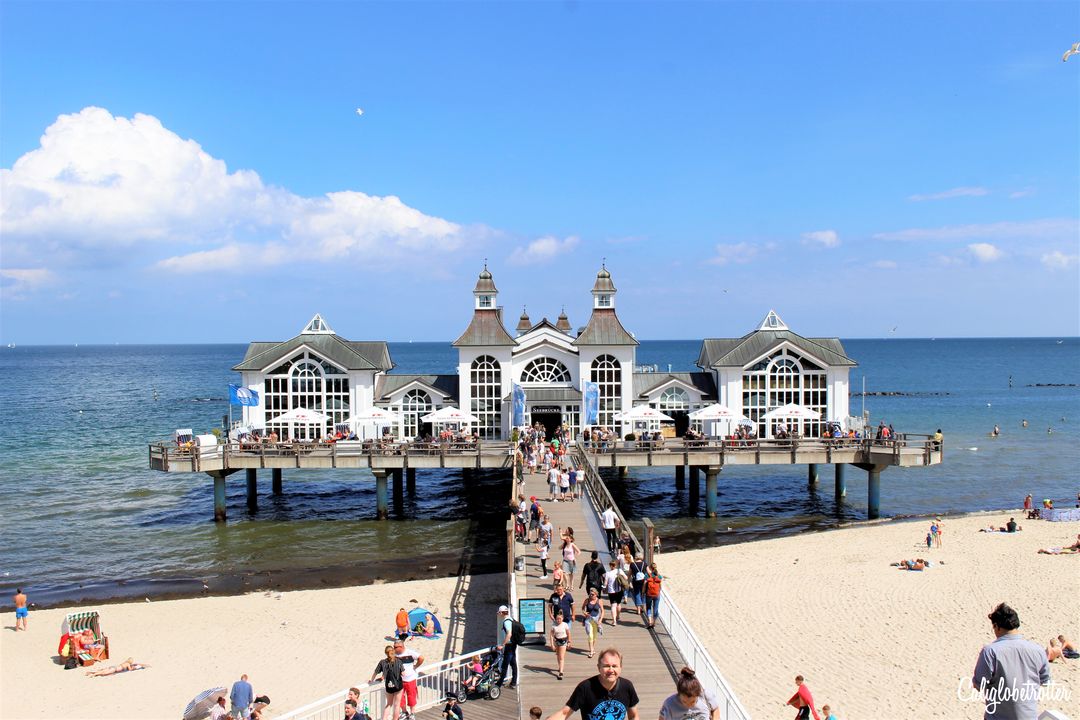 Rent a "Strandkorb" on the Beach
The second most vital reason for wanting to visit the island of Rügen is for Germany's iconic "Beach Baskets" which can be rented out to lounge away the summer days. You'll find these Stranskorbs scattered on many beaches on the island, so have no fear if you're unable to get one on the Sellin Beach.
The Stranskorb was invented in 1882 by a man who wanted a chair to protect him from sun and rain while on the beach. It is a special hooded wicker or wood windbreak chair commonly found along many beach resort coastlines in northern Germany capable of seating two people. The chair is reclinable and also comes with two pull out foot stools and a small collapsible table for drinks.
The view of the strandkorbs with the Sellin Pier is so iconic (at least to me) that it has been my desktop backdrop for as long as I can remember, to help encourage me to book a beach holiday. Why it took me 8 years to get there, I have no idea. My former California beach babe self is appalled.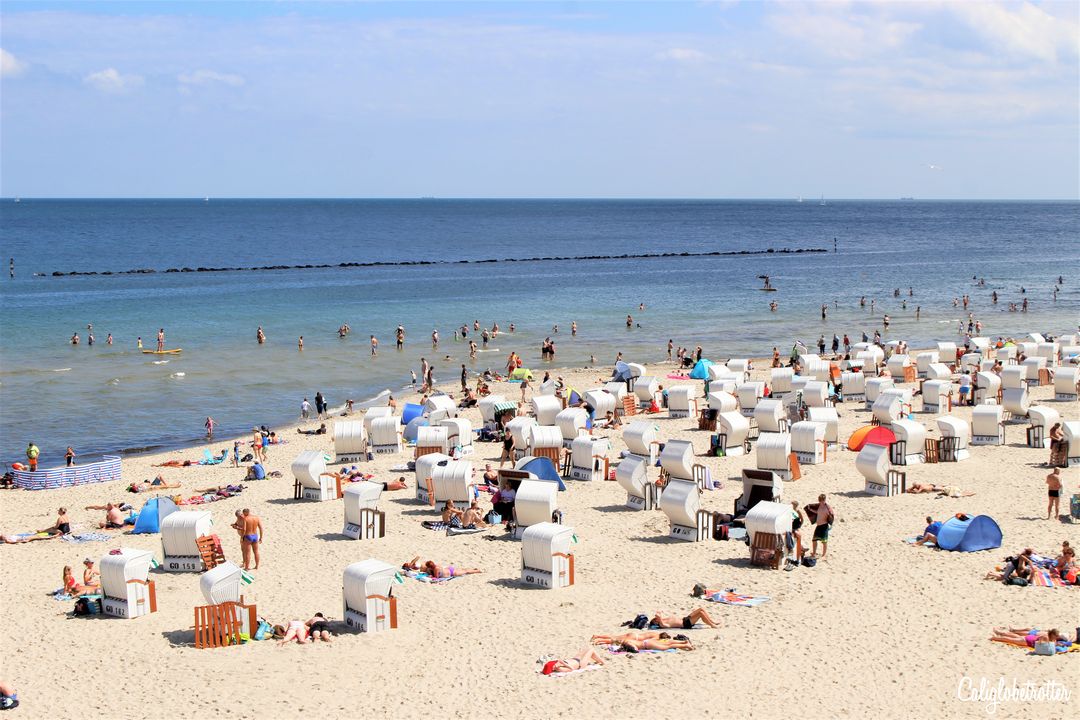 To rent a Strandkorb in Sellin:
1 hour 3€
1 Day 9€
Rent for 7 days, pay for 6
Rent for 14 days, pay for 12
Eat a Fischbrötchen
You'd think that being on the coastline you'd find a plethora of fish foods to eat. And there were some, but one of the most popular things to eat on Rügen is a Fischbrötchen, a fish sandwich. It's so beloved that they're everywhere. And sure, you can find the occasional fish'n'chips stand, but this was way more common.
Typical fish sandwiches include a (Fried) Herring Sandwich, Mackerel Sandwich, Salmon filet Sandwich or Halibut Sandwich. Not being a fan of fish myself, I'll have to take my husband's word for it when he says it was delicious.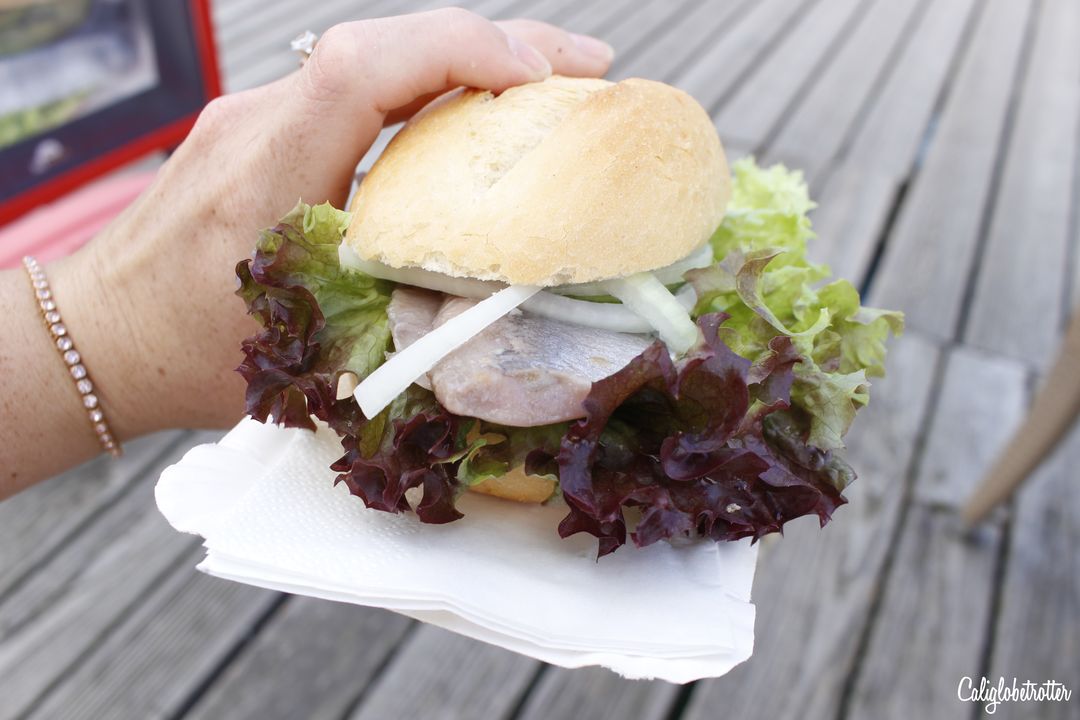 Binz
Undoubtedly Rügen's most celebrated former bathing resort and the ultimate holiday capital of the island. Stretching 5km, fine white sand littered with Beach Basket Chairs (Stranskörbe) stretching the entire length, Binz is the more affluent hang out. This holiday resort town is peppered with cute boutiques, cafes, shady promenades littered with beach front restaurants encouraging you to take a leisurely peruse around.
Main sights of interest in Binz include the Kurhaus Binz, a five-star hotel directly on the beach front, the main street (Hauptstrasse), the classic coastal resort architecture known as "Bädearchitekture", a stroll down the Seebad Binz pier where you'll find the Loth Lorien historic ship docked which still sets sail!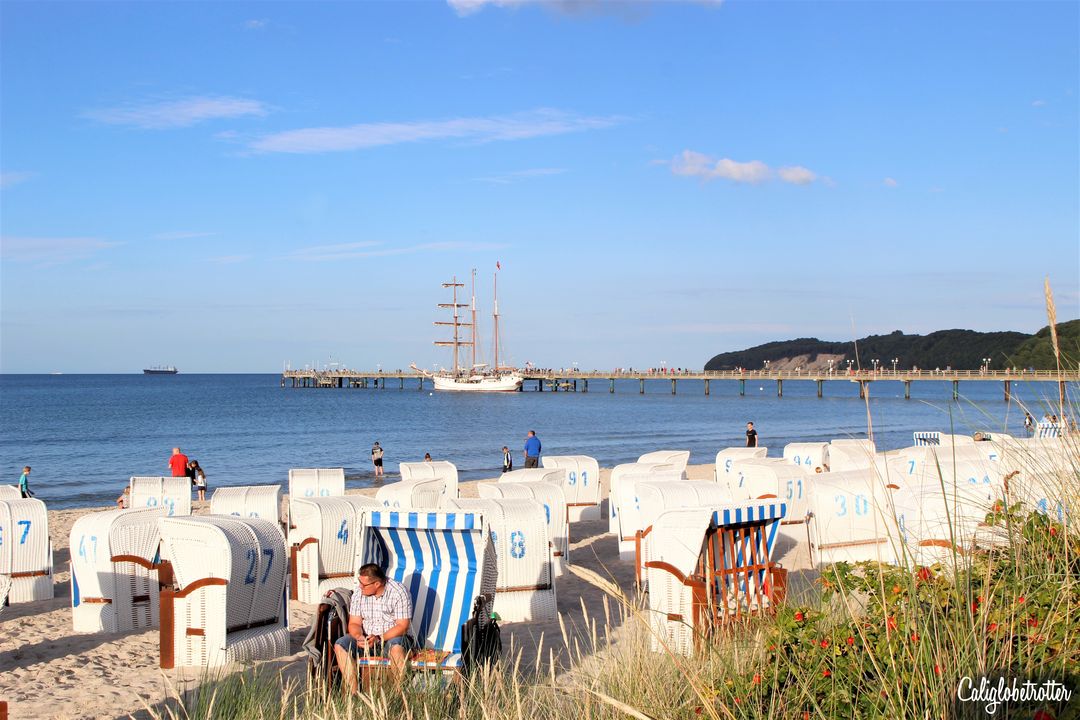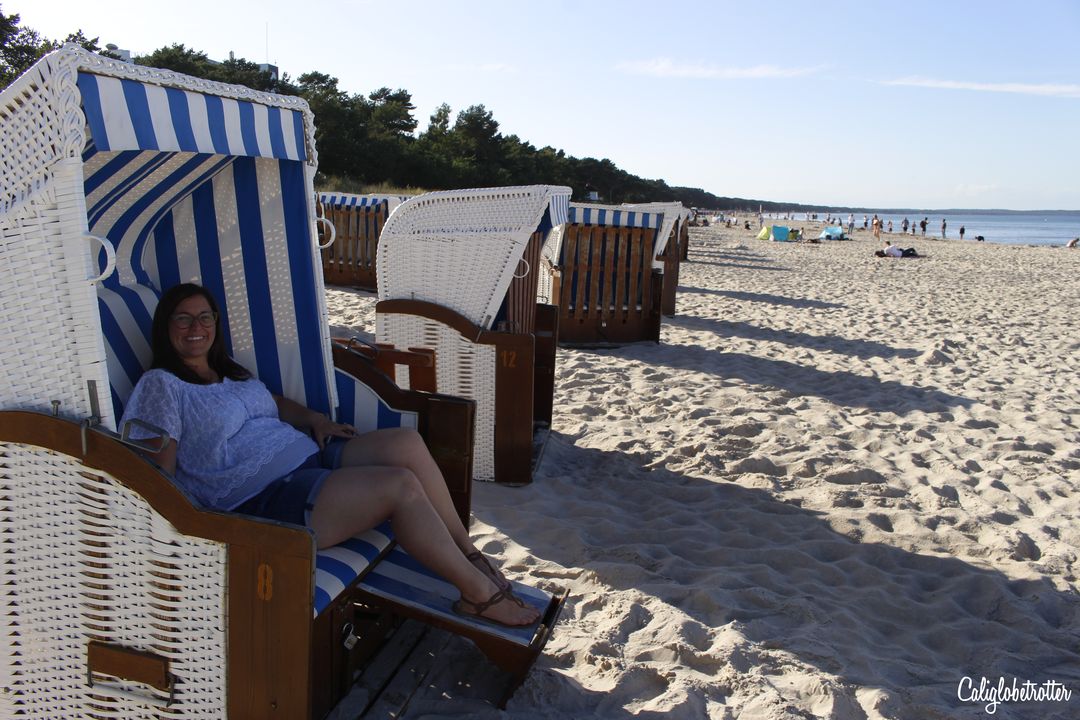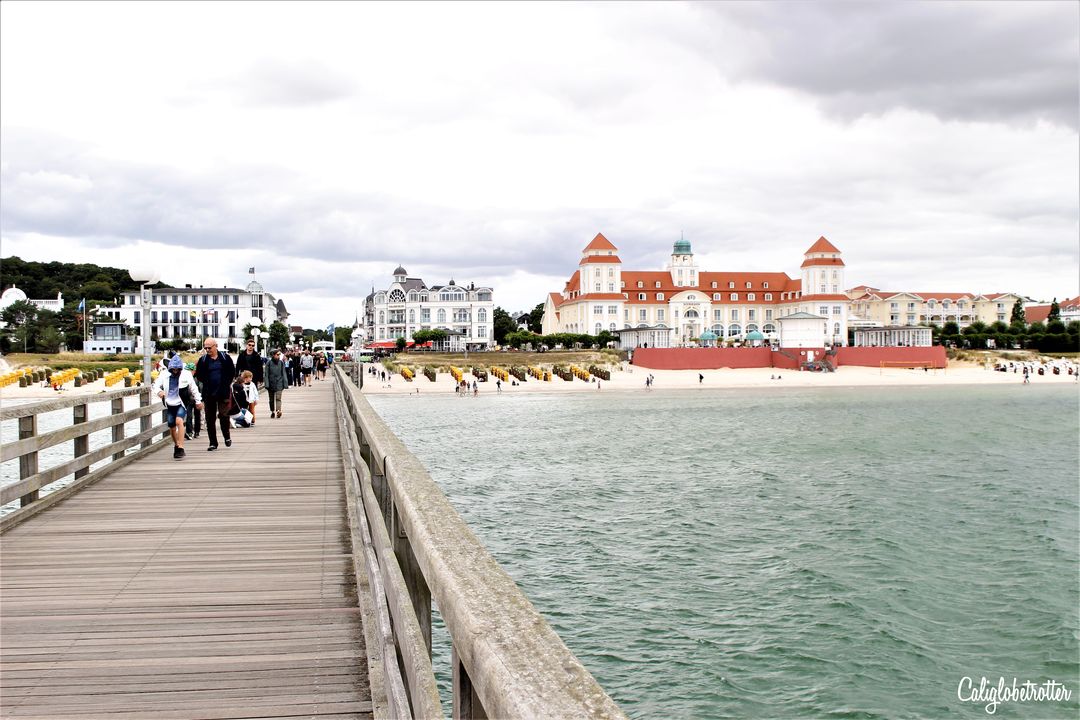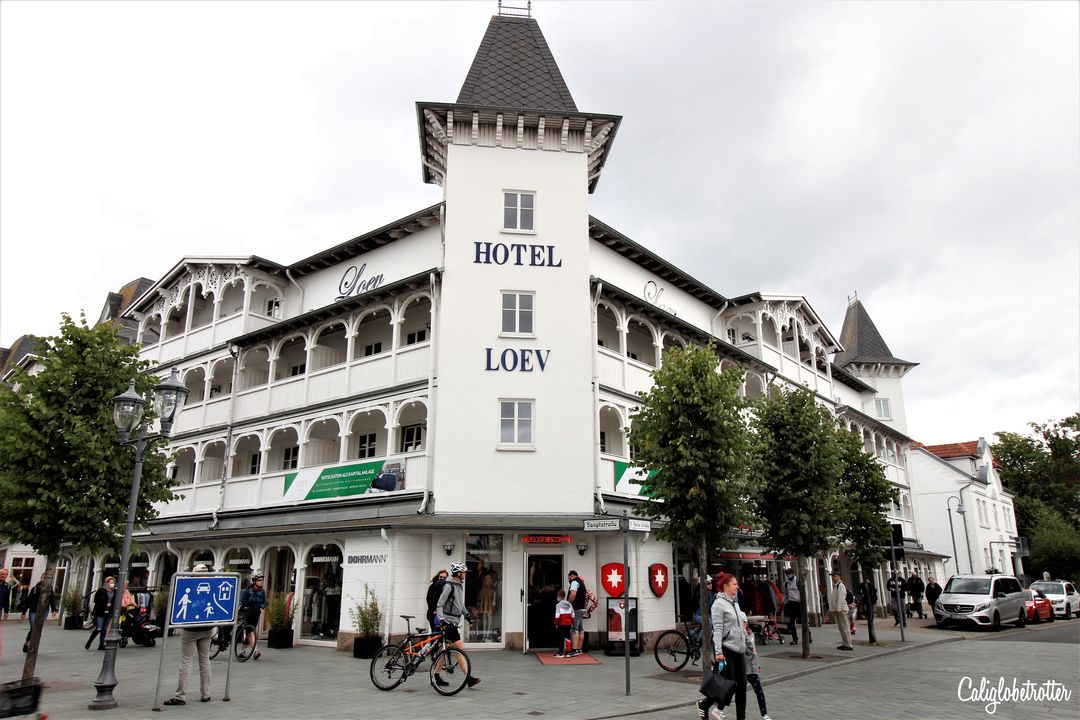 Where to Eat in Binz
You're likely wondering about the best restaurants to eat in Binz and I can HIGHLY recommend 2 delicious restaurants.
First, for something quick and easy, head on over to Happy-Happen. While I originally was going to go with Fish'n'Chips, I saw a photo for a Shrimp Sandwich (Garnele Semmel) and knew I had to try that. And so glad I did because well, it was DAMN GOOD. My husband still got the Fish'n'Chips which was also delicious. Just get both.
Secondly, for a proper sit down meal, then I suggest heading over to Dolden Mädel Braugasthaus, a hip craft beer restaurant and bar which offers up many beers on tap, a craft beer sample platter and damn good food!
We tried to get a table at Boothaus in Binz but they were fully booked out. It's obviously a good sign when the restaurant is booked out with reservations compared to other restaurants which were a little less busy.
Jagdschloss Granitz

Just around the bend from the Binz seaside, you can find a dusty pink neo-Gothic castle. Built in the 1830s, decades before Binz would become the popular beach resort town on Rügen it is today, Prince Wilhelm Malte I rebuilt his hunting lodge into this the hunting castle we see before us today.
Visiting the Jagdschloss Granitz was a quick decision to add to our list of sights to see on Rügen with the ever changing weather. Now you can either walk there directly from Binz, or just a bit away from the property is a parking lot where you can catch the touristy Jagdschloss-Express train which will drop you off feet from the castle.
However, due to the current situation, visitors are limited to touring the inside of the castle, which meant standing in a line waiting to get in a little while longer. Since it was raining, we opted just to take a quick glace around the castle before moving on.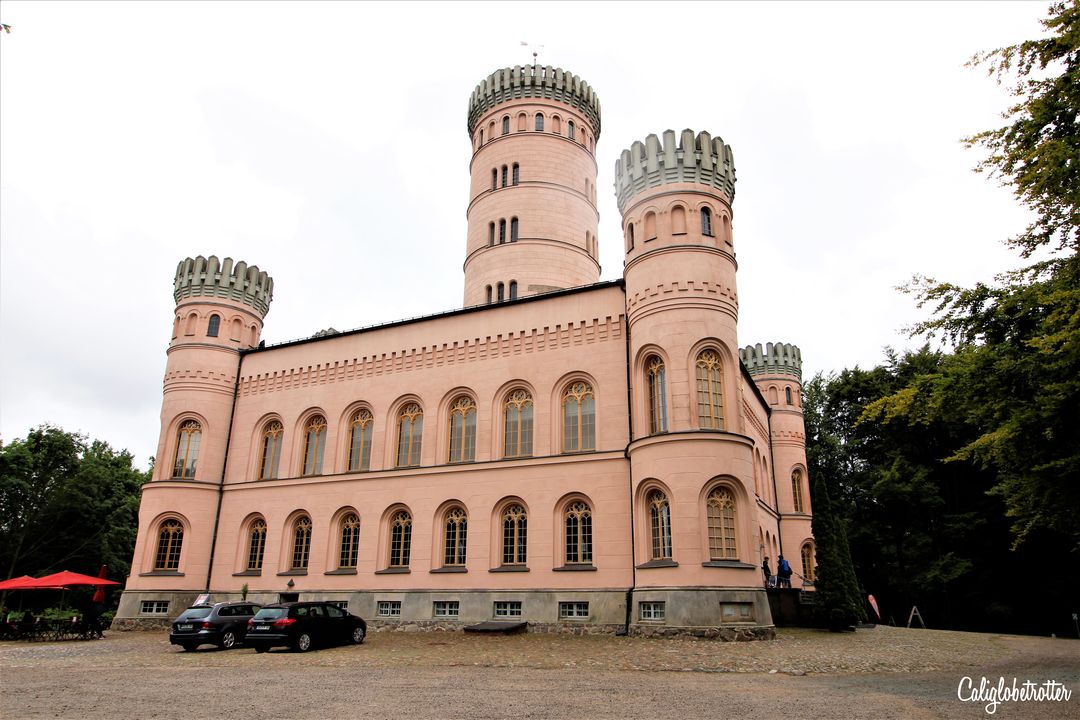 Jagdschloss-Express
Adults: 5€
Children 5-11 years old: 2,50€
Children 4 & under: FREE
Buy your tickets with the driver from the Parkplatz Süllitz.
Rügen Treetop Walk at the Naturbe Zentrum Rügen 
Also known as "Baumwipfelpfade Rügen", visiting this Forest Canopy Walk in Rügen turned out the be a very spontaneous addition to our sightseeing itinerary for Rügen due to the persistently ever changing weather. Being our first tree top walk we've ever checked out, we weren't entirely sure what to expect, but it turned out to be a lovely experience.
Always on the lookout for wheelchair-friendly activities to do for our own family, the Rügen Tree Top walk was completely accessible for both wheelchair users and families with strollers.
Walking though the forest from a higher altitude certainly gave you a different perspective of the forest and the trees seemed to be louder than usual as we were walking though the leaves and branches on a rather windy day. Along the walk, the forest canopy walk was also child-friendly and very interactive with points of interest to stop and learn either about the animals of the forest, the insets, or types of trees. There were also some physical challenges one could opt to try out along the way.
The forest canopy walk meanders through pristine beech forest for a total of 1,250 meters. The main portion of the egg shaped observation tower fully encircles a tall beech tree and once at the top, you'll have breathtaking views of the surrounding flora and fauna mixed with beech forest and alder marsh, along with views of the Baltic coastline and a glimpse of the Prora complex. Overall, the forest canopy walk is open year round offering views 365 days a year!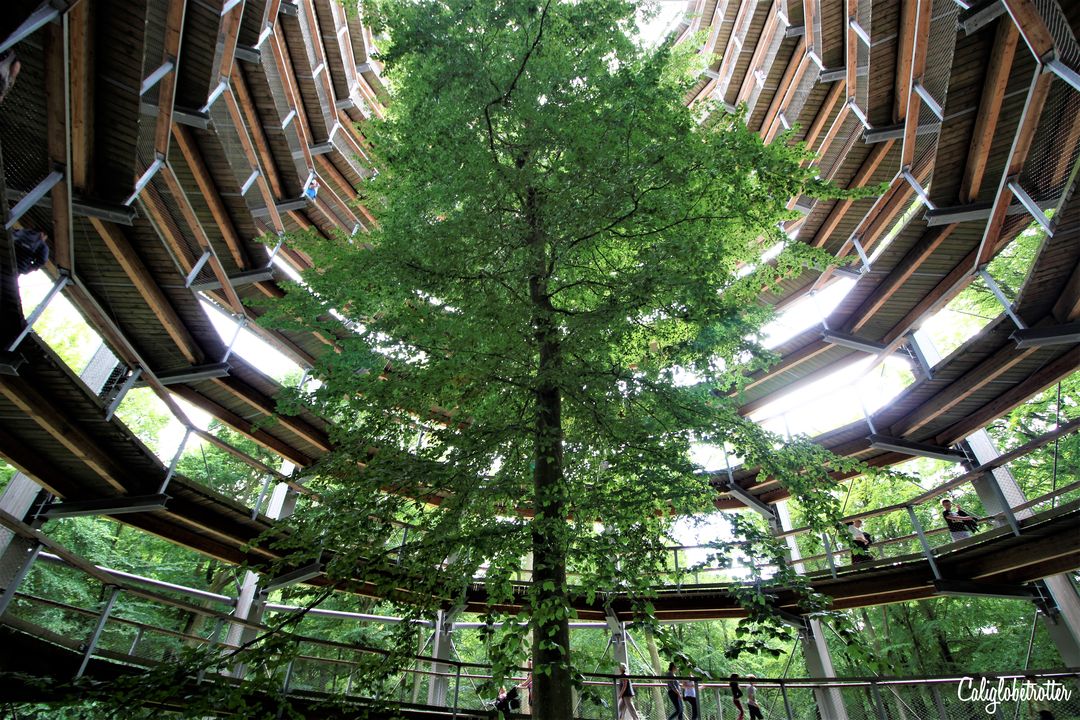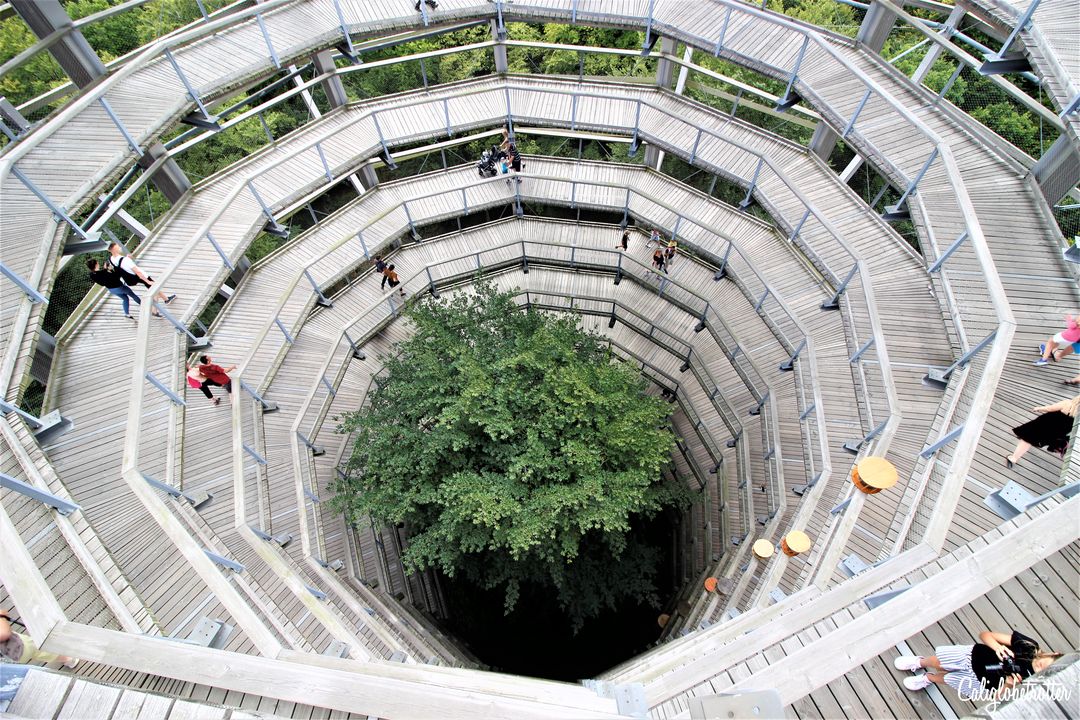 Admission:
Adults: 12 €
Students, Persons with disabilities, Seniors: 10€
Children 6-14: 9€
Children under 6: FREE
Family Ticket (2 adults + children): 25€
Learn about Germany's Nazi Past at Prora
As previously mentioned, the construction of Prora during the Nazi era originally began with the intention of housing 20,000 Germans to embrace taking some much needed R&R on the Baltic Coast. Known as Colossus (Kolos), the massive project was halted due to the out break of WWII, so sadly the dream of housing many German families for a beach holiday wasn't realized until recently.
Left abandoned for the last 70 years, only recently individual construction companies have undertaken the task of renovating these buildings instead of knocking them down as they are now considered a historical monument. Today, you can find Europe's largest Youth Hostel here while many others are being converted into flats at a costly price.
But, after you've admired the renovation, pop over to the Documentations Center Prora to learn more about the complex.
Related: Learn about Nuremberg's Nazi Past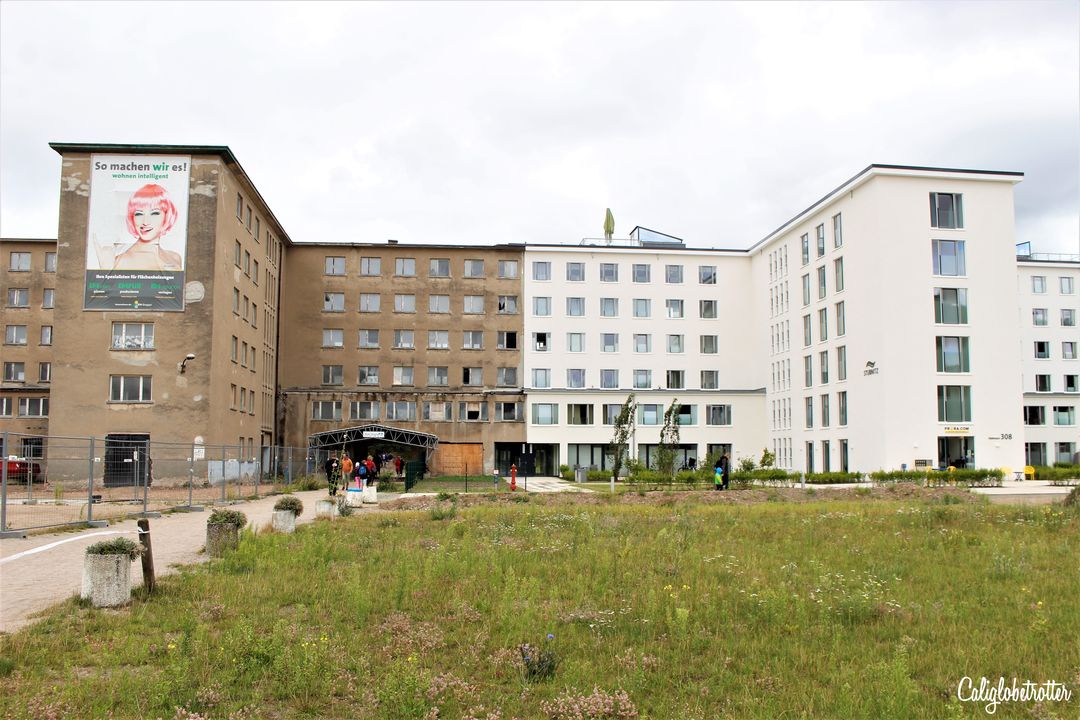 Lay Out on the Prora Beach
We had hoped we would find more Stranskorbs here, but sadly, the Prora beach is empty of sun loungers but full of people hoping to soak up a few rays of sunshine. The Baltic water is a bit nippy, but once fully in, it's incredibly relaxing, obviously depending on when you visit. Sadly, we had all of 30 minutes to lay out here before the next storm rolled in.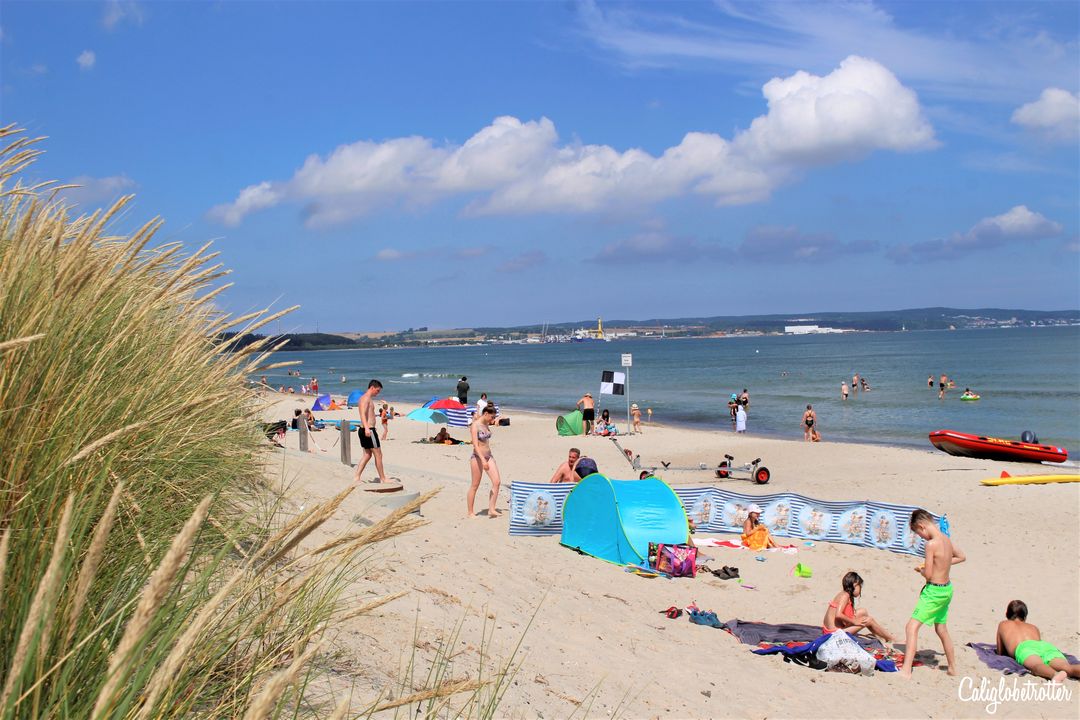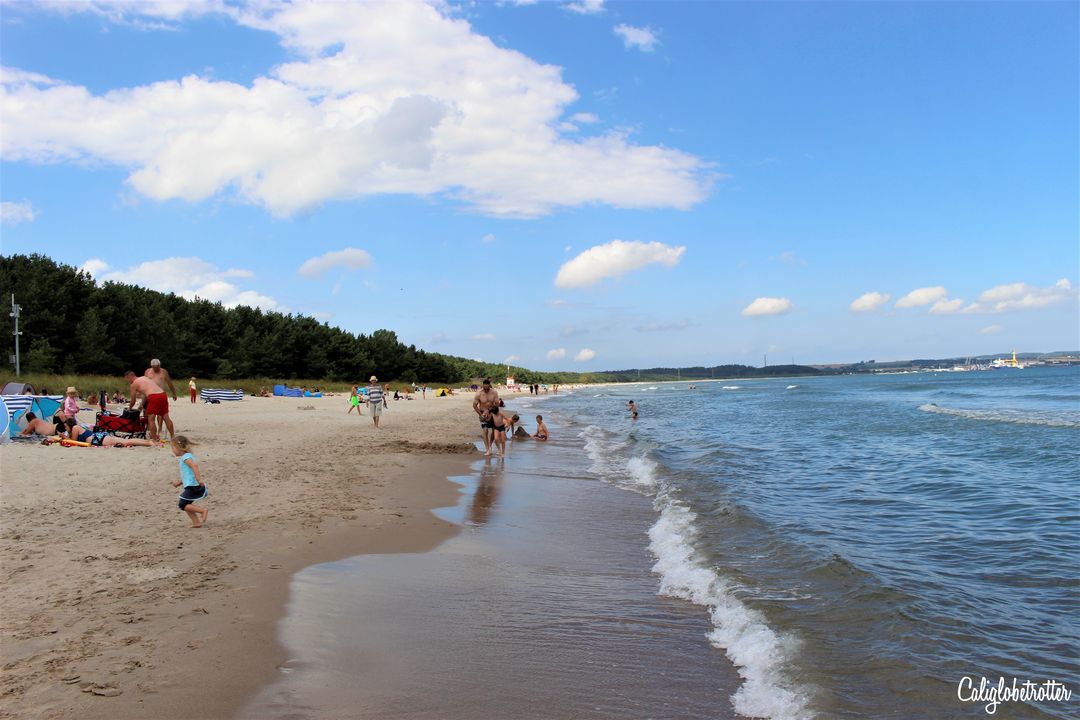 Jasmund Nationl Park
What really helped Rügen bring in the tourists was all in part thanks to the Romantic painter Caspar David Friedrich who popularized the island through his paintings, especially the wooded white chalk cliffs known as Stubbenkammer, similar to England's chalk cliffs. Listed as a UNESCO World Heritage site, Jasmund National Park is a must for anyone headed to the island and a great way to add some extra outdoor activities to do in Rügen.
The two most celebrated sections of the Stubbenkammer are Königsstuhl (King's Stool) and Victoria-Sicht, both of which are easy to reach by strolling through the forest. The hike is accessible for people of all physical abilities and very easy to walk.
From the main parking lot in Hagen, it was a good 50 minute walk to reach the entrance of the Königsstuhl National Park Center, where you can then purchase your tickets into the park. Because of the current situation, masks were required to go onto the Königsstuhl viewing platform. The views were endless but we had to be quick as the rain was starting to pick up. Down at the base of the cliffs, dozens of beautiful white swans swam in the Baltic Sea.
And yes, for the record I am smiling under my mask…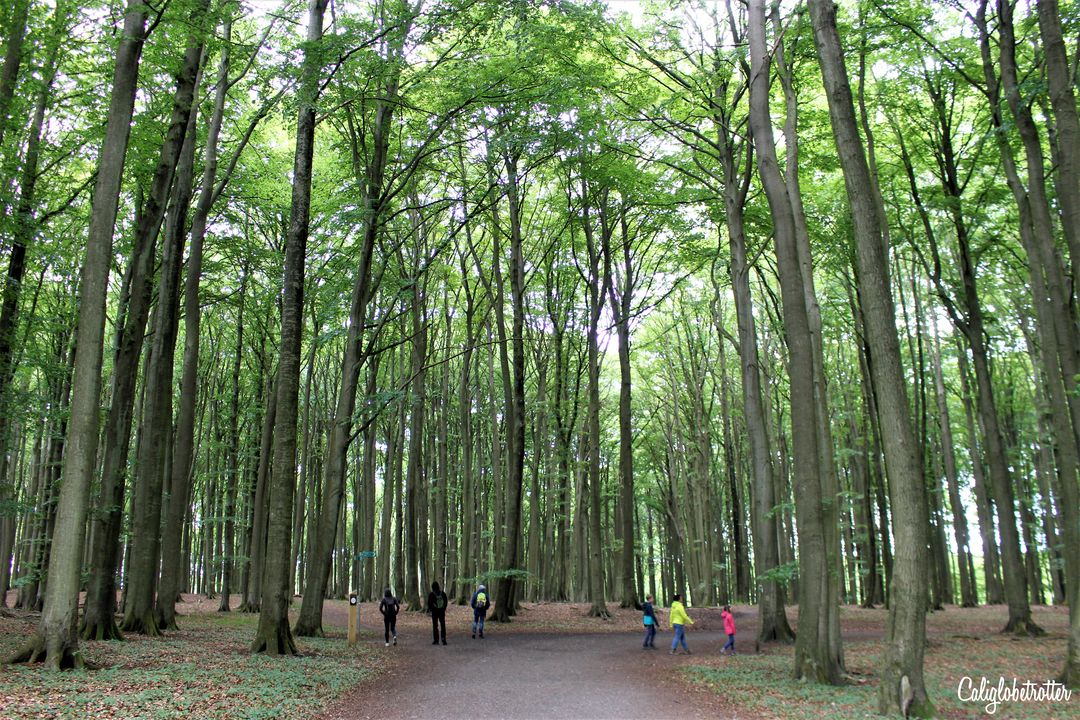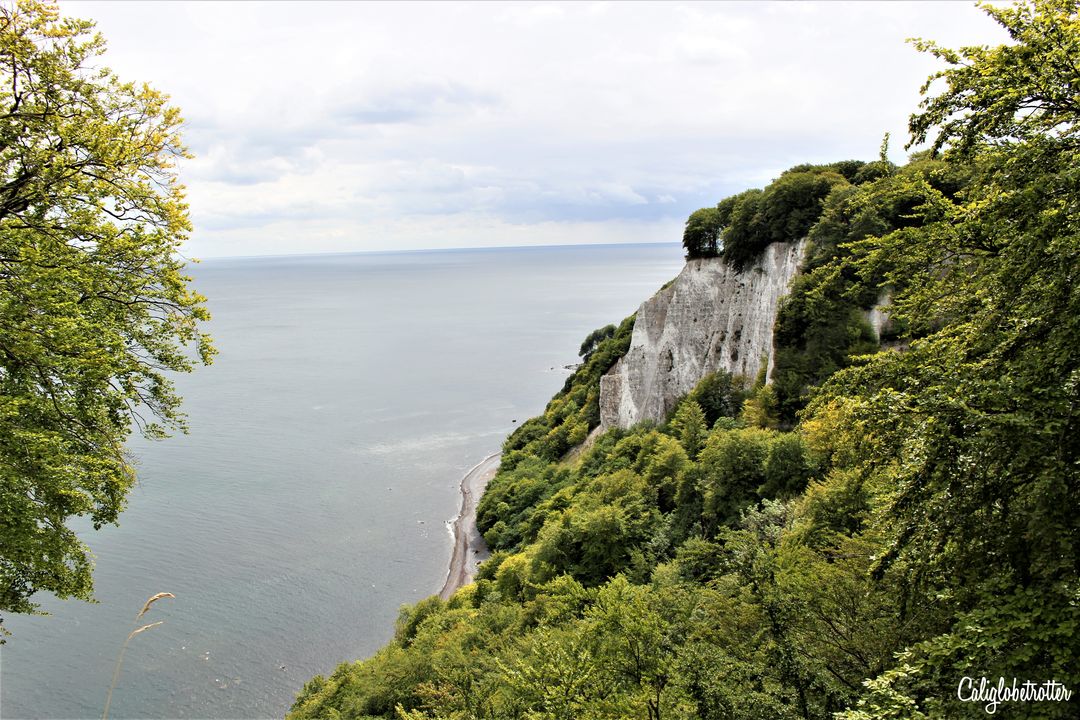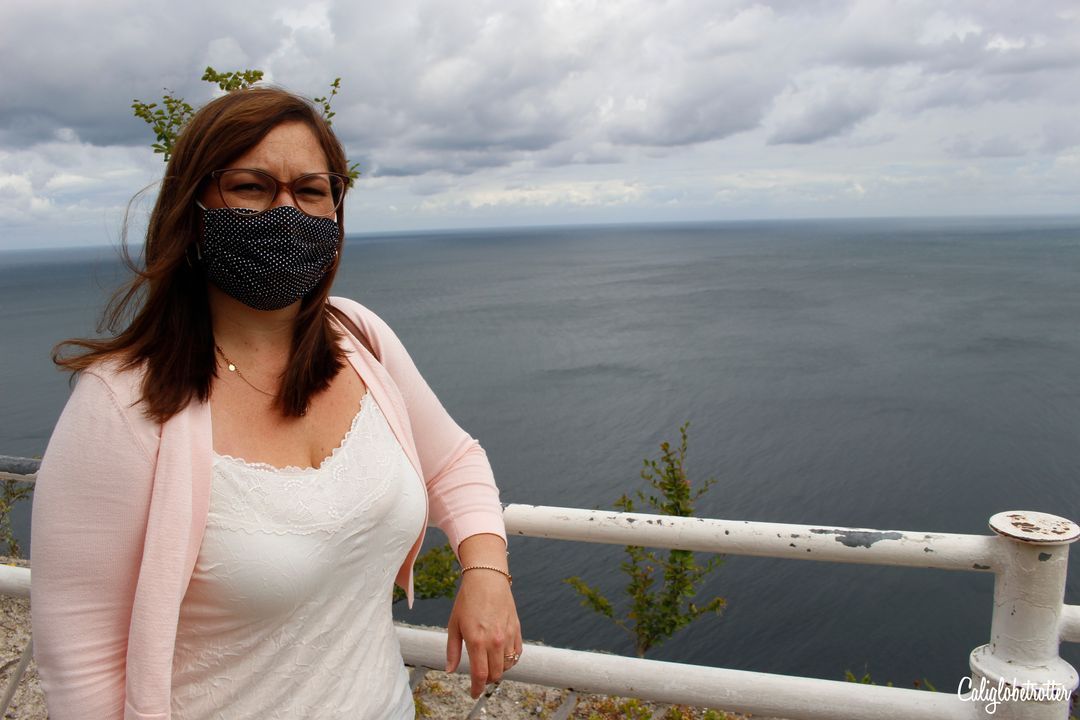 During the rainy bit, we sought shelter and sat down to enjoy our mini picnic before continuing on to Victoria-Sicht, named after Queen Victoria. The viewing platform is so named after England's most beloved Queen after Kaiser Wilhelm I made a trip here in 1865 with his daughter.
Victoria-Sicht is technically outside of the park, meaning, it's free to go to this portion of the park. Here there are two very small viewing platforms, holding no more than 1-2 people at a time. After queuing up, we snapped a few photos of the white chalk cliffs and moved on, making the trek back to the car.
Overall, it was a lovely walk through the forest, which easily felt like we could have been hiking in the Bavarian Alps and took a total of 3 hours to see the whole park and have lunch.
Admission to Königsstuhl:
Adults: 9.50€
Children 6-14: 4.50€
Children under 5: FREE
Families: 20€
Kap Arkona + Putgarten

Afterwards we continued on to Cape Arkona, the northern most tip of Rügen on the Wittow peninsula. Upon parking at the Parkplatz Kap Arkona, we opted to take our first ever ride aboard the tourist train express called the Kap Arkona Bahn through the village of Putgarten directly to the foot of the Schinkelturm (Schinkel Tower) and the Neuer Lechturm (the New Lighthouse).
Within a span of 5 minutes from getting off the train to walking to the towers, we went from sunny and hot blue skies to rainy, windy and cold, so we opted not to explore quite as much, nor did we wait in line to go up the lighthouse.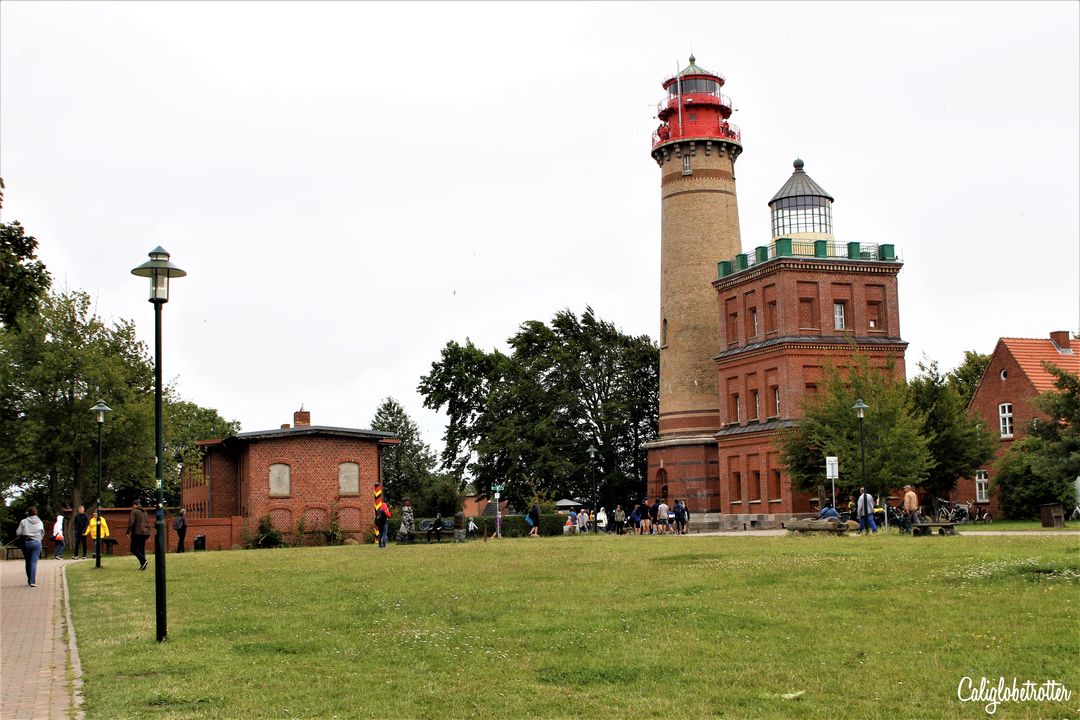 Hopping back aboard the train express, which comes every 30 minutes, we popped off at Putgarten to visit the British cafe called Woody's Little Britain, offering a traditional Cream Tea (Scones with clotted cream and jam with a cuppa). Afterwards and once the sun cam out again, and which when it does, is hot, we perused the crafts stalls where I already began buying Christmas gifts.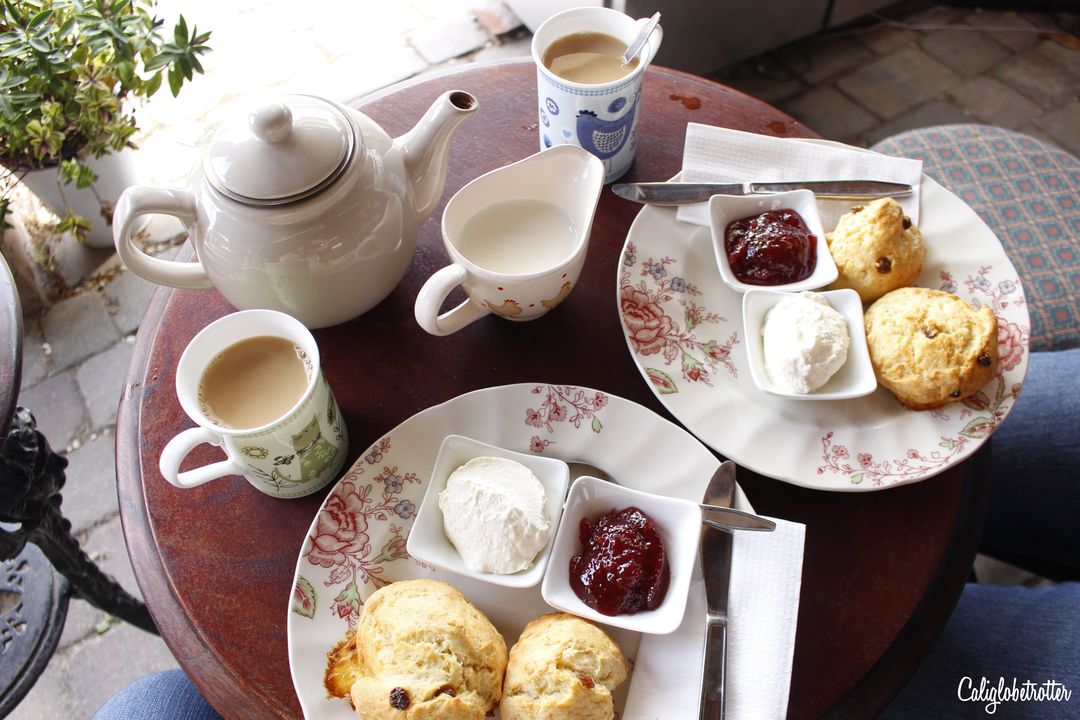 Sand Dunes near Glowe + Glowe Beach
On the drive back, like most of the island, you often can't see the coastline because it's hidden behind lush wind-swept pine forest. And just behind the pine forest are sand dunes, so wherever you perhaps see a small parking lot of cars, pull over for a few minutes and check it out, which is exactly what we did driving back from the Wittow peninsula. The area we stopped at was along a thin strip of land between the two peninsulas of Wittow and Jasmund before reaching Glowe. The strangest thing of all, the trees here talk… making creaking noises as you walk by!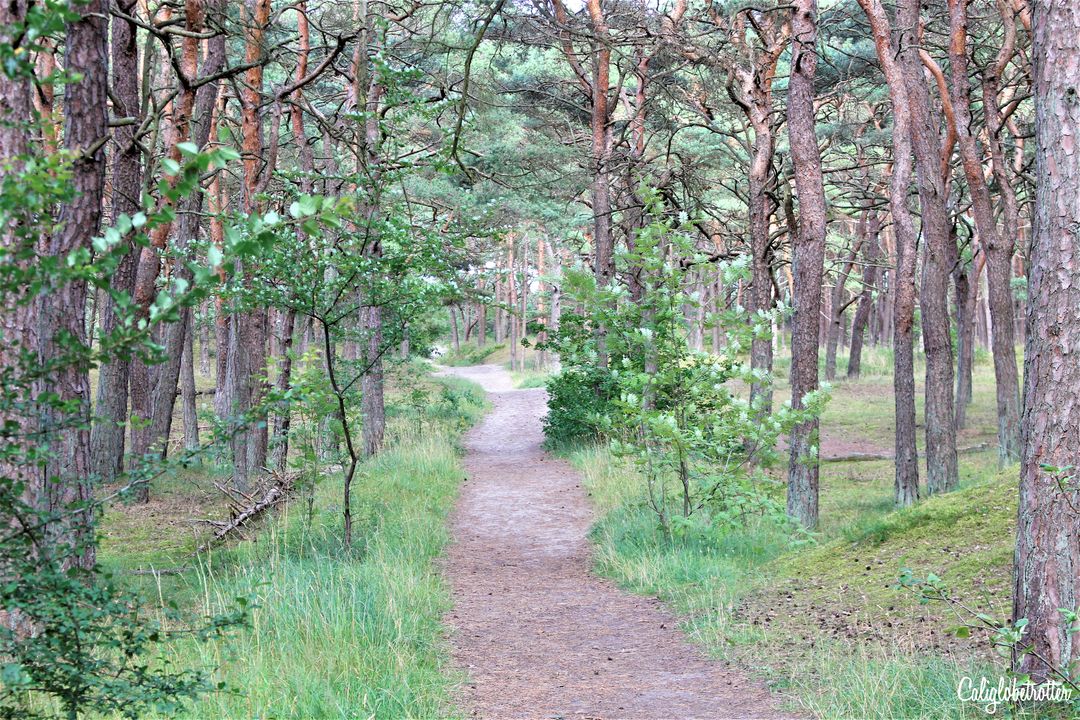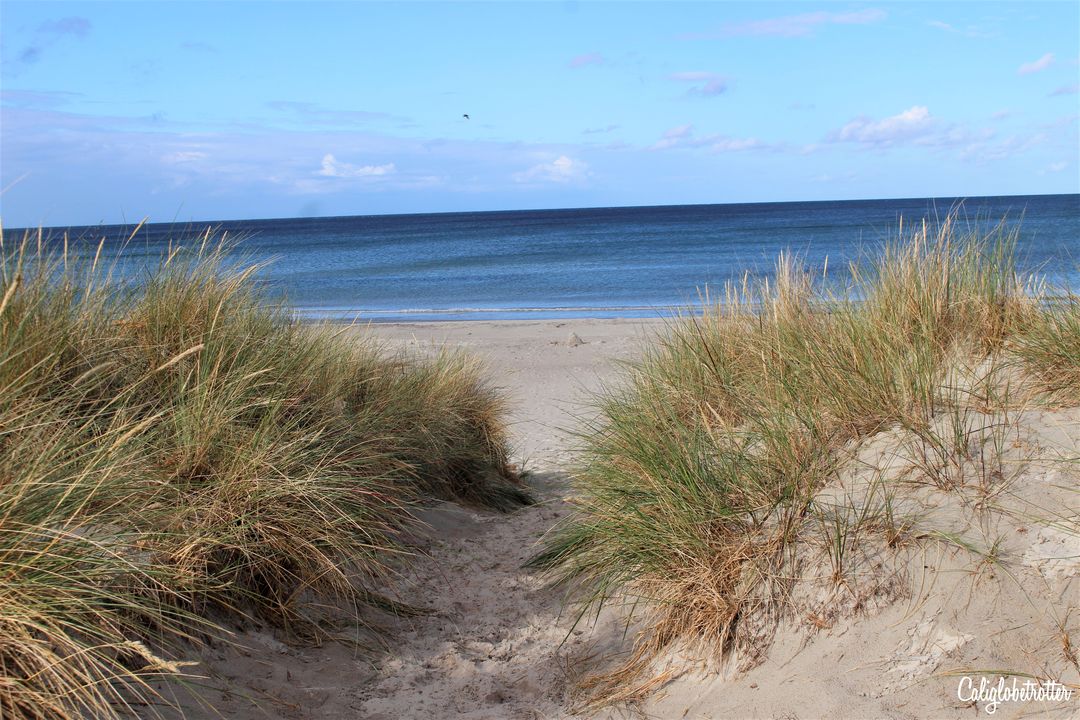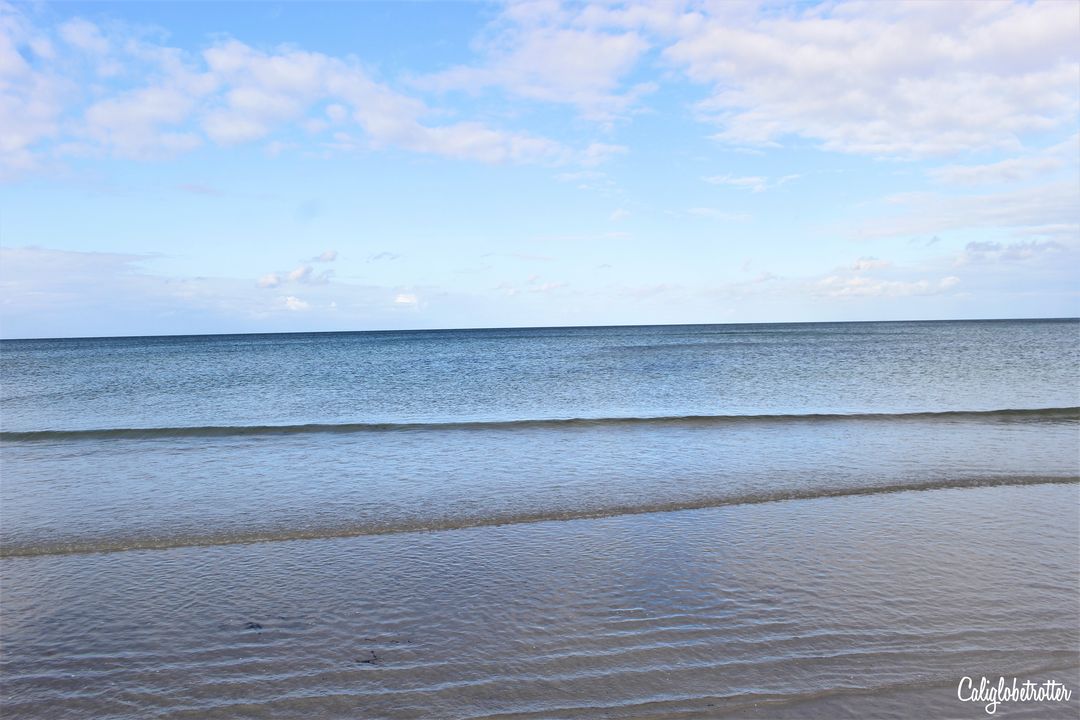 We had seen some outdoor street food stands as we first drove through Glowe, so opted to stop later for dinner, sadly, a bit late and many were already closed up so that left few options. However, after scarfing down our food, we popped down to the beach only to find rows and rows of more Strandkörbe lining the pristine white sandy beach. So we sat down for a while on the sand admiring the view, soaking up what little sun was left before the next incoming round of rain.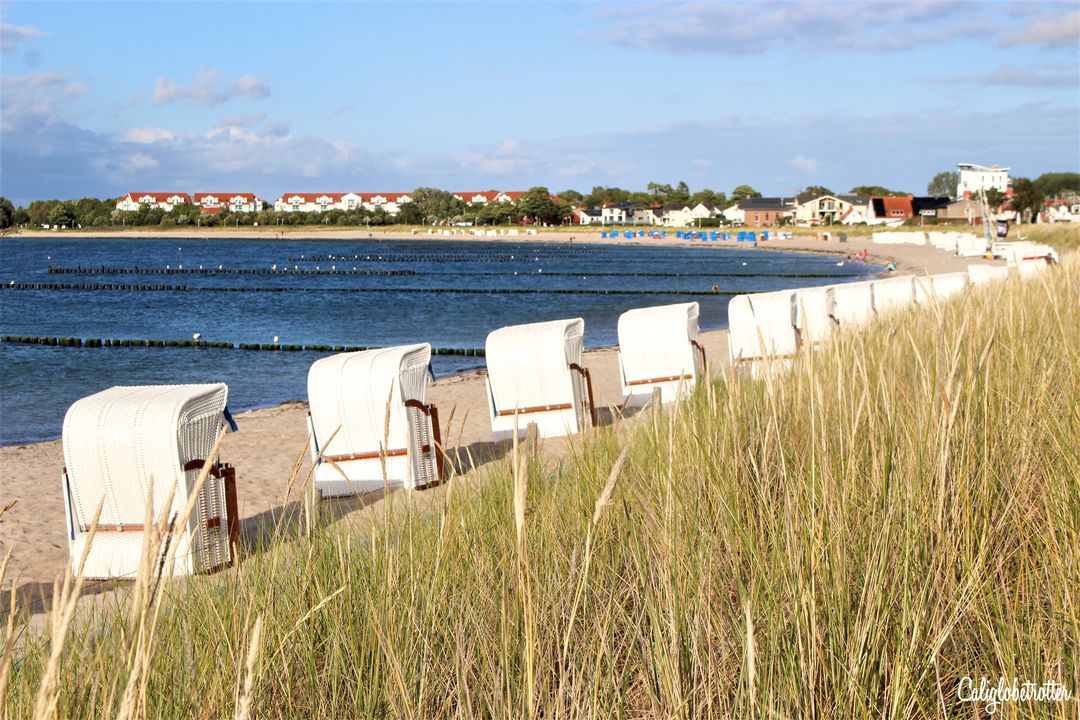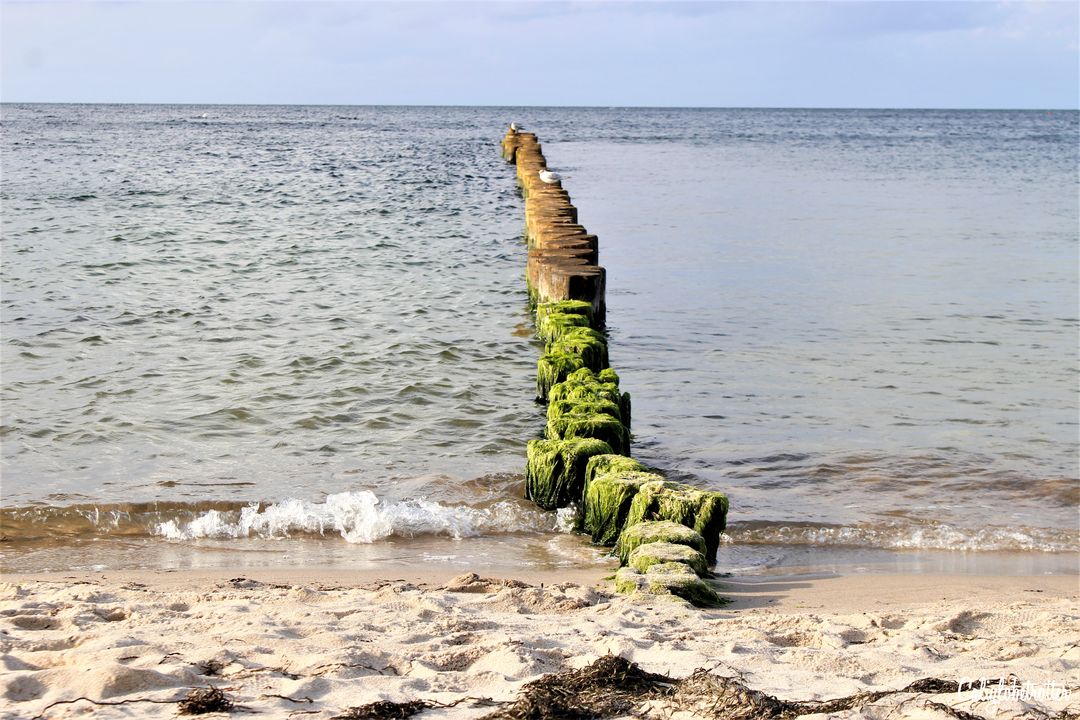 Things to Know About Rügen 
The sand on Rügen's beaches is fine, white, soft sand EXACTLY like the sand in California!
The weather changes drastically every 5-10 minutes so be prepared for all forms of weather at all times, even in the middle of summer!
Always wear and carry mosquito repellent because depending on the wetness of the season, mosquitoes are obnoxiously common.
Be willing to change your plans quickly to a different activity in case of wind or rain.
When the weather says that it will be windy, it will be windy.
Don't underestimate the size of the island of Rügen! It's much bigger than it appears!
If you're driving to Rügen, consider bringing your bikes as it's easier to get around some of the beachy areas and between some small towns.
Thoughts on Rügen
Clearly, we had bad luck with the weather so we returned home after 3 1/2 days on the island quite upset that our only holiday probably for the year which was meant to be our first strictly beach holiday ever, was not as successful as we would have liked. We were under prepared clothes wise for the drastically changing weather for the end of July. Having assumed we would have mostly nice weather, I personally packed for summer, a pair of pants just in case and a few cardigans, which needless to say was not enough and I came home with the sniffles.
HOWEVER, weather aside, Rügen is amazing! A stunning piece of landscape and totally different than anything I've seen yet in Germany! We hope to return again one day, stay longer in the hopes of having a better chance for good weather, and explore more deeply. Rügen itself is a leisure island in Germany and very much for outdoorsy families.
I got the impression that people who visit Rügen tend to stay for longer periods of time, renting out summer villas and bringing their bikes. Biking on Rügen seems like the most effective way of getting around the island as many of the roads are one way streets and traffic can sometimes get backed up. And biking between the popular towns and coastline seems to be a popular thing to do on Rügen.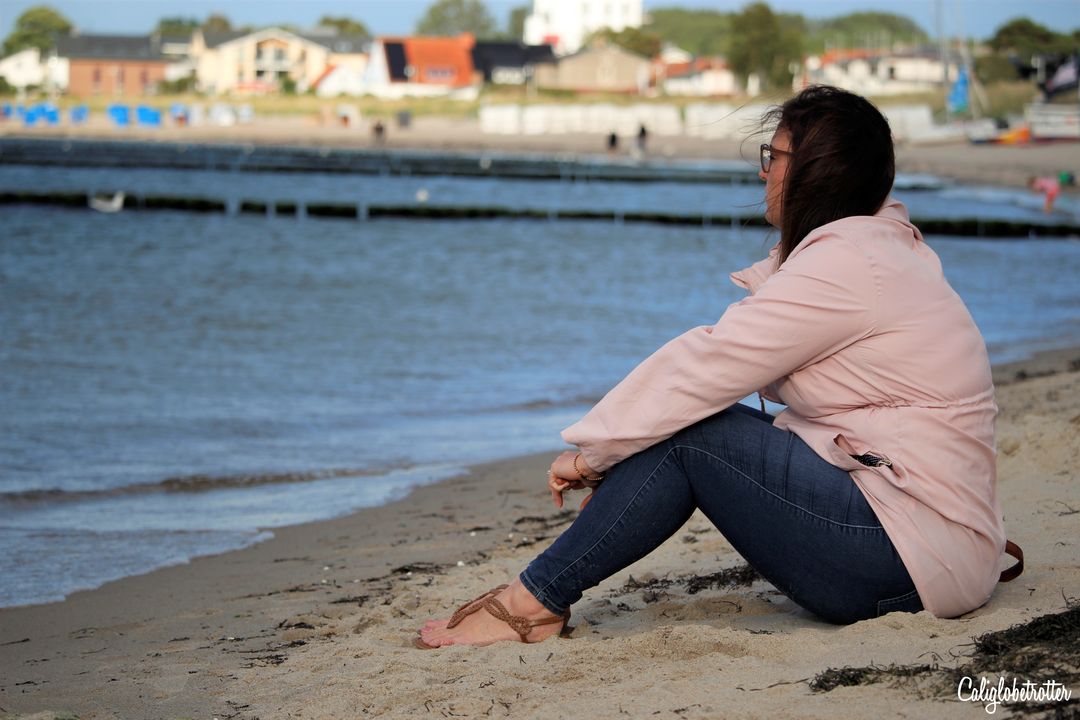 Where We Stayed
Being a popular tourist destinations for Germans, and because of the current situation, it seemed that finding a hotel or apartment was rather difficult to come by, especially when looking for affordable places to stay on Rügen. So, not having much luck, we opted actually to not even stay on the island itself, but in one of the castle hotels in Germany, on the mainland, not far from Strahlsund, the gateway to Rügen.
Plus, how could I turn down the option of staying in a castle hotel? What really drew us to Schloss Hohendorf for our short stay was the fact that it's obviously a castle, but also because it had a kitchenette. We choose to cook breakfast every morning before heading out and a few dinners just to help save money while on holiday. Being out in the countryside meant waking up to peace and quiet, and the wonderful sound of a few chirping birds.
The castle itself date back to 1321, though what stands before you today dates back to 1854 and was renovated in 1993.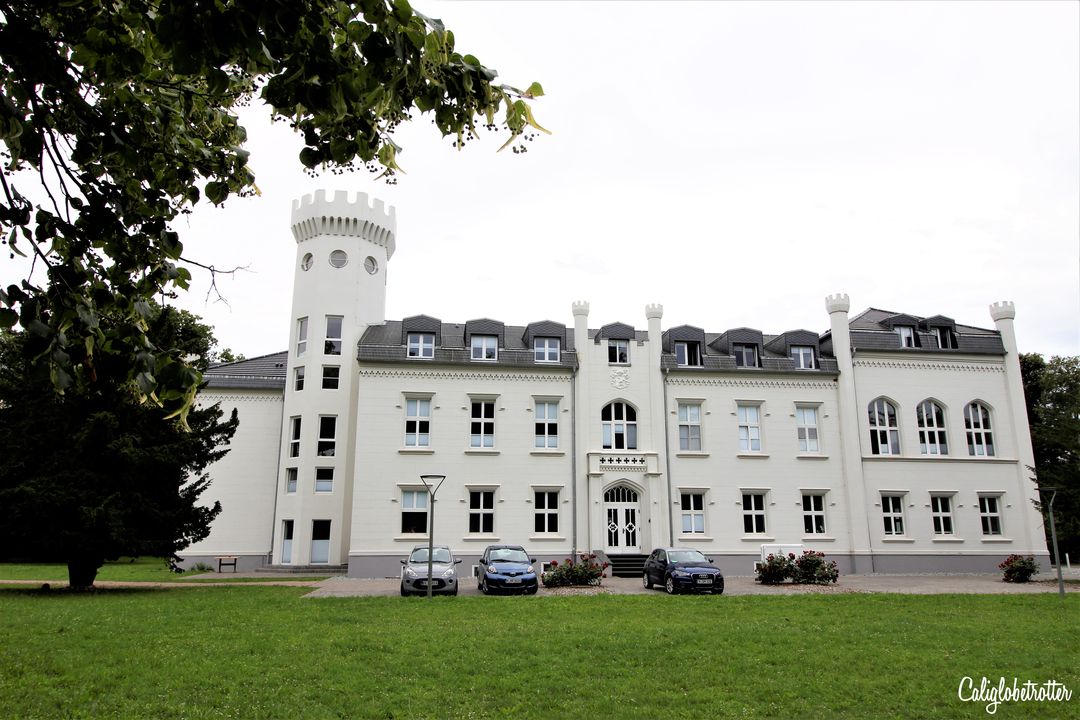 When is the best time to visit Rügen?
Typically during warmer months between May and the end of September, if you're looking for ideal beach weather! However, the island is accessible yearround and does receive a bit of snow during the colder months. Obviously during peak season, you're more likely to deal with car and bike traffic and more people out and about in general. However, during the low season, obviously less domestic tourism to the island.
Other Activities to Do on Rügen
While we didn't have the time for many of these cool things on the island, nor did we know about many of them, we hope to include them on our next attempt to visit the island. Sadly, you'll notice that most of the websites are only in German, because they cater mostly to Germans. Google Translate is your friend.
Indoor Things to do on Rügen on a Rainy Day
If you're interested in visiting Germany and are looking for more information, I highly recommend using the The Rough Guide to Germany or Lonely Planet for more in-depth info! Without these guides, I would be lost! This is my travel Bible!
Disclaimer: This post contains affiliate links. If you click on one and make a purchase, I might make a little extra spending money, at no extra cost to you. As always, all opinions are my own and these products/services have been found useful during our travels and come highly recommended to you from yours truly!
Places to See in Northern Germany
Goslar – The Quintessential Half-timbered Town in the Harz
Wernigerode – The Heart of the Harz Mountains
Quedlinburg – A Medieval Half-timbered Town in the Harz
Historic Steam Train Ride in the Harz Mountains
Liked this post? PIN IT FOR LATER!!