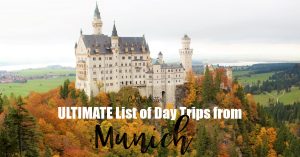 Disclaimer: This post contains affiliate links. If you click on one and make a purchase, I might make a little extra spending money, at no extra cost to you. As always, all opinions are my own and these products/services have been found useful during our travels and come highly recommended to you from yours truly!
Whether you live in or around Munich, or are visiting somewhere near Munich, there are PLENTY of places to go if you're looking to take advantage of a beautiful day! These are the best day trips from Munich all year round! 
If you don't mind getting up and leaving your house around 6am, driving no more than 3-3 1/2 hours (one way), you CAN manage a FULL day in any of the following locations. I know, because I'm crazy enough to have managed many of these in a single hit and run, wham-bam-thank-you-ma'am kinda day trip! Especially during the summer months when the weather is great and the nights are long.
Just in case you're interested, PIN IT FOR LATER!!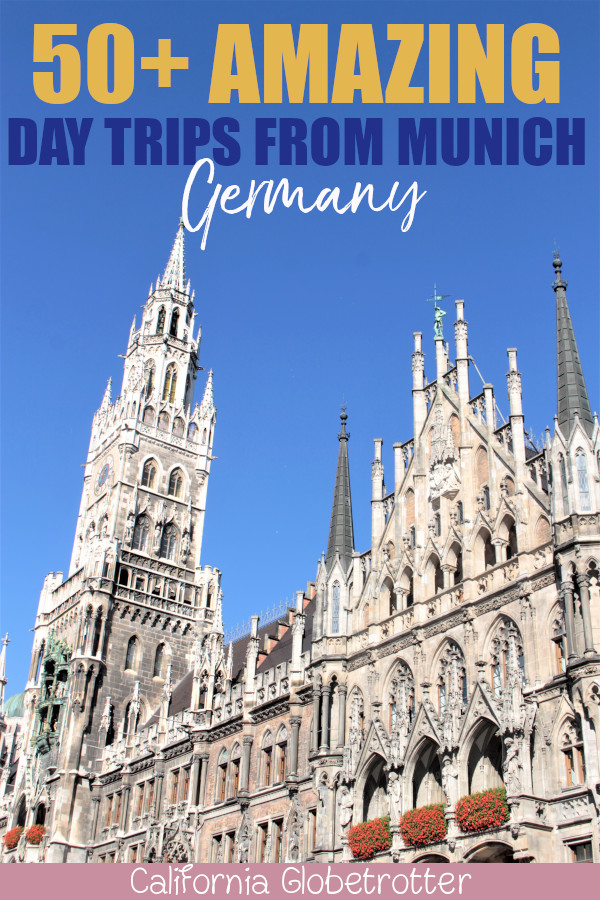 How to AVOID Looking Like a Tourist in Europe
Quite personally, I find that many Germans don't actually travel much around their home country, let alone leave their hometown that often. Ok so I travel a bit obsessively, but why wouldn't you want to get outta your 20 mile radius and explore more!?! And ok…many of these could be extended into a long weekend trip, but when you're itching to get out, 3 hours is nothing! Plus, there are so many European cities near Munich that I just had to get out to see!
People always think I'm crazy for driving somewhere 3+ hours and now make it a weekend trip, but for me I grew up in California where driving 3 hours and you're still in the same town because you're sitting in traffic! Driving 3 hours in Europe and you're in another state or another country! There are seriously a ton of places to visit outside of Munich, so get going! Of course, day trips from Munich by car are always easier, but many of these are not impossible to visit by train or bus. However, the more the remote the town, the more likely you'll need a car for these day excursions from Munich!
Nonetheless, these are some of the best things to do in southern Germany as well as a few day trips into Austria and the Czech Republic! All of these top attractions are easily doable! I promise!
Bavaria, Germany
1. Schloss Nymphenburg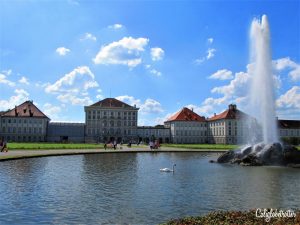 Time: 24
Located on the outskirts of Munich, this beautiful palace is definitely an easy day trip in Munich for visitors who love stunning stucco artwork, beautiful architecture and lush gardens with hidden treasures! It's first on the list because most people either forget about it or overlook it, but it makes a great day trip in your own backyard and is one of the most beautiful places in Munich! (More on Schloss Nymphenburg here)
2. Chiemsee & Schloss Herrnchiemsee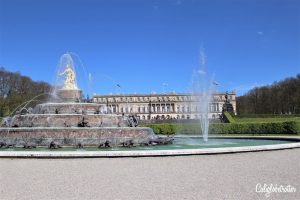 Time: 59 min
Another one of mad King Ludwig II's castles that he built, but never finished. Schloss Herrnchiemsee is located on the Herreninsel (island) on Lake Chiemsee and was built as a replica to France's Palace of Versailles in honor of the 'Sun King' Louis XIV. Although it is a much smaller scale, the Hall of Mirrors is definitely worth a visit as well as the stunning gardens. Spending a day on a lake is a great way to escape from the city!  (More on Chiemsee here)
3. Ammersee
Time: 50 min
Just 26 miles southwest of Munich and with the S-Bahn, the lake is easily reachable and takes roughly 50 min. Ammersee is Germany's 6th largest lake which developed as a result of ice age glaciers melting. In the lake town of Herrching, you can find the Little Castle (Kurparkschlössl), built in 1888 by the artist Ludwig Scheuermann along the promenade. To get here take the Munich S-bahn S8. 
4. Dachau Concentration Camp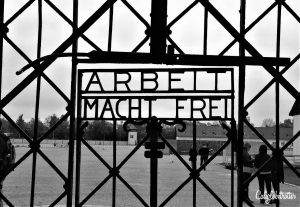 Time: 28 min
The town of Dachau will unfortunately always be linked to one of the worst concentration camps in Germany. If you're looking for an educational day trip from Munich, visiting Dachau Concentration Camp is always a good choice. Dachau was the first concentration camp to be built in Germany and soon more would follow the example of Dachau. It was built in 1933 and was supposed to be a forced labor camp for "political prisoners" but over the next 12 years, 200,000 people would be imprisoned here and 40,000 would be methodically murdered here and is worth a visit as those who don't understand history are bound to repeat it. (More on Dachau here)
5. Tegernsee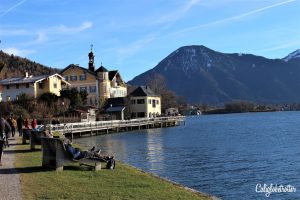 Time: 48 min
Located in one of Southern Bavaria's most stunning regions, surrounded by mountain peaks is Lake Tegernsee which is a relaxing day trip from Munich to get out of the concrete jungle! Scattered around the lake are five small villages hugging the shoreline, easily reachable with trips across the lake by boat. Great location for a slower pace with a touch of sophistication. (More on Tegernsee here)
6. Berchtesgaden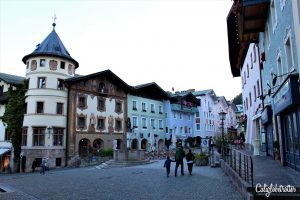 Time: 1 hr 46
Berchtesgaden is hailed as one of the most beautiful regions, not just in Germany but in all of Europe. Surrounded by the Berchtesgaden Alps, it's worth a day trip to this region just to drive around and admire the views, get out and do a bit of hiking or simply enjoy the little village. Quite personally, I would even turn this day trip into a long weekend trip as there is a lot to do and the region is absolutely picturesque! (More on Berchtesgaden here)
7. Kehlsteinhaus (Hitler's Eagle's Nest)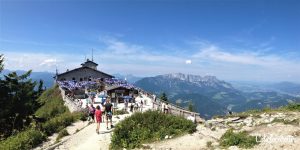 Time: 2 hr 32
If you're looking for a historic day trip from Munich or perhaps a hiking day trip from Munich, then heading to Berchtesgaden is the place for you! Built for and gifted to Hitler for his 50th birthday, it is one of the few locations that were not destroyed after the war to prevent Neo-Nazi gatherings. Instead, this beautiful house was saved as a feat of architecture for its era and was reinvented as a restaurant with breathtaking views of the Berchtesgaden National Park. (More on Kehlsteinhaus here)
8. Königssee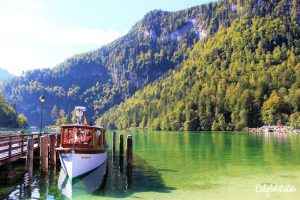 Time: 2 hr 32
If you're looking for the most beautiful lake to visit from Munich, then heading to one of Bavaria's most unspoiled, fjord-like lakes, it is a must for those who truly appreciate the beauty of nature. Enjoy a historic boat ride across the lake before reaching St. Bartholomews Church and even a bit further, the majestic Obersee. While you're here, try to make time to visit Kehlsteinhaus or take a ride on the Jennerbahn for a view over Königssee. Day trips to the Bavarian Alps is always a good idea! (More on Königssee here)
9. Ramsau an der Ache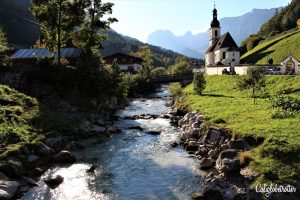 Time: 2 hr 23
If you're already going to be in the Berchtesgaden region, then I highly suggest driving just a bit more to find this enchanting parish church in the small village of Ramsau, with a jaw-dropping backdrop of the Bavarian Alps. This is a picture perfect photo opportunity day trip from Munich if you're an avid photographer! (More on Ramsau here)
10. Mittenwald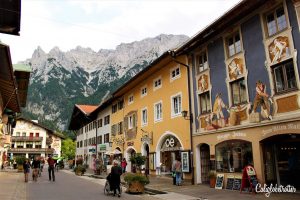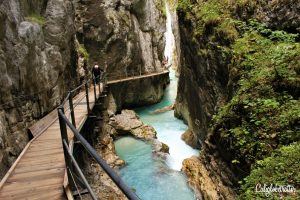 Time: 1 hr 24
Not only is the small little town of Mittenwald adorable, but there lies a gorge that is said to be inhabited by a spirit and his goblins. If you're looking for an easy hike near Munich with beautiful crystal blue waters, this little pathway known as the Leutasch Gorge which clings to the side of the mountain is fun for the the entire family! It's definitely a family-friendly hike not far from Munich! Day trips to the Bavarian Alps is always a must! (More on Mittenwald here)
11. Zugspitze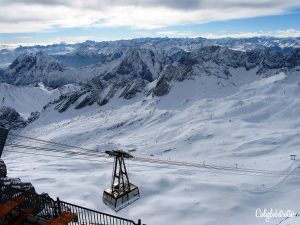 Time: 1 hr 39
Germany's tallest peak sits at 2,962m high and offers endless views as far as the eye can see. This day trip is perfect year round for those who are interested in skiing, hiking or sightseeing or even drinking at Germany's highest beer garden! Quite personally, I think visiting the Bavarian Alps is one of the best day trips from Munich in winter! While here, consider exploring the town of Garmish-Partenkirchen where the Olympics were once held! (More on Zugspitze here)
12. Füssen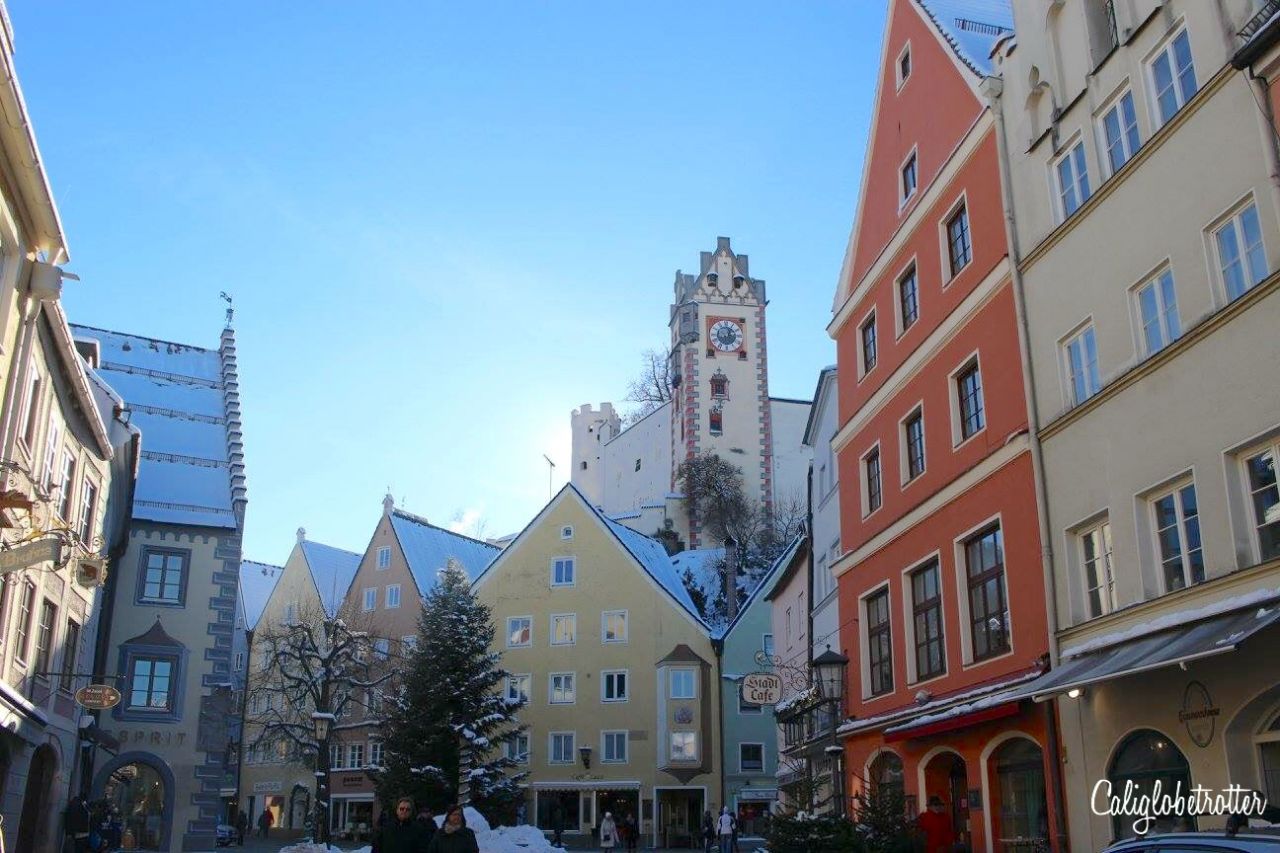 Time: 1 hr 37
The last and final stop on the Romantic Road and is definitely worth visiting. Perched high on a rock, above the town is the palace of the Augsburg prince-bishops which began construction in 1291. (More on Füssen here)
13. Schloss Neuschwanstein & Schloss Hohenschwangau
Time: 1 hr 45
If you're in Bavaria, then you CAN NOT leave without visiting THE most fairytale-like, romantic castle that all hopeless romantics are drawn to create their own fairytale story. This is quite possibly THE most popular day trip from Munich and the epitome of ultimate day trips from Munich! Built by the mad King Ludwig II of Bavaria, it was never completed after his untimely death. Since its creation, it has inspired even people like Walt Disney! And just a hop, skip and a jump across the road is Schloss Hohenschwangau where Ludwig spent some of his childhood, and where he stayed while he built his masterpiece. (More on Schloss Neuschwanstein and Hohenschwangau here)
14. Wieskirche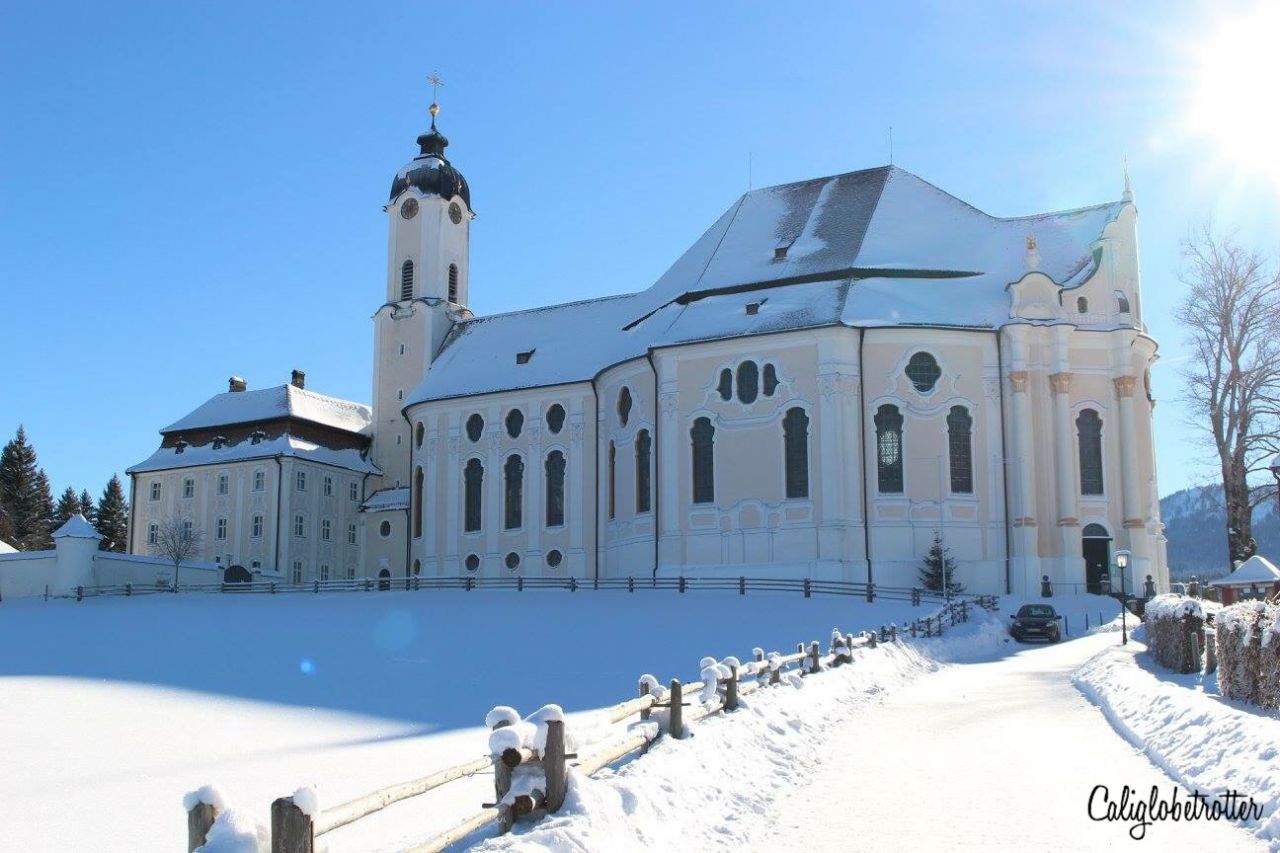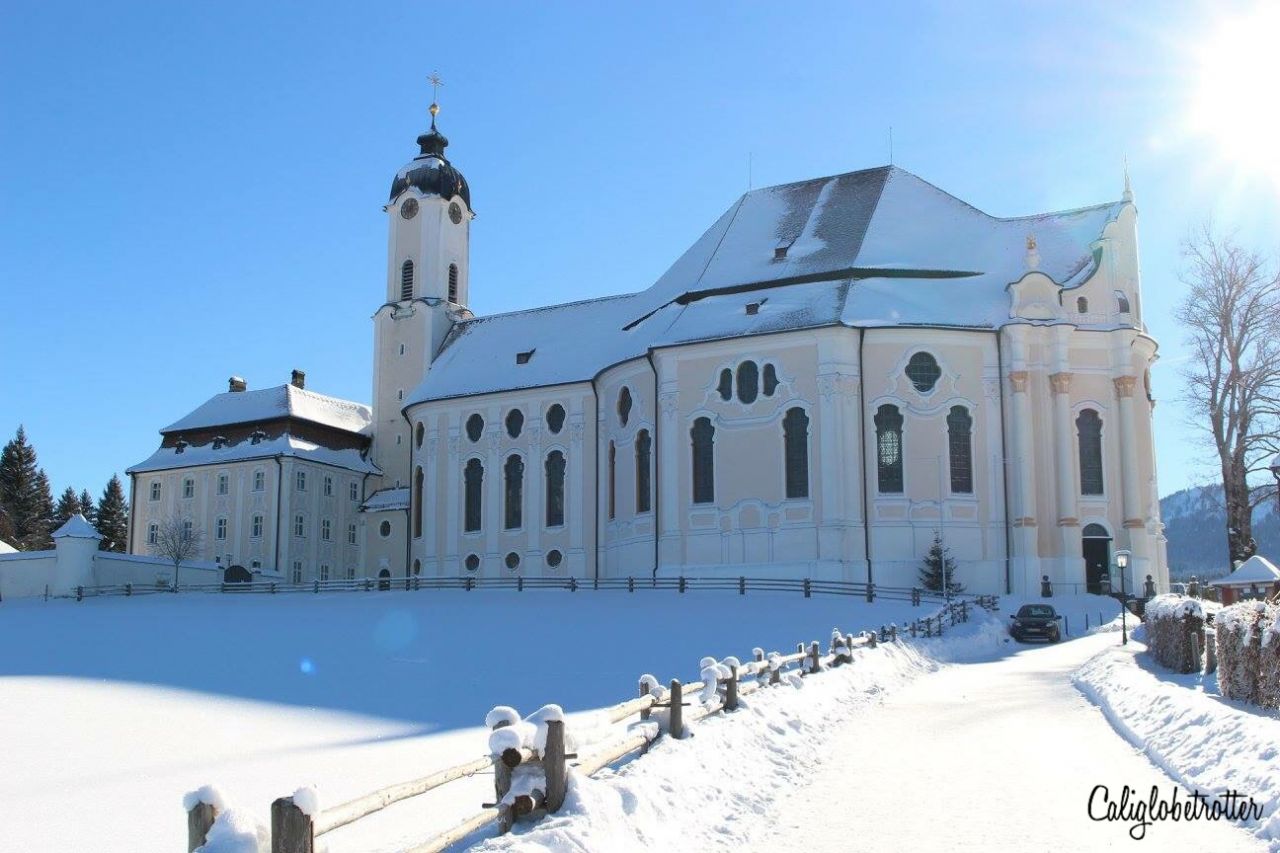 Time: 1 hr 23
One of the loveliest art day trips from Munich! If you're an art lover and an appreciate a stunning piece of work, then the inside is for you! Not directly on the Romantic Road, it is located in the foothills of the Alps and it's definitely worth a visit on your way to/from Schloss Neuschwanstein! This pilgrimage church is an oval rococo church is a miraculous masterpiece of Bavarian Rococo and is probably the finest in the world! (More on Wieskirche here)
15. Schloss Linderhof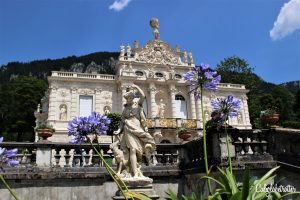 Time: 1 hr 13
Another popular day trip from Munich is yet another castle! You can never have enough castles and of the three castles that mad King Ludwig II of Bavaria built, only Schloss Linderhof was completed before his untimely death. The King chose to live here in part because of its secluded location, as well as because of the splendor of the castle. One of the most popular attractions here is the Venus Grotto which was designed after stories from Richard Wagner. (More on Schloss Linderhof here)
16. Kloster Ettal  (Ettal Abbey)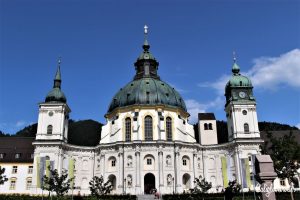 Time: 1 hr 2
The village of Ettal has a beautiful Benedictine monastery home to about 50 monks which was founded by Emperor Ludwig IV of Bavaria in 1330. The inside is stunningly designed in Rococo stucco work with a massive dome with pale yellow frescoes. The monastery also produces its own fruit liqueurs, flavored brandies and beer! (More on Ettal here)
17. Partnach Gorge (Partnachklamm)

If you're looking for an easy and relaxing hike, consider heading down to Garmish-Partenkirchen and immerse yourself in nature. Located near the Olympic Skiing Stadium used during the 1936 Olympics, hiking Partnachklamm is a hike the whole family can enjoy! Perhaps not for those who struggle with tight spaces, Partnach Gorge is a sliver of walkway carved out of the side of the mountain, just feet above beautiful blue water. (More on Hiking Partnach Gorge here)
Time: 1 hr 21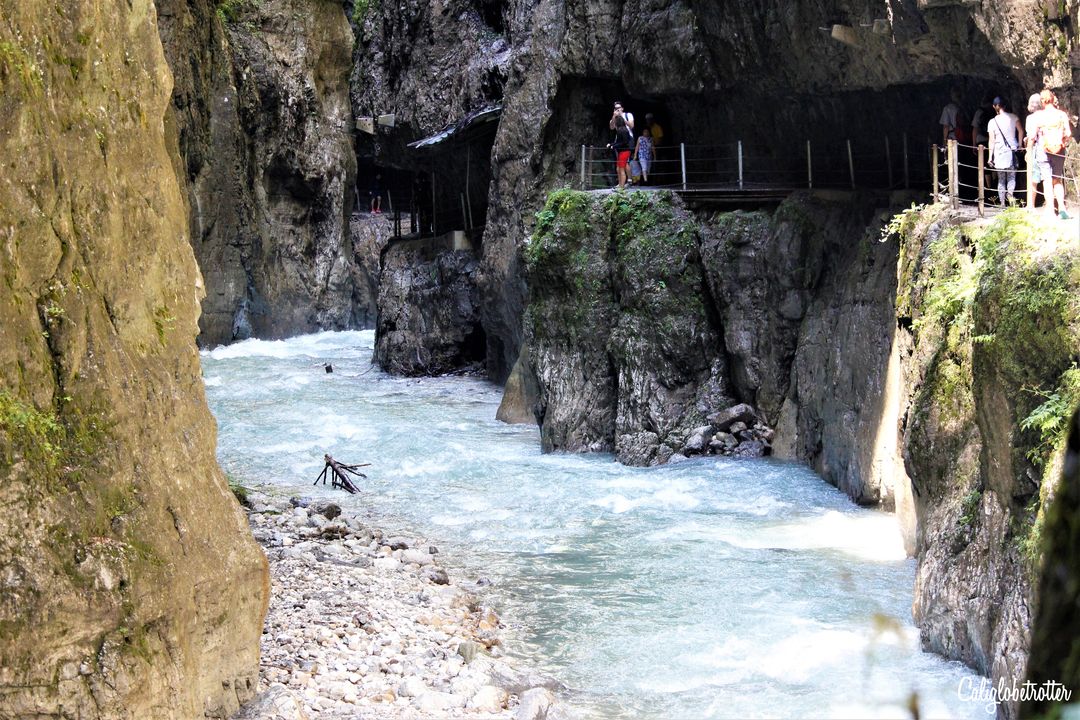 18. Walchensee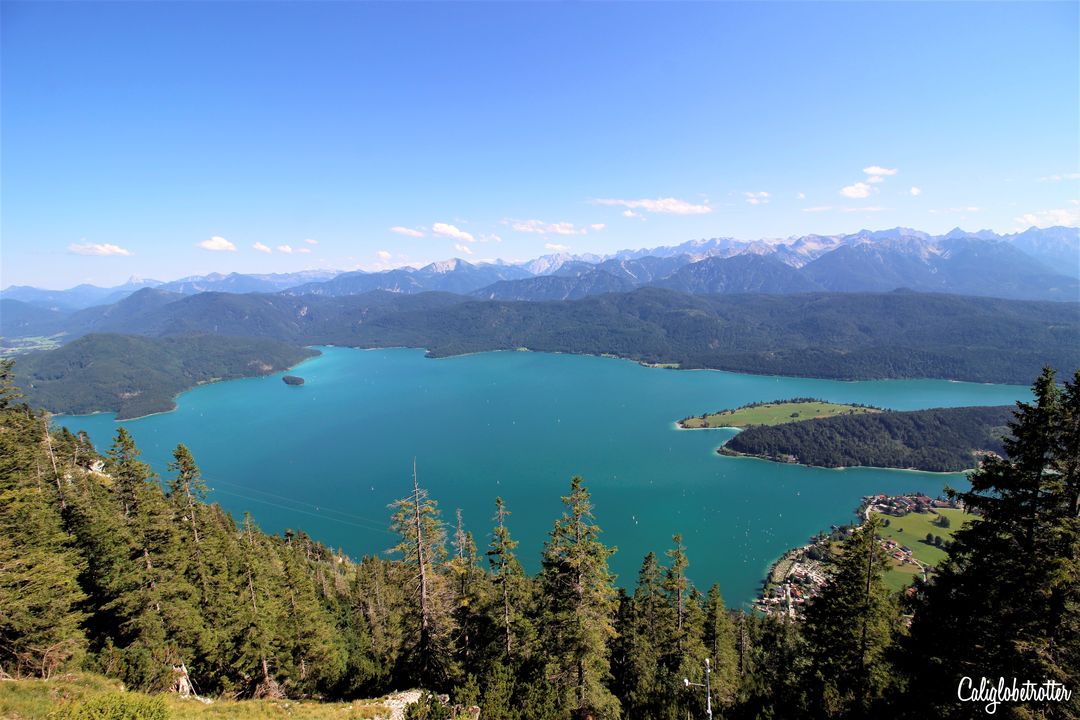 Time: 1 hr 33
If you're looking for the prettiest lake in Bavaria to visit on a glorious summer day, perhaps to do a bit of windsurfing, hiking or soaking up the sun, then you need to head to Walchensee, the larger and higher of two sister lakes. Daytrippers from Munich and other surrounding areas love to come here not just to escape the city, but to enjoy the Tiffany turquoise water backed by rugged peaks in every which direction! (More on Walchensee here)
19. Lindau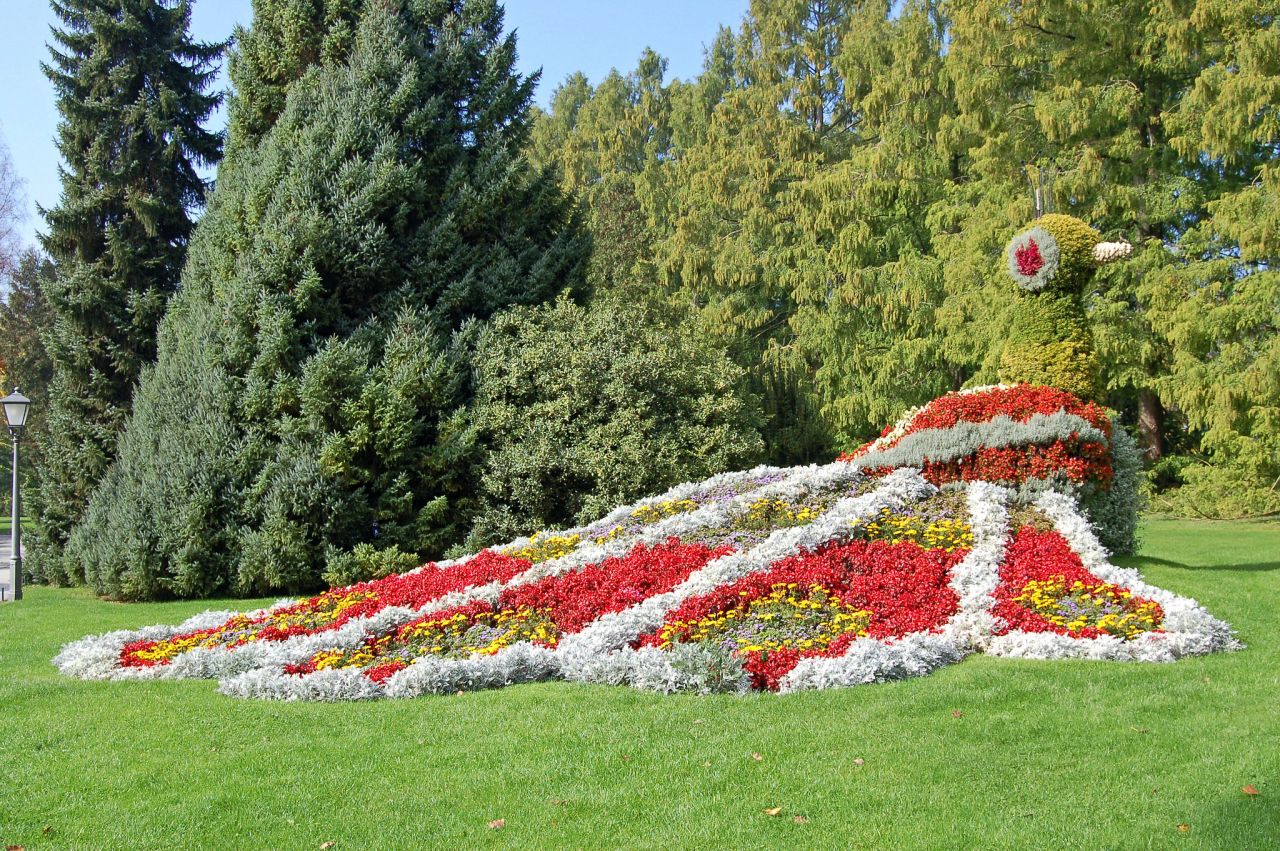 Time: 1 hr 47
Lindau is the one town Bavaria can pride itself on for being on Lake Constance (Bodensee). The borders of Germany, Austria and Switzerland meet. The most popular attraction here is the Flower Island of Mainau, famous for its beautiful gardens. I would personally turn Lake Constance into the perfect weekend trip from Munich and spend the weekend exploring the towns around the lake, even going into Austria and Switzerland!
20. Kloster Andechs (Abbey)
Time: 44 min
Located in the town of is the pilgrimage site of Andechs Abbey, perched upon the 700-m Holy Mountain of Andechs. If you're looking for a pretty cool place to drink beer as part of your day trip, then Kloster Andechs is worth a visit here simply for the views from the tower of Ammersee as well as the excellent beer the monks brew.
21. Oberammergau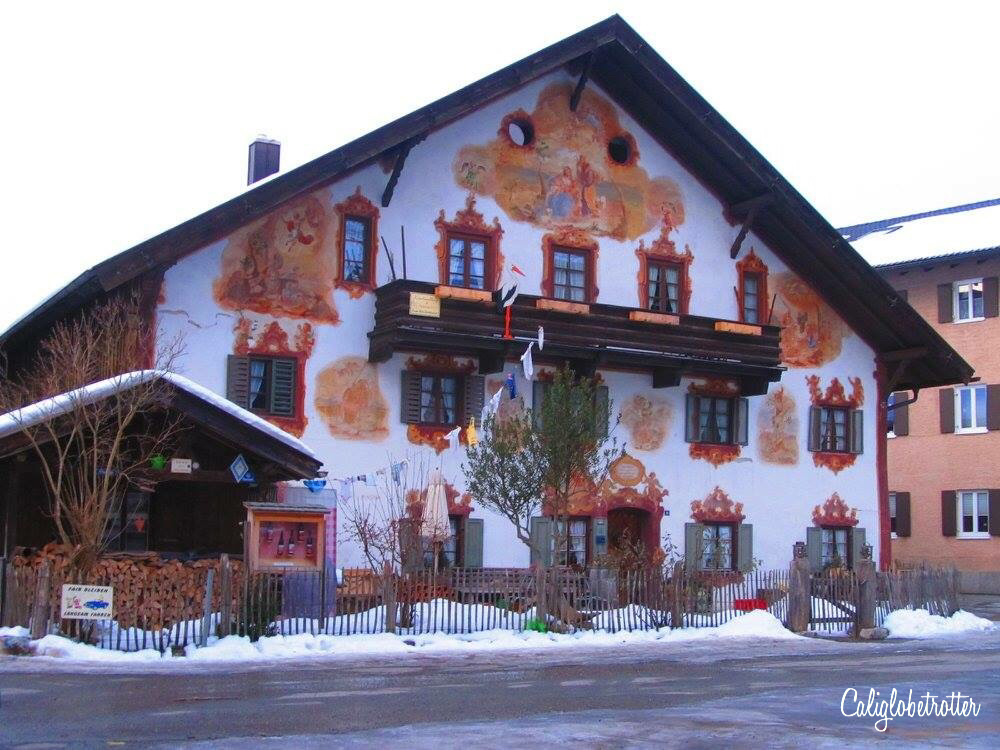 Time: 1 hr 8
Home to the Passion Play which is only performed every 10 years, the town itself is still worth visiting for all of the fabulous and colorful folk art on the facades of the buildings. Here, you'll run into quite a few tourists, but if you're looking for a charming little day trip from Munich, this would be it!
22. Burghausen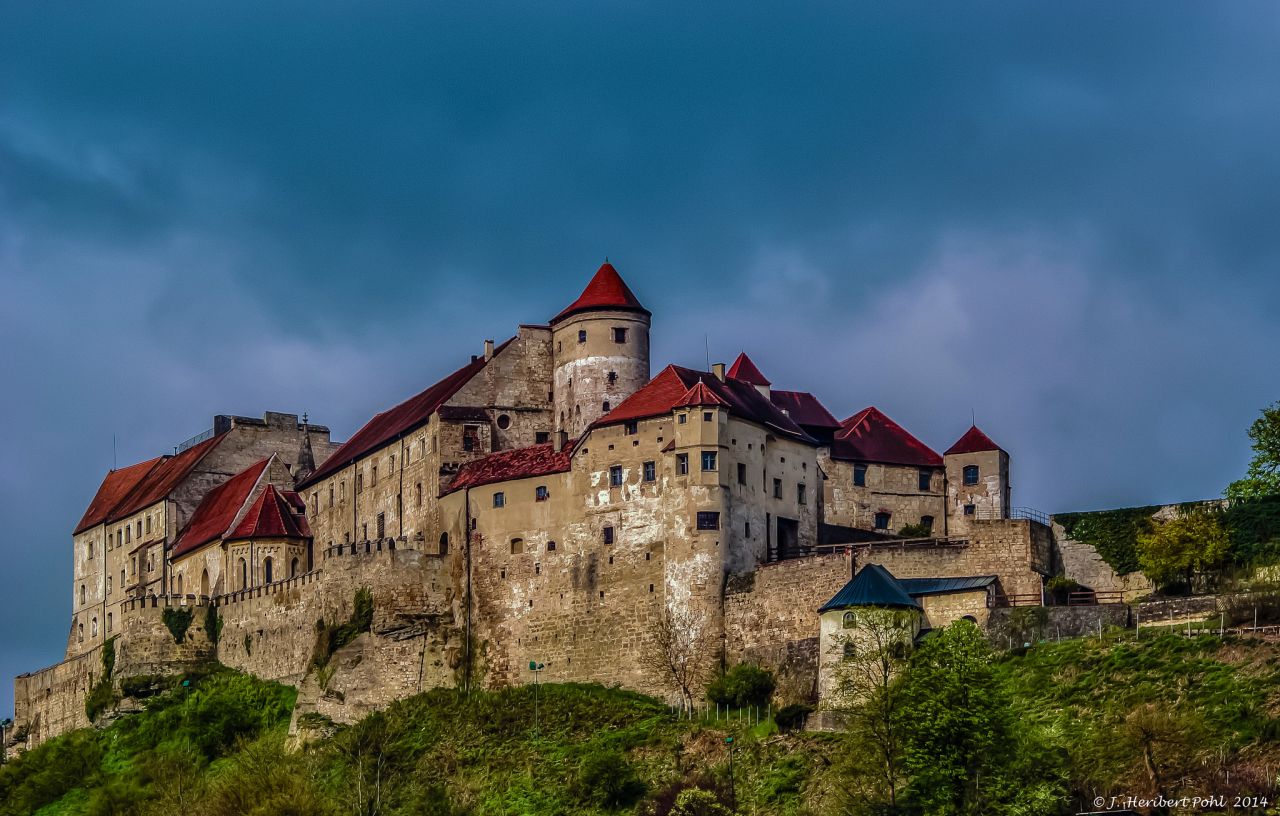 Time: 1 hr 23
Another easy excursion from Munich is Burghausen, close to the Austrian border. Burghausen Castle is Europe's longest castle, stretching 1,100m (1,200 yards) along the river Salzach and is definitely off of the typical tourists' travel itinerary!
23. Landsberg am Lech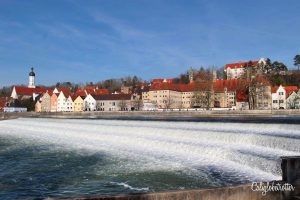 Time: 51 min
Most tourists seem to skip over Landsberg am Lech as it lies between Augsburg and Füssen, therefore, the town isn't overcrowded with tourists looking for that picturesque ambiance that Rothenburg can offer. But that doesn't mean the town isn't worth looking at, because it definitely is! (More on Landsberg am Lech here)
24. Augsburg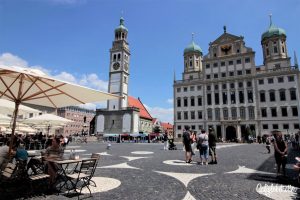 Time: 1 hr
If you're looking for a city that is off-the-beaten track from Munich, then consider Augsburg! The third largest town in Bavaria, was one of the richest towns until the Thirty Years' War ended it prosperity. Nonetheless, the town has a stunning city hall and thoroughfare lined with significant buildings, shops and restaurants. (More on Augsburg here)
25. Schloss Schleissheim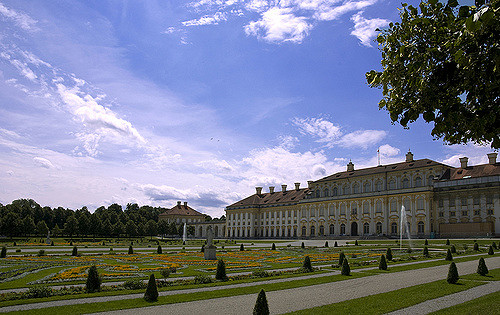 Time: 21 min
The town of Schleissheim is home to a Baroque palace, great for an easy day trip from Munich. The palace is actually comprised of three individual palaces in a grand baroque park in the village of Oberschleißheim, a suburb of Munich and was once the summer residence of the Bavarian rulers from the House of Wittelsbach (King Ludwig's family).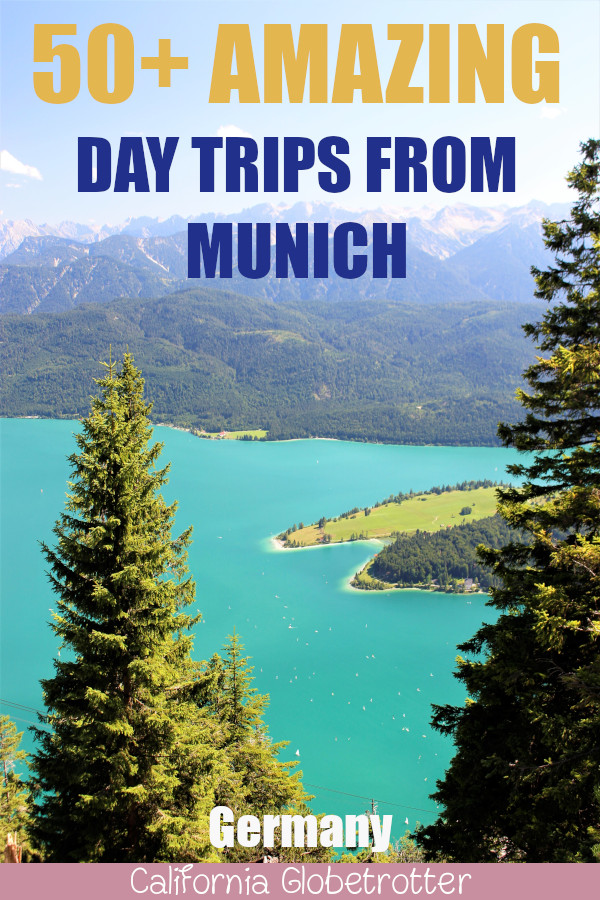 26. Passau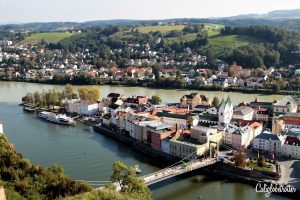 Time: 1 hr 56
Passau's Old City Center is surround by three rivers that converge into one large river. There's the Donau (Danube), Inn and Ilz rivers. Therefore, Passau is also known as "The City of Three Rivers". Passau is also a very popular tourist destination for those traveling by boat down the Danube River. Passau is definitely one of the most charming towns to visit from Munich! (More on Passau here)

27. Ulm
Time: 1 hr 26
Ulm's Minster is the absolute focal point of the city and is also known as being the world's tallest church standing at a whopping 162 meters high! Tourists who aren't afraid of heights can climb the steep steps to the top for a fantastic view over the city! (More on Ulm here)
28. Kloster Wiblingen Library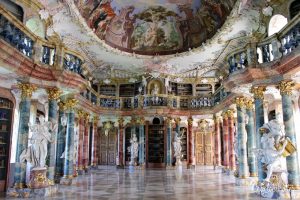 Time: 1 hr 28
The Abbey was once a former Benedictine Monastery that was later used as barracks and now houses several departments of the medical faculty from the University of Ulm and is home to one of Europe's most stunning libraries. The library is designed in the whimsical Rococo style of pale pinks and blues. (More on Wiblingen Library here)
29. Regensburg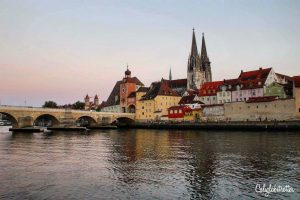 Time: 1 hr 15
If you're looking for one of the most off-the-radar day trips from Munich, then visiting Regensburg is a must! The entire city of Regensburg is considered a UNESCO World Heritage site with 1,500 historic buildings in the city center as well as Stadtamhof. The cathedral is one of the only French Gothic style cathedrals east of the Rhine. The historical Stone Bridge was considered the 8th wonder of the world when it was completed in 1146. (More on Regensburg here)
30. Kloster Weltenburg (Weltenburg Abbey)
Time: (To Kelheim) 1 hr 11
Just below the Befreiungshalle in the small village of Kelheim, you can find a small parking lot next to the DeutschePost from where the ships pick up to take you downstream to the beautiful Kloster (Abbey) that is not only famous for its church designed by the Asam Brothers but for the fantastic beer the monks brew here. You could drive, but why not go by boat? (More on Weltenburg Abbey here)
31. Kuchlbauer Brewery & Hundertwasserturm in Abensberg
Time: 1 hr 1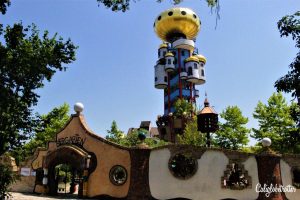 Do you like day trips that include drinking a plethora of good beer and art? Just a 30 minute drive from Regensburg is the small Bavarian town of Abensberg and here you will find a brewery famous for their Weissbier (Wheat beer) as well as a futuristic tower designed and created by the Austrian artist Friedrich Hundertwasser. (More on Abensberg here)
32. Nördlingen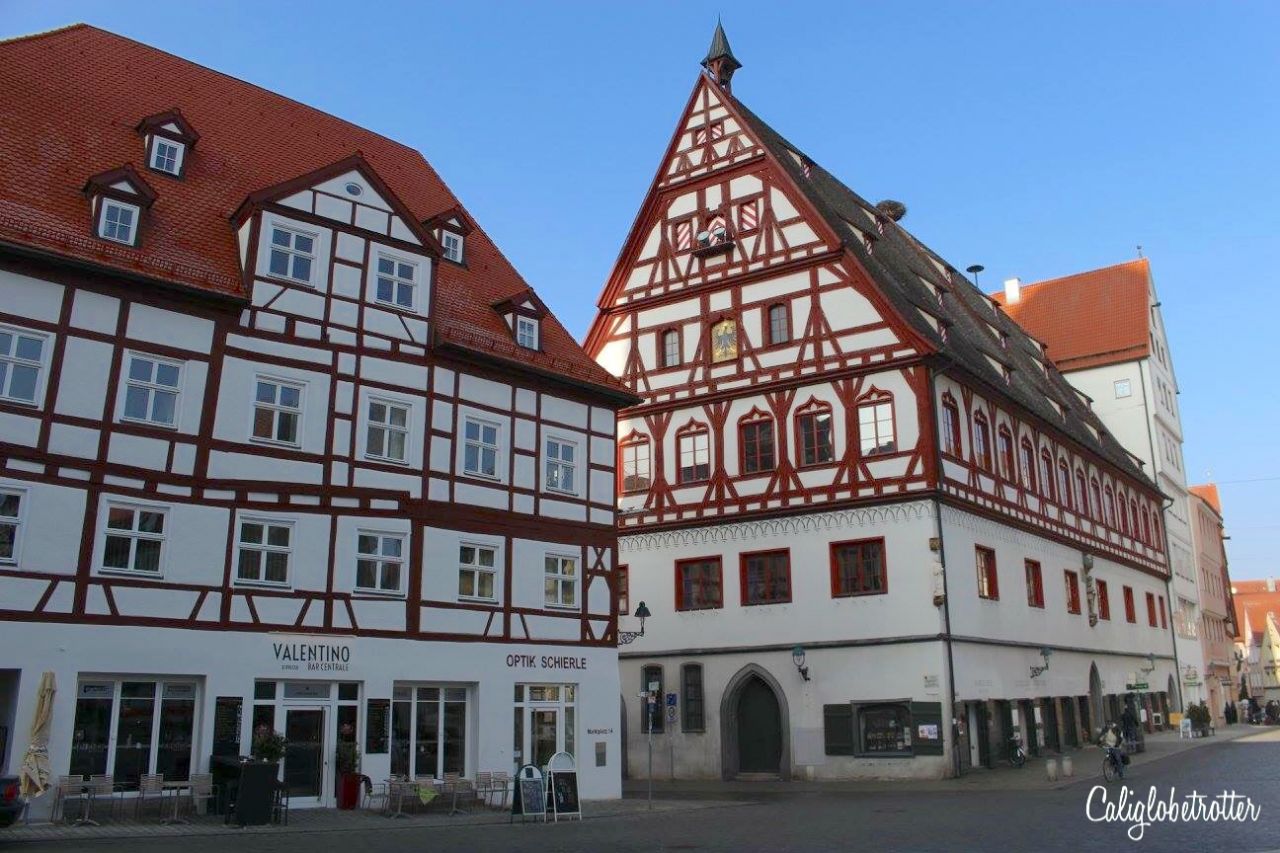 Time: 1 hr 32
Located in the Donau-Ries district, Nördlingen is the third of three medieval walled towns on the Romantic Road, it's has by far one of the most interesting origins. The town is surprisingly built entirely inside of a massive crater, that was created some 14 million years ago when a meteorite struck the Earth! So, that makes it all the more worth visiting! It wasn't until 1960 that two American scientists discovered that the town was in fact built inside of a crater! Today, it's called the Nördlinger-Ries, or the Ries Crater. (More on Nördlingen here)
33. Dinkelsbühl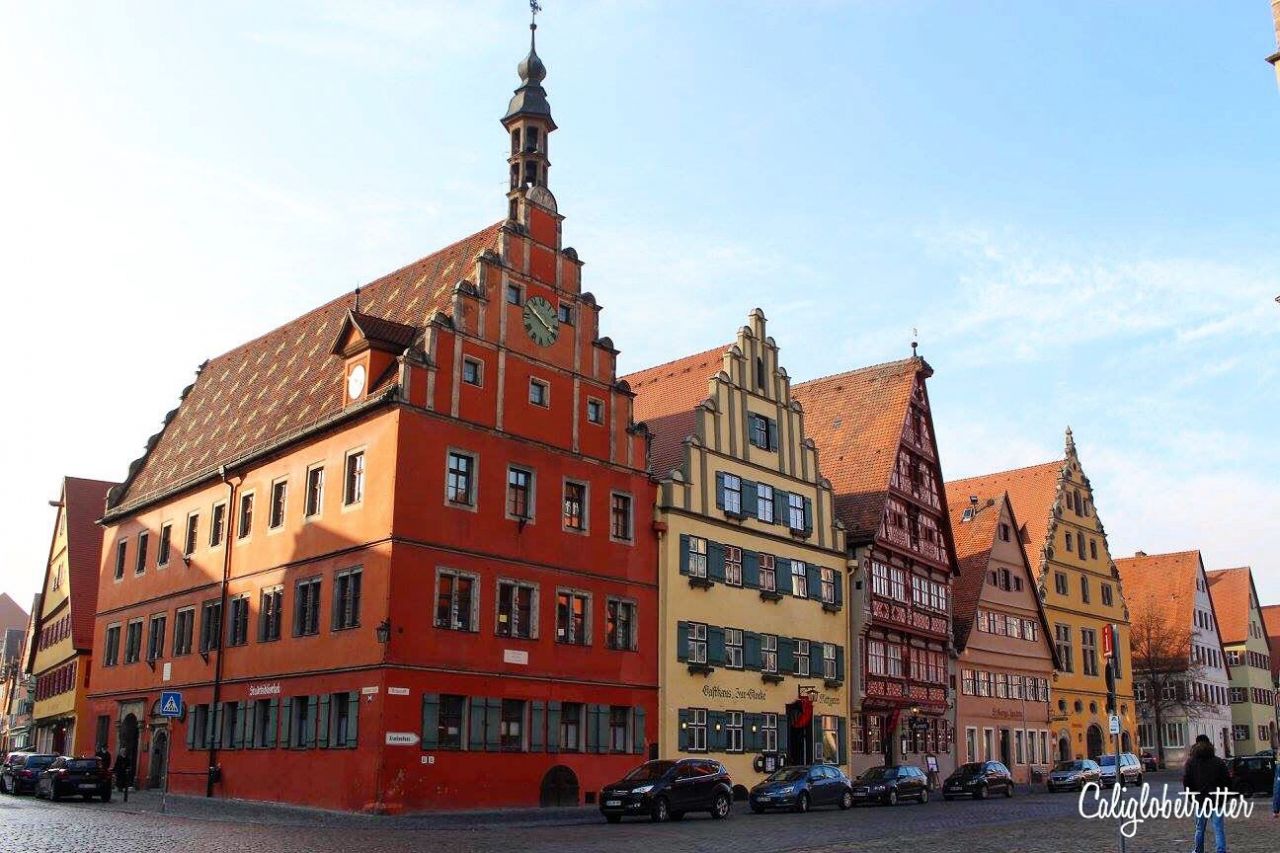 Time: 1 hr 54
The second medieval walled town of three along the Romantic Road, Dinkelsbühl is located in Central Franconia and is definitely worth a visit. Luckily, the entire town escaped the Second World War completely unscathed, which means that it remains just as beautiful today as it did in the Medieval Ages. Although, the town claims it is "the most beautiful town in Germany". (More on Dinkelsbühl here)
34. Nuremberg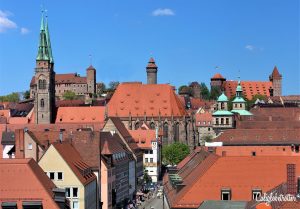 Time: 1 hr 32
The second largest city in Bavaria, this town is definitely one of the absolute best day trips from Munich. Partially surrounded by its medieval walls, the town has a dark connection to the Nazi era, and has tons of interesting things to do for anyone interested in WWII history. If not, there's a beautiful castle perched upon the hill overlooking the town. (More on Nuremberg here)
35. Rothenburg ob der Tauber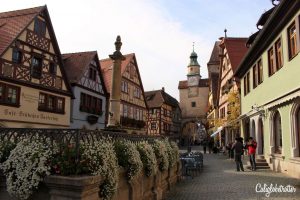 Time: 2 hr 14
An easy day trip from Munich is without a doubt Rothenburg ob der Tauber, a small town that packs a big punch of endless historical, colorful, medieval half-timbered houses. Considered one of the most picturesque towns in Germany along the Romantic Road, so this is one town you DO NOT want to miss as it is the epitome of fairy tale towns from Munich! (More on Rothenburg ob der Tauber here)
36. Würzburg
Time: 2 hr 39
Würzburg is considered to be the gateway to the Romantic Road which leads to Füssen with some of the most amazing German towns and is definitely a wine-lovers paradise! The town itself is popular for having many wine festivals between spring and summer. And it's definitely worth walking up to the Marienberg Fortress which is perched above the city, for a great view. If you're looking for a drinking day trip from Munich with lots of wine, then consider Würzburg! (More on Würzburg here)
37. Bamberg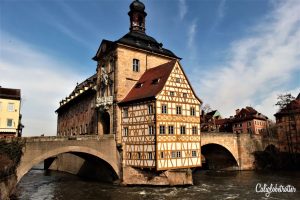 Time: 2 hr 11
Bamberg is a town of historical importance and is situated over seven hills! The most popular attraction is undoubtedly the Altes Rathaus (Old City Hall) which is located in the middle of a bridge, and of course the unique taste of Smoked Beer makes for one of the top day trips from Munich! (More on Bamberg here)
38. Bayreuth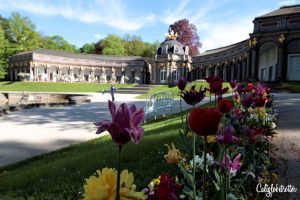 Time: 2 hr 10
If you're looking for a unique place to visit not far from Munich, then consider a day trip to Bayreuth. The perfect day trip for lovers of music as the town is associated with the composer Richard Wagner and has one of the most stunning Baroque Opera houses in Europe. The Old Hermitage Palace (Eremitage) was built in the French fashion as a retreat and is definitely worth visiting. (More on Bayreuth here)
Baden-Württemburg
39. Blaubeuren and it's Blautopf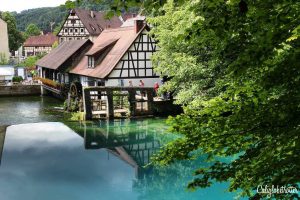 Time: 1 hr 40
Probably one of Germany's best kept secrets lies in the small little half-timbered town of Blaubeuren. In a corner of the town, you'll find the most magical place of any fairytale! Sitting next to the whimsical crystal blue waters is the most adorable little house with a water wheel. (More on Blaubeuren here)

40. Schloss Lichtenstein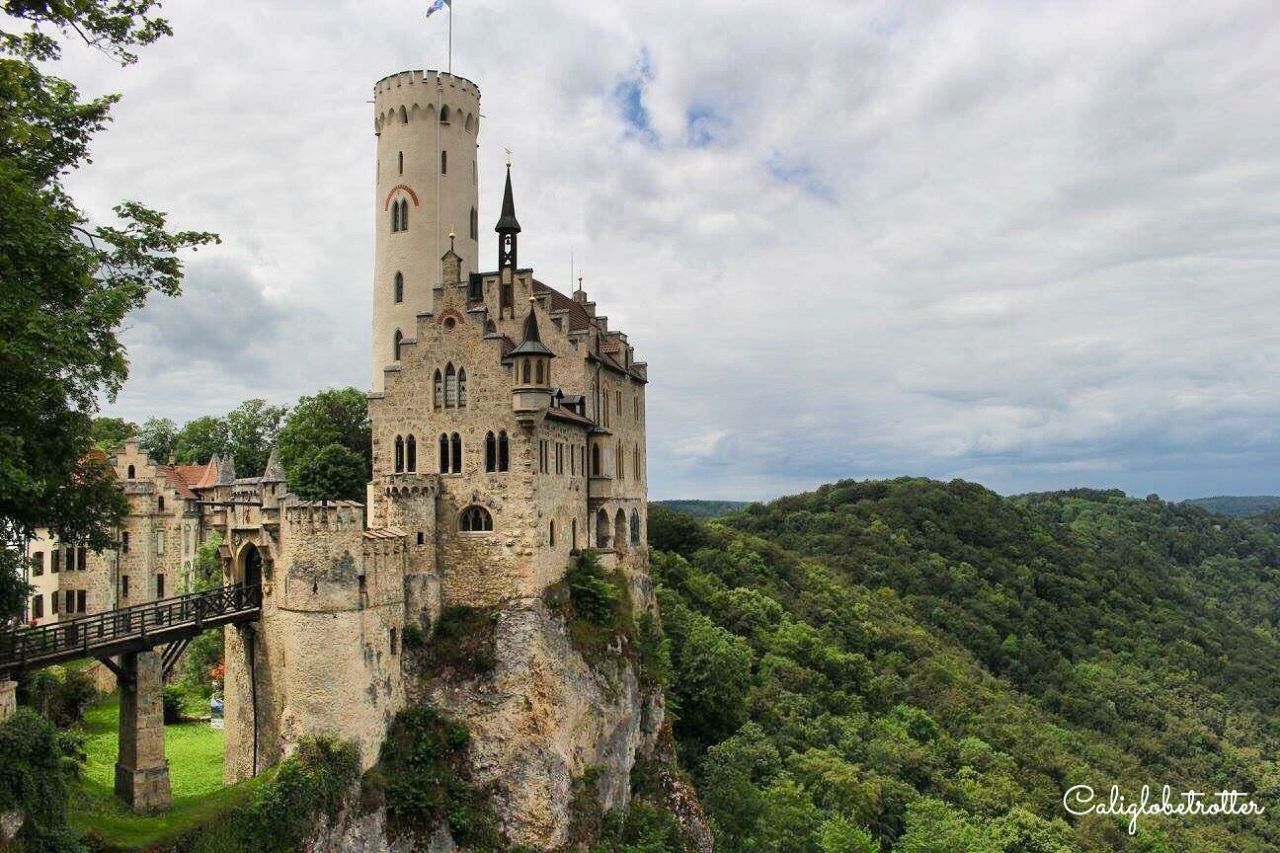 Time: 2 hr 16
This beautiful castle is considered to be a Gothic Revival Castle in Baden-Württemburg which was built to replace an older version of the castle. Today, it is one of the most fairy-tale like castles that pays homage to the Middle Ages and is commonly referred to an Schloss Neuschwanstein's "Little Brother". (More on Schloss Lichtenstein here)
41. Stuttgart
Time: 2 hr 35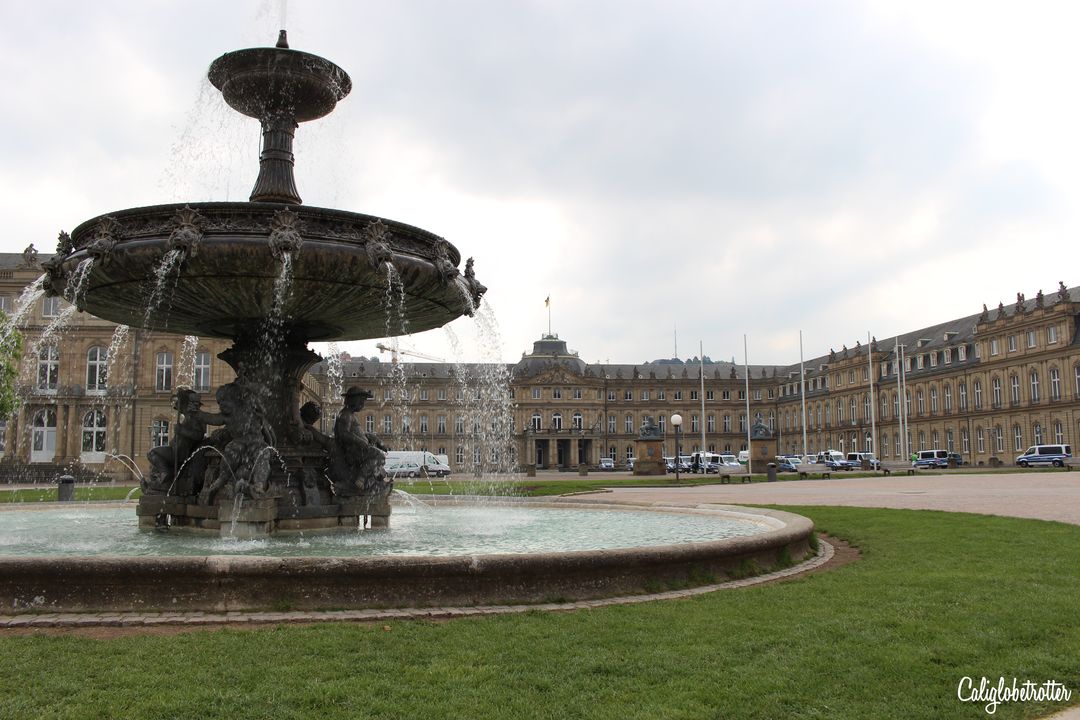 The capital of Baden-Württemberg and home to Mercedes and Porsche, the city is one of the most important manufacturing industrial centers. Business aside, the city center has several splendid historical sites and great shopping. Great place to consider for a day trip especially during Christmas Market season! (More on Stuttgart here)
42. Esslingen am Necker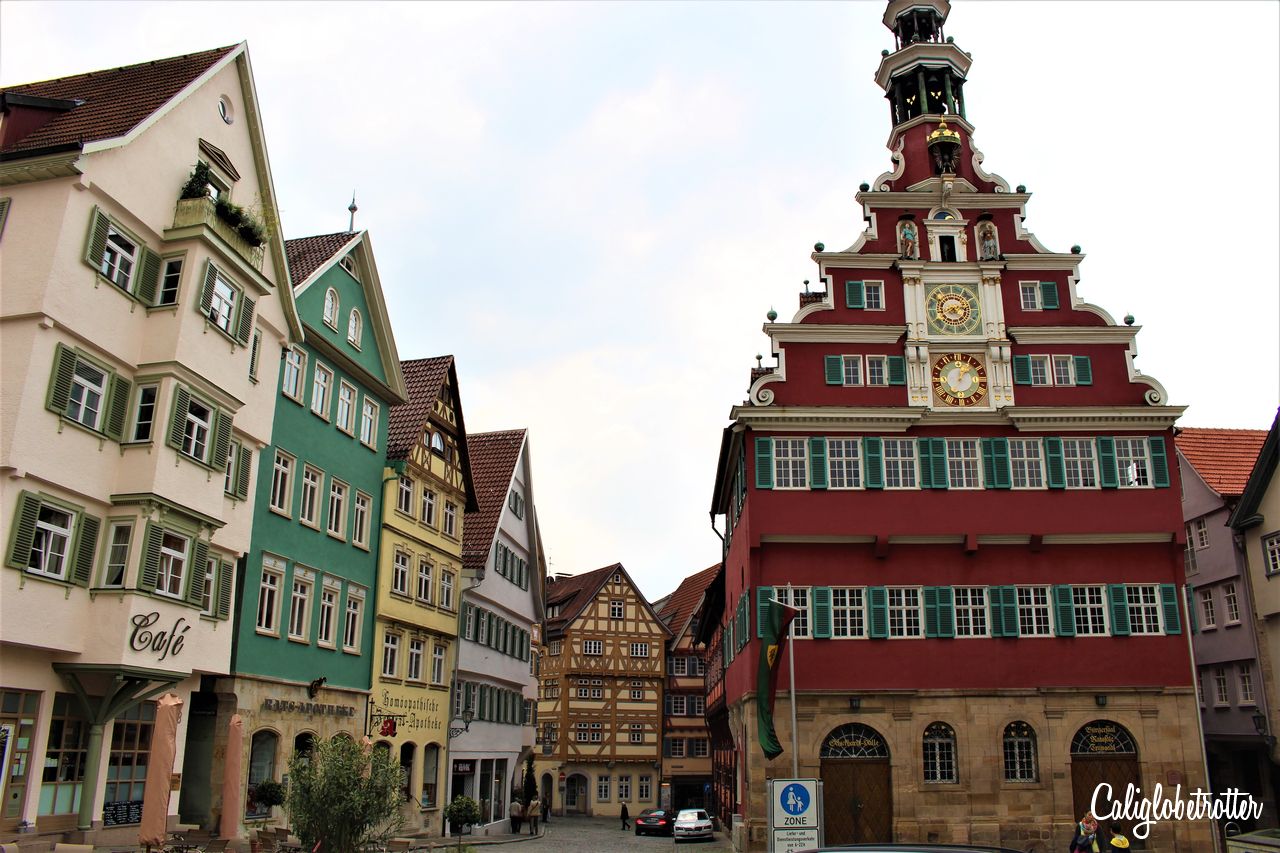 Time: 2 hr 23
Just a 15 minute drive from Stuttgart is the absolutely picturesque half-timbered town of Esslingen, untouched by the ravages of war. Therefore, the town is exactly the same as it was in during the Medieval Ages, surrounded by rolling hills of vineyards. (More on Esslingen here)
43. Schloss Ludwigsburg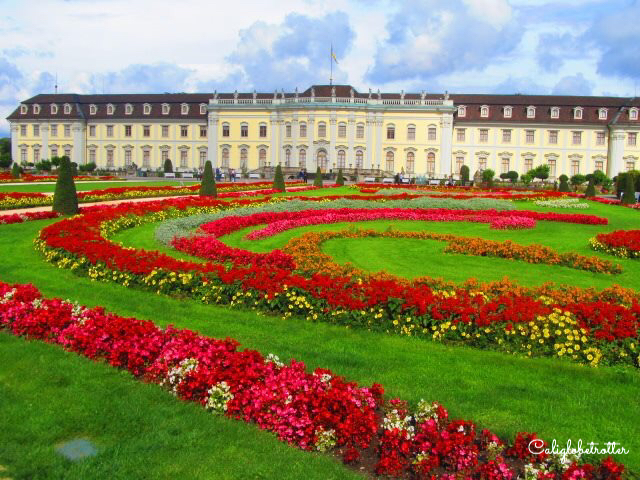 Time: 2 hr 49
What was once a simple hunting lodge has over time evolved into a beautiful, sprawling palace. Today, people love to visit the Germany's largest baroque palaces because of it's stunning gardens and of course for the delicious annual Pumpkin Festival. (More on Schloss Ludgwigsburg here)
44. Heidelberg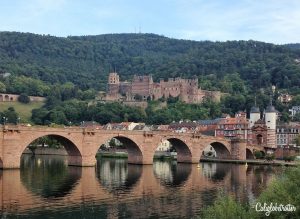 Time: 3 hr 19
I squeezed this in the list, as it's just over a 3 hour drive from Munich, and to be honest, how could you NOT consider driving to this wonderful town!? A historic town perfect for hopeless romantics to loose their hearts strolling the banks of the Neckar and wandering the ruins of the Heidelberg Castle. Heidelberg is small enough that you could visit the entire town in a day anyways, but why not turn it into a weekend trip from Munich? (More on Heidelberg here)
45. Burg Hohenzollern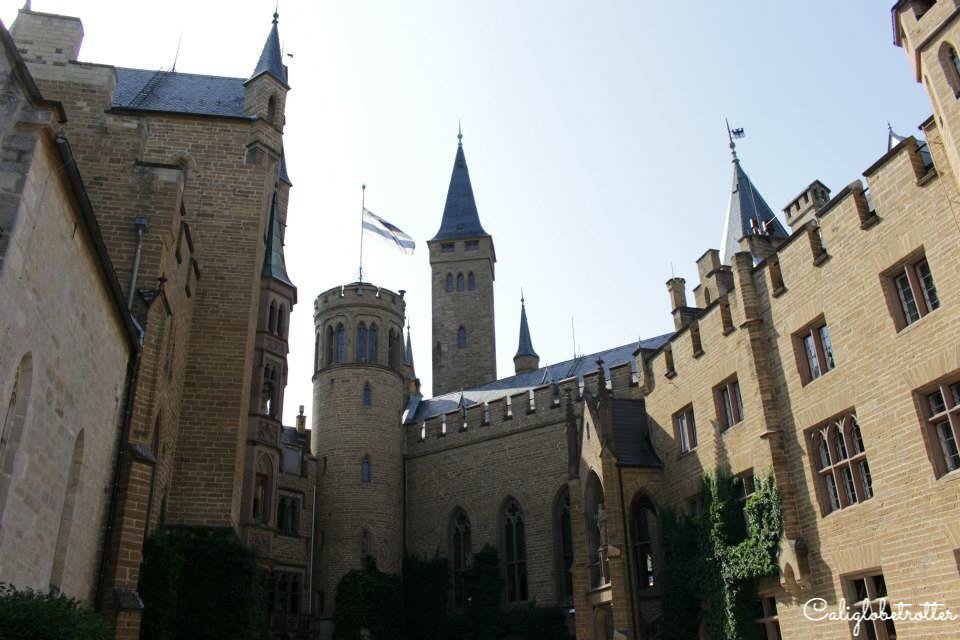 Time: 3 hr 4
Perched upon a hill in the Schwabian Alb, this previous fortress has evolved into a castle with multiple towers and turrets over the centuries and is a wonderful example of neo-Gothic architecture. Today, the castle still belongs to the Hohenzollern family and offers stunning views of the surrounding countryside. (More on Burg Hohenzollern here)
46. Tübingen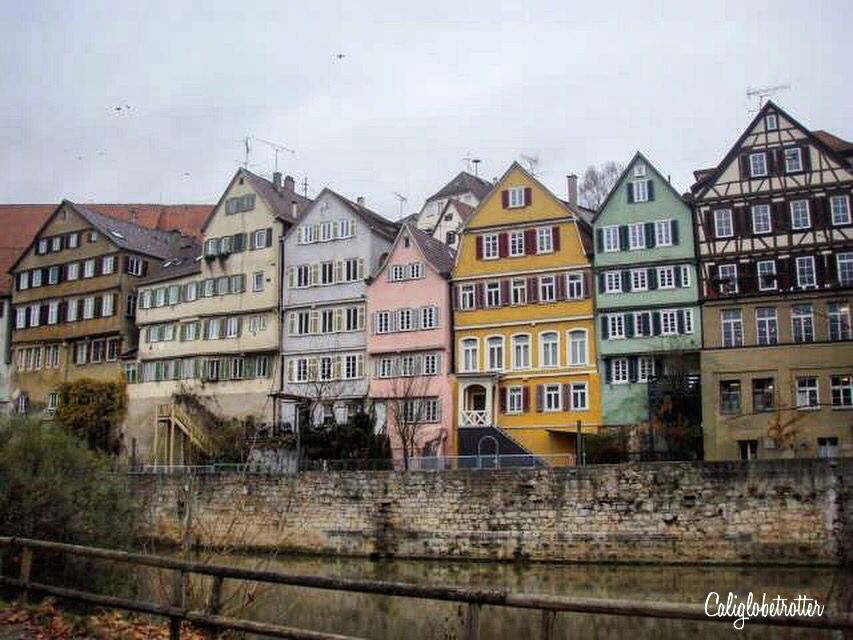 Time: 2 hr 29
Along with Freiburg im Breisau and Heidelberg, Tübingen is home to one of southern Germany's three famous universities. With many half-timbered houses and Schloss Hohentübingen which towers over the town, it is another picturesque town worth visiting.
Austria
47. Innsbruck
Time: 1 hr 53
If you're looking for day trips to Austria from Munich, then be sure to check out Innsbruck! Innsbruck is the capital of the Tyrol and is Austria's most important tourist region. What makes Innsbruck special is that it is nestled into the Tyrolean Alps and during the winter, it is one of the many popular ski towns people flock to. With colorful, vibrant buildings and a crystal clear river flowing through the town, this will make for a joyful day trip! (More on Innsbruck here)
48. Hallstatt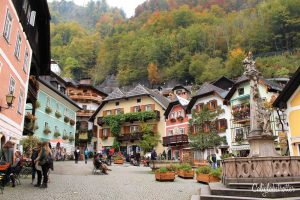 Time: 2 hr 26
Hallstatt, Austria is one of those idyllic towns that ends up on those "must-see-before-you-die" lists as being one of the most beautiful towns to bless this planet. Located in a remote part of Austria along the banks of the Hallstätter See in the Salzkammergut region, the town clings to the edges of the lake, making for one of the most picturesque towns ever! If you're looking for a jaw-dropping excursion from Munich, then heading over the border to Austria will leave you dumbfounded with awe! (More on Hallstatt here)
49. Salzburg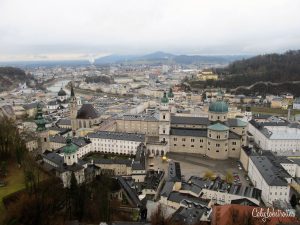 Time: 2 hr 11
A day trip from Munich to Salzburg is easier than you might think! Salzburg borders Germany and Austria and is only a short distance away from Berechtesgaden.Home to the popular story of the Sound of Music, it's worth coming to this town to explore the sights that Julie Andrews skipped and sang her way through! Even though its so close, it could also be turned into a weekend trip from Munich, giving you more time to explore! (More on Salzburg here)
50. Admont Abbey Library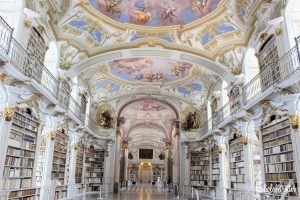 Time: 3 hr 9
Tucked away in the Gesäuse National Park in the Stryia region, is the oldest Benedictine monastery in the region and contains the largest monastic library in the world! Decorated in pastel pinks and blues and highlighted with gold accents, it left one to imagine they were walking through the pearly gates of heaven! One of the Europe's most stunning libraries. Admont Abbey's library was considered to be the "Eighth World Wonder" soon after its completion in 1776. (More on Admont Library here)
Czechia (Czech Republic)
51. Cesky Krumlov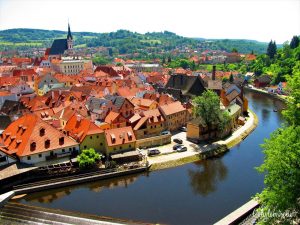 Time: 3 hr 26
Surrounded by a meandering Vltava River, with an incredibly interesting history, this town is a must see for those who are looking for something a little different than your average city! Founded in the 13th century and once owned by three different families, it escaped the horrors of both world wars and was forgotten about until the 90s, therefore, preserving it's unique appearance earning it it's UNESCO World Heritage badge. Cesky Krumlov is definitely one of the best day trips from Munich to the Czech Republic we've had yet! (More on Cesky Krumlov here)
52. Ceske Budejovice
Time: 3 hr 40
A bit further of a drive than the rest, but well worth the effort! The capital of South Bohemia, České Budějovice is home to a large industrial center, which helped it to grow. The historic city center shows the wealth that the city once enjoyed with colorful, unique, intricate buildings which helps draw people in who are looking for something a little less touristy besides just Prague. And just a short drive of about ten minutes sit the Hluboká Castle well worth a visit! (More on Ceske Budejovice here)
If you're interested in visiting Germany and are looking for more information, I highly recommend using the DK Eyewitness Travel Guide! Without these guides, I would be lost! This is my travel Bible!
Disclaimer: This post contains affiliate links. If you click on one and make a purchase, I might make a little extra spending money, at no extra cost to you. As always, all opinions are my own and these products/services have been found useful during our travels and come highly recommended to you from yours truly!
Germany Travel Inspiration & Tips:
40 of the BEST Day Trips from Frankfurt
Top Places to Visit in Germany
Most Picturesque Half-Timbered Towns in Germany
A COMPLETE Guide to Using the DeutscheBahn in Germany
Liked this post? PIN IT FOR LATER!!