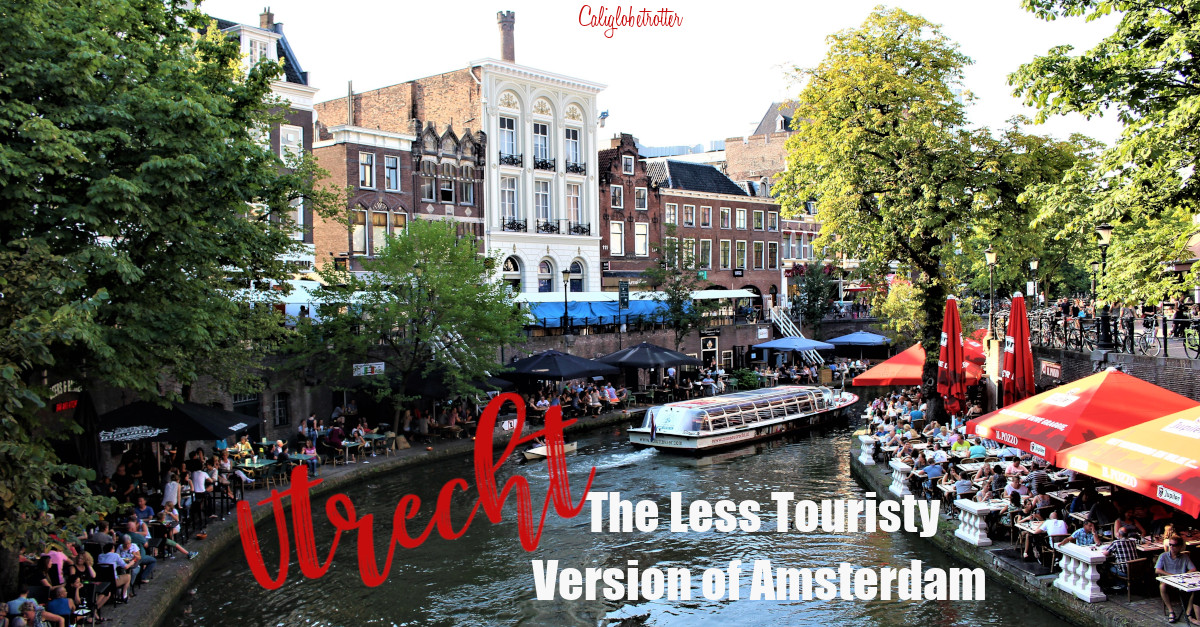 Disclaimer: This post contains affiliate links. If you click on one and make a purchase, I might make a little extra spending money, at no extra cost to you. As always, all opinions are my own and these products/services have been found useful during our travels and come highly recommended to you from yours truly!
It seems like it is becoming more popular to visit the #2 or #3 cities of a country instead of heading straight for the capital city which is over priced, over crowded and a tad too dirty. While Amsterdam is incredibly beautiful and should not be missed while traveling through Holland, it might be more beneficial to just skip all the crowds and head straight for Amsterdam's little brother, Utrecht.
Want to get Away From the Crowds? PIN IT FOR LATER!!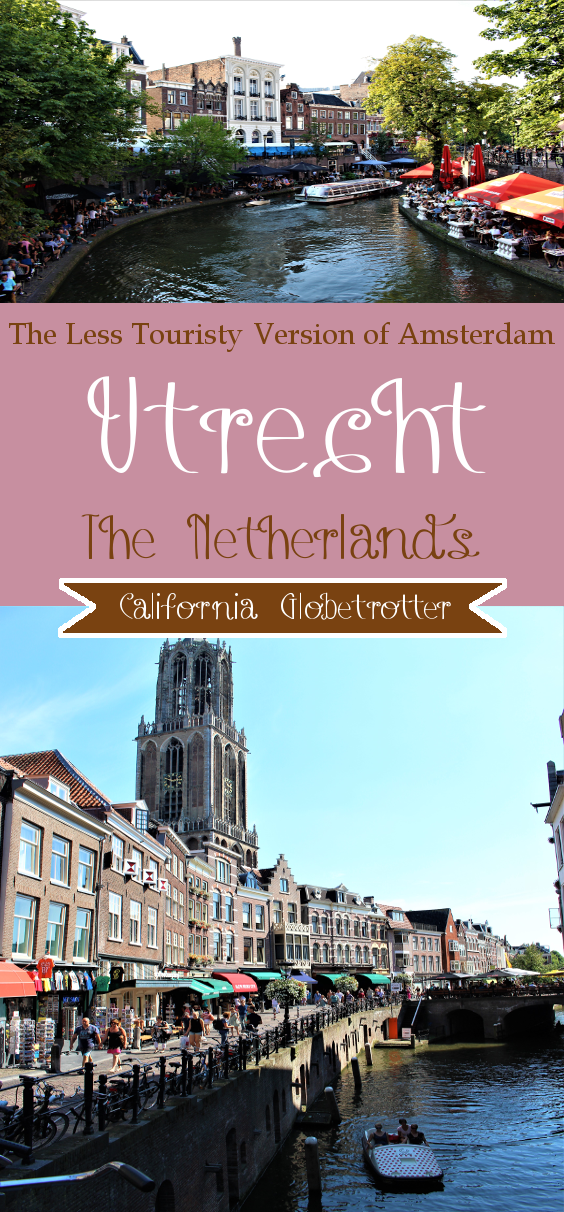 Like this post? Take it with you as GPS Guided App directly to your phone via GPSMyCity!
Your ESSENTIAL Guide to Europe
Tips to Avoid Looking Like A Tourist
Despite only being about an easy day trip from Amsterdam, most tourists don't seem to bother with this little Dutch town that is actually older than the capital! Most seem want to do many of the free things in Den Hague, near the coast of the Netherlands. 
Utrecht, however, has everything Amsterdam has just without the hordes of tourists and is one of the most beautiful canal cities in Europe! It was so peaceful here strolling the Oudegracht (Old Canal) passing cute cafes and restaurants and still getting the contact highs from nearby Coffee Shops.
Take a River Cruise or Sit Along the Banks
Unlike Amsterdam, there aren't as many canals to stroll through, however, the main canal, the Oudegracht stretched right through the middle of the city. It is a medieval canals that connects the city with the Rhine River. Here, there are shops and cafes which line the lower levels of the canal and there are stretches of the canal that you can walk along.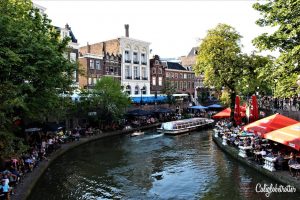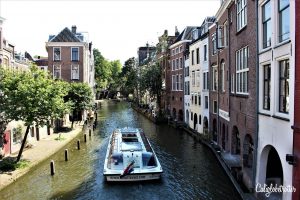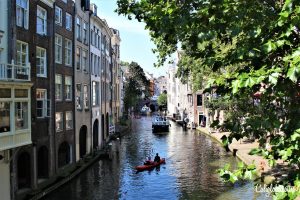 Climb the Tower at St. Martin's Domkerk
As soon as we got into the center of town, you could see that the tower from the St. Martin's Domkerk (cathedral) dominates the town, as it is the tallest tower in the Netherlands standing at a whopping 367ft tall. However, I was surprised to see that once coming closer to the cathedral that the tower was not actually a part of the cathedral. Turns out there was a huge storm in 1674 which caused the nave to collapse after a tornado plowed through the center of the church. Due to low funds, the cathedral was never completed nor repaired and the ruins actually laid there for 150 years.
Today, you can climb the 465 steps to the top of the tower for amazing views over the town. Unfortunately, the RonDom tourist center located in the same square only sells a limited amount of day tickets. It is best to plan ahead for this as it's one of the best things to do in Utrecht!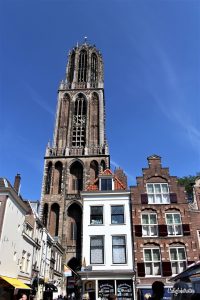 Inside the Domkerk you can still see the choir and the transept. It makes for a quick walk around as there isn't much to see on the inside. There are several tombs throughout the cathedral.
Take a Gander at the Utrecht University
Next to the cathedral is a beautiful brick building which is part of the Utrecht University. Directly in front of the University building is a statue of Graaf Jan Van Nassau who was the brother of the first King of the Netherlands who helped form the union of Utrecht.

The Utrecht Wall of Fame
Whenever I am meandering around, I always make sure to look down because there is usually something interesting which meets my feet! In Utrecht I found a row of hand and foot prints similar to the hand prints at the Chinese Theater in Hollywood. Turns out, this is the Utrecht Walk of Fame of famous Dutch celebrities. The Dutch Film Festival takes place every year in Utrecht when new plaques are unveiled.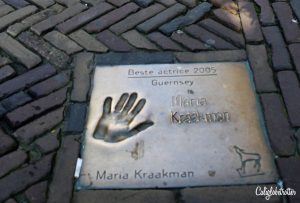 Admire the Architecture & Play "I Spy" With the Cathedral
One thing I truly loved about Amsterdam and Utrecht was that it was like stepping back into colonial America. For some reason, it truly made me feel like this is what the east coast probably felt like before the Revolution. Or maybe it was that I was too in love with the architecture that I was dreaming again. Or maybe I watch too many movies. And it felt like from every angle in town you had a fantastic glimpse of the Domtoren (Cathedral tower)!

Devour a Burger from Burger Bar
If you're wondering where the best place to eat in Utrecht is, look no further. We finally plopped down to eat at a great burger restaurant called Burger Bar. We had planned to eat at one in Amsterdam, but discovered that a new one opened in Utrecht. This was much better as the several Burger Bars in Amsterdam that we passed were way crowded. The burgers here are massive and messy but delicious and while eating my burger, I had to introduce my friends to the Carl's Jr. slogan "If it doesn't get all over the place, it doesn't belong in your face".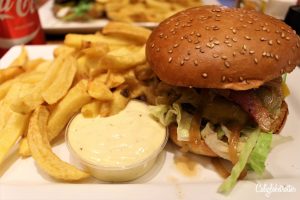 Stop and Smell the Flowers at the Pandhof
After consuming our juicy burgers we felt that we needed to walk around a bit more to burn off dinner before we could go for drinks, so we found a cute Pandhof (courtyard) of St. Mary – a former monastery and its garden filled with a variety of plants and flowers.

Chill in a Converted Church
For drinks we went into a bar, which I had thought looked like any other bar, only to discover once inside, it was actually a former church turned into a bar called Olivier Café-Restaurant. Here they sell a huge variety of Belgian beers, which I was excited about having fallen in love with Belgian beers during my first trip to Belgium. It was a great way to end a lovely afternoon in Utrecht.
I highly suggest coming here if you are looking for something off the beaten track away from the hordes of tourists and the crazy jacked up prices of everything. You still get the same amazing feeling and can enjoy it at a much slower pace. There is no rush here to get to the next must-see tourist checklist.
If you're interested in visiting the Netherlands and are looking for more information, I highly recommend using the DK Eyewitness Travel Guide and Lonely Planet! Without these guides, I would be lost! This is my travel Bible!
Disclaimer: This post contains affiliate links. If you click on one and make a purchase, I might make a little extra spending money, at no extra cost to you. As always, all opinions are my own and these products/services have been found useful during our travels and come highly recommended to you from yours truly!
More adventures from the Netherlands:
A Day Strolling the Canals of Amsterdam
Zaanse Schans: Windmills, Clogs & Cheese!
Liked this post? PIN IT FOR LATER!!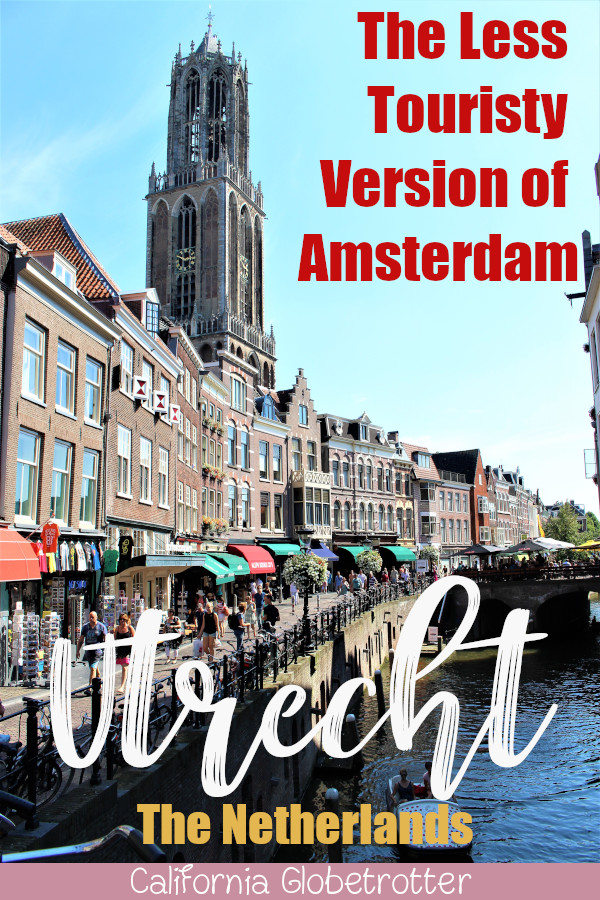 Save