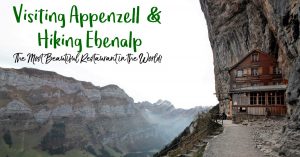 Just across the border from Germany in the region known as Appenzellerland, in the historic canton of Appenzell is Appenzell. Set in one of the most beautiful regions in Switzerland, surrounded by rolling landscape and the Alpstein mountains, Appenzell is often referred to as one of the most charming towns in Switzerland yet is one of the most underrated towns in Switzerland. Not far from here, perched high up in those mountains is quite possibly the most amazing restaurant in the world and one of the most unique sights to see in Switzerland, the Aescher on the Ebenalp, the northernmost summit of the Appenzeller Alps.
Love Cute Towns and Hiking? PIN IT FOR LATER!!
To celebrate our first anniversary as a married couple, we spent the day wandering around one of the most colorful towns in Switzerland before taking a cable car up the Ebenalp and doing a bit of hiking. We prosted to us and a successful first year of marriage at the famed Aescher with views to kill for.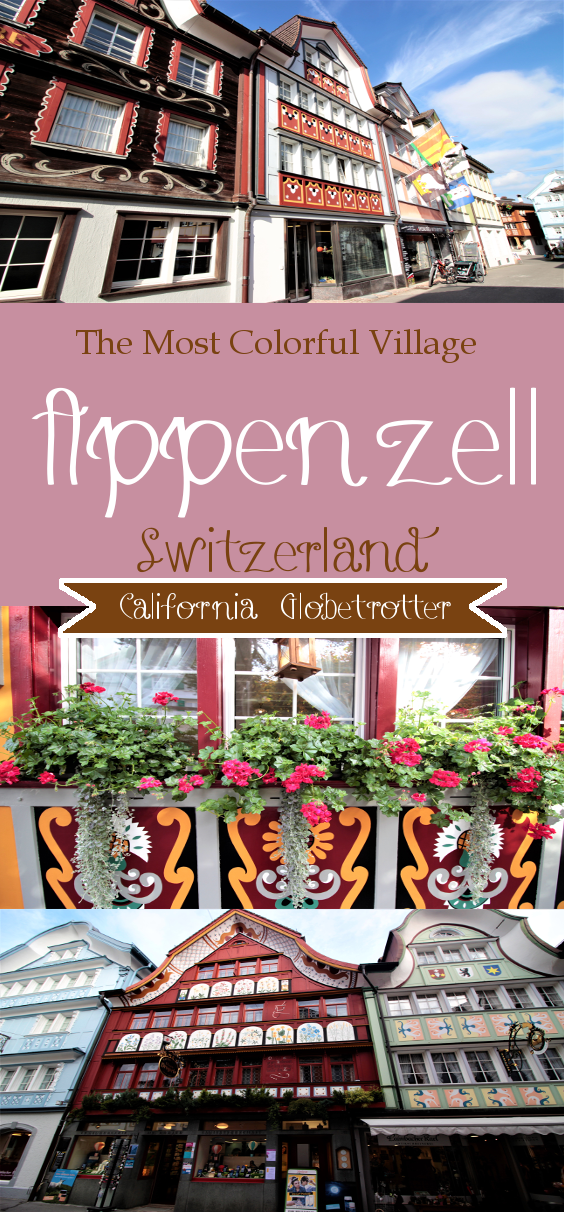 This article is now available as a mobile app. Go to GPSMyCity to download the app for GPS-assisted travel directions to the attractions featured in this article!
How to AVOID Looking Like a Tourist in Europe
Your ESSENTIAL Guide to Europe
History of Appenzell
The name Appenzell derives from the Latin word abbatis cella which translates to "estate of the abbot" referring back to the Abbey of St. Gall which had a massive influence on the development of the town. Between the 10th and 15th centuries, Appenzell was part of the abbey of St. Gallen before it finally gained its independence and joined the Swiss Confederation in 1513. 
The region is renowned for its delicious cheese, rural customs and traditions. During the autumn, they too have their own Almabtrieb – the tradition of bringing cattle back down from the Alps. Cows are the a vital source of the town's economy, from cattle-breeding, dairy products and cheese making.
Every spring, eligible voters are required to attend an open air assembly in the largest town square – a unique form of democracy, known as Landsgemeinde where important matters of governance are discussed and voted upon. But there can't possibly be too many discrepancies in Switzerland when the country is considered to be one of the happiest countries in the world!
Visit Appenzell
After driving through winding villages and sprawling farm land with bell ringing cattle everywhere, we finally arrived in Appenzell only to be greeted by a bridge into the town lined with the Swiss and Appenzeller flags blowing in the wind. The town is so small that you really only need a few hours to stroll through the alleys, admire the colorfully painted houses, grab some lunch and do a bit of shopping. While it might not make the top 10 towns to visit in Switzerland, it's certainly worthy of a visit, but in my eyes, it's one of the most stupid pretty towns in Europe!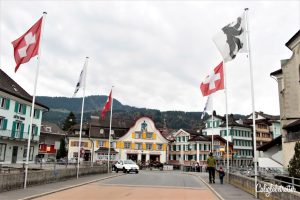 It is not a town that you will expect to get super busy and crowded like Lucerne or other towns, as it has still maintained its sleepy quiet town charm. Occasionally, you'll get a good whiff of that delicious cheese wafting through the town or possibly the comfy cozy smell of a wood burning stove. Other times, you'll get a good stinky whiff of cow reminding you that you're rubbing elbows with these happy cows. And the sound of cow bells a jing-a-ling as they happily munch on the grass was a charming sound I could have listened to all day, every day!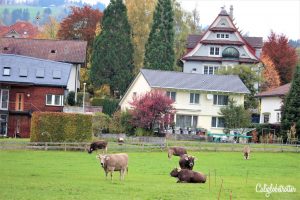 Church of St. Mauritius
As soon as you cross the bridge, a large 16th century Baroque church sits at the beginning of the "Hauptgasse" (Main alley) across from the charming Apotheke (Pharmacy). The church is named after the patron saint of the army, the infantry, weaponsmiths and weavers, who is also the patron saint of the Appenzell Innerrhoden Canton. Not surprising as Switzerland is a country created by a bunch of mercenaries. The outside of the church has an interesting balcony which wraps around the church, while the inside has beautiful stained glasses windows and an impressive Gothic choir. We were able to walk up the second floor pews for a full scale view of the church.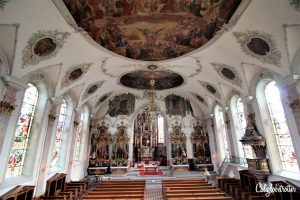 As we continued to walk down Hauptgasse, we passed the Rathaus (City Hall) and a few tourist shops where you could find anything and everything Swiss, from extra extra large fondue pots to extra extra large cow bells. Throughout the town, you'll notice that many of the houses have decorative facades and beautiful under-roofs, but it is here on Hauptgasse that the first was painted. Die Löwendrogerie (The Lion Drug Store) which dates back to 1560 after being rebuilt after a fire was the first to be painted in 1931. Afterwards, everyone desired such a similar facade and now each one has their own unique style.
While Appenzell is not among the top places to visit in Switzerland, I was nonetheless surprised by the number of people in the town center. I felt most were surprisingly tourists, but more than half was definitely locals.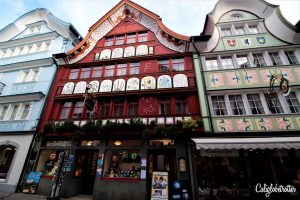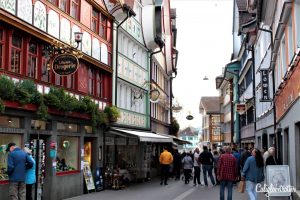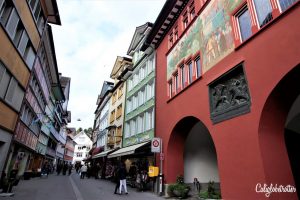 Jutting to the left of the Hauptgasse is a small square with a few cafes and a toy store, Bazar Hersche, absolutely oozing with a plethora of garden gnomes in a variety of sizes. My inner kiddie wanted to run around and play with all of them and the bubbles coming from a bear-blowing machine on the roof. But I settled for just one traditional gnomes blowing on an Alpine horn. It is here that the famous Hershey's Chocolate we all know and love was founded here by Milton Hershey's family before they immigrated to the US in the 1700s.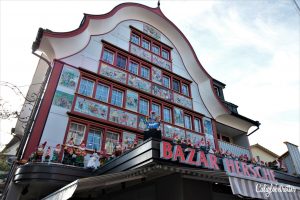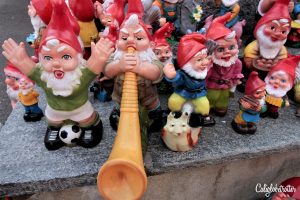 Continuing on to Landsgemeindeplatz, you could simply imagine that the entire townspeople could easily fit into this very large square during their annual gathering. You'll find yet more colorful houses, hotels and restaurants in this main square so we plopped down at one of the best restaurants in Appenzell to finally get our grub on at Hotel Säntis ⭐⭐⭐⭐ where we enjoyed a traditional Swiss Cordon Bleu with Appenzeller cheese, Macaroni and Cheese with local sausage and of course the famous Appenzeller beer. However, if you're traveling with a set budget, there are a variety of great places to stay in Switzerland to suit everyone's needs.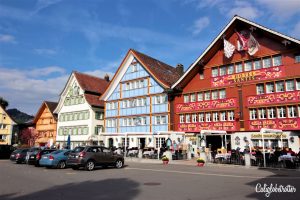 From here, we put down the map and simply meandered up, down and around any and all alleys. Either way, it was impossible to get lost in this tiny village and around each corner was yet another beautiful house, bakery or even a "castle". No wonder Appenzell is often titled one of the most charming villages in Switzerland! They aren't like you're typical fairytale villages in the Swiss Alps, but equally as beautiful! From here, I'll just let the pictures do all the talking.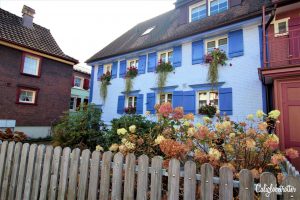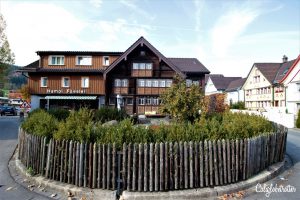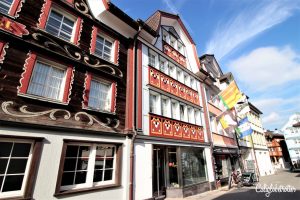 Eventually, we stumbled upon the Appenzeller Castle, a main attraction in Appenzell which was built as an elegant mansion rather than a castle in 1563 by the doctor Antoni Löw next to a monastery. He was a proud supporter of the Protestant Reformation and in 1564 he was captured, judged and sentenced to death for slandering a priest. Afterwards, the castle was owned by multiple people. If you were to continue walking up Poststrasse, you'd come to the train station, give a 5 minute walk away.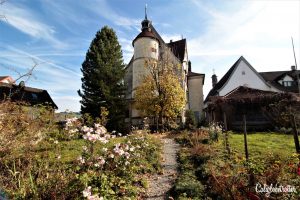 Tips for Visiting Appenzell:
Consider doing a Cheese Tour at the Schaukäserei and learn how Switzerland's strongest cheese is made. Demonstrations are daily until 3pm.
Catch the Almabtreib from the middle of August to the middle of September.
Ebenalp Cable Car & Hike to Aescher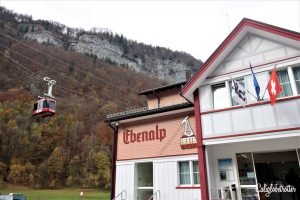 After spending the afternoon walking through the town, we made our way back to the car before driving about 5 minutes to the Ebenalp Cable Car. Parking is along the street or in the limited parking lots and is free of charge.
If you're not coming by car, then you can take a train from Gossau and St. Gallen to Wasserrauen. 
The cable car, built in 1955 transports up to 200,000 people per year at a height of 1,644 meters (5,393 ft) in less than 6 minutes, running every 15 minutes. 
Address: Luftseilbahn Wasserauen-Ebenalp AG Schwendetalstrasse 82, 9057 Wasserauen
Price: Round trip for 2 people 62 Swiss Francs (~50€)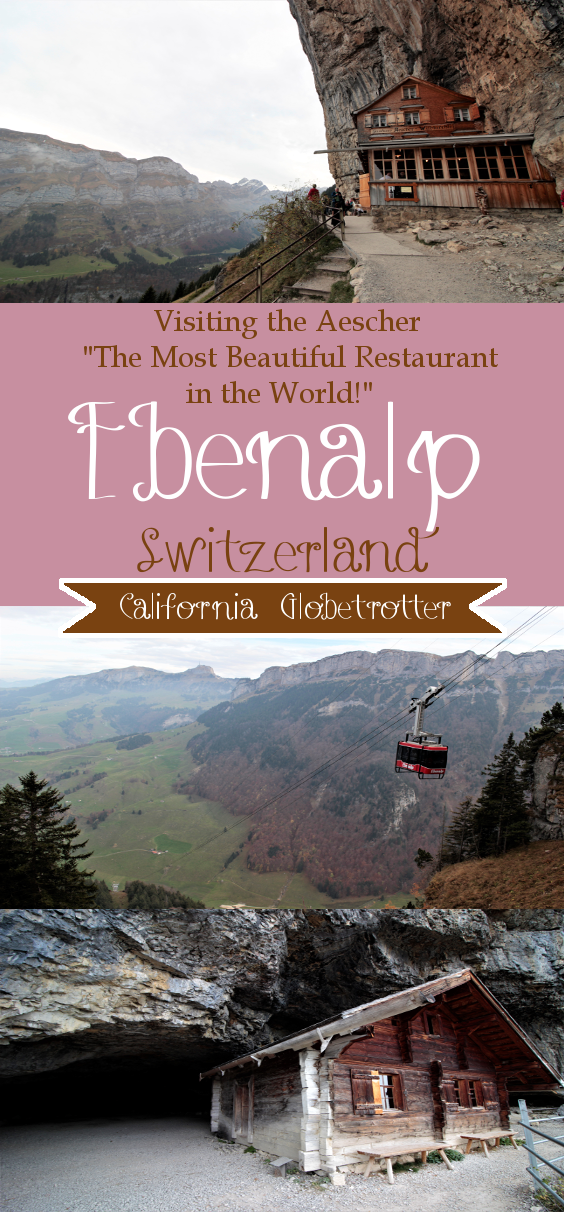 We quickly disembarked before making the trek down the Ebenalp, one of the best hikes in Switzerland, passing several different sights of interest, but not before stopping to truly enjoy the breathtaking views over the surrounding area below. Farm houses and hamlets are scattered as far as the eye can see, zigzagging and connecting like puzzle pieces. Way off in the distance, you can barely see Bodensee (Lake Constance) however, on a clear day, you'd be able to see it more clearly, as well as the Black Forest. I expected to see some paragliders or hang gliders flying though the sky, but unfortunately, I think the season was over.
Whether your celebrating an anniversary, looking for honeymoon destinations in Switzerland or simply looking for romantic things to do in Switzerland, hiking the Ebenalp to the Aescher was definitely one of the most memorable things we have ever done and one of the best hikes in Europe!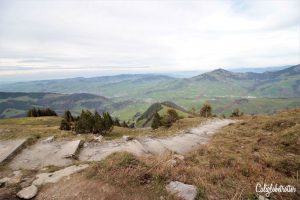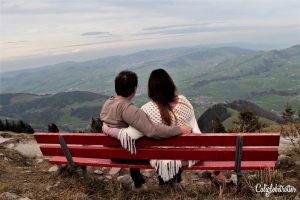 As we began our decent down the mountain, we first came upon the Wildkichli Caves, a mystical and mysterious experience which are karst caves formed over millions of years. In 1904 it was discovered that man had lived in the Alps during the Palaeolithic Era (45,000-30,000 BC) when prehistoric stone tools were found. It is thought that the caves were used by hunters and gatherers during the warm summer months, but during the winter months, it was inhabited by cave bears and other animals. It was nice that while walking through the caves, you occasionally stumbled upon little info plaques describing the history of the caves, sadly, only in German despite the amount of English I heard.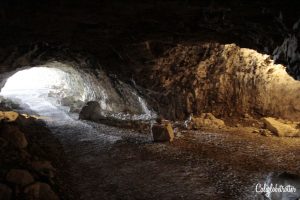 After walking through the caves, you exit to find the Hermit's House, built in 1657 by Parish Priest Paulus Ulmann who lived here for two years. Since this time, until 1853 the house was occupied by many laymen who lived solitary lives and were considered to be the guardians of this holy place.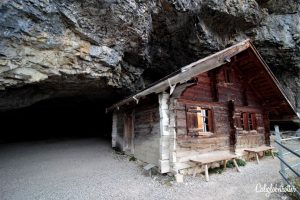 Passing through a gut wrenching (for me) cliff hanging wooden walkway, you'll come to the Wildkirchli Chapel, a sweet little chapel inhabiting a cave in the rocks since 1621. Could be an interesting place to see if it's possible to get married here.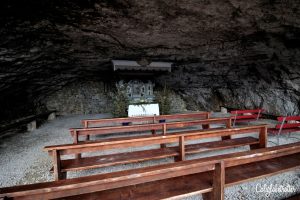 Finally, we arrived to the most anticipated spot on the entire hike…the Berggasthaus Aescher-Wildkirchli which was named "Mountain Inn of the Year 2012" and "the World's Most Interesting Restaurant" by Huffington Post, but if you ask me, I would say it's the world's best restaurant with stellar views! Not only is it a restaurant, but it was also a hostel, but at the moment doesn't seem to take overnight stays anymore. But, forget that, and just admire the beauty of this amazing restaurant with views to last for dayyyysss! I definitely feel that the Aescher is one of most unusual sights to see in Switzerland as it is nestled into the rocky mountain. Where else can you find such a sight!? Clearly this is one of the most amazing hikes in Switzerland!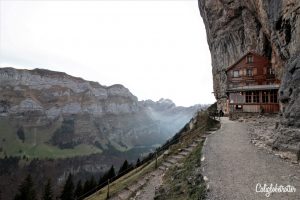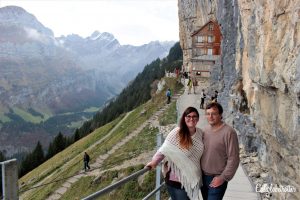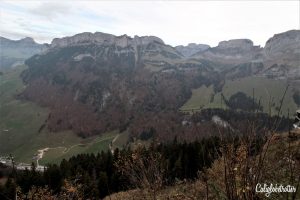 Here, you'll find several beer garden style tables lining the small patio with visitors coming to enjoy a drink and soaking up the views. If you're wondering what to eat at the Aescher, consider a delicious Rösti which is really like hasbrowns . We clinked our glass of Appenzeller beer, prosting to our one year of marriage and shared a Rösti which is similar to hash browns.
Nowhere is the change from rolling hills to impressively steep alpine mountains so breathtaking than in the Alpstein area! The views really are to die for!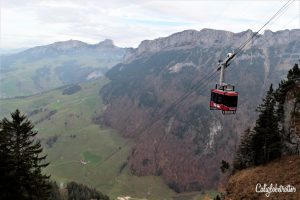 We had only intended to take the cable car up the mountain and walk down from the Aescher, but it seems it would have taken us an hour and a half to walk down the mountain, so we opted to take the cable car up and down. Had the days been longer, we would have done it but by 5pm the sun was was already starting to dim. 
Tips for Visiting the Aeshcer:
Wear good hiking shoes!! The path is incredibly rocky at times. More info on the hike here.
Bring water and snacks unless you plan to eat at the Aescher. 
Cash is King on the mountain! 
Walking down from the Cable Car Station to the Aescher should take roughly 20 minutes (stopping for pix). Walking up about 25 minutes if you're in shape but closer to 40 if you want to take your time. 
The Aescher is only open from May until November 1st. 
Where would I be without my trusty DK Travel Guides? Lost probably! With quick details, easy to follow suggested sightseeing routes, I can find my way through any city!
Disclaimer: This post contains affiliate links. If you click on one and make a purchase, I might make a little extra spending money, at no extra cost to you. As always, all opinions are my own and these products/services have been found useful during our travels and come highly recommended to you from yours truly!
Day trips in Switzerland:
Make the Most of Your Weekend to Lucerne 
A Day Excursion: Lake Lucerne & Mount Rigi-Kulm
Liked this post? PIN IT FOR LATER!!