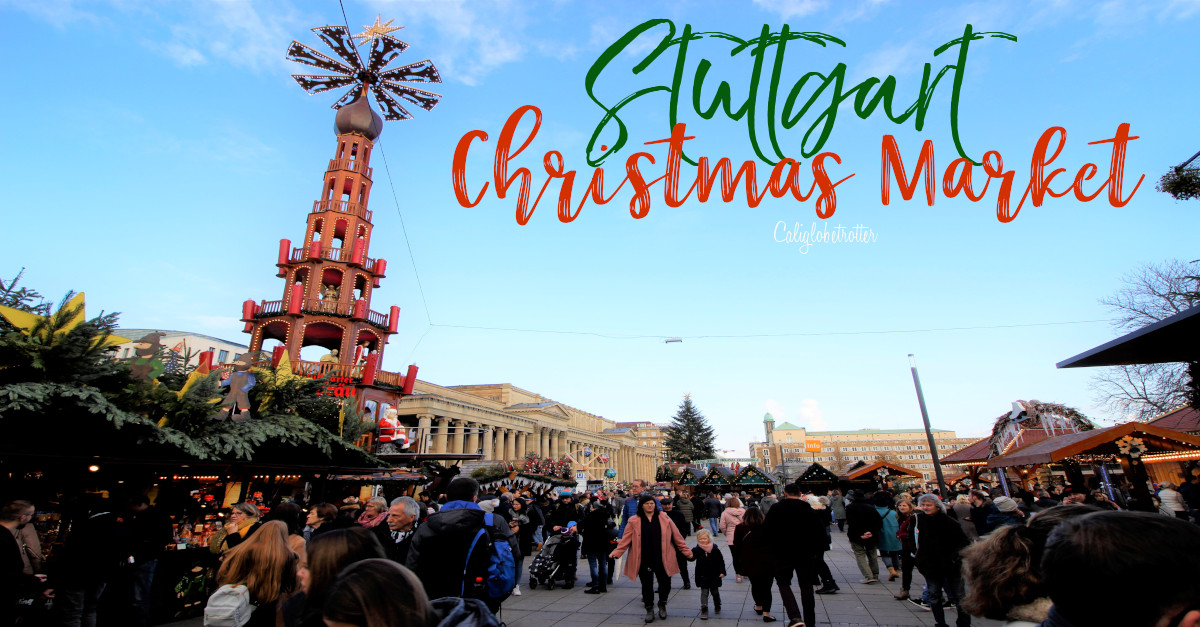 Disclaimer: This post contains affiliate links. If you click on one and make a purchase, I might make a little extra spending money, at no extra cost to you. As always, all opinions are my own and these products/services have been found useful during our travels and come highly recommended to you from yours truly!
This holiday season, consider visiting the Stuttgart Christmas Market. Close your eyes and imagine a steeple church, narrow cobble stone streets and beautiful medieval architecture. Sounds pretty amazing, doesn't it!? Now, add in twinkling lights throughout the city, small wooden huts decorated with baubles upon baubles of Christmas charm, some crisp winter air with a cuppa pipping hot Glühwein and 300 years of history and you have yourself a German Christmas Market!
Want to Experience the Stuttgarter Weihnachtsmarkt? PIN IT FOR LATER!!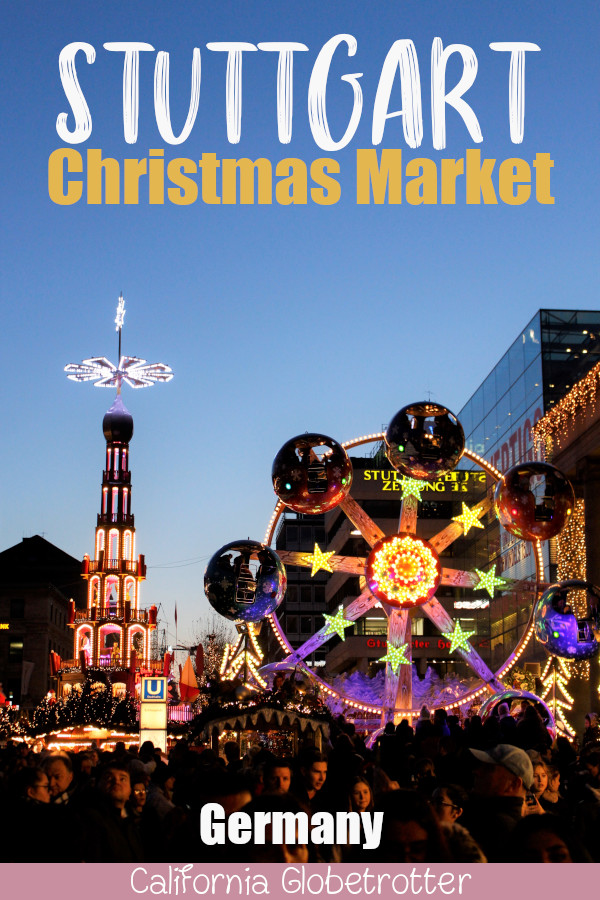 EVERYTHING You Need to Know About a German Christmas Market
Unique Christmas Markets in Germany
Photos to Inspire Christmas in Europe
Christmas traditions and customs, delicious food and the smell of hot mulled wine wafting through the air permeates every corner of every main square in Germany. Towns and cities come alive with the sound of Christmas carols and laughter as people make their way from one stall to the next, buying their Christmas gifts and souvenirs. After all, Christmas markets are a treat to your all of you senses!
If you're looking for one of the oldest and the largest markets (with over 200+ stalls!) in Germany, then Stuttgart has gotcha covered, blending a variety of Germans traditions and cuisine with other worldly wonders. The city's annual Christmas market has been a tradition here since it was officially mentioned for the first time in 1692 but its history dates even further back to 1507! You'll easily notice that the stalls here are unlike any other and you may never be the same again after visiting Stuttgart's Weihnachtsmarkt! More than 3.5 million visitors fall in love every year with this beautiful market!
Full disclosure: Stuttgart has never been one of my favorite cities in Germany. In fact, even after thoroughly exploring it prior to my blogging days, it was and has been a city that just didn't tickle my fancy. A good portion of it was unfortunately destroyed during WWII and as a result, most of it was rebuilt in the 50's-70s in a particular Bauhaus style which I simply just don't like. Hard edges, grey stone, bland buildings as compared to many other picturesque cities in Germany.
Related: 11 German Towns That Survived WWII
However, visiting Stuttgart's Christmas Market is a great excuse to visit the city and fully indulge my Christmas Market obsession. Having previously visited and being absolutely shocked by the beauty of the market, I have been itching to re-visit the Stuttgart Weihnachtsmarkt which is just oozing in holiday pizazz.
Stuttgart Christmas Market Date & Times
When: From November 23rd to December 23rd, 2022.
Where: Stretching from the "Neuen Schloss" and "Königsbau" to the "Karlsplatz" and "Schillerplatz" squares with the "Alten Schloss" and the "Marktplatz" square via the "Stiftskirche" church.
Opening Times: Monday – Thursday 10am – 9pm, Friday & Saturday 10am – 10pm, Sunday 11am – 9pm
Catch the Opening Ceremony
Taking place on November 27th, at 6pm, the mayor of Stuttgart will officially kick off the holiday market with the festive inner courtyard of the Alten Schloss, brightly decorated with a Christmas trees and stars. Following the ceremony, there is a Christmas tree lighting ceremony, of one of Germany's tallest trees, which takes place feet away at the Schlossplatz.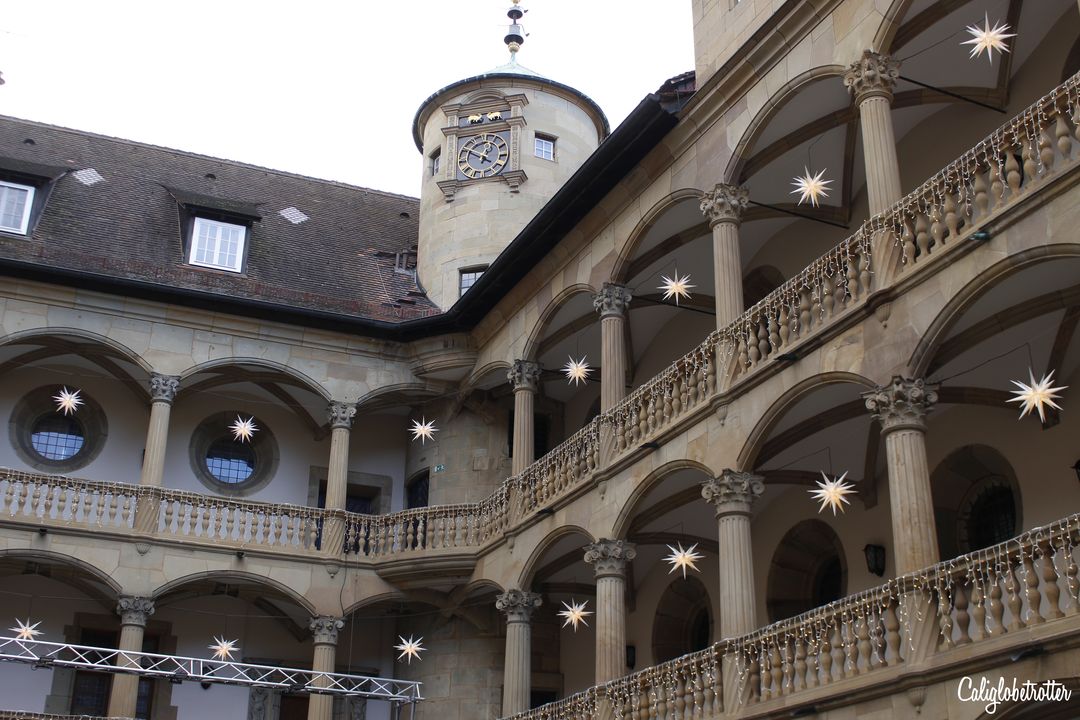 Schlossplatz Market
After exiting the U-bahn at Schlossplatz, you can begin tackling the Stuttgart market here nicknamed "Wintertraum" or Winter's Dream Village. Spread throughout the main pedestrian zone directly in front of the Königsbau and the Neues Schloss, markets here will sell Bratwurst, Crêpe, roasted almonds, Glühwein and more. Here, you'll find several stalls enticing you to enter the Kerzen Werkstatt. There is also a miniature railway (eisenbahn) for young and old to enjoy. To the right of the market, directly in front of the Alte Kanzlei, you'll find a small ice skating rink and miniature Ferris wheel as well as a children's choo-choo train! 
There are endless opportunities for the fairytale Christmas dream to come true for all little kiddies by taking part in baking their own gingerbread hearts or making candles! This was easily my favorite part of the entire Stuttgarter Weihnachtsmarkt as Christmas music echoed throughout the market adding an extra dose of holiday cheer. It's also where we found the best tasting Glühwein!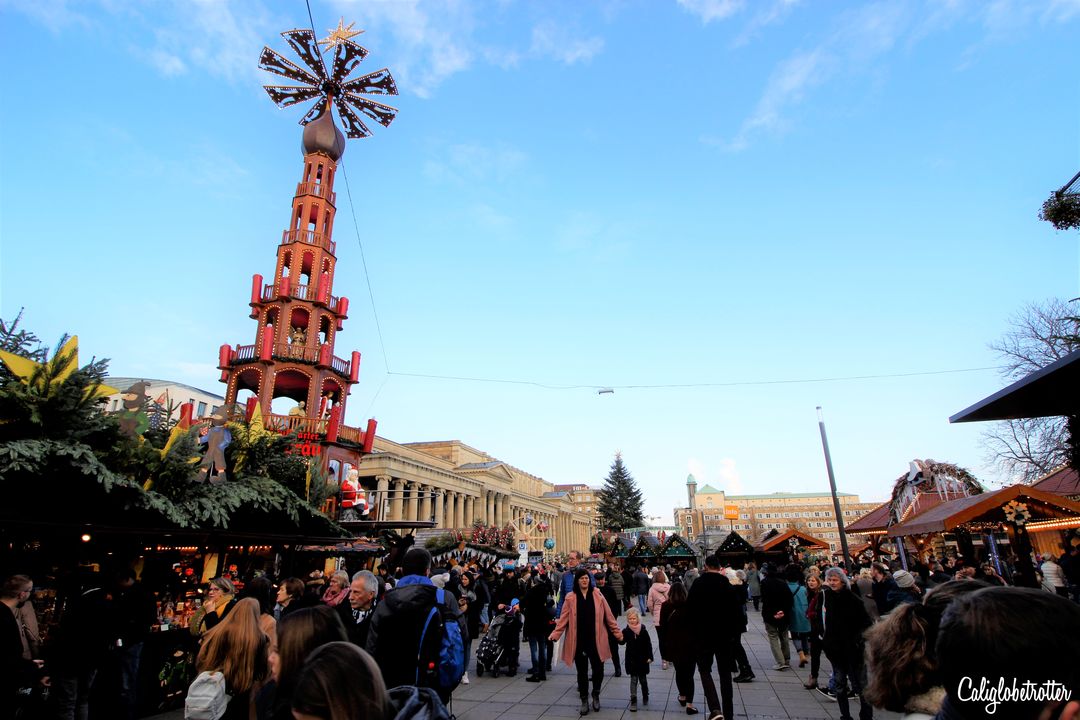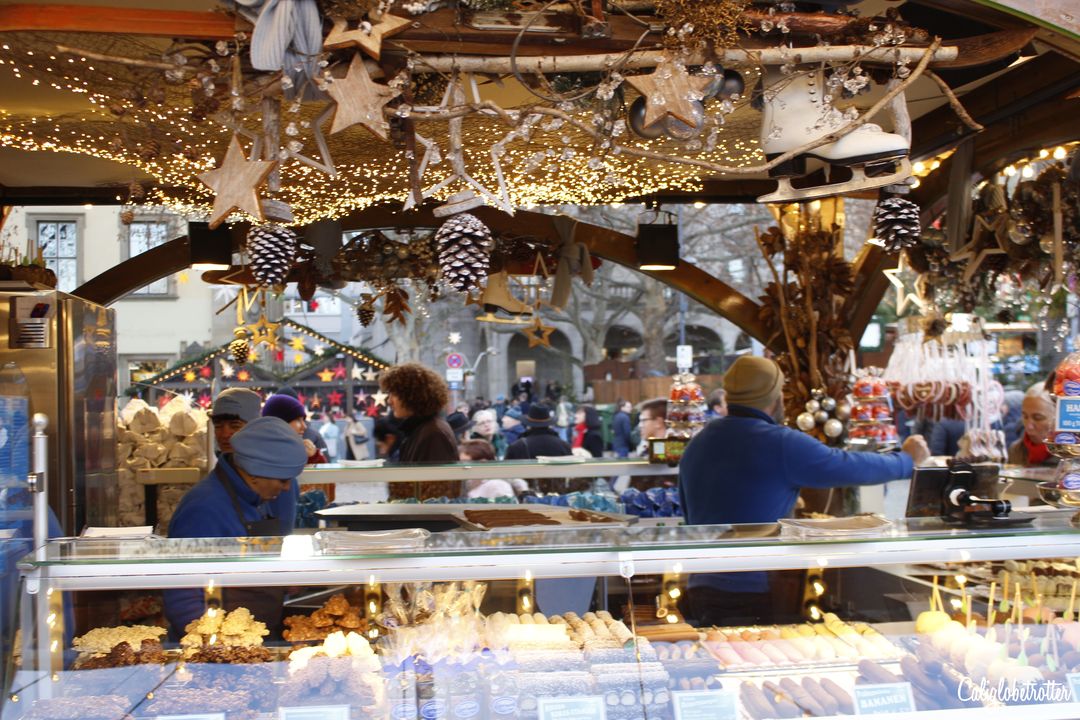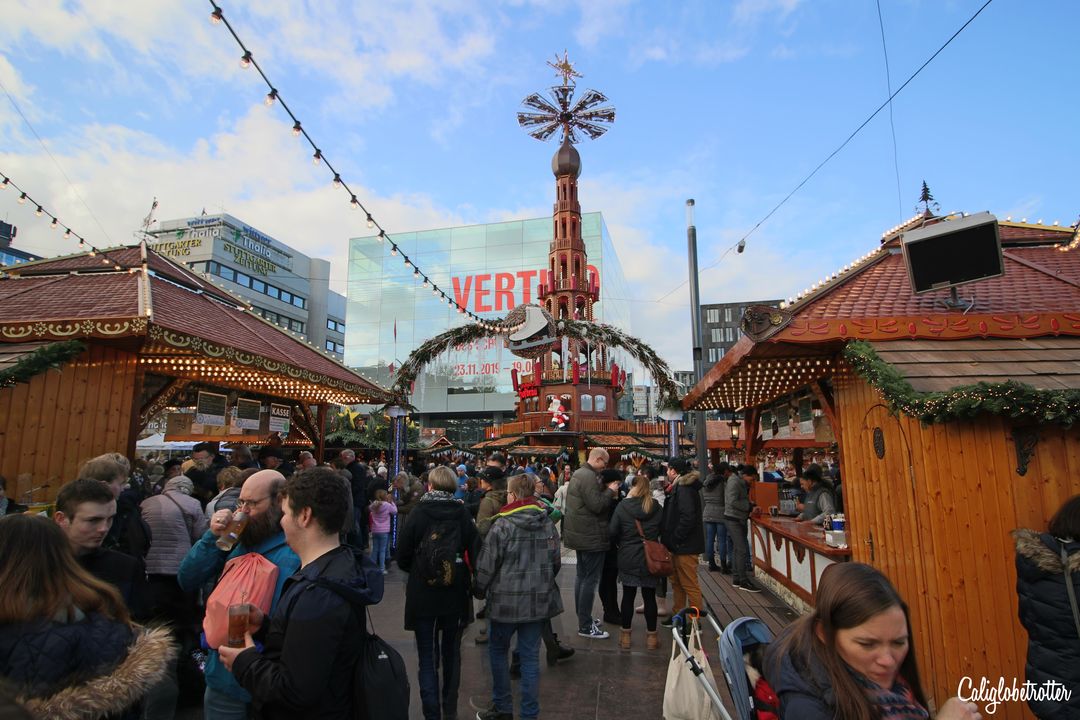 Schillerplatz
Snuggled between the back of the Altes Schloss and the Alte Kanzlei is an array of stunningly beautiful Christmas stalls. Not only is Stuttgart's Christmas Market one of the biggest and oldest in Europe, but also one of the MOST beautiful and it's clear to see why. Traders go above and beyond when it comes to decorating their stalls with elaborate details, each competing to be recognized by a jury as "The Most Beautiful Christmas Market Stall". Here you'll find a dazzling display of Christmas stalls out to impress, with shiny baubles, teddy bears, mechanical reindeer and Santa's, to simpler, more modest stalls. 
The festive ambiance that floats through the air, the hundreds of thousands of twinkling lights and decorative trees is incomparable to any other market in Germany.  On offer are an overwhelming range of Christmas items and gift ideas from Christmas tree decorations, nativity figures, toys, hand carved woodcut knickknacks, puppets and candles through to lambskin shoes.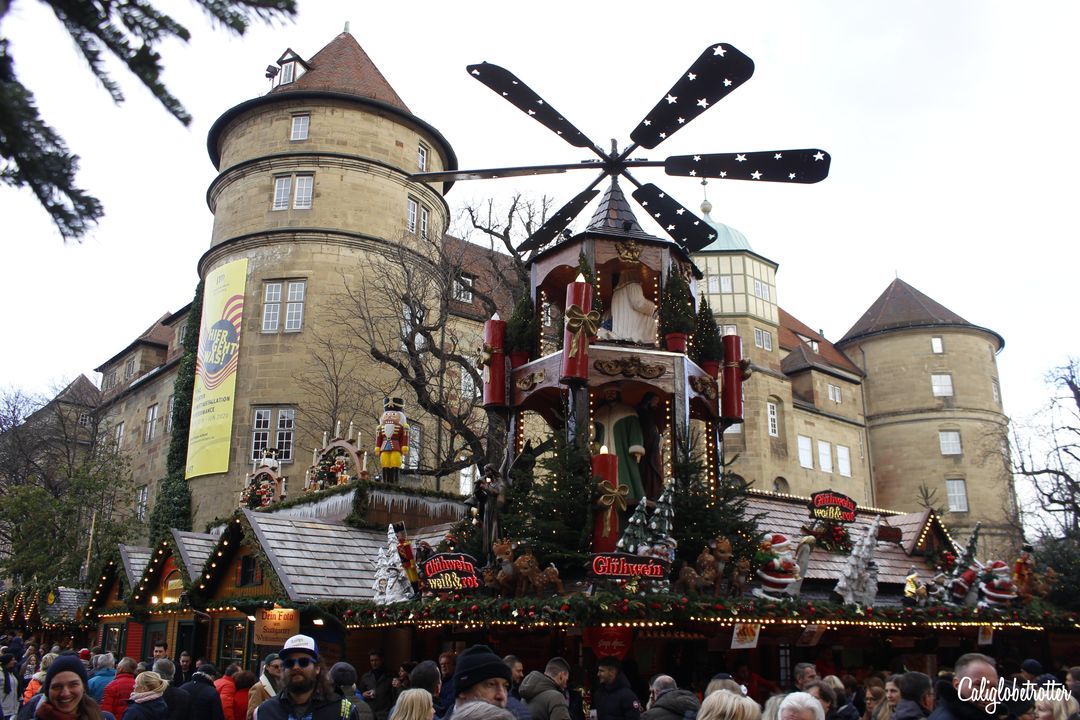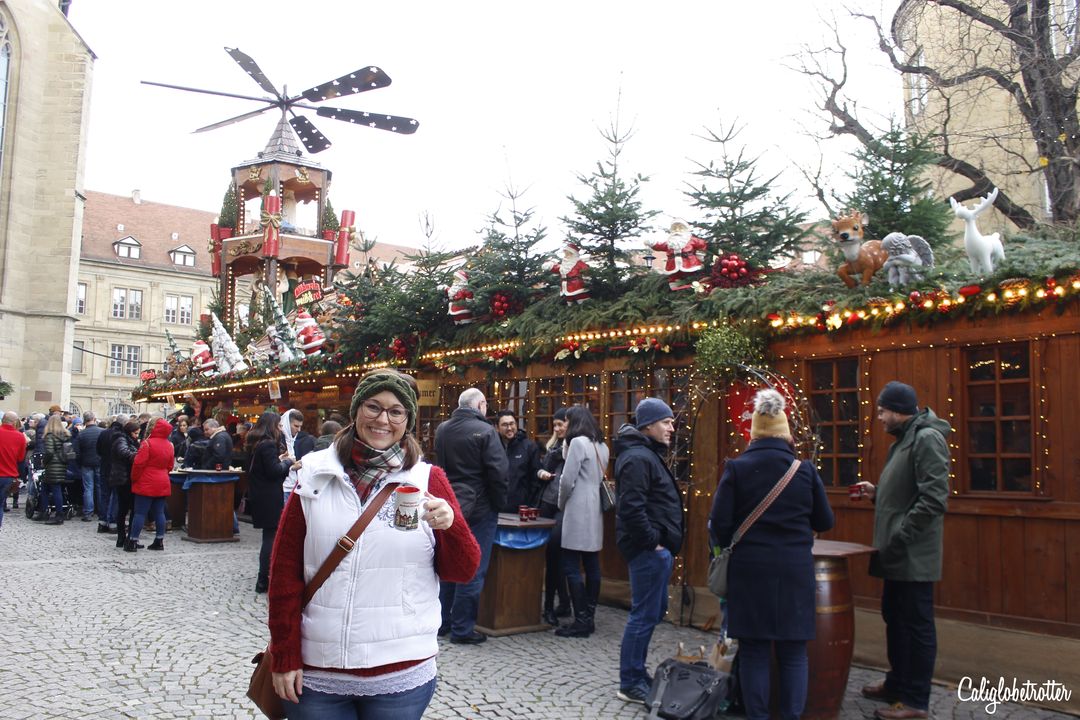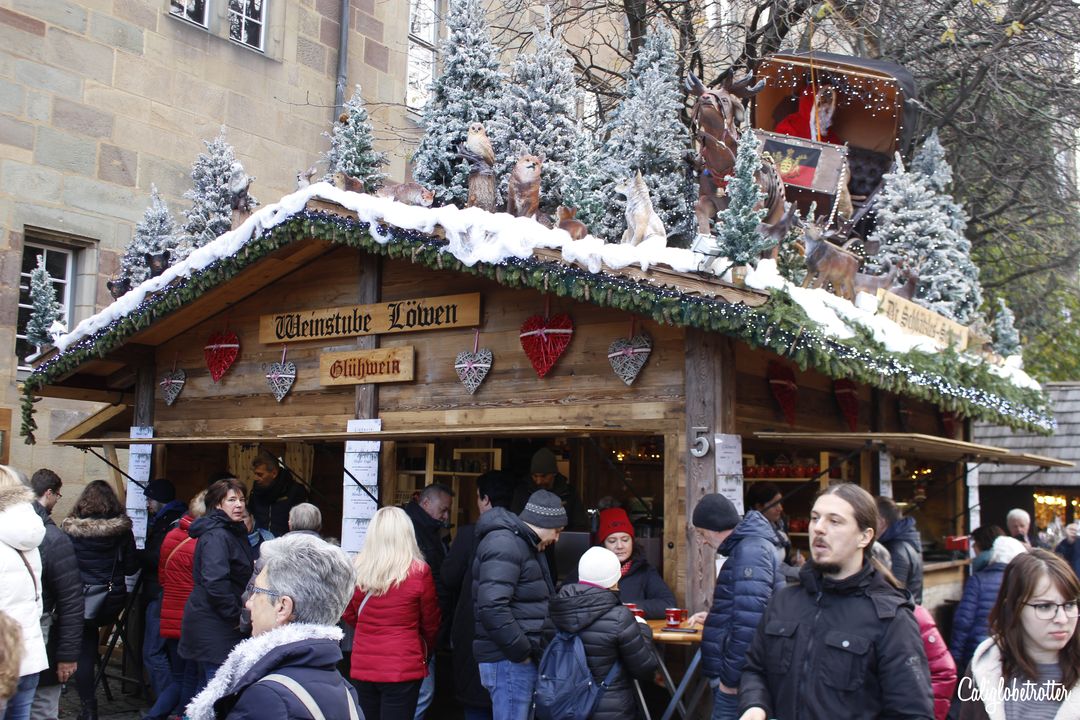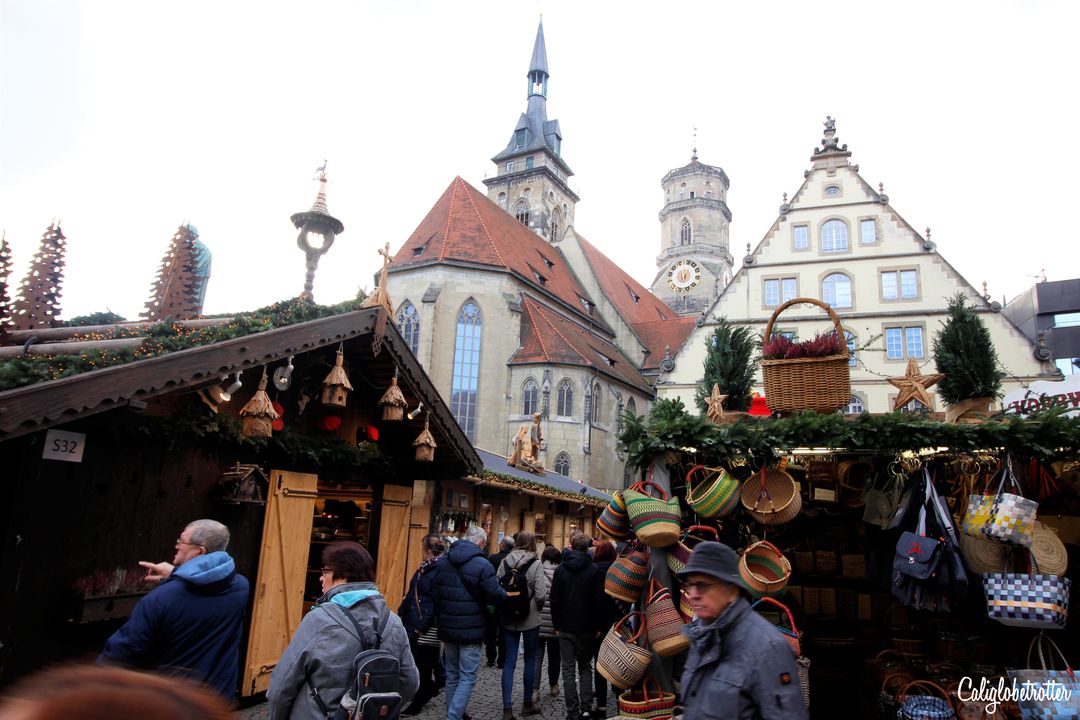 From Schillerplatz, further along Kirchstrasse to the Marktplatz
Stretching the entire length of Kirchstrasse from Schillerplatz to the Marktplatz is one long line of stalls, one right after the other offering everything from gifts, to Glühwine and yummy goodies to even international cuisine. It's here that we even found Patatas Bravas, a popular Spanish tapas!
Detour down Sporerstrasse for the Live Nativity Scene
Just before you reach the Marktplatz, you'll make a quick detour to the left down Sporerstrasse where you'll find a live nativity scene. Like many markets throughout Germany, you can always find a nativity scene as nothing is more closely related to the Advent season than this! Here you'll find two little lambs, two sheep, a donkey and two goats all in the crib for the entire length of the holiday season, near the Markthalle (Market Hall).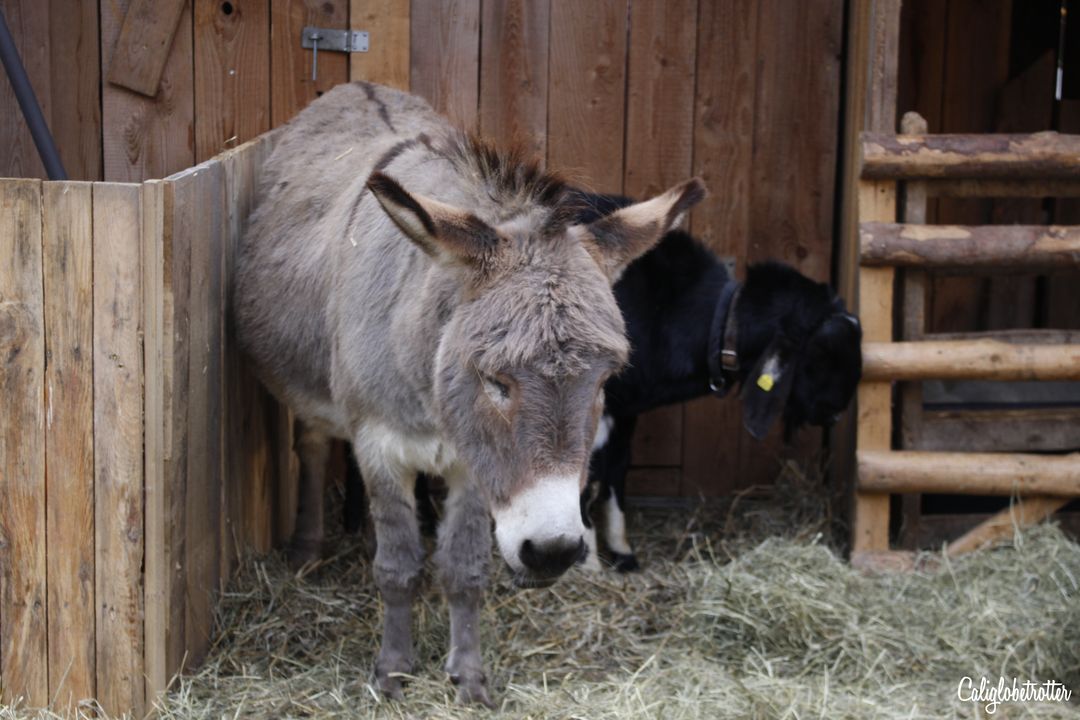 Marktplatz 
Engulfing the entire Marktplatz in holiday cheer, you can find more stalls here lined row after row in front of the Stuttgart Rathaus (City Hall) which is magically transformed into one large Advent calendar. Every day from December 1st to the last day of Advent, a window is opened to reveal 1 of 23 coat of arms belonging to each district that make up Stuttgart. A musical greeting from that district is played evening evening at 6pm!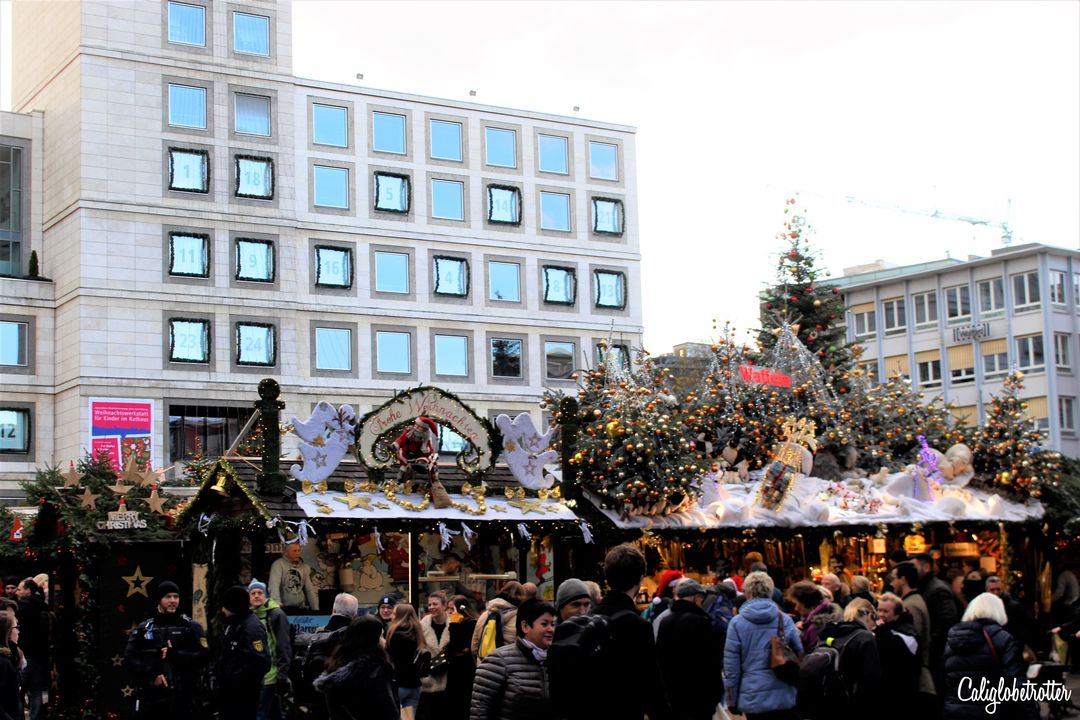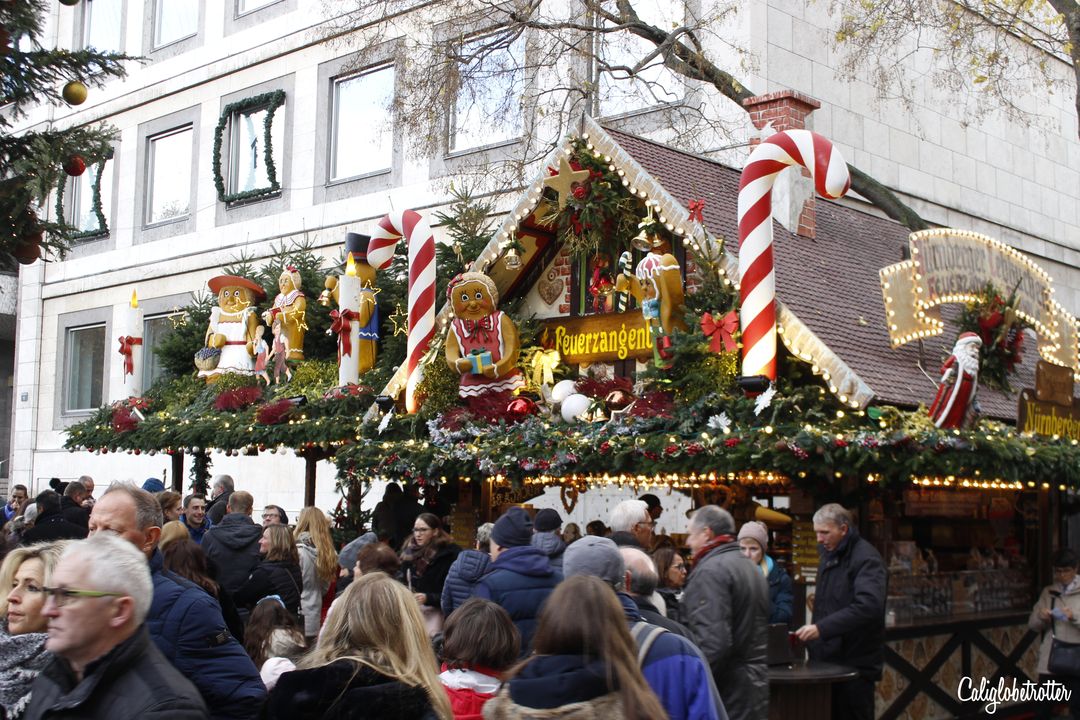 Antique Market at Karlsplatz
Warm up by venturing inside of the heated tent for the picturesque antique market which has been an integral part of the Stuttgart Christmas Market since 1984! What began as a small flea market suddenly expanded into 23 dealers offering a variety of items from books, watches, porcelain, jewelry and so much more! Have a family heirloom you think might be worth something? Bring it by and have it appraised!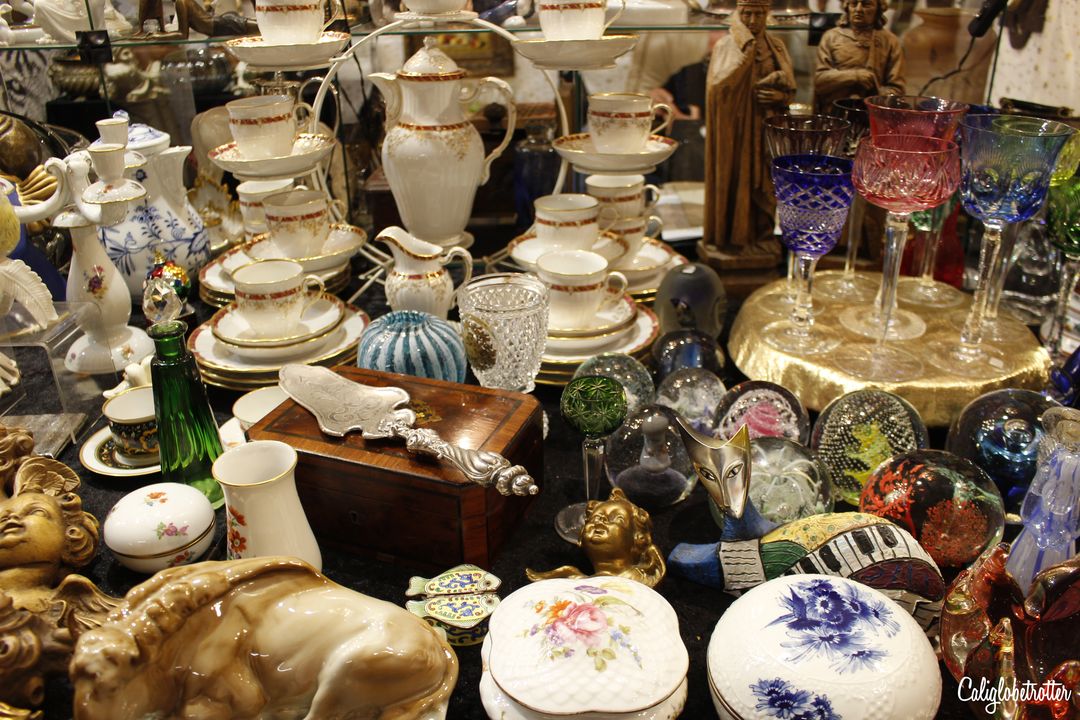 A Finntastisch Christmas Market
Just around the corner is a Finnish Christmas village offering Finnish gifts and specialties such as reindeer sausages, smoked salmon (Flammlachs) as well as Finnish mulled wine – the 'Glögi'. We loved the white Glühwein so much, we bought a bottle to go! Believe me when I say it's FINNTASTISCH! There was even a cozy little Lavuu to enjoy our mulled wine!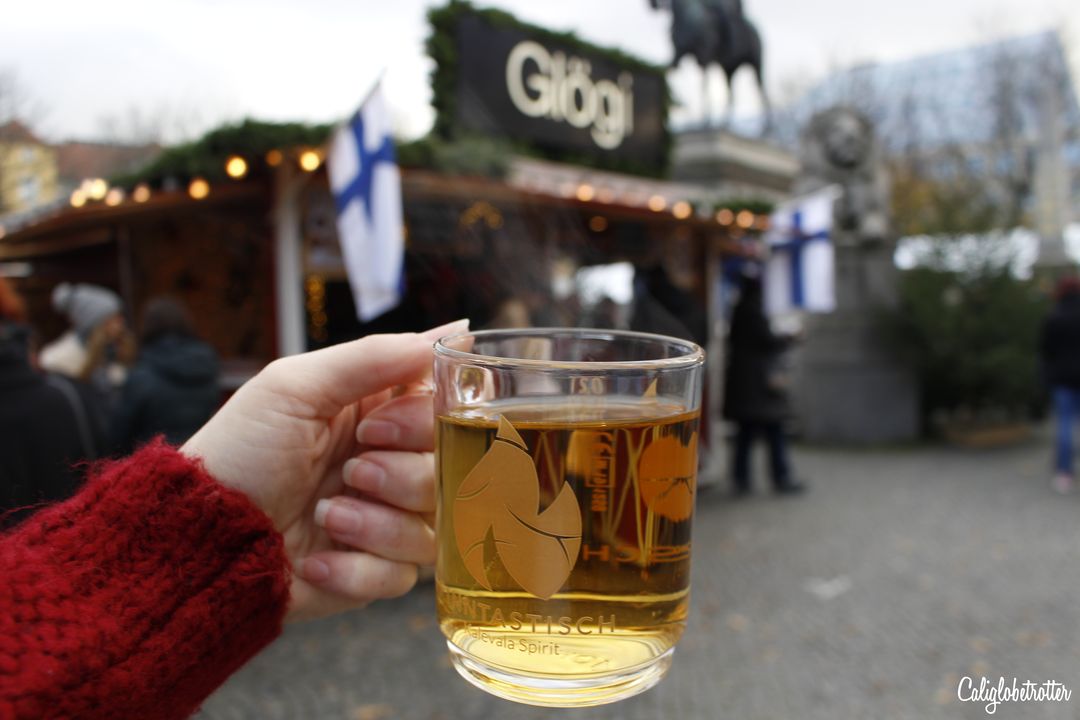 What to Eat & Drink at the Stuttgart Christmas Market
Glühwein / Glühbier
First and foremost, grab yourself a pipping hot cup of Glühwein, also known as mulled red or white wine. Coming in a variety of shapes and colored mugs, a cuppa Glühwein will help ward off the cold winter air and warm you up from the inside! Skipping out on a glass just because you don't like wine is non-negotiable! Everyone loves a glass of Glühwein!
However, if you're REALLY not into wine, try your luck with a steaming hot cup of Glühbier, mulled beer. This is definitely NOT for everyone, as it's certainly an acquired taste, but I LOOOVE IT and always look for it at every market.
Maultauschen
A local treat from the Swabian region, Maultauschen is like a giant ravioli typically filled with meat and bread filling. You can typically find it as a soup, but you can also grab it to go. When you walk down the Schlemmergässle, "The Tasty Treat Alley", you can grab a plate of delicious Maultauschen with a side of traditional potato salad.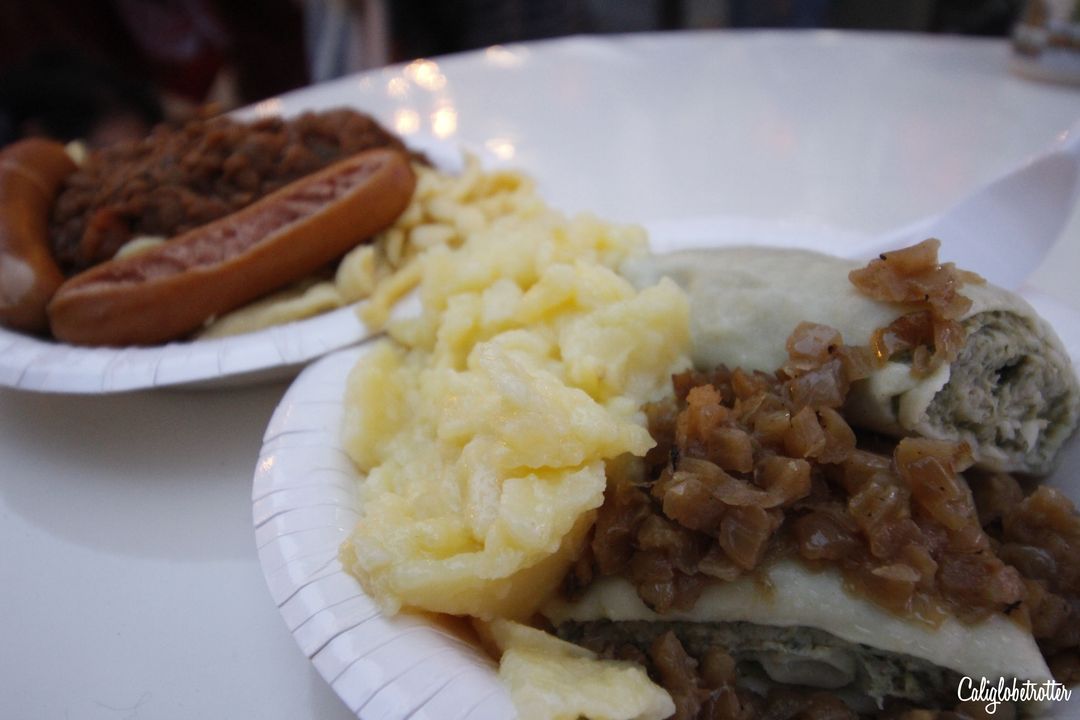 Thüringer Riesenbratwurst (Giant Bratwurst)

If you're not into eating Flammlachs (Salmon) like me, then you'll want to opt for one of the most traditional things to eat at Christmas Markets, bratwurst! You can never go wrong with a ridiculously oversized sausage and a teeny tiny bread roll. Making sure you have a bit of bread for every bite of sausage will be a challenge in itself!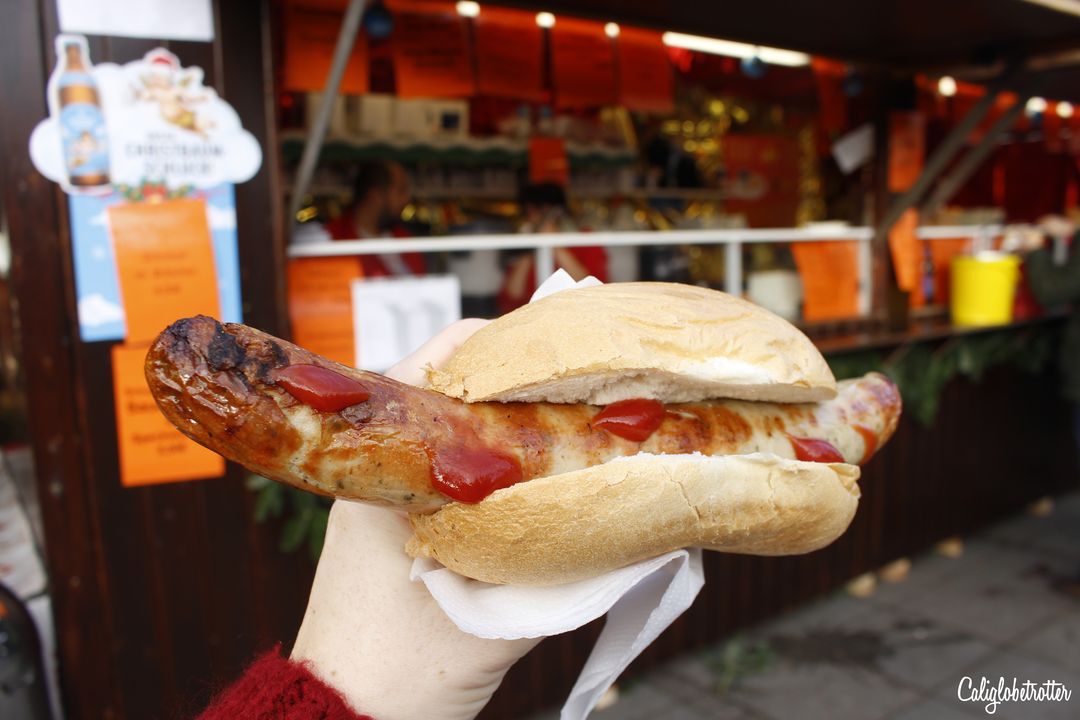 Stollen
Christmas Stollen is so delicious you'll want to steal as many pieces as possible to save for later! Covered in powdered sugar, Stollen is a fruit bread baked with spices, nuts, dried or candied fruits, or even sometimes with nougat. Stollen is typically eaten throughout the Christmas season in Germany, and is the most delicious thing you'll ever eat!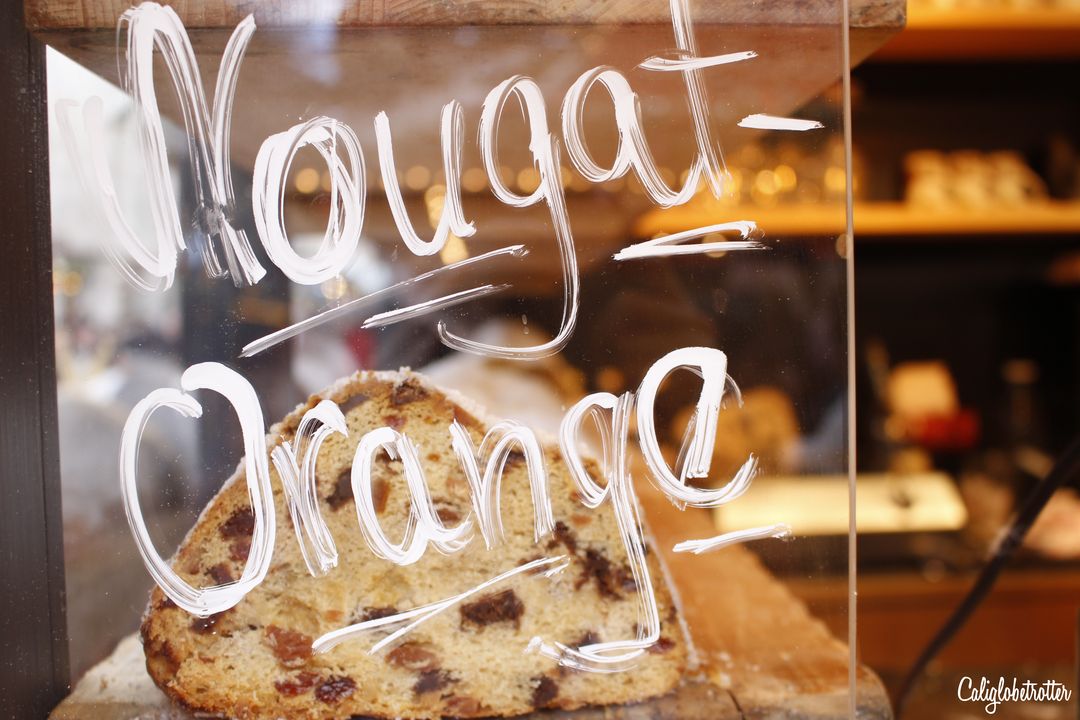 Stick Around for Blue Hour
While we do most of our Christmas Market exploration throughout the day, we always stick around for Blue Hour – a time of day between sunset and nightfall, known as twilight which offers the most stunning shades of blue, illuminating any city and Christmas Market more than at any other point throughout the day. It's when the Christmas lights twinkle the best and the light is just right to capture lovely photos before it's too dark.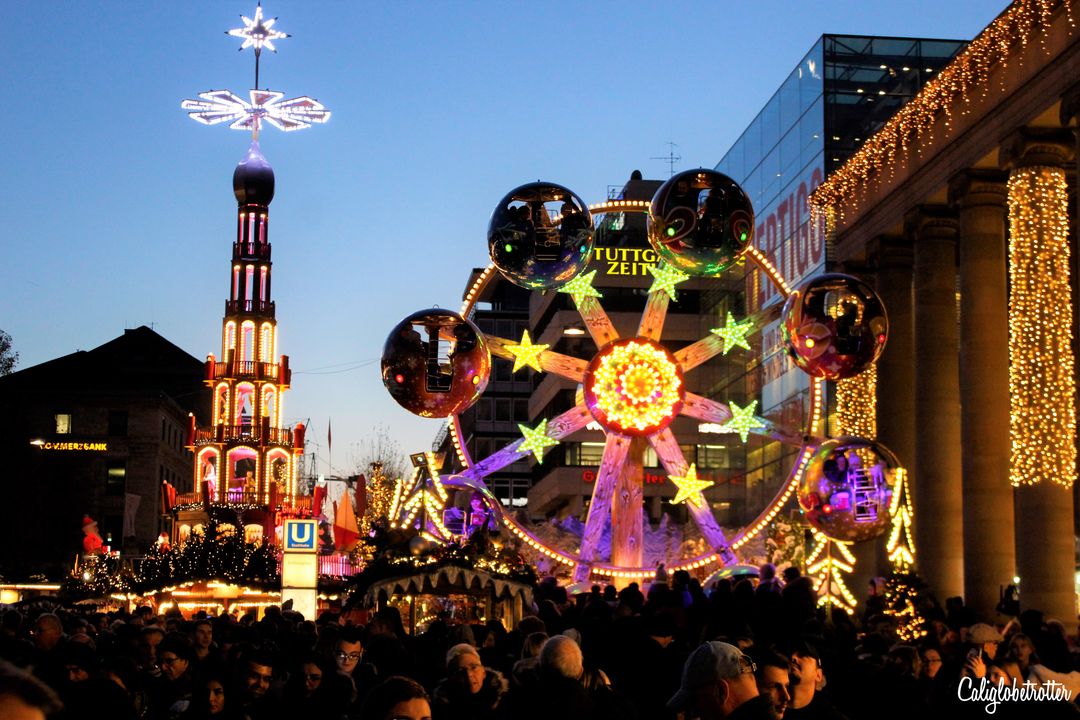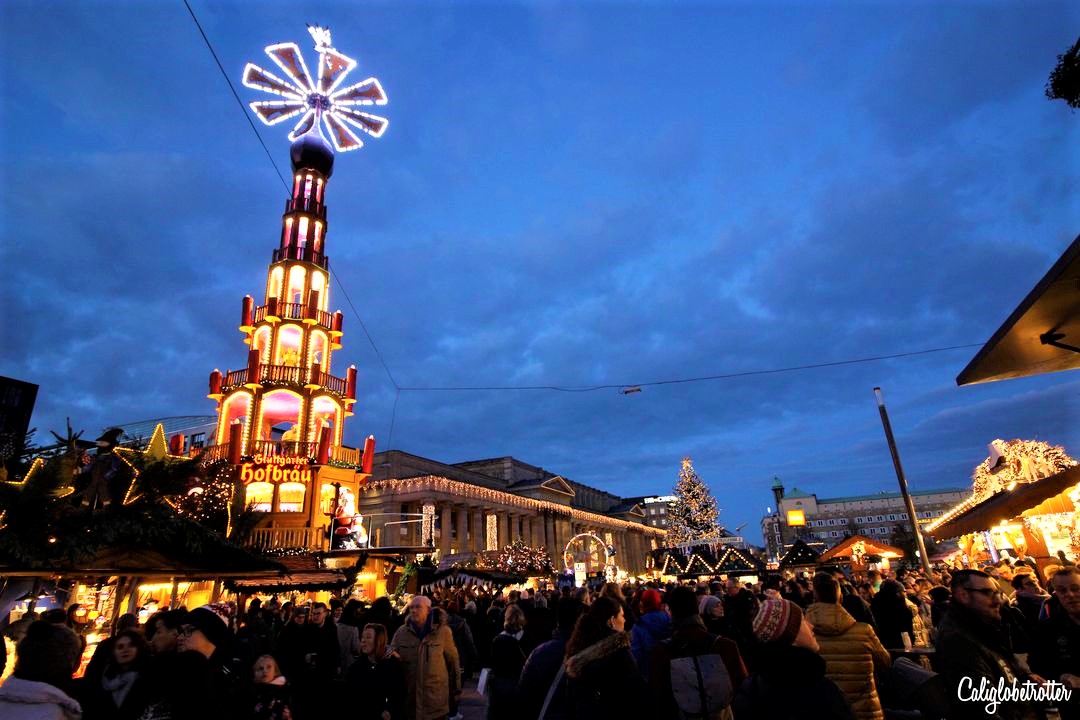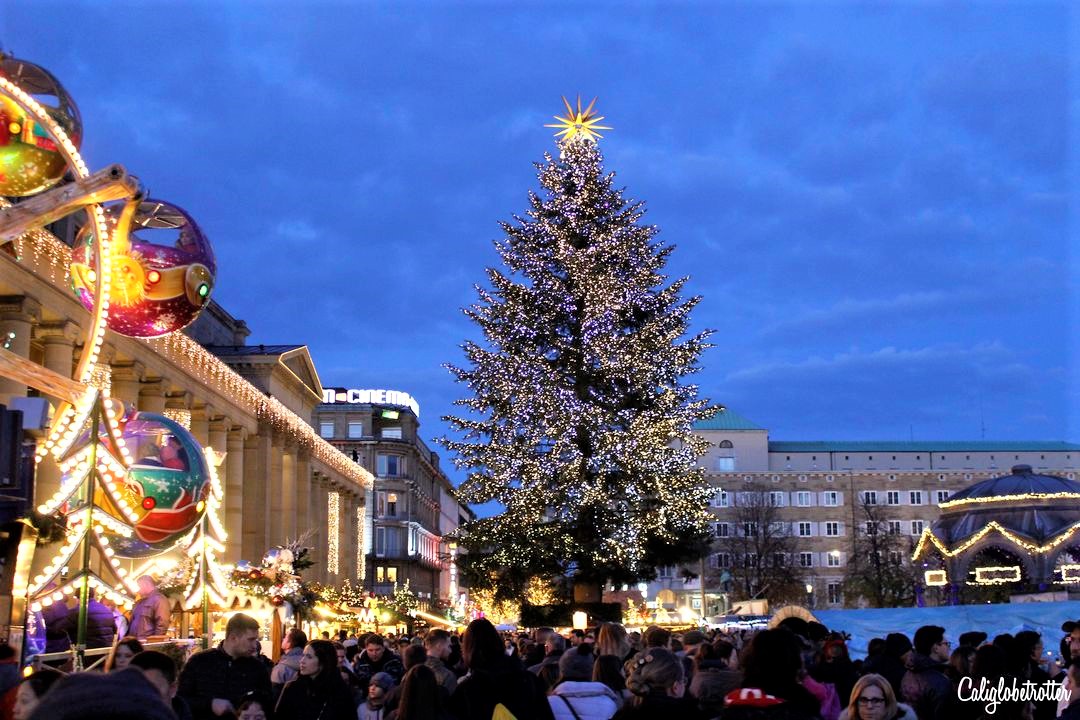 Have More Time? Check out these other amazing markets!
Esslingen's Medieval Christmas Market
Just a 20 minute train/car drive away from Stuttgart is One of the most unique Christmas markets you will find in Germany is the Medieval Market in the heart of the picturesque half-timbered town of Esslingen. With over 200 booths, merchants in historical costumes reenact selling their goods and wares just has they did hundreds of years ago. Blacksmiths, rope-makers, broom-makers, glass-blowers basket-makers and more demonstrate their craftsmanship by illustrating the techniques used to make their goods. You'll also be able to enjoy street artists entertaining market goers with juggling, music and other funny things. All within a short amount of space, you'll find a medieval market, a circus-themed market, a musical one and of course, a more traditional one. You'll be sipping on your hot Glühwein from traditional clay cups with the imprint of the Rathaus (City Hall) on it! (More on the Esslingen Medieval Market here)
When: November 26th – December 22nd, 2019
Opening Times: Opening Day 4 pm – 8:30pm, then Sunday – Wednesday 11 am – 8:30pm, Thursdays – Saturdays 11 am – 9:30 pm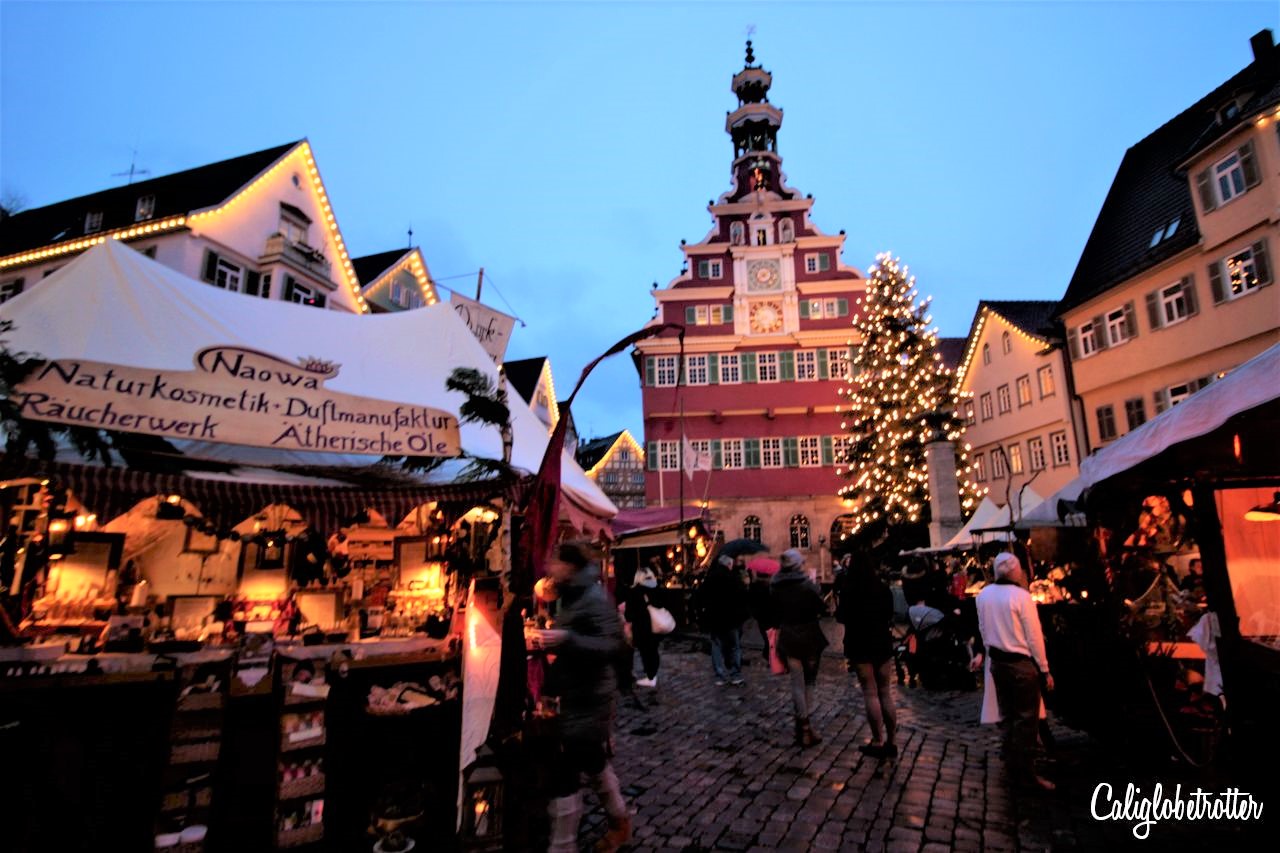 Ludwigsburg Baroque Christmas Market
Located just a few minutes from Stuttgart in the historic square of Ludwigsburg you can enjoy a baroque-inspired Christmas village! The market is illuminated by thousands of twinkling lights on arches and gates with two baroque churches lighting up the night while angle wings bring the magic to life. With over 170 gazebo stalls offering handmade gifts such as candles, jewelry and so much more, you can enjoy this authentic market while you devour some freshly baked gingerbread cookies. While here try the Swabian pizza known as "Holzofendinnede". 
When: November 29 – December 23rd, 2019
Opening Times: Open daily from 11 am – 9 pm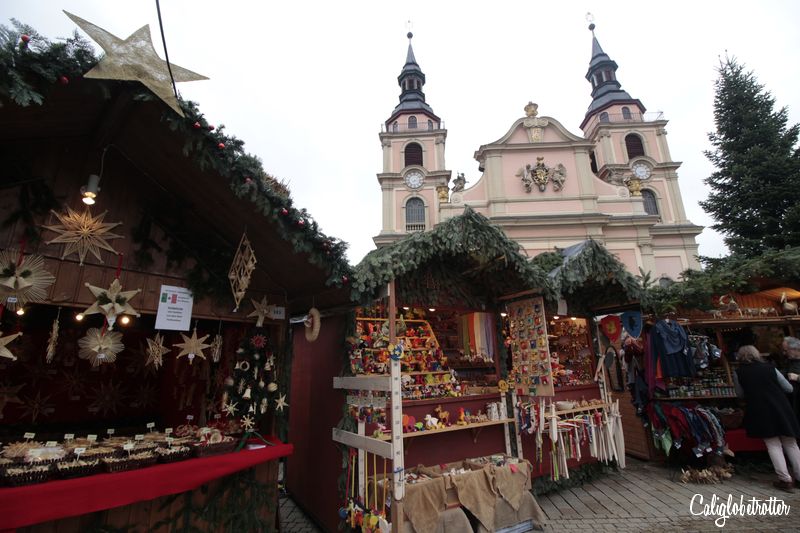 Where would I be without my trusty DK Travel Guides? Lost probably! With quick details, easy to follow suggested sightseeing routes, I can find my way through any city! I also enjoyed Rough Guide's Travel Guide to Germany with more thorough information and history on the country, which I have recently fallen in love with!
Disclaimer: This post contains affiliate links. If you click on one and make a purchase, I might make a little extra spending money, at no extra cost to you. As always, all opinions are my own and these products/services have been found useful during our travels and come highly recommended to you from yours truly!
Other Related Posts:
Everything You NEED to Know About German Christmas Markets
Exploring the Nuremberg Christmas Market
Heidelberg's Romantic Christmas Market
Germany's Magical Christmas Markets
Liked this post? PIN IT FOR LATER!!