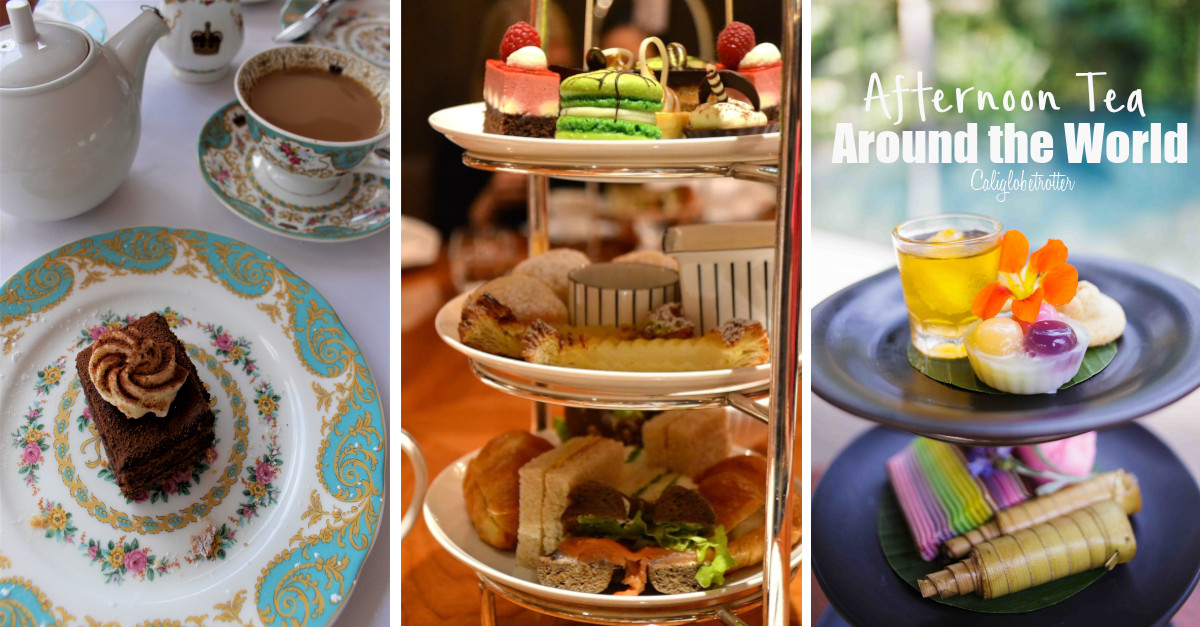 Disclaimer: This post contains affiliate links. If you click on one and make a purchase, I might make a little extra spending money, at no extra cost to you. As always, all opinions are my own and these products/services have been found useful during our travels and come highly recommended to you from yours truly!
What's the difference between 'high tea' and 'afternoon tea'?
Not being British, I, too didn't understand the difference. Many hotels offer 'high tea' which derives from the height of the tables on which the meals are served, therefore, high tea being served at the dinner table. Traditionally, 'low' or 'afternoon' tea was served around four o'clock for the upper class just before the fashionable promenade at Hyde Park. Middle and lower class would have their 'high' tea in place of dinner around five or six o'clock in the evening. 
Come, let's have some tea and continue to talk about happy things!
High Tea at Fortnum and Mason's Diamond Jubilee Tea Salon – London England
By Lady Lorelei from California Globetrotter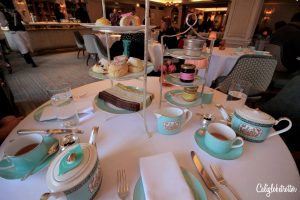 When it comes to afternoon tea in London, Fortnum and Mason is classified as a British institution known for catering to the Queen of England and epitomizing the sophistication of a traditional afternoon tea! Located near Piccadilly Square, with over 100 different blends of tea with the Royal Blend made for King Edward VII being among the top ranking since 1902! 
Located on the fourth floor, High tea is served in the Diamond Jubilee Tea Salon opened by Her Majesty the Queen in 2012. Tables are spaciously spread out, servers are exquisitely dressed and well-educated about the variety of blends and ready to teach newbies like myself. 
The Afternoon Tea Menu includes your choice of tea, which I chose the Countess Grey with a hint of orange flavor as well as classic finger sandwiches such as cucumber, smoked salmon and coronation chicken, followed by their famously delicious scones to be eaten with delicious lemon curd or strawberry jam and clotted cream. The afternoon tea is topped off with a plate of decadent patisseries and a choice of cakes from the cake carriage! And the best part? It's all replenishable and served on their iconic turquoise and gold china set!
After our delightful afternoon tea, we perused the lower three floors of shops, stocking up on my now favorite tea!
Related: Where to have the BEST afternoon tea in York, England
In England, everything stops for tea!
St. James Tearoom – Albuquerque, New Mexico, USA
By Lady Jessica from Independent Travel Cats
The food comes served on a three-tiered silver tea stand. Although teas are suggested with each menu, you can also choose any tea off of their extensive tea list. Menus always include a few staples such as traditional tea sandwiches, scones, and tea cakes, but they also always include some more innovative items.
This place is a special treat place for me ever time I am in the city!
"With a cup of tea in your hand, anything is possible" 
Fairmont Royal York Hotel Afternoon Tea – Toronto, Canada 
By Lady Lorita from Ting and Things
What's a better way to experience a royal treatment than having high tea at Toronto's iconic Fairmont Royal York Hotel?  I had an amazing opportunity to try out their afternoon tea service in the Library Bar at Royal York with my friend. The whole tea experience lasted approximately 2 hours long. 
Tea was served on fine china along with a 3-tiered platter of hand-crafted sandwiches and fine pastries. I started off by choosing a pot of tea from their loose leaf tea selections. I normally don't drink tea but I can't really say I've enjoyed afternoon tea if I hadn't actually tried their tea right?  My tea was fragrant combining flavours of blueberries, blackberries and raspberries. 
Our first bite was the English crumpet with fresh berries topped with honey that came from the beehives from their own rooftop apiary! Second to our table was a plate of hand-crafted sandwiches. Various tomatoes with Mozzarella on baguette, roasted turkey with cucumber & apple cider mayo sandwich, Pears, goat cheese, balsamic berry with greens on baguette, smoked salmon with onions sandwich. Their freshly baked scones with Devonshire cream were delicious. Oh so soft and moist! We ate our way to the middle tier of the platter which consisted of Lemon Almond slices, mincemeat tart, honey white chocolate Madeline's, flour-less cranberry chocolate cake. My friend called the chocolate cake, "the cake of excellence with a dash of awesomeness". And there was a reason for it. The cake melted entirely in our mouths! My favourite though, was the lemon almond slices. The slices looked ordinary but they were fresh and "citrusy". The tiny bits added a crunchy texture to the dessert. I devoured this in a second. 
Following the afternoon tea service, we also got a complimentary tour of the hotel. This should be on everyone's list if you enjoy a fine afternoon tea. You won't be disappointed!
"A cup of tea is an excuse to share great thoughts with great minds" – Christina Re
La Motte High Tea – Cape Town, South Africa
By Lady Alya from Stingy Nomads
Afternoon tea in Cape Town was our first tea experience. Usually we don't do fancy dining while traveling but in our own city we decided to go big and explore more fine places. After doing a research about best place in and around Cape Town for the afternoon tea we made our choice in favour of La Motte, a wine farm and restaurant in Franschhoek, a beautiful small town, 80 km from Cape Town. Franschhoek is famous for its fine wines and best restaurants in South Africa.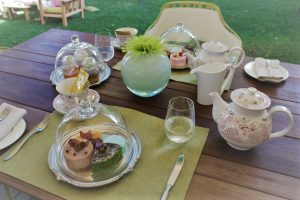 The high tea experience at La Motte is something very special, as it will be done for you exclusively. You can choose where the tea is served; in a restaurant, on a terrace or in the garden, it's a great option on a warm sunny day.
For visitor's choice are several teas; red, green, black, fruit or white teas. Avid coffee drinkers can get a cup of good Java blend coffee. Tea is served in porcelain sets made by a local fine artist and ceramicists especially for Le Motte high tea.
The food menu is exquisite with everything freshly made and baked in a restaurant kitchen. Treat yourself with smoked salmon sandwiches with cream cheese, savoury tart, chocolate truffles, crispy croissants with fillings or not, tea cakes, sausage rolls, macarons, sweet biscuits, cheese cakes and more. Guests can sparkle their tea experience with a glass of sweet or sparkling wine from the estate.
"I would rather have nothing but tea!" – Jane Austen
Afternoon tea at the Ritz-Carlton – Kuala Lumpur in Malaysia
By Lady Keri from Ladies What Travel
The Ritz-Carlton, Kuala Lumpur is a great spot for afternoon tea in the city thanks to its elegant setting of the light and airy Lobby Lounge. Once seated we perused the tea menu, which is made up of 40 different black, green fruit and herbal infusion teas – including the Ritz-Carlton, Kuala Lumpur Blend, exclusively crafted for the hotel.
When our three-tiered tea tray came out we weren't disappointed – savoury highlights included the warm mini chicken pie and petite chicken and beef burgers. These were a delicious quirky take on the traditional afternoon tea.
Perfectly timed to coincide with us finishing the last of the savouries, our server returned with a plate of freshly baked plain and fruit scones. These went down a treat, and we sat back to enjoy some more tea before moving onto the sweet finale.
This top tier had an interesting mix of sweets, including a nod to local sweet treat, the Chinese egg tart. This was joined by an orange and chocolate meringue, a gooey marshmallow with a coconut base, a strawberry and cream tart topped with pistachios and a very rich dark chocolate cake.
I enjoyed everything about my afternoon tea experience at the Ritz-Carlton – from the food and service through to the string quartet that entertained us. Little touches like unexpected amuse-bouche and cute teapot warmers made the whole experience even more special – and one I'd recommend to any visitors to Kuala Lumpur.
"Life is like a cup of tea to be filled to the brim and enjoyed with friends" 
Chesterfield Mayfair's Willy Wonka and the Chocolate Factory Afternoon Tea – London, England
By Lady Ashley from My Wanderlusty Life
When it came to choosing an afternoon tea experience in London, the land of afternoon teas, they had me at "Willy Wonka and the Chocolate Factory." As one of most unusual afternoon teas in London, the Wonka-themed afternoon tea at the Chesterfield Mayfair is every nerd's dream and, just like a tour through Wonka's chocolate factory, is so much more than you bargained for. You get the standard afternoon tea service—tea, tiny sandwiches and finger foods, in a fancy setting—but all dripping with theme-y goodness.
Your experience begins with a serving of fizzy lifting drink and, fancy digs or not, I recommend following that up with a good burp, Charlie Bucket-style. In addition to the slew of teas you can choose from, they also offer their very own, specially blended for the occasion, chocolate tea. It may sound strange, but it's pretty scrumdiddlyumptious. The fresh-made scones (+ homemade snozzberry jam) and finger sandwiches are some of the best I've ever had and, thankfully, unlimited. But the real geek pleasure lies in the plate of Wonka-themed deserts: an Oompa Loompa cupcake, a white chocolate golden egg, fizzy lifting lemon cake, a fruit tart, a bubblegum éclair, a blueberry macaron, and of course, a Wonka Bar.
But the themematics don't end there. Willy Wonka himself (pretty much) greets all the tables and passes out Everlasting Gobstoppers and golden tickets—surprises to be awarded on your return visit that include everything from free bottles of champagne to complimentary afternoon teas and hotel stays. 
"If asked, "How do you take your tea?" I reply, "Seriously, very seriously".
Baccus' High Tea – Brisbane, Australia
No detail was left out, and even the China had been imported from a hotel in London where the late Queen Mother was known to have her high tea. The selection of scones, desserts and sandwiches were all perfectly presented and absolutely delicious. I am always a sucker for a salted caramel macaroon so that was my favorite. Bacchus was very accommodating and prepared vegetarian and pregnancy safe menus for several guests. 
There is always time for tea and cake!
A.C. Perch's Thehandel Afternoon Tea – Copenhagen, Denmark
By Lady Carolyn from Carolyn's Absolutely Fabulous Events
The tearooms at A.C. Perch's Thehandel can be found in Kronprincessgade, or Crown Princess Street, in the heart of Copenhagen's historic city center. There has been a Perch's tearoom in Copenhagen for over 182 years and the company has dedicated 7 generations to finding top quality teas from all over the world. They are also a purveyor of teas to Her Majesty Queen Margrethe II of Denmark. With such an illustrious history A.C.Perch's Thehandel is THE place to take afternoon tea in Copenhagen.
The English style tea rooms are charming and are a perfect place to experience Danish hygge, that cozy, snuggy feeling. The rooms themselves are on the first floor and are accessed through a small courtyard. Although not required it is best to book as the tables fill up fast. The atmosphere is relaxed but not casual. People choose Perch's for special occasions and there is always a festive air.
A.C. Perch's offer a spectacular range of teas, over 150 different kinds, which can be purchased afterwards from their old fashioned tea shop downstairs. The menu includes several cakes, scones and tea sandwiches. You can order treats individually or go for the full monty, Perch's Classic Tea Stand, which comes with a glass of crement. Service is attentive and the staff are knowledgeable about teas if you need some advice.
Tea (n): a hug in a cup
Louis Sergeant High Tea – Wellington, New Zealand
By Lady Nicole from Travelgal Nicole
One of the best places to go for High Tea in Wellington is Louis Sergeant.  This French inspired patisserie offers high tea daily for either morning or afternoon tea.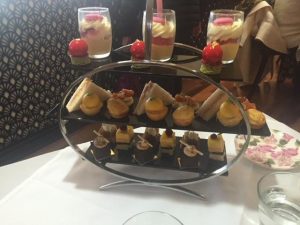 The high tea consists of 5 sweet treats and 4 savoury treats along with a pot of specialty tea or you can upgrade to champagne for a special occasion.
I love to take visitors to high tea as it is a nice treat after a day of exploring and it is also something tasty to tide you over to dinner.  And with all of these specialty desserts as well its worth the splurge!  It's also a great place to celebrate a birthday and invite friends and dress up and wear hats while eating.  You can also stop in for a French dessert.  They have everything from eclairs and macarons to coconut cake and decadent mousses.
Where there's tea, there's hope!
Amstel Lounge in Amsterdam, The Netherlands
By Lady Wendy from World Wide Wendy
In case you are looking for a place to enjoy a high tea in Amsterdam, I can highly recommend The High Tea at Intercontinental Amstel Amsterdam. The hotel is 5 star superior hotel, housed in a historical building from 1867. Called the Royal Afternoon Tea, it's served in the Amstel Lounge from where you have an amazing view over the River Amstel.
Of course, a wide selection of teas are accompanied by 4 courses, including delightful sandwiches with salmon as well as a warm course.  All the sweets are homemade by the hotel's own patisserie and the étagère with profiteroles and many other sweets are a feast for the eye.
The staff is extremely friendly and well informed.  They can tell you all you need to know about the different teas.
The high tea is served daily from 12:30pm to 2:30pm and from 4:00pm till 6:00pm. 
If you want to enjoy a high tea the way it's meant to be, Intercontinental Amstel Hotel is the right choice.
"A woman is like a tea bag; you never know how strong she is until you put her in hot water!" – Eleanor Roosevelt
Planter's Country Hotel in Cameron Highlands, Malaysia
You can't buy happiness, but you can tea and that's kinda the same thing!
Afternoon tea at the Park Hyatt – Sydney, Australia
By Lady Rachel from A Nesting Nomad
Life is like tea… It's all in HOW you MAKE it!
Afternoon tea at the Grand Hotel du Cap Ferrat – Nice, France
By Lady Phoebe from Lou Messugo
The Grand Hotel du Cap Ferrat, a legendary palace hotel on the French Riviera, is an elegant affair.  We booked for early October and were told it would be in the Rotunda designed by Gustav Eiffel (of the tower fame), but the weather was so lovely that it was served outside on the terrace overlooking the sparkling Mediterranean sea.  Under 100 year old Aleppo pines we sipped on pink champagne and indulged in an array of sublime pastries and finger sandwiches, continuing a ritual made popular at the hotel by such icons as Coco Chanel and Jean Cocteau in the 1950s.
The selection of patisseries, displayed traditionally on a three tiered cake stand consisted of a layer of delicate mini fruit tarts and chocolate mousse cake, then a layer of melt-in-the-mouth petit choux (mini cream buns as light as air) and a third layer of savoury sandwiches.  Every single flavour created by World Champion of Sugar Arts pastry chef, Gaëtan Fiard, was delicate, exquisite, complex and utterly divine. While the selection initially might not have seemed enormous, and there was no question of continual refills, it turned out to be the perfect amount, leaving us satiated and content without feeling over full: a very French take on a classic English afternoon tea.
As the afternoon cooled into evening, we were brought snuggly soft fleecy shawls to wrap up in, encouraging us to linger on the beautiful terrace, savouring an absolutely delightful experience.
"Would you like an adventure now, or shall we have a cup of tea first?" – Alice in Wonderland
High Tea in Hwange National Park, Zimbabwe
High Tea at Kayumanis Resorts – Bali, Indonesia
"Enjoy simple things with total intensity. Just a cup of tea can be a deep meditation" – Bhagwan Shree Rajneesh
Afternoon Tea at Clarinda's Tea Room – Edinburgh, Scotland
With only 6 or 7 tables, Clarinda's Tea Room is extremely cozy and kitschy (in the best possible sense) – it's a bit like walking into your grandmother's home! However, the decor just adds to the charming nature of the establishment. 
Due to not taking reservations, be prepared to possibly wait for a table, especially during the summer months. Additionally, Clarinda's Tea Room has very limited hours, being open daily from 10 am to 4:30 pm. If afternoon tea isn't your cup of tea (see what I did there!), there are also individual breakfast and lunch options. Clarinda's Tea Room is definitely worth a stop during your next visit to Edinburgh, Scotland. 
Afternoon Tea in the Sky – Dubai, United Arab Emirates
If you're interested in hosting your very own tea party, I recommend the following products all of which led to my own very successful first attempt at hosting an afternoon tea party for my birthday!

Disclaimer: This post contains affiliate links. If you click on one and make a purchase, I might make a little extra spending money, at no extra cost to you. As always, all opinions are my own and these products/services have been found useful during our travels and come highly recommended to you from yours truly!
Other Foodie Related Posts:
A Traditional London Itinerary with the London Pass
A Delicious Guide to Coffee and Cake in Vienna
The ULTIMATE Guide to Eating in Germany
A Foodie Guide to Eating in Poland
A Self-Guided City Guide to Eating, Drinking & Sightseeing in Brussels, Belgium
Liked this post? PIN IT FOR LATER!!