Have you ever wondered where retired famous thoroughbred horses go after their racing career is over? Probably not. The answer more gruesome than some would like to know about can be stopped. Tucked away out in the lush countryside between Lexington and Louisville is an animal sanctuary where retired horses can frolic happily through the fields till the end of their days. But before this safe haven was created, a gruesome incident shocked the horse community which helped to kick start this amazing non-profit organization that has grown exponentially since its founding.
In case you're interested, PIN IT FOR LATER!!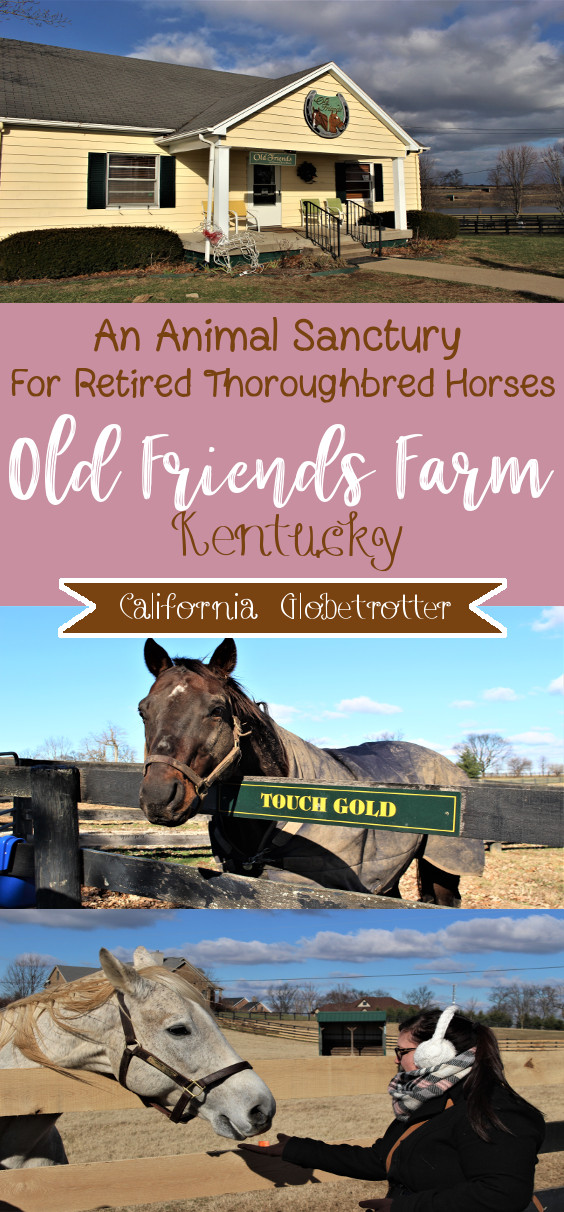 History of Old Friends Farm
The history of Old Friends Farm goes back further than its founding. A Kentucky Derby winner in 1986 and a champion of the 1987 Breeders' Cup Classic, he was sent to Japan to begin his career as a stud which turned out to be unsuccessful. Between 1995-2000, Ferdinand spent six breeding seasons at Arrow Stud before his whereabouts became unknown. By 2002, news broke that he had perished at a slaughterhouse without warning or any fanfare. A ghastly tragedy for a horse who gave so much shocked the horse-lovers community to their core. Unfortunately, he's not the only and won't be the last, but we can help stop the slaughter of famous race horses!
Upon hearing this tragic news, Boston Globe film critic Michael Blowen who had a love of horses worked to procure a safe haven for thoroughbred horses whose careers have come to an end. His goal was to prevent such a tragic ending for these magnificent creatures.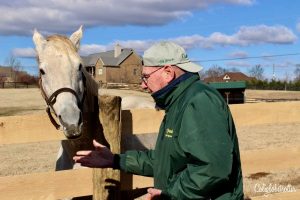 Organization
Old Friends is a non-profit organization retirement home for Thoroughbred horses that began with a single paddock and two horses is now a safe haven for over 160 horses, spread out across three locations. The largest farm is in Georgetown, Kentucky, with two satellite operations. The second location to open was in Greenfield Center, New York known as Old Friends at Cabin Creek: The Bobby Frankel Division. The third location is a partnership with Kentucky Downs near the Kentucky-Tennessee border.
Old Friends has gained popularity and attention since its founding as being the only Thoroughbred rescue facility that accepts stallions on a regular basis. Therefore, with the procurement of big name champion stallions draws in the attention of horse-lovers from around the world. Their donations help to provide a comfortable home for these horses and the continuous expansion of the organization and the rescue of more horses. 
Take a Tour & Help Secure the Horse's Retirement!
By booking a tour of Old Friends for a requested $10 donation, visitors can have an up close and personal 90 minute tour of the farm and meet the horses. The guides are all volunteers who help maintain the grounds, care for the horses and shuffle tourists around. Guides regale visitors with stories of each horse, providing us with background history about each horse from awards to lineage.
The best part of the tour is guests are allowed and even encouraged to feed the horses carrots. Guests are warned ahead of time that each horse has unique characteristics and to take caution when feeding the horses. Some are quite greedy, some are funny and others are calm.
From champion horses to 'lowly and humble', all horses are treated equally here and all are taken care of with the same love and respect and most importantly, care.
Champion Horses at the Farm
The Old Friends location in Georgetown prides itself on having many big name champions such as Belmont Stakes winner Sarava and stakes winner You and I.
Many stallions are alone in their paddocks as they are quite territorial, but they do interact with the neighboring horses running up and down the fence line. Nothing is possibly more elegant than the swift movements of such a magnificent creature.
Upon beginning the tour, you'll meet Sarava, a handsome and nearly black horse known for his 70-1 upset in the 2002 Belmont Stakes.
Across from him is Glorious Dancer who turned out to have quite the personality and wanted to play with me, or possibly was just smiling pretty for the camera. That or he wanted carrots. Unfortunately, I can't remember the name of his paddock buddy.
Among the horses you will meet on the tour is the Derby and Preakness winner Silver Charm, the owner's most prized horse. At 21, he's had a successful career as a dual classic winner, multi-millionaire and global superstar in the Hall of Fame. Throughout his career, he earned a whopping $6,944,369!!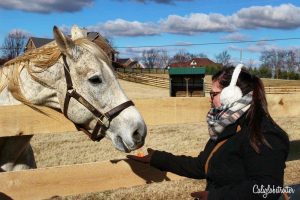 Further into the tour, you'll meet Touch Gold, winner of the 1997 Belmont Stakes in which he ended Silver Charm's bid for the Triple Crown by three-quarters of a length.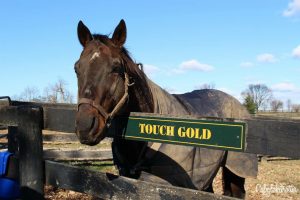 Generally after being fixed, geldings share a paddock with others stallions forming close bonds. Meet Popcorn Deelites, who is quite possibly the most viewed Thoroughbred horse of all time, but not because of his work on the racetrack, but because of is debut as "Seabiscuit" in the 2003 film staring Toby McGuire. He was chosen to play the leading role as he has an uncanny resemblance to famed Seabiscuit, the undersized Depression-era racehorse whose victories raised the spirit of the nation.
In the same paddock is his pal Special Ring.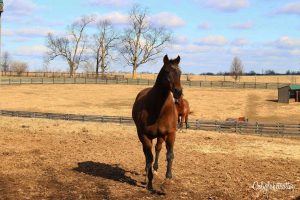 Retiree Horses
The farm is also home for many Thoroughbred horses who never earned any special attention other than the tendering, loving care they received from their owners. Some of these horses include Swan's Way star and Mikethespike.
Other Famous Residents: Little Silver Charm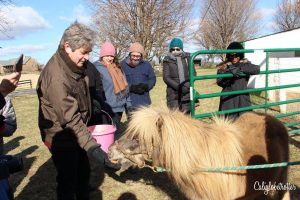 The most charming little pony you'll ever meet, Little Silver Charm, named after Blowen's favorite horse, Silver Charm, is the only non-thoroughbred horse on the farm. He was acquired by Blowen 13 years prior to opening Old Friends making him the "mascot" of the farm. He even has his own Facebook page with nearly 6,000 followers!
January 2016 Fire
On an early morning in January 2016, a fire broke out and destroyed the organization's hospital/quarantine barn. At the time of the fire, two horses, Alphabet Soup and Archie's Echo were inside the barn. Fortunately, both horses were evacuated safely nor was anyone harmed.The cause of the fire is still unknown and being investigated.
Thankfully, a new fire-safe barn was quickly rebuilt, aided by donations and fundraising activities.
After Death: All Horsies Go to Heaven!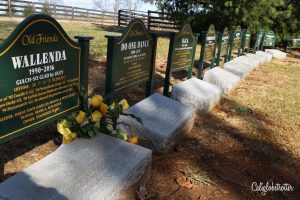 After enjoying a happy retirement without any expectations, Thoroughbred horses can peacefully pass away of natural causes before entering an eternal pasture. Once the horses have stepped through those pearly gates, they are buried on the property, strangely separated by male and female horses. No one knows why, it's just how it is.
A few horses have even been relocated here years after they passed away for their eternal resting place. One was brought after a woman called asking if it was possible to relocate the remains when the land was going to be paved over. Blowen happily agreed and today the horse is resting peacefully, undisturbed.
Awards & Recognition of the Horse Sanctuary
Old Friends has been accredited by the Thoroughbred Aftercare Alliance, which is another organization which improves the lives of thousands of Thoroughbreds.
n January 2015, Old Friends was received the special Eclipse Award honoring extraordinary service or contributions to the Thoroughbred industry.
Today
By 2006, the House of Representatives approved the H.R. 503, the American Horse Slaughter Prevention Act, which would ban the slaughter of horses in the United States. However, the bill did not succeed in the Senate. It was re-introduced in 2007, but as of 2012, the bill has still not been made into a law in the United States.
How YOU Can Help Save Famous Race Horses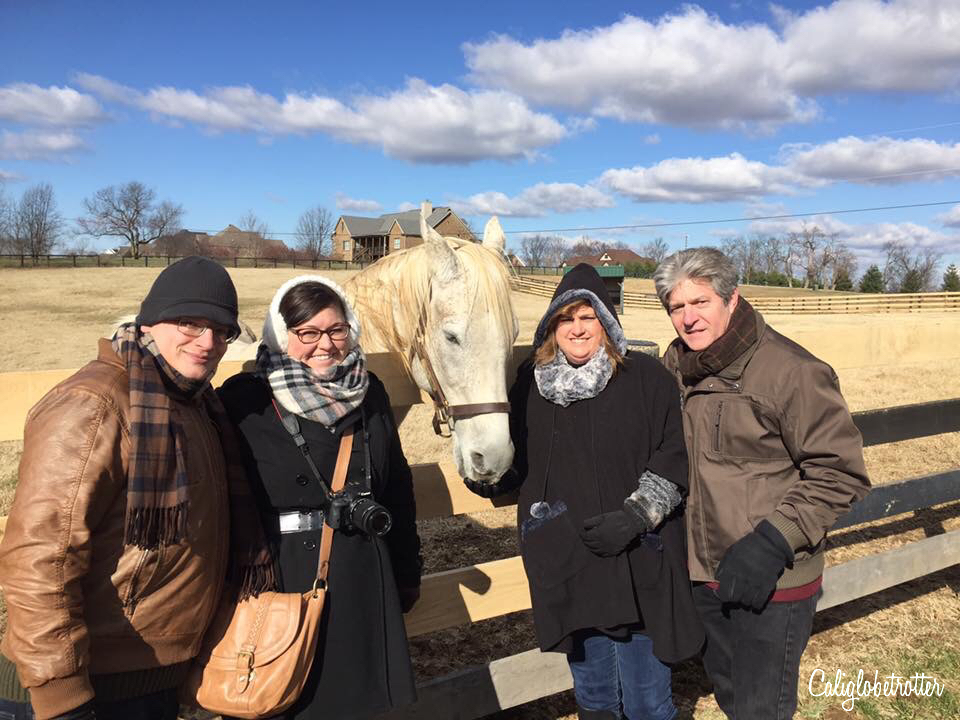 As a horse-lover myself as well as the little girl who never got her dream pony, I was shocked upon learning the gruesome death that Ferdinand endured. Never had I imagined that such beautiful creatures could possibly met such a tragic fate. My family and I made it a priority to visit the Old Friends Farm while we were visiting Kentucky and donate to the organization.
There are various ways to help support Old Friends. Their mission is to provide a dignified retirement home for Thoroughbred champions and unknowns. Any gifts purchased at the gift shop will ensure continuous care of these champion athletes.
If you would like to make a donation, donate online via PayPal, through Networkforgood.org, call them directly and pay via credit card or mail in a check to:
Old Friends Locations
Old Friends Dream Chase Farm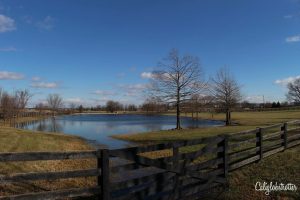 Address: 1841 Payne's Depot Road Georgetown, KY 40324
Website: Old Friends Equine
Tours: Reservation required. $10 for adults, $5 6-12 and children under 5 are free
Winter: November 4 – March 14 – 11am daily
Summer: March 15 – November 4 – 10am, 1pm, 3pm daily
Old Friends at Kentucky Downs
Address: 5565 Nashville Road Franklin, KY 42134
Website: Curchill Downs
Tours: Reservations recommended. $5 for adults, children 12 & under are free
January – February – 11am Tuesday to Sunday, Closed on Mondays
March – December – 11am, 4pm Tuesday to Sunday
Old Friends at Cabin Creek Farm
Address: 483 Sand Hill Road Greenfield Center, NY 12833
Website: Old Friends Cabin Creek
Tours: Saturdays 12pm to 3pm year-round
Day Trips in Kentucky:
A COMPLETE Guide to the Kentucky Bourbon Trail
An INTENSIVE Beginner's Guide to Exploring Louisville
Where to Find Street Art in Lexington, KY
8 Quick Things to do in Lexington
Liked this post? PIN IT FOR LATER!!
Save
Save