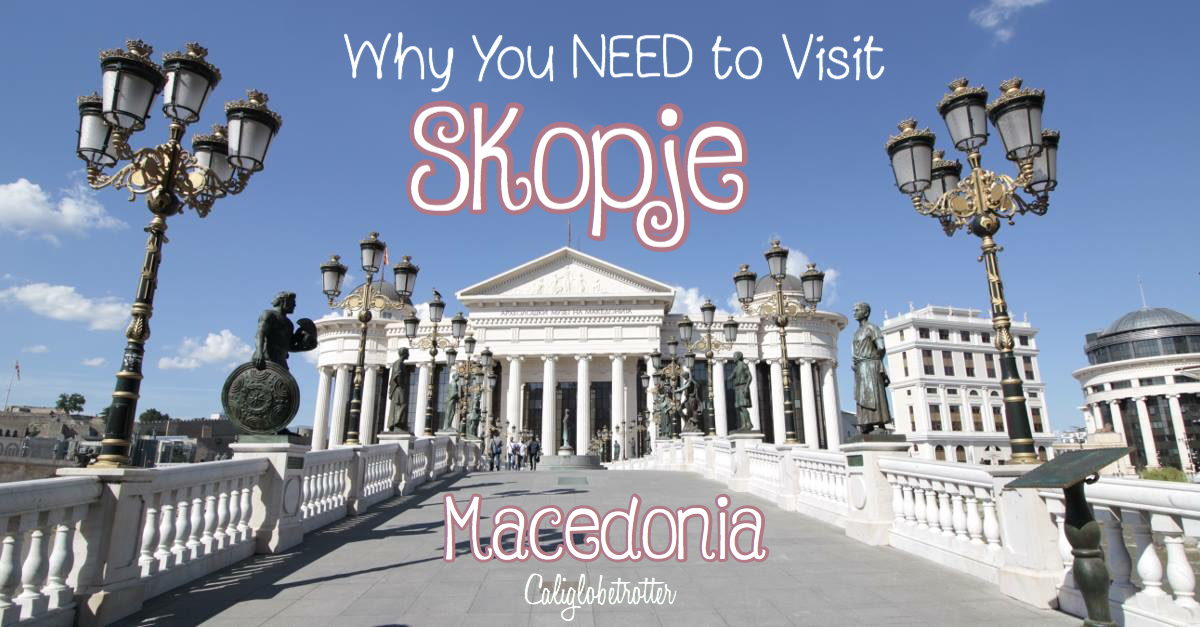 Disclaimer: This post contains affiliate links. If you click on one and make a purchase, I might make a little extra spending money, at no extra cost to you. As always, all opinions are my own and these products/services have been found useful during our travels and come highly recommended to you from yours truly!
I have a confession to make: I'm OBSESSED with beautiful street posts & lamps and I'll go anywhere for a pretty lamp. I know, weird obsession. But a harmless one! Ever since I saw pictures of Skopje on Instagram and Pinterest, I knew I had to go!
As my first introduction to Macedonia, Skopje was the best place to start. It was one of my favorite cities along our 2 Week Balkan Road Trip for our honeymoon. I like to call Skopje the "Mini Las Vegas of Europe without the casinos". It is unlike any other European capital you will find, with it's very own style. Skopje is very much a city finding its own two feet with tons of buildings under renovation or completely new buildings giving this city a refreshing vibe to both those who live there and visitors. Honestly, it was one of the most amazing cities to visit in the Balkans!
Intrigued yet? PIN IT FOR LATER!!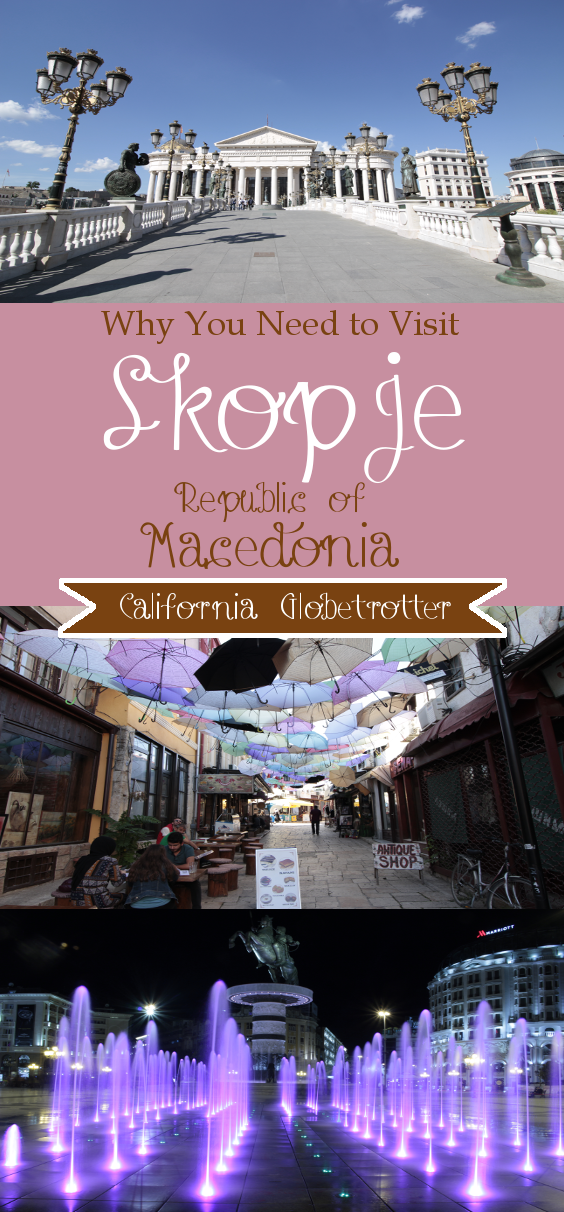 This article is now available as a mobile app. Go to GPSMyCity to download the app for GPS-assisted travel directions to the attractions featured in this article!
How to AVOID Looking Like a Tourist in Europe
1. The History
Skopje's history dates back to antiquity (4000 BC) which means that the country has one of the oldest civilizations in the world. Although much of the city center now looks completely new, there is still a ton of history to be explored. The Kale Fortress, perched above the town dates back to the Byzantine rulers of the 6th century and is where Neolithic remains have been discovered. And just at the foot of the fortress is the Old Bazaar which has been the heart and soul of the city since the 12th century.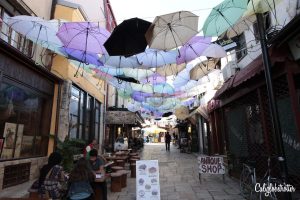 Fast forward a couple of thousands of years and we have the beautiful city that is emerging as an up & coming tourists destination. Directly after WWII, the city rapidly expanded but this was cut short by a massive earthquake on July 23, 1963 which devastated the city. Many historic buildings were lost and soon Skopje became an example of modernist architecture.
The country was incorporated into the Socialist Federal Republic of Yugoslavia in 1963 and later gained its independence in 1991, acquiring the name Republic of Macedonia. This caused quite a row with Greece, as they also have a region named "Macedonia". Both countries state that their history can date back to an ancient kingdom called Macedon and that the other is not entitled to claim that title. Depending on who you talk to, whether a Greek or a Macedonian, the name still comes with some high tensions. Because of this, the country has not gained its membership into NATO, so it's best to stick with The Republic of Macedonia. (Soon to be renamed the Republic of North Macedonia)
Thanks in part to the "Skopje 2014" project, many of the historic landmarks were rebuilt and renovated, however, this came with some severe criticism. In a country still suffering from high unemployment and poverty, the project has been criticized for spending nearly $700million (50-80million euros). Prior to visiting at the end of May, there had been quite a few protests in both Skopje and other cities around the country against charges of corruption, which led to a "Color Revolution". Luckily, this was all over by the time we arrived and the buildings all painted white again.
2. The Modern Architecture
I typically despise modern architecture as boring and cold and being the cause of lost history. Many modern buildings and skyscrapers tend to replace historic buildings which sadly had been badly neglected or abandoned. However, Skopje has a very contemporary feel about it while at the same time inspiring a classic Greek style. Large, monumental, pristine white buildings line the river banks, feeling more like that "mini European Las Vegas" I mentioned earlier.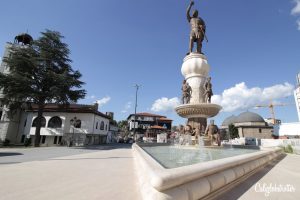 The Skopje 2014 project has been criticized as an expensive and unnecessary display of "nationalism" with an explosion of construction and renovation of a ton of new buildings, bridges and government offices. With a plethora of new monuments of some of the country's historical figures, the city is trying to create a feeling of national pride.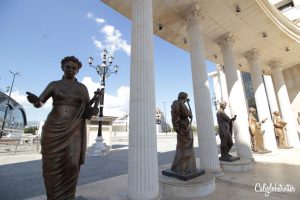 3. The Statues & the Monuments & the LAMPS!!
Never in my life have I seen so many MASSIVE statues, monuments and fountains all in one place. The most impressive statue was without a doubt the Warrior on a Horse of Alexander the Great in the center of the city to which when I look at it, reminds me of Buzz Lightyear… "To infinity and beyond!" Some statues and monuments honor the country's historical figures who have had a deep influence in art, music and politics while others glorify things like the stages of motherhood.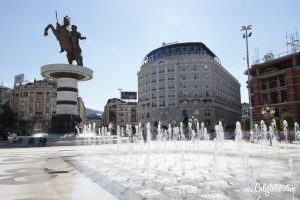 I was surprised to find the bull – the symbol of the financial district, only to discover that our hotel was in this quarter. Two statues on the other hand caught my attention for being completely and utterly absurd. One of a girl walking while talking on a cell phone and the other of a poor beggar with an outstretched hand. Why not just donate the money used to make the statue of a beggar to an actual beggar who is hungry?
Remember how I said I loved lamps? Well, Skopje was my playground! Every few feet there was another beautifully crafted lamp and when we got to the Museum of Archeology and the Ministry of Foreign Affairs, I was in heaven. There are several beautiful bridges throughout the city, but no more so than the Bridge of Civilizations in Macedonia and the Art Bridge. Both were just COVERED in lamps! Obviously, checking out these bridges were one of the top things to do in Skopje!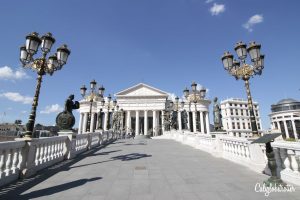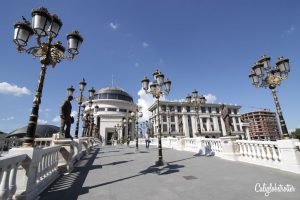 Quite possibly the most absurd, over the top installation the city has spent it's money on are the four replica Galleon style war ships on the Vardar River. While they are attractive and make for an interesting cafe or restaurant, the theme park style boats actually have no reason to be there and are considered to be "the ultimate example of bad taste", leaving many locals furious. Clearly an example of the misuse of funds.
4. The Old Bazaar
Quite possibly the best part of the city is the historic Old Bazaar, which I mentioned dates back to the 12th century. Here, you'll find that the town still has that historic Ottoman Empire feel about it. Skopje's Bazaar is actually the largest in the Balkans outside of Istanbul, Turkey and is therefore, one of the most interesting things to see in Skopje!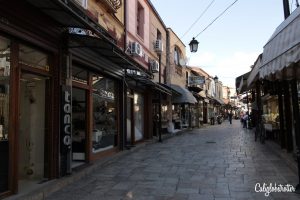 Small groups of men sit outside of their shops and cafes watching the passersby. I'm not going to lie, there were some awkward and uncomfortable "mmm hrmm" nods as I walked by. One shop after another was filled with gold and silver jewelry, leaving you wondering how they all manage to stay open while competing for customers.
Here, you'll also find some of the best traditional food in the city, which is quite similar to Turkish food. After strolling the alleys, we plopped down at the first restaurant we found and devoured a variety of grilled meats and chicken, Turkish style bread and a Macedonian beer.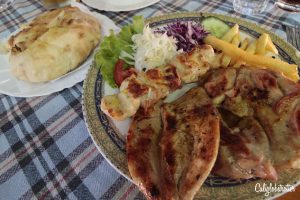 5.The Mix of People and Religions
While much of the population of Macedonia is made up of ethnic Macedonians, a large percentage are Albanians and the Turks. Therefore, you have a cultural hub of religions and people coming together in the city. You'll find Christianity, Islam and Eastern Orthodox, which is the predominate religion here. Saint Clement of Ohrid was an impressive Eastern Orthodox church with vibrant paintings on the inside, while the outside was far too modern to be historic. It was consecrated only in 1990 and is the largest Macedonian Orthodox Cathedral. By far one of the most unique churches in Europe I've seen yet!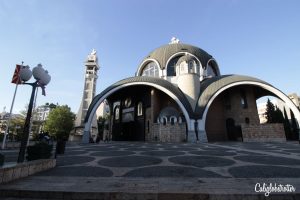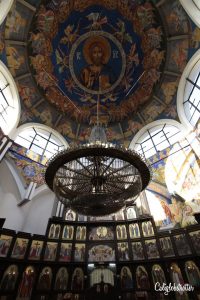 You'll also find a memorial house dedicated to Mother Teresa, who is was born in Skopje (then part of the Kosovo Vilayet of the Ottoman Empire). She was an Albanian-Indian Roman Catholic nun and missionary who lived in Ireland and India for most of her life.
6. The Nightlife!
We were surprised to find how lively the night life was! The city really comes alive as the enormous fountains show off their Vegas-style light shows. During the warm summer nights, once the sun has set, the locals head Macedonia Square to cool off by playing in the choreographed water fountains. Young and old dare to challenge the water fountain by running across it as fast as they can before the water shoots up and splashes them. Others simply make it their mission to get as soaked as possible. I was not brave enough, but it was certainly the best thing to do at night in Skopje!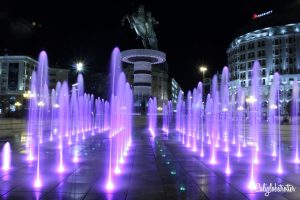 After admiring this for a while, we strolled along the Vardar River, taking some night time photos of my beloved lamps, we plopped down at Etno Bar to enjoy a glass of wine and more delicious Baklava. By now, I was hooked!
7. It's Cheap!
It's pretty common knowledge that Eastern Europe and the Balkans are incredibly cheap and your money will go farther than more popular destinations like Germany, France or Italy. On average while in Macedonia, for two meals, two beers and a water, we paid roughly 15 €. If you're wondering where to stay in Skopje, then consider where we stayed at, the Elsa Hotel ⭐⭐⭐⭐, right in the heart of the city and paid only 83 €. The hotel staff were incredibly friendly and even upgraded us to the Business Suite for our honeymoon. While at our hotel, I had secretly booked us a one hour couples massage, in our hotel room through the hotel for a whopping 20 € each!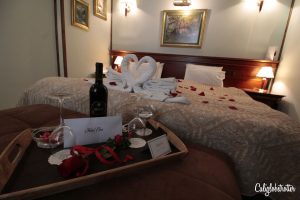 While I loved our hotel, I later discovered the Skopje Marriott Hotel right in the center of town near the Warrior on a Horse Fountain which has incredibly reasonable prices which I would have also enjoyed.
8.The People
We found that while in Macedonia, many of the people we came into contact with were incredibly friendly and glad to have tourists. This should really have come as no surprise to me as one of my coworkers is from Skopje, who is both super friendly, outgoing and was touched that we were visiting her second home country. Hi Lence! 🙂 They were incredibly hospitable and excited to answer any questions, give us recommendations or show us the way. The best surprise of all was how well everyone spoke English, mostly young adults, mind you. And not just good English, but PERFECT English!
9.The Lack of Tourists
The Balkans is beginning to finally catch people's attention again, now that a significant amount of time has passed and the tensions have cooled after the atrocities of the Bosnian Wars as well as the fall of the Iron Curtain. Most tourists seem to be flocking to Croatia on their holidays, easily overlooking some of the other nearby countries. However, despite the slight increase of tourists to the city, it's still significantly lower than it's neighbors.
I felt we were only one of a few tourists in the city, while the rest were locals going about their day, attending prayer. With that said, I feel that I can safely call Skopje a diamond in the rough! Now is definitely the time to visit before it becomes too popular and prices increase. Skopje is still very much one of the most off-the-beaten-path destinations in the Balkans but is without a doubt one of the coolest cities to visit in the Balkans!
The Negative Bits About Visiting Skopje
Some Unhelpful People
With any new city or country, you're bound to have a few low moments on your trip. We did encounter some not very friendly or unhelpful people during our stay as well. It took us longer than usual to find our hotel as our navigation didn't work in Macedonia and we couldn't find the street of our hotel on our maps. We stopped at a gas station, asked a police officer and had to resort to asking a taxi driver for help. They gas station had no idea and no maps, the police officer wasn't even from Skopje and had no idea and we had to ask two different taxi drivers, the second of which was nice enough to google it on his phone.
Beggars Street Washing Your Car Windows at a Red Light
This isn't the first time I've seen this, but it caught me completely off guard as I was trying to navigate through crazy Macedonian drivers and traffic and my husband was reading maps. Out of no where, we were surrounded in our car at a red light by people cleaning our windows and then demanding payment for unwanted service. I forcefully yelled at the girls through the window not to touch my car to only fall on deaf ears. Soon, we encountered a tense moment when we thought one of the girls would smash our window as she had been attacked by my car's automatic windshield wipers. I warned her. Needless to say, I zoomed off as fast as possible.
Chaotic Skopje Traffic
I'll never.ever.EVER complain about traffic again in Germany in all my life after driving in Skopje. Not only was there a lot of traffic, but there was absolutely no flow. Lights were clearly not aligned to allow the maximum flow of traffic. Drivers created their own lanes, sometimes 3-4 wide, even if the road was wide enough for two lanes. Drivers pushed their way into the traffic from parking lots and whatnot, blocking the flow of traffic even more. Streets were closed off (where our hotel was) by a large police presence, which had us worried. But, it was just extra protection for the inauguration of the new government.
The Pack of Stray Dogs Harassing People
Prior to our trip, I had read that this was a common problem throughout the Balkans, but I didn't imagine it to be so much. Up to this point, we had only seen one or two stray dogs at a time, mostly sleeping or searching for crumbs. While in Skopje, however, there was a scary moment when a pack of 5-6 dogs were running wild through the beautiful city center barking and harassing pedestrians with leashed dogs. I stood for a few minutes watching in astonishment and was reminded of the movie Cujo I was forced to watch in high school. Hopefully one day this problem will be solved.
Not so threatening though, were the stray cats preying upon us while at lunch in the Old Bazaar, waiting for a piece of food to drop. Every few minutes we had to stomp our feet or the waiter would come over to shoo them away. Rather annoying but way less worrisome.
The Stench of Urine
Every big city has this problem. Even London, Munich, Berlin. You name it, there's usually a drunk out there somewhere needing to relieve himself. It's an unfortunate thing. But while in Skopje, in the middle of all that beautiful architecture was the occasional waft of urine. Especially down by the Vardar River and the Stone Bridge.
The Police Officer Who Pulled Me Over For No Reason
Yup. While trying to LEAVE the city, I had been signaled to pull over. While I had thought she was signaling that I turn right, my husband confirmed that she was implying that I pull over. I rolled down the window only to have a staring contest with the police officer before I finally broke the silence by asking if something was the matter. She stared at me as if I should know the answer before questioning where we were from. I replied, in English, we were from Germany (clearly, as stated on our license plates) only to be thrown an annoyed look and told to drive on. I still don't know why we were pulled over. Clearly, she didn't want to deal with foreigners. Probably too much paperwork.
Tips for Visiting Skopje
Macedonian currency is only available IN the country and is illegal to take out of the country.
There are two tolls road from Skopje to Bulgaria's Rila Monastery

 

for 40 den (1

€

) and the second is 60 den (1.50

€

).
To learn more about the culture, the history and the people, check out David's post about

9 Things to Know Before Visiting Macedonia

from Travelsewhere!
Overall Experience
First of all, I felt incredibly honored to visit Macedoniaafter seeing the joy in my coworker's face that someone was actually going to be visiting her second home country. And I was incredibly touched when she gifted us a bit of Macedonian money to enjoy a beer with her name on it! Thanks Lence! So this one is for you!I feel absolute pride well up in my chest when I can say I have been where so few have gone and come back raving about how much I fell in love with her city!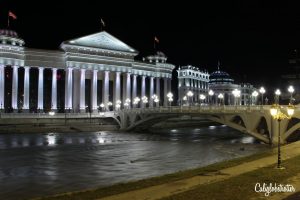 Between absolutely being in heaven because of the lamps, the delicious food, the lovely people we met, the astonishing architecture, the fascinating history and the beautifully hot day we had, I would say we ABSOLUTELY LOVED Skopje! It was unlike any other European city we have yet to visit and we thoroughly enjoyed the lack of tourists. There were never any super large tour groups, tons of souvenir shops and marketing schemes.
All of these positive aspects clearly outweighed the negative experiences we had while there. I'd go back in a heartbeat and wouldn't mind visiting again in a few years to see what has changed, as there were a ton of buildings being built. While it might be expensive now to build and that money could have gone to something more important like improving infrastructure, feeding the poor or creating jobs, one day it will all pay off as the tourists will come. If you build it, they shall come, right?
Looking for more practical information on Balkan Travel? Grab a copy the following travel guides which we found incredibly useful on our trip and has something for everyone from outdoor activities to historical sites!
Disclaimer: This post contains affiliate links. If you click on one and make a purchase, I might make a little extra spending money, at no extra cost to you. As always, all opinions are my own and these products/services have been found useful during our travels and come highly recommended to you from yours truly!
Helpful Balkan Travel Guides:
The PERFECT Two Week Balkan Road Trip
An Off-the-Radar City: Sarajevo, Bosnia-Herzegovina
An Introduction to Kotor, Montenegro
Liked this post? PIN IT FOR LATER!!