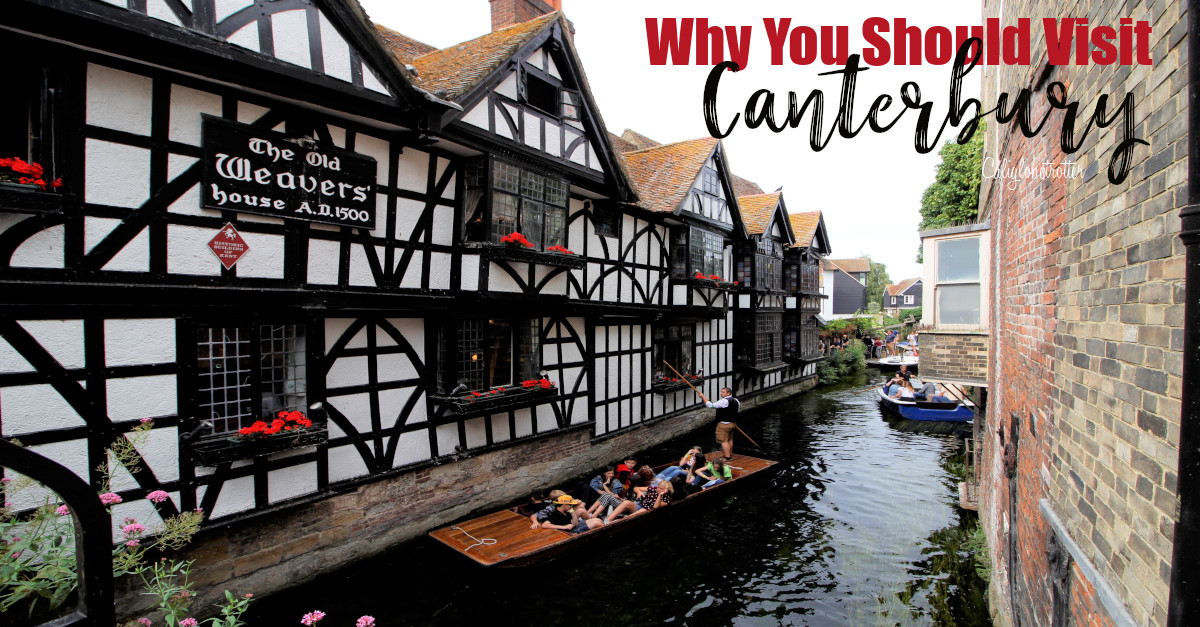 Disclaimer: This post contains affiliate links. If you click on one and make a purchase, I might make a little extra spending money, at no extra cost to you. As always, all opinions are my own and these products/services have been found useful during our travels and come highly recommended to you from yours truly!
If you plan to visit England and are looking for an alternative to London, then look no further than Canterbury. Located in southeast England, Canterbury, Kent is the spiritual heart of the country, with its cathedral listed as one of the finest in Europe, attracting visitors from all over the world. It's a bustling city with a medieval city center filled to the brim with independent shops, bars, restaurants and historic sights.
Love Medieval England? PIN IT FOR LATER!!
A Traditional London Itinerary with the London Pass
Afternoon Tea at Kensington Palace
2 Day Itinerary to the the Cotswolds
This article is now available as a mobile app. Go to GPSMyCity to download the app for GPS-assisted travel directions to the attractions featured in this article!
Just 1hr25 minutes away from bustling London and you can immediately immerse yourself into a living history book, making it easily one of the most interesting day trips from London. Looking like I would have imagined it would a thousand years ago, Canterbury has been titled a UNESCO World Heritage Site and is home to the Archbishop of Canterbury. Here are seven reasons to visit this most historic of towns.
The History
Ideally located along the River Stour, Canterbury today is one of the most visited cities in the United Kingdom. Originally, pilgrims flocked to the City of Canterbury since the martyrdom of Thomas Becket in 1170, which served as inspiration for Geoffrey Chaucer's 14th century historic classic, The Canterbury Tales, shining more light on this already famous city.
But the history of Canterbury is far more rich than any story. Since 200 A.D., there was a Roman town here and thus, many historical structures are scattered throughout the town. However, after the Romans left Britain in 410 A.D., Canterbury was practically abandoned for the next 100 years, before being chosen by St Augustine, who set about building an abbey on the outskirts of town to help spread the message of Christianity, thus becoming the first Archbishop of Canterbury.
Though the town was heavily damaged during the Second World War, plans were made to modernize and redesign the historic city center even before the war was over. Local citizens quickly took action to prevent what would have undoubtedly been a tragedy, thus preserving Canterbury's historic city center.
Related: German Cities That Survived WWII
Canterbury Cathedral
Located in the heart of Canterbury, with 1,400 years of rich history, it's no wonder that the Canterbury Cathedral is one of the most cherished in northern Europe. As the mothership for the Church of England, the opulence radiates both externally and internally. Passing through Christchurch Gate, the main entrance to the cathedral, you are immediately overwhelmed by the sheer size of its beauty. Standing tall, the cathedral dominates the Canterbury skyline while the interior is overwhelmingly astonishing and is crammed with entralling stories of ill-fated violence and bloodshed, most famously, the northwest transept where Thomas Becket was gruesomely murdered, thus attracting pilgrims for the last 800 years. As England's largest cathedral, there are many more interesting monuments to discover.
Unfortunately for us, when we visited the cathedral, the exterior was completely covered in scaffolding and construction surrounded the base of the cathedral. I can imagine it will be like this for several more years to come.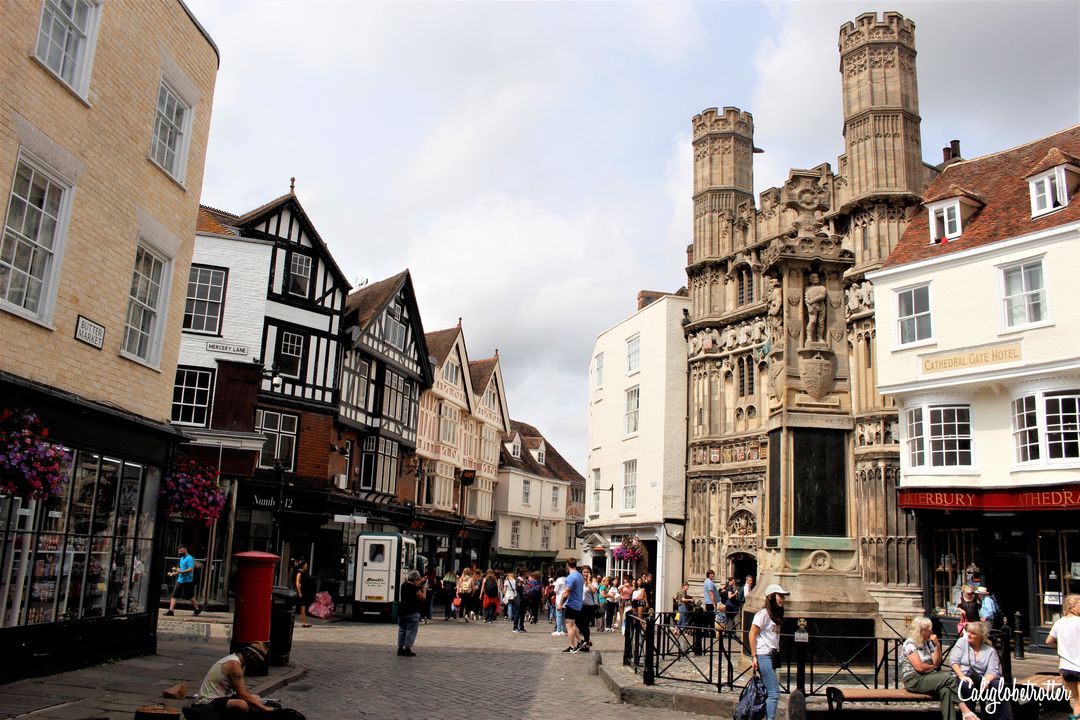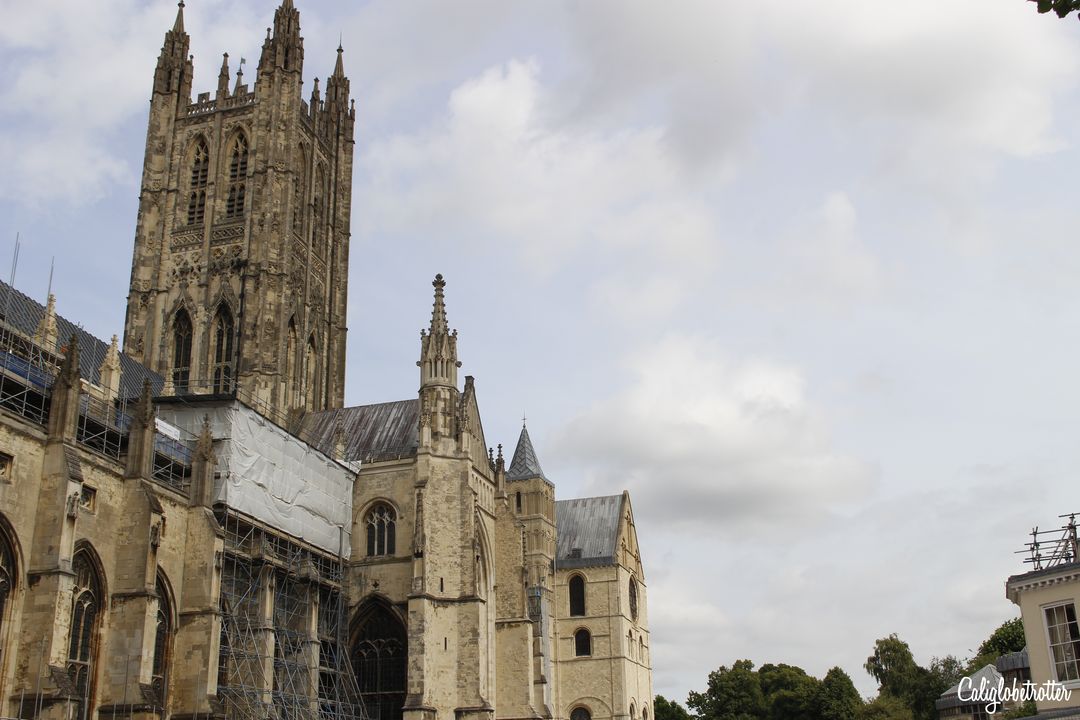 The interior is one of the finest examples of Gothic architecture, after it was rebuilt in 1174, after a devastating fire. The impressively tall hallways and intricately decorated ceiling, as well as the stunning stained glass windows will make it worth spending £12.50 per person to enter.
Not far from the cathedral, you'll find St. Augustine's Abbey, founded one year after the city.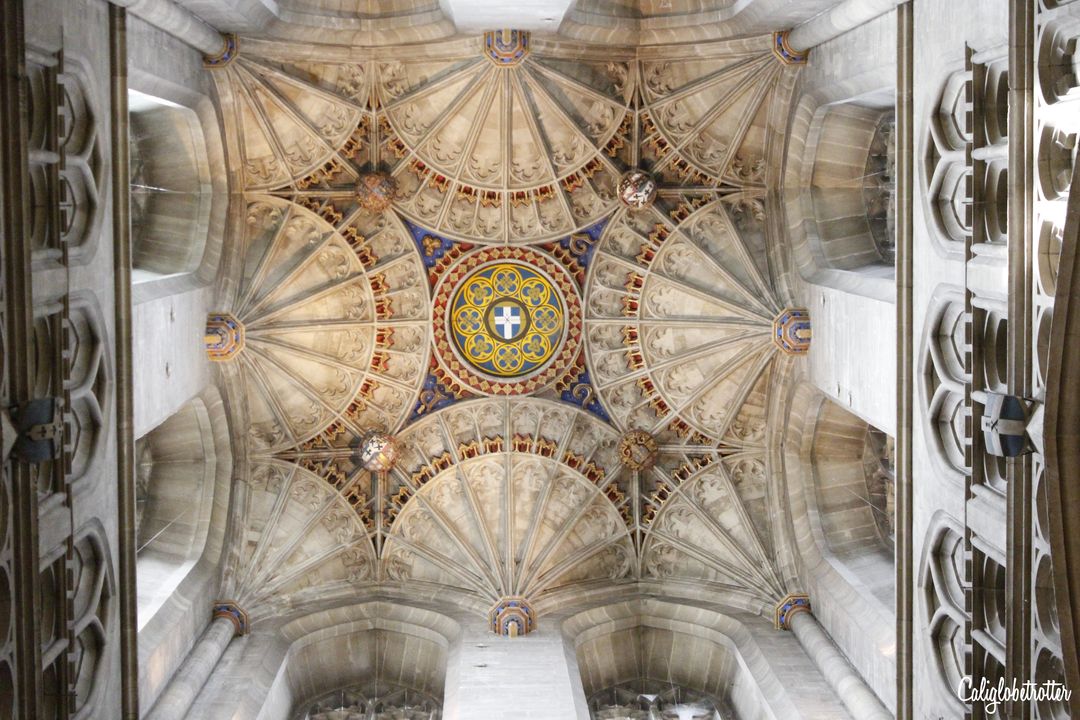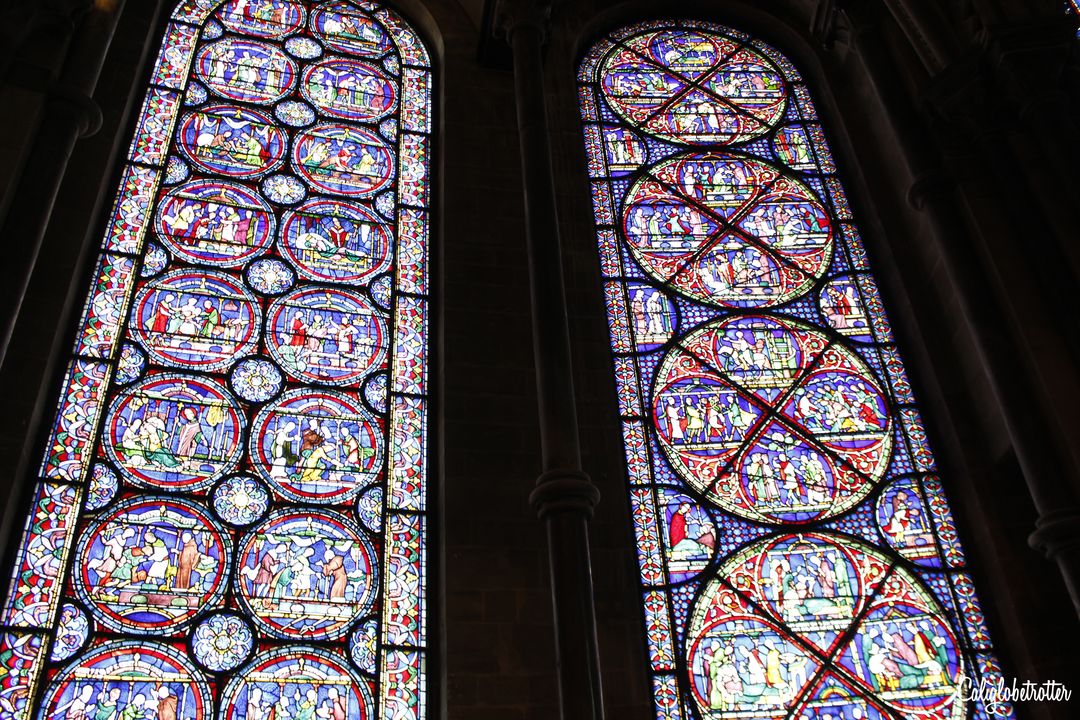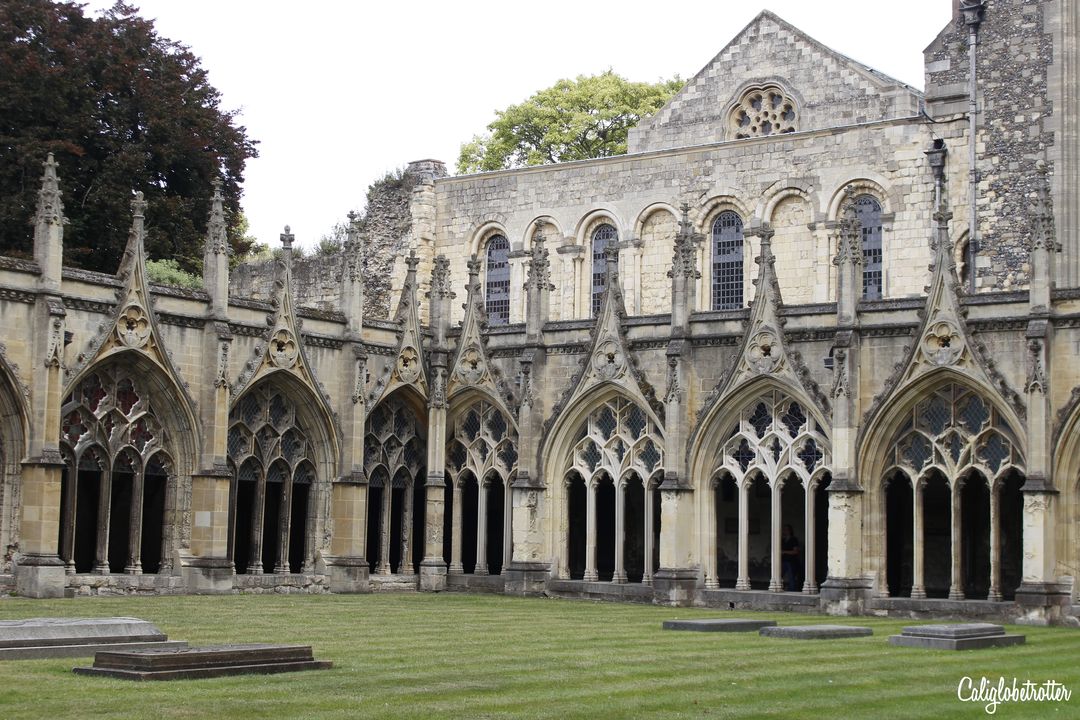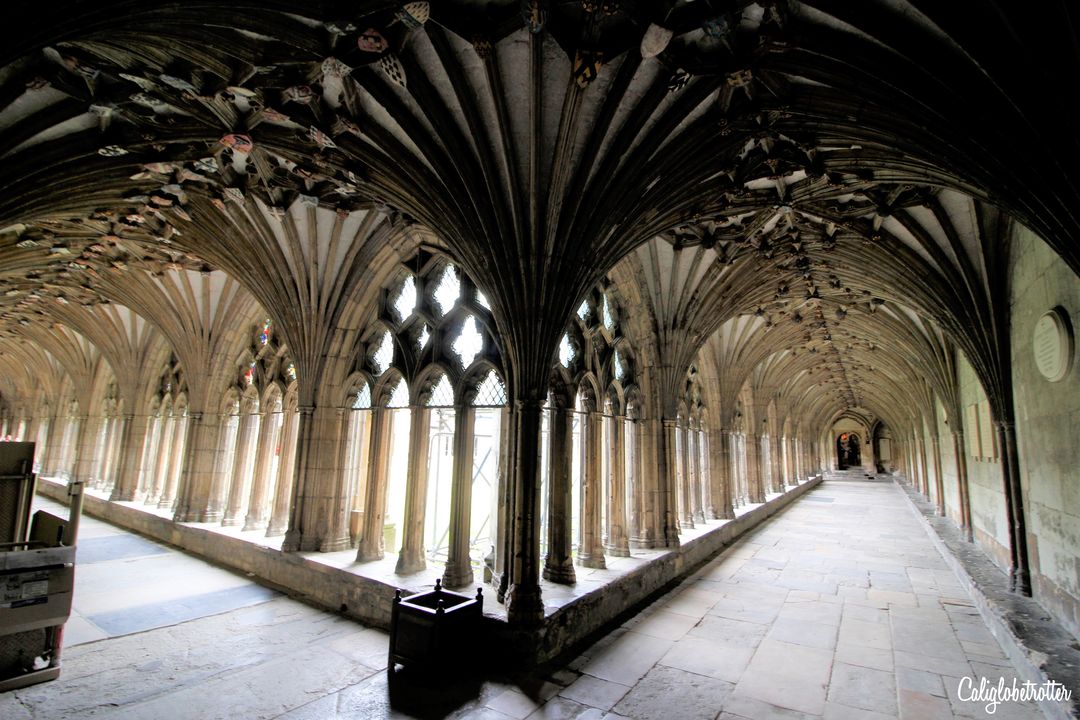 Beautiful Half-timbered Tudor Architecture
England is home to some of the most beautiful timber-framed houses I have ever seen. And not just a few, but thousands which have all been beautifully maintained, though every now and then you do occasionally find a sagging and slopping building or two, but are thus otherwise still perfectly functioning buildings that have stood hundreds of years.
Canterbury is no stranger to the Tudor architecture, the final development of Medieval architecture in England which was developed between 1485 and 1558. It's a transitional style of architecture, a mixing of elements from both the Renaissance and Gothic periods, also often called Perpendicular Gothic because of the emphasis of vertical lines.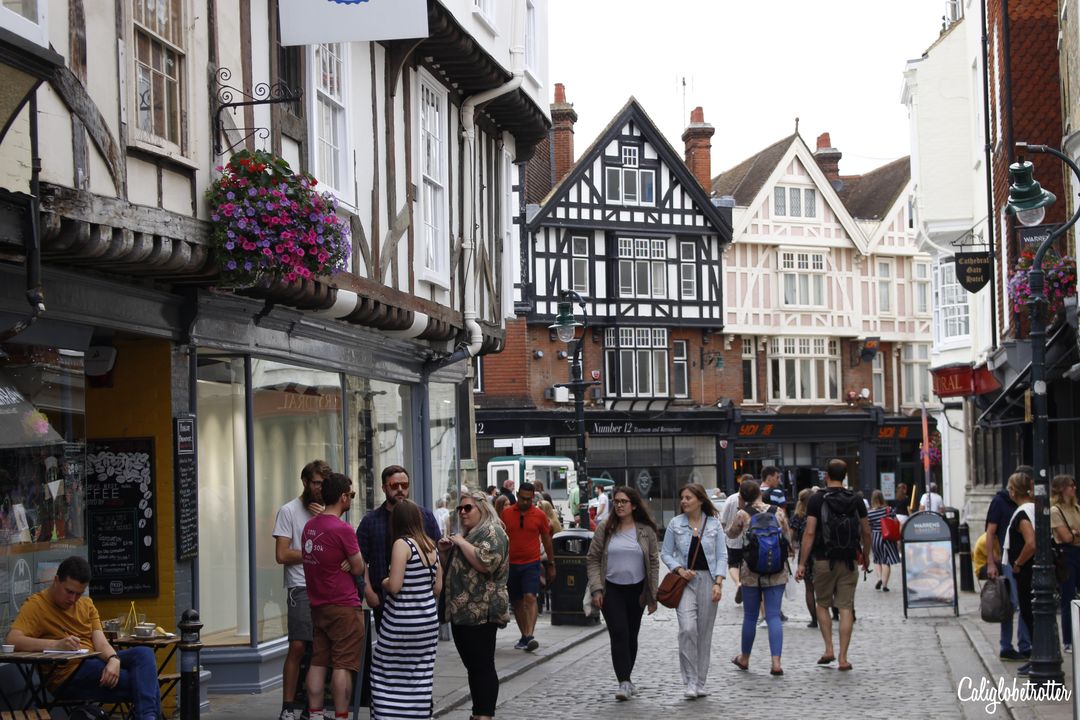 While exploring Canterbury's historic city center, there are a plethora of said buildings scattered throughout the town, but two of my favorite were without a doubt the Old Weaver's House, located along the Great Stour River, as well as Sir John Boys House, formerly the Old King's Shop which is today a tiny book shop, leaning out over the street below, as if trying to take a peak at what people are doing below.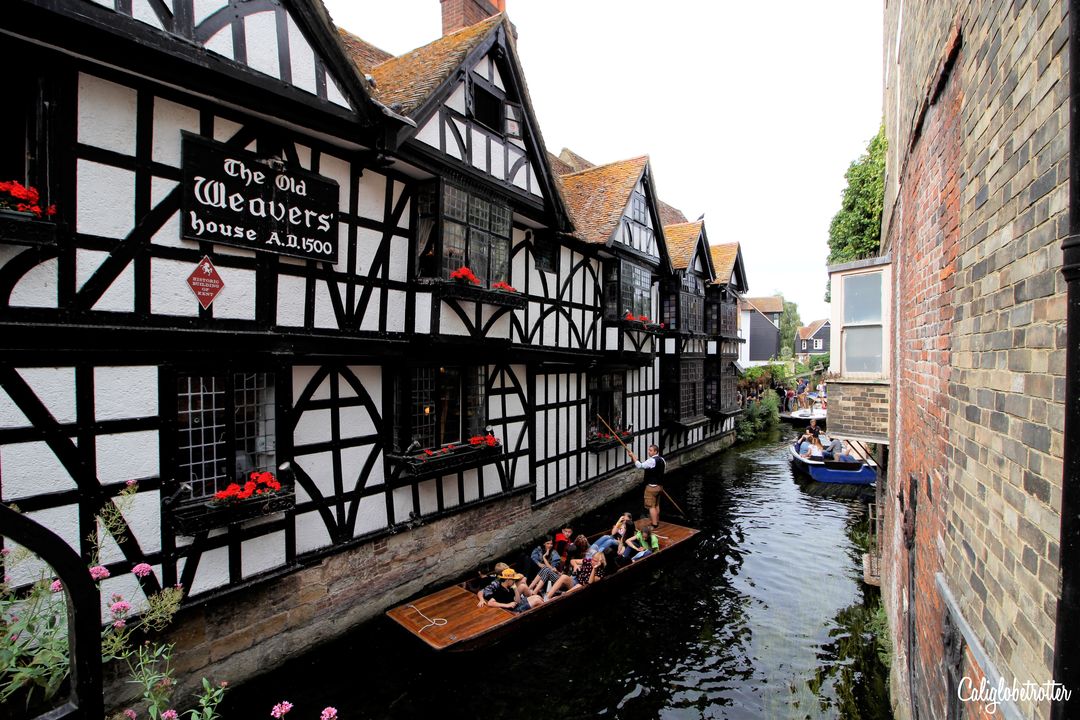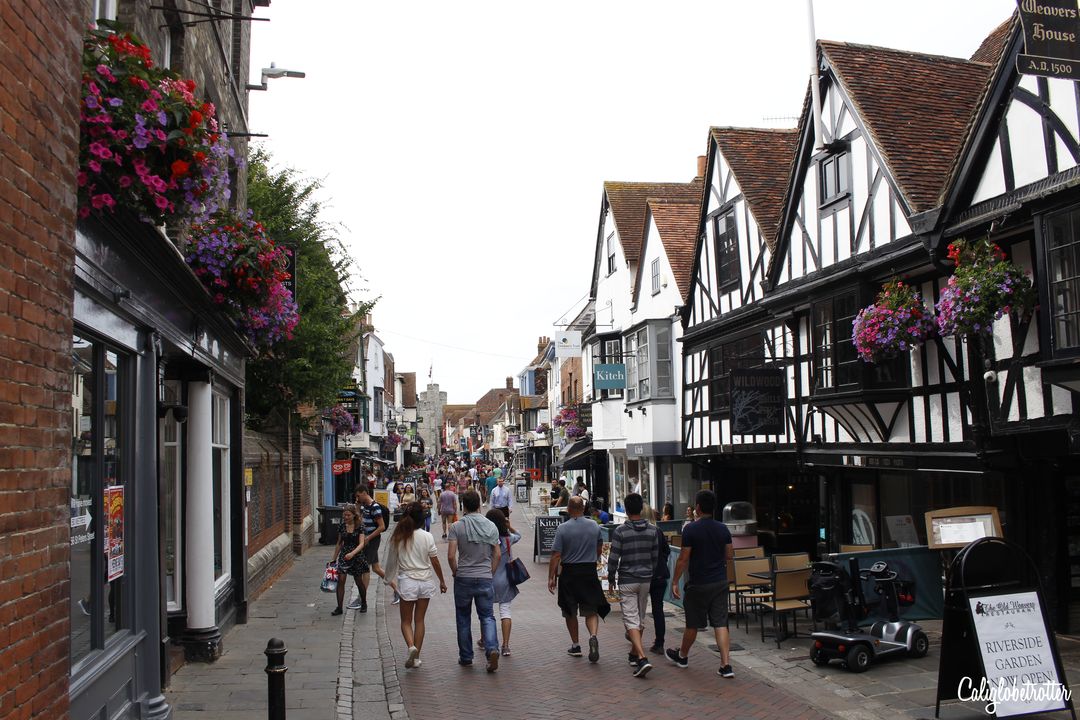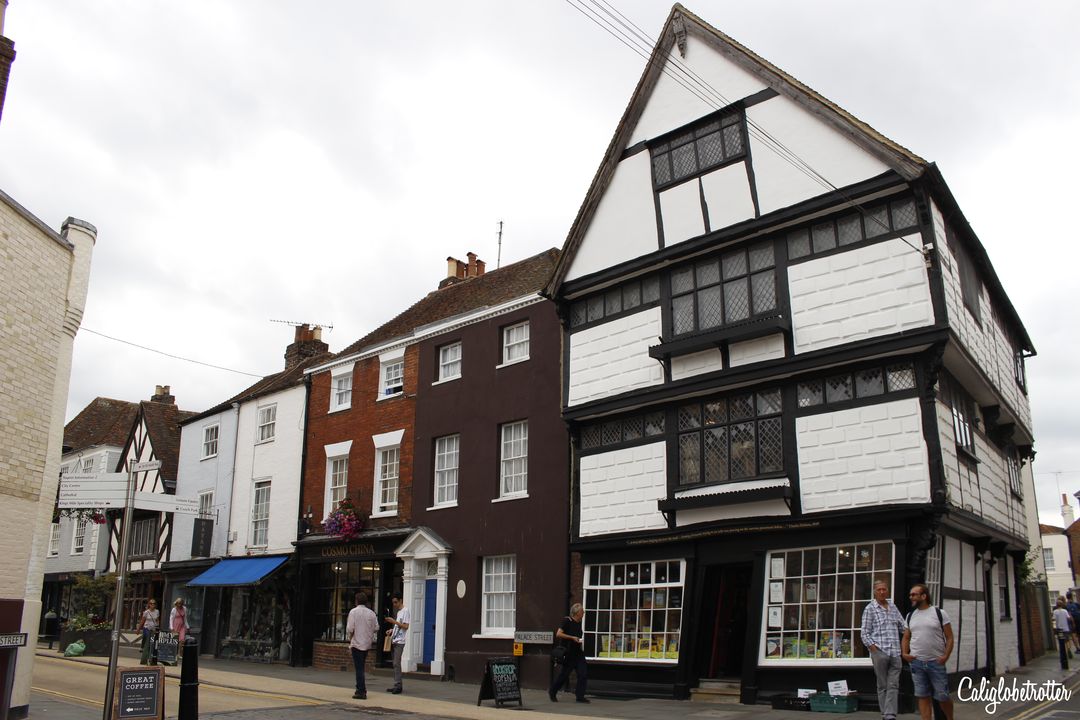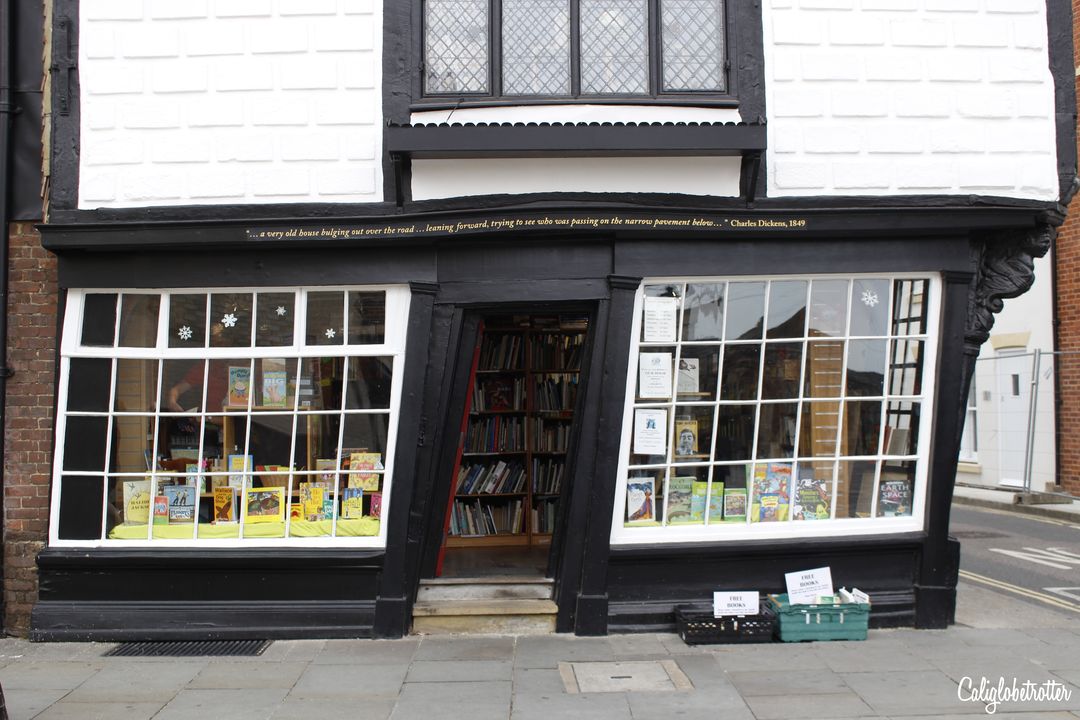 Punting on the Stour
As one of the prettiest canal cities in Europe, one of the best things to do in Canterbury, like Oxford and Cambridge, is punting –  that is to say taking a ride on a flat-bottomed boat designed specifically for shallow rivers. The boat is propelled down river by a punter, usually a student of the town's university, by pushing against the river bed with a long pole. Though we unfortunately didn't feel like splurging for a ride on this particular day, I can imagine that its slow moving pace is quiet relaxing and enjoyable while listening to the punter provide you with fascinating tales of the city.
The Canterbury Punting Co. can be found just opposite the Greyfriars Garden, along the Great Stour River.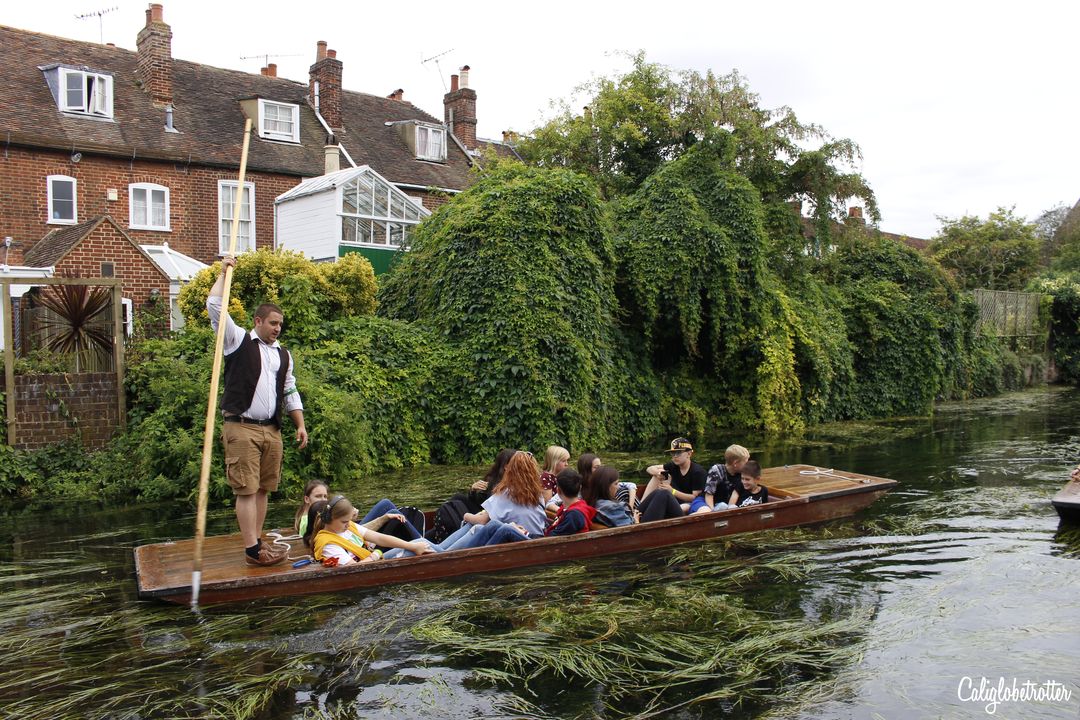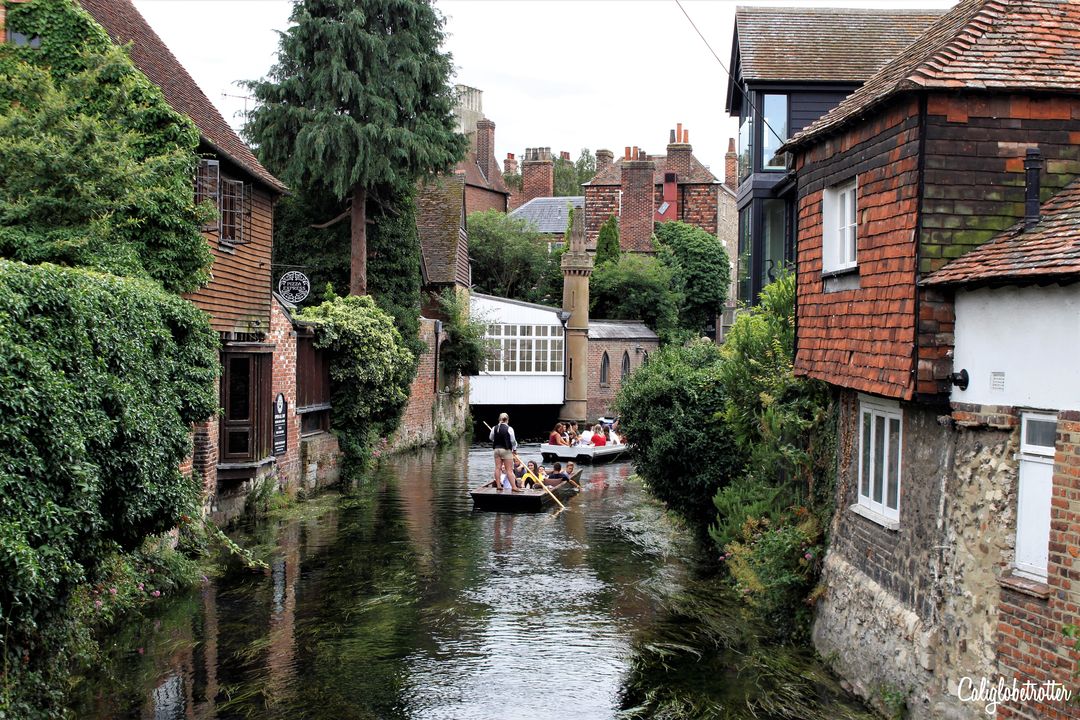 The Canterbury Tales Attraction
Over the centuries, those who embarked on a pilgrimage to Canterbury have slowly been replaced by a new type of visitor, the city break weekender. Families looking for some family-friendly activities in Canterbury should consider a visit to The Canterbury Tales Visitor Attraction, which has brought to life Geoffrey Chaucer's classic, The Canterbury Tales in a fun and lively experience.
Medieval Appeal
You'll also find imposing grey stone structures throughout the town, from the West Gate Towers and St. George's Clock Tower taking you back to a time long gone.
The West Gate Towers which had once been used as a prison is today cashing in on its unique history as a new bar, called the Pound. But it's more than just a bar and for a small pence, you can climb the towers which offer spectacular views over the city and an interesting view into prison life. The towers were also put back on active duty during both World Wars, used as the city's air defense.
Unfortunately for us, we arrived 5 minutes after closing at 4pm, and were thus unable to to climb the towers as planned.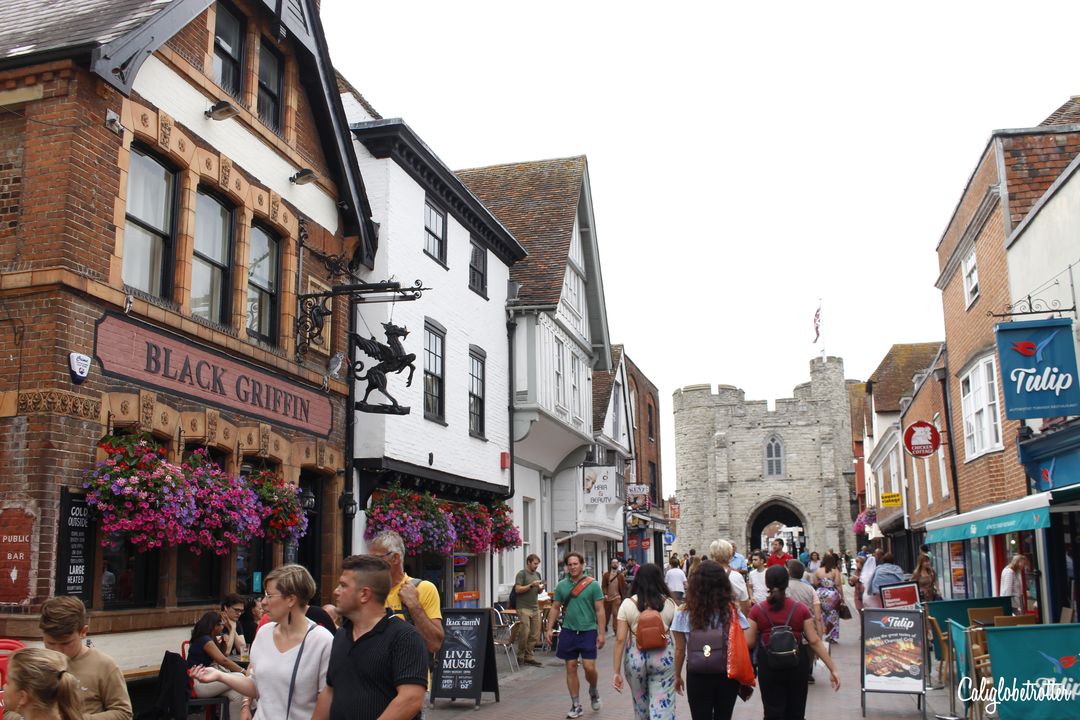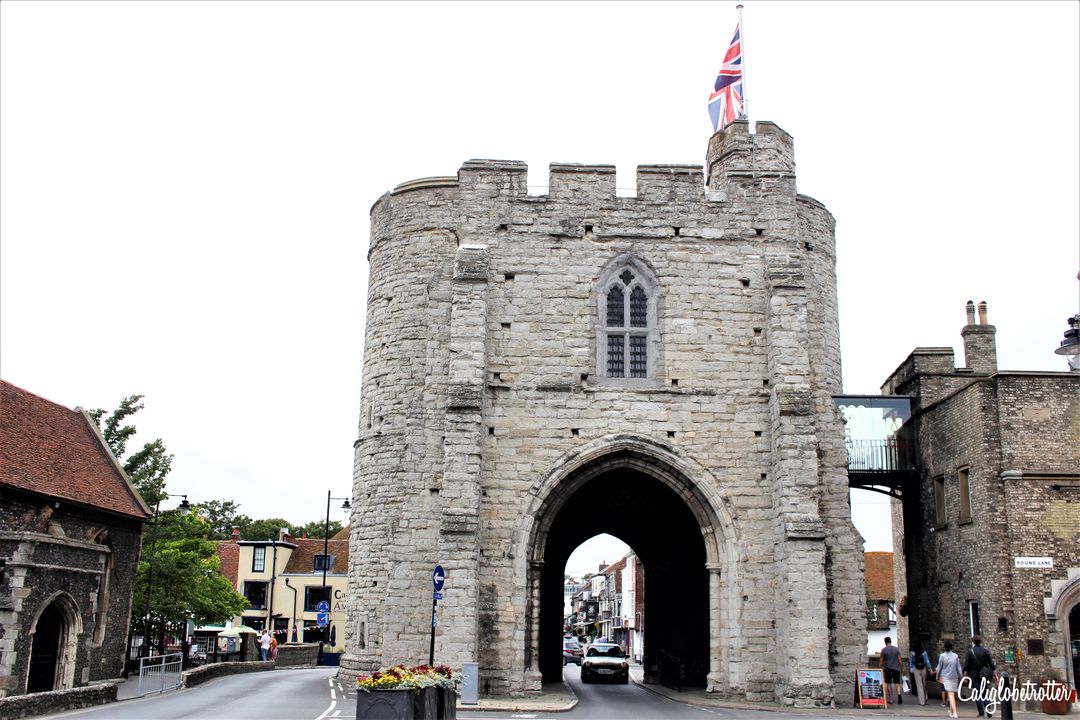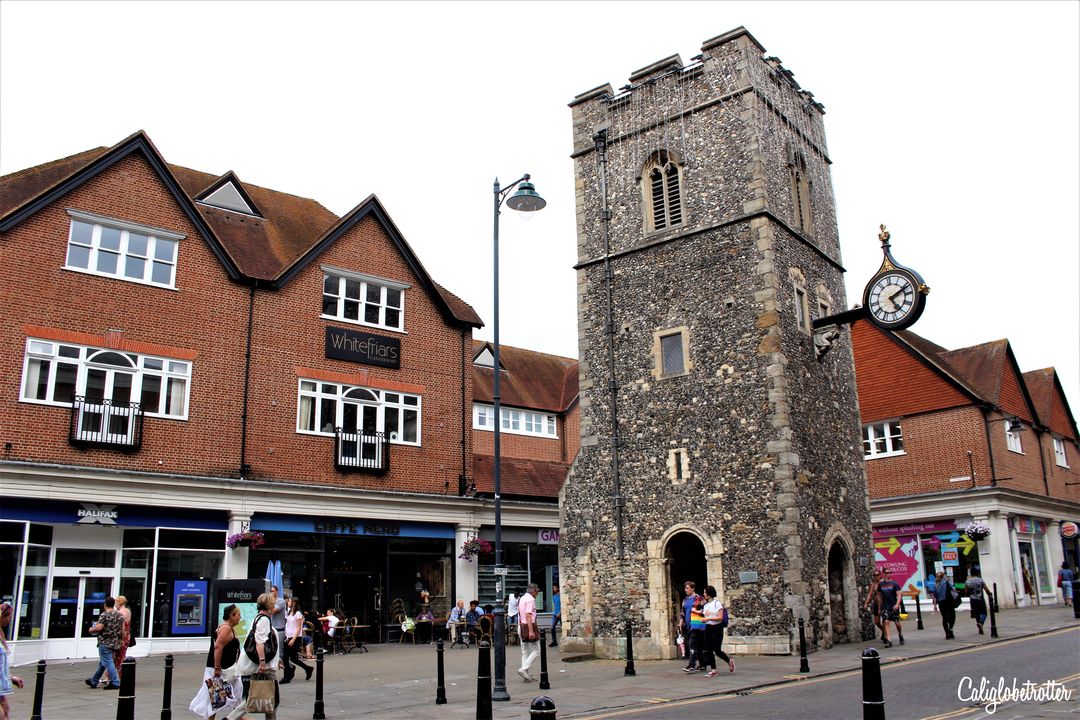 Pub Grub & Craft Beer
As previously mentioned, Canterbury is packed with great little pubs and bars, as well as restaurants. Considering that Kent is world-renowned for producing the Kent hops, it comes as no surprise that there are now craft beer bars in Canterbury. One of the most popular is The Foundry Brew Pub, offering over 16 handcrafted, locally produced ales. For beer lovers, be sure to try their sample platter, as well as joining a brewery tour & tasting.
Unfortunately, we popped in only to check it out and have a non-alcoholc drink. As my husband had to drive, I didn't feel up to drinking alone, though I definitely would have enjoyed a sampler!
Overall Experience
We opted to visit Canterbury based on the simple fact that we would need a pit stop destination in England to pass some time after taking the ferry from Continental Europe to England. We had planned to do some sightseeing upon arrival, after taking an overnight ferry from France to England, however, we were dead on our feet and instead found a parking lot to sleep in, in our car before continuing to drive to Derby.
So upon returning to Dover, we tried a second time to do some sightseeing in Canterbury before catching our ferry from Dover to France. Being only a 30 minute drive away, it was a great location to spend a good portion of the day before we had to sail away. Though unfortunately, after a long two weeks in England attending two weddings, a hen-do and doing a road trip to Scotland, we were quite exhausted, and thus we didn't dig quite as deeply into Canterbury as I would have liked. Nonetheless, Canterbury was an amazing little city and was very walkable and small enough to see all the main sights in just a few hours.
If you're interested in visiting London and are looking for more information, I highly recommend using the Lonely Planet England Travel Guide! I've recently converted to LP's more thoroughly detailed travel guides which I find way more useful, but I am still a big fan of DK Travel Guides!

Disclaimer: This post contains affiliate links. If you click on one and make a purchase, I might make a little extra spending money, at no extra cost to you. As always, all opinions are my own and these products/services have been found useful during our travels and come highly recommended to you from yours truly!
Top Places to Visit in England:
Where to Take Afternoon Tea Around the World
A Traditional London Itinerary with the London Pass
The Palace of the Peak District: Chatsworth House
Beyond London: Reasons to Visit York
A Self-Guided Walking Tour of Oxford
Liked this post? PIN IT FOR LATER!!