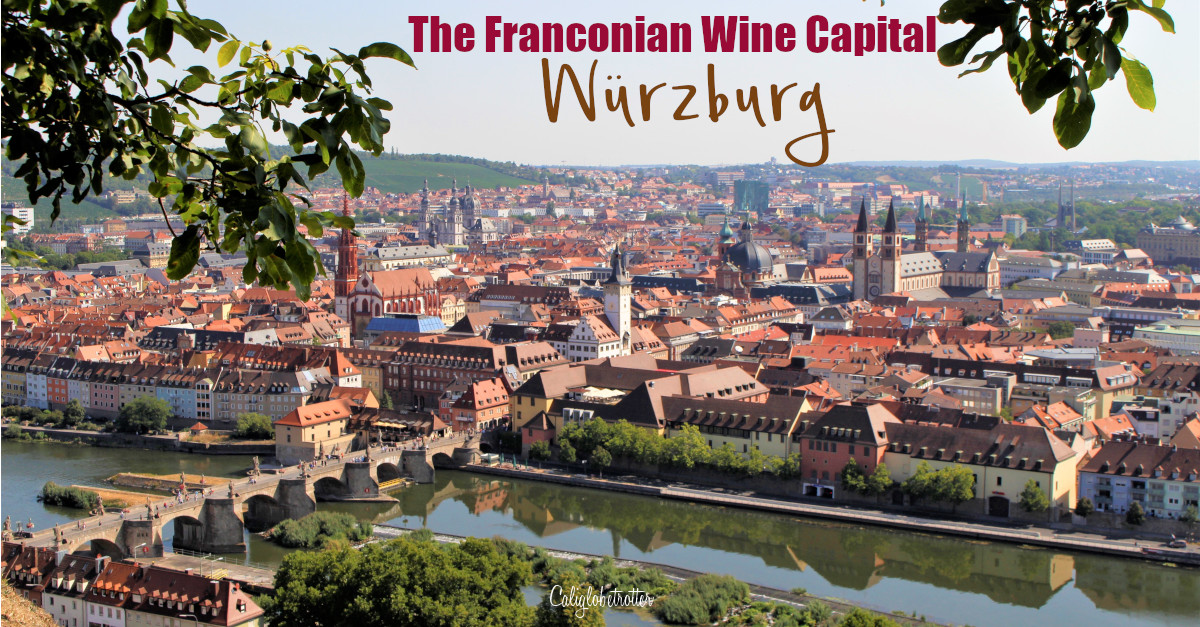 Disclaimer: This post contains affiliate links. If you click on one and make a purchase, I might make a little extra spending money, at no extra cost to you. As always, all opinions are my own and these products/services have been found useful during our travels and come highly recommended to you from yours truly!
You might think that Bavaria, Germany is all about Lederhosen, Weißwurst, Bier and Biergartens, but you would be sadly mistaken. Würzburg, the wine capital of Franconia in the northwestern tip of Bavaria, will show you that there's more to life than beer and sausage. The dialect is different, the choice of sausage is Bratwurst and here you'll find endless rows of vineyards and Weingartens for wine aficionados to enjoy a glass of wine, reminding you that you are no longer in beer country. So, how do you spend a day exploring the wine capital of Bavaria? Come and find out!
Want to Explore Germany's Franconian Wine Region? PIN IT FOR LATER!!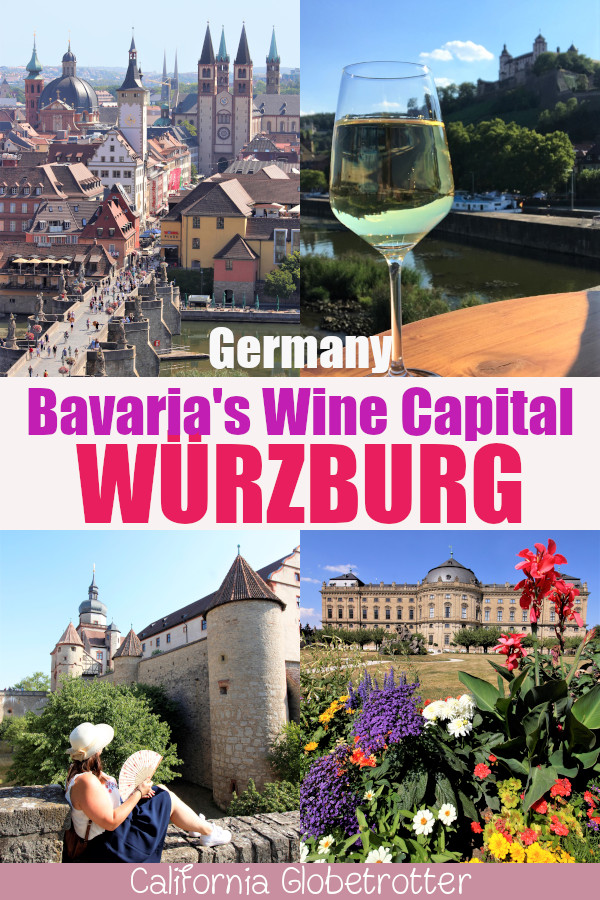 The BEST Day Trips from Frankfurt
The ULTIMATE List of Day Trips from Munich
This article is now available as a mobile app. Go to GPSMyCity to download the app for GPS-assisted travel directions to the attractions featured in this article!
If you're looking to explore Germany's famous "Romantic Road" (Romantischestrasse), begin in Würzburg, which leads south into the Bavarian Alps, which is dotted with picturesque half-timbered towns still surrounded by their medieval walls such as Rothenburg ob der Tauber, Dinkelsbühl and Nördlingen before ending in Füssen, not far from Germany's iconic Neuschwanstein Castle. It honestly doesn't get any sweeter than the Romantic Road, hitting up a good portion of the best places to visit in Bavaria! Best of all, it's always wine o'clock in Würzburg!
As it turns out, Würzburg is popular with the ladies, especially for Bachelorette parties, which surprised me because I too had wanted to do that for my Bachelortte party back in 2016, but had to cancel due to bad weather.
Just a smidge of Würzburg's History
Not to burst your bubble or anything, but technically Würzburg isn't Bavarian at all. And many Bavarians would agree and so would many Franconians. Yes, today, Würzburg is a part of the state of Bavaria, Germany's most popular state, but this region once belonged to Franconian tribes before being predominantly under ecclesiastical rule in Bamberg and under the control of prince-bishops in Bamberg and Würzburg.
Würzburg's history though dates back to 1000 B.C. when a Celtic fortification was built upon the Marienberg mountain and from then on, the region was highly fragmented before becoming a part of the Kingdom of Bavaria in 1814.
Sadly, towards the end of the Second World War, 90% of the city was destroyed on March 16, 1945 within 17 minutes by the British air raid and was specifically targeted for the fact that it was a major traffic hub, as well as simply to break the spirit of the Germans. Similar destruction happened in Rothenburg ob der Tauber and Dresden, leaving many to wonder if it was even necessary.
This meant that the medieval city center of Würzburg was destroyed, however, over the next 20 years, the city would painstakingly rebuild the town as accurately as possible, making it into the vibrant city once again. Würzburg is also now a UNESCO World Heritage Site.
Getting Around Würzburg
Like many cities in Germany, most of the main sights are concentrated in a rather compact area, making it easy to get around by foot, and much of Würzburg can be explored in a single day, though obviously I always encourage at least two days anywhere to give ample amount of time to truly explore. I highly recommend downloading the Würzburg App, which is a lovely pocket guide to the city, sharing with you Würzburg's main attractions, places to eat in Würzburg as well as accomodation in Würzburg, and more!
Getting to Würzburg is easy. If you decide to come by train, the Hauptbahnhof is as close to the city center as it's gonna get, making it easy to step right off the train and walk into town. There is also a S-Bahn (Strassenbahn) (City Street Train) which runs through the town, stopping at many main sights.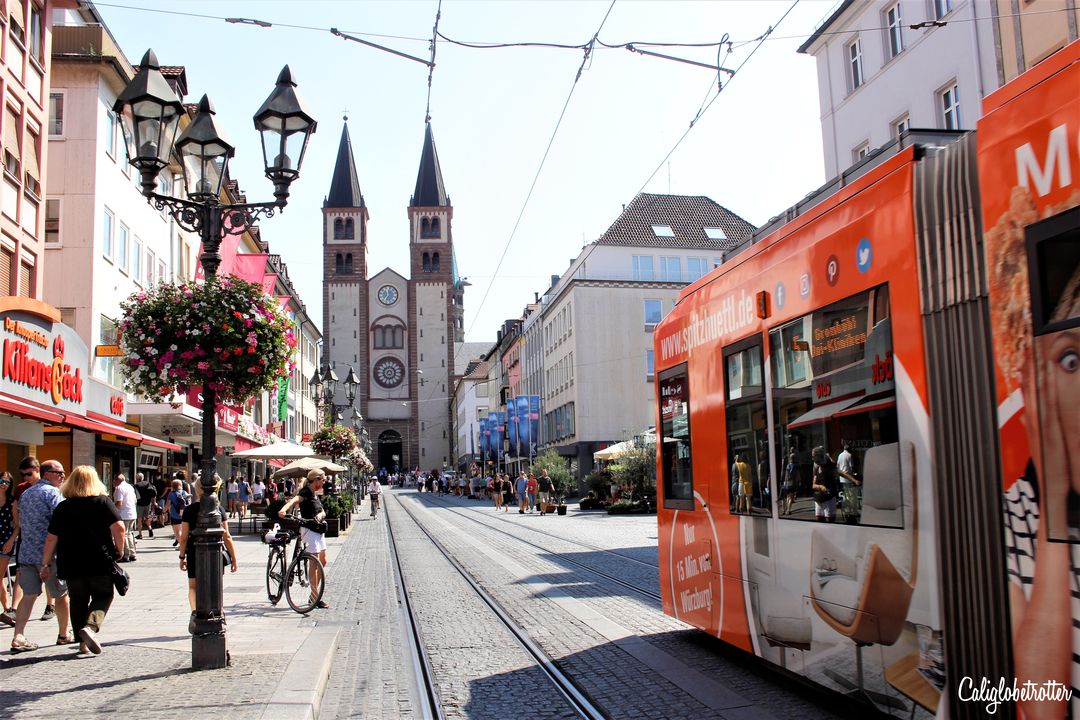 Main Sights to See in Würzburg
The Würzburg Residenz & Gardens
One of the most important sights to see in Würzburg  is the Würzburg Residenz, the Baroque palace and former residence of the Prince-Bishops of Würzburg.
Located in the eastern corner of the town, the Residenz is one of the most ornate examples of Baroque architecture, not just in Germany, but in the world, thus landing it on the UNESCO World Heritage List. With over 300 rooms decorated in elaborate frescoes, tapestries and Bohemian chandeliers, the Residenz is a sight you do not want to miss!
The palace took 60 years to complete and today houses the world's largest ceiling fresco, a mammoth unsupported vault designed by Balthasar Neumann, representing the different continents across the world, accessible to view when walking up the grand staircase. Neumann claimed that the ceiling was indestructible and his confidence in his design was vindicated during the 1945 Würzburg bombings when the ceiling was left still in one piece.
However, much of the Residenz was destroyed during the city bombardment, destroying the north and south wings. One of the most stunning rooms is the Room of Mirrors, which was also destroyed during the final days of WWII, and was quickly reconstructed with original photographs of the room. It is entirely covered from floor to ceiling with Rococo style painted mirrors.
Sadly, on this visit, no photos were allowed, so we opted not to do the tour a second time.
Afterwards, head to the Würzburg Court Gardens (Hof Garten) just behind the complex and stroll through the gardens, which has been beautifully manicured, decorated with elaborate statues and cozy benches.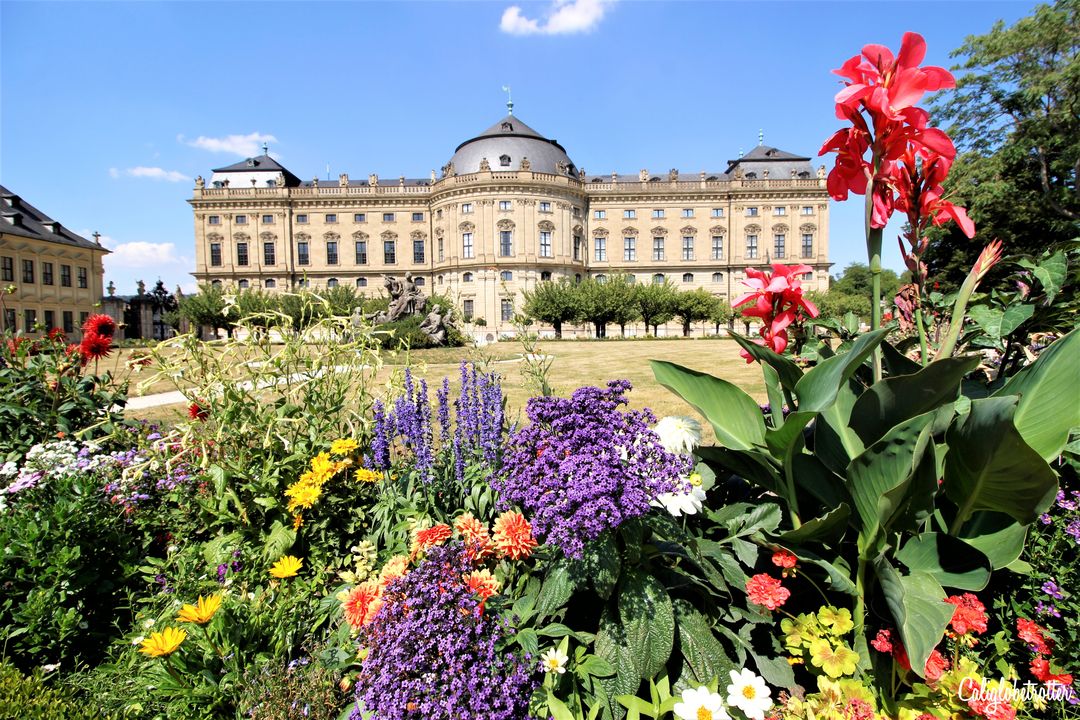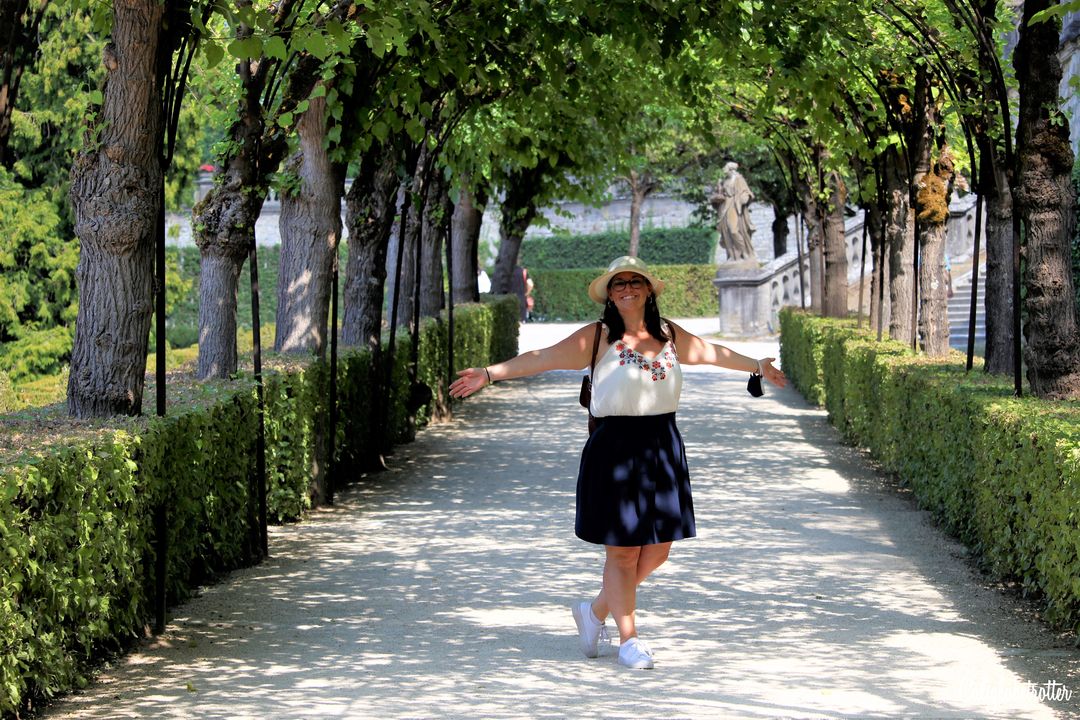 Würzburger Cathedral (Dom St. Kilian)
From the Residenz, Hofstrasse leads directly to the heart of the city center, directly to the Würzburg Cathedral which was built in the 11th & 12th centuries. It is the seat of the Bishop of Würzburg and has served as the final resting place for the Prince-Bishops of Würzburg for hundreds of years and is one of the largest surviving Romanesque cathedrals in Germany. Not only did Balthasar Newmann have an influence on the Residenz, but also the cathedral. A quick peak inside will showcase early examples of 18th century stuccowork along side simple postwar reconstruction architecture.
Like many churches in Germany, it's free to enter.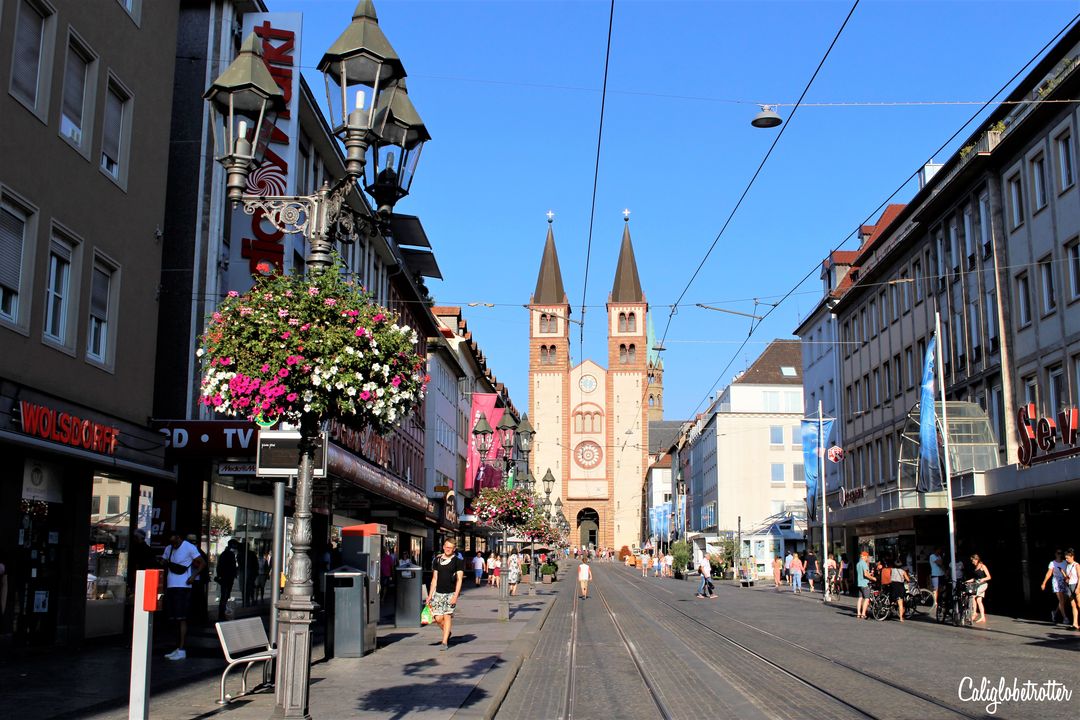 The Neumünster
There are numerous churches to visit in Würzburg, and just a few steps away from the Würzburg Cathedral is the Neumünster, dating back to the 11th century. While the facade of the church displays another excellent example of Baroque architecture, it hides an 11th century Romanesque basilica and sports a stunning fresco square shaped cupola!
Marktplatz & the Falkenhaus
The epicenter of Würzburg  is bustling with folks coming and going, grabbing a coffee from the smallest cafe in Würzburg around the base of the Marienkapelle, a lofty Late Gothic hall church built in 1377. If people aren't stopping for a coffee, then they're lining up at outside of the Bratwurststand Knüpfing, just opposite the Marienkapelle, for a traditional "Geknickte im Kipf", a sausage so large, it has to be "snapped" in half and folded into the buns.
Also on the Marktplatz, you'll find the Falkenhaus, once a Gasthaus but today is the Würzburg Tourist Office. It showcases a pale yellow and stuccoed facade, and sadly, it too was destroyed in the war, but luckily was one of the first buildings in Würzburg to be painstakingly reconstructed.
You'll find an outdoor market at the Marktplatz, known as the "Green Market" which focuses on locally produced and seasonal fruits and vegetables and flowers.
Tuesday, Wednesday, & Friday: 7 am – 6 pm
Saturdays 7 am – 4 pm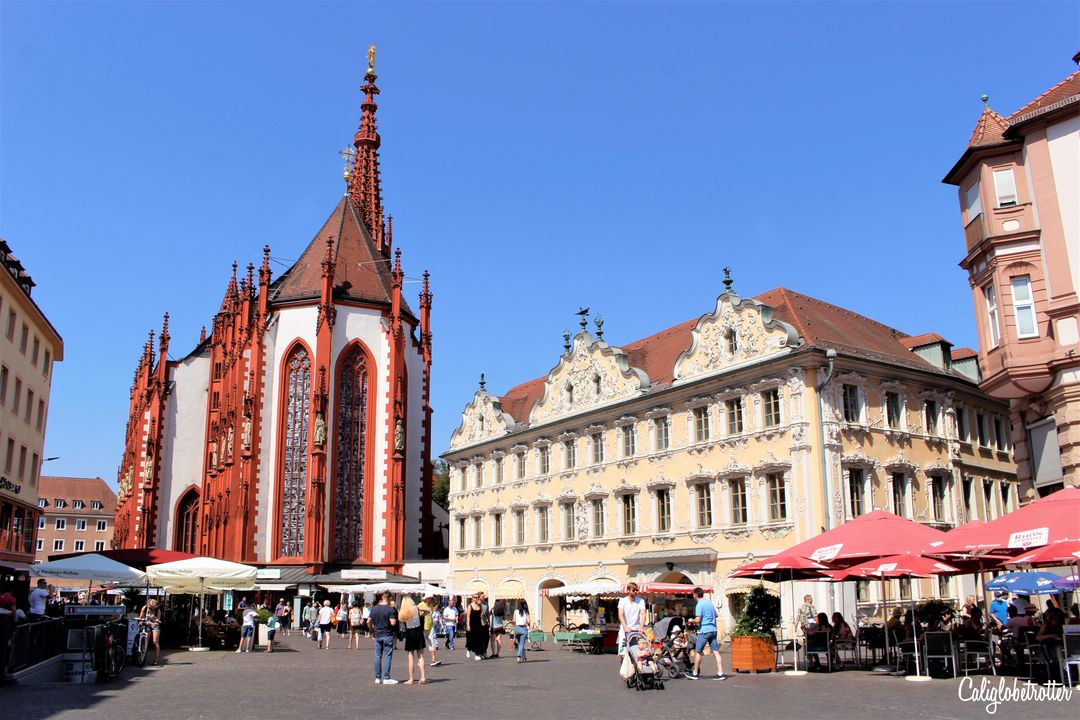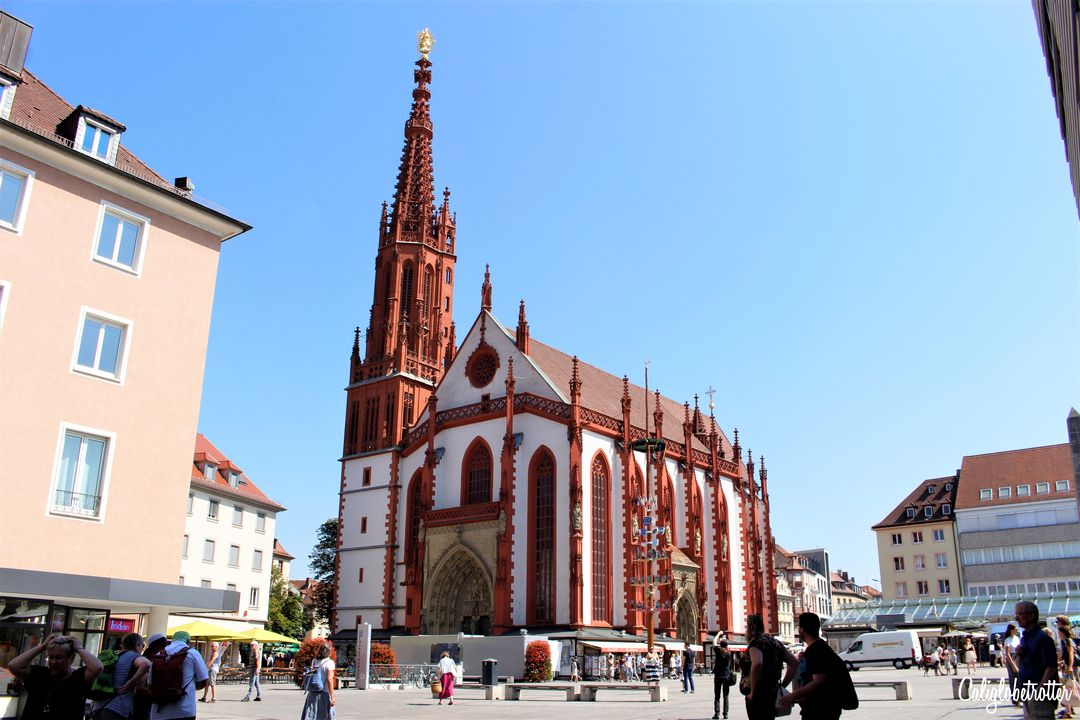 Bürgerspital Weinhaus (Bürgerspital Würzburg)
Now, if you're looking to escape the heat while sightseeing in Würzburg , then consider adding a wine cellar tour to cool off. Since it was our 3rd time visiting on an excruciatingly HOT day (95*F/35*C), we planned ahead by making a reservation for a tour of the Bürgerspital Wine Cellar from 2-3pm, at one of the hottest times in the day.
Considering that Würzburg has been producing wine for over 1,000 years, I'd say wine tasting in Würzburg is one of the best things to do, not just to drink the local Franconian wines but also to learn about the history of wine making in Würzburg.
Lasting for 1 hour, you get a tour of one of Würzburg's four main wine producers which takes you into the wine cellar to learn about how the wine is harvested and the history of the wine maker. Sadly, the tour was only in German.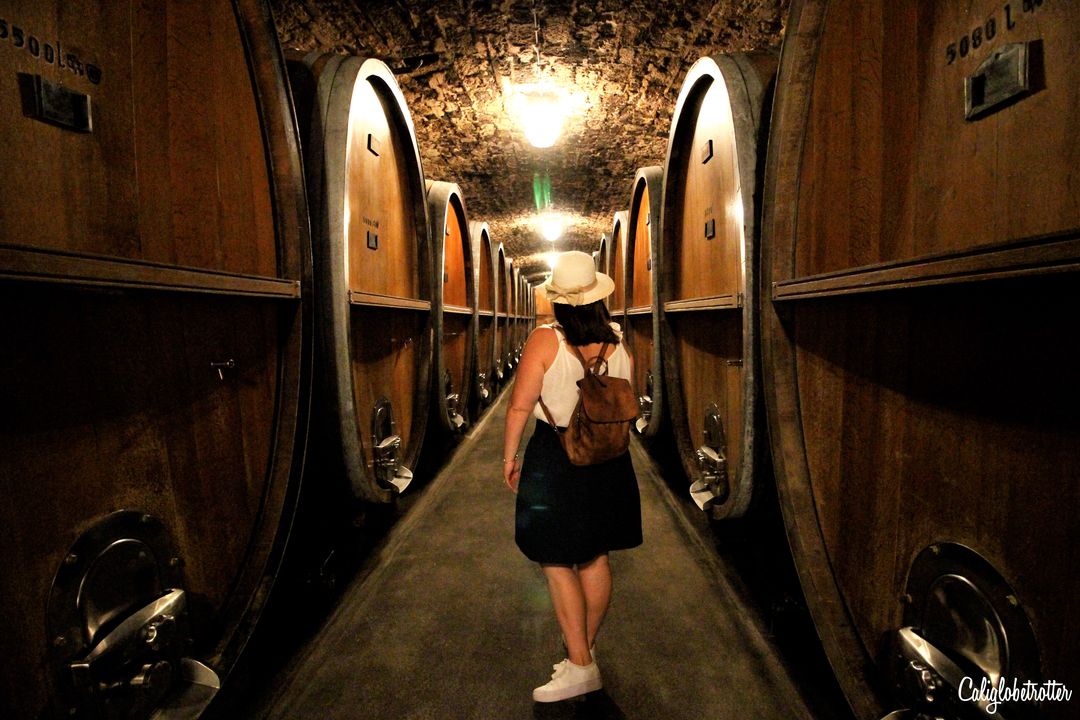 There is a story about a legendary wine known as the "millennium wine", harvested in 1540, the time of Shakespeare, Emperor Charles V and Martin Luther. What makes this wine so special is that the summer of 1540 was so hot, that the grapes were harvested on August 24th, dried up from excessive heat and left hanging only to swell up again from a later rainfall. Thus, there was a second harvest which was even better than the first!

As the story continues, "Mad" King Ludwig II of Bavaria bought some bottles and after his untimely death in 1886, his ancestors bought the remaining bottles at a wine auction. Eventually, the bottles made their way to Wiesbaden before being taken to London in 1937 and kept at the Ehrmann & Ehrmann wine shop. The bottles were then thought lost because of the ultimate bombing of London during the Second World War, however in 1978, Henry G. Simon accidentally rediscovered his wine collection, containing a bottle of the 1540 Steinwein.

In 1996, the bottle was returned to Bürgerspital Weingut, and is thought to be the last surviving bottle of this vintage wine and the Guinness World Record stated that it was the oldest bottle of wine in 1976, 1977 and 1978. Today, it is safely stored in the wine treasury under lock and key!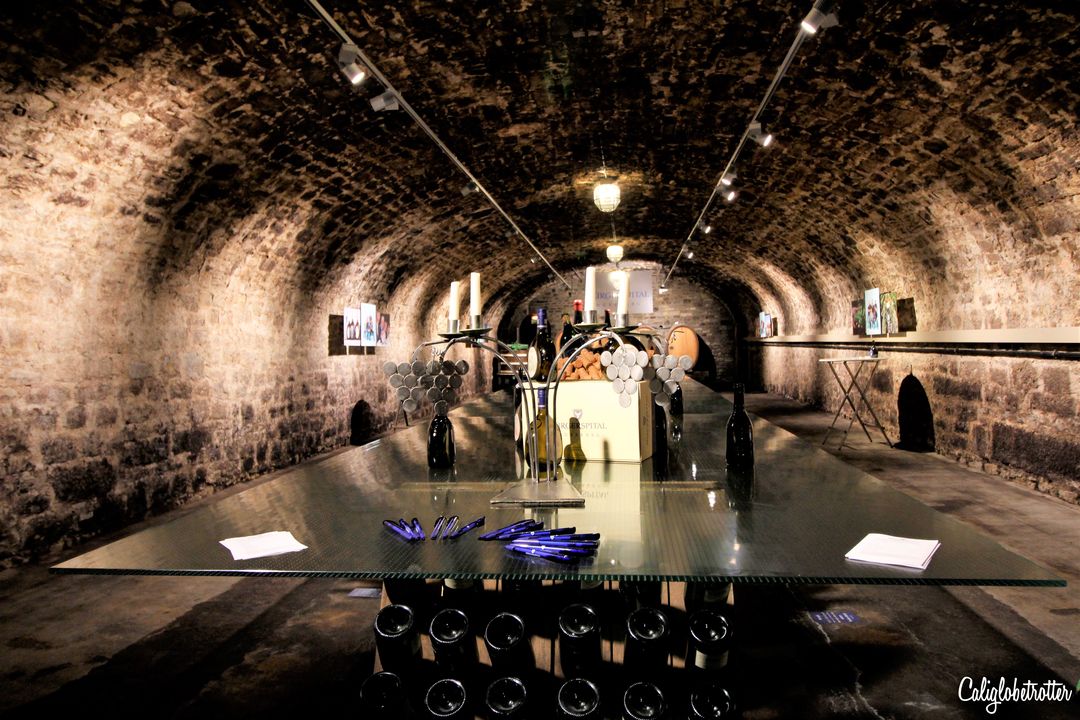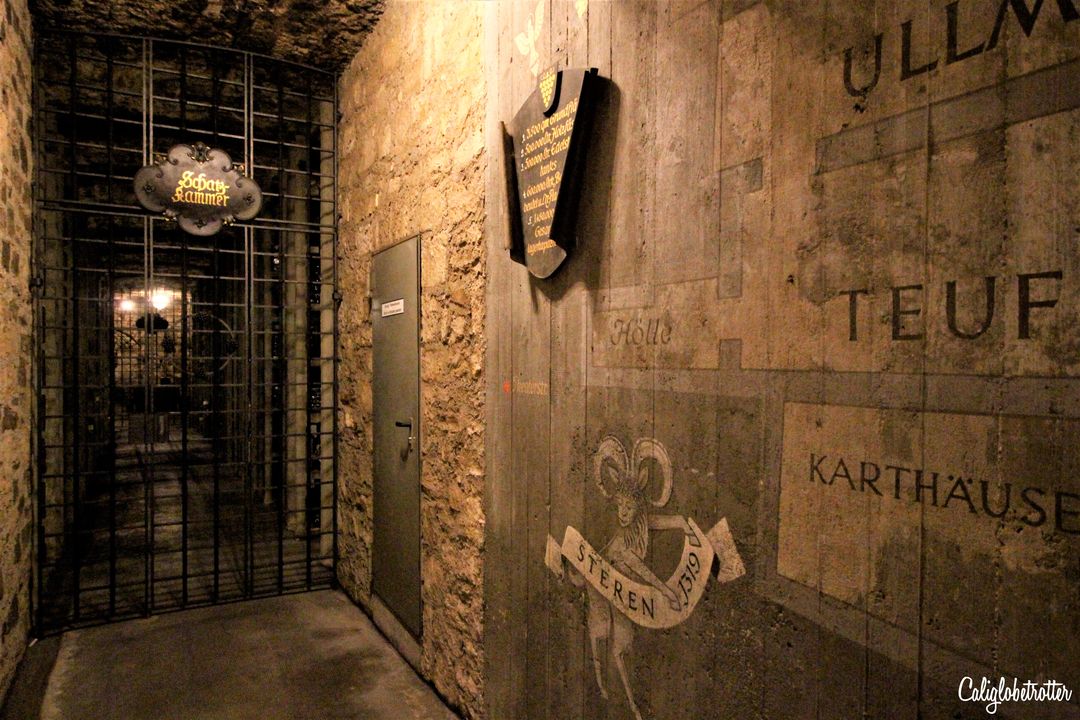 Here, the general rule of thumb "aging like a fine wine" doesn't apply to Würzburg. It's said that Franconian wines are meant to be drunk within 1-3 years for the ultimate freshness and taste. You'll also always be able to spot a Franconian bottle of wine by the unique shape of their bottles, known as "Bockbeutel", which is protected by EU regulations.
Because of the current situation, instead of a wine tasting, we were each given a gift bag containing a small bottle of wine.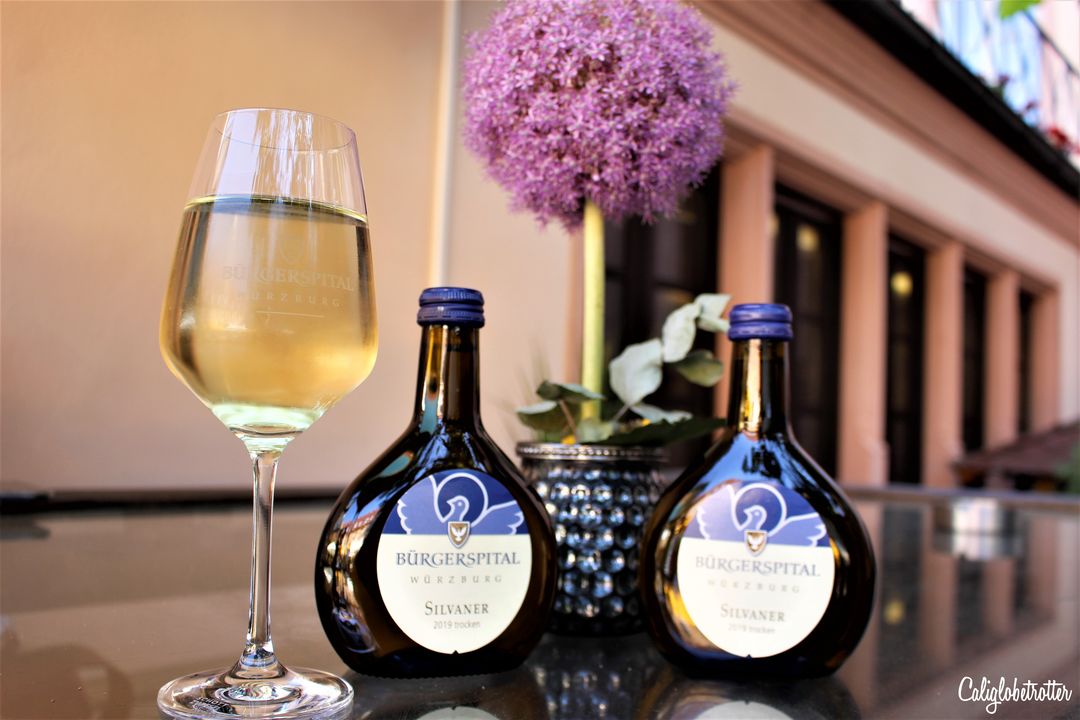 Booking Information for the Wine Cellar Experience
Dates upon request only
Duration: 1 hour
Meeting place: Corner of the Theaterstraße/Semmelstraße
Group size: at least 25 people
Cost: € 8 per person
"Weinblickprobe": Cellar tour and sampling of three different wines
Booking Information
Dates upon request only
Duration: approx. 1.5 hours
Group size: at least 25 people
Meeting place: Theaterstraße/Semmelstraße
Cost: € 15 per person (includes three glasses of wine)
Juliusspital & Wine Cellar (Juliusspital Weinkeller)
For wine lovers, another great option to add to your Würzburg itinerary would be a visit to the Juiliusspital Weingut hospital and winery. Yes, I said hospital AND winery. Please check me in here!
You would think that wine and hospitals don't go hand in hand, but in Würzburg, wine has such a long and ingrained history that it comes as no surprise that the winery actually helps to fund the hospital and elderly home. Dating back to 1576, the hospital still functions today, so therefore, we were unable to visit the wine cellar given the current world wide health situation.
However, should you be interested, the tour would take you into the underground wine cellar, showcasing a large collection of wooden wine barrels. It is normally possible to visit without a reservation beforehand, and it seems they have guided tours in English lasting 90 minutes.
What's surprising is that considering it's directly located in the center of the city center, it managed to survive the war with little damage, and the cellars were used by locals for safety during the bombings.
So, since we were unable to do a wine cellar tour and visit the gardens, we opted instead to pop over to the Juliusspital Weinstuben to sit in their weingarten and enjoy a class of wine and a cold bottle of water before moving on.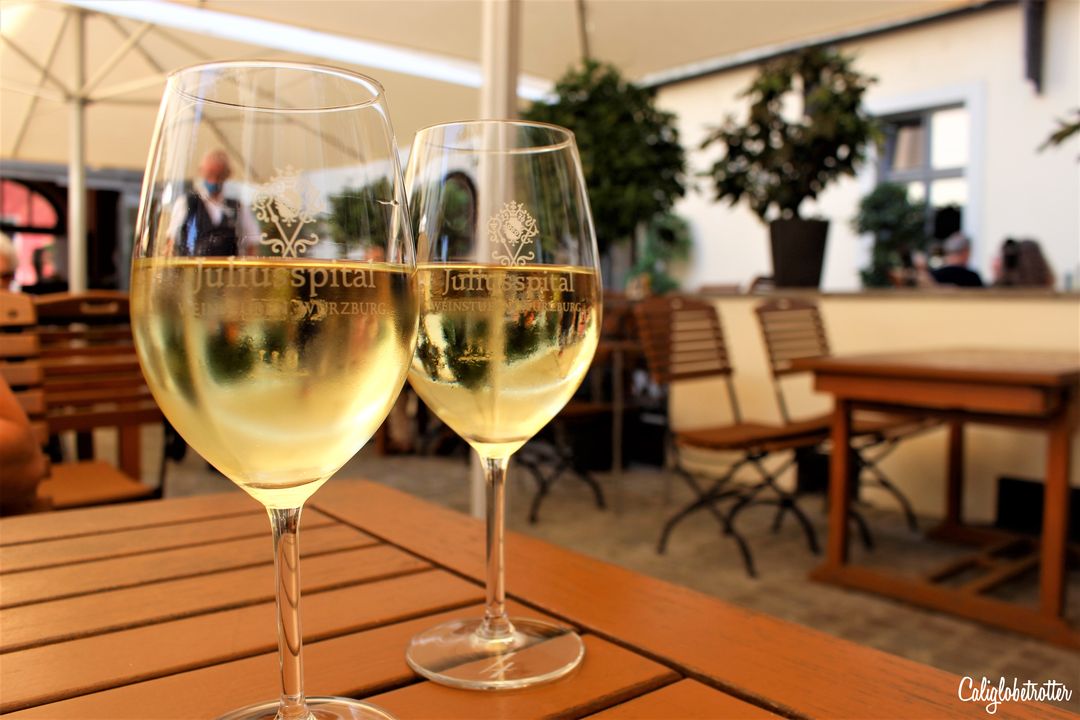 The Würzburg City Hall (Würzburger Rathaus)
Since 1316, Würzburger City Hall has served the people of the city and the oldest part of the city hall is the Grafeneckart, with its slender Romanesque tower. The northern portion of the city hall was demolished during the WWII bombardment of the city, but has been beautifully restored to its former glory.
Related: STUNNING City Halls in Germany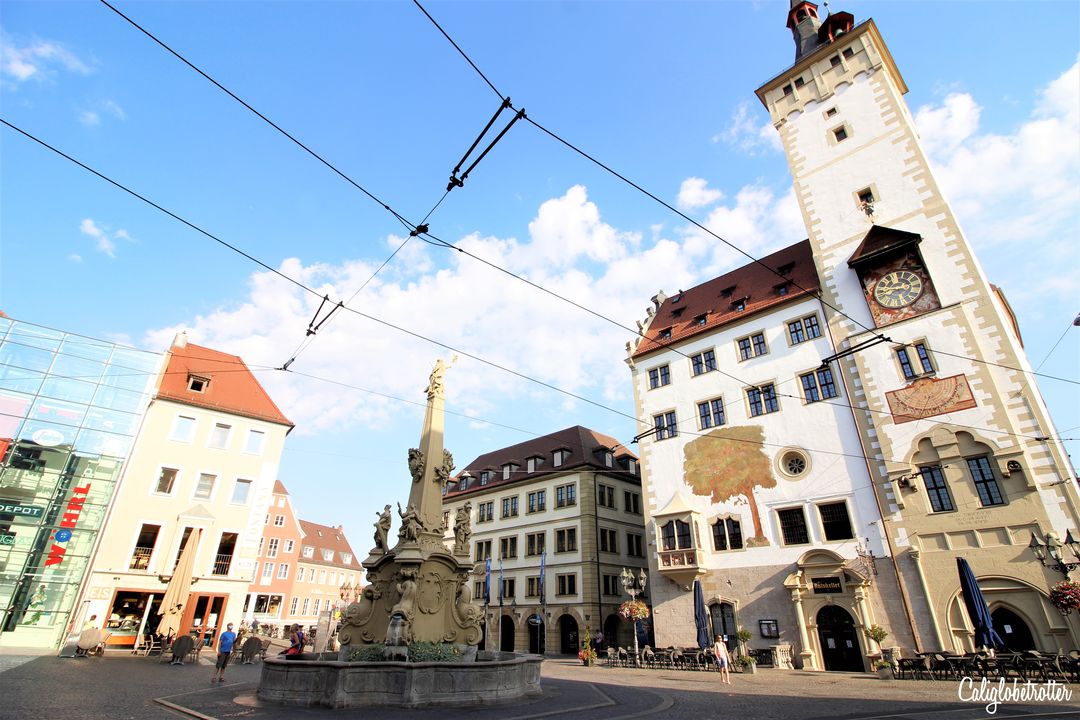 The Old Main Bridge (Alte Mainbrücke)
If you've been to Prague, then you'll understand what I mean when I say you certainly will feel like you're walking across the Charles Bridge. The Old Main Bridge is one of the main sights to see in Würzburg and with good reason. Statues of saints are scattered along the entire length of the bridge which offers up beautiful panoramic views of the River Main, the Marienburg Fortress and a direct shot into town to the Würzburg Cathedral.
Built between 1473 and 1543, the 12 statues weren't added until 1730, a tradition started in Rome known as the "Bridge of Angels". The Charles Bridge in Prague did have statues on it before Würzburg's, however the Würzburg bridge is older.
Best of all, given the current situation, even the statues on the bridge were sporting masks, reminding you that they've been socially distancing for 265 years! If they can do it, so can you!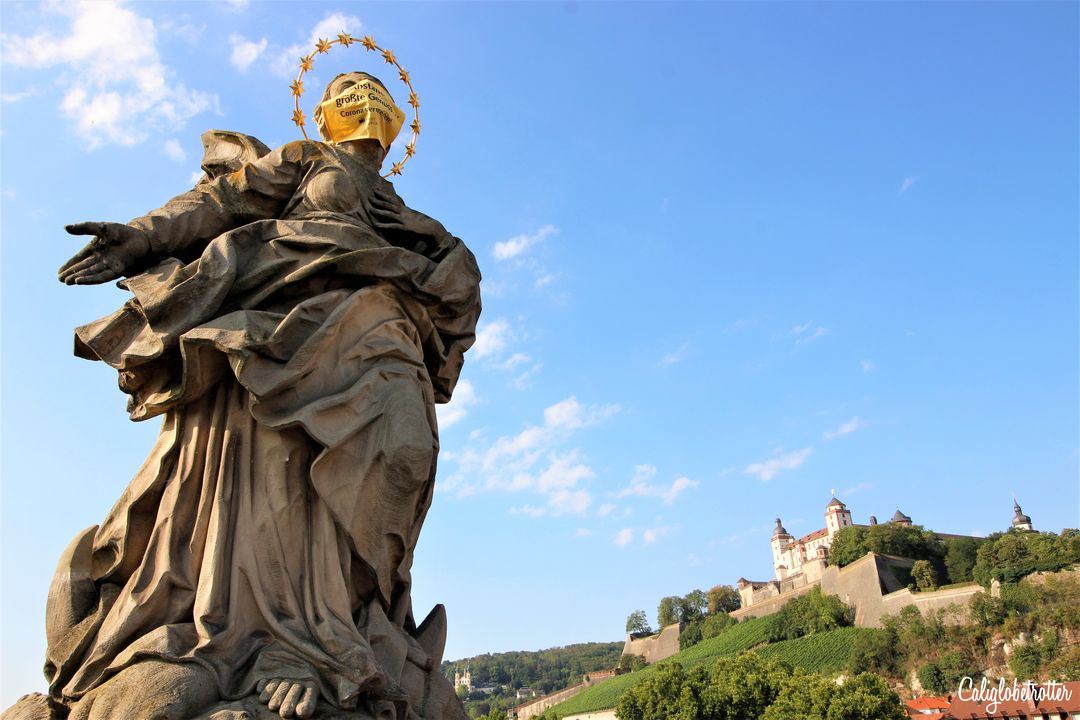 Ever since the bridge became a pedestrian only bridge in 1990, the bridge is one of the most popular hang out spots for locals and tourists alike, because well, everyone wants to party with the angels AND drinking wine on the bridge is a must and totally allowed. Drinking in open public spaces is one of the benefits of living in Germany, so with views to leave you in awe for dayyys, why not have a glass of wine and admire the views by ordering a drink from the Alte Mainmühle Würzburg, which also serves up local Franconian cuisine.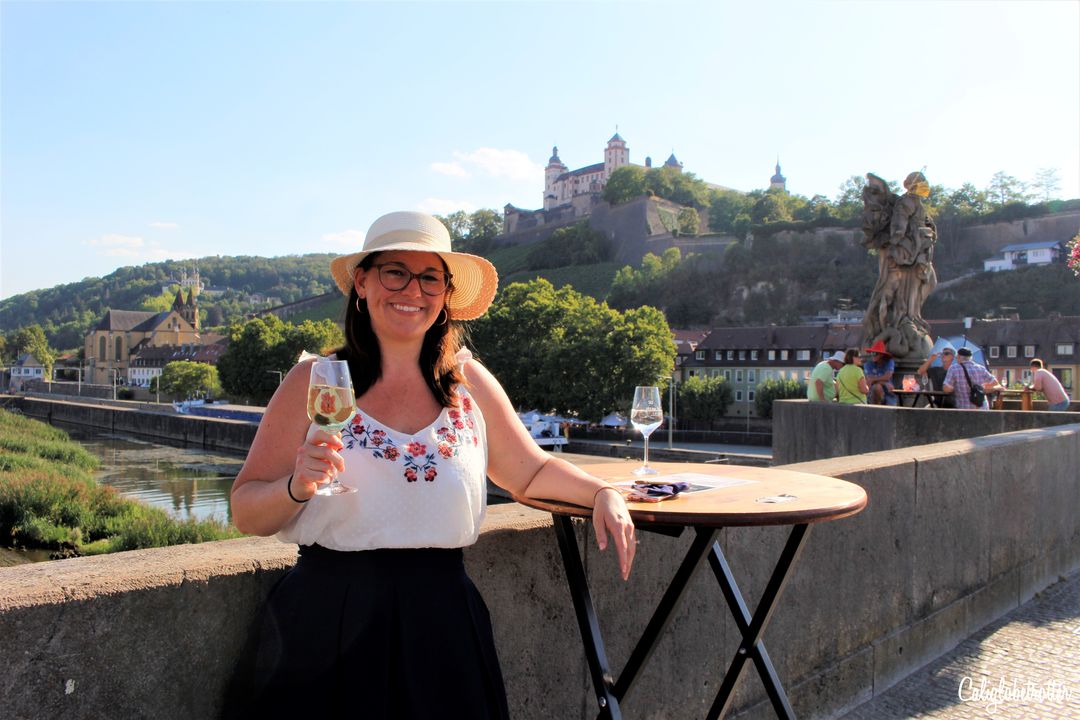 Marienberg Fortress (Festung Marienberg)
Technically, I would recommend starting your day making the trek up to the Marienberg Fortress which is perched on the Marienberg mountain, just above rows of vines, overlooking the entire historic city center. To get there, you'll need to cross the Old Main Bridge and follow the signs to hike up to the fortress. You'll want to get this done early enough in the morning (in summer) to avoid hiking in the heat. But I promise you, the views will be worth it! Be sure to plan at least two hours in total for walking up/down to the fortress, as well as for exploring and taking photos.
As mentioned before, a Celtic tribe first built their fortifications here way back to 1000 B.C. and today you have a conglomeration of architectural history, made up of part medieval fortress, part Renaissance palace mixed with Baroque extensions.
Hrmm…possible summer home??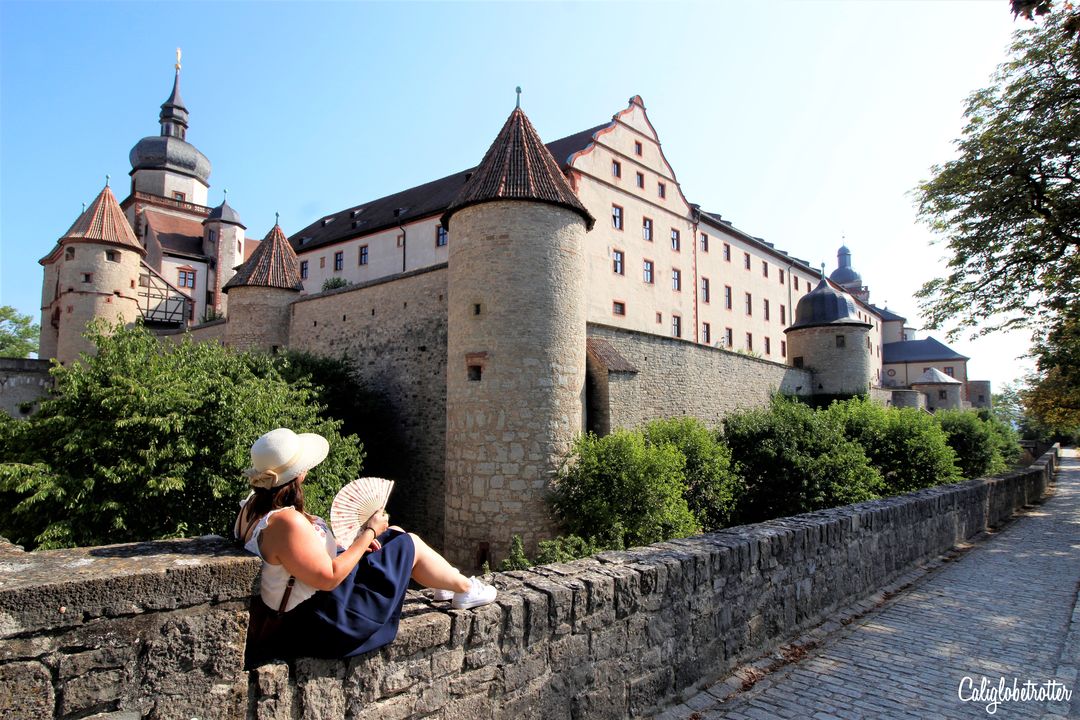 Along the hike up and once up at the fortress, you'll have a plethora of options for admiring the stunning view of the city center and out beyond to the surrounding hills encircling Würzburg with endless rows of vineyards. There are several paths you can chose from to hike up to the fortress, the most direct which takes about 20-30 minutes up, or you can take a slow, meandering trail through the vineyards at the base of the fortress, adding up to around 45 minutes, which you'll find a map for at the end of the Old Main Bridge on the side of the river with the fortress.
Like much of the city, the fortress too was destroyed during the WWII bombings and the reconstruction of the fortress was completed in 1990. Seems that renovation on the fortress is set to begin and lasting to 2026, which was badly needed in some walking areas, therefore, making the hike up the castle rather difficult for anyone in wheelchairs or with strollers, though bikers made it up.
Once here, it's free to walk around the fortress and gardens, so be sure to also check out the Marienberg Fortress gardens, known as the Garden of the Prince, also offering stunning views over the city. But also be sure to check out the Mainfränkisches Museum Würzburg.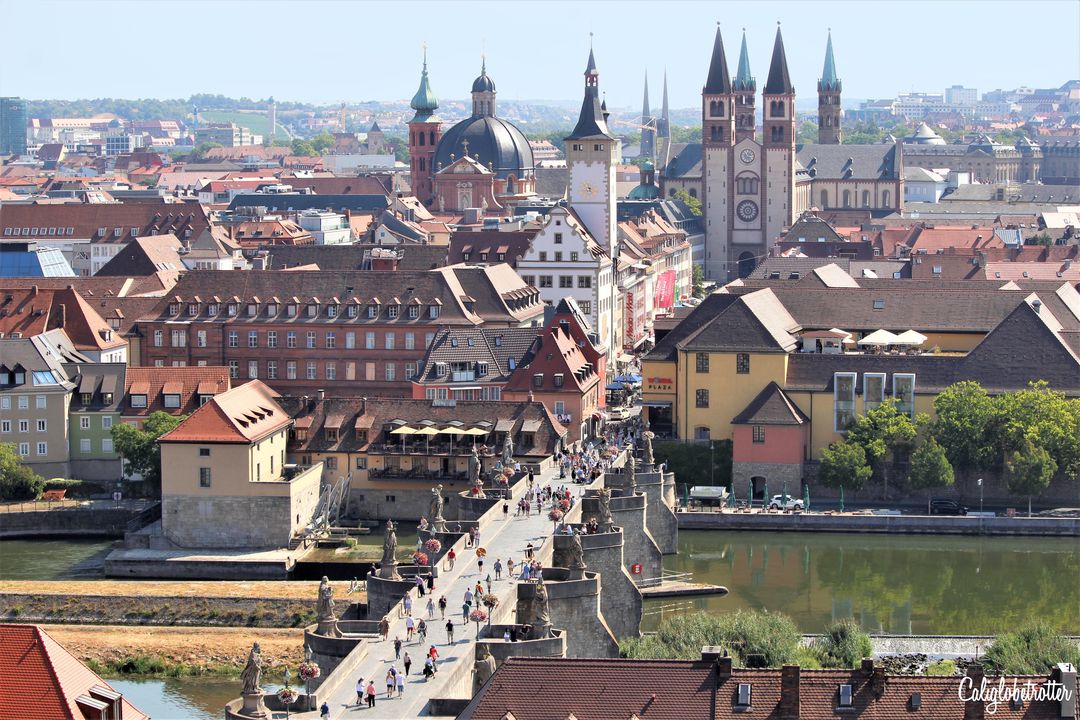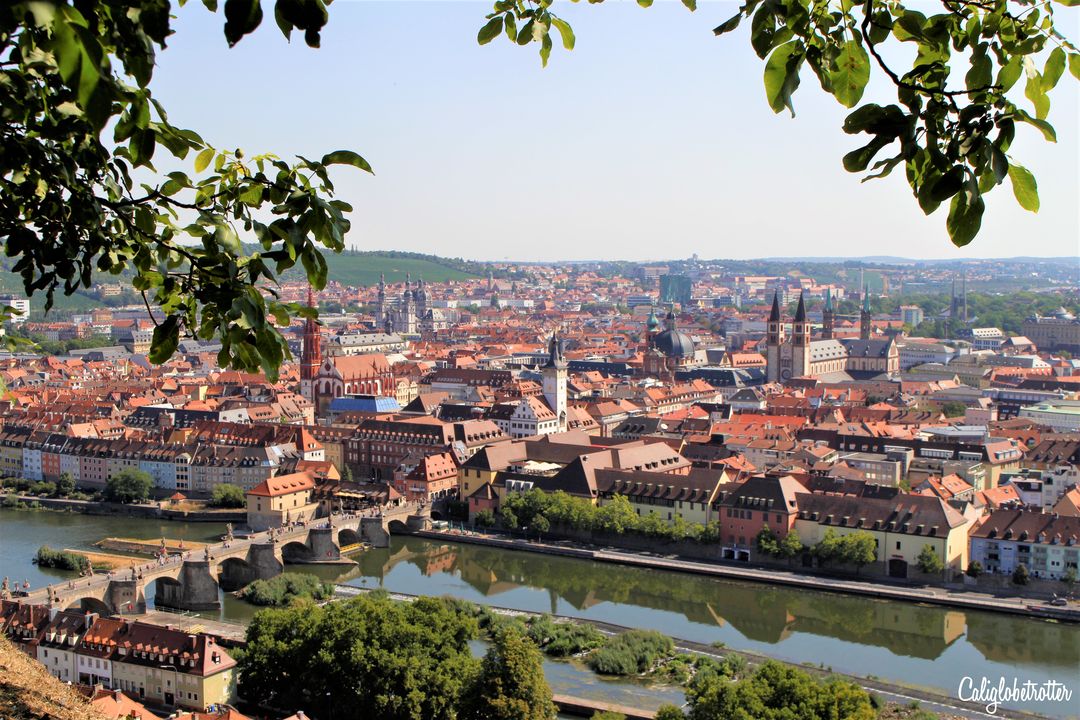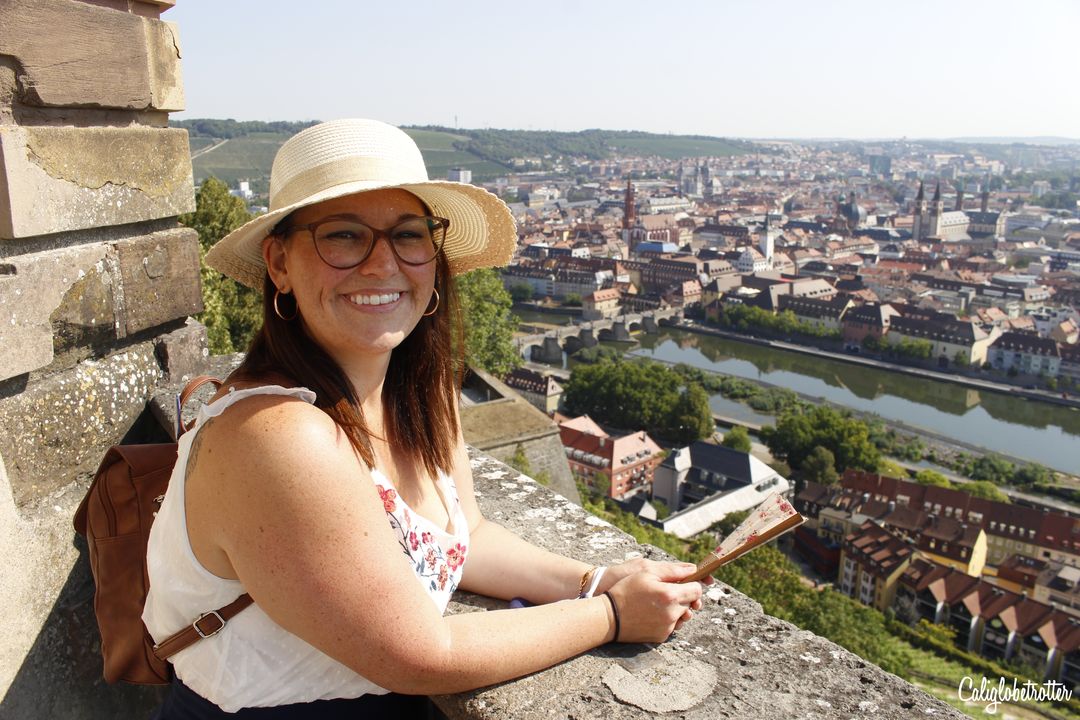 The Kappele
If it's not too hot, then I would recommend making the hike down the backside of the Marienberg Fortress and up to the Kappele, just opposite. We had every intention of visiting, but it was unbearably hot to consider making a second little hike before lunch on an empty stomach. But, should you be interested in making a visiting, be prepared to make quite the pilgrimage and climb 265 steps to the Kappele.
However, a quick Google search will show you how stunning the interior is and how gutted we were not to visit. And once again, the design and beauty of the Kappele is all thanks to Balthasar Neumann, the same man who designed the Würzburg Residenz. The picturesque pilgrimage church was built between 1748 and 1752 and was one of the only churches in Würzburg not to be destroyed during the war.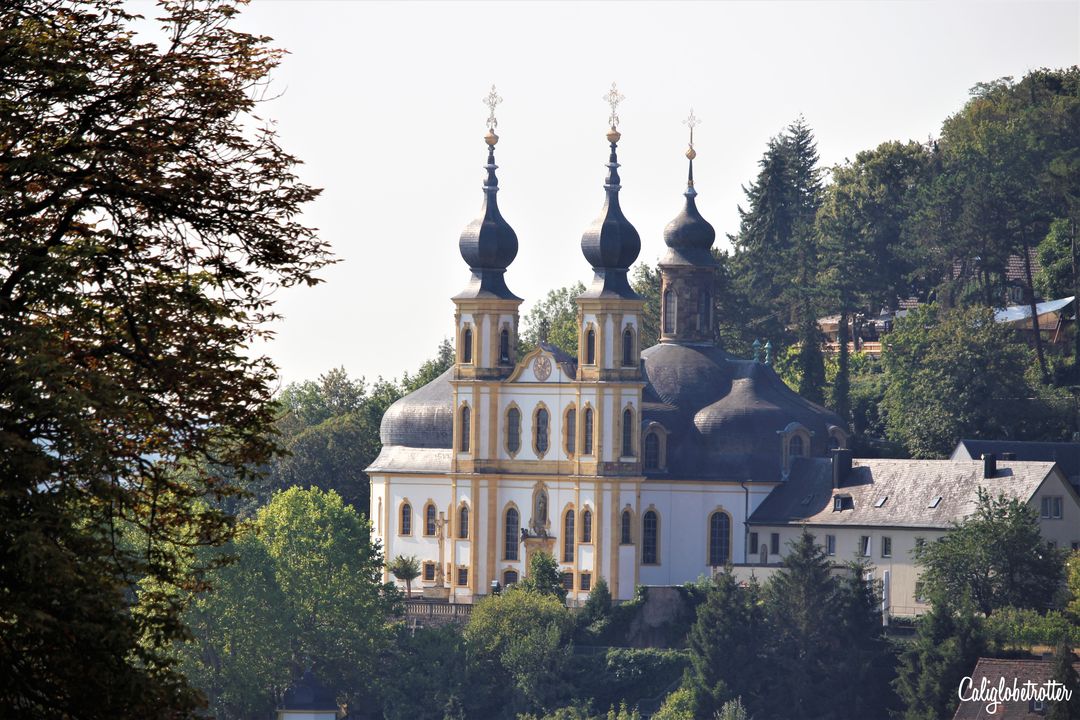 Little Garden Lusam (Lusamgärtlein)
Now, after being thoroughly withered down by the extreme heat we were enduring during our sightseeing, we sought refuge from the sun in a secret little garden known as Lusamgärtlein in the middle of the city center, just behind the Neumünster Church. Here, you'll find a romantic inner courtyard with an original row of arcades in the Romanesque cloister rebuilt after the war. It's here that you'll also find a lone tombstone dedicated to the minstrel singer Walther von der Vogelweide, in 1230.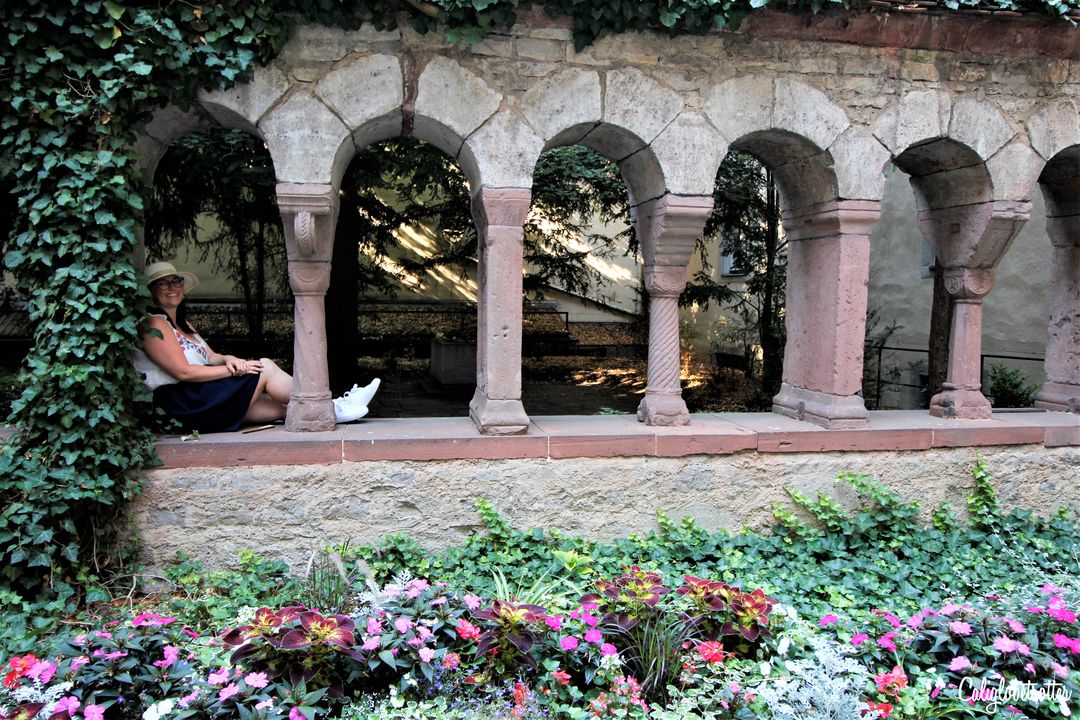 Where to eat in Würzburg
Restaurant & Weinhaus zum Satchel
One of the oldest inns in Germany as well as one of the most traditional wine houses in Würzburg is Zum Satchel. Originally, citizens were required to pay their duties and taxes here, sometimes in the form of wine. Yes, I said wine, which eventually led to the Gressenhof being converted into a tavern.
If you're looking for more traditional Franconian restaurants in Würzburg, then it's recommended to book a reservation in advance if you want to eat here. Vegetarians and vegans will also be pleasantly surprised by the amount of good food available here.
If you're looking for one of the most traditional wine bars in Würzburg, look no further than the Maulaffenbäck, which dates back to 1907! The name of the wine tavern supposedly comes from a baker who once sold mouth monkeys there and students from the Sandhof just opposite would sing "All bakers bake, all bakers bake, only the mouth monkey does not bake".
Having eaten here the first time we visited, I can recommend the that you definitely grab a bite to eat here which also offers up traditional Franconian cuisine which is paired nicely with a glass of Franconian wine.
You'll know you've come to the right place when you see a bunch of locals congregating just outside the front door, drinking wine and having a good time!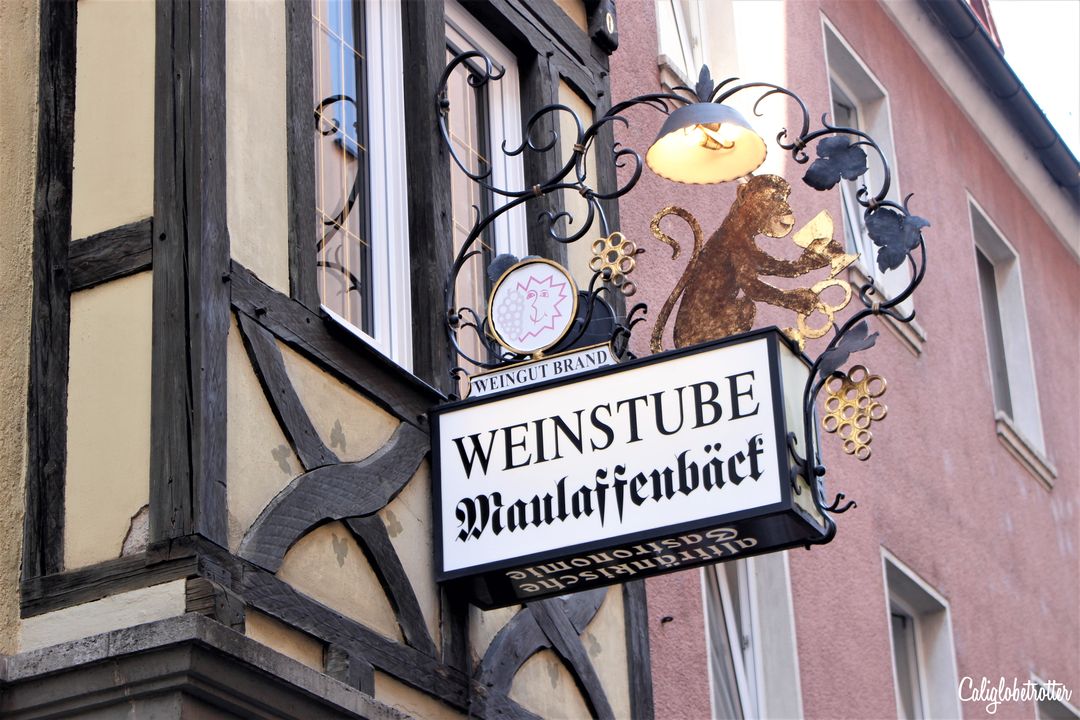 Now, I don't have to eat here to KNOW that it's the best burger joint in Würzburg because we also have one in Regensburg! If you've had enough German food for a while, try out a hip version of craft burgers here in a hipster environment with dangling light bulbs and phrases to help you ask for forgiveness for the things you said when you were hangry. My own personal mantra.
Habaneros – Texican Restaurant & Bar

This time on our visit, having now been 3 times, we opted to try out the Mexican/Texican restaurant in town. Being from Southern California, I am lacking in my Mexican food consumption while living in Germany, so we spontaneously decided to give it a go. And now I'm officially pissed that we live in Regensburg.
The food was so delicious here it magically disappeared off of my plate faster than I could say "Amigo!" But, I guess if you're coming to Germany, you're not likely looking to eat Mexican food, though if you are living in Germany, you will want to make the trip specifically to get your yearly dose of TexMex on.
Wine Festivals in Würzburg
Between April and November you can find any number of wine festivals in Würzburg scattered throughout the city center, obviously making it nice and clear that you're in wine country now. The first time we visited, we stumbled into the wine festival located at the Residenz Hofgarten and the second time we visited, it happened to coincide with the Würzburg Wine Village, located directly in the city center at the Marktplatz. All 2020 festivals have been cancelled and rescheduled to 2021.
April 09 – 10, 2021
Wine Press Hall Festival – Kelterhallen Weinfest
Celebrate the beginning of the wine festival season at the Bürgerspital!
May 08 – 23, 2021
"Culture Days at the Juliusspital" – Kulturtage im Weingut Juliusspital
Immerse yourself in art, music and wine at the Juliusspital wine estate.
June 18 – 20, 2021
Wine Fest at Weingut Reiss – Hoffest im Weingut Reiss
A three-day-wine festival in the Weingut Reiss, located in the district Unterdürrbach.
May 28 – June 06, 2021
Würzburg Wine Village – Würzburger Weindorf
The ultimate wine festival in the middle of Würzburg's market square with more than 100 different local wines are served in cute, timbered gazebos.
June 10 – 19, 2021
Bürgerspital Hofschoppen Festival – Bürgerspital Hofschoppenfest
This is a traditional Würzburg wine festival that takes place in the historical courtyard of the Bürgerspital zum Hl. Geist
June 25 – July 04, 2021
Hofgarten Wine Festival – Hofgarten Weinfest
Set amidst the Baroque Residenz and the picturesque palace gardens is yet another wine festival!
August 26 – September 05, 2021
Wine Parade Würzburg – Weinparade Würzburg
What's better than enjoying a wine procession parade through town? Not much! Sit in a cozy pagoda-shaped tent on the market square,near the Marienkapelle and chose from over 100 local wines.
November 20, 2021
Open House at Night: Würzburg's Wineries – Nacht der offenen Weinkeller
End the wine festival season at one of Würzburg's four wine estates, the Weingut Juliusspital, the Staatlicher Hofkeller, the Bürgerspital Weingut and the Weingut am Stein and peruse their open house wine cellars.
Overall, if you're more of a wine lover than a beer lover, than I would say a visit to Würzburg is in order. But don't be put off if you're not, there are still plenty of biergartens in Würzburg to be found! Würzburg is a great city to visit year round as you're either bound to find a wine festival taking place or a Christmas Market. It's also easily accessible and a great option for a day trip from Frankfurt, as it just takes just a bit over an hour to reach by train from Frankfurt with trains leaving about every 30 minutes. It's also an easy day trip from Munich at just over 2 hours, one way.
We thoroughly love to visit Würzburg and try to visit as often as possible, especially on the way home from a road trip and each time we have visited, we see a little bit more, so you know it's worth a visit if I keep returning!
If you're interested in visiting Germany and are looking for more information, I highly recommend using the The Rough Guide to Germany or Lonely Planet for more in-depth info! Without these guides, I would be lost! This is my travel Bible!
Disclaimer: This post contains affiliate links. If you click on one and make a purchase, I might make a little extra spending money, at no extra cost to you. As always, all opinions are my own and these products/services have been found useful during our travels and come highly recommended to you from yours truly!
Other Related Posts:
Cafe über Kopf – An Upside Down House near Würzburg
Christmas Wine Tour with Bottle Stops
Liked this Post? PIN IT FOR LATER!!