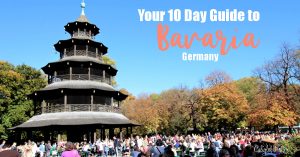 Want to visit the beautiful Bavarian countryside, filled with fairy tale palaces and romantic roads dotted with idyllic towns on the ultimate Bavarian road trip? Start your trip with a day in Munich learning about WWII history before driving the Romantic Road to Rothenburg ob der Tauber and Würzburg before heading towards the fairy tale Neuschwanstein Castle and Linderhof Palace. Then take a drive along the Bavarian Alps and visiting Germany's highest peak – Zugspitze. Then head towards Berchtesgaden before crossing the border into Austria for a side trip to Salzburg. Before heading back to Munich, stop an enjoy one of many lakes, preferably Chiemsee.
If you LOVE fairy tale castles, medieval towns, beautiful scenery, WWII history or doing some outdoor activities either as a solo traveler, a couple or a family, then this is the perfect itinerary for your first visit to Bavaria!
Want to Visit Bavaria? PIN IT FOR LATER!!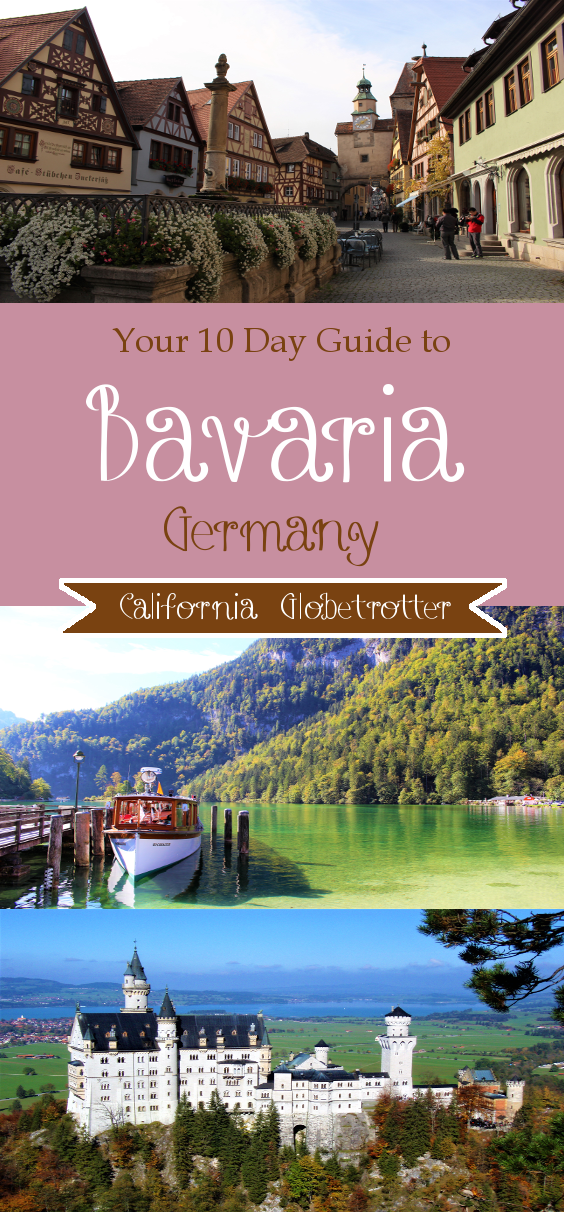 OVERVIEW

Day 1: Arrive in Munich
Day 2: Rothenburg ob der Tauber
Day 3: Nuremberg
Day 4: Neuschwanstein Castle & Schwangau
Day 5: Linderhof Palace & Ettal
Day 6: Zugspitze & Garmish-Partenkirchen
Day 7: Berchtesgaden & Königssee
Day 8: Salzburg, Austria
Day 9: Chiemsee & Herrnchiemsee Palace
Day 10: Back to Munich
Day 1: Munich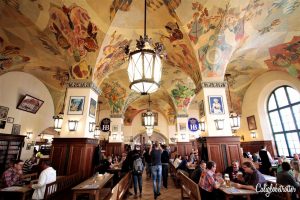 There are so many things to do in Munich and you would certainly meed a few days to see it all, however, it is possible to visit the main attractions in Munich in a day. After arriving at the airport, head to your hotel and freshen up then relax in the English Garden at the Chinese Tower and take a stroll through the park, stopping to watch the surfers riding the waves in the river at Eisbach. Then make sure to grab some dinner and a Maß bier at the Höfbrauhaus. Here, you'll find real Bavarians flaunting their amazing Tracht (Lederhosen & Dirndls). Don't be shy, ask them if you can take a picture with them! (More on Munich here)
Where to Stay in Munich:
⭐⭐⭐⭐ Hilton Munich City – a S-bahn ride away from the heart of Munich, this Hilton hotel provides comfy rooms and a fabulous breakfast!! 
⭐⭐⭐⭐ Holiday Inn Munich City Centre – Just down the street from the Hilton Munich City, the Holiday Inn is incredibly comfy and provides a large international breakfast, including Bavarian cuisine!
Day 2: Rothenburg ob der Tauber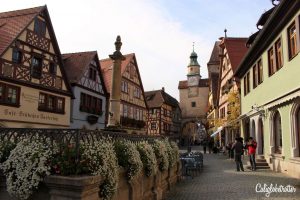 Want to walk through a story book? Then the best of the best is certainly Rothenburg ob der Tauber, Germany's most iconic fairy tale town, which is along Germany's "Romantic Road". It is worth driving a few hours out of the way to get here just to experience it at least once. It is down right adorable and takes you back to the Medieval Ages. It is an enchanting town with beautiful red roofed, half-timbered houses surrounded by a Medieval wall. You can enjoy a nice leisurely stroll through the walls around the whole city which offers some amazing views of the town. During WWII, 40% of the town was destroyed and people from all around the world donated money to rebuild in exactly the same. (More on Rothenburg ob der Tauber here)
Day 3: Nuremberg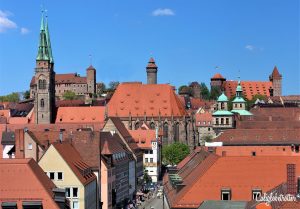 If you're a WWII history buff, then Nuremberg will certainly quench your thirst of interesting history. The town was a favorite of the Nazi Party and was epitomized as one of the best examples of German architecture. Take a tour of the historic city center, walk up the steep hill to the Kaiserburg castle, one of Germany's most historic castles which is perched upon a hill over the town and if you have time, check out the Documentation Center Nazi Rally Grounds or head over to the courtroom where the Nuremberg Trials were held to persecute those who committed war crimes. (More on Nuremberg here)
Where to Stay in Nuremberg: Motel One Nürnberg-City ⭐⭐⭐– During a weekend business trip, we stayed at Motel One, which soon became one of my favorite chain hotels in Europe. Near the Main Station, my favorite style of decor and a delicious breakfast, this is one hotel I'd always recommend!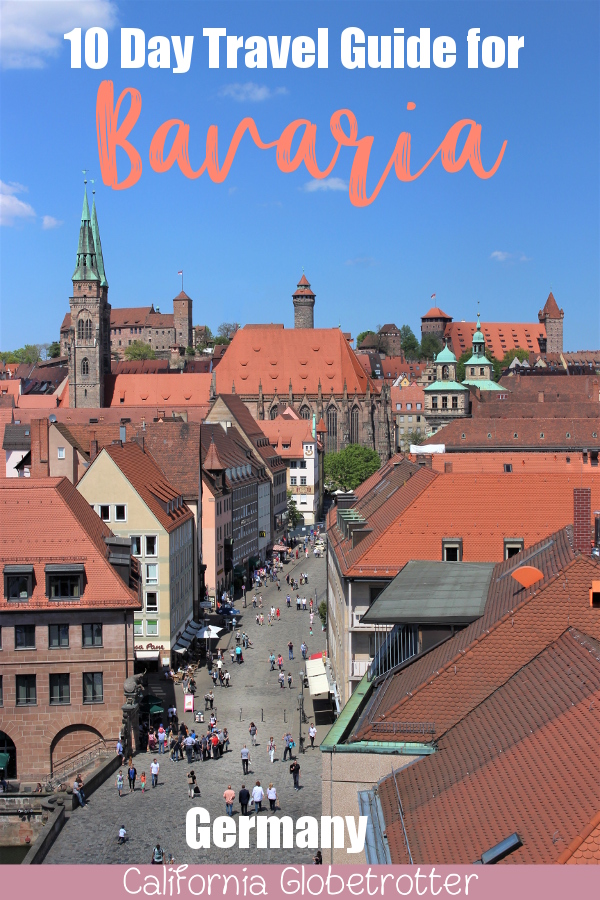 Day 4: Neuschwanstein Castle & Schwangau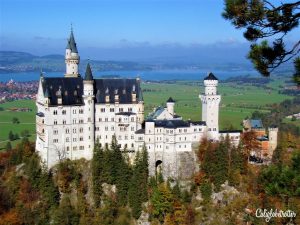 One of Germany's most famed tourist destination for all ages and the ultimate day trip from Munich! A true Disney-like fairy tale castle because it actually inspired the Disney castle! The castle can become quite crowded, especially during peak season, reaching up to 6,000 people per day! Not to worry though, the trick is to arrive early enough in the morning or pre-order your tickets online. It's a steep hill, and the only way to reach the castle is by boot, by horse-drawn carriage or by a small bus. After a quick 30 minute tour of the castle make sure to walk behind the castle to the Marienbrücke (bridge) for breathtaking views of the castle! When you're done, head back down to the small villages of Schwangau or Füssen and take a peak through the tourist shops and stop to eat at some of the restaurants. With extra time, I recommend visiting another castle just opposite the Neuschwanstein Castle called Hohenschwangau. (More on the Neuschwanstein Castle and the Hohenschwangau Castle here)
Where to Stay in Schwangau: If you're looking for a comfortable and easy place to stay with that authentic Bavarian hospitality, consider staying at Hotel Alpenstube, right in the heart of Hohenschwangau, at the foot of the castle!
Day 5: Linderhof Palace & Ettal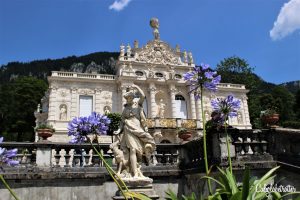 If you loved the Neuschwanstein Castle, then you will love King Ludwig II's other castle, the Linderhof Palace. Of the 3 palaces to be built by the king, the Linderhof Palace was the only one the king lived to see be completed and by far one of the most stunning castles in Germany. He even spent 8 years living like a hermit in his palace. After a quick tour through the palace, take a leisurely stroll through the surrounding park and visit Moorish Kiosk, Moroccan House and most importantly a look inside the Venus Grotto! (More on Schloss Linderhof here)
Where to Stay near Schloss Linderhof: Hotel Klosterhotel Ludwig der Bayer ⭐⭐⭐⭐ – Just across the street from the stunning pale yellow Ettal Abbey which has comfy cozy Bavarian hospitality and a fantastic restaurant with traditional Bavarian cuisine!
Day 6: Zugspitze & Garmish-Partenkirchen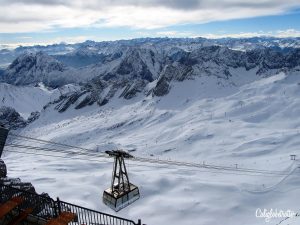 If you're looking for some outdoor activities in Bavaria, then stopping in Garmish-Partenkirchen to head up into the Bavarian Alps is a must! If you're feeling quite motivated, you could hike up the steeping mountains, or you could take the Bergbahn up to the peak summit of Zugspitze. Known as the tallest peak in all of Germany at 9,718 feet, the views are to die for and the journey up is one of the best cable car rides in Bavaria. After your done, have a look around the Olympic Village, where you can enjoy a chairlift ride up the mountain and stand at the top of the ski lift. The two towns – Garmish and Partenkirchen were always separate towns until 1935 when Adolf Hitler forced the two towns together in anticipation of the Winter Olympics. (More on Zugspitze here)
Day 7: Berchtesgaden & K

ö

nigssee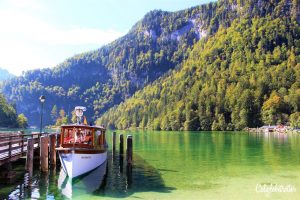 This is probably one of the most beautiful parts of Bavaria and therefore, I would highly recommend staying here at least two nights, as Salzburg is just across the border. Two of the best things to do are to check out the Eagle's Nest and Lake Königssee with a trip up the Jennerbahn. Firstly, the Eagle's Nest is a house perched at the top of a mountain in the Berchtesgaden National Park which was built as a 50th birthday gift to Adolf Hitler. One of the few surviving places in Germany that have anything to do with him, as it was considered an architectural feat in 1945. It's worth a taking a tour of the house which has now been turned into a HB restaurant and biergarten. Plus, the views are absolutely amazing! (More on Eagle's Nest here)
Then, Königssee is not to be missed as it is Germany's most stunning fjord-like lake with emerald green waters surrounded by steep, gagged mountains reaching to the sky. This lake is so special, the only way to get around the lake is with a historic boat ride. Be sure to stop off at both docking stations, the first to visit the St. Bartholomew church and the second to see the stunning Obersee. Be sure to hike around a bit here to enjoy the views of the lake! (More on Königssee here)
After you're done touring the lake, take a ride up the Jennerbahn which offers great views of the surrounding Berchtesgaden National Park and a view over Königssee. (More on the Jennerbahn here)
With extra time, take a short drive to the small village of Ramsau to see one of the most iconic churches in the region – Pfarrkirche St. Sebastian.
Where to Stay in Berchestesgaden: Hotel Grünberger ⭐⭐⭐ was only a 10 minute drive away, in Berchtesgaden, which gave us plenty of time to explore the area, and had some amazing view of its own from our balcony!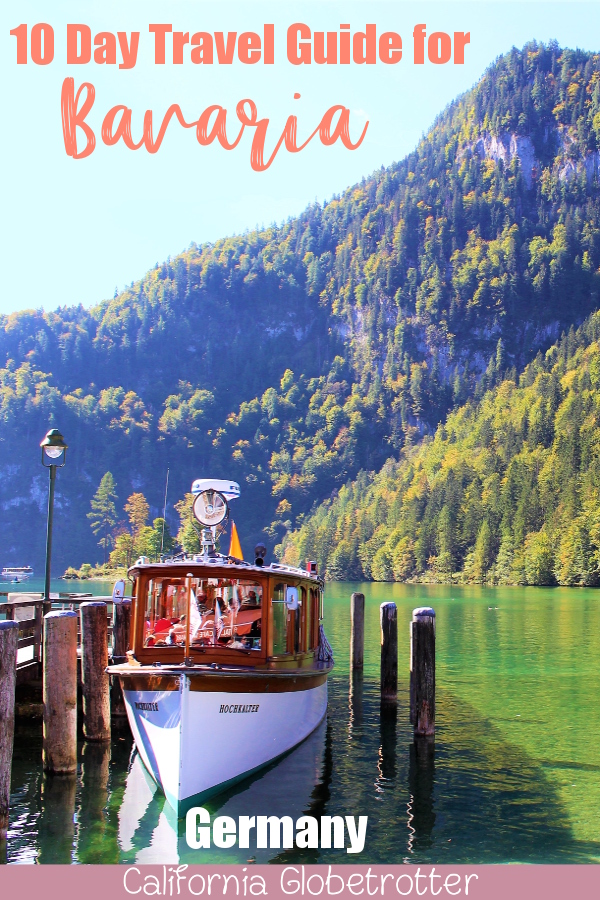 Day 8: Salzburg, Austria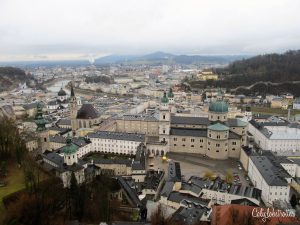 As a slight detour from your Bavarian holiday, it's worth adding in this extra little day trip as Salzburg as it is only a 35 minute drive across the border. While here, be sure to check out the historic city center where Mozart was born, the Salzburg Fortress which offers amazing views of the town and follow the "Sound of Music" tour. If you have a car, I highly recommend doing the Sound of Music tour on your own than paying outrageous prices. (More on Salzburg here)
Where to Stay in Salzburg: Motel One Salzburg-Mirabell ⭐⭐⭐– Motel One is one of my favorite chain hotels in Europe with my my favorite style decor! The hotel is incredibly comfortable and in a great location making it easy to get around!
Day 9: Chiemsee & Herrnchiemsee Palace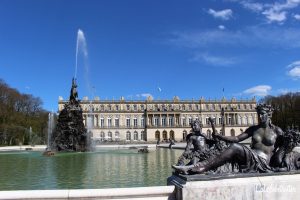 If you really loved both the Neuschwanstein Castle and the Linderhof Palace and you want more, then head to Lake Chiemsee for the last palace built by King Ludwig II. Herrnchiemsee Palace is a replica palace of the Palace of Versailles in Paris, France the king had made in honor of the "Sun King", therefore is aptly nicknamed the "Bavarian Versailles". Again, like his other palaces, it was not completed, however the Hall of Mirrors is not to be missed, as well as the stunning replica gardens. The only way to reach the castle, which is located on Herrninsel (island) is by boat. A boat ride to the island takes about 20 minutes one way. Upon reaching the island, you can follow the path and walk to the palace or take a horse drawn carriage right up to the castle. The best thing about this castle is that it is highly overlooked by many tourists and is a hidden secret for Bavarians. If you're feeling extra motivated, take the boar even further to Fraueninsel to see the Nun's Convent and try their liquor! (More on Chiemsee here)
Day 10: Back to Munich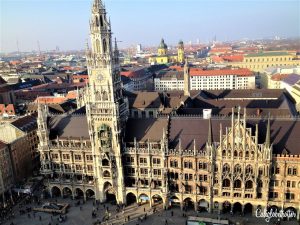 Known worldwide as the home of Oktoberfest, there is more to this town than just drinking beer! As hard as it may be to do more than just drink in different beer halls throughout the town, there are beautiful gardens to be seen, church towers to be climbed, parks to walk through, history to learn, shopping to be done and so much more! This is a city with endless possibilities of things to do and see. A stop to Munich is not complete without checking out and hearing the famous Marienplatz Glockenspiel chime while sipping on a café latte. A trip to Munich is not complete without a short trip to the Dachau Concentration Camp to learn about the atrocities from WWII. There is an S-bahn train that takes you directly from Munich to Dachau before catching a bus that drops you off at the camp. (More on Munich here)
Have more time? Then here are some recommendations to add to your itinerary!
Würzburg
A wine lover's paradise! This historic town is surrounded by lush, rolling hills lined with vineyards. (More on Würzburg here)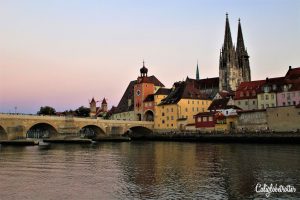 Regensburg
Considered to be the "Northern Most Italy" because of the historic city center and the endless small allies, great weather and cafes! (More on Regensburg here)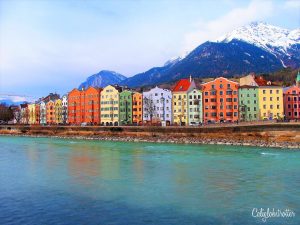 Innsbruck, Austria
Just an hour and a half away from Garmish-Partenkirchen, Innsbruck is an extra photogenic city with surrounded by steep mountains and a crystal blue river flowing through the town. (More on Innsbruck here)
When should you visit Bavaria?
Visiting Germany is beautiful year round, but the best months to visit (personally) are May-October. Unless you plan on coming for the Christmas markets, then December. If you're not coming for Christmas markets, November-March are cold, grey and gloomy, but are less crowded than during peak season (summer). Between May-October you are bound to find a beer/wine festival in many of the above locations. October/early November are personally the best months to visit as fall in Germany makes everything much more beautiful.
Want to come for Oktoberfest?
Don't confuse the world famous beer festival of Oktoberfest with the month of October. This world famous beer festival takes place every year in Munich for 16 days of utter debauchery. 
Oktoberfest 2019:   September 21st – October 6th
Oktoberfest 2020:   September 19th – October 4th
Oktoberfest 2021 – Saturday, September 18th  – Sunday, October 3rd
Oktoberfest 2022 – Saturday, September 17th  – Monday, October 3rd (extended)
Oktoberfest 2023 – Saturday, September 16th – Tuesday, October 3rd (extended)
Oktoberfest 2024 – Saturday, September 21st – Sunday October 6th
Oktoberfest 2025 – Saturday September 20th – Sunday October 5th
Oktoberfest 2026 – Saturday September 19th – Sunday October 4th
Oktoberfest 2027 – Saturday September 18th – Sunday October 3rd
Oktoberfest 2028 – Saturday September 16th – Tuesday October 3rd (extended)
What should you skip to add more time to visit Oktoberfest?
Of all the great locations to visit, saving Chiemsee and the Herrnchiemsee Palace for another time will give you some breathing room in order to spend a full day at Oktoberfest, riding the rides, playing games and of course, drinking!
What do I recommend for this itinerary?
It is easy to visit all of these locations by train, but it does take longer to reach, therefore, I highly recommend renting a car while visiting Bavaria. The roads here are safe and there is little traffic. Plus the experience of driving on the autobahn is thrilling! Taking the cable car up the Jenner for a view over Königssee or going up to Eagle's Nest requires clear, blue skies to get the most out of your visit. Therefore, should the weather not be up to par, you can visit Salzburg first and save the Jenner or Eagle's Nest for the next day.
Where should you stay?
If you plan to visit both Rothenburg ob der Tauber and Würzburg, then I suggest staying the night in one of these two towns as it would make for too much driving. However, if you only plan to visit one of these towns, along with Nuremberg then those are easy day trips from Munich. I highly suggest staying a few nights in Garmish-Partenkirchen if you plan to visit the Neuschwanstein Castle, Linderhof Palace and Zugspitze, as well as Innsbruck.
For the final leg of the journey, I suggest finding a hotel for a few days in Berchtesgaden as it's a bit further away from Munich to be considered a day trip, especially if you plan to visit Salzburg.
If you're interested in visiting Germany and are looking for more information, I highly recommend using the DK Eyewitness Travel Guide! Without these guides, I would be lost! This is my travel Bible!
Disclaimer: This post contains affiliate links. If you click on one and make a purchase, I might make a little extra spending money, at no extra cost to you. As always, all opinions are my own and these products/services have been found useful during our travels and come highly recommended to you from yours truly!
Germany Travel Guides & Tips:
Understanding the Lederhosen Culture
A Quick History of Traditional Beer Gardens
Why You Will Never Be The Same After Living in Germany
Your COMPLETE Guide to Using the Deutsche Bahn in Germany!
Liked this post? PIN IT FOR LATER!!
Save
Save
Save
Save
Save
Save
Save
Save
Save
Save
Save
Save
Save
Save
Save
Save
Save
Save
Save
Save
Save
Save
Save