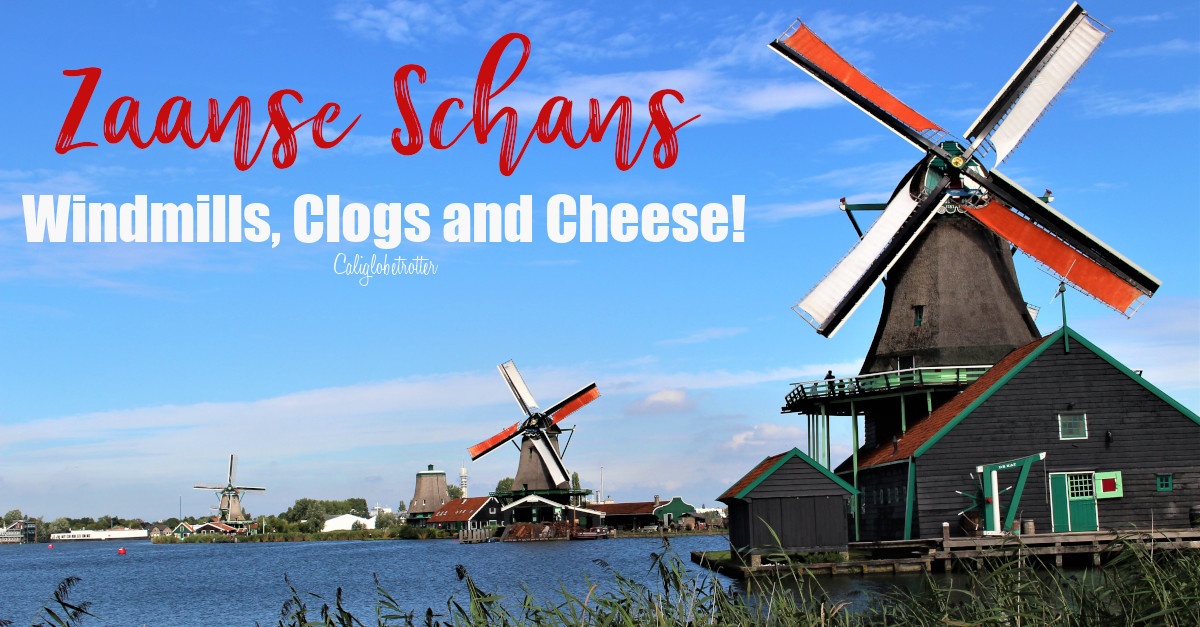 Disclaimer: This post contains affiliate links. If you click on one and make a purchase, I might make a little extra spending money, at no extra cost to you. As always, all opinions are my own and these products/services have been found useful during our travels and come highly recommended to you from yours truly!
When you think of the Netherlands, you picture wooden windmills, delicious cheese and perhaps the hope that the locals still wear wooden clogs. One of the best parts about visiting the Netherlands is getting to explore beyond just Amsterdam and truly experience what it was like to live in a little Dutch settlement. Zaanse Schans is an easy day trip from Amsterdam and offers so much more than just windmills! Today, you can see traditional Dutch homes, barns, windmills and even enjoy a glimpse into the life of a clog & cheese making!
Want to See Typical Dutch Windmills? PIN IT FOR LATER!!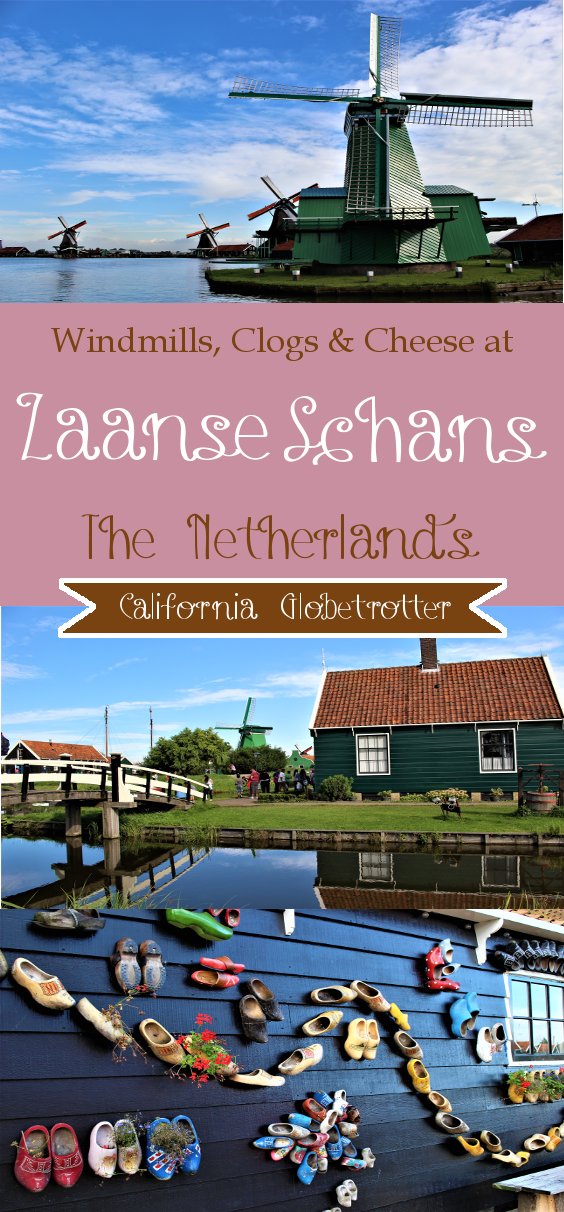 Like this post? Take it with you as GPS Guided App directly to your phone via GPSMyCity!
Your ESSENTIAL Guide to Europe
Tips to Avoid Looking Like A Tourist
History of the Windmills
Located in one of the world's oldest industrial areas in a neighborhood of Zaandam not far from Amsterdam, there are only 17 windmills that remain from the 1000 that had been built during the 18th and 19th centuries. Originally, these windmills were created to help keep the settler's feet dry but over time, the windmills were turned into industrial machines which pumped out barley, rice, paper, wood, cooking oil, mustard, tobacco, hemp and even paint!
The Zaanse Schans was originally built as a fortification during the fight against the Spanish for Dutch Independence during the Eighty Year's War. Between 1961 and 1974, many of the historic houses and windmills were relocated here and today is one of the major tourist destinations in the Netherlands. The museums and windmills depict early Dutch life, a time long gone. With its picturesque windmills and traditional houses, its no wonder why this is a popular tourist hot spot. 
Across the River
Immediately, you have a great view of the small town across the river of modern day Dutch homes that add a bit of color to the already adorable region. If you're coming by train, you'll be walking through this neighborhood to get to the windmills. And the amazing thing about the little town across the lake from the windmills is the fact that is smells of chocolate everywhere thanks to a nearby Chocolate Factory! The smell is so potent you can walk around floating on a cloud of chocolate aromas the entire day! I was ready for something chocolately by the time we left!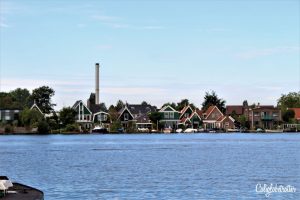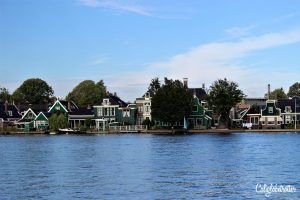 Visiting the Dutch Windmills
The best part was, it is completely free to walk around all the different windmills as well as the clog & cheese-making shops! The only thing you have to pay for is if you decide you want to climb up one of the windmills making for a budget-friendly day trip. Otherwise, the rest is up to you on how much money you want to spend on cheese and souvenirs!
The first thing we did was climb up one of the windmills called De Kat, which only cost us about 3 € each or so. This windmill is the only remaining working windmill in the world which still produces paint. It is actually the remnants of two old dye mills which were combined to start a new life as the working mill of De Kat.
Honestly, a visit to the Dutch windmills is one of the best things to do in the Netherlands and is a family-friendly event for everyone!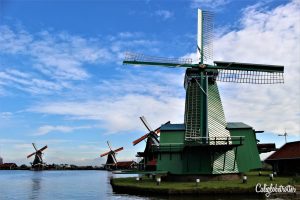 Once inside the windmill, the lower half is more like a little museum with interesting facts and pictures describing the work of a miller who made the windmill work, turning the sails which are mounted on to a 15-ton cap who also regulated the speed of the windmill. The lower half seemed to be grinding down very fine, white chalk that is imported from the Northern coasts of Germany and France in a circular motion.
Then, you will need to climb a small ladder approx. 15-20 steps up into the "attic" of the windmill. Here you can see the larger wheels of the windmill rotating, if you're lucky enough to have a windmill in action while visiting. There isn't much here to see other than the wheels, but the real joy is the view from the top of the windmill.
Once on the deck of the windmill, you can only walk around half of the windmill but its really all you need to capture some great shots with a few other windmills in the background. From here you could also have a great view over the river and the surrounding farm land.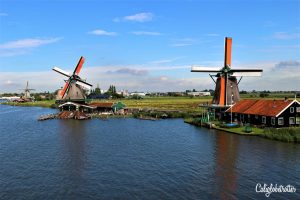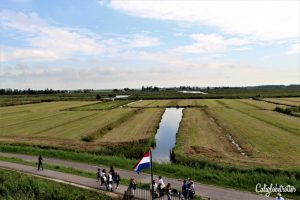 However, if you're on a budget, De Huisman (The Houseman) is the only one of the eight preserved windmills at Zaanse Schans that you can visit inside for free and is a mustard mill.
More and More Windmills!
We slowly made our way from one windmill to the next snapping a ton of pictures. Every single step offered a new amazing view to be had and a moment to be captured! At one point, there was even an old Dutch ship floating along the river and anchoring next to one of the windmills.

A Typical Dutch Village
We eventually made our way into the little Dutch settlement where you could walk around adorable Dutch houses and a cute little white bridge that was just so picturesque. Here, we also discovered a cute little farm with a few chickens and goats which was a fun distraction for many small children.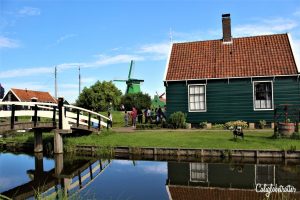 The Clog Making Shop & Museum
While here you can take a peek inside the clog-making shop/museum for free and learn about the history of the clogs as well as how they are made. There were different varieties of clogs showcased through the museum, for example work clogs, special Sunday clogs and even wedding clogs! Clogs weren't normally worn inside the house and therefore, were generally left outside in a bin.
Sunday clogs were worn, surprisingly, only on Sundays as they were usually much nicer and hand painted with roses. This became a form of Marken folk art that was painted by a man named Jan Moenis. This is probably the most common look for clogs and can be purchased in any tourist shop.
The wedding clogs were especially amazing with intricate wood carvings that were hand carved by the bridegroom. The detailed carvings usually included the brides name and the wedding date that were given as a gift to the bride-to-be once they were officially engaged. Because the clogs were so intricate and very detailed with many symbolic meanings, it was considered to be a true expression of love!
Free Clog Making Show
While walking around the clog museum, a shop assistant announced that in just a few minutes a free clog-making show would begin. So lucky, we were able to grab a seat on a wooden stump and watch a young man fluent in 4 languages: Dutch, German, English & Italian quickly translate the process of making a wooden clog. It was impressive and no easy task of carving out the inside of a clog, shaping the outside before chopping off the stump at the top and bottom.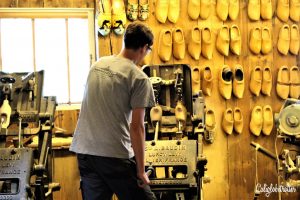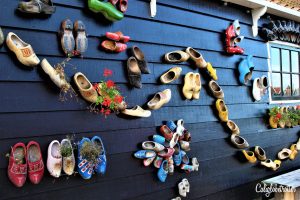 The Catharina Hoeve Cheese Farm
Eventually, we made our way past a small little working farm full of chickens and lambs before walking through a cheese-making shop. Workers were walking around offering cheese samples while wearing traditional costumes, but unfortunately, no one was actually demonstrating how the cheese making process went. We strolled around and sample more fabulous cheese before being enticed to buy a delicious garlic herb cheese. This is definitely the place to be if you are a cheese lover like myself. They had everything from Smooth to dense, light to strong and cow to goat cheeses. There is definitely something for everyone here.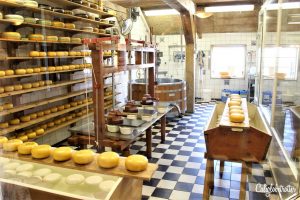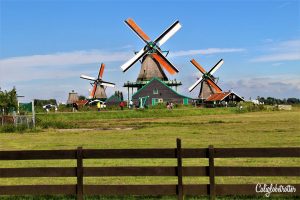 Overall, Zaanse Schans did not disappoint and was even more beautiful than the first time I saw it! If you have a little bit of extra time to kill, I highly recommend taking a trip here!
Getting to Zaanse Schans
Just a hop, skip and jump away from Amsterdam, Zaanse Schans is very easy to reach by car, bus or train. 
Bus
From Amsterdam Central Station, Connexxion bus 391 departs every 15 minutes to Zaanse Schans. The journey takes 40 minutes.
Train
The train from Amsterdam Central Station takes to Zaandijk Zaanse Schans which is about a 17 minute ride. Zaanse Schans is just a 15-minute walk away. Tickets are  3,10 € each way. The walk from the station to the windmills which is a great way to explore the town of Zaandijk with equally adorable architecture.
Cars and parking
Set your Satnav to Schansend 7, Zaandam. From Amsterdam, take the A8 in the direction of Zaanstad/Purmerend, Purmerend A7 exit. From Alkmaar: in the direction of Wormerveer/Zaandam. In both cases, follow the signs to Zaanse Schans. Parking costs in 2015 € 9 for a day ticket. The price for tour coaches is € 16.
For more information check out the Zaanse Schans website!
If you're interested in visiting the Netherlands and are looking for more information, I highly recommend using the DK Eyewitness Travel Guide and Lonely Planet! Without these guides, I would be lost! This is my travel Bible!
Disclaimer: This post contains affiliate links. If you click on one and make a purchase, I might make a little extra spending money, at no extra cost to you. As always, all opinions are my own and these products/services have been found useful during our travels and come highly recommended to you from yours truly!
More adventures from the Netherlands:
A Day Strolling the Canals of Amsterdam
Utrecht: The Less Touristy Version of Amsterdam
Liked this post? PIN IT FOR LATER!
Save
Save
Save