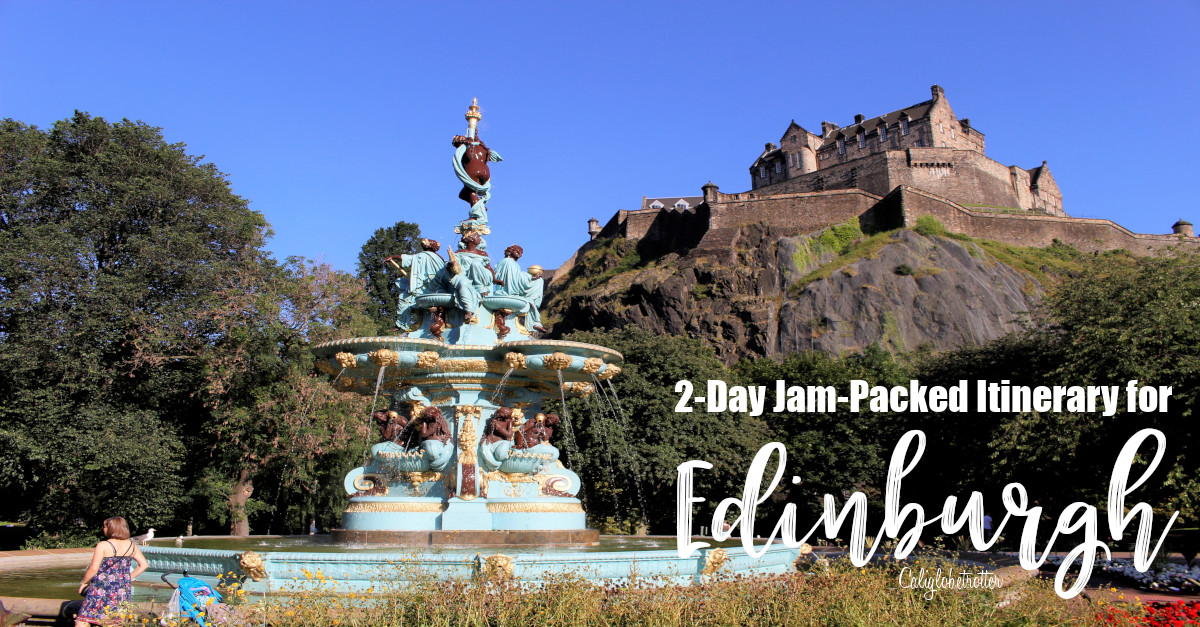 Disclaimer: This post contains affiliate links. If you click on one and make a purchase, I might make a little extra spending money, at no extra cost to you. As always, all opinions are my own and these products/services have been found useful during our travels and come highly recommended to you from yours truly!
Right off the bat, Edinburgh is a city of contrasts; embracing its rich history and inevitable cliches, yet at the same time it is a vivacious metropolis celebrated as one of Europe's most beautiful cities, as well as its hard-to-resist Scottish charm. Set across multiple rocky hills overlooking the sea, Edinburgh is home to almost 5,000 historic buildings, monuments and sites, so how does one go about visiting such a magnificent city without being completely overwhelmed?
Want to Discover Edinburgh? PIN IT FOR LATER!!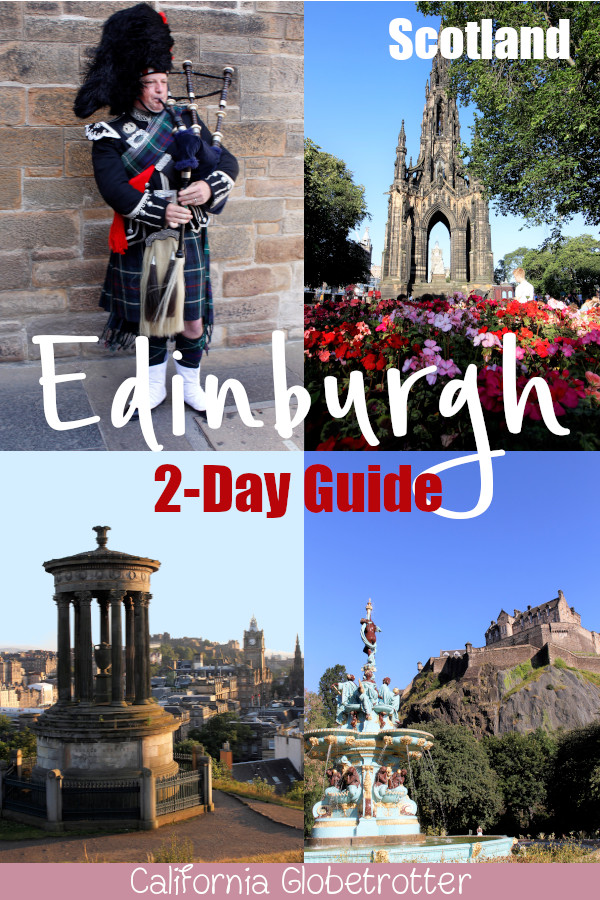 How to AVOID Looking Like a Tourist in Europe
Your ESSENTIAL Guide to Europe
This article is now available as a mobile app. Go to GPSMyCity to download the app for GPS-assisted travel directions to the attractions featured in this article!
With my introduction to Edinburgh for first-timers, you should be able to navigate your way through some of Edinburgh's main attractions, decide when the best time of year to visit Edinburgh as well as one of the best places to stay in Scotland's capital! Whether you're planning on a visit to Edinburgh for the sites or the festivals, such as the Fringe Festival or ringing in the New Year with Hogmanay, I'll help you out and tell you what some of the best free things to do in Edinburgh are and what you should definitely not miss!
Best of all, while it seems like there are a million things to do in Edinburgh, the city center is actually quite compact and therefore, extremely easy to walk around to see Edinburgh in a day, though it's best not to cram it all into one day. I would highly recommend a minimum of two days here!
Walk the Royal Mile
To best get a feeling for the layout of Edinburgh, I would recommend heading straight to the Royal Mile, where you'll find the Old Town stretching approximately one mile, to be specific. At the west end of the Royal Mile, you'll find the Edinburgh Castle, the most popular sight to see in Edinburgh. While at the opposite end, you'll find the Palace of Holyroodhouse, the Queen's official residence in Edinburgh and home to Scottish Royal History.
The Royal Mile actually consists of five streets connecting the two royal palaces and acting as the main thoroughfare; Castlehill, the Lawnmarket, High Street, Canongate and Abbey Strand.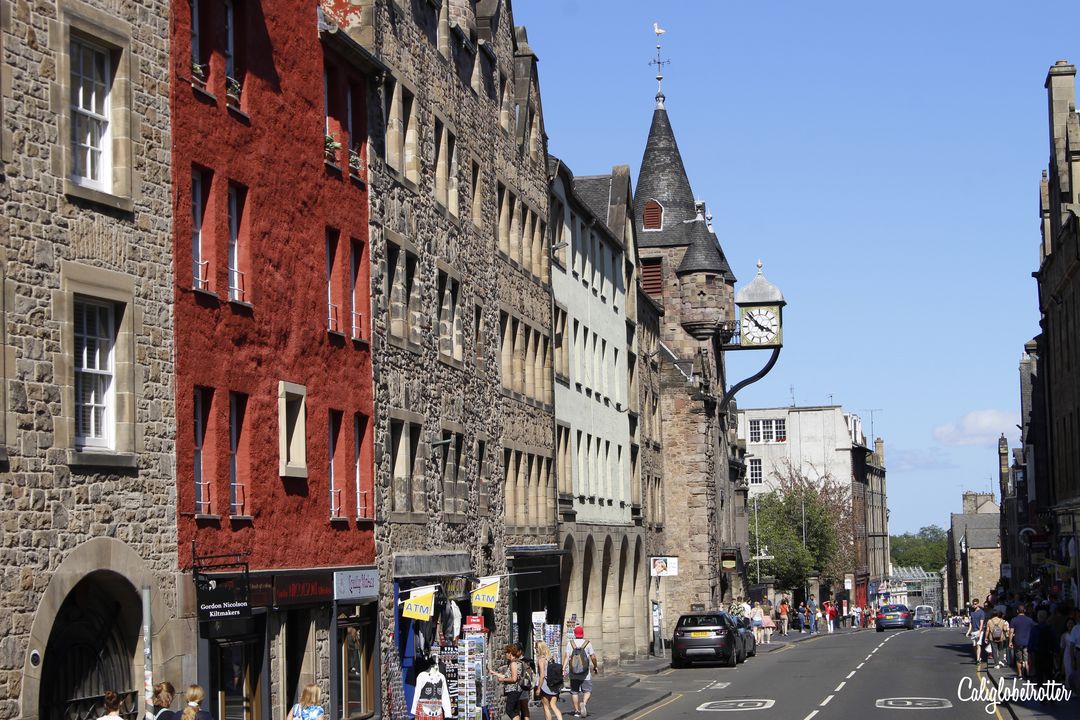 Edinburgh Castle
It will come as no surprise to you when I mention that the Edinburgh Castle is a UNESCO World Heritage Site, which sits atop Castle Hill overlooking the entire historic city center with a history of being inhabited since 2 AD! The historic fortress has had a vibrant history with at least 26 different sieges during its lifespan, most notably those from the conflicts during the Wars of Scottish Independence.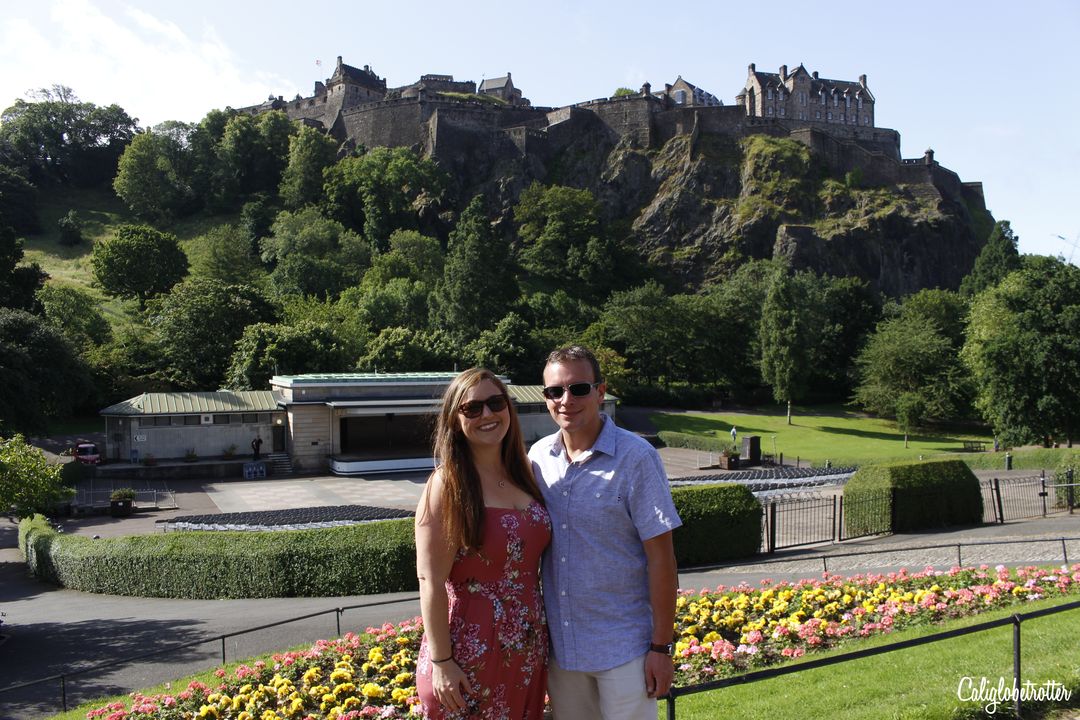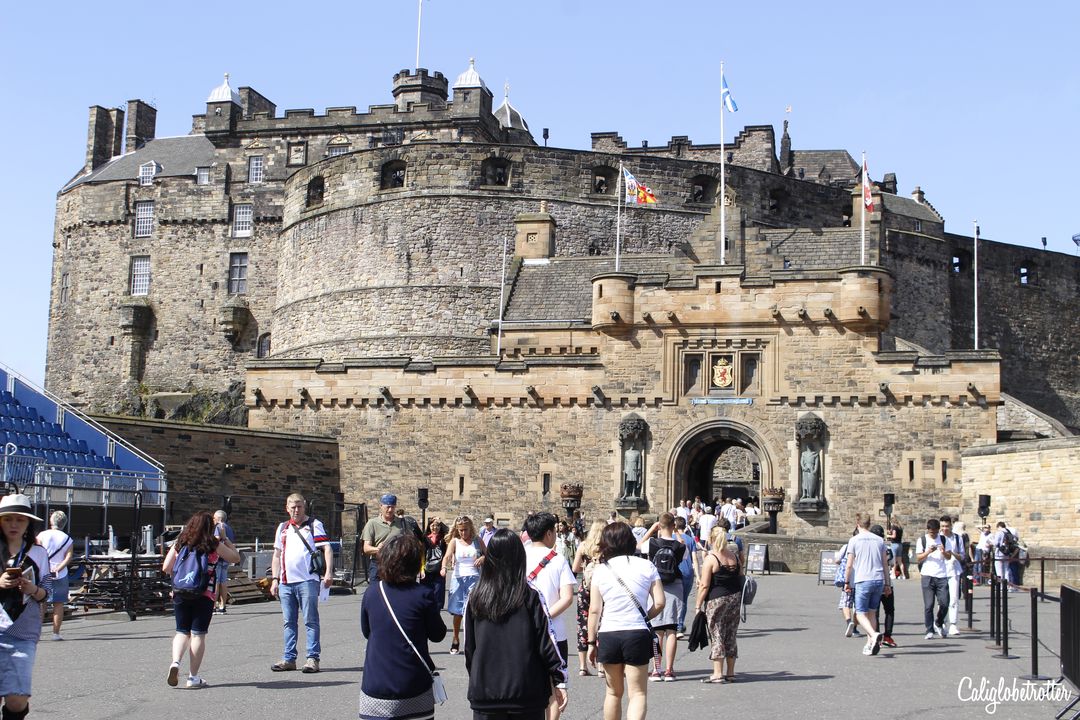 Today, the castle houses the Scottish Crown Jewels, which were re-discovered by Sir Walter Scott in 1818, as well as the National War Museum and offers some of the most breathtaking panoramic views over Edinburgh. The Edinburgh Castle is also used as a backdrop during the Edinburgh Military Tattoo in the annual Edinburgh International Festival during the month of August.
The best way to visit Edinburgh Castle is to pre-book your tickets online, this way you can skip the long lines and simply print them out at a kiosk at the entrance of the castle. There is no time limit on your visit, and there are plenty of things to see at the Edinburgh Castle to keep you busy for a while! Though, I highly recommend to visit the castle as early in the morning as possible to avoid crowds and long lines, especially during peak season (July and August).
Address: Castlehill, at the western end of the Royal Mile, Edinburgh
Cost: Adults £17.50, Concession £14.00, Child £01.50, under 5 free
Hours: April to September 09:30-18:00 | October to March 09:30-17:00
Princes Street Gardens
Just below the Edinburgh Castle, the Princes Street Gardens are ideally located between shopping centers, the train station and the Royal Mile. It's one of the most beautiful parks in Edinburgh to stroll through to sit and enjoy an ice cream and people watch. It also has one of the most stunning water fountains I've ever seen!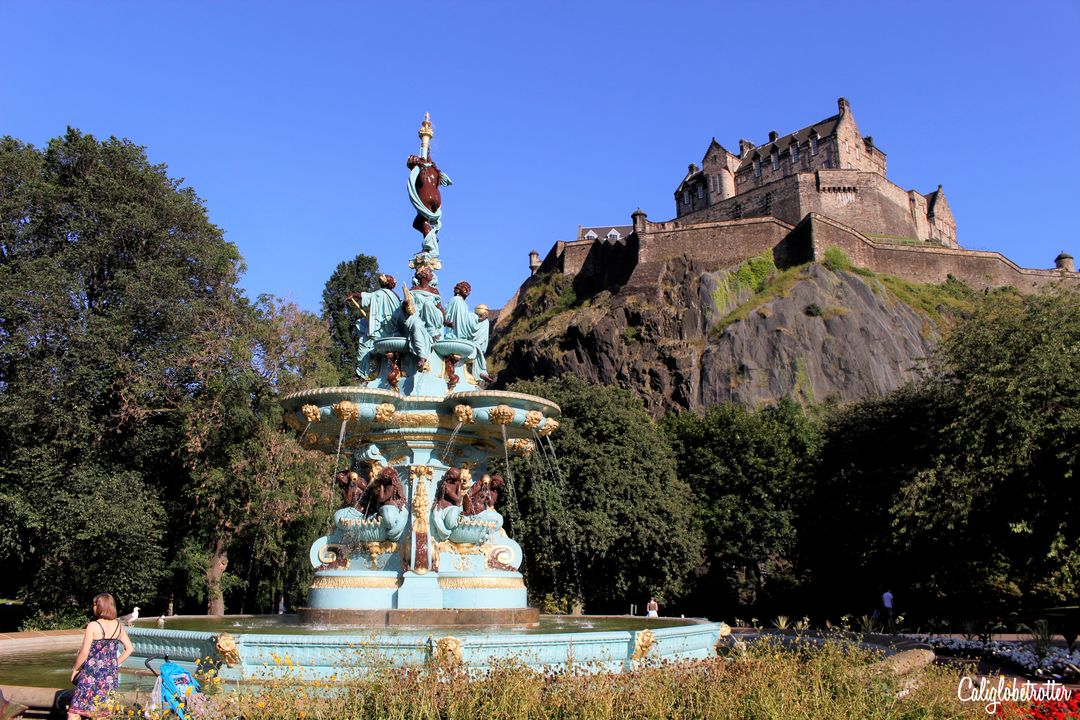 It's here you'll also find the Scott's Monument, on the east side of the Royal Scottish Academy and the Scottish National Gallery. The Scott's Monument though is a 61 m high Gothic monument dedicated to one of Scotland's most famous writers, Sir Walter Scott. Should you be interested, you can also climb up 287 winding steps for yet another vantage point across Edinburgh, or you can simply admire it from the gardens below.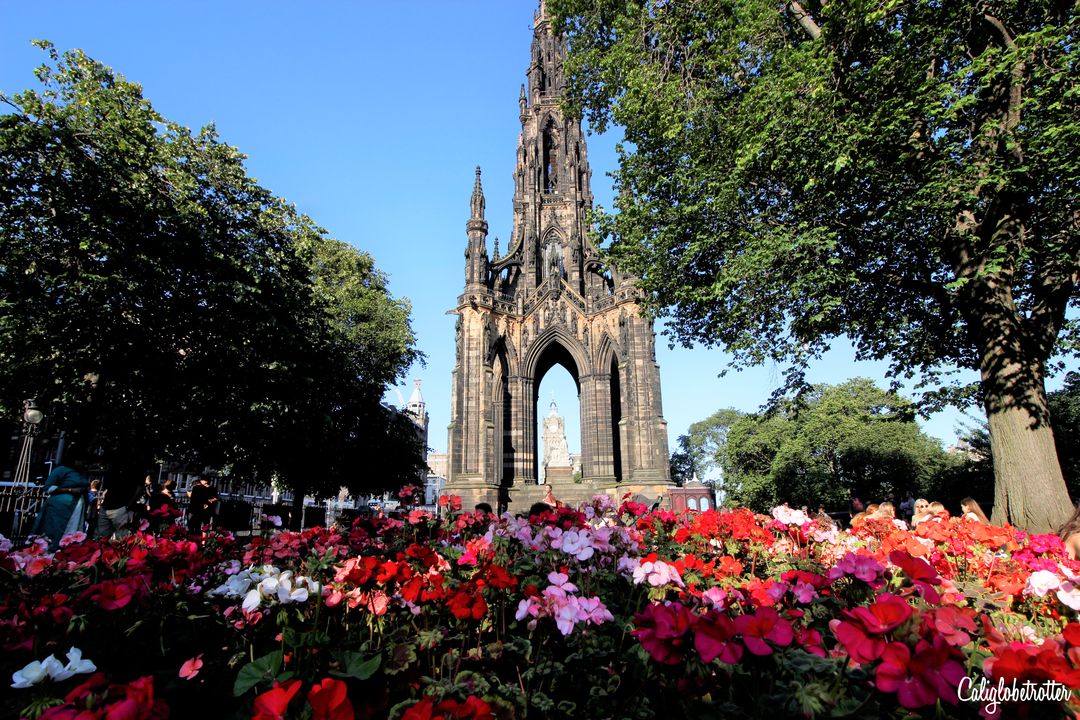 Address: East Princes Street Gardens, Edinburgh
Cost: Adult £8.00 | Concession £6.00 | Child £5.00
Hours: 10:00-4:30pm daily, with tours every 30 minutes
Listen to a Bagpiper
There are three things that are quintessentially Scottish. Whisky, Bagpipes and Kilts. You'll find all three of them anywhere along the Royal Mile and every day in front of the High Court of Justice you can find one of Edinburgh's many bagpiping street performers which can be heard from blocks away. And somehow, it seems entirely appropriate and I can't imagine visiting Scotland without hearing or seeing a bagpiper.
Cost: Free! But tipping is a generous gesture!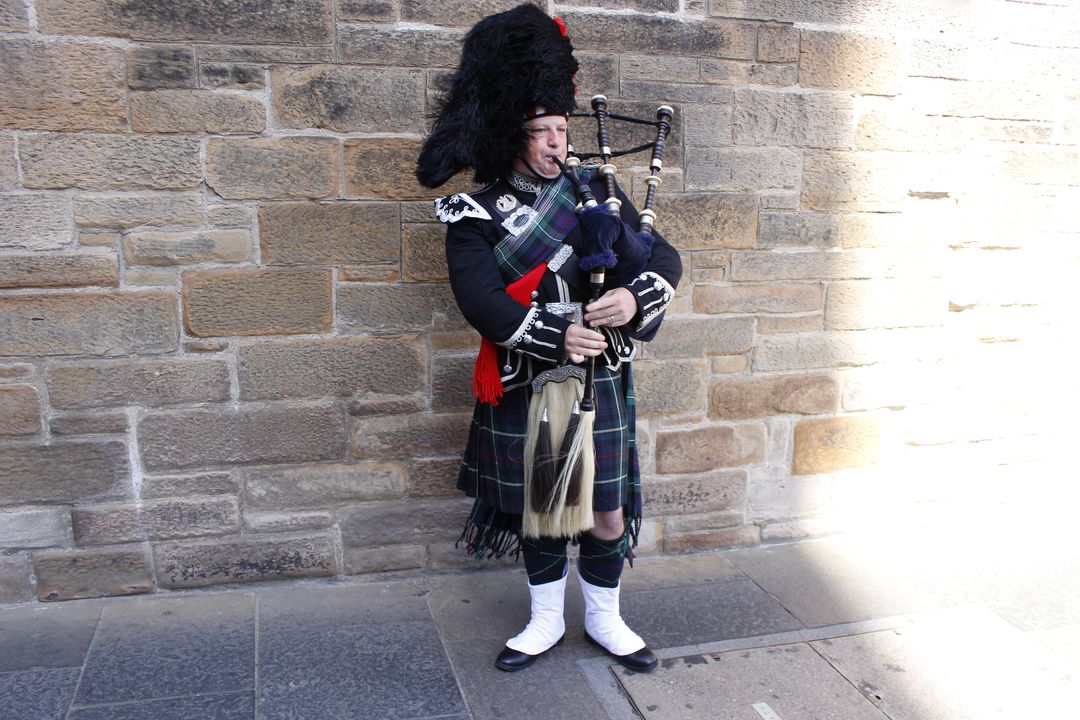 The Tartan Weaving Mill & Experience
Near the gates of Edinburgh Castle, you'll find the Tartan Weaving Mill. At first glance it simply seems to look like a shop selling every shape, form and color of tartans, but with a second glance, you'll notice that it's a five story monument to tartan production. It's quite exciting to see how tartan is weaved before it becomes a finished product. To go in and watch the weaving process is free, but to purchase anything, well, that's entirely up to what's in your wallet!
Address: 555 Castlehill, Edinburgh EH1 2ND, UK
Cost: Free!
Hours: Mon – Sat 9am – 7:30pm, Sun 8:30 – 7pm
Ride in a Whisky Barrel at the Scotsch Whisky Experience
Just across the way from the Tartan Weaving Mill, you'll find the Scotsch Whisky Experience where you can take a ride in a Disneyland-like whisky barrel through the history of whisky distilling in Scotland as well as the fermentation process before finally reaching the end goal: sippin' on whisky.
Whisky tasting is definitely one of the best things to do in Edinburgh, so I booked us a ticket as a birthday gift to my husband who wanted to learn what the difference was between American Bourbon and Whisky. We learned the difference between a single malt and a blend, which of the five regions Scotch whisky comes from and how those regions affect the taste and smell of the whisky from either being citrusy in the Lowlands, floral and vanilly in the Highlands, fruity from Speyside or smoky and peaty from Islay.
Not wanting to splurge on the Gold Tour, we opted for the Silver Tour, aka the basic whisky tasting tour which sadly only offered one tasting of whisky. Though, you finish your tour in a room which houses the world's largest collection of whisky with over 3,300 bottles!
Even if you're not into drinking whisky, a visit to the Scottish Whisky Experience is worth a visit along, if just for the history. If you're a fan of whisky and have more time, then a day trip to the Glenfiddich Whisky Distillery is a must!
Address: The Royal Mile, 354 Castlehill, Edinburgh EH1 2NE, UK
Cost: Prices Vary; Silver Tour: Adult: £16.00 Concession: £14.00 Child: £8.00
Hours: Jan – March: 10am – 5pm | April: 10am – 6pm | May – June: 10am – 8pm | July: 10am – 8.20pm | August: Monday – Friday 10am – 5pm, August: Saturday & Sunday – 10am – 5:40pm | Sept – Dec: 10am – 5pm Tours every 20 minutes!
Camera Obscura
Also located just feet from the gates of the Edinburgh Castle, if you're looking some strange things to do in Edinbugrh, then consider a visit to Camera Obscura. A quirky place to visit filled with five floors of opital illusions, which even offers unrivaled views of the city center from the top! This is definitely one of the most family-friendly things to do in Edinburgh, and for adults! Plan for a couple of hours of pure delight here!
Address: Castlehill, Royal Mile, Edinburgh EH1 2ND, UK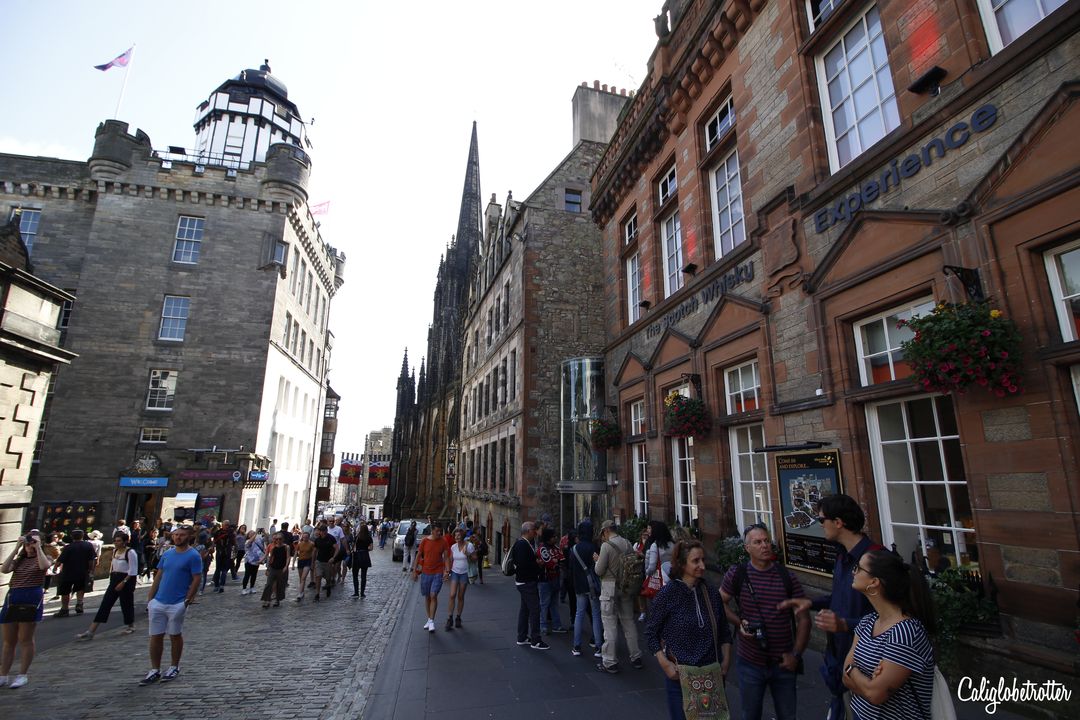 Cost: Adults £16.00, Students £14.00, Child (5-15) £12.00, Under 5s Free
Hours: July & August 9am-10pm | Septemper & October Sunday – Friday 9.30am – 8.00pm, Saturday 9.30am – 9.00pm

Tour the "Closes" and Real Mary Kings Close
Walking around Edinburgh and you'll soon notice that the Old Town is an intricate network of alleyways, also known as "closes" which criss cross tall buildings and steep hills, thus making it easier to maunever through the city. Many closes are narrow, have dark corners and crooked stairways and thus are often thought of as being haunted by the not-so-friendly ghosts of the plague and those who were violently assassinated throughout the centuries.
The Real Mary King's Close is perhaps the most haunted of them all and is a great example of how people lived just a short few hundred years ago, and since it was near the food market, some 700 residents lived in one building which would explain why it was one of the most deadly places to live at the outbreak of the plague. To do a tour, you must book your tickets online!
Address: 2, Warriston's Close, High St, Edinburgh EH1 1PG, UK
Cost: Adults  £16.50, Students  £14.25, Child (5-15)  £9.95
Hours: Summer July & August 9:30 – 9:45pm | September 10am-9pm | October 10:15-9pm
St. Giles' Cathedral
Located towards to center of The Royal Mile, St. Giles' Cathedral stands apart from all else with its crown-shaped spire. Originally built in 1124, it is named after St. Giles, the patron saint of criminals, lepers and the physically disabled. A visit to this cathedral is worth a peak if you're not afraid of heights, as a short 20 minute climb up to the rooftop offers yet another panoramic view of Edinburgh, but only with a guided tour.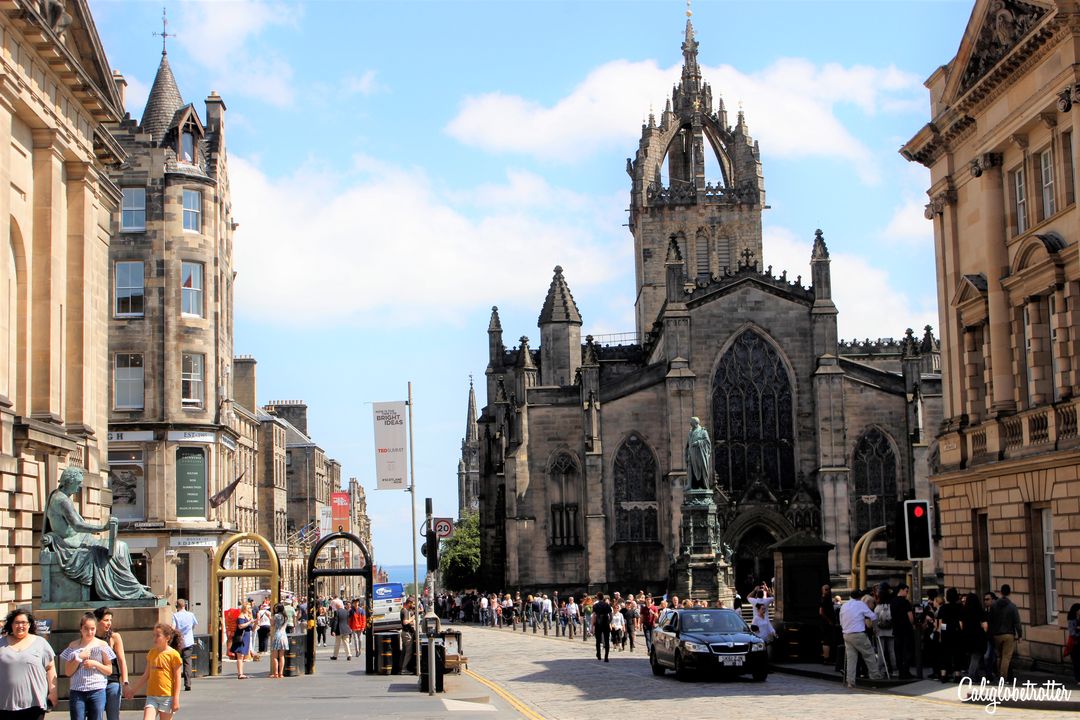 Address: High St, Edinburgh EH1 1RE, UK
Cost: Free to enter, Photo charge
Hours: Summer Opening Hours (May – September) Monday – Friday 09.00 – 19.00, Saturday 09.00 – 17.00,
*Rooftop tours currently run Saturday 10.30am – 4pm and Sunday 1.30pm – 4pm. Tours can take a maximum of 4 people and cost £6 per person.
Scottish Parliament Building
At the end of the Royal Mile, you can find the Scottish Parliament building with modern architecture standing out like a sore thumb among Edinburgh's historic buildings. It's here that many of Scotland's policies are made, including the fight for Scottish Independence once again from the UK.
Palace of Holyroodhouse
Capping off the eastern end of the Royal Mile is the Palace of Holyroodhouse, the official residence of the Queen of England when in Scotland. The palace has been the principal residence of Scottish Kings and Queens since the 16th century, and every year, the Queen spends just one week at the palace at the beginning of summer when she resides over official engagements and ceremonies.
When the Queen is not in residence, visitors can explore 14 of the historic state apartments associated with some of Scotland's most historic figures such as Mary, Queen of Scots and Bonnie Prince Charlie, as well as the Queen's Art Gallery and wandering through the gardens and ruins of Holyrood Abbey.
Currently on display, you'll find the Duke and Duchess of Sussex's wedding attire.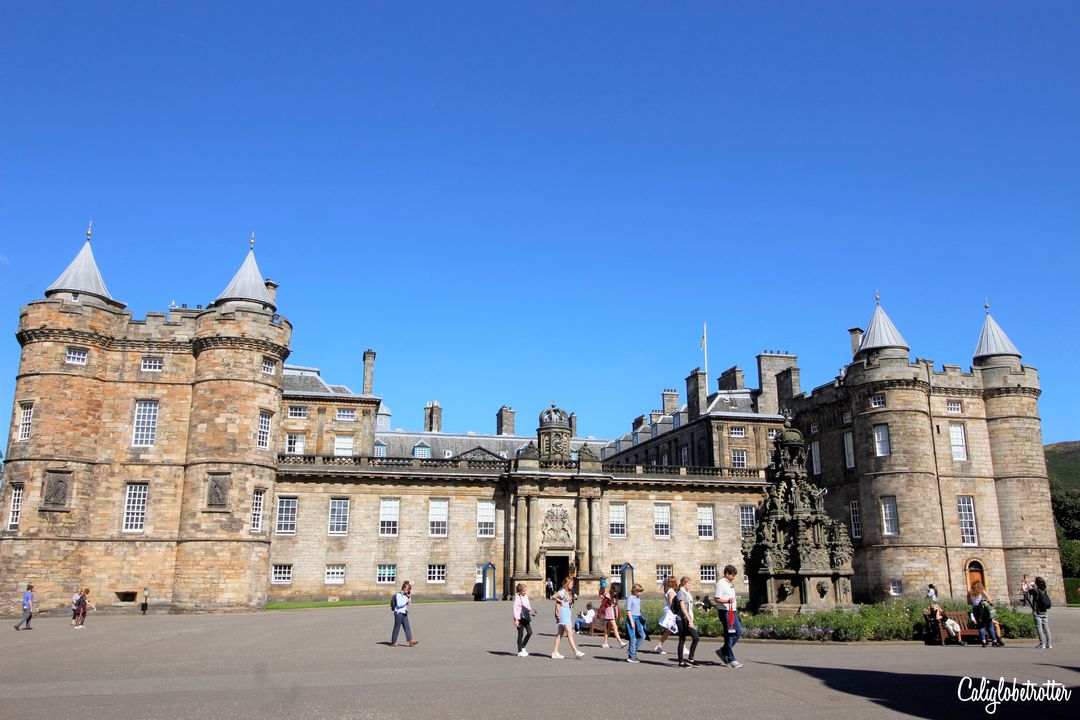 Address: Canongate, Edinburgh
Cost: Royal Visit tickets include access to the Palace, Gallery and Garden – Adult £19.10, Concession £17.90, Child £10.80, Under 5 Free
Hours: April to October 09:30-18:00 | November to March 09:30-16:30 | check the website for closures
Climb a Hill of Monuments
We were quite surprised that one could easily go for a hike in the city, but being short on time, we opted not to hike Arthur's Seat, but instead to head up to Calton Hill, a short 10-15 minute walk up a steep hill which offers some of the best panoramic views over Edinburgh! Unlike many other hills, Calton Hill stands out against the rest as it's loaded with historic monuments which looks more like an Athenian acropolis dotting the Edinburgh skyline!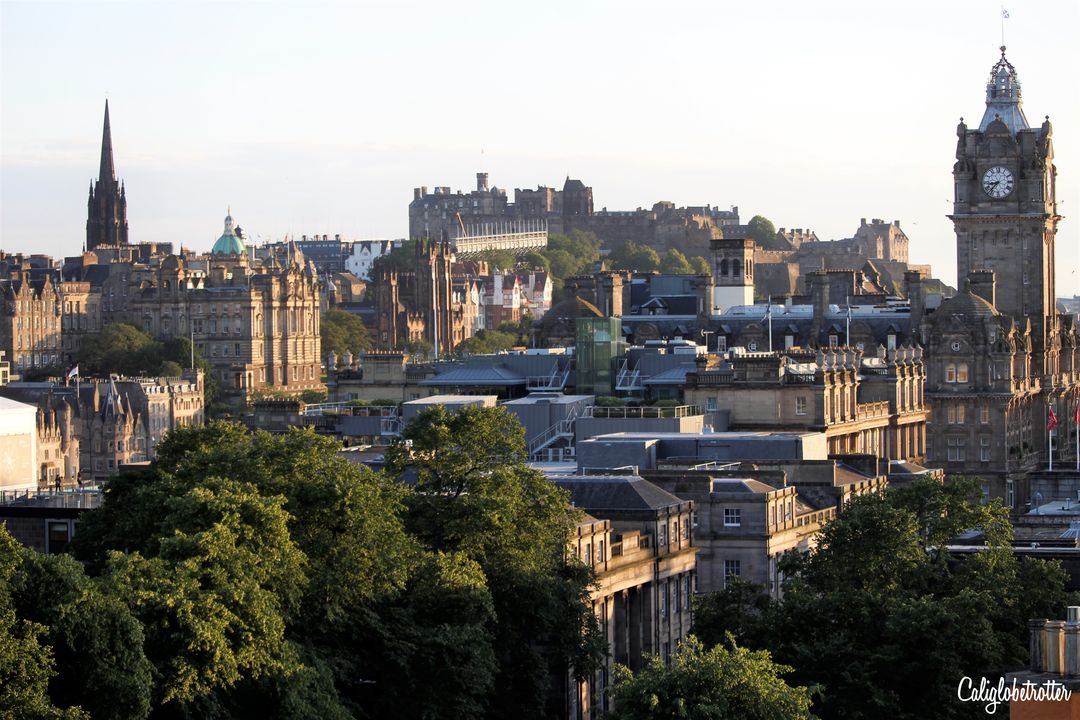 What you'll find up here is the National Monument, a bit reminiscent of the Parthenon in Athens which has been left unfinished and was supposed to be a replica of the original, as well as the obelisk-like Nelson Monument, but quite possibly the most instagrammable of them all is the Dugald Stewart Monument with the Edinburgh Old Town in the backdrop! But PLEASE, PLEASE, don't be that annoying tourist who has to climb up on walls that are not meant for climbing for the most instagrammable picture! It's annoying and disrespectful!
But that's not all, Calton Hill also offers spectacular views of Arthur's Seat, Edinburgh Castle and the Palace of Holyroodhouse!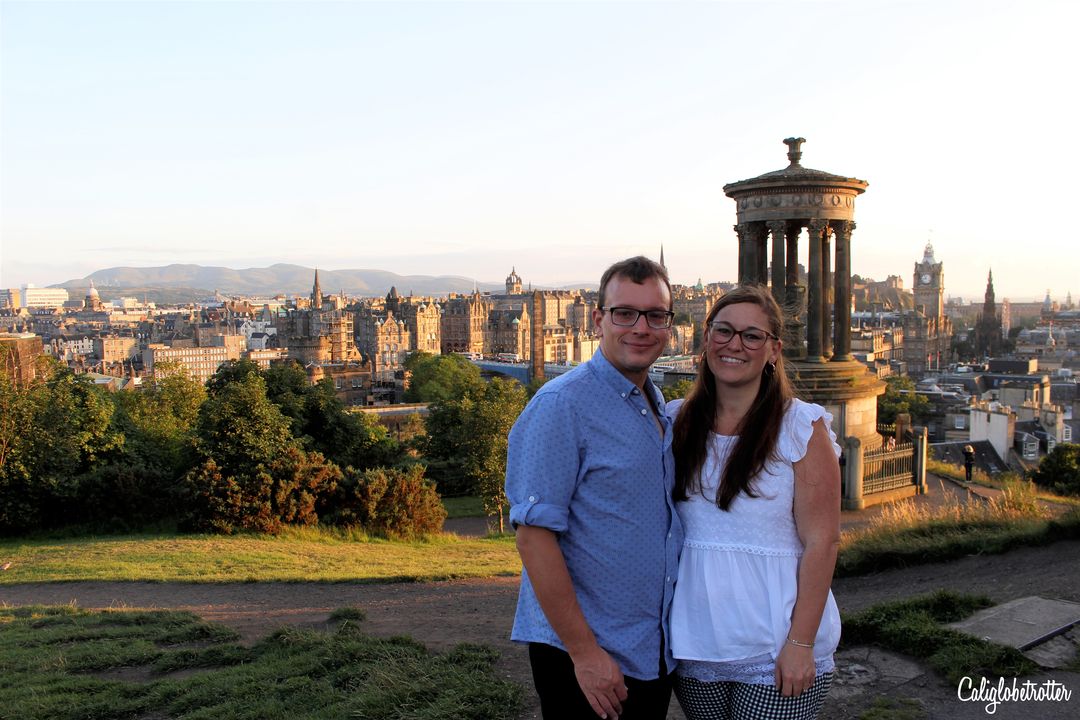 *Tip: Calton Hill is one of the best places to enjoy the fireworks during Hogmanay and the grand finale of the Edinburgh Festival!
Cost: Free!
Hike to Arthur's Seat
If we had had more time, we would have without a doubt hiked Arthur's Seat, the remains of an extinct volcano in Edinburgh and today the land on which Edinburgh is located is the result of that volcano, which was formed some 350 million years ago. A hike up here will however reward you with stunning views of Fife, the North Sea, Leith and the Pentland Hills at a height on 250 m about the city. Depending on your fitness, it should take you roughly 30 minutes to climb to the top.
Cost: Free!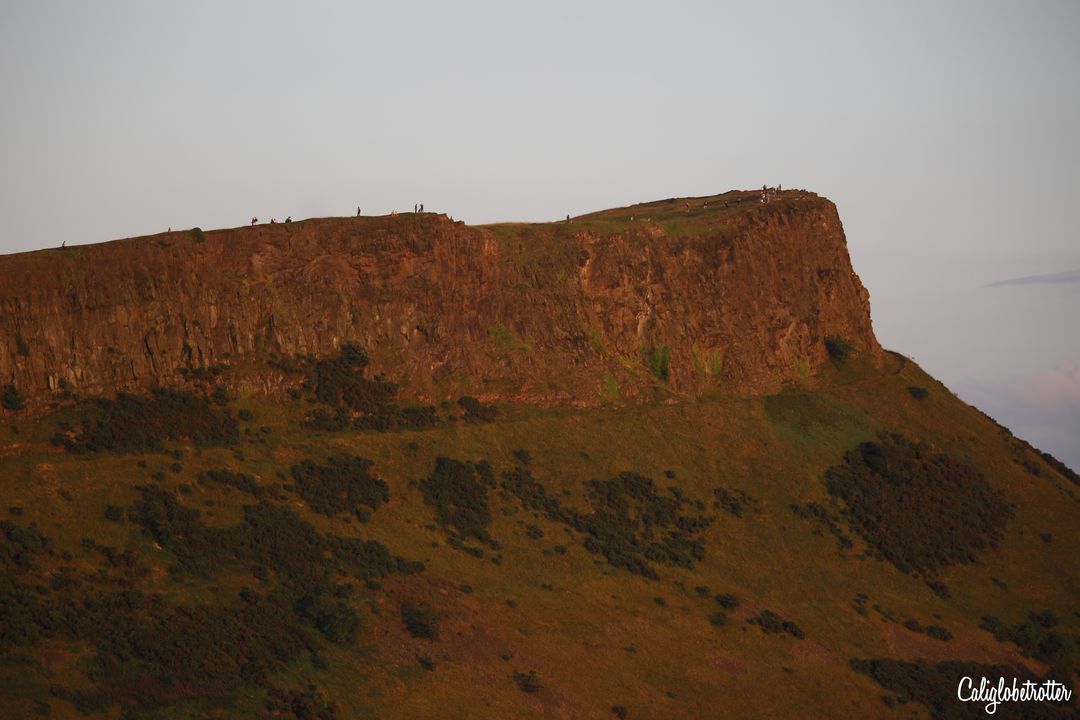 Enjoy a Scottish Afternoon Tea at Brewhemia
Now, I know when we visited Edinburgh it was my hubby's birthday and all, buuut I needed something mostly for me, that we could both enjoy. What better way to do that than with a Scottish inspired afternoon tea at a brewery!? Sometimes, the best surprises come literally from playing around on Google maps and seeing what you can find.
This afternoon tea was epic! Let me just tell ya! Not only do you sit upstairs with a view over the bar and copper distills, but the food is so lecker, it'll leave you wanting more! Some of my favorites were the Haggis, neeps and tatties with peppercorn and whisky sauce, Piggy black sausage roll slices with mustard mayo, Clava Brie with homemade chutney and watercress on farmhouse bread, not to mention the sweet desserts!
Offering afternoon teas at 12pm, 2pm and 4pm, I thought a 2pm afternoon tea would be a great way to have a filling lunch during our full day of sightseeing! Not only does Brewhemia have a great vibe, but they are one of the best places in Edinburgh to enjoy the Fringe Festival!
Related: Afternoon Tea Etiquette – 15 Do's & Don'ts of Afternoon Tea
Address: 1A Market St, Edinburgh EH1 1DE, UK
Cost: Afternoon tea (with tea or coffee) £18pp | Afternoon tea with glass of Prosecco £24pp | Afternoon tea with a Gin Cocktail £26pp 
Other Edinburgh Afternoon Teas

While doing some research for Edinburgh which consisted of Googling the best places for afternoon tea in Edinburgh, I found that the Colonnades at the Signet Library is one of the most refined places to enjoy a tea surrounded by bookcases, two of my favorite things, Libraries and tea!
Search for Harry Potter Locations in Edinburgh
Having lost some of my childhood magic as I've grown older, I wasn't willing to go on the hunt for Harry Potter inspiration in Edinburgh, however, with a small amount of Potterhead left in me, I at least found a few to hold me over.
Any Potterheads out there would know that Harry Potter was born in Edinburgh, the city that inspired J.K. Rowling to create the wizarding world we all know and love today. 20-odd years later and Harry Potter is still as big as ever!
Known as the birthplace of Harry Potter, J.K. Rowling penned the magical world 20 years ago which would revolutionize literature. Pop inside and you can enjoy a cup of magic with your cappuccino but don't even try to accio your broomstick in here, though many don't venture inside but merely snap some photos from the outside.
Victoria Street to Grassmarket
Not far from the Elephant House is Victoria Street, a colorful array of buildings curving into one of the most beautiful streets in Edinburgh and which inspired J.K. Rowling's Diagon Alley in Harry Potter. So, it will come as no surprise that you'll find multiple Harry Potter themed shops here, as well as cute cafes and bars and other non-Potterhead related shops.
Walking on, you'll eventually come to Grassmarket, just behind and below the Edinburgh Castle, it was once one of the city's most important cattle markets for well over 500 years, annnnd also where most executions took place. We stopped here at Fiddler's Arms for a pint before continuing on.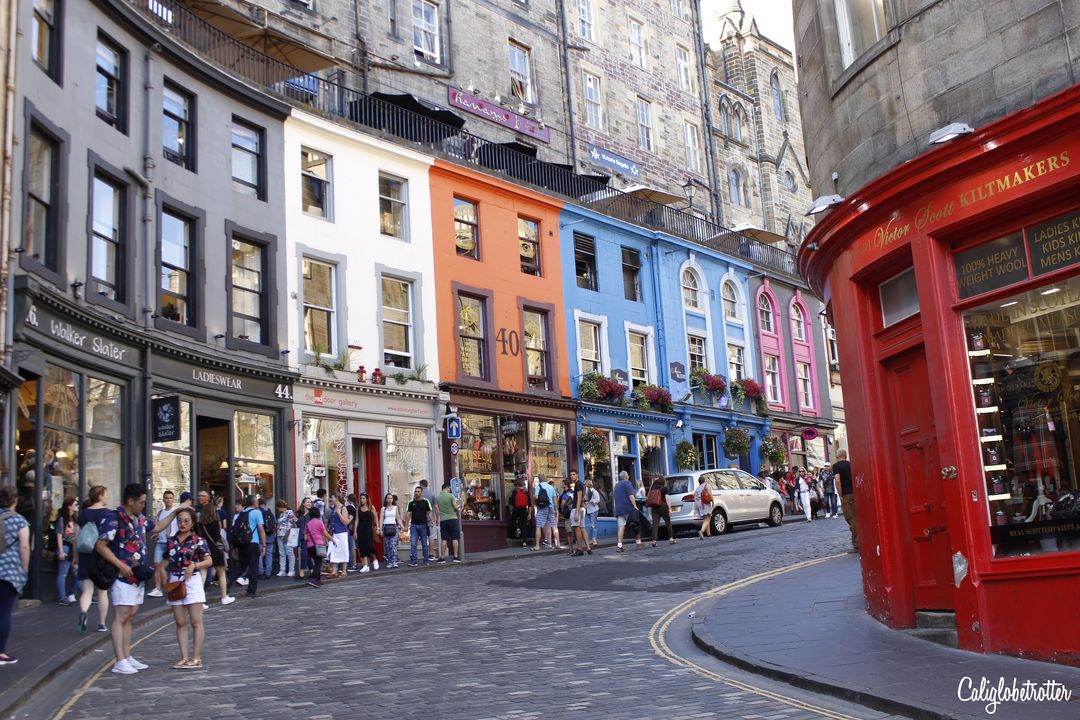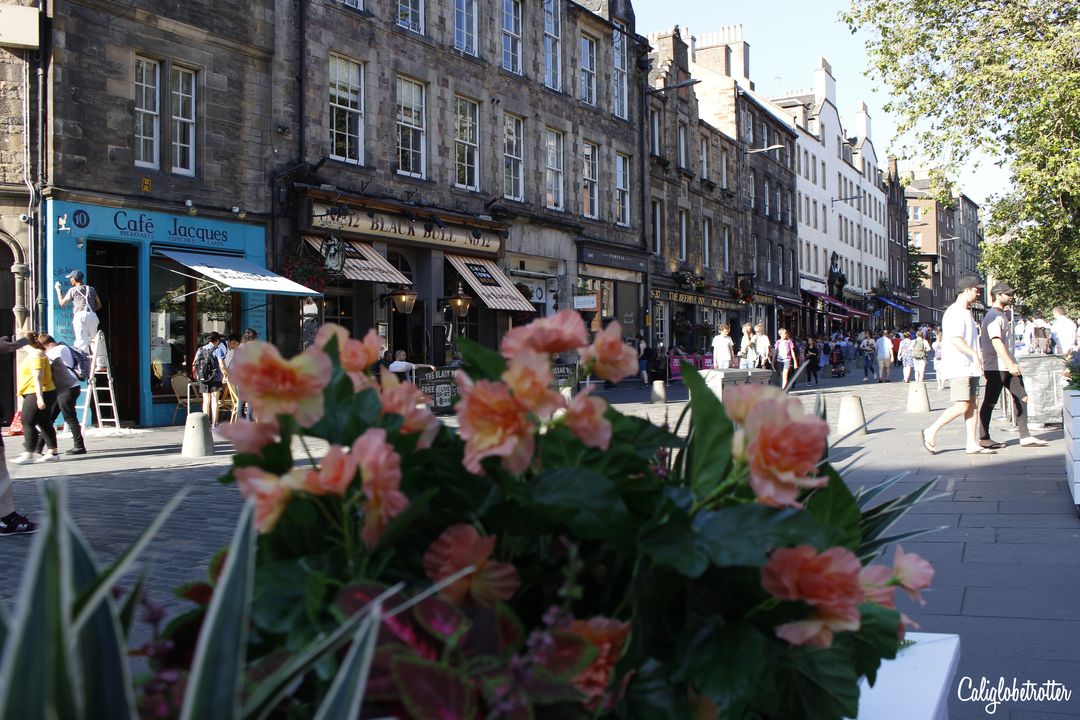 Other Harry Potter Inspiration:
Greyfriar's Kirkyard: a Franciscan graveyard J.K. Rowling strolled through which inspired the name Voldemort.
Spoon: J.K. Rowling's brother was the owner of the first-floor pub called Spoon where she also sat down to pen her novels.
If you're interested in more Harry Potter locations in Edinburgh, then I suggest doing a Harry Potter walking tour.
Explore Dean's Village & the Water of Leith
Now, I wanted to visit this quiet corner of Edinburgh while we were there, but we simply just didn't have the time and I wasn't interested in cramming it in. However, if you're looking for less-touristy things to do in Edinburgh to get away from the crowds, especially during peak season, then perhaps you'll also be interested in a casual walk through this charming Edinburgh neighborhood just northwest of the city center.
Thanks in part to the mighty Water of Leith, over 10 working mills were once in use here about 800 years ago, however, today it's supposed to be quiet atmospheric and reminiscent of a bygone era.
Take a Day Trip to the Highlands
Now, I know this isn't exactly something to do in Edinburgh, however, if you have more time are are based in Edinburgh for a few days, then consider doing some day trips from Edinburgh. As mentioned earlier, I would definitely do a day trip to Glenfiddich Whisky Distillery, one of the most famous distillers in Scotland!
I would also recommend doing a day tour with Rabbie's to the Scottish Highlands or anywhere else in Scotland. With small 16-person coach buses, you'll have practically a private tour anywhere you go in Scotland and go where larger tour buses can't. Best of all, any tour with Rabbie's is quite affordable and is loaded with history, humor and thick Scottish accents to whet your appetite!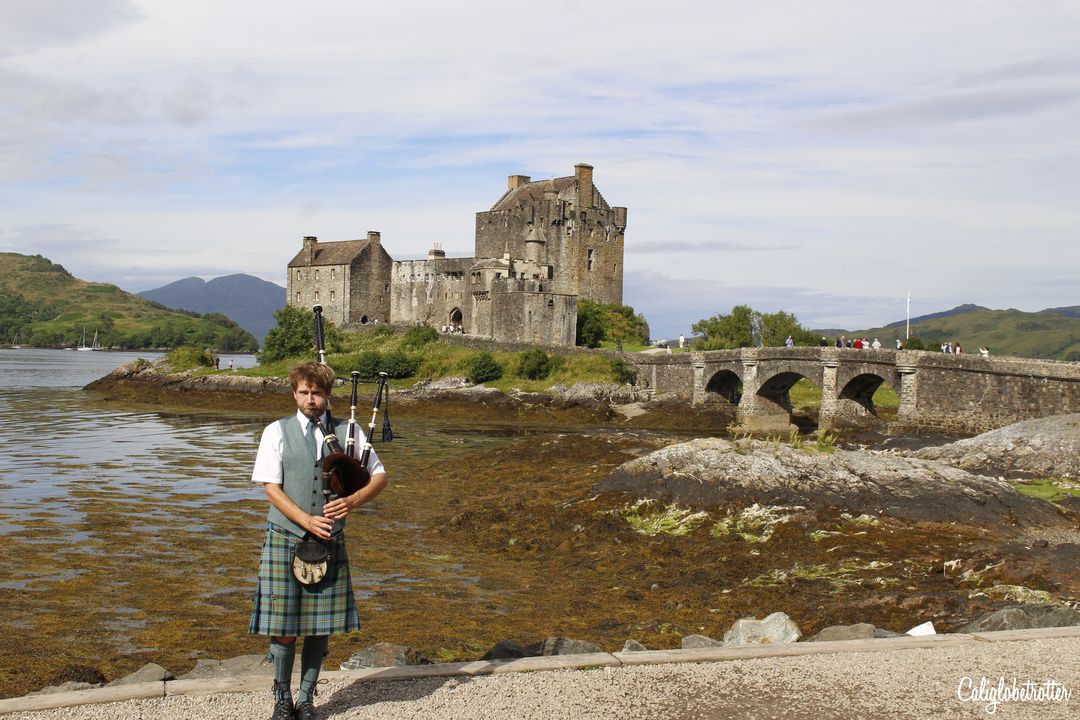 Attend a Festival in Edinburgh
When it came to planning our trip to Edinburgh, we had originally planned to visit during the first week of August….until I discovered that starting in August, the entire month is filled with one festival after another, swelling Edinburgh's population three times over. As much as I would have loved to see the Edinburgh Military Tattoo or partake in the Fringe Festival, not being a fan of super big crowds, we opted to visit Edinburgh at the end of July.
The Royal Edinburgh Military Tattoo is one of the most spectacular festivals by the armed forces from Britain, parading in the foreyard to Edinburgh Castle.
The Fringe Festival is one of the biggest arts festivals which includes anything from street performers, comedy sows, art shows and pretty much anything and everything that can be performed or displayed and is considered art.
Now, if you're in Edinburgh for New Year's Eve, then you can partake in the festivities of Hogmanay. Though from previous research, numbers also swell exponentially during this time and hotel rooms book out far, far in advance! Though if you want to bring out your inner Viking and pyromaniac, then I suggest trying to visit Edinburgh as it's one of the best places to celebrate New Year's Eve in Europe!
Cost: Ticket prices vary depending on which festival you attend.
Where to Eat in Edinburgh
Deacon Brodie's Tavern came highly recommended by several new Scottish friends as having some of the best food in Edinburgh! So we went, and they were right! When traveling, it's mandatory to try local cuisine and so my hubby opted to try the Haggis, neeps and tatties while I opted for a a steak and ale pie! Best of all, it was easy to find as it's located right on the Royal Mile! Go upstairs if you want food, while drink are served downstairs!
Address: 435 Lawnmarket, Edinburgh EH1 2NT, UK
Where to Stay in Edinburgh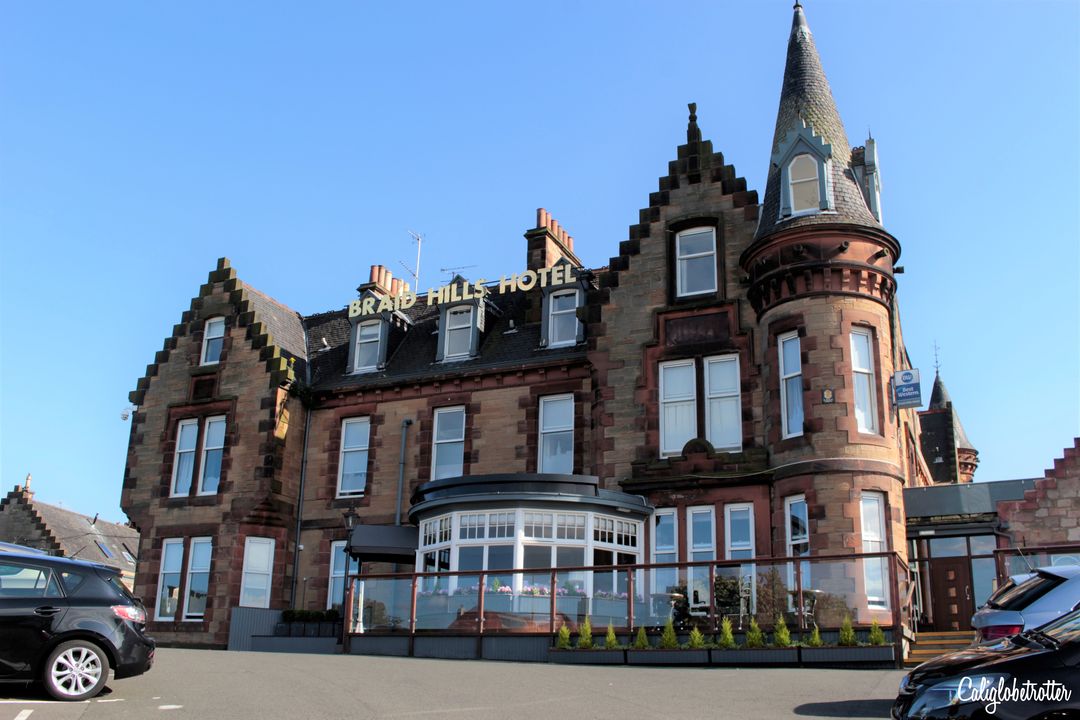 When looking for a hotel in Edinburgh near the city center, it can be hard to find affordable hotel prices, let alone hotels with parking spaces. Since we had our car with us (yes, we drove to Scotland from Germany), we opted to stay a bit out of the city center and thus the prices were much more do-able. On the downside, it was a 20 minute bus ride into the heart of the city center, but honestly, I wouldn't of had it any other way. Buses came every 10 minutes just feet away from the hotel and took us right into town with ease, using the TfE M-Tickets app to load up our bus tickets directly from our account. Once activated, tickets were valid for 24 hours.
The Best Western was as castle-esque as I could get with beautifully decorated rooms. We were upgraded to a suite which had a chandelier, a sofa, small kitchen area and a little lounge area. Best of all, we had a parking spot right near our room with a back entrance!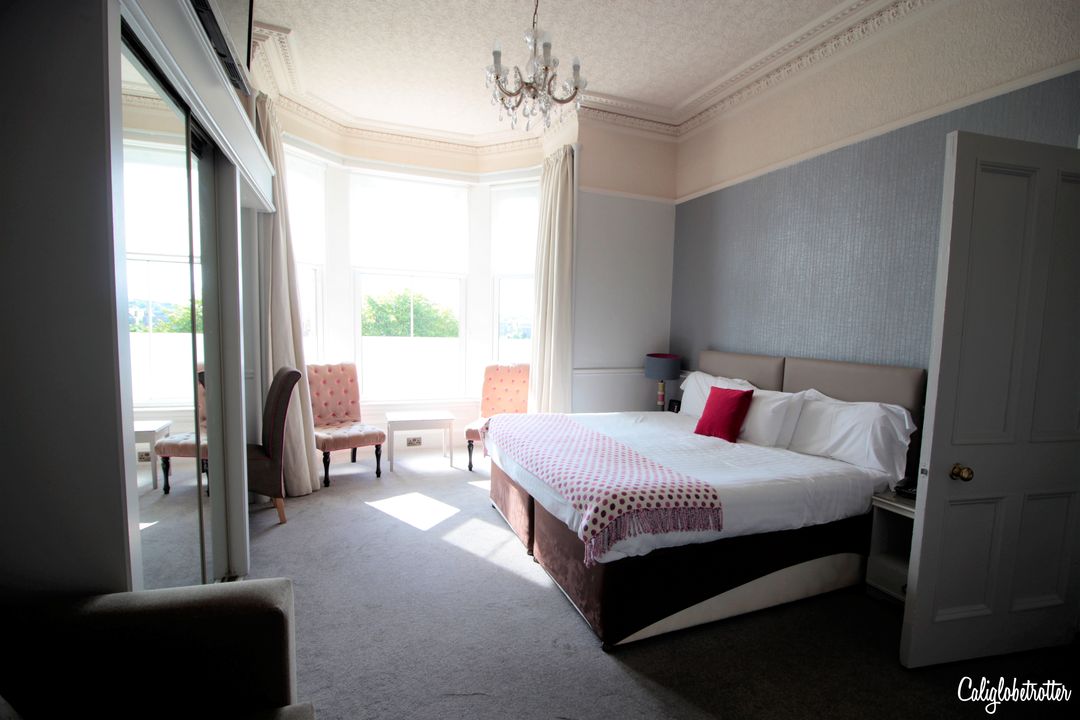 Don't even get me started as well on the Full English Scottish Breakfast buffet we had! Every morning we had the option of either enjoying a traditional breakfast or a light continental breakfast before heading into town! Would I stay here again!? 100%!
Overall Opinion of Edinburgh
I LOVED IT!!!! I honestly feel head over heels in love with the sound of bagpipes musical notes flowing down the street, the glorious but rather unlikely weather we had due to that extreme heat wave that hit Europe as we headed north and the extremely friendly customer service and hospitality EVERY WHERE WE WENT! Though, I doubt I would ever visit again in the summer as it's definitely far too crowded for me everywhere we went. I would prefer next time to visit during the off season.
If you're looking to visit Scotland, I highly suggest buying any of the following travel guides which I have personally used to help you navigate through this beautiful country! These are my travel bibles!
Disclaimer: This post contains affiliate links. If you click on one and make a purchase, I might make a little extra spending money, at no extra cost to you. As always, all opinions are my own and these products/services have been found useful during our travels and come highly recommended to you from yours truly!
Liked this post? PIN IT FOR LATER!!
Other UK Travel Posts:
Exploring the Scottish Highlands with Rabbie's
A Visit to Glenfiddich Whisky Distillery
A Traditional London Itinerary with the London Pass