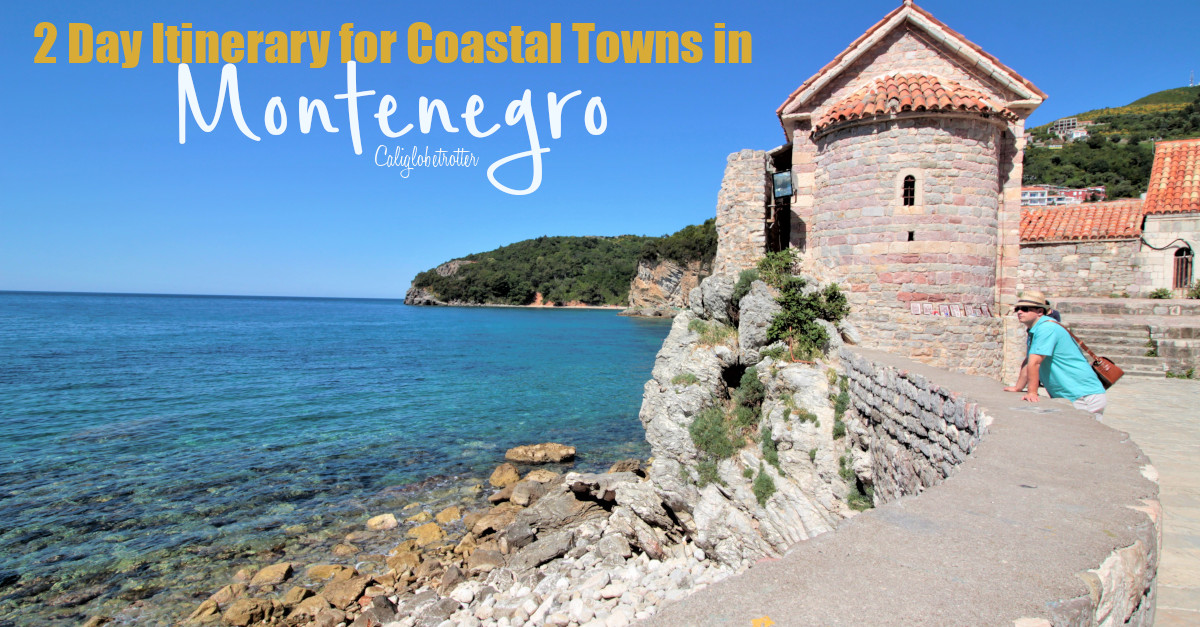 Disclaimer: This post contains affiliate links. If you click on one and make a purchase, I might make a little extra spending money, at no extra cost to you. As always, all opinions are my own and these products/services have been found useful during our travels and come highly recommended to you from yours truly!
Montenegro is a Balkan nation located on the coast of the Adriatic Sea, between Croatia, Albania, Serbia, Bosnia-Herzegovina and Kosovo. It's an up and coming country to visit in the Balkans and is quickly becoming a popular alternative to Croatia. Easily one of the best countries to visit in Europe for its enchanting beauty, rugged mountains and alluring coastline, begging you to visit. I'll be sharing with you five of the best places to visit in Montenegro in 2 days as part of our 2-week Balkan Road Trip!
Want to Visit Montenegro? PIN IT FOR LATER!!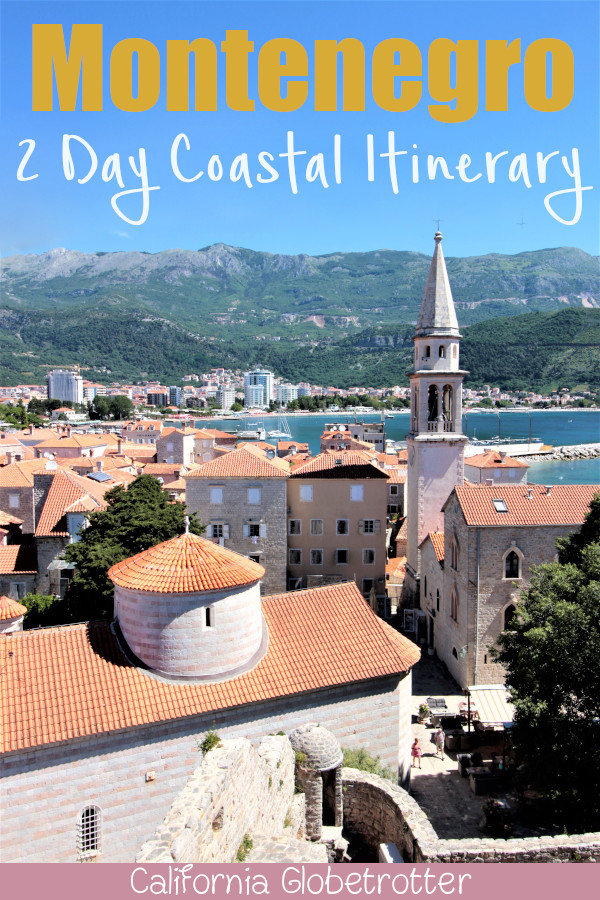 2 Week Balkan Road Trip Itinerary
This relatively new travel destination is one of the most visually stunning countries in Europe, snuggled up against the picturesque Adriatic Sea. We opted to include Montenegro on our 2 Week Balkan Itinerary as part of our romantic Balkan Honeymoon. 2 Days in Montenegro was enough to visit some of the major cities in Montenegro as well as lesser-known towns along the Montenegro coastline. We opted to make Montenegro and the Balkans our honeymoon location rather than Italy because we were ready to explore new countries, not yet overrun by tourists, especially since we we looking for budget-friendly countries to visit in Europe!
In this short little Montenegro guide, I will share with you how to spend 2 days in Montenegro and the best places to visit in Montenegro that will leave you in awe, with a feeling of needing to return immediately!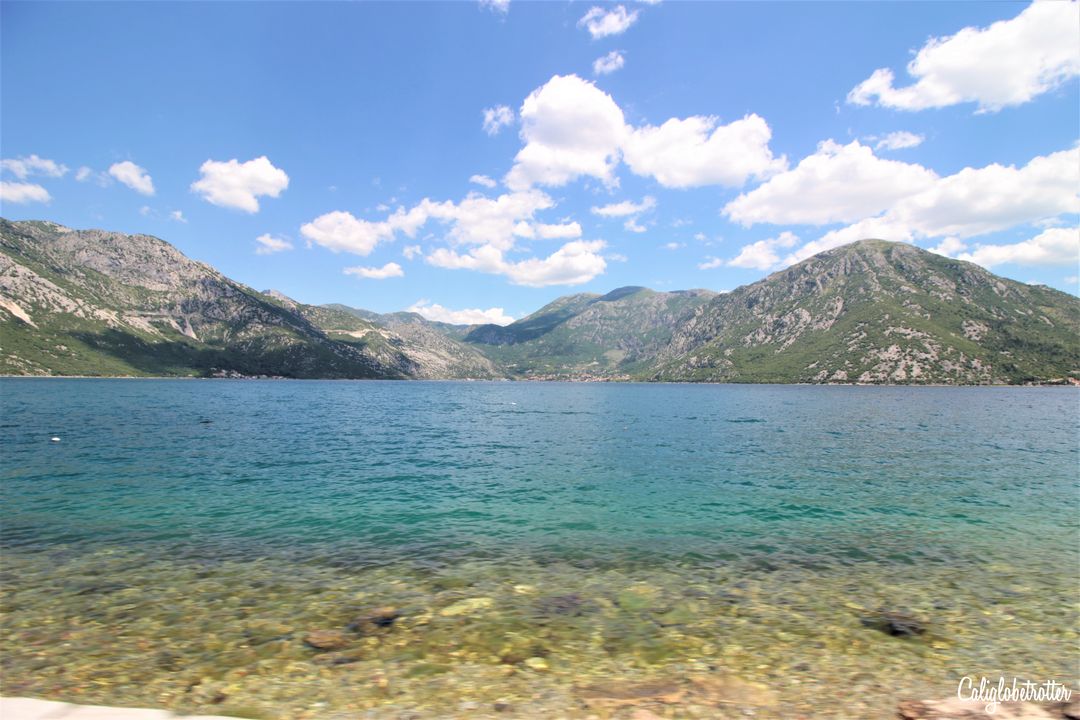 About Montenegro
Having gained independence a mere 13 years ago in 2006, Montenegro is one of the youngest countries in Europe. Though Montenegro is part of the UN, they are not yet part of the European Union. With Croatia's popularity exploding, it comes as no surprise that tourists have now started to spill over the border into Montenegro, a country still holding on to their rustic charm, untarnished by tourists.
What makes Montenegro so special is the size of the country. Relatively small, it's easy to travel Montenegro and explore a good portion of the country in a short amount of time. Yet, despite the closeness of many cities, each town has it's own unique flair and vibe.
Montenegro, however, is a melting pot of nationalities, depending on how people choose to identify themselves. Many are Montenegrin, Albanian, Serbian or even Croatian and speak several languages. The official language is a dialect of Serbo-Croatian, which can be written in Latin or Cyrillic, as well as Serbian, Croatian, Bosnian or surprising, some Italian!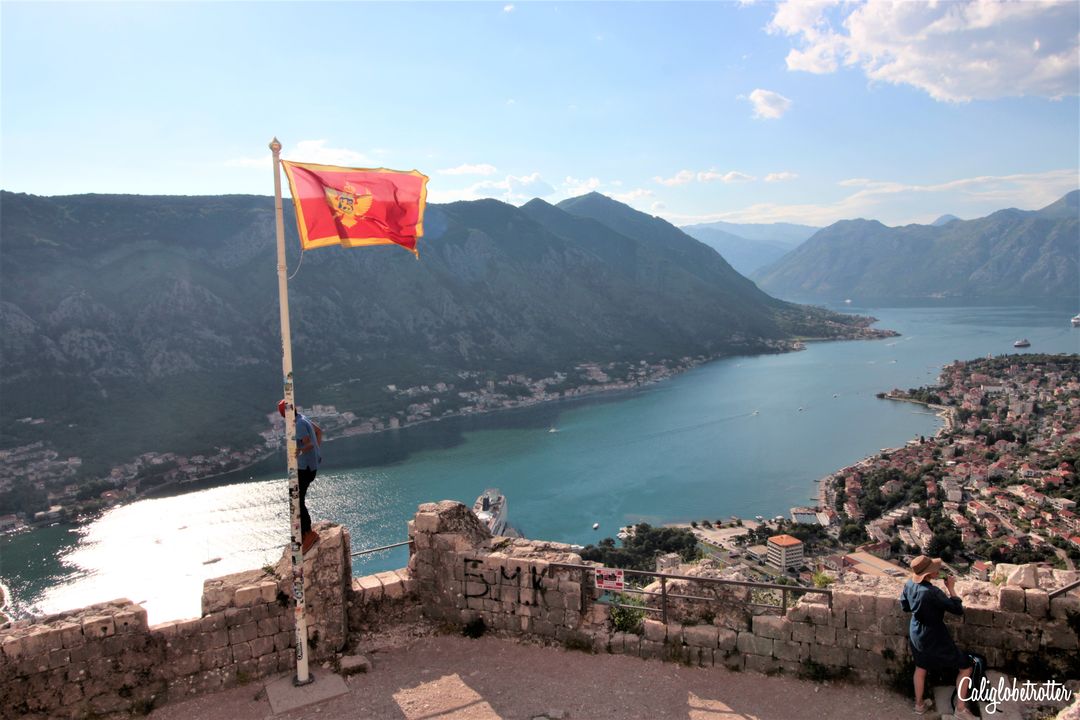 Where to Stay in Montenegro
Choosing where to stay in Montenegro can be a bit of a challenge because everything is just so darn picturesque! Like us and many others, many tend to stay in Kotor and make that their base point for exploring Montenegro. There are many wonderful options and you honestly can't go wrong with any of them!
2 Days in Montenegro – The Best Places to Visit in Montenegro
Day 1: Bay of Kotor
Having crossed the border between Bosnia-Herzegovina after leaving Sarajevo, driving down the hillside you are immediately greeted with views of the Adriatic Sea. As you head towards your final destination, there are a few towns and villages to stop and visit as you enter the Bay of Kotor to kick start your Montenegrin holiday!
Herceg Novi
The first town you'll stumbled upon after crossing the border will be Herceg Novi. Remarkably untouched, Herceg Novi is one of the most authentic towns in Montenegro, less frequented by tourists as other neighboring towns. Things to do in Herceg Novi include walking along the promenade, hanging out at a local beach and simply admiring the stunning beauty of rugged mountains meeting the coastline.
Perast
Once you hop back in your car, you'll drive a little ways further along the Bay of Kotor, before coming to the tiny village of Perast. Finding parking will be a little difficult, but manageable, though during peak season, it's recommended to visit Perast by boat. The stone white buildings and walkways glimmer in the sunshine, blinding you with its beauty. And while there aren't many things to do in Perast, the best things to do in Perast at least include lounging at one of the many restaurants along its promenade, taking a dip in the water or simply wandering the streets.
However, many like to come to Perast for a little excursion to a small island in the Bay of Kotor known as Our Lady of the Rocks, home to a small church and monastery.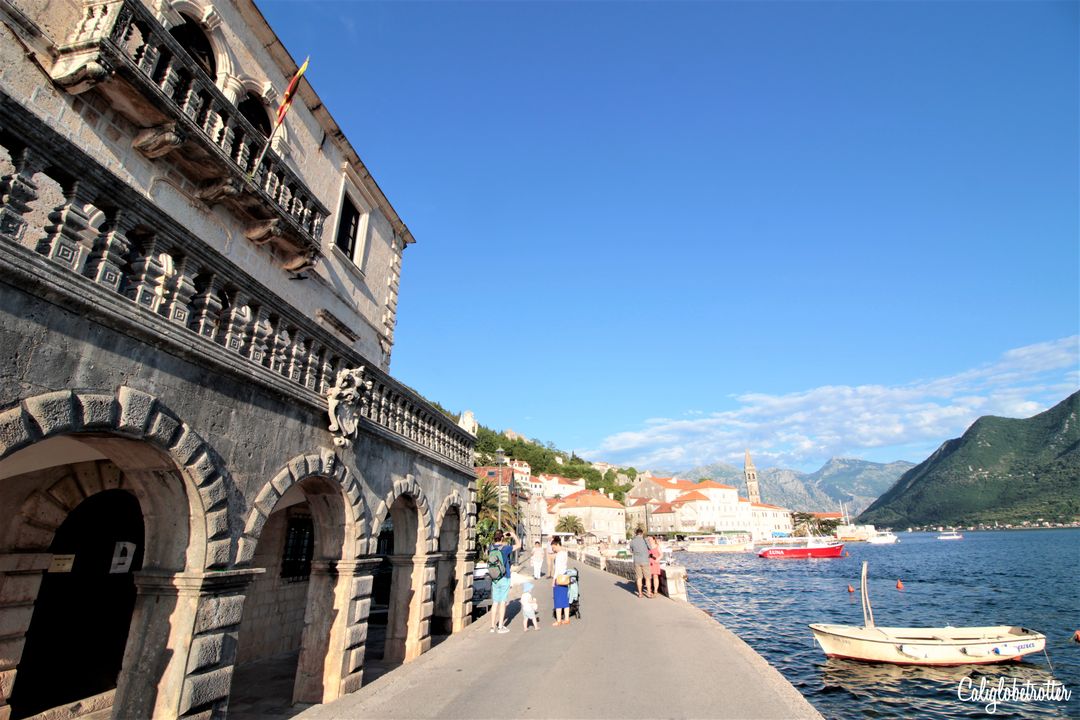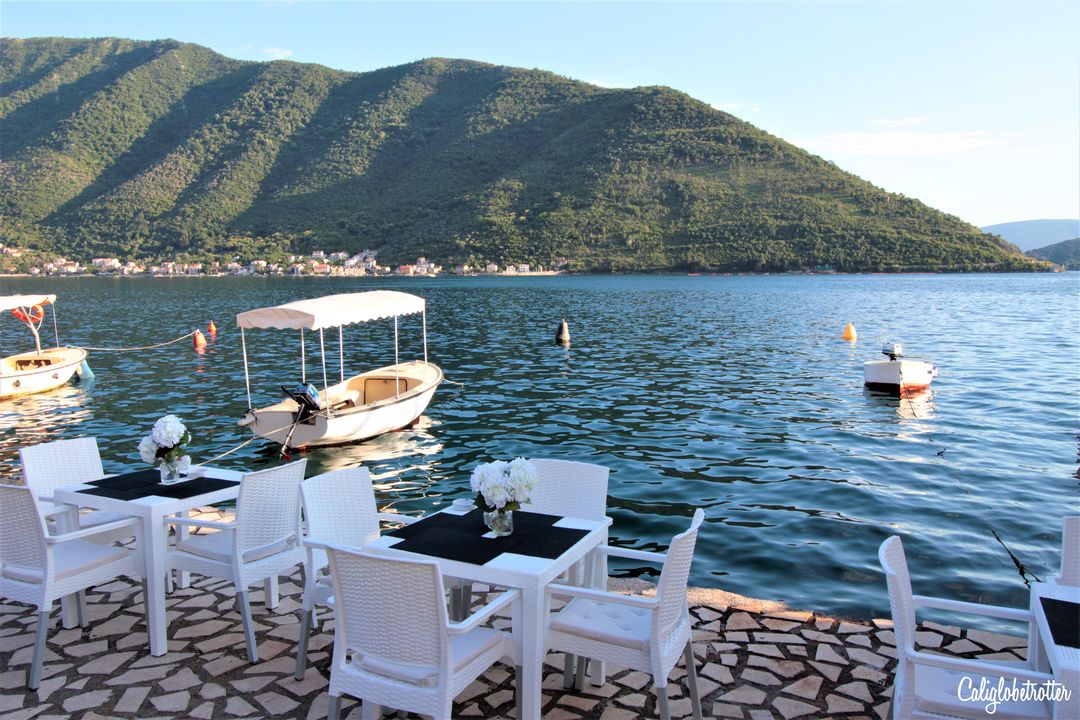 Kotor
Upon reaching your final destination for the day, you'll be spending a good portion of your day here. Kotor is the new Dubrovnik and is unquestionably the most popular city in Montenegro and, therefore, quite touristy. Reminiscent of Dubrovnik in more ways than one, Kotor is a UNESCO World Heritage site with exceptional beauty. Impregnable Venetian walls surround the town which will leave a lasting impression, especially when there are large cruise ships docked just at its doorstep.
What should you do in Kotor? First and foremost, tackle that mountain! One of the best things to do in Kotor is hiking Kotor's City Walls up to the Castle of San Giovanni before it gets too hot and too crowded. It's exhausting and a hell of a mountain to hike, but it's worth all 1,350 steps! You'll have to pay a 3 € per person fee to make the hike. The best view point is from the white Church of Our Lady of Remedy but the ultimate view is from the top. The entire hike should take you around 2-3 hours to complete! Trust me, you do not want to skimp out on this hike!
Once done with Kotor's main attraction, take it easy for the rest of the day by strolling through the Old Town, walk through romantic alleys and do some souvenir shopping, but please try to shop local!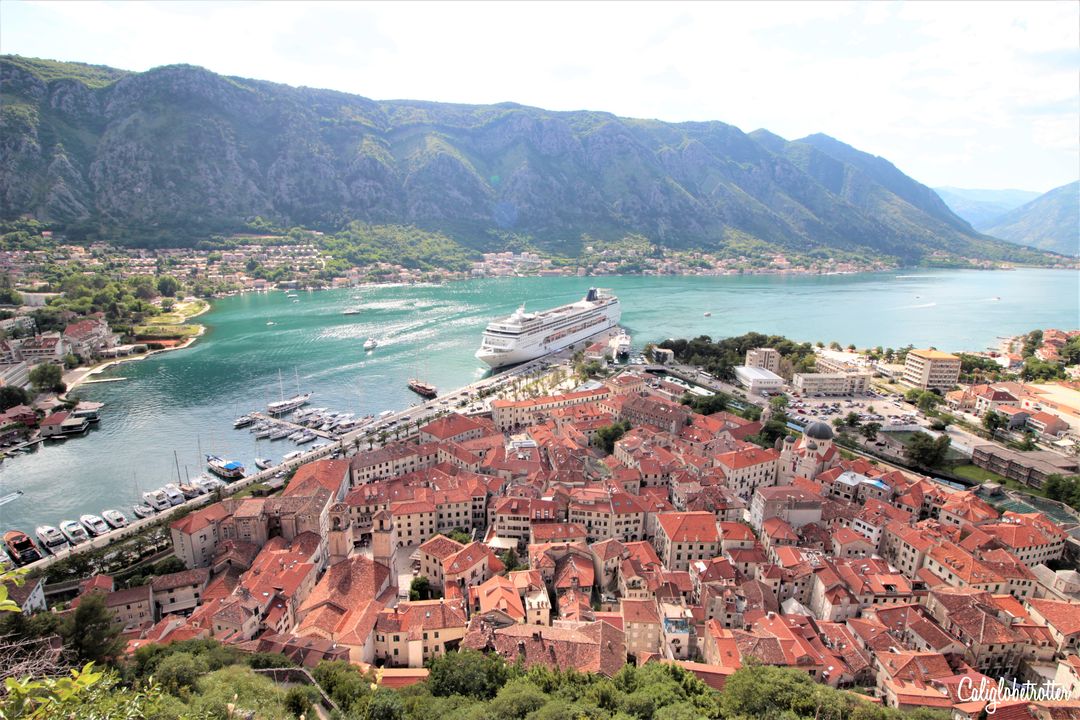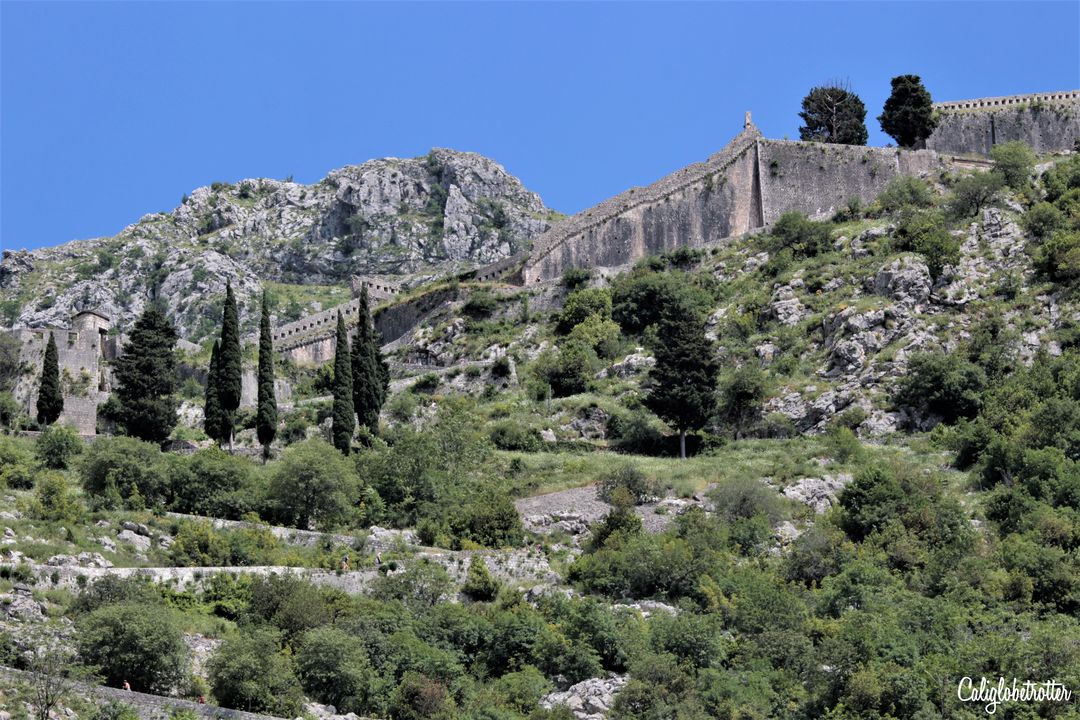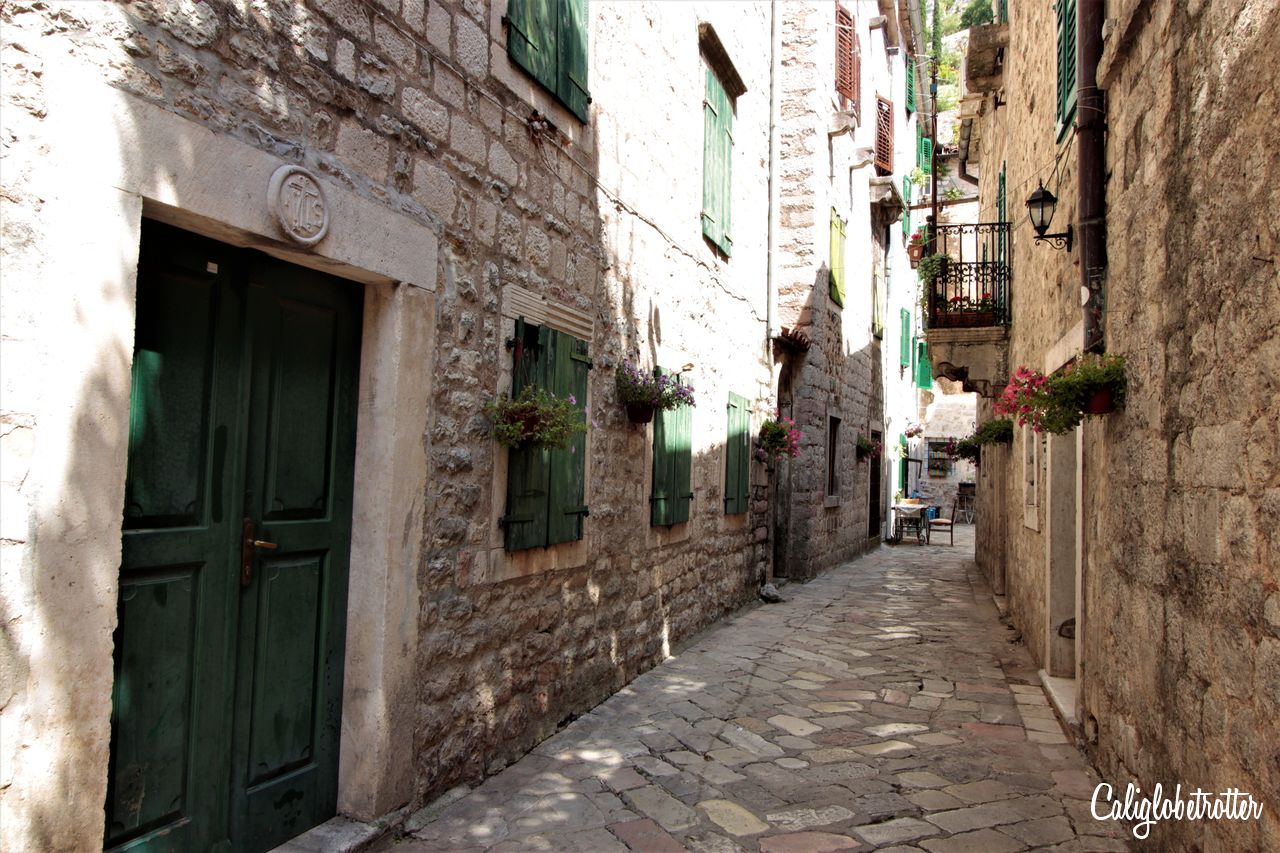 Where to Eat in Kotor: Scala Santa – you'll want to stop by here for delicious seafood pasta or a simple but delicious chicken Caesar salad. Head to Astoria for the best dessert in town!
Address: Scala Santa: Trg od Salate, Old Town, Bay of Kotor, 85330, Montenegro
Where to Stay in Kotor: Palazzo Drusko Deluxe Rooms ⭐⭐⭐⭐was the perfect hotel right in the heart of the historic Old Town decorated in traditional style with 150-year-old furniture, stone walls and wooden elements. The owner played traditional Montenegrin music over a vintage radio in our rooms long into the summer night, adding to the romance of the town!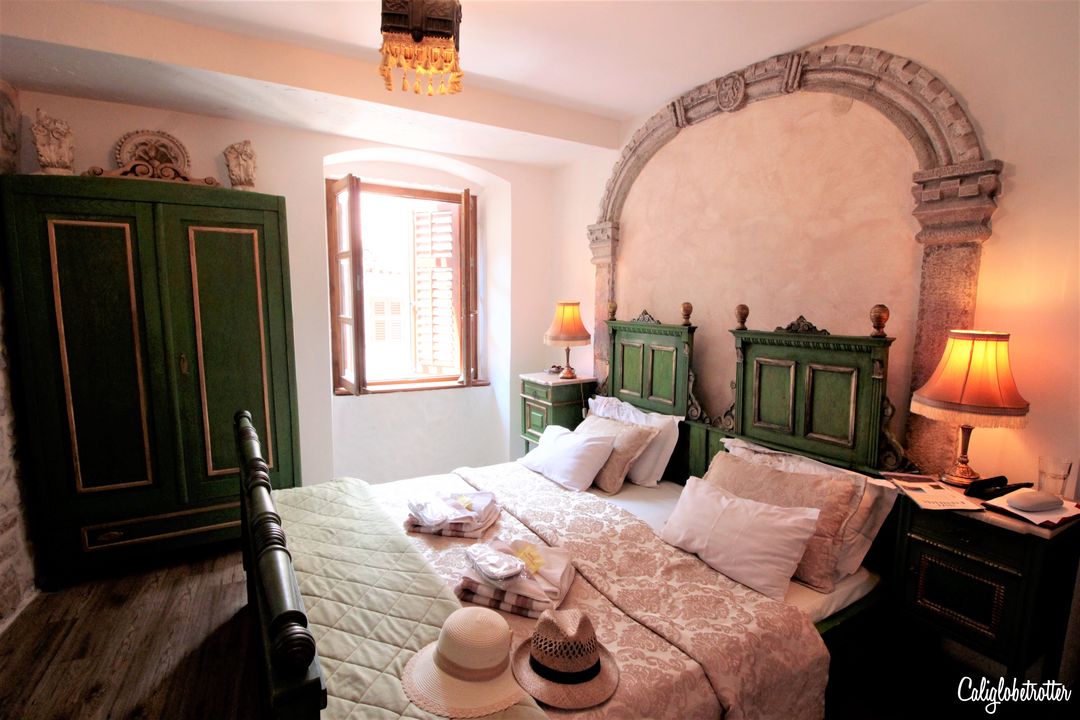 Tips for Visiting Kotor:
Driving in the Old Town of Kotor is not permitted. However, there are several places to park on the outside. The cheapest and safest is on the Kotor Bay Connect, a little stretch of island just on the outside of the town. Here, parking is .80

€

/hour and is monitored 24/7.
Should you make the hike, WEAR GOOD SHOES as the path is rocky and unstable. Bring water and wear lots of sunscreen!
Should you not have any water with you or not enough, water is sold on the hiking trail at various points, but increases with price the higher you go!
Day 2: Budva – Coastal Towns along the Budva Riviera
Budva
Just a short 30 minute drive from Kotor, Budva is easily one of the most amazing places to visit in Montenegro. It's a stunning coastal town along the Adriatic Sea and one of the last Venetian outposts to be established, therefore, it's one of the oldest settlements on the Adriatic coast. While most cruise ships dock and drop tourists off in Kotor, few make it to Budva, therefore, it has a much more relaxed and peaceful atmosphere, though it's quite full of locals and Russians who come to enjoy the beaches here.
While many will come to Budva for an easy day trip to explore the Stari Most (Old Town), walk the fortress walls or bathe at any of the Budva beaches or meandering down the Budva Promenade, it's the nightlife here that apparently attracts most visitors.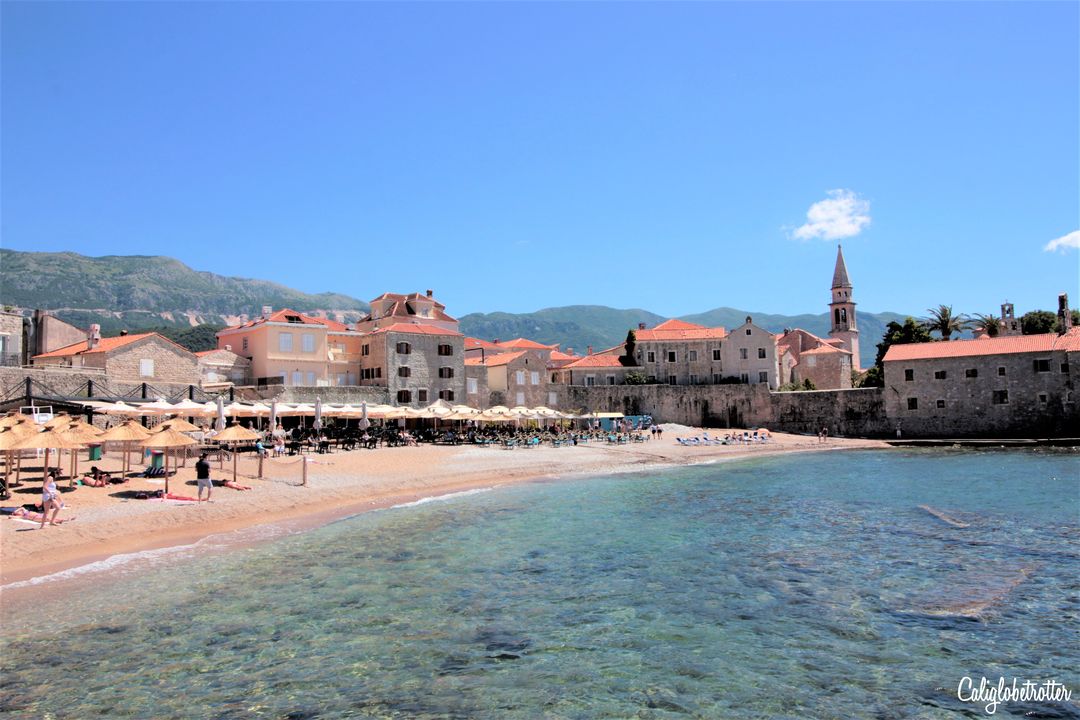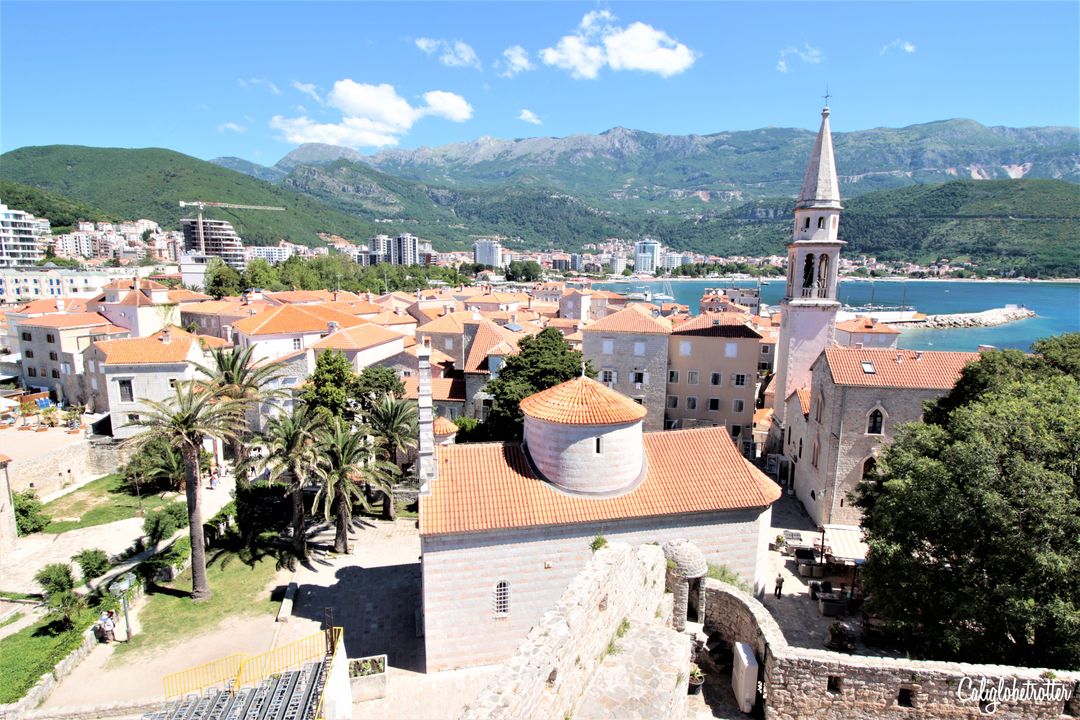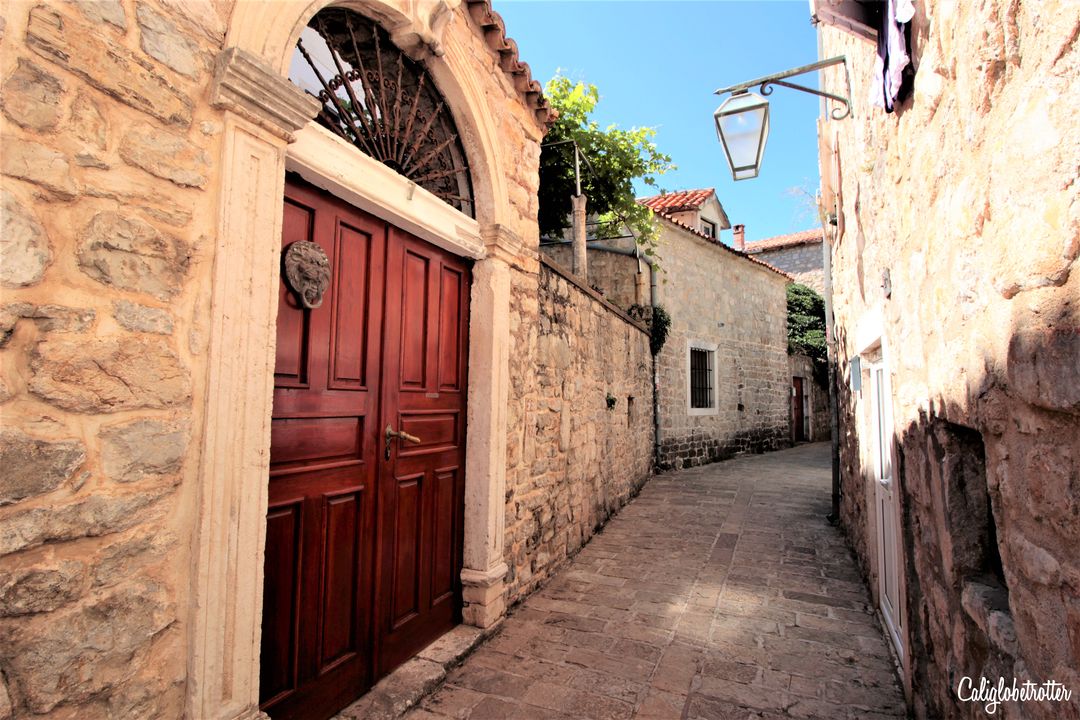 Where to Stay in Budva: Avala Resort & Villas ⭐⭐⭐⭐– with an infinity pool stretching out into the Adriatic, right next to the Old Town Beach, what could possibly be better?
Address: Mediteranska, Budva, Montenegro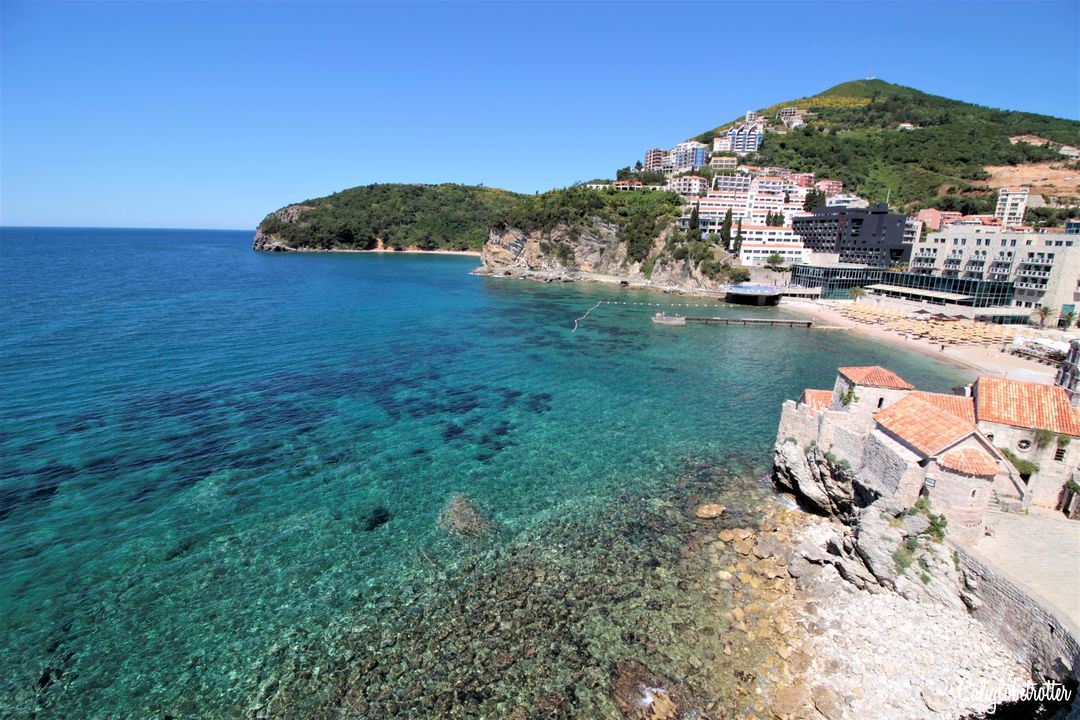 Tips for Visiting Budva:
Park across the street from City Cafe & Restaurant for 1

€

per hour.
Go early in the morning before the crowds arrive!
Sveti Stefan
Located along the Budva Riveria just 20 minutes from Budva, stretching out into the Adriatic Sea, is the unbelievably stunning, "pinch me, is this even for real?" islet known as Sveti Stefan. Incredibly popular between the 1960s and 80s as a playground for the elite and people like Doris Day and Princess Margaret, even Oprah have stayed here. Today, it still has that ideal peaceful tranquility we all dream of and this was our one and only splurge during our 2 week Balkan road trip! This was honestly the number one destination to visit in the Balkans!
This tiny islet has been turned into a luxury hotel with a private beach for those willing to pay a hefty price for peace, quiet and privacy. If you're willing to spend the money, for 100 € you can rent two beach chairs, an umbrella and a table complete with exquisite service and complimentary water and watermelon. If you're not interested in breaking the bank, head to the left side of the islet for a more affordable experience. Being on our honeymoon and all, we splurged an opted for the practically empty private beach!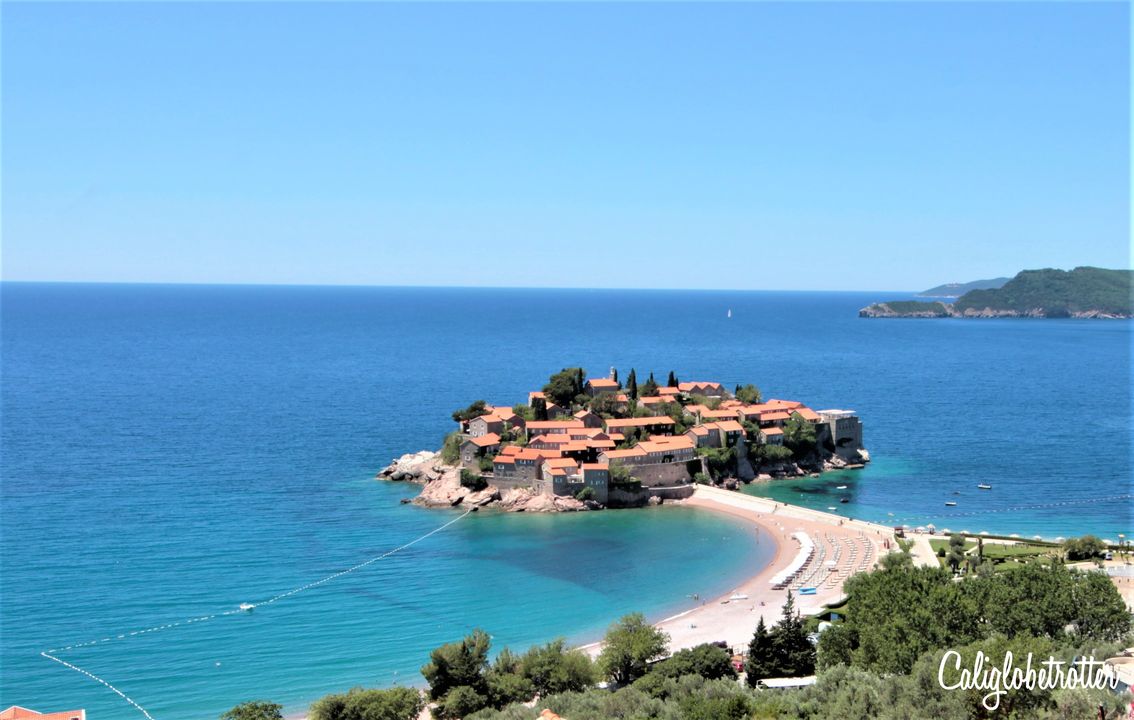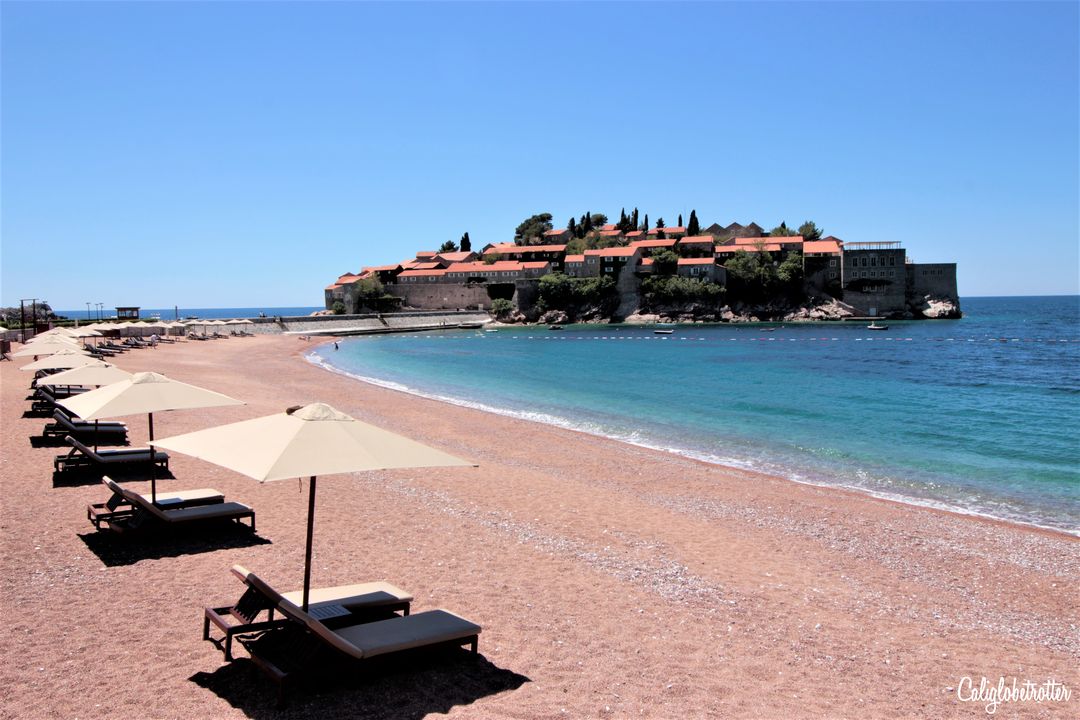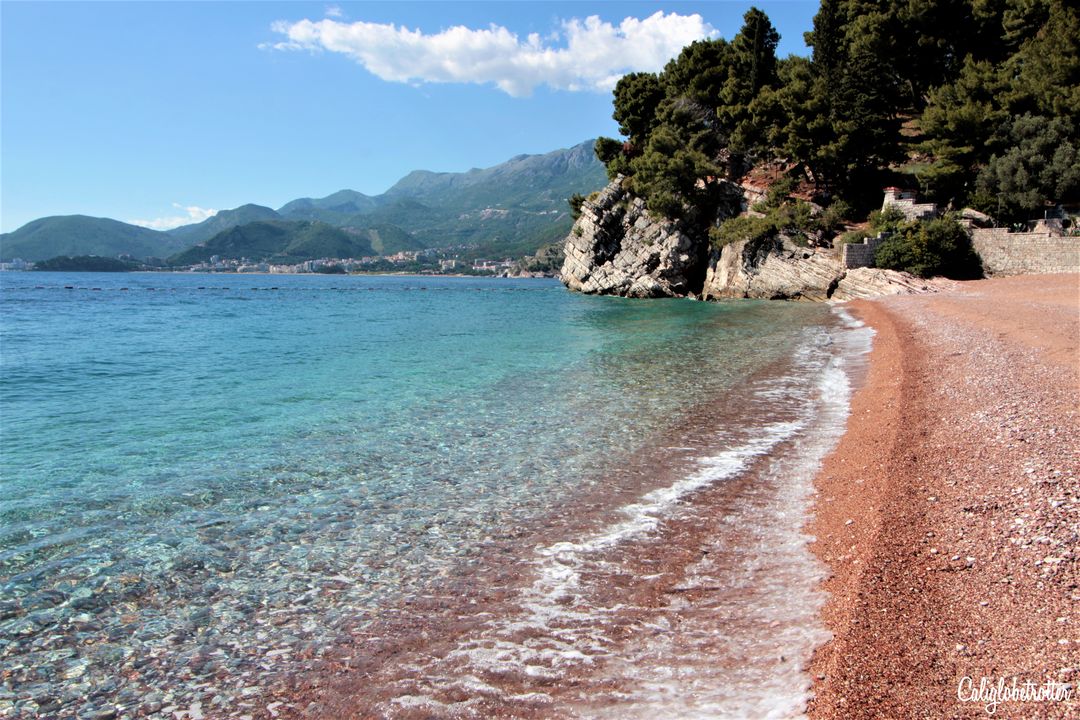 Where to Stay in Sveti Stefan: Hotel Adrović ⭐⭐⭐– For the ULTIMATE view over the islet, head up here for the most delicious food and wine.
Address: Jadranski put bb, Sveti Stefan 85315, Montenegro
Tips for Visiting Sveti Stefan:
Park down by the beach for 2

€

per hour. Eat at Olive if you plan to be there all day. If you spend 20

€

or more, it is said you will get free parking.
No need for a towel if you plan to stay on the private beach and be sure to tip your attendants.
But, B.Y.O.T. if you use the public beach.
Other Popular Destinations to Visit in Montenegro
Had we known we were going to fall in love with Montenegro as much as we did, we easily would have planned to stay much, much, much longer…possibly even eternally! While I had a ton of Montenegro destinations to visit pinned for later, I would come home from our honeymoon craving for more places to visit in Montenegro for a future visit. These are more of the best cities to visit in Montenegro to add to your Montenegro Itinerary:
Bar
Tivat
Ulcinj
Petrovac
Durmitor National Park
Bobotov Kuk Hike
Ostrog Monastery
Skadar Lake
Biogradska National Park
Podgorica
Komovi Mountains
When is the best time to visit Montenegro?
While we visited at the end of May, beginning of June, just at the beginning of the summer season, it was still very peaceful and not yet overly crowded with summer vacationers. When it comes to tips for visiting Montenegro, I can't stress enough how perfect the weather was and the lack of tourists at this time was. I highly recommend visiting between May/June. Everywhere we went, it felt like we had the towns to ourselves, and the weather was most definitely beach temperatures perfect for laying out!
However, the weather in Montenegro is perfect between March and October, though perhaps towards the beginning and end of the tourist season, restaurants and shops might still be closed.
An average of 240 days of sunshine year round
Typical Mediterranean climate, similar to Croatia and Italy
Peak season July and August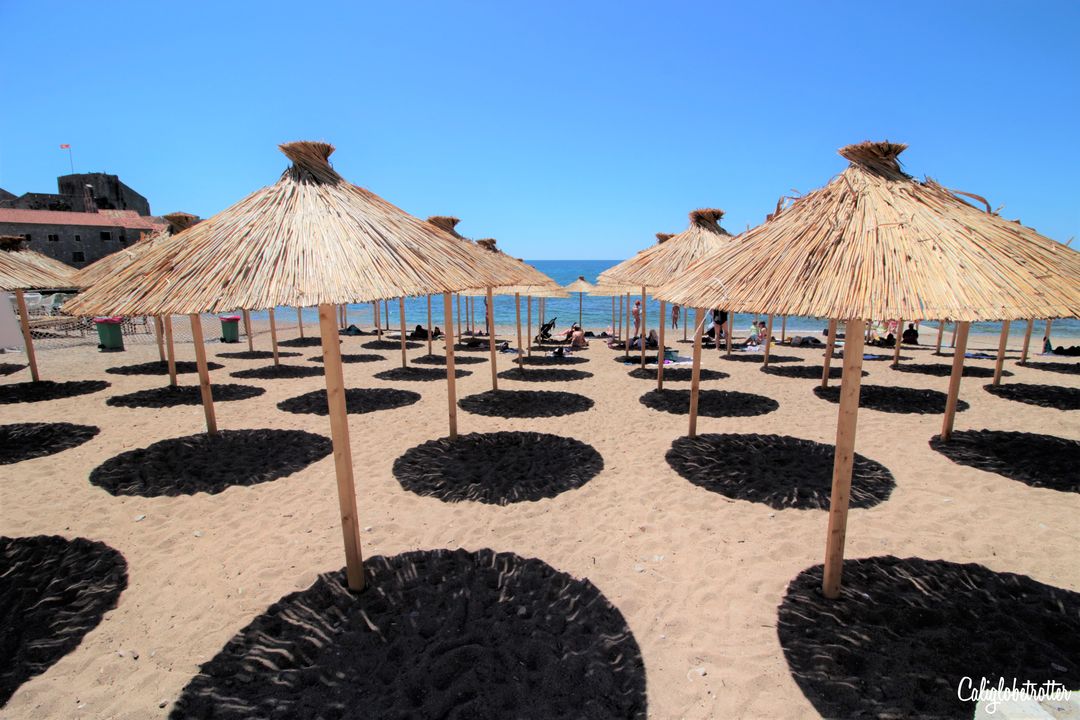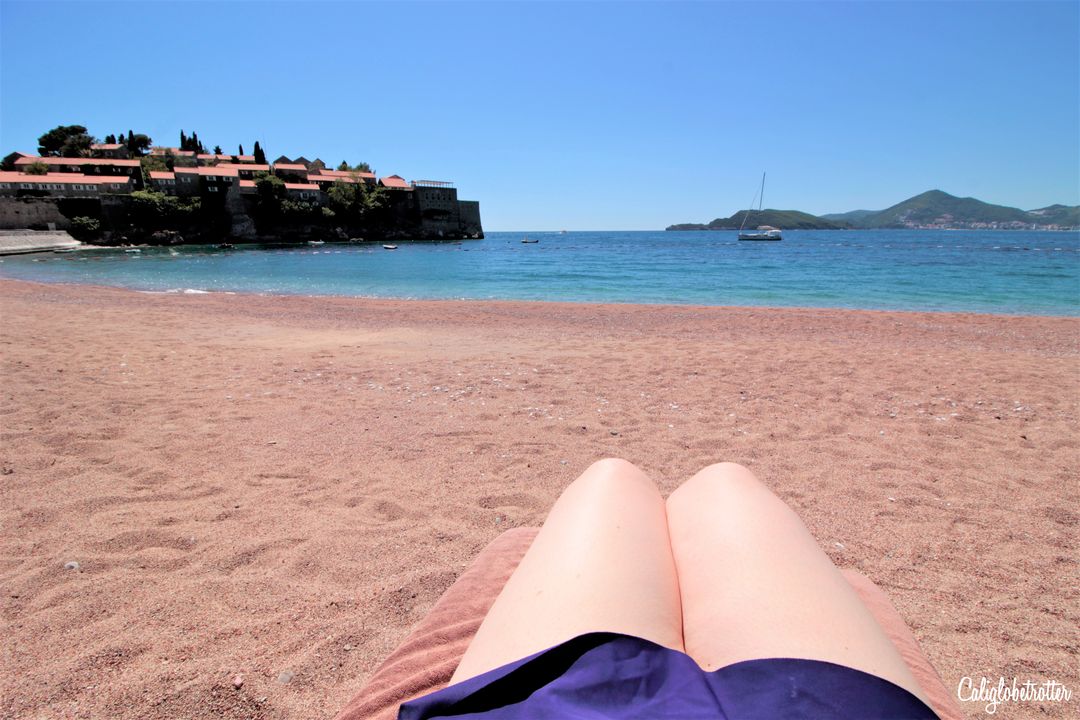 Currency of Montenegro
As previously mentioned, Montenegro is not yet a part of the European Union and the Schengen Zone, however, the Euro is accepted here.
How to get to Montenegro
Flying to Montenegro: Major international airports include Tivat, Podgorica and Niksic.
Driving to Montenegro: Only enter Montenegro with recognized border crossings from Croatia, Bosnia-Herzevogina, Serbia or Albania.
Check out visa policies for this country before entering the country.
Road & Driving Conditions in Montenegro
You will be driving on mostly one lane back roads (if coming from Bosnia-Herzegovina).
As you'll be driving on a single lane road, overtaking can be quite difficult in such dangerous conditions. DO NOT try to overtake unless you have a clear view!
The average driving speed on the one lane roads is around 50kmp as you'll be mostly driving through small villages, therefore, PLAN FOR EXTRA DRIVING TIME.
DO NOT SPEED! The Montenegrin Police Force were visible every few miles, actively pulling people over for speeding and for whatever other reasons.
Street lights flash green before turning red, therefore, flashing green lights does not mean you have plenty of time to go through the light!
Tunnels have no internal structure with no lights or ventilation. Turn your lights on!
Prepare yourself for potholed roads quite often during your drive, and drive slowly! Last thing you want it to pop a tire in the middle of no where with no sign of help anywhere!
Always have a full take! When you're near the coastal towns, there are plenty of gas stations, but up in the mountains and smaller villages, you'll have a harder time.
 Use a GPS Navigation system to get you anywhere in Montenegro, but set your preferences to stick to main roads! But just in case, as many roads have no yet been mapped out yet, we bought a map book of Europe.
Crossing the border from Bosnia into Montenegro can take 30 minutes – 1hr (in low season). I can imagine after May, lines may take longer.
You must show your car insurance papers, car registration and passports!! If you're renting a car, check with your car rental company.
It's also recommended to have an international driving license (for this entire road trip) although not necessary (except for Albania and Kosovo).
If you are going to drive from Montenegro to Macedonia, avoid  driving via Podgorica as the roads are terrible (confirmed by our hotel). Instead, you'll need to drive through Albania via Lac. You will definitely need to show your international driving license here.
Dangers on the Road
It is a common occurrence to see cows and other livestock walking along the road. Try not to speed around corners because they may be just around the bend.
Stay on all main roads!!! Do not wander off on to dirt paths or off the side of the road.
Keep an eye out for local farmers driving on the road with a horse/donkey buggies. For obvious reasons, they don't go very fast, so do not overtake unless you have a clear path!
Montenegrins like to tailgate and overtake at the first (unsafe) chance they get, putting both themselves and yourselves at risk of practically causes an accident. Slow down and let them pass.
Looking for more practical information on Balkan Travel? Grab a copy the following travel guides which we found incredibly useful on our trip and has something for everyone from outdoor activities to historical sites!
Disclaimer: This post contains affiliate links. If you click on one and make a purchase, I might make a little extra spending money, at no extra cost to you. As always, all opinions are my own and these products/services have been found useful during our travels and come highly recommended to you from yours truly!
Other Balkan Travel Posts:
Bucharest: 2 Day Essential Guide
3 Transylvania Castles in Romania
Head Over Heels in Love with Plovdiv, Bulgaria
Liked this post? PIN IT FOR LATER!!