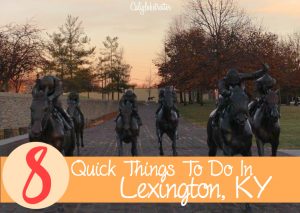 Disclaimer: This post contains affiliate links. If you click on one and make a purchase, I might make a little extra spending money, at no extra cost to you. As always, all opinions are my own and these products/services have been found useful during our travels and come highly recommended to you from yours truly!
Many people have mentioned that they had never even considered visiting Kentucky before as they wouldn't know what to do there. Is there anything to DO in Kentucky?
Until recently I also was under the same impression. The only thing I knew about Kentucky prior to visiting was that the Kentucky Derby and KFC originate from, of all things… Kentucky! Beyond that, I had no idea what there was to see or do.
Well then why on earth did I go to Kentucky?
My parents like to move. A lot. And in 2016, they moved to Kentucky and we managed to make it home for Christmas. So I searched and searched on Pinterest for things to do in Kentucky. And Lexington came up.
Lexington is not the capital of Kentucky, as one might think. Nor is Louisville. Actually, that title goes to Frankfort. But as Kentucky's second largest city, we thought we would give it a go!
Turns out Lexington is nicknamed both "The Thoroughbred City" and "The Horse Capital of the World" and is best known for its horse racing. 
Want to Visit Lexington? PIN IT FOR LATER!!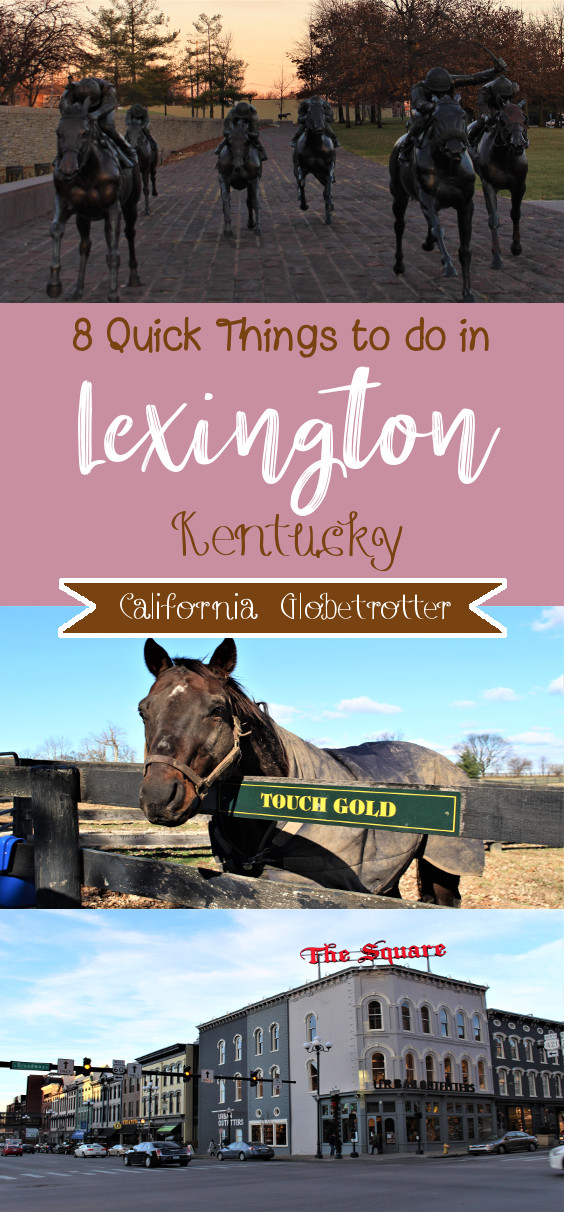 This article is now available as a mobile app. Go to GPSMyCity to download the app for GPS-assisted travel directions to the attractions featured in this article!
Here are some quick things we found to do with an afternoon in Lexington
1. Visit the Old Friends Farm (25 min outside of Lexington)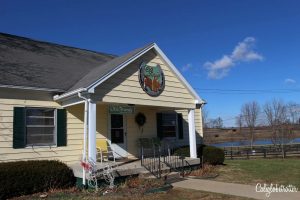 Ok, ok, this one isn't technically IN Lexington, but if you're headed to Lexington, then you HAVE TO visit this non-profit retirement farm for Thoroughbred horses, many of whom have either ran in the big name races such as the Kentucky Derby or who have had a parent who did.
Founded in 2003 by former Boston Globe film critic Michael Blowen after discovering that Kentucky Derby winner Ferdinand had perished been sent to a slaughterhouse in 2002. Today, Old Friends cares for more than 160 horses across three states who have retired from racing and breeding.
Why EVERYONE Should Visit Old Friends Farm
Book a tour to visit these beautiful creatures who now live out the rest of their days happy as a clam, chopping on carrots from visitors who spoil them rotten and frolicking in the grass. This animal sanctuary helps to save dozens of retired Thoroughbred horses after their racing careers have come to an end to prevent them from being sent to the slaughter house! With a purchase of a ticket, you can help save Thoroughbred horses and provide them with a happy life! It's honestly the best thing to do in Lexington (or I should say, Georgetown)!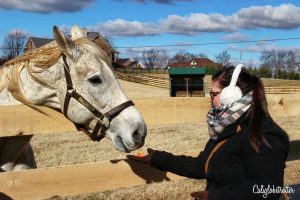 My favorite moment, besides getting the chance to feed the horses as many carrots as we wanted, was meeting the horse (Popcorn Deelites) who played Seabiscuit in the movie.
Address: 1841 Paynes Depot Rd, Georgetown, KY 40324, USA
Website: Old Friends Thoroughbred Retirement Farm
Tours: $10 for adults, $5 6-12 and children under 5 are free
Winter: November 4 – March 14 – 11am daily
Summer: March 15 – November 4 – 10am, 1pm, 3pm daily
2. Stroll Through the Thoroughbred Park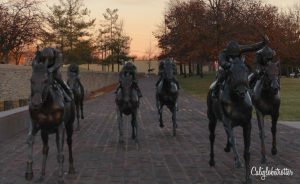 As you're driving through town, pull over and take a stroll through this park dedicated to the unique history of Thoroughbreds. You'll find 42 plaques honoring historic figures in the Thoroughbred Industry, such as Queen Elizabeth II and George Washington as well as 13 life-sized horse sculptures. This park is often rated as one of the top rated attractions in Lexington!
Address: On the corner of Midland Ave and East Main Street
3. Meander Through 'The Square'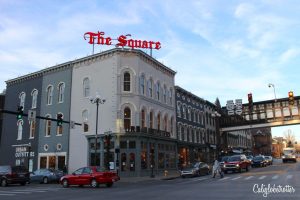 Since the 1880's, the Square has been the heart and soul of Lexington flourishing with restaurants, saloons, hotels and an opera house.
A modern renovation in 1985 brought them all together, preserving the Victorian era buildings. The original decorative metal ceilings, ironwork and exterior balconies have been preserved. Today, it is the perfect blend of both historical and modern architecture.
Address: Main Street and Broadway (US 68)
4. See How Candy is Made at Old Kentucky Candy
Lexington's own Willy Wonka, Don Hurt founded the Old Kentucky Candy shop 50 years ago with a batch of peanut brittle. And if you're from Kentucky, you know nothing goes better together than Bourbon and Chocolate. Since 1966, Don has been using Jim Beam in his confections.
Take a tour and watch how candy is made up close and personal and not behind the glass. Get the chance to try some of the best selling chocolates
Address: 450 Southland Dr, Lexington, KY 40503, USA
Website: Old Kentucky Candy
Tours: Monday – Friday 10am and 2pm
5. Watch a Movie at the Kentucky Theater
Opened in 1922, this historic theater still operates and you can watch independent films. To top it off, you can have a beer or glass of wine while watching the movie!
Website: Kentucky Theater
Address: 214 E Main St, Lexington, KY 40507, USA
Prices:
Before 6:00pm:
All Seats $6.00
After 6:00pm:
General Admission – $8.00
Children under 13 – $6.00
Seniors 60 & over – $6.00
6. Find Some Street Art in Lexington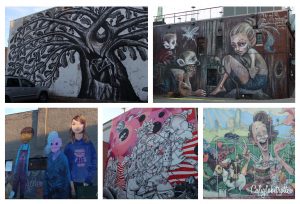 Street art (or wall murals) are popping up all over the place as artists take to the streets to express themselves by transforming dull corners of our neighborhoods into vibrant masterpieces. Turn any corner and you're bound to find one!
Most of the wall murals in Lexington were on West Short Street and I do have to admit, the wall art here is very peculiar!
7. Visit the Mary Todd Lincoln House
Prior to becoming the wife to one of America's greatest presidents, Abraham Lincoln, Mary Todd was born and raised in Lexington. Built in 1803 to 1806 as an inn, Mary Todd's father bought the house in 1832 for his family. She often visited her girlhood home. The Georgian-style brick house is furnished with pieces from the 1830s and 1840s and displays family portraits as well as personal items of the Lincoln-Todd families.
Unfortunately we weren't able to visit on this visit to Kentucky as they were closed for the winter.
Website:Mary Todd Lincoln House
Address: 578 West Main Street Lexington, KY 40507
Tours: $12 Adults, $5 Children 6-12 yrs, Children ages 5 yrs and under are free
March 15 – November 30 Mon. – Sat. (closed Sun.)
Tours hourly 10AM – 3PM
8. Do a Bourbon Distillery Tour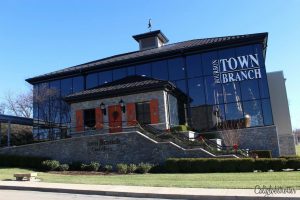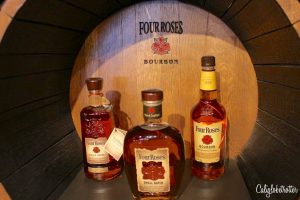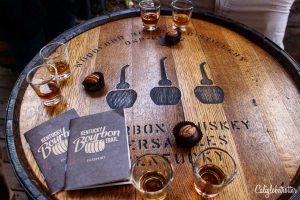 If you're a bourbon lover, then exploring the Kentucky Bourbon Trail will be right up your alley! It's rated the top thing to do in Kentucky and the ultimate foodie experience! After all, it is the Holy Grail of Bourbon! In and around Lexington there are a few bourbon distilleries worth taking a tour of! Town Branch is the only one though on the trail that i both a distillery and a brewery, with Woodford Reserve is one of the most popular bourbon distilleries and Four Roses is one of the best distilleries to do a tour of!
If you're looking for some extra guides to prepare your trip, we enjoyed these the following items, both before and after our trip to Kentucky! The first gave us a lot of history and information about the Kentucky Bourbon Trail while the second we purchased along our journey for some home cooked meals in the future! And of course, my faithful Travel Guide Bible, the DK Travel Guide: USA!
Disclaimer: This post contains affiliate links. If you click on one and make a purchase, I might make a little extra spending money, at no extra cost to you. As always, all opinions are my own and these products/services have been found useful during our travels and come highly recommended to you from yours truly!