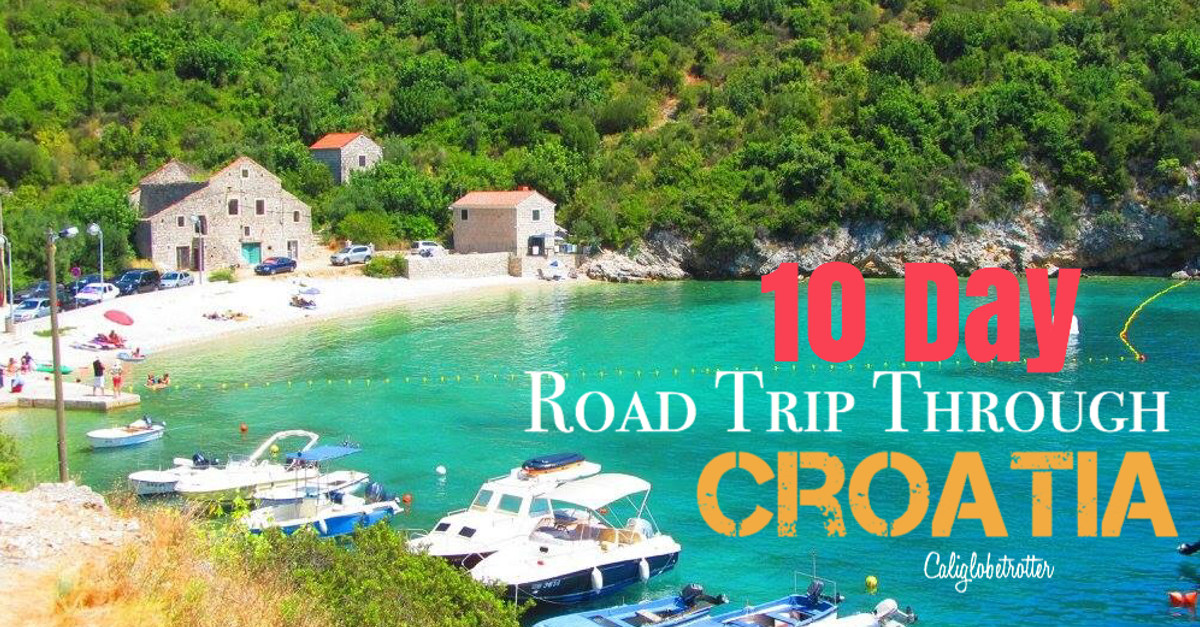 Disclaimer: This post contains affiliate links. If you click on one and make a purchase, I might make a little extra spending money, at no extra cost to you. As always, all opinions are my own and these products/services have been found useful during our travels and come highly recommended to you from yours truly!
Summer is just a few months away, and you are likely starting to think about where you would like to spend your summer holiday. In Europe, travelers generally head to southern Europe which offers the warmest locations, plenty of sunshine, lots of swimming holes and amazing architecture and history. In the last decade, Croatia has become a popular tourist destination with turquoise waters, amazing food and cheap deals and I share with you some of the best places to go in Croatia and some of the most amazing cities in the Balkans!
Looking for a summer road trip? PIN IT FOR LATER!!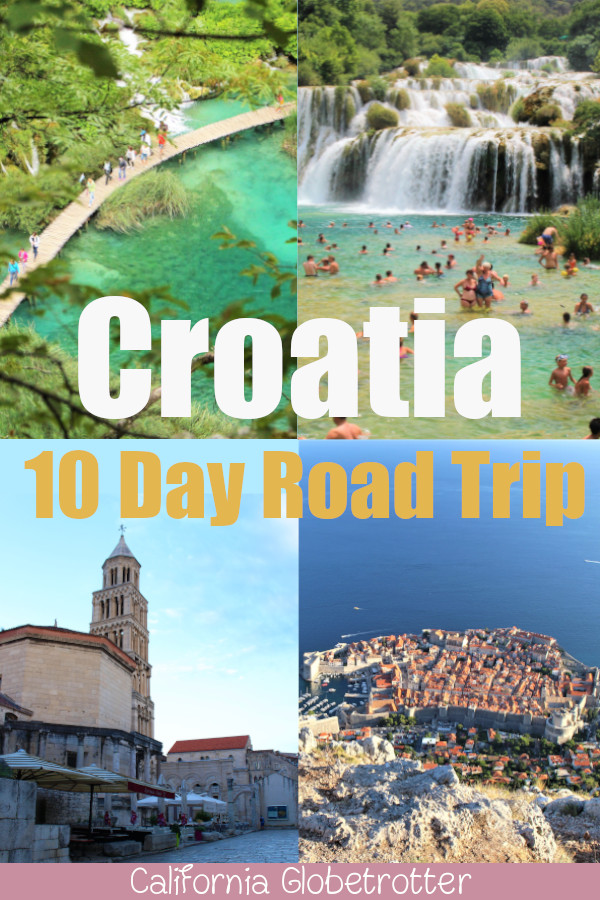 How to AVOID Looking Like a Tourist in Europe
2 Week Balkan Road Trip Itinerary
2 Day Montenegro Itinerary – Places to Visit on Montenegro's Coast
Gorgeous Seaside Towns Along the Adriatic Sea
Who will love this road trip?
People who love history and architecture and want to combine it with some beach time. For those who are easily amazed by Mother Nature's power to create beautiful, magical locations, and for those who love good food and day trips to Bosnia-Herzegovina!
OVERVIEW
Day 1: Lake Bled & Ljubljana, Slovenia
Day 2: Plitvice Lakes National Park
Day 3: Zadar
Day 4: Krka National Park
Day 5: Split
Day 6: Split
Day 7: Day Trip to Mostar, Bosnia-Herzegovina
Day 8: Dubrovnik
Day 9: Dubrovnik
Day 10: Zagreb
Day 1:

Lake Bled & Ljubljana, Slovenia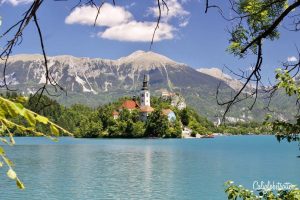 As you'll probably have been driving for a few hours, if not already half a day, there is no better rest stop you could possibly imagine. Plus, being a mere 45 minute drive from the capital, it's the ultimate day trip from Ljubljana!
Lake Bled arguably the most popular destination in Slovenia and is known as the "Alpine Pearl" with it's emerald blue waters, picturesque island with a church with the Julian Alps in the background. Spend a few hours here stretching your legs, visit the Castle of Lake Bled, rent a row boat and row your way across the lake (or take a historic Plenta boat) to the pilgrimage church of the Assumption of Mary on the island in the center of the lake. When you're done, take a stroll around the lake or even hike up the Ojstrica, which offers that picture perfect postcard image of Lake Bled. (More on Lake Bled here)
Where to Eat at Lake Bled: Grajska Plaza – just below the castle, and they'll have Lake Bled's famous Cream Cake!
Address:

4260, Veslaška promenada 11, 4260 Bled, Slovenia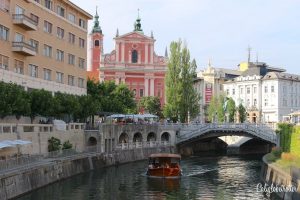 After a full day of driving and a bit of sightseeing, you'll probably be dead tired, so spend the night in Ljubljana, the capital of Slovenia.
While here, might as well do some sightseeing as Ljubljana is a lovely capital! The first port of call was the iconic pink church, also known as "Franciscan Church of the Annunciation" which can be found in the main square called Prešernov trg (Prešernov Square).
Then stroll across the Triple Bridge which is a group of three individually unique bridges clustered together connecting two parts of downtown Ljubljana together. For 5€ each, you can take a 30 minute boat tour through the city.
Don't forget to visit the "Dragon Bridge" which opened in 1901 and was dedicated to the Jubilee of Franz Josef I when Ljubljana was part of the Austro-Hungarian Monarchy. Take a peak inside of the Cathedral of St. Nicholas, also known as the Ljubljana Cathedral. If you have extra time, head up to the Ljubljana Castle which is perched above the town. This is accessible via a funicular. (More on Ljubljana here)
Where to Eat in Ljubljana: Bar Lokal – for the best Slovenian schnitzel! (Across the river from the Central Market)
Address:

Petkovškovo nabrežje 23, 1000 Ljubljana, Slovenia
Where to Stay in Ljubljana: City Hotel Ljubljana ⭐⭐⭐- Just feet from the iconic "Pink Church", soft cushy beds and comes with air conditioning!
Day 2:

Plitvice Lakes National Park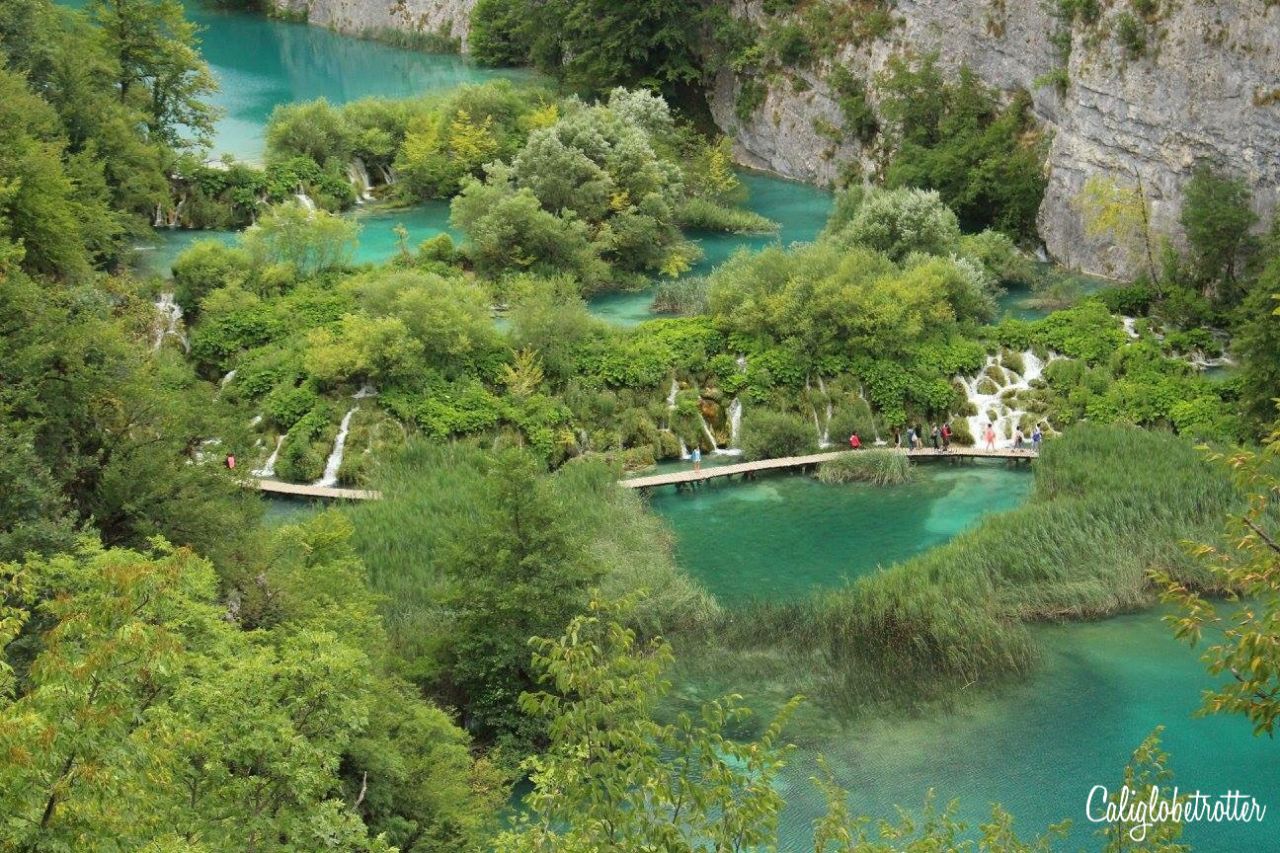 As you're driving in the direction of Zadar, you'll want to make the best pit stop of your life. Missing Plitvice Lakes National Park would be a crime as it is one of the top destinations to visit in Croatia! The national park was founded in 1949, making it one of the oldest national parks in Southern Europe and it was added to the UNESCO World Heritage list in 1979.
You'll want to spend a good half day here, walking the wood trails that will lead you over pristine turquoise lakes and waterfalls. Definitely spend your time walking from one end of the lakes to the other, so as not to miss a single glorious moment! Bring a jacket! Even if its 90*F outside, as inside the forest is quite cold!
The hiking and walking here is easy for the whole family, even with strollers (prams for you Brits)! You'll still want to wear comfortable shoes, no high heels or flip flops that can make your feet catch on the wooden beams. Definitely bring some snacks and water with you as the food in the park is expensive and during peak tourist months, you won't want to stand in line wasting time when you can have a beautiful picnic! (More on Plitvice Lakes National Park here)
Tips to Know Before You Go:
We came from the direction of Ljubljana, Slovenia and took the back roads from the A2 to the 216/917/218 to the E71/A1 to the 41 before finally reaching Plitvice Lakes.
Once crossing the Slovenian/Croatian border at Jurovski Brod, you will pay 16 Kuna/2,13€ for the toll road.
Start from Entrance 2 into Plitvice Lakes as it has you start from the upper lakes and work you down to the lower lakes.
Parking costs 7 Kuna/5 € per hour for a car. – It took us almost 5 hours to see half of the upper lakes and all of the lower lakes costing us 35 Kuna for the entire afternoon.
Prices vary depending on when you visit the parks, but if you visit during peak season in July/August you will pay 180 Kuna/ ~23 € per person which includes the boats and shuttle buses! Children will be 80 Kuna in July/August.
After you have left the park, continue on to Zadar (below) where you'll send a lovely evening relaxing your feet. Stroll along the promenade and watch a sunset, then make your way over to the Sea Organ and the Greeting to the Sun. Hopefully, you get there a little before sunset so you can hear and see the Sea Organ play the sounds of the ocean as waves crash on to 35 pipes. Otherwise, hang out and play on the Greeting to the Sun, lit up in many colors.
Where to Eat in Zadar: Zadar Jadera – A great restaurant with Italian, Seafood, Mediterranean, Croatian options!
Address:

Ulica Brne Krnarutica 4

,

Zadar 23000,

Croatia
Day 3: Zadar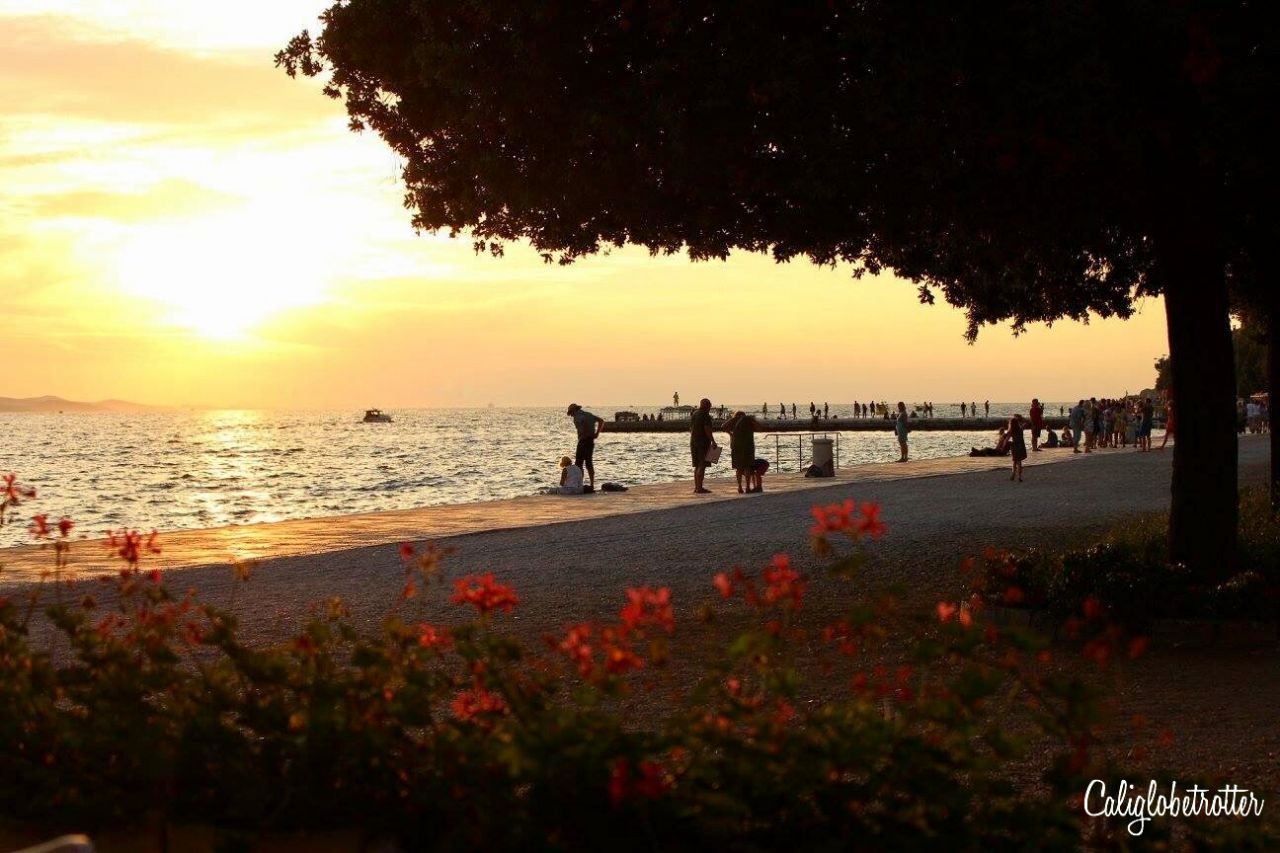 During peak season, I highly recommend you to get up at the crack of dawn and start exploring. It will be much cooler and way less crowded as ships start docking around 9-10am.
For breakfast, find a local pastry shop which offers Croatian pastries perfect for snacking on as you walk around. If you didn't get the chance to see or hear the Sea Organ, I would go back in the morning and just enjoy the sounds.
Head back into town and walk around the Church of St. Donat which is one the greatest examples of Byzantine architecture, and if you're up for it (I wasn't as it was too humid already), you can climb up the tower for a view over the town for 10 Kuna. This area is where you will find mostly Roman ruins. (More on Zadar here)
Zadar is small enough to walk around in just a few hours, from exploring the tourist shops to walking the entire perimeter of the "island" top to bottom.  Therefore, I would head out early afternoon to go to Krka National Park.
Where to stay in Zadar: Central Square Guest House ⭐⭐⭐– a quaint "Air B&B" style hotel, the owners are incredibly friendly and will give you tips and advice for visiting the town!
Address: Don Ive Prodana 3, 23000 Zadar, Croatia
Day 4:

Krka National Park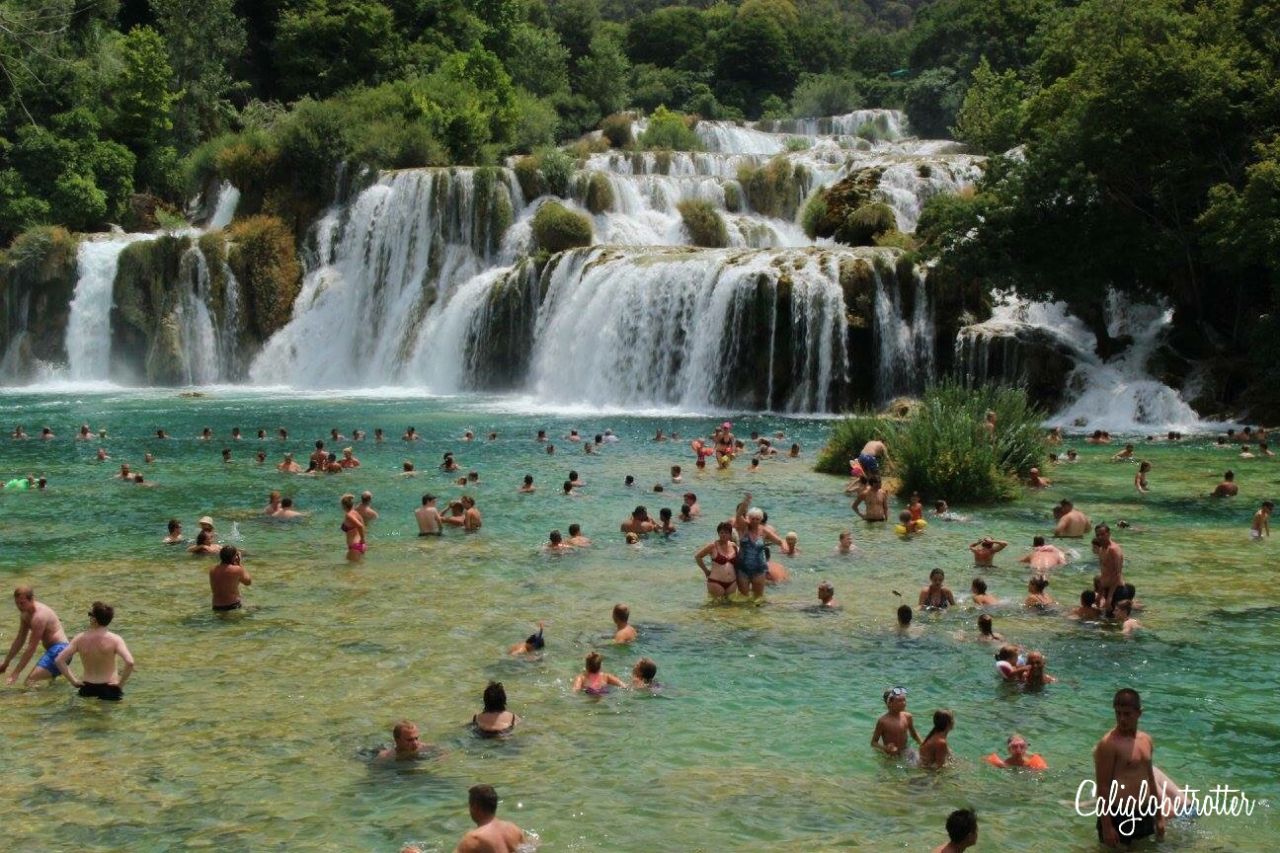 Perhaps you're like me and couldn't decide whether to just visit Plitvice Lakes National Park or just Krka National Park, so you want to see both. Not a problem! While Plitvice Lakes might be a 100x more stunning than Krka, the waterfall at Krka is stunning in its own right! And what better way to spend half a day and cooling off, than to hike the wooden trails and be rewarded with swimming below the falls?
The park was proclaimed a National Park in 1985 due to its exceptional beauty of its natural phenomenal waterfalls. The waterfalls are made of Travertine, which is limestone that has been formed and carved out by Mother Nature. The most popular and sought after part of the park is the Skradinski buk waterfal. 
Again, I would have a packed lunch and drinks to bring along, perfect for enjoying in the "grassy" areas surrounding the waterfalls. (More on Krka National Park here)
Tips to Know Before You Go:
The toll road from Zadar to Krka costs 22 Kuna/3.10€
Take the E71/A1 to Lozovac for a more direct route to the waterfalls
Use Entrance 2 at Skradin for the longer boat tours down the river. There is also a shorter boat cruise to the Visovac Lake and monastery on the island.
During peak season June-September adults are 110Kuna/~14€, children 80Kuna/~12€
Parking is free for the entire day at Lozovac entrance
It takes about 1 hour to walk the wooden pathways before reaching the waterfalls
Swimming is not allowed at Plitvice Lakes, so if you want to swim, Krka is the place to go!
After swimming beneath the waterfalls and having a wonderful day, continue on to Split (below) where you can enjoy a relaxing evening and freshen up.
Where to Eat in Split: Diocletian's Wine House in a small alley near the Silver Gate. A beautiful Roman girl awaits you in front of the restaurant to guide you to your table, adding a special ambiance to your romantic dinner out.
Address:

Julija Nepota 4, 21000, Split, Croatia
Day 5:

Split – Diocletian's Palace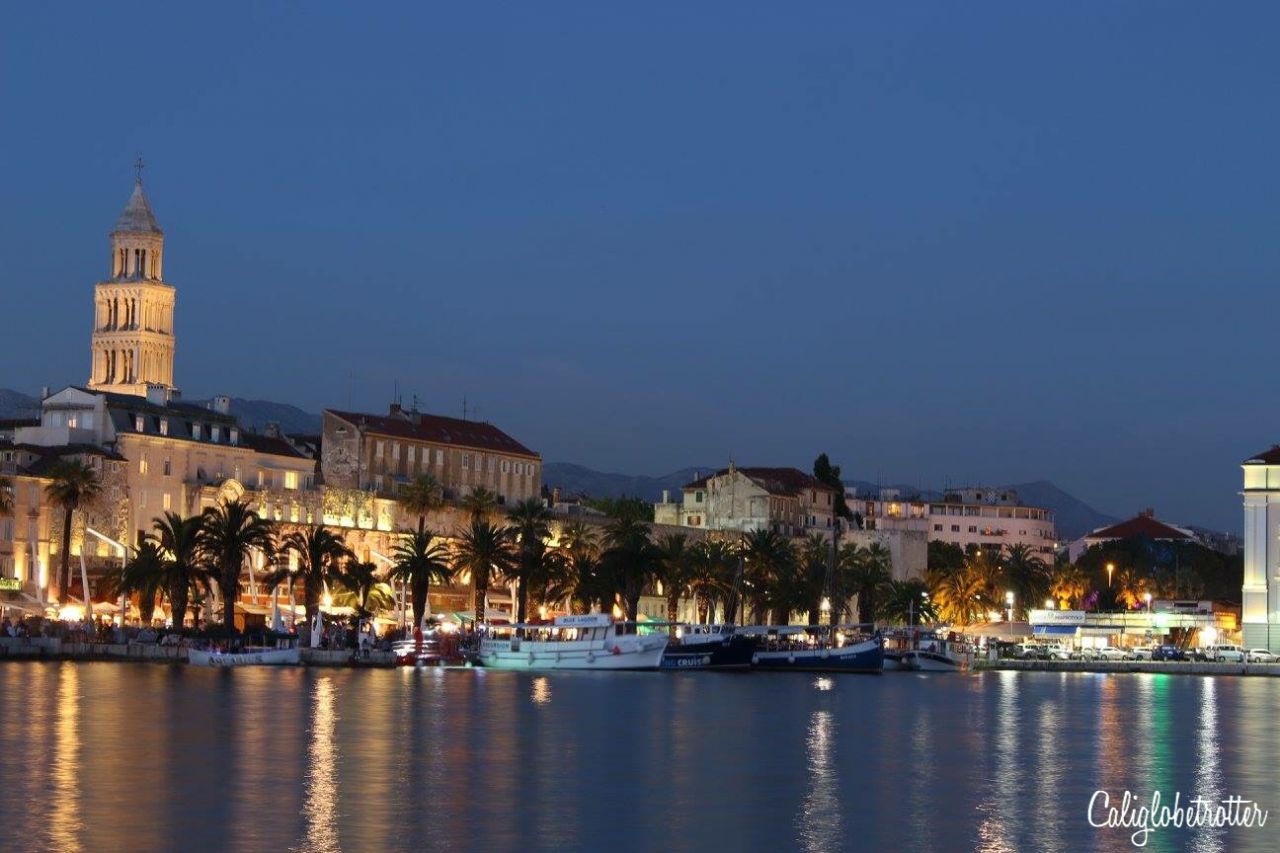 Split is one of the most amazing cities to visit in Croatia and can be quite touristy, so again, I would make the most of your sightseeing time before it gets too hot and crowded by getting up early again, especially if you want pictures without all the tourists in them. Otherwise, have a lie in until it's time to do a free walking tour of Split.
Set on a peninsula jutting into the Adriatic Sea, Split is the home to one of the largest and best preserved Roman palaces in the world. In 295 AD the Roman Emperor Diocletian ordered an enormous palace to be built here, where one day he intended to retire. Diocletian was an unlikely Emperor as he was born into a family with a low status. He worked his way up through the military ranks and eventually became a cavalry commander under Emperor Carus. After the death of Emperor Carus and his son, there was no one to be proclaimed Emperor, so Diocletian took it upon himself to install himself as the new Emperor. He would go on to stabilize the region and eventually be the first emperor to ever retire, comfortably in his palace in Split, which is a heavily fortified compound.
Your guide will meet you at the Golden Gate where you'll find a large bronze statue of Bishop Gregory of Nin who fought for the right to use the Croatian language in church services. Be sure to rub his toe and make a wish as it is said to be lucky.
You'll be led through different allies within the compound where you will see homes of the aristocrats and even where Diocletian retired and spent his life looking after his cabbage. Yes, you heard me, his cabbage.
Lastly, you'll be shown Diocletian's private quarters known as Peristyle. Every day at noon, the Emperor Diocletian makes an appearance demanding your loyalty to him on a stage set up for him. This was a free, entertaining 5-10 minute show to watch. Don't wear purple though! That's only for royalty! (More on Split here)
Where to Eat Lunch in Split: Zinfandel Food & Wine Bar – A great location for a light lunch and a delicious glass of Croatian wine!
Address:

Maruliceva 2

,

Split 21000,

Croatia
Where to Eat Dinner in Split: Hotel Adriana Restaurant – Located along the promenade on the outside of Diocletian's Palace, you'll have a lovely meal with a great view of the port.
Address:

Obala Hrvatskog narodnog preporoda 8, 21000, Split, Croatia
Where to Stay in Split: Azur Palace Luxury Rooms ⭐⭐⭐⭐–  Located just a few minutes from Diocletian's Palace, these luxury rooms are comfortable and modern!

Day 6: Split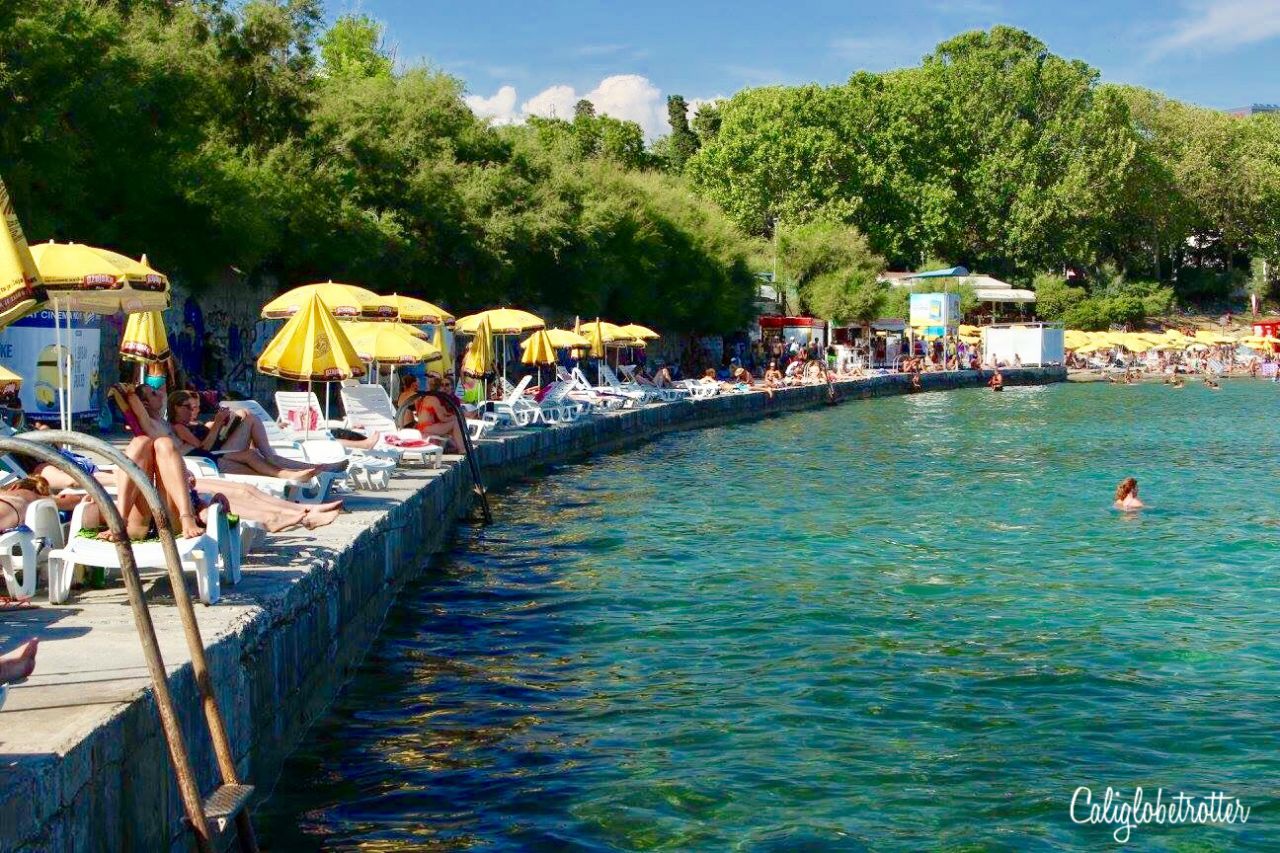 After your first full day in Split, you'll likely want a relaxing beach day and probably wondering about beaches in Split. Walk about 1000m along the port area where all the ships are, before staying left and walking up a small hill where and plop down at the first beach called Bačvice beach. Here you can rent a beach chair and an umbrella for a few Kuna.
If you're up for something more adventurous, then I suggest visiting the Blue Cave with the Blue Cave tour – the best way to reach this is with an 8 hour day excursion which departs Split at 8am, goes to the Blue Cave, hidden beach Stiniva, swimming & jumping at the Green cave, Budikovac beach, relaxing on the Palmizana hell islands, exploring the old town of Hvar on island Hvar before returning to Split for 110€ per person. **You could take a ferry boat to Vis before taking a bus to the other side of the island before finding another boat to take you to the island of Bisevo for the Blue Caves but ferry times will be difficult. Doing a day excursion to Korcula is also a popular option while visiting Split.
There is also a Blue Lagoon tour and a visit to the island of Solta.
Jadrolinija is the ferry boat which will take you to the island of Vis.
Where to Eat Dinner: O'zlata – Tucked away in a corner offering a romantic ambiance, come here for great wine and more seafood and Mediterranean cuisine.
Address:

Ul. Majstora Jurja 8, 21000, Split, Croatia
Day 7:

Day Trip to Mostar, Bosnia-Herzegovina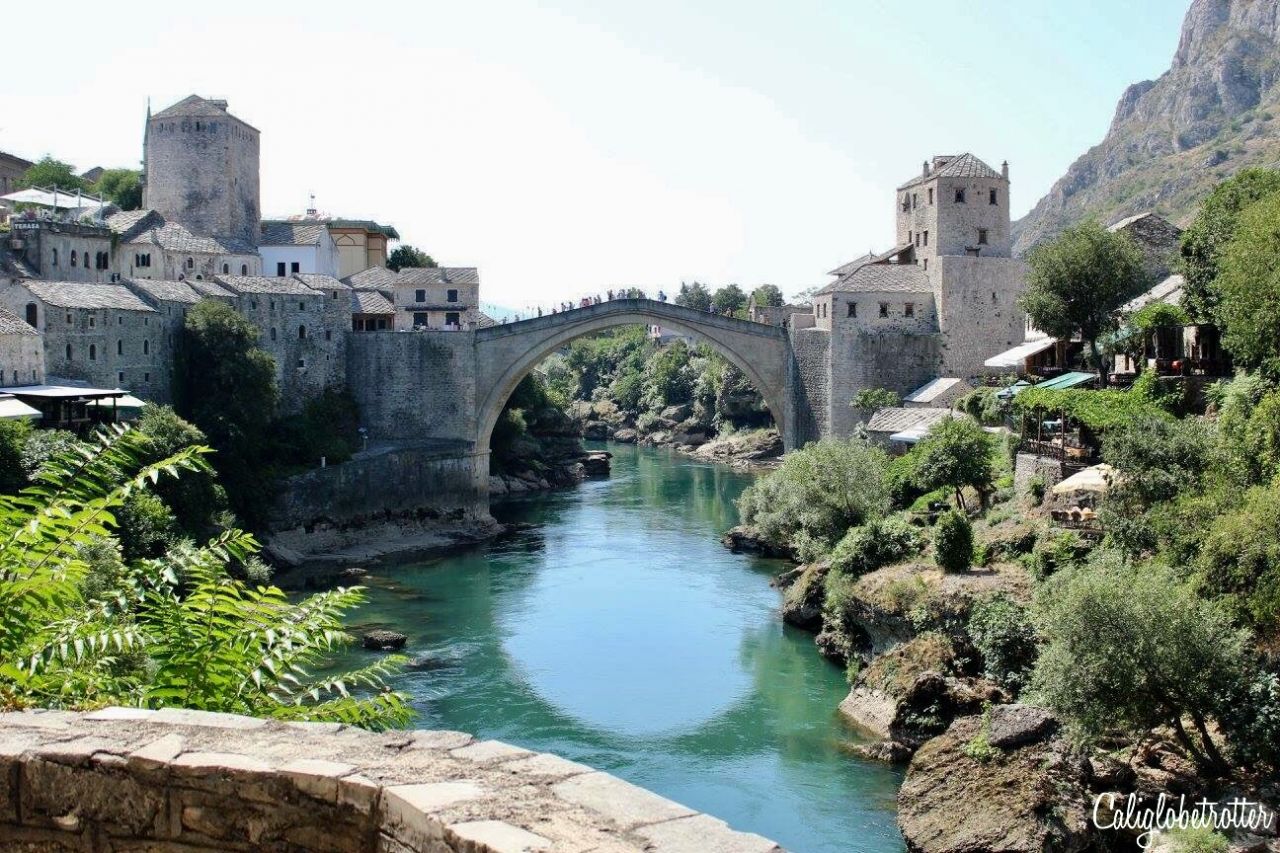 Most tourists to the country embark on day trips from Croatia, especially when traveling between Split and Dubrovnik, either heading to Mostar, Bosnia-Herzegovina or Kotor, Montenegro, both of which are absolute gems!
The war between Croatia and Bosnia-Herzegovina had been over and finished for two decades but there is still an unnecessary lingering fear over whether or not Bosnia is safe. Let me clarify this now, it is SAFE! There are still visible signs of damage left over from the war and government tourist information boards still beg tourists to stick to main roads as there are still landmines which have not been recovered. I should mention, the same is true still of Germany.
We decided on a day trip from Split to Mostar and once you arrive in Mostar, follow the signs leading in the direction of Stari Most where you will eventually be led to a parking lot for 5€ for the entire day. You'll walk for about 5 minutes in the direction of the historic town, peruse some of the tourist stalls for lamps and whatnots before you come to the bridge.
One of the main sights to see in Mostar is the Stari Most bridge that is currently standing there is actually a reconstruction of a bridge that had been built by the Ottomans which previously stood there for 427 years before being destroyed in 1993 by the Croats during the Croat-Bosniak War. The bridge was rebuilt and opened again to the public in 2004.
A group of three men, advertising themselves for money, that if given enough money, they would jump off of the bridge and drive into the flowing river. I had previously read that they wouldn't jump for less than 30€. (More on Mostar here)
Things to Know Before You Go:
Don't leave your house without your passport & car registration!
If you don't have Bosnian money, you can pay the toll with your Credit Card!
In Mostar, they accept Euros!
From Split to the border, the toll was 49 Kuna/6.49€
After the border, another small toll was 1.20 KM (Bosnian)/.80cents €
Bring a paper map!! Your navigation system won't do you good!
Follow the road signs which will lead you to where you need to go!
Stay on all main roads! Do not go on any back roads!
If you go in the summer, bring plenty of water, a hat and umbrella for shade!
Where to Eat in Mostar: Restaurant Lagero – With a great view of the Old Bridge, here you'll find traditional Bosnian food and great wine!
Address:

Onešćukova, Mostar 88000, Bosnia and Herzegovina
Where to Stay: You could stay the night in Mostar, but we wanted to have extra time in Dubrovnik, so stayed an extra night in Dubrovnik. (See recommendation below)
Day 8:

Dubrovnik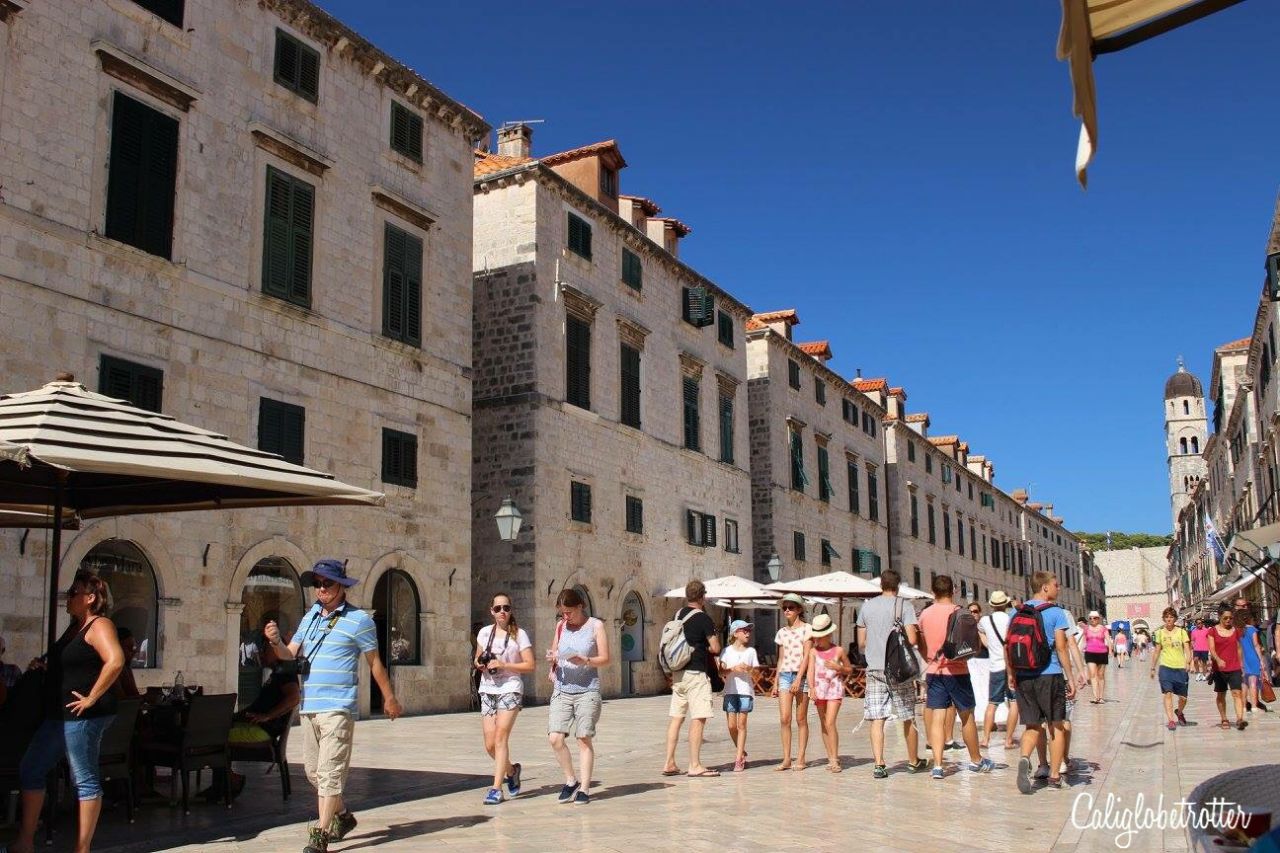 Croatia's most famed fortified city, the "Pearl of the Adriatic" located at the very southernmost tip of the country, is worth spending no less than 2 days here. After all, it became a UNESCO World Heritage Site in 1979 and is one of the absolute best cities to visit in the Balkans! During the Bosnian-Croat War, the city was besieged by the Bosnians and as a result, was heavily damaged. Today, it has been completely restored to its former glory.
Begin your exploration of the walled city through the Pile Gate, where you will feel small in comparison to the height of the walls. From here you will walk down along the main street, passing many restaurants, cafes, shops and historic buildings.
I highly suggest beginning your day with walking the  2km (just over a mile long) and 82 feet high city walls before they get crowded and before the heat becomes too unbearable! The city walls were built in the 10th century and were reinforced in the 15th century with towers to further protect the city. BRING EXTRA WATER!
Consider having a drink later in the afternoon at Café Buza, which is a café situated on the outside of the walls of Dubrovnik right on the cliffs with the Adriatic Sea lapping at its feet.
Fort Lovrijenac which provided extra protection of the town from both land and sea and is separate from the rest of the town. Many lovers of The Game of Thrones will enjoy a visit to the fort. (More on Dubrovnik here)
Where to Eat in Dubrovnik: Nautika Restaurant – Located at the western entrance near Pile Gate, this restaurant is Dubrovnik's finest restaurant offering great service, fantastic fresh fish and lobster as well as the best view in the city!
Address:

Brsalje 3, 20 000

|

Pile Gate

,

Dubrovnik 20000,

Croatia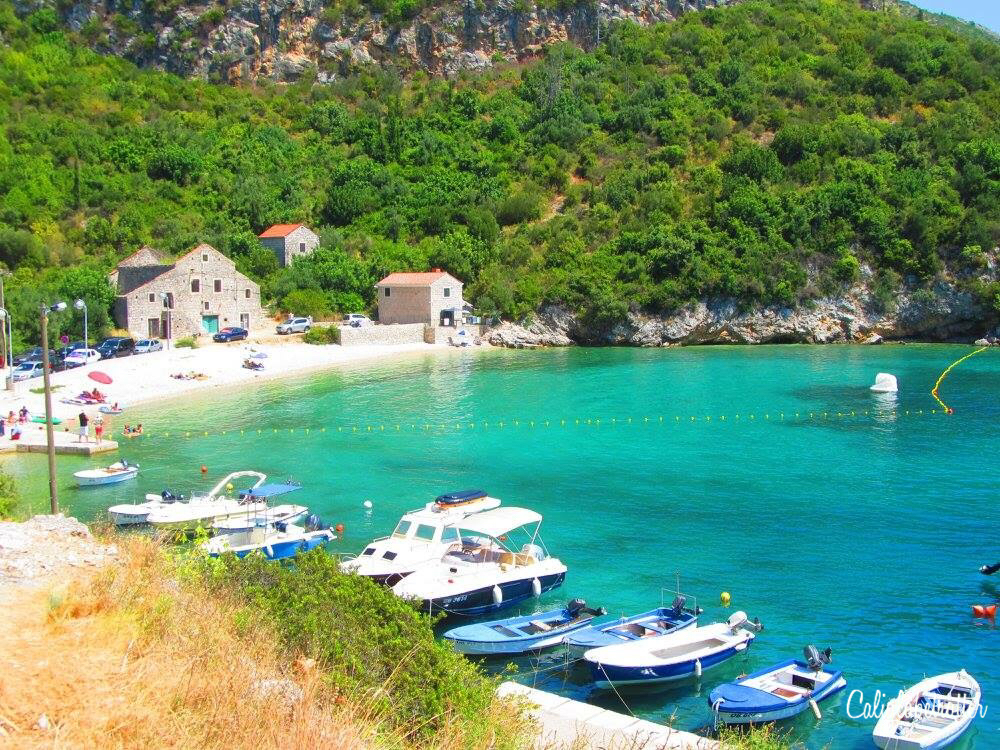 By now you should be well exhausted and need a dip in the water! You can head just a few minutes south of the town and lounge it up in the sun with many other tourists at Banje Beach (which does offer some amazing views of the town) OR you could get back in your car and drive until you find a beach somewhere along the Adriatic Sea away from the crowds. We drove about 15-20 minutes and found the very small town of Brsečine which had the most turquoise blue waters of my life!
Where to Eat in Dinner in Dubrovnik: Restaurant 360 – with views over the port and located along the city walls, there is no finer place to enjoy an evening meal watching the sunset!
Address:

Sv. Dominika BB

|

Sv. Dominka BB

,

Dubrovnik 20000
Where to Stay near Dubrovnik: Hotel Vis ⭐⭐⭐- If you're looking for affordable accommodation in Dubrovnik, then located 15-20 minutes, you can relax away from the crowds with amazing views of the Adriatic, a private beach for guests. Don't worry, there's a bus that will shuttle you into town!

Address:

Masarykov Put 4, Lapad, 20 000 Dubrovnik, Croatia
Day 9: Dubrovnik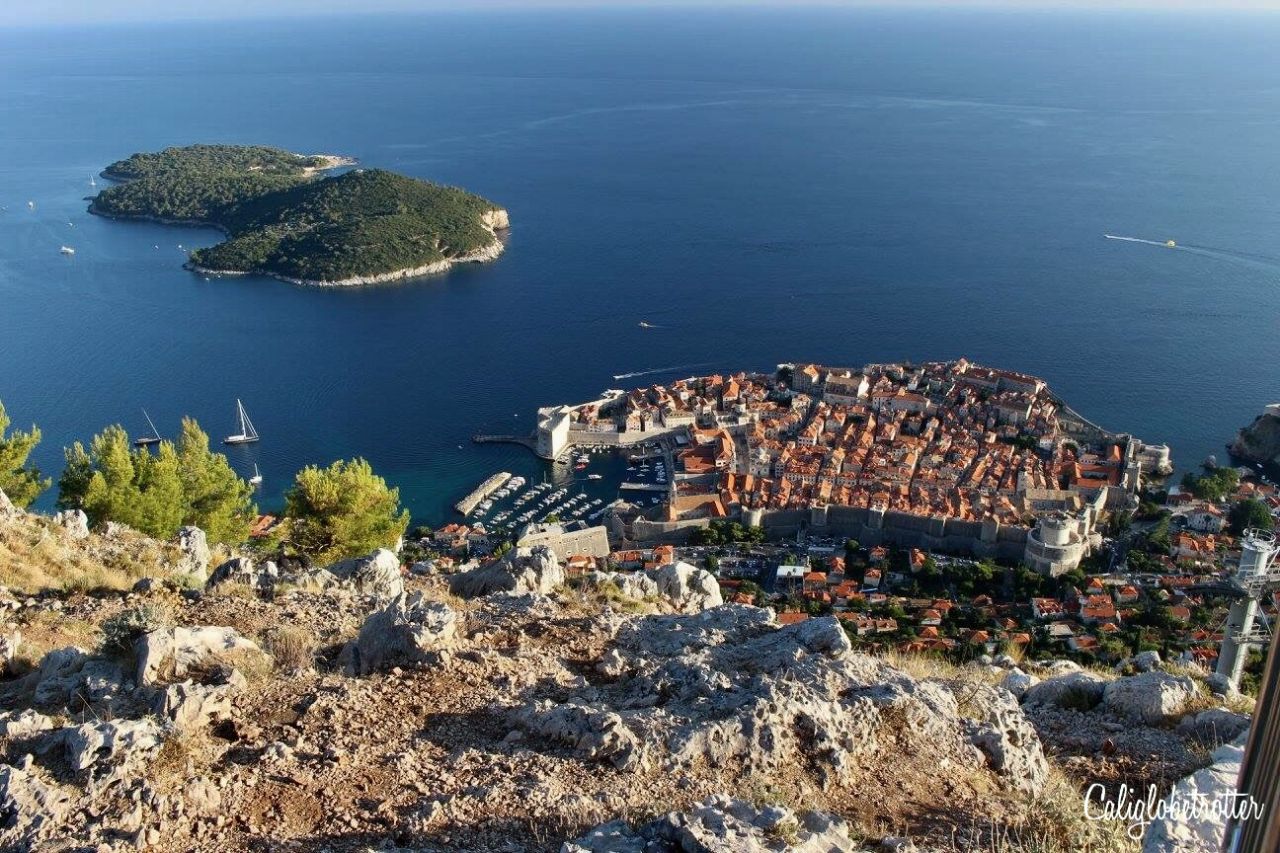 Begin your second day in Dubrovnik by heading up to Mount Srd via the Dubrovnik Cable Car which offers the most spectacular views over the old town of Dubrovnik. The car ride takes just three and a half minutes to get from the city walls to the top. It was built in 1969 and on a clear day, they say you can see 60 km (37mi).
Then go back into town and just 600 meters away from Dubrovnik is the small island of Lokrum. The island is swarming with wild peacocks and is open for a visit and a swim! Boats leave every half hour from Dubrovnik's Old City Port – Porporela, takes 15 minutes to get to the island and costs 40 Kuna (about 5€). For more information click here.
Where to Eat Lunch: Monastery Restaurant – traditional and simple Croatian meals, a bit more pricy than on the mainland. If this is too much, pack a light picnic!
Where to Eat Dinner in Dubrovnik: D'vino Wine Bar – for some unique Croatian food and good wine, you can unwind here after a long day!
Address:

Palmoticeva 4a

,

Dubrovnik 20000,

Croatia
Things to Know Before You Go:
Driving to Dubrovnik, you will need to bring your passports as you will have to drive through a 5km portion of Bosnia-Herzegovina before you can reach Dubrovnik! There is no getting around this! (Not yet at least! Croatia wants to build a bridge around Bosnia so to avoid this!
July/August are the hottest and most crowded months to visit! They say May/September are better to visit!
A Day Pass on the City Bus costs 30 Kuna/~4€ and is good all day!
The Dubrovnik Cable Car costs 108 Kuna/~13€ per person and there is a restaurant up there which offers the best views over the town! I highly suggest making a reservation well in advance!
The City Walls are open from 8am-7pm daily. After 5pm, they no longer allow new visitors to walk the wall as it takes 2 hours to walk the walls! Tickets cost 100Kuna ~10-12€ per person! The shop does not take Credit Card or Euros! You must pay in Kuna!
Day 10: Zagreb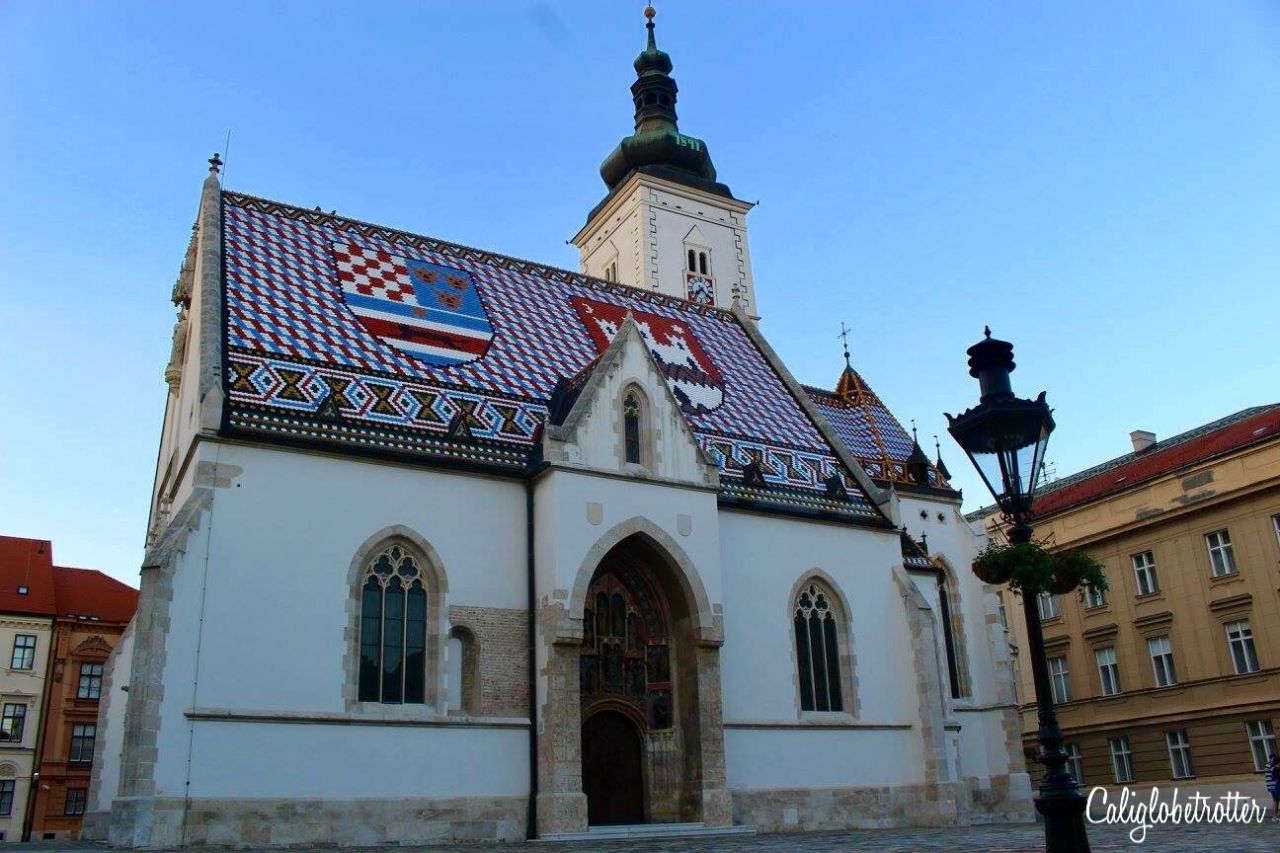 The final and last leg of your trip. Zagreb is a great place to stop for a night of rest and break up the long drive home as it's a good six hours north. While it is one of the top cities to visit in Croatia, it lacks a beach and therefore is slightly less crowded than other cities.
Zagreb has been the capital of Croatia only since 1991, however, it had already been the capital of the Independent State of Croatia since 1945 and is actually a combination of two old medieval towns which were built on two different adjacent hilltops. The old town (Gornji Grad), also known as the Upper Town, sits perched up on the hills overlooking the modern area (Donji Grad), or the Lower Town.
Besides the fact that Zagreb is a big city center with lots of shopping, one of the main attractions to the city is actually the Church of St. Mark with its beautiful colored tiles on the roof, with the coat of arms of Croatia, Dalmatia, Slavonia and Zagreb. This church is located in the center of the Upper Town and dates back as far as 1256 and a 1 day Zagreb itinerary wouldn't be complete without stopping here!
The best way to reach the Church of St. Mark is by taking the Zagreb Funicular, which is one of the smallest public transport funiculars in the world, stretching only 217 feet (66m) up a small hill which one could easily hike up. In fact, we did. The funicular dates back to 1890 and has been used ever since. At the top, you'll find the Tower of Lotrščak, where every day at noon since the middle of the 19th century, a cannon is fired to mark the hour. (More on Zagreb here)
Where to Eat in Zagreb: Pivnica Mali Medo – For your last traditional Croatian meal, head here for delicious food and locally produced beer!
Address:

Ul. Ivana Tkalčića 36, 10000, Zagreb, Croatia
Where to Stay in Zagreb: ZigZag Zagreb ⭐⭐⭐⭐ – If you're looking for budget-friendly accommodation in Zagreb and for a hip and modern apartment style stay, then ZigZagZabgreb is a great place to stay in Zagreb within walking distance of the city center and chic restaurants and cafes!
Tips for Visiting Croatia Before You Go!
Americans do not need a Visa for traveling through Slovenia, Croatia or Bosnia-Herzegovina, but your passport is necessary at all times!
Croatia is far less crowded during May, June & September and the weather is pretty moderate.
July and August are peak tourist seasons, lines are long and towns are crowded.
English is spoken in the touristy places but Croatian is the official language.
Croatia is full of toll roads, so make sure to have cash on you at all times to pay the toll, using a debit card or visa is also possible, but cash is easier.
After alllll of that driving and amazing places, I hope you've had a wonderful trip! And if you managed to complete this entire road trip, HIGH FIVE to you because you're as crazy as I am to drive everywhere! You'll find you can see sooo much more when you drive!
If you're looking to visit Croatia this summer, I highly suggest buying any of the following travel guides which I have personally used to help you navigate through this beautiful country! These are my travel bibles! 
Disclaimer: This post contains affiliate links. If you click on one and make a purchase, I might make a little extra spending money, at no extra cost to you. As always, all opinions are my own and these products/services have been found useful during our travels and come highly recommended to you from yours truly!
Other European Road Trip Guides:
The PERFECT Two Week Balkan Road Trip
7 Day Road Trip Through Austria
Liked this post? PIN IT FOR LATER!
Save
Save
Save
Save
Save
Save
Save
Save
Save
Save
Save
Save
Save
Save
Save
Save
Save
Save
Save
Save
Save
Save
Save