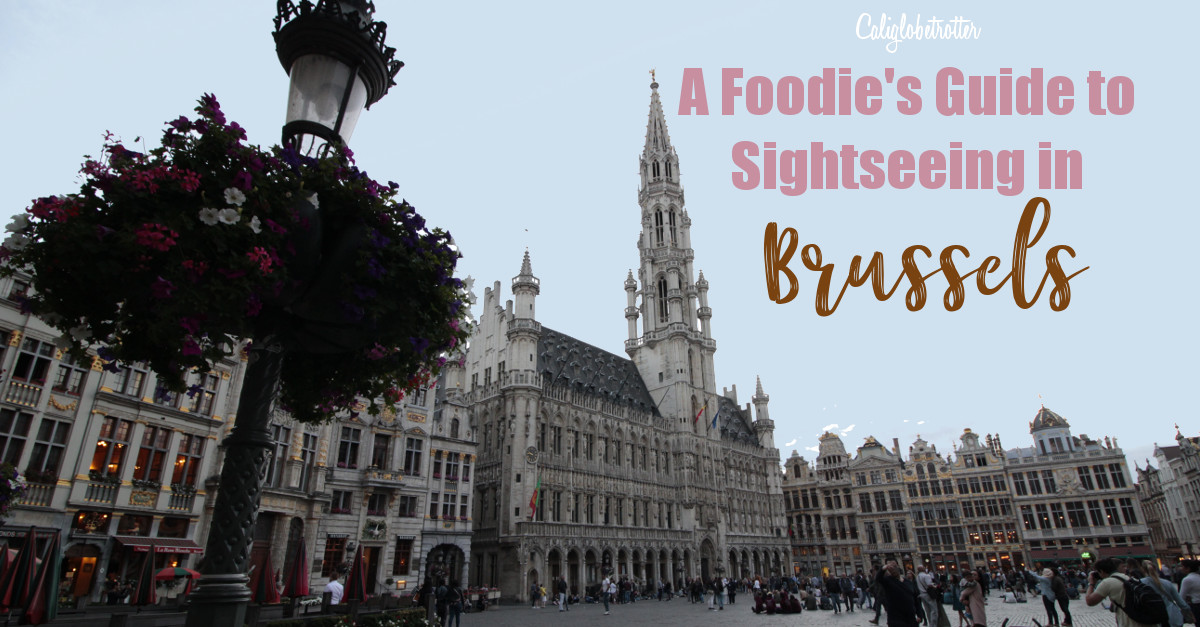 Disclaimer: This post contains affiliate links. If you click on one and make a purchase, I might make a little extra spending money, at no extra cost to you. As always, all opinions are my own and these products/services have been found useful during our travels and come highly recommended to you from yours truly!
When I first visited Belgium back in August 2014 for the Flower Carpet Festival, I had no idea then just how much I would fall in love with this amazing country. Had I discovered Belgium at a much younger age, my life would have been completely different. Along with my waistline! 
Every year since we have made the crazy drive to Belgium so that I can feed my addiction to the country's beer, chocolate, frites and waffles! Not to mention admiring some of the most aesthetically pleasing buildings! Now, I'm constantly begging my husband to find a job in Belgium, but I know if we were to move there, my waistline would explode with all that delicious food! So, a long weekend is the best way for me to contain the amount of delicious food and beer I can take in at once! With that said, this guide will be a mixture of sightseeing with too many waffles and beer breaks. Plus, I honestly feel it's one of the best cities in Europe! 
Be sure to grab my full Belgium Travel Itinerary for 3, 5 or 7 Days!
Sound Delicious and AWESOME? PIN IT FOR LATER!!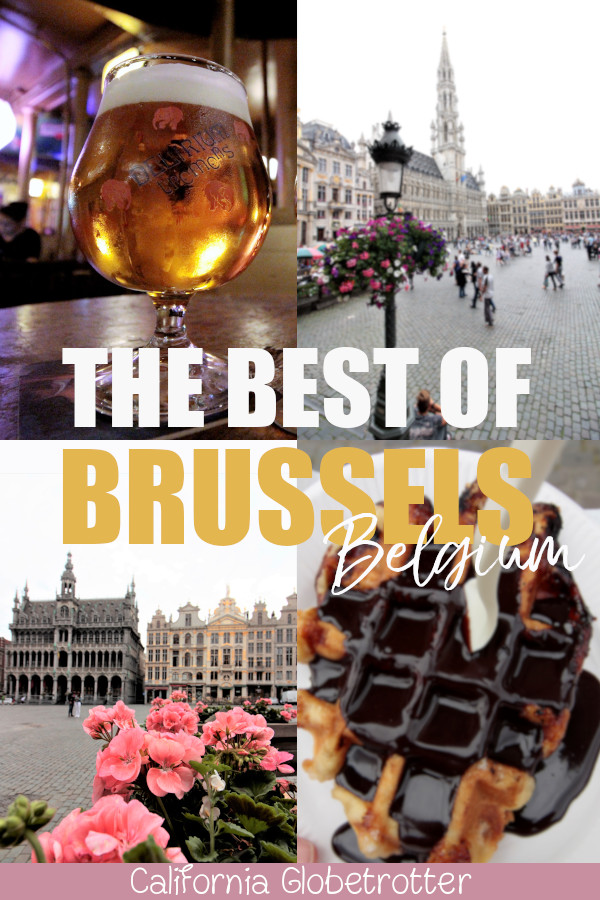 How to AVOID Looking Like a Tourist in Europe
Your ESSENTIAL Guide to Europe
15 Things to Do When You Travel
The Most Beautiful City Halls in Europe
This article is now available as a mobile app. Go to GPSMyCity to download the app for GPS-assisted travel directions to the attractions featured in this article!
What makes Belgium so special, is it's still one of the most underrated countries in Europe and easily gets passed over for its larger neighbors of France and Germany. But, if you're headed to this wonderful country for the first time, there are a few things to know about Belgium before you arrive. For starters, Belgium is very much a multi-lingual country, with many languages flourishing all over Brussels. It is the capital of the country after all, as well as the location of the European Union headquarters. However, a combination of German and French is widely spoken here, called Flemish, and you might be surprised to know that English is also widely spoken, but don't assume that everyone can speak it.
Day 1: City Center
Right off the bat, we decided to take a stroll through Galeries Royales Saint-Hubert as it was not far from our hotel, Hilton Brussels Grand Place, and shop for some Belgian chocolate. After all, that's one of the reasons why we're here. Opened in 1847 by the first King of Belgium, Leopold I, it was the first shopping center in continental Europe. With a vaulted glass ceiling, the long passage gallery offers a range of luxury goods and cafes. 
Before we do any sightseeing, I was particularly interested in having a traditional Belgian breakfast. None of that continental stuff hotels serve up. So we went directly to the Grand Place, and sat down (two days in a row) for a delicious Au du Pain Chocolate croissant that was the fluffiest and most buttery deliciousness of my life with a big cuppa Cappuccino at La Brouette Taverne. The inside is decorated in historic pictures and items, with half-timbered wood beams and a wood burning fireplace! Yes, it's in a touristy spot, but early in the morning, you'll find only locals.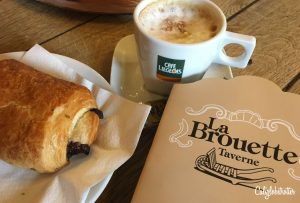 The first place I always start my visit to Brussels is at the Grand Place, a large square lined with the cities' most immaculate and ornate 17th century architecture, with the Hôtel de Ville dominating the square. It was built in the 15th century and soon other city traders would come and build their gilded houses here. The Grand Place and the the Hôtel de Ville are one of the main attractions in Brussels! You do not want to leave without hanging out in this square! You'll find several cafes and restaurants to eat at in the city center!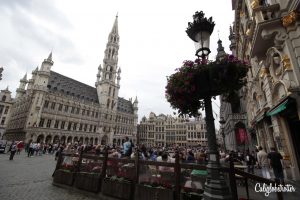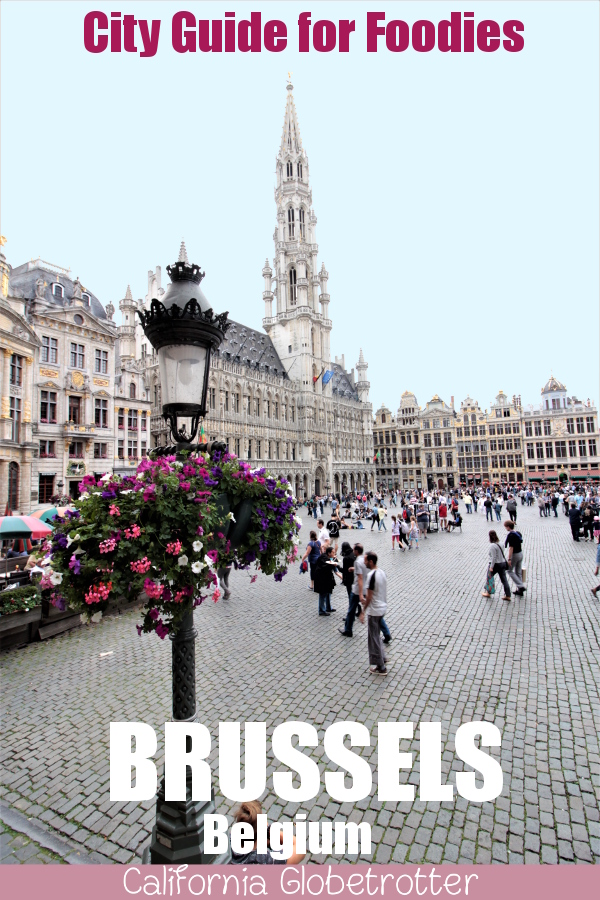 Directly opposite the Hôtel de Ville is another equally impressive building, the Maison du Roi (King's House), which was built in 1536 and was once used as the residence of the Spanish monarchs. What? Why were there Spanish monarchs in Belgium? Well turns out, Belgium was once part of the Spanish Netherlands from 1581 to 1714. Today, however, the building is used for the Museum of the City of Brussels.
The square was almost completely destroyed by the French in 1695, and the Town Council quickly urged the city traders to rebuild in the more harmonious unity of Flemish Baroque style, which we see today. A blessing in disguise?
If you're looking for unique festivals in Europe to visit, then consider the biennial Brussels Flower Carpet which lasts only for one weekend but turns the Grand Place into one of the largest flower carpets in Europe with symbolism and patterns to honor people who have played a role in Brussels' history. For the ultimate view of the carpet, buy a ticket to go on to the balcony of the Hôtel de Ville overlooking the square. 
Other awesome festivals in Brussels is the Ommegang festival, a medieval folklore festival with gallant horses, tents, theater and flags.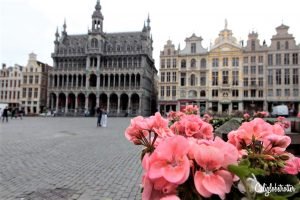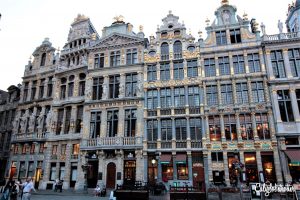 Waffle Break!
Now, I know it's early in the morning, but it's the perfect time for a Belgian waffle, right? After all, in America, waffles are a breakfast food. If you're looking for the best place to get waffles in Brussels, then head over to Maison Dandoy for the best waffles in town and with a motto "We want to make your sense twinkle and dance", I'll happily wait in line for a waffle! People were lining up for waffles already at 9am so you know it must be worth the wait! And it was!! 
I should mention there is a difference between waffles. There are Liege waffles (pictured below) and and a larger perfectly square waffle called the Brussels waffle. I personally prefer the Liege waffles as they are thick and have large chunks of sugar which have caramelized in the cooking process making for a sweeter, crunchier taste. Brussels waffles are light and fluffy, most typical of how we know waffles in the US.
Before you can do anything else, you need to go find the Mannekin-Pis statue, which is the most iconic symbol of not just Brussels, but all of Belgium. It is unlike any other statue you'll find as it's much smaller in person and is of a young boy peeing. Why? Because as a fabled story would have it, in the midst of a battle, a young duke's son was found casually peeing against a tree. He is so famous and much loved, that he has over 800 outfits which are on display in the Museum of the City of Brussels.
Because we're all equal, you'll find a Jeanneke-Pis statue of a young girl, poppin' a squat next to the Delirium Cafe in the Rue des Bouchers, which is a great place to stop for lunch or dinner as it's filled with cafes, bars and restaurants. And if you're feeling extra motivated, you can go find the Zinneke-Pis statue of a dog lifting his leg on a guard rail.
You'll probably notice that there is a lot of comic strip street art in Brussels on the sides of many buildings through Brussels, paying homage to many of Belgium's most beloved comic artists. The most famous, of two guys walking arm in arm down the street can be found on Rue du bon Secours, not far from the Mannekin-Pis statue.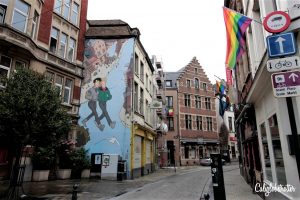 Beer, Food and Chocolate Break!
You'll slowly start making your way to Place du Grand Sablon, where you'll find a roundabout filled with goodies! By now I'd say it's an acceptable time for a beer, so being a big lover of Leffe, I knew we would have to go to Cafe Leffe. With any meal in Belgium, it's an absolute must to have a beer. If you still have room, then you can also head over to the best cafe in Brussels for sweet cakes and desserts, Wittamer, which is known for it's royal desserts fit for a king! Literally! Then stock up on the best Macarons in Brussels at Pierre Marcoloni and more delicious chocolate!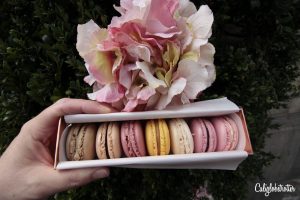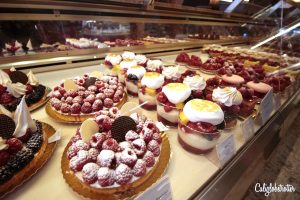 Just a bit further ahead, you'll come to Notre-Dame du Sablon, another of Brussels' fine cathedrals which has 11 stunning stained-glass windows. Just outside the cathedral, you'll find an antique market to stroll around through!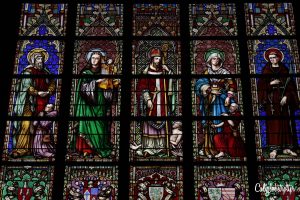 Then you'll stroll down Rue de la Regence in the direction of the Royal Palace, The Royal Museum of Fine Arts, as well as the Musical Instruments Museum sat among more beautiful gilded houses and more. I highly recommend taking a break and enjoying a coffee on the 10th floor of the Musical Instruments Museum, free of charge to enter, which has a stunning panoramic view over Brussels. It's definitely one of the unique things to do in Brussels!
It's worth mentioning that the tourist information desk is also located here. The Royal Palace is the official palace of the King and Queen of Belgium (yes, they still have one!), but it is not the royal residence. That would be Domaine de Laeken, just a bit out of town. And if you're feeling extra curious, stroll through Parc de Bruxelles to the opposite side, or plop down and enjoy a beer at a small cafe with a biergarten atmosphere and some live jazz music. 
But while here near the Royal Palace, take a stroll to the Jardin du mont des Arts for another iconic photo of Brussels with the tower from the Hôtel de Ville peaking out over the city.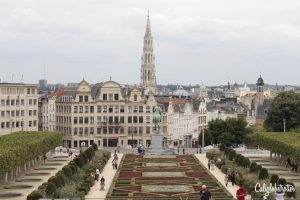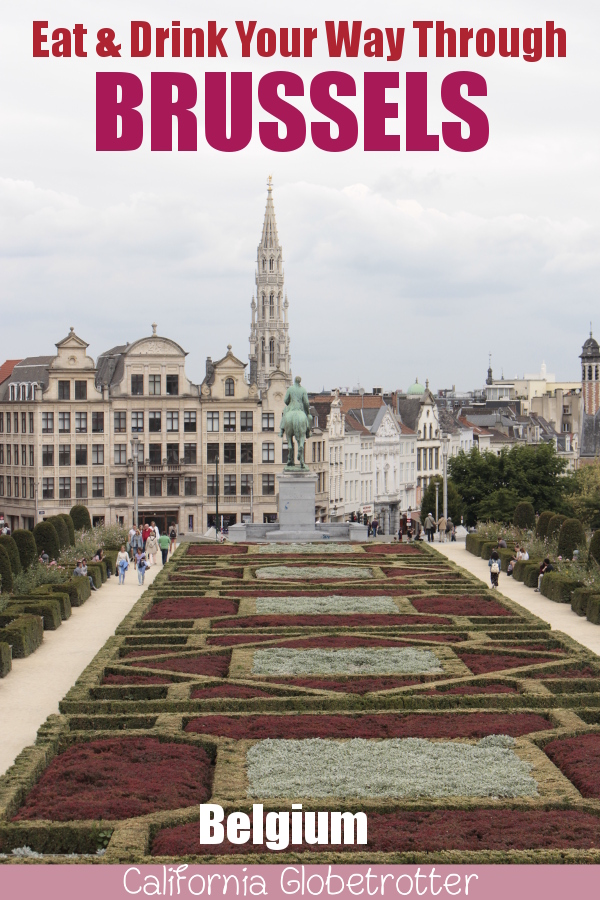 Friterie Break!
You know you've found a good friterie when there is chaos and long lines outside! Trust me, it's worth the wait! If you're looking for the best friterie in Brussels, we found one near our hotel, across the street from Hotel Novotel Brussels Off Grand Place called Belgian Frites. It looks like two separate shops, but it's actually the same company. You just can't go to Belgium without going to a friterie! 
Catch the Metro to save your poor feet and go to Parc & Palais du Cinquantenaire – the finest of King Leopold II's grand projects for the Golden Jubilee of Belgian independence in 1880. It's an impressive palace with two triumphal wings stretching in a U-shape and today houses several museums. It's one of the must-see attractions in Brussels simply for the beautiful architecture!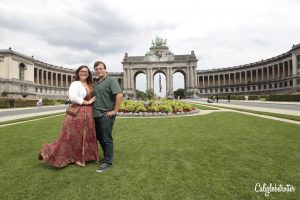 Waffle Time!
Immediately, you'll notice that there are a ton of waffle vans standing at the ready all around the park and the smell of waffles wafting through the air. It was really hard to resist a second round of waffles, but I didn't feel so guilty as I knew we'd be walking off the calories anyways! Some of the best waffles I've ever had come from waffle vans, and this was no different! To spice things up, my waffle had dark chocolate sauce on it, not personally a favorite as I prefer milk chocolate, but still delicious nonetheless.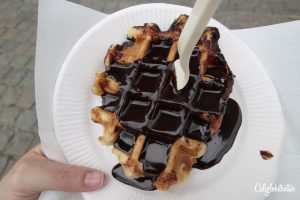 Hop back on the Metro and go back into the city center, and get off at Parc du Bruxelles again, and be sure to check out the exquisitely proportioned St Michael and St Gudula Cathedral. While the outside is quite impressive, the inside is rather bland due in part to ransackings by the Protestants in 1579 and theft by French Revolutionists in 1793.
Beer Break #2
If you're looking for the best beer cafe in Brussels, then head back over to the Delirium Cafe I mentioned earlier down a small back lane. This is one of the most popular bars in the city, and predominantly filled with a young college clientele, and are quite famous for their pink elephants. Holding a Guinness World Record with more than 2000 types or beer, live music every Thursday and a ton of brewery memorabilia, this is one place you do NOT want to miss!! This just might possibly be what heaven looks like!
Don't leave without having a Delirium Tremens, the beer that makes reference of seeing pink elephants from hallucinating after an excessive amount of alcohol. Hence the name.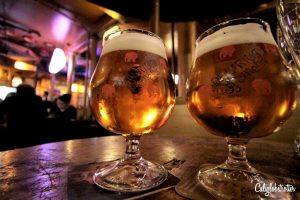 Gobble Till You Wobble!
By now, you're probably hungry full like a turkey, but you should probably sit down for something solid and not sugary. Rue des Bouchers is the where you can find some of the best restaurants to eat at in Brussels. Don't just plop down at the first restaurant you find but instead, stroll through, look at the menus and then pick a restaurant. It is a bit touristy and therefore prices are a bit higher, but it is THE best place to eat at in Brussels!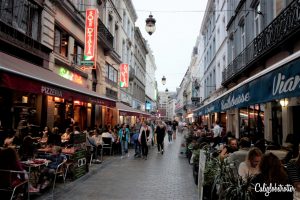 General rule of thumb: go where it's most crowded as that generally means they have good food.
(We sat down at one place because it was empty, only to get up and go somewhere else because the menu didn't look appetizing.) We found ourselves at Chez Leon, which I felt was one of the best places to eat in Brussels where the atmosphere was much more appealing and the delicious smell of food wafting through the air told us we found a great spot! Our meal was soooo delicious and we were very happy we had changed restaurants! I ordered Chicken vol au Vent which was chicken, puff pastry and a creamy mushroom sauce while my husband had the traditional bucket of mussels and frites, both topped off with a perfectly paired beer!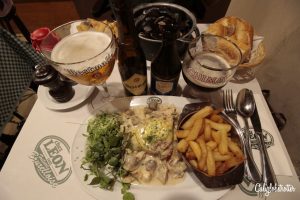 Afterwards, you'll want to go for a night time stroll to burn off all those calories and get to digesting. I could have been pushed in a wheel barrow by now! Luckily, it was the perfect time for the "Blue Hour" in which the sun had set and the light was at it's best. Hanging out in the Grand Place is one of the fun things to do in Brussels at night. It was amazing to see how the main square, the Grand Place, had gone from tourists standing around in the morning to locals hanging out in the evening, sitting anywhere they pleased, drinking and socializing!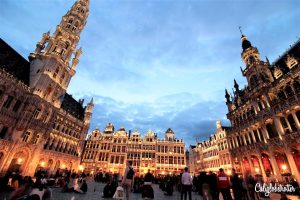 Beer Time #3
Now, you just simply can't go to Belgium without drinking yourself silly in the large quantities of beer the country has! Obviously, it's impossible to try them all in a single weekend, although you can certainly try at one of the many traditional beer bars in Brussels! However, should you be limited on time and money, consider doing a beer tasting while in Brussels at Taste This.Beer open 10 am – 10pm, just a few feet from the Grand Place. For 15 euros, you can try as many beers as you want with a simple card loaded with your beer money. With each pull of the tap, you will be charged based on how much you take. We were able to try about 30 different Belgian beers, with a short description of the beer. They even had a section of fruity beers from Belgium, of which I fell in love with a Rose Flavored beer!!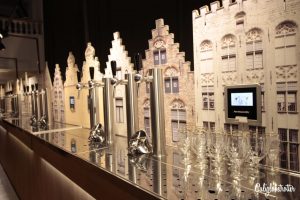 Day 2: Laeken District
After checking out of our hotel, we went back to La Brouette Taverne, for a second round of breakfast as we honestly enjoyed it so much! We had one last look around the Grand Place and then we got our last round of waffles at a shop next door to Maison Dandoy. It was like waffles on waffles on waffles!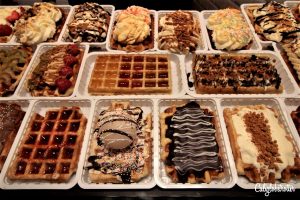 Other Top Attractions in Brussels:
Just outside of the city center is the Laeken District. Here you'll find The Atomium, the Domaine de Laeken (the second and preferred royal residence, as well as Mini-Europe. To get there, take the Metro line 6 and get off at Heysel, or you can drive.
Begin your morning by visiting Mini-Europe, a miniature theme park reproduction of Europe's most iconic landmarks at a scale of 1:25. A total of 80 cities and 350 buildings have mini-replicas here. We had every intention of going, but the weather wasn't very nice and neither of us had a jacket.
However, if you're interested in visiting the Atomium, consider doing a combi-ticket and visit both attractions for 24,70 €.
Not far away is the Atomium, which is an elementary iron crystal magnified 165 billion times. For the non-science nerd in me, I wasn't even remotely interested in this, but when I discovered that you will be greeted to an amazing 360° panoramic view over Brussels from the uppermost crystal, I knew we needed to go the next time we were in Brussels. Each crystal is linked together by escalators and stairs. But as we had a gloomy, cloudy day, for the second time, we opted not to go up.
The Atomium is open 365 days a year from 10am – 6pm. Prices vary for children, teens, adults and seniors. Adults are 12 € each. The busiest time to visit is between 10-12pm and 2-4pm. Consider visiting during low periods. (More info here)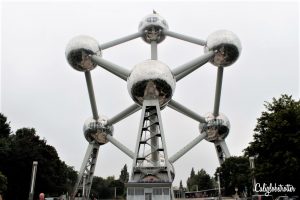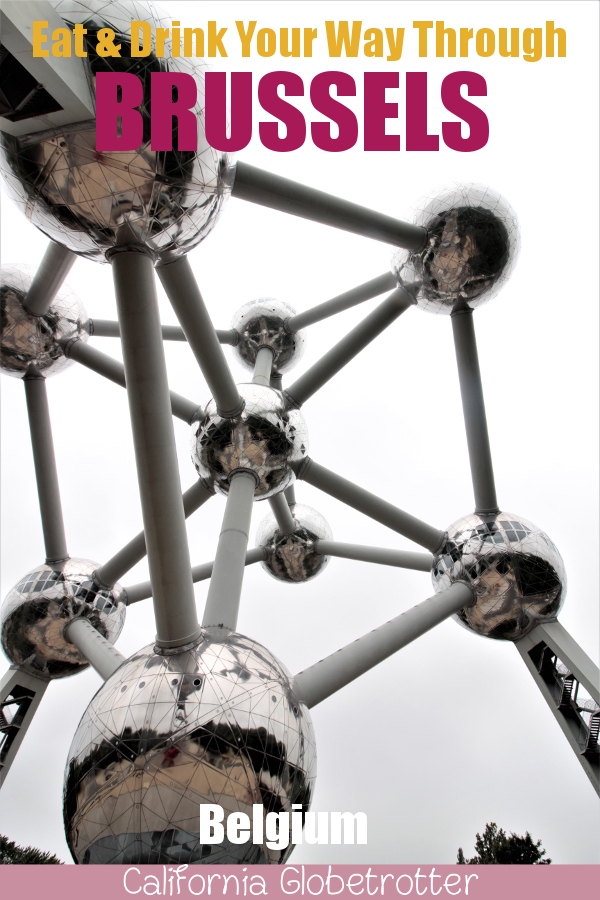 Afterwards, stroll through the Parc de Laeken, enjoying the gardens until you reach the 19th century Château de Laeken, the second residence of the royal family. While roaming the park, you'll find the beautiful green houses, Serres Royales, as well as two pieces of grandeur world architectural buildings commissioned by King Leopold II, the Chinese Pavilion and the Japanese Tower.
When you're done meandering through the park, continue walking until you come upon the impressive Notre-Dame de Laeken Cathedral with two spires reaching into the sky. This neo-gothic Roman Catholic cathedral was commissioned by King Leopold I in memory of his wife who wished to be buried in Laeken.
Did you Know? 
Belgium has 180 breweries with over 1150 different types of beer and is considered to be a UNESCO intangible cultural heritage of humanity! 

The Brussels International Airport is the number one location to buy Belgian chocolate! 

Brussels is the capital of comic books and famous cartoons like the Smurfs, Tintin and more!

Belgians claim to have invented frites (French Fries!)

With 1.6 million immigrants, the country has the 2nd largest number of immigrants in the world!

Belgium has 3 official languages – Dutch, French & German!
Where to stay in Brussels:
Hilton Brussels Grand Place ⭐⭐⭐⭐ – Having Hilton Honors points we needed to use, we opted to stay in the heart of the city center, just feet from the main Brussels train station. Rooms were simply decorated and the beds were incredibly comfy and we had a view over the square leading to the main train station. 
If you're interested in visiting Europe and are looking for more information, I highly recommend using the DK Eyewitness Travel Guide or Lonely Planet! Without these guides, I would be lost! This is my travel Bible! As well as two books on Belgian beer I highly recommend for understanding Trappist beers and all of Belgium's beers!
Disclaimer: This post contains affiliate links. If you click on one and make a purchase, I might make a little extra spending money, at no extra cost to you. As always, all opinions are my own and these products/services have been found useful during our travels and come highly recommended to you from yours truly!
Day Trips from Brussels:
The Budget-Friendly Guide to Ghent
3 Days of Debauchery at the Aalst Carnaval
The Blissful Belgian Coast: Blankenberge Beach
Liked this post? PIN IT FOR LATER!!