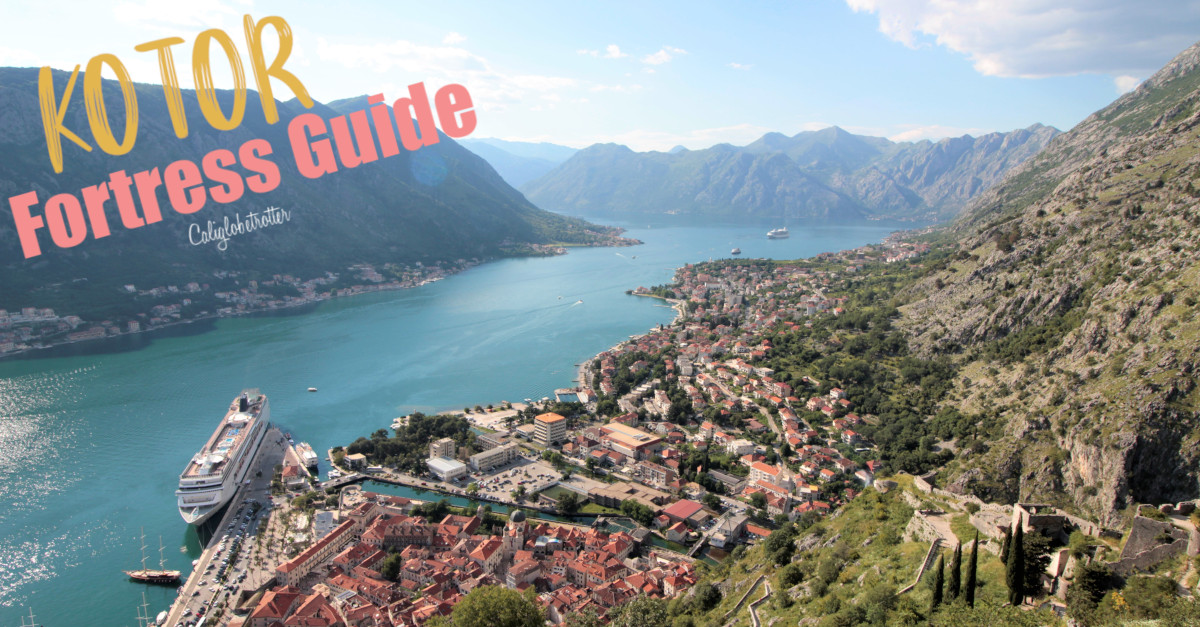 Disclaimer: This post contains affiliate links. If you click on one and make a purchase, I might make a little extra spending money, at no extra cost to you. As always, all opinions are my own and these products/services have been found useful during our travels and come highly recommended to you from yours truly!
Medieval fortress walls. Tiny cobbled-stoned alleys. Venetian architecture. Heart-stopping views. Romance and adventure. What's not to love about Kotor?
Never heard of Kotor? **Gasp!!**
Well, then by all means, allow me to introduce you to this adorable town!
Drooling already? PIN IT FOR LATER!!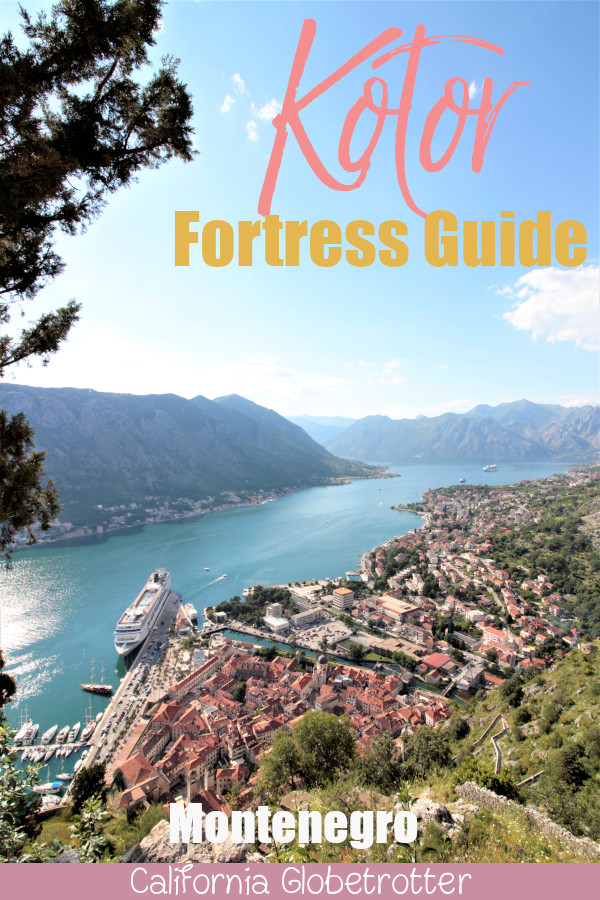 How to AVOID Looking Like a Tourist in Europe
2 Day Montenegro Itinerary – Places to Visit on Montenegro's Coast
Gorgeous Seaside Towns Along the Adriatic Sea
This article is now available as a mobile app. Go to GPSMyCity to download the app for GPS-assisted travel directions to the attractions featured in this article!
Where is Kotor?
Found nestled at the end of the Bay of Kotor, from which the town is named, is a 'bay' or 'fjord' as it is commonly called, which opens into the Adriatic Sea. However, it's actually a ria – a submerged river canyon which has been settled since 229 BC. Kotor is a coastal town in Montenegro with a mere population of 961 people in the Old Town and just over 13,000 people in the surrounding area. Kotor is one of the most popular destinations in Montenegro as well as being one of the top cities to visit in the Balkans!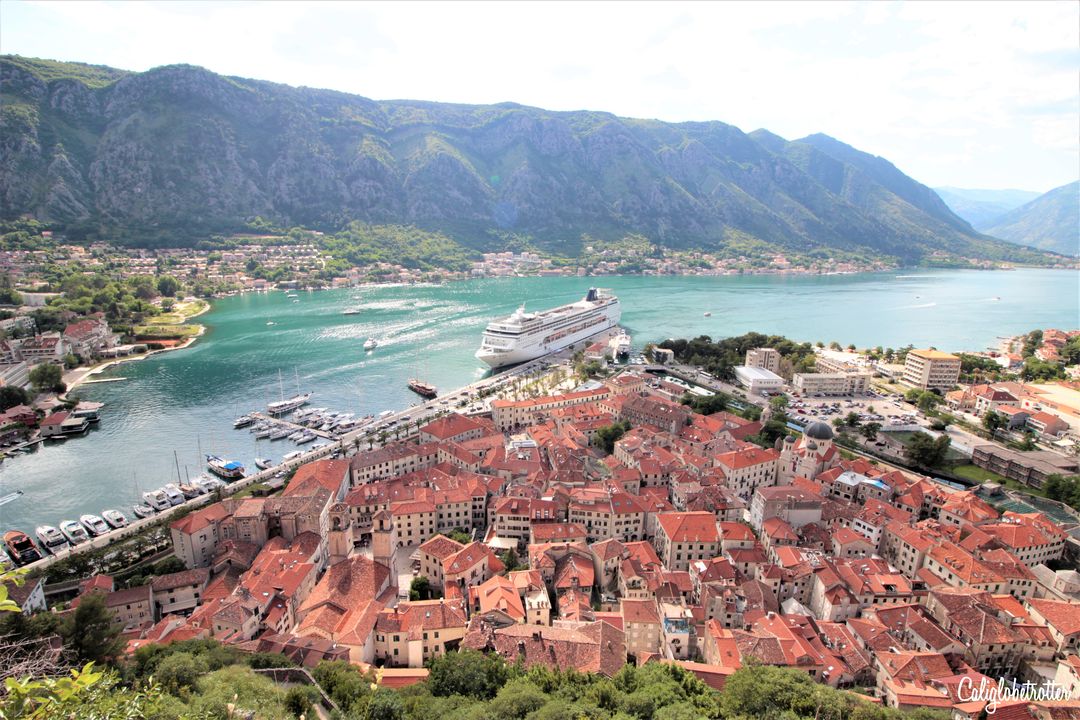 Why Should You Visit?
First of all, it's one of the most stupid pretty towns in Europe! At least in my book! In recent years, Kotor has seen an increase in tourism as cruise ships have docked here to allow travelers to explore its beautiful Old Town and the fortress perched just above it.
Whether you're looking to relax, walk through history or explore the town and manage a rather steep hike, Kotor is perfect for every traveler looking to be introduced to Montenegro. Either way, this is one place you definitely need to hit up!
Montenegro in general has one of the fastest growing tourism markets in the world at the moment, and when driving through the beautiful country side and along its coastline, it's easy to see why. Sky reaching, rugged mountains stretching for miles along its coastline with countless historical settlements lining the waters edge, the Bay of Kotor is a hot spot that desperately needs to be seen. It is one of the top destinations to visit in the Balkans and we added it to our 2 week Balkan Road Trip itinerary!
How to get to Kotor
As previously mentioned, many large cruise ships make a stop in Kotor as part of their Mediterranean itineraries. This might be fine and dandy for those looking to just simply be introduced to the country by spending a few hours in the town before moving on to the next location.
However, driving through Montenegro certainly has its own perks. Driving to Montenegro from Bosnia-Herzegovina was relatively easy and we were introduced to the rugged terrain and sprawling country side before being greeted to the coastline shortly after going through border control at Granični Prijelaz Vraćenovići.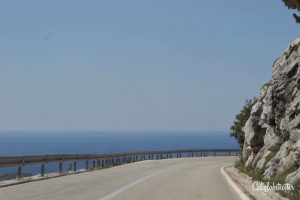 If you decide to drive, you'll arrive from the northern end of the Bay of Kotor, driving along the shoreline of the bay, passing some of the small historical settlements such as Perast (stay tuned!), which I hope you make the time to visit! For GPS purposes, it's useful to know the name of Kotor in Serbian Cyrillic: Котор
Should you decide to fly, consider flying into Dubrovnik, Croatia which has been said is much cheaper than flying directly into Montenegro. However, the drive is still around 2 hours, and waiting times at the border could be longer. Another option is possibly flying into the capital, Podgorica, which is still an hour and half drive away, through some pretty terrible roads.
Should you consider to drive, driving in the Old Town of Kotor is not permitted. However, there are several places to park on the outside. The cheapest and safest is on the Kotor Bay Connect, a little stretch of island just on the outside of the town. Here, parking is .80 €/hour and is monitored 24/7.
History of Kotor
Surprisingly, Montenegro has had quite a turbulent history, that over the centuries has been under the control of Ancient Rome, the Republic of Venice, the Ottoman Empire, the Austro-Hungarian Empire, Bulgaria, Serbia, France, Britain and most recently, Yugoslavia. My goodness that was A LOT!
After all of that, the town has more of a Venetian feel about it, quite similar to Dubrovnik, Croatia. After all, the Venetians had quite the influence on the region after four centuries of domination. Thus, ultimately, giving it that quintessential charm which later earned Kotor a spot on the list of UNESCO World Heritage Site.
Fast forward to 1918, Montenegro became part of Yugoslavia, only to win their independence in 2006, finally making a name for themselves, with the hopes of joining the EU soon.
Montenegro, however, is a melting pot of nationalities, depending on how people choose to identify themselves. Many are Montenegrin, Albanian, Serbian or even Croatian and speak several languages. The official language is a dialect of Serbo-Croatian, which can be written in Latin or Cyrillic, as well as Serbian, Croatian, Bosnian or surprising, some Italian!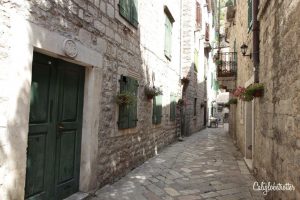 Where To Stay in Kotor
As this is a quaint fortified town centuries old, you're not going to find any high rise, modern hotels in the Old Town. Plus, why would you want to stay somewhere new and modern when you could stay somewhere with a historic charm to add to the ambience of your visit!?
We stayed in the adorable Palazzo Drusko Deluxe Rooms ⭐⭐⭐⭐ which were right in the heart of the historic town, near the North Gate (River Gate). Decorated in a traditional style with 150-year-old furniture, stone walls and wooden elements, this hotel gave us the perfect vibe for life in Kotor. To add romance to our stay on a warm summer night, the hotel owner plays traditional Montenegrin music over a vintage radio. I wouldn't have wanted to stay anywhere else as I truly felt we picked the best place to stay in Kotor!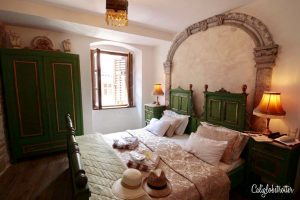 What To Do In Kotor
The town is easy enough to see the main sights within a day, however, to make the most of your visit, plan to spend a minimum of 2-3 days. You don't want to wham-bam-thank-you-ma'am your way through the town and miss out on truly experiencing the town and surrounding villages! I say this, as we spent 2 days there and were able to visit several of the surrounding towns along the Montenegrin coastline, yet, I could have easily spent a week there! None the less, there are plenty of things to do in Kotor which are easy enough to see in a day, especially perfect for cruise-goers!
Meander Around the Old Town
Before you do anything, you NEED to stroll the charming alleys. You can take a map, but it's not necessary. You can't possibly get lost, and if you do, so the better! You'll only stumble upon one more alluring alley after the other. As you're walking around, you'll likely hear or notice people mentioning how much Kotor resembles Dubrovnik or even Venice. Don't forget that Kotor was under the control of the Venetians for a long time, so there are similarities. Yet, I found the town to be a bit more compact than Dubrovnik and filled with just as many cats.
Since the town is a UNESCO World Heritage site, the town is prohibited from making big changes, therefore, preserving it's irresistible historic charm. Some of the main sights to see in Kotor include several churches, two orthodox churches, an old town clock and a promenade to meander down. For 2,50 € per person, you can take a gander inside the St. Triphon's Cathedral and walk upstairs for a view over the square. Don't forget to walk out the Main Gate, which was once higher but has sunk a bit because of earthquakes in 1667 and 1979.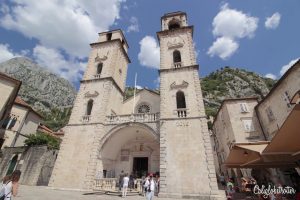 Walk the City Walls & Fortress

If there was one thing you HAD to do while in Kotor, then it would be walking the City Walls and Fortress as it's often rated at the number one thing to do in Kotor! Unlike Dubrovnik, the city walls here are much larger. The town walls not only surround the Old Town, but extend high above the town, stretching 4.5 miles up the mountain, making for the top attraction in Kotor. You haven't truly experienced Kotor until you have hiked the walls to the Castle of San Giovanni (Castle/Fortress of St. John). 
Most of the the Great Wall and the bastions date from the 13-17th centuries when the Venetians controlled the area. Kotor was a vital strategic port located inside the Bay of Kotor which provided shelter for the fleet of around 300 ships and a secured port. Because of this, you'll be able to find several naval museums in Kotor and Perast.

Zigzagging back and forth up the mountain, you'll be climbing 1,355 steps with an elevation increase of 700 feet to the fortress of Saint John. Half way up, you'll come to the white Church of Our Lady of Remedy, where you can sit down and take a breather for a bit before finishing the second half.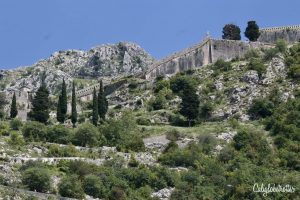 You'll need to pay a small entrance fee of 3

€

to hike the walls. People will be selling water and other refreshments at the bottom, in the middle and at the top of the fortress, increasing in price the higher you go. But I tell you now, bring a bottle of water per person.
If you're visiting in the warmer months, you'll definitely want to wear sunscreen and there is practically no shade while hiking up this mountain.
The hike to the Castle of San Giovanni should take you around 3 hours up and down.
WEAR GOOD SHOES! The hiking path is half full of rocks and half with uneven stairs wide enough for one person, with people going up and down on the same staircase, overtaking in the rocky section.
It is definitely NOT stroller friendly!
Sadly, there isn't a cable car to take you to the top, so this way you can tell your future children, "I hiked that S.O.B. before they built a cable car" with pride. But trust me when I say, the view is worth it. However, I felt the best view was actually only half way up the mountain. Over all, hiking the mountain was the best thing to do in Kotor!
I am NOT one to shop while on my travels, but Kotor has plenty of cute shops I kept popping into. Sadly, I suffer from buyer's remorse even before the shopping, so I didn't buy ANYTHING! However, I did want to go back to the ceramic/pottery shop we stumbled upon somewhere near the main square. Sadly, by the time we got back, the store must have been closed and then I couldn't find it again.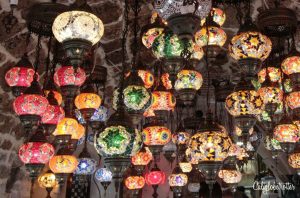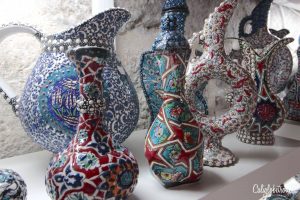 The owner of our hotel was so incredibly friendly, he highly recommended us a few places to eat while we were visiting his cherished home town.
So, if you're looking for the best places to eat in Kotor, then please allow me to give you a few suggestions! For the freshest fish and delicious meals, topped off with beautiful decor, we took his advice and headed to Scala Santa. Our first meal in Kotor did not disappoint. For barely 15 €, my husband enjoyed a Seafood Risotto, while I settled for a delicious Chicken Caesar salad, as I found it too hot to eat anything else.
After our big hike, we headed to Astoria, not far from the main square, for the BEST dessert in Kotor, which also came highly recommended by our hotel owner. With a very lively atmosphere and awesome decor, I was glad we took his advice! And it lived up to every expectation possible! I enjoyed waffles with ice cream while my husband enjoyed a delicious strawberry creation. It was well-deserved!
What you can generally expect to find is mostly seafood in Kotor, along with a plethora of Italian options. There were a few places I saw which served hamburgers and fries, clearly catering to the needs of tourists too afraid to try the local cuisine!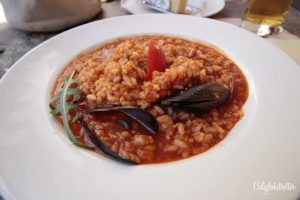 Having been to Croatia right as the summer season was kicking off at the end of July, I wanted to avoid hordes of tourists as much as possible. We felt our experience there was really dampened by the long lines and obnoxious tourists. Therefore, when we booked our honeymoon road trip through the Balkans (stay tuned for an itinerary post), we opted to go the last week of May/beginning of June. Visiting Kotor in early summer  was honestly the best time of year to visit! The weather in Montenegro was hot, but not unbearable yet. There were still tons of tourists, but not an intolerable amount, especially as there were clearly two major cruise liners docked in the bay.
Also, while visiting, to alleviate as much interaction with a swarm of tourists, we always opt for beginning our sightseeing early in the morning around 8am. This way you can truly enjoy the town and take in every crevice without having to fight to get your picture without someone in it. By 10, the town gets full as ships dock and everyone floods into the town.
There are many other amazing places to consider staying along the Montenegrin coastline besides just Kotor and if you're looking for more inspiration, head over to Travelsewhere! 
Amazing!!! I absolutely ADORED every.single.minute we were there, and wish we could have spent more time there! It would have been nice to explore a bit more outside of the historic part of town, perhaps meander over to the other side of the ria to get a view of Kotor from a distance. However, we had enough time in our 2 1/2 days there to explore the entire Old Town, managed the hike, and visit some of the picturesque towns along the Montenegrin coastline!
Do I recommend going? 100% This is definitely one charming town everyone should put on their bucket list! I still dream about this place and sometimes can't even believe we were there! I keep scrolling through my pictures as if to make sure we really went and it wasn't some dream!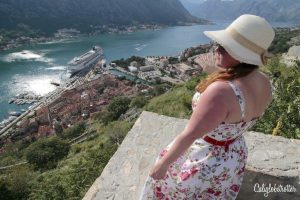 Road & Driving Conditions in Montenegro:
You will be driving on mostly one lane back roads (if coming from Bosnia-Herzegovina).
As you'll be driving on a single lane road, overtaking can be quite difficult in such dangerous conditions. DO NOT try to overtake unless you have a clear view!
The average driving speed on the one lane roads is around 50kmp as you'll be mostly driving through small villages, therefore, PLAN FOR EXTRA DRIVING TIME.
DO NOT SPEED! The Montenegrin Police Force were visible every few miles, actively pulling people over for speeding and for whatever other reasons.
Street lights flash green before turning red, therefore, flashing green lights does not mean you have plenty of time to go through the light!
Tunnels have no internal structure with no lights or ventilation. Turn your lights on!
Prepare yourself for potholed roads quite often during your drive, and drive slowly! Last thing you want it to pop a tire in the middle of no where with no sign of help anywhere!
Always have a full take! When you're near the coastal towns, there are plenty of gas stations, but up in the mountains and smaller villages, you'll have a harder time.
 Use a GPS Navigation system to get you anywhere in Montenegro, but set your preferances to stick to main roads! But just in case, as many roads have no yet been mapped out yet, we bought a map book of Europe.
Crossing the border from Bosnia into Montenegro can take 30 minutes – 1hr (in low season). I can imagine after May, lines may take longer.
You must show your car insurance papers, car registration and passports!! If you're renting a car, check with your car rental company.
It's also recommended to have an international driving license (for this entire road trip) although not necessary (except for Albania and Kosovo).
If you are going to drive from Montenegro to Macedonia, avoid  driving via Podgorica as the roads are terrible (confirmed by our hotel). Instead, you'll need to drive through Albania via Lac. You will definitely need to show your international driving license here.
Dangers on the Road
It is a common occurrence to see cows and other livestock walking along the road. Try not to speed around corners because they may be just around the bend.
Stay on all main roads!!! Do not wander off on to dirt paths or off the side of the road.
Keep an eye out for local farmers driving on the road with a horse/donkey buggies. For obvious reasons, they don't go very fast, so do not overtake unless you have a clear path!
Montenegrins like to tailgate and overtake at the first (unsafe) chance they get, putting both themselves and yourselves at risk of practically causes an accident. Slow down and let them pass.
Looking for more practical information on Balkan Travel? Grab a copy the following travel guides which we found incredibly useful on our trip and has something for everyone from outdoor activities to historical sites!
Disclaimer: This post contains affiliate links. If you click on one and make a purchase, I might make a little extra spending money, at no extra cost to you. As always, all opinions are my own and these products/services have been found useful during our travels and come highly recommended to you from yours truly!
Day Trips from Kotor:
The PERFECT Two Week Balkan Road Trip
The most LUXURIOUS Honeymoon Day Trip: Sveti Stefan 
Liked this post? PIN IT FOR LATER!!