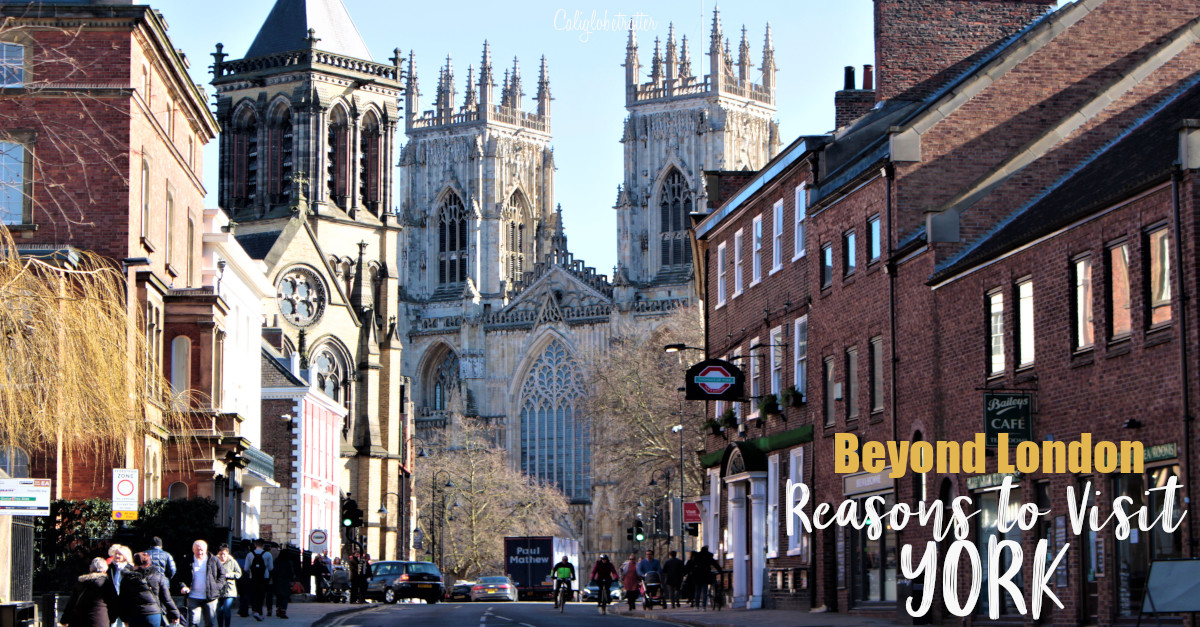 Disclaimer: This post contains affiliate links. If you click on one and make a purchase, I might make a little extra spending money, at no extra cost to you. As always, all opinions are my own and these products/services have been found useful during our travels and come highly recommended to you from yours truly!
Though I have traveled extensively through England, I have still yet to see it all. But of all the towns I have visited in England, nowhere is perhaps more 'Medieval' than York. An amazing 13th century wall still encircles the town, narrow streets with timber-framed houses twist and turn in a spider-like web with the York Minster at the heart of it all. The town bustles with modern cafes, restaurants, shops & museums while still holding on to the city's heritage with traditional pubs, markets and antique shops. But why should you visit? It's not exactly an easy day trip from London after all. 
Want to Discover York? PIN IT FOR LATER!!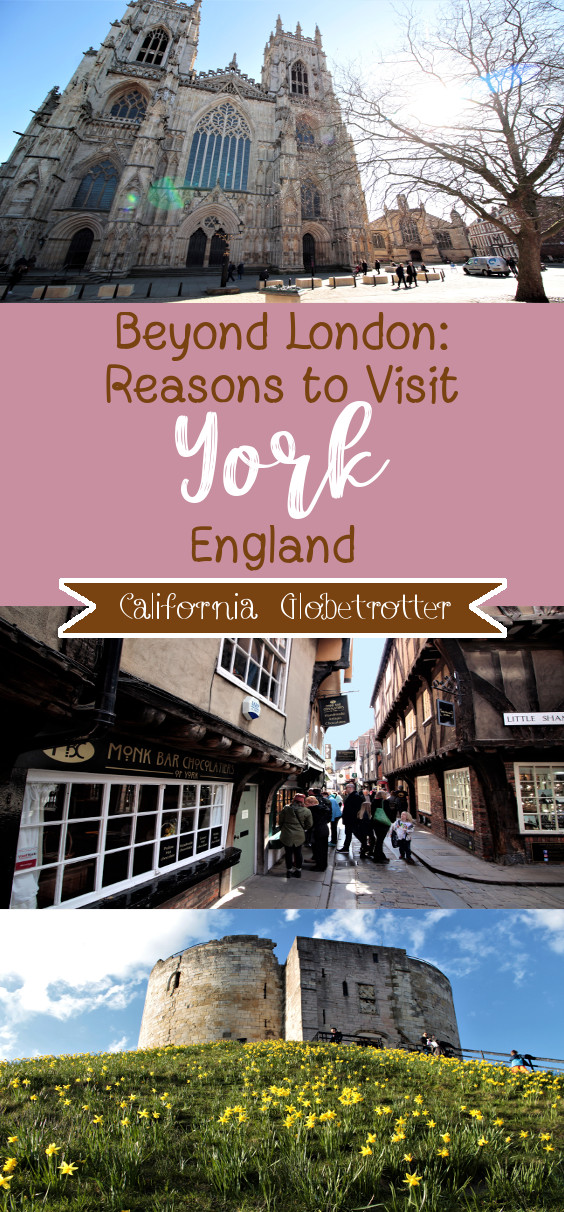 This article is now available as a mobile app. Go to GPSMyCity to download the app for GPS-assisted travel directions to the attractions featured in this article!
How to AVOID Looking Like a Tourist in Europe
We were visiting a friend in the Midlands and York made for a wonderful day trip from Derby as we spent the whole day wandering around the city, indulging in delicious food and beer while taking in the sights. Balancing catching up with friends and wanting to be a good travel blogger at times clashed and I wasn't quite as rushed to get to all the major sights. It was more important to slow down, stay a little longer chit chatting or perusing the sights. Priorities my friends, priorities! Family first!
So a special thanks to Chez & Al as well as my friend M who showed us around!
Whether you're looking for quintessential English villages or a bustling city with heaps of history, York is a wonderful option! A mere 5 hours drive from London and you're in the beautiful Yorkshire countryside in northern England. Sure, you could try to hammer out York in a day like we did, but there are so many other reasons to extend your visit to York to a long weekend trip. There is much to discover here and so many reasons to visit York! We had such a wonderful time gallivanting around York with our dear friends that the city quickly became one of our favorite cities in England to visit! So, without further ado, please allow me to entice you to book a trip to York – England's most visited city outside of London!
History of York
Founded by the Romans in 71 AD, it quickly became a Roman capital with a fort and civilian settlement around it. Hadrian used it as a base and Constantinople the Great was proclaimed Emperor here in 306 AD. After the fall of the Roman Empire, the Anglo-Saxons took over before being invaded once again by the Vikings in 866 who renamed the town Jorvik which lasted for the next 100 years. Fast forward to 1066 when William the Conqueror laid siege to the town by torching the entire place which resulted in the Normans setting about to rebuild it, adding the impressive minster. By the 18th century it eventually grew into a major wool trading center during the Middle Ages and then came the arrival of the railway and the rise of the Industrial Revolution. 
Tips for Visiting York
If you're planning a trip to York, consider investing in the York Pass which makes sightseeing in York much easier by allowing you access to top attractions in the city, use of the "Hop On, Hop Off" Bus in York, a complimentary guide book and special offers!
What does the York Pass include?
Free entry to attractions, tours and museums including JORVIK Viking Centre, York Minster, York Dungeon, York's Chocolate Story and so much more beyond York for example, Castle Howard
Free 1-Day City Sightseeing "Hop on Hop off" Bus Tour ticket worth £14 to discover iconic attractions in York
Free guidebook packed with helpful info and maps
Exclusive special offers also available to York Pass holders including evening entertainment, cafes & restaurants
Like Oxford, York is also quite small and parking is limited, therefore the city offers Park&Ride options. Scattered on the outskirts of York, there are a plethora of parking lots where you can park and for an affordable price, take the bus into York without the hassle of dealing with York traffic. I highly encourage you to use the York Park&Ride option as traffic was quite terrible and with the bus, we were about to get in and get out with ease. 
I also highly encourage you to take part in the Ghost Hunt of York tour, join a 2 hour free walking tour of York with local students or perhaps the White Rose York Tour – a top rated tour on TripAdvisor! If you have more time, then I also highly suggest doing a City Cruise in York! We had hoped we would have had enough time to do a boat tour in York, but unfortunately, time flies when you're having fun, right!?
Top Sights to See in York
To Discover the York Minster
Might as well go ahead and begin first and foremost with York's number one main attraction, the impressive York Minster. It is the largest medieval cathedral in northern Europe and by far one of the most beautiful Gothic buildings. It is the second most important after Canterbury. While the first church was built here in 627, what we see today was built predominantly between 1220-1480.
What I found truly interesting about the York Minster were actually some of the tombs clearly from the Elizabethan era with the deceased immortalized in their traditional garments paying on their knees. It's not every day you see that!
The York Minster is famed for its medieval stained glass windows and the sprawling panoramic views offered over the town from its central tower. If you have more time and the weather is pleasant, then I highly suggest a climb up the 275 steps of the York Minster Tower offering the best views over York.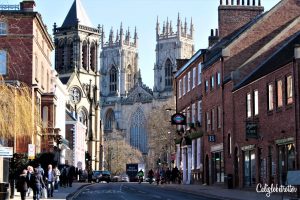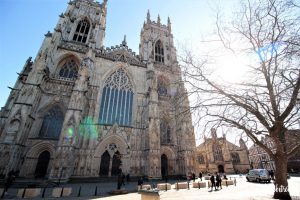 Admission to Church: Adults £11 (£10 in advance online), Child (under-16) – free with a paying adult
Admission to Church & Tower: £16 (£15 with pre-purchased ticket online), Child (under-16) – £5
Plan your visit right and you might get the chance to hear the the choir's acclaimed performance or even an evening song. Should you not, perhaps you might hear the church bells chime a lovely tun, perhaps even "Chim Chim Cher-ee" – a song from the beloved children's film Mary Poppins! Check out my Instastories to hear them for yourself!
To Explore the National Railway Museum
If you're into trains or have children then a visit to the National Railway Museum might be for you! With over 100 locomotives, it's the largest collection of trains in the world including a replica of George Stephenson's Rocket – the world's first 'modern' locomotive, the world-famous Mallard, the original Japanese bullet-train and even the Eurostar as well as a few Royal Trains used by Queens Mary, Adelaide and Victoria. You can even enjoy an afternoon tea here in a beautifully restored railway carriage! We had every intention of making it here for the afternoon tea, but sadly, we ran out of time.
Admission: FREE!
Open daily, including bank holidays: 10.00–18.00 in summer, 10.00–17.00 in winter
To Stroll the Shambles
If I'm to be completely honest, what drew me to York was the half-timbered alley in York known as The Shambles, whose name derives from the word shamel meaning 'slaughternouse'. At one time, there were once 26 butcher shops located here, but today it's one of the loveliest streets in Europe with its narrow cobbled lane, crooked leaning 15th century Tudor style buildings with low overhangs to the point you feel like you might bump your head. As both York's most famous street and one of the wonkiest streets in Europe, it feels very Harry Potter-esque and in fact you can find several Diagon Alley shops to purchase your wands and prep for wizarding school if you received your acceptance letter. I sadly, am still waiting for mine…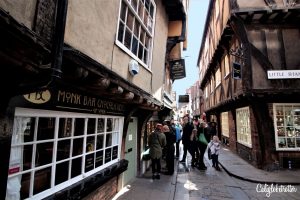 Though to be honest, I expected much more from this street and the buildings to be leaning more than they were. Guess my expectations were too high because I've seen so many great photographs of this alley. It was also quite difficult to photograph because of the amount of people all strolling the lane and trying to take photos themselves. To be honest, I felt quite underwhelmed. 
To Indulge in an Afternoon Tea
But we didn't come here to go shopping in Diagon Alley, but instead for the beauty of the lane. It was here we enjoyed our lovely afternoon tea at The Earl Grey Tea Rooms located in the Shambles. If you're wondering where to have afternoon tea in York and indulge in tea, dainty sandwiches, scones and delicious cake then look no further. After a week of enjoying afternoon teas in England, THIS WAS THE BEST! For £12 a person, you can enjoy the tastiest afternoon tea ever! And believe me when I say, it's WORTH EVERY PENNY and was better than some of the afternoon teas in London! 
I'm still dreaming about the creamy Coronation Chicken sandwiches, fresh scones with jam and quite possibly the MOST DELICIOUS cake I've ever had in my life, a Butterscotch Cake! I've been searching high and low for a similar recipe to no avail! 
Related: Afternoon Tea Etiquette – 15 Do's & Don'ts of Afternoon Tea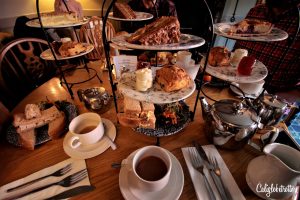 Knowing that I only had a day in York, I was adamant about indulging in the town's cafe culture. There were so many options to enjoy afternoon tea in York, but sadly, we couldn't try them all! 
Quite possibly the most popular place to take your tea and scones in York, Betty's is considered an essential 'must-do' while in York, but I personally couldn't be bothered with the long queues. I will however try it one day when we have more time. As it has been here since 1936, it is an institution in York which perhaps means making a reservation prior to your arrival!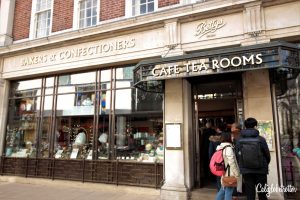 To Learn about the Vikings
The Vikings are an integral part of York's history, after all, they were here for over 100 years! The Jorvik Viking Center is an interactive multimedia exhibition aimed at dispelling any misconceptions about the Vikings and bringing history to life! Perhaps you won't travel so far back in time, but it sheds a humorous light on the Vikings with historical authenticity! Vikings stand guard outside and entice you to peer into the past! Don't like museums? No worries, there's even a Jorvik Viking Festival, one of the coolest festivals in York!
Admission: April – October: 10am-5pm, November –March: 10am-4pm 
Adults: £11.00, Children (5-16) £8.00 and includes 12 months FREE admission!
To Admire the Yorkshire Museum & Gardens
Most of York's Roman archaeology is located beneath your feet and I encourage you to explore the Yorkshire Museum to get an idea of what Eboracum was like under the Romans. Then explore the Museum Gardens where you can check out a portion of the Multangular Tower which is part of the York City Walls as well as the ruins of the 13th century St. Mary's Abbey. St. Mary's Abbey fell into despair in the 1530s after King Henry VIII banned all monasteries in England, resulting in the medieval ruins you see today! Sadly, when we visited, "The Beast From the East" still had it's grip on England and this was actually the first really warm day, so clearly none of the flowers were in bloom!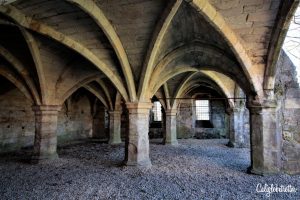 To Meander the York City Walls
No visit to York would be complete without walking a portion, if not all of the Medieval City Walls as it is one of the main sights in York! Stretching 2 miles (3.4 km), the beautifully preserved walls are the longest medieval walls in England. To walk the entire length of the walls would take about 2 hours and along the route you'll pass 5 main gateways, a Victorian gateway, a small gateway and 45 smaller towers along the way. I highly recommend checking out the impressive gatehouses at each corner of the city known as "Bars". Sadly, we didn't walk the entire circuit and only saw a tiny portion. It's completely FREE to access the walls and is definitely a family-friendly activity in York!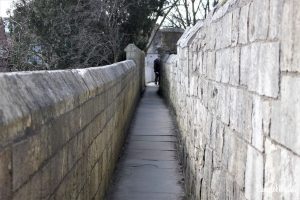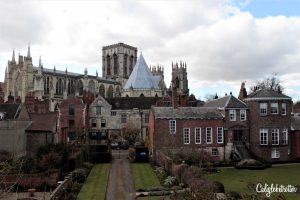 To Climb Clifford's Tower
Sadly, there is no longer very much of the York Castle except for Clifford's Tower, a dramatic stone tower perched atop a hill in the city center. Back in 1190 there were some anti-Jewish riots which forced 150 Jews into the tower who then decided to kill themselves than to be killed and today outside of the tower is a memorial to those who perished. It was built into the castle's keep and in 1684 a massive explosion blew the top off and only the walls were left intact. Should you wish to visit, the tower provides more panoramic views over York, but sadly we got there 5 minutes after closing. 
There are plans in the works to add a tourist center into the mound which has been considered to be quite controversial and could be substantially harmful to the 13th century tower.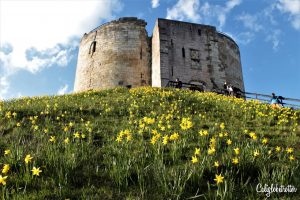 To Visit England's Finest Georgian Townhouse
While I wouldn't consider myself an expert on the subject and have nothing to compare it to, the Fairfax House claims it is the finest of them all! Charles Gregory, the 9th Viscount Fairfax of Emley purchased the house in 1759 for £2,000 – an affordable sum in today's prices, but I'm sure would break the bank just purchasing one of the Georgian chaises lounges!
Admission: Adult £7.50, Children (6-16) £3,00
Open Daily: Mondays with guided tour at 11am & 2pm, Tuesdays-Saturdays 10:00am – 5pm, Sundays 11:00am – 4:00pm
Where to Eat & Drink in York
To Get Your Drink On at the House of Trembling Madness
Having a friend who studies in York, it was nice to find a place where the locals go, House of Trembling Madness and who move lovingly refer to this awesome English pub as Delirium Tremens (DT's). Conspicuously located above a generic beverage shop which sells a variety of soda, beers and liquors, it was well off the beaten path of tourists. Clearly, it was still very much a locals' hang out. Old ship beams that once sailed the seas over 800 years ago hold the walls up which are decorated in an absurd amount of animal wall mounts. So if you're looking for a traditional pub in York, considering grabbing a drink here, but be forewarned, space is limited but the atmosphere in intoxicating! I even debated whether or not to share but I couldn't possibly keep it to myself.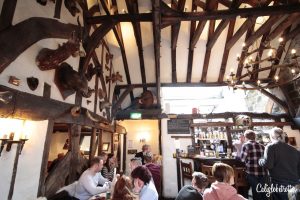 Other popular places to drink in York include The Exhibition, Punch Bowl and Ye Olde Starre Inn – York's oldest inn!
To Satisfy Your Sweet Tooth
Rowntree's and Terry's – two of the world's biggest chocolate brands were established right here in York and have been making that delicious chocolatey stuff for over 300 years. Therefore, a visit to York's Chocolate Story is an essential part of any visit to York for the true chocoholic! You'll begin by learning about the history of chocolate making in York, sample a variety of chocolate delicacies and finishing your tour in the Chocolate Bar! Sadly, we didn't have time for this and I would have loved a visit as Terry's makes my favorite chocolate of all, Orange Chocolate! MMM goooooood! York is also the birthplace of the world famous and much beloved KitKat! 
Admission: Adults £12.50, Children (4-15) £10.00
To Eat a Sunday Roast!
If you're looking for a proper Sunday Roast, you don't have to look very hard in York. There are endless amounts of traditional English pubs which serve up a roast. What is a Sunday roast, you might ask? A Sunday Roast is a plate of steaming hot veggies, meats and of course, Yorkshire Pudding. No, not like sweet pudding but more like a fluffy pastry to be eaten with your meat and veggies! Guy Fawkes Inn serves up the best Sunday Roast in York!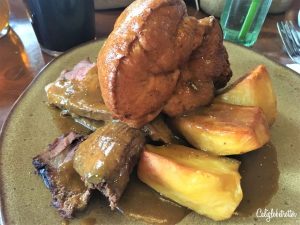 To Try Something New
If you have a small appetite and want something delicious, consider trying some local York street food. Not far from the Jorvik Viking Center, you'll find a mobile street vendor which offers Wild Boar Burgers! Now at first I have to admit it did not sound even remotely interesting, but after a few whiffs and roasted onions, we were salivating at the mouth and before we knew it, every one in our little group bought one and devoured them like wild boars! 
Over all, York was a wonderful town and I feel like I could live here. It has a big city feel yet it still retains much of its historic feel. It's thriving but not overly crowded and a variety of architectural styles I love so much! There are plenty of places to go shopping should you feel like breaking open the wallet, many tiny knickknack shops and antique shops. I know that I would like to return for sure and explore deeper!
If you're interested in visiting London and are looking for more information, I highly recommend using the Lonely Planet England Travel Guide! I've recently converted to LP's more thoroughly detailed travel guides which I find way more useful, but I am still a big fan of DK Travel Guides!

Disclaimer: This post contains affiliate links. If you click on one and make a purchase, I might make a little extra spending money, at no extra cost to you. As always, all opinions are my own and these products/services have been found useful during our travels and come highly recommended to you from yours truly!
Tops Destinations to Visit in England:
Where to Take Afternoon Tea Around the World
A Traditional London Itinerary with the London Pass
The Palace of the Peak District: Chatsworth House
A Self-Guided Walking Tour of Oxford
Liked this post? PIN IT FOR LATER!!