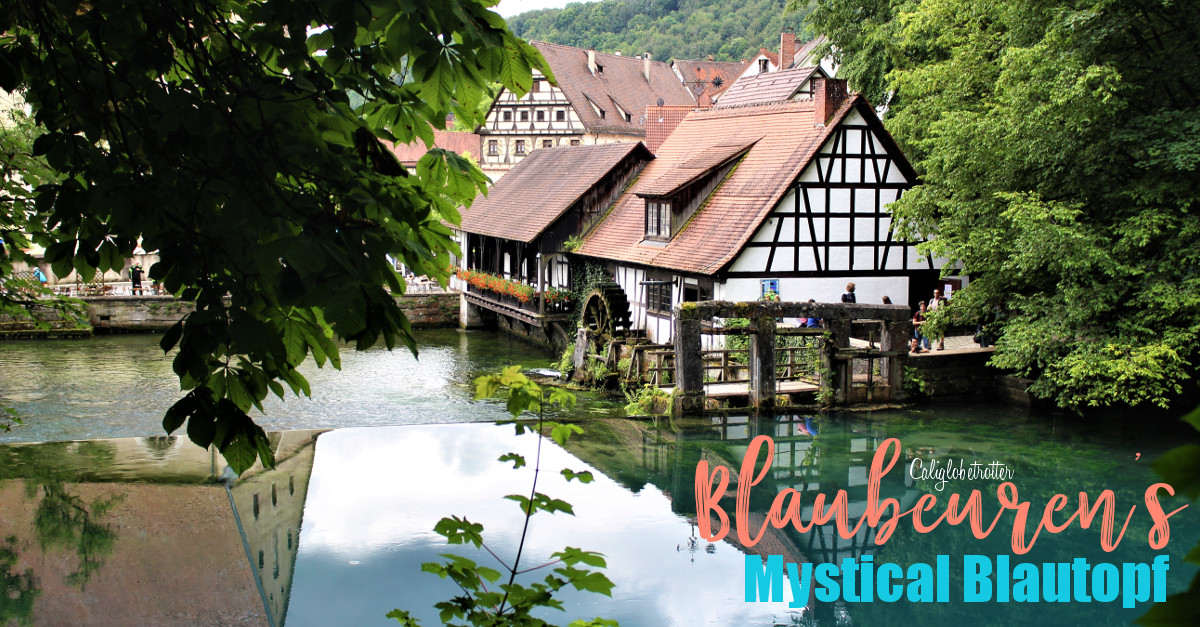 Disclaimer: This post contains affiliate links. If you click on one and make a purchase, I might make a little extra spending money, at no extra cost to you. As always, all opinions are my own and these products/services have been found useful during our travels and come highly recommended to you from yours truly!
You know when you're scrolling for hours upon hours on Pinterest because you.just.can't.stop? Ya, that happens to me quite often! And one of those days, I found a pretty picture of a small house with bright, turquoise water and I knew I had to pin it. I never thought I would actually make it there, but there it sat for a long time in my Germany Bucket List on Pinterest.
I saved it because I knew one day I would find a reason to go. Well this weekend, we finally decided to take a little road trip (3 hours away – which is like an eternity for Germans and therefore should actually be turned into a weekend vacation, but us Americans can get'er done in a day) to see Schloss Lichtenstein. Not wanting to just go to the castle, I searched through my Germany pin board for things which might be near the castle we could squeeze in, it could also be a day trip from Stuttgart or Ulm or Tübingen and found one of the best hidden gems in Germany.
Low and behold: the small town of Blaubeuren.
Now, I assumed this would be a ten minute stop, snap a picture and get back in the car and continue on to the castle. Buuuut, turns out Blaubeuren is one of the most stupid pretty towns in Europe!
In case you're interested, PIN IT FOR LATER!!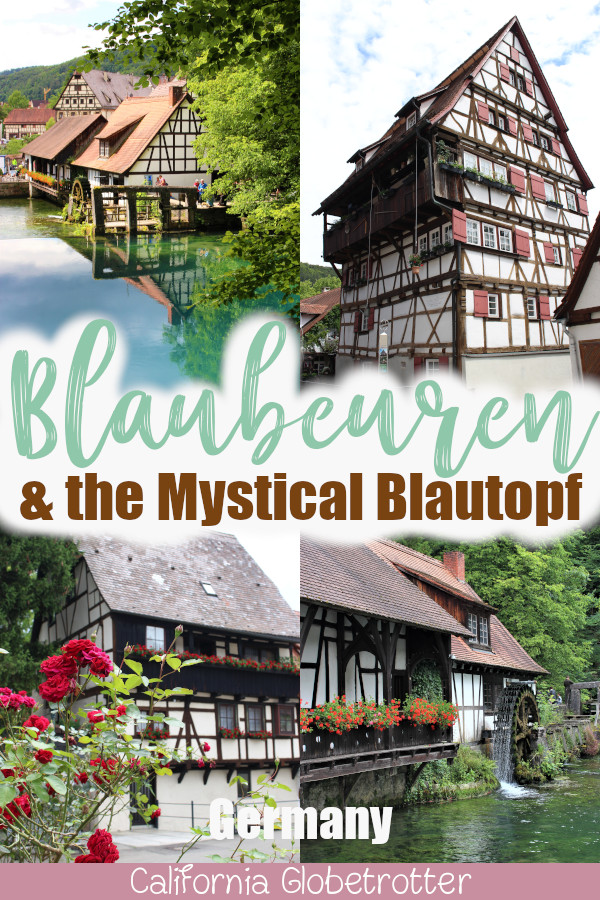 This article is now available as a mobile app. Go toGPSMyCity to download the app for GPS-assisted travel directions to the attractions featured in this article!
How to AVOID Looking Like a Tourist in Europe
Your ESSENTIAL Guide to Europe
Ok, so I guess we should have researched the town a bit more. I assumed it would be a small town and somewhere within would be this stunning picturesque must-see-sight and that would be it.
Well, we stopped at the tourist center (**First hint that the town was probably more popular than I imagined) to grab a map. Well turns out there was actually more to see than just the Blautopf. So, we followed the map's walking tour and found that the town was actually a hidden gem! Turns out, Blaubeuren lays right along the Deutsches Fachwerkstraẞe (German Timber-Frame Road)  – a scenic route in Germany stretching from the Elbe River in the north to Lake Constance in the south, lined with half-timbered houses. I hope to drive this all one day!
There aren't many things to do in Blaubeuren other than admire the beautiful half-timbered houses scattered throughout the town. On Webergasse were two beautiful half-timbered houses, "Groẞes Haus" (Big House) and "Kleines Groẞes Haus" (Little Big House). I just loved the names! And what was interesting, is that on the historic houses, the history of the house was painted on the side.
Further ahead at Marktplatz was the small main square of the town and the City Hall with a pretty little water fountain. It was definitely one of the loveliest city halls in Germany, very simple with a few window flower pots.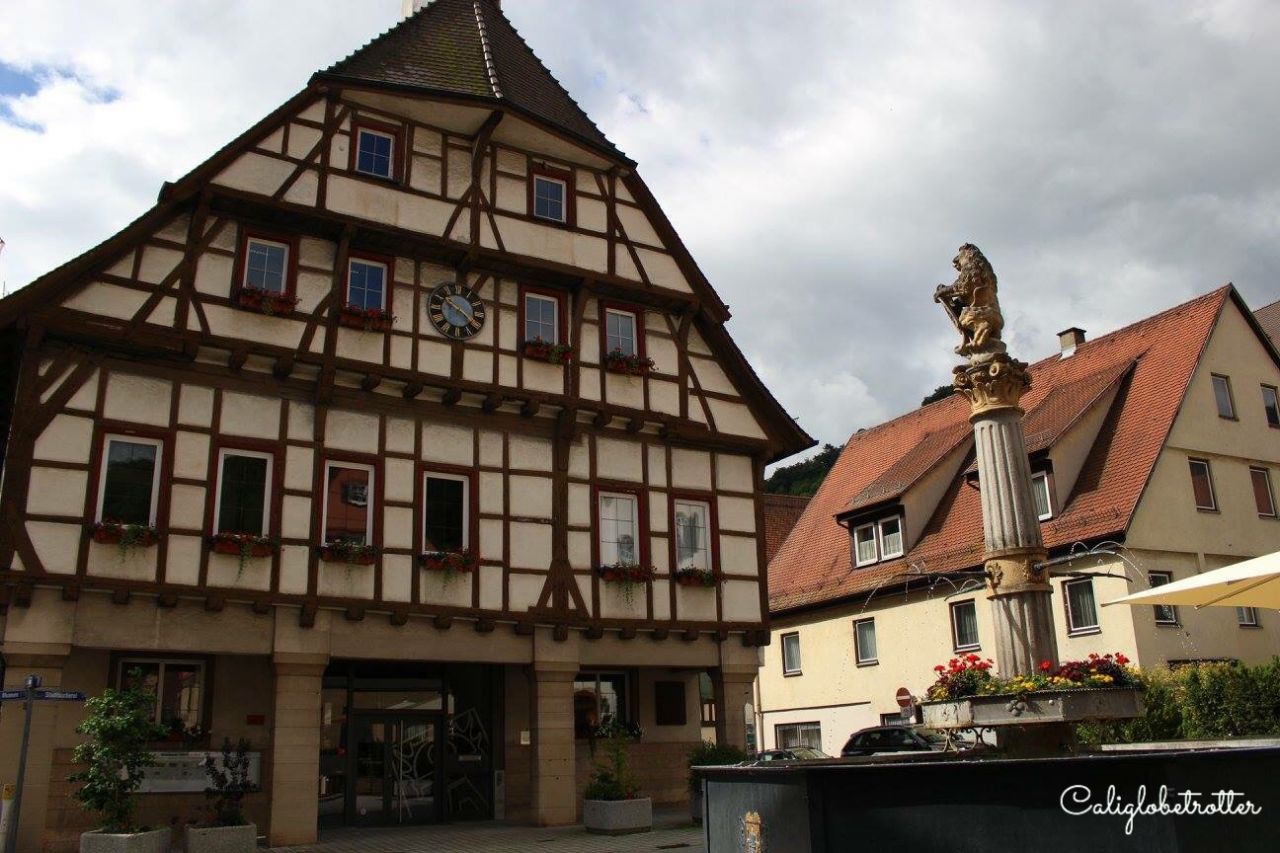 As we reached Blautopfstrasse, we found an adorable little hotel call Waldhorn Gasthaus near the Blaubeuren Abbey which was founded in 1085.
Inside the walls of the Blaubeuren Abbey was a nice little park and the church which was unfortunately completely covered in scaffolding. Also, there was Badhaus der Mönche (Bath house for the Monks) which is now a museum and is Germany's only Bath house for Monks.
Blautopf literally translates to "Blue Pot", therefore, as you make your way to the town's main attraction, you'll easily be able to find your way as there are blue pots everywhere with an arrow pointing you in the right direction.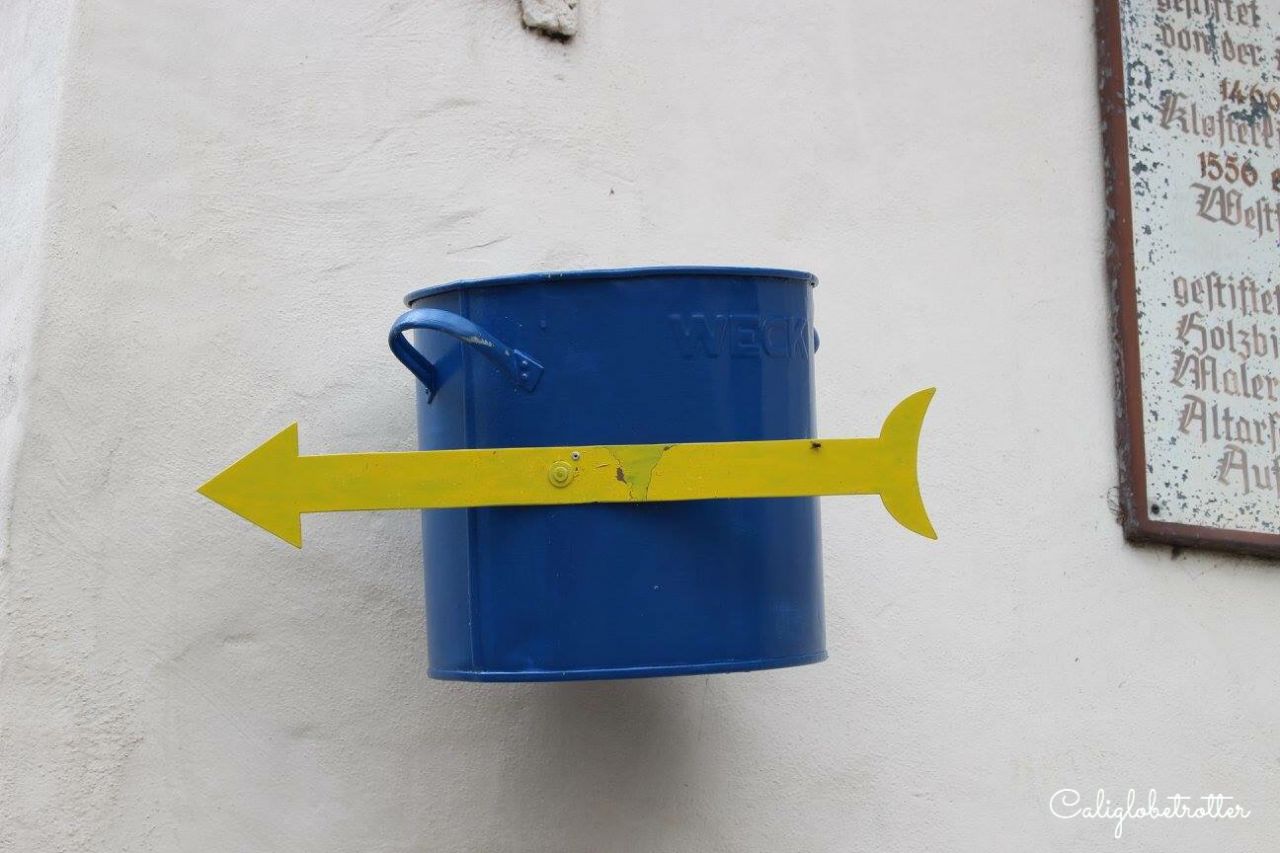 Finally, we reached the most magical and enchanting part of the entire town, which at the beginning looks more like a restaurant and a tourist hot spot. That's how we knew we were in the right place! Plus, we discovered it's a biker's stop for both bikers and cyclists!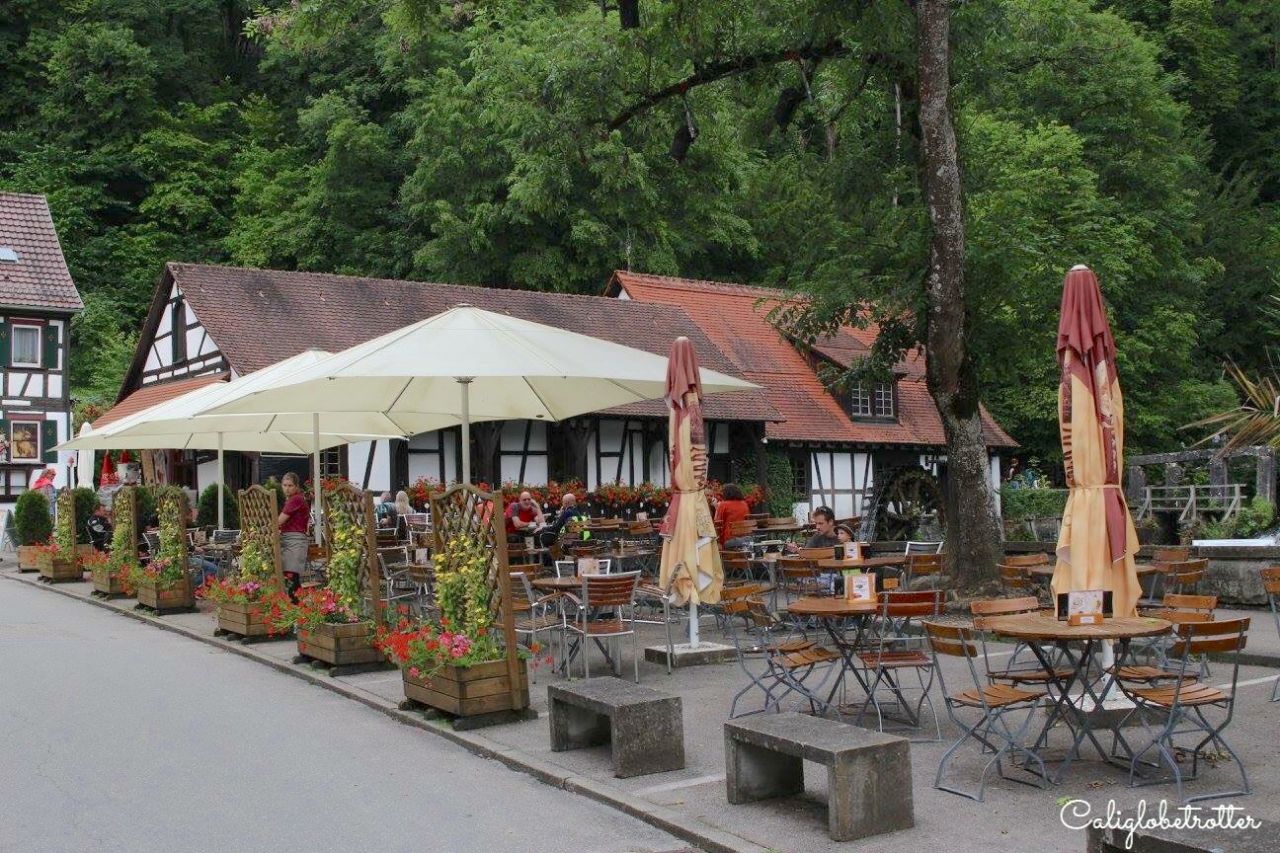 We took so many pictures because every.single.angle was just BREATHTAKING! It reminded me of a fairy tale like Little Red Riding Hood with the forest surrounding the Blautopf and a small half-timbered house with it's water wheel endlessly turning. It's honestly one of the most mystical places to visit in Germany!
There is a little path that goes up and around the Blautopf which offers more amazing views, as if it could get better.
The stunning blue water is a a spring which is the source of the river Blau which forms has formed caves due to its high pressure. The stunning blue color of the water varies depending on the weather and the flow of water, which is the result of the limestone in the water. Every now and then, the spring boils over gushing out 32,000 liters/second, more than the average 2,300 liters. It has a similar effect as at the Blue Lagoon in Reykjavik, Iceland.
So far, speleologists have explored and mapped more than 11 km of passages and shafts, however, their explorations are not yet finished!
While researching, I discovered that there are actually a few myths and legends about how the spring got its beautiful blue color and this is what I found according to Wikipedia:
"Its characteristic colour was explained by the account that every day someone would pour a vat of ink into the Blautopf. Another myth stated that every time someone tried to measure the Blautopf's depth with a leaden sounding line, a water nix stole the sounding line. Therefore, it was not possible to determine the depth of the Blautopf. Because of this tale, there is a rock called Klötzle Blei ("little block of lead" in the local dialect)"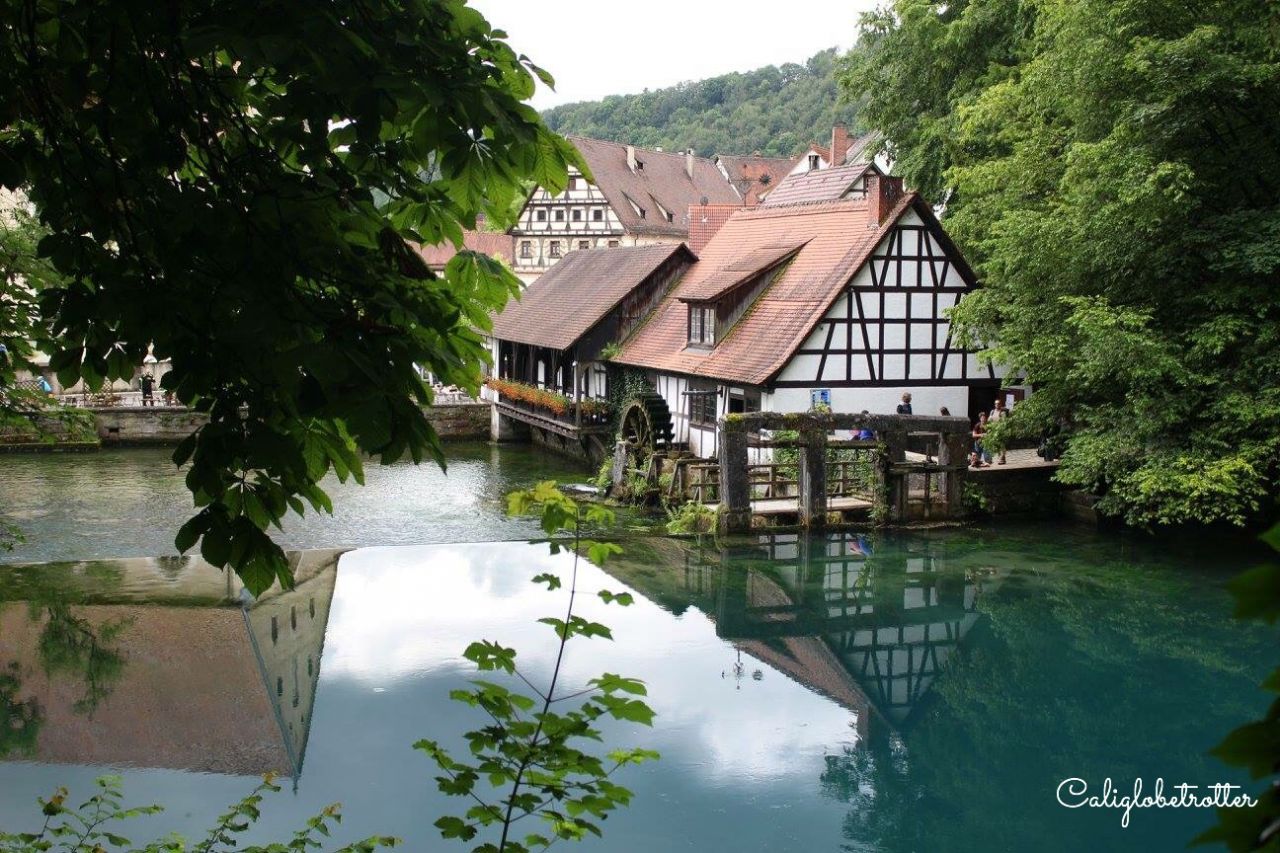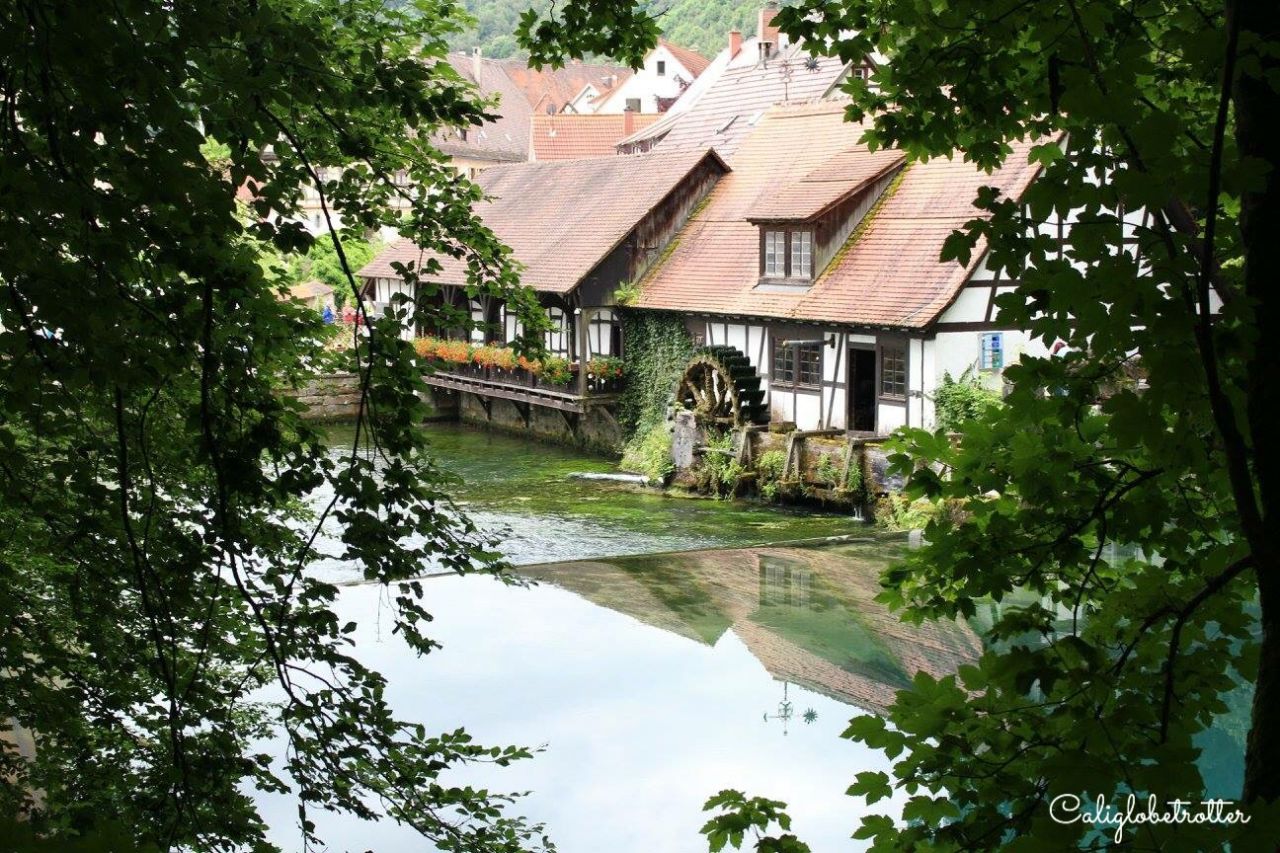 I couldn't stop staring that we ended up sitting down and enjoying brunch, taking in the sound of the small waterfall and the turning of the water wheel. A Bavarian Weißwurst and Leberkäse are two of the most popular things to eat in Germany!
There is also a chance to dive in the spring, but only for well-trained divers as the entrance to the spring is about 60 feet (18 meters) deep. Unfortunately, it is restricted only to the well-trained divers and certain clubs as there have been a few losses of life.
After we were done walking around the spring, we headed back into the town and wound our way through the streets back to our car. Along the way, we found Hoher Wil (Steep Roof) along Achgasse. Apparently, in the old days, the tanners who lived along this alley used to dry their animal hides on their roofs. The house alone was exciting to look at as you wondered how on earth it is still standing and how terrifying it must be to stand on the wooden balcony.
For More information on Blaubeuren click here!
If you're interested in visiting Germany and are looking for more information, I highly recommend using the DK Eyewitness Travel Guide! Without these guides, I would be lost! This is my travel Bible!
Disclaimer: This post contains affiliate links. If you click on one and make a purchase, I might make a little extra spending money, at no extra cost to you. As always, all opinions are my own and these products/services have been found useful during our travels and come highly recommended to you from yours truly!
Places to Visit near Blaubeuren:
The Most Picturesque Half-timbered Towns in Germany
Ulm and the Wiblingen Monastery Library
Liked this post? PIN IT FOR LATER!!
Save
Save
Save
Save
Save