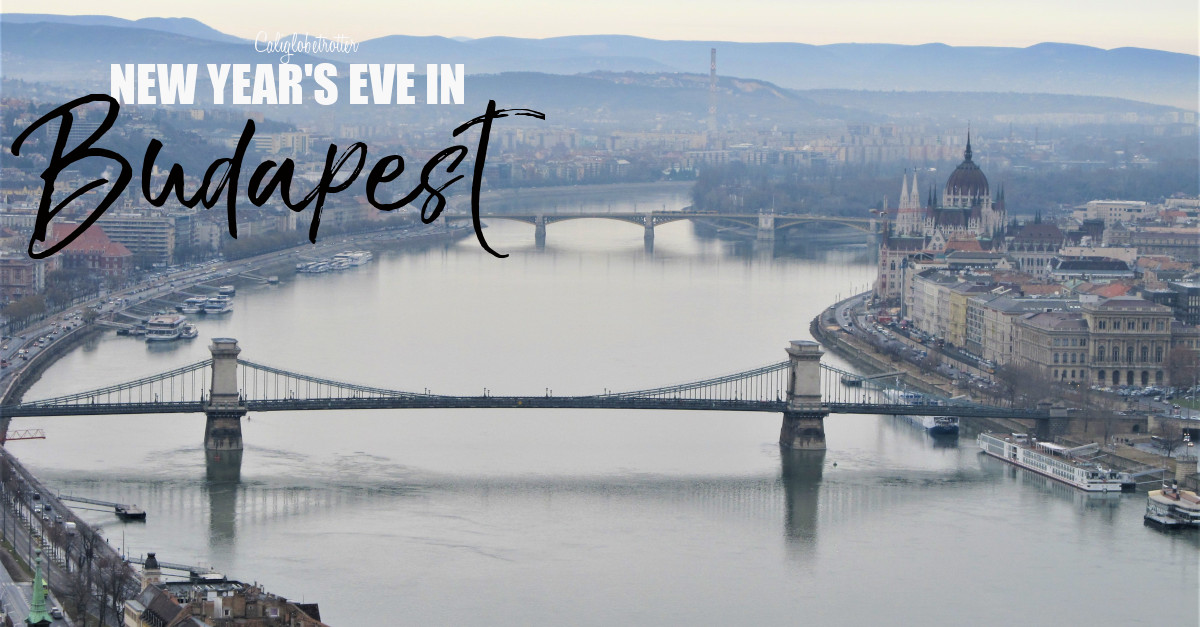 Disclaimer: This post contains affiliate links. If you click on one and make a purchase, I might make a little extra spending money, at no extra cost to you. As always, all opinions are my own and these products/services have been found useful during our travels and come highly recommended to you from yours truly!
Budapest, Hungary has been by far one of the most interesting places I have traveled to. I really enjoyed it. Not only are the buildings super awesome, but the history is very intriguing and when you walk around Budapest, you can still see the scars of history left behind on the buildings which tells a story.
I wasn't sure what to except as this was my first time to Hungary, but I left wanting to go back! It is now in my Top 5 favorite cities in Europe because there are sooo many more things to do in Budapest!
Just in case you're interested, PIN IT FOR LATER!!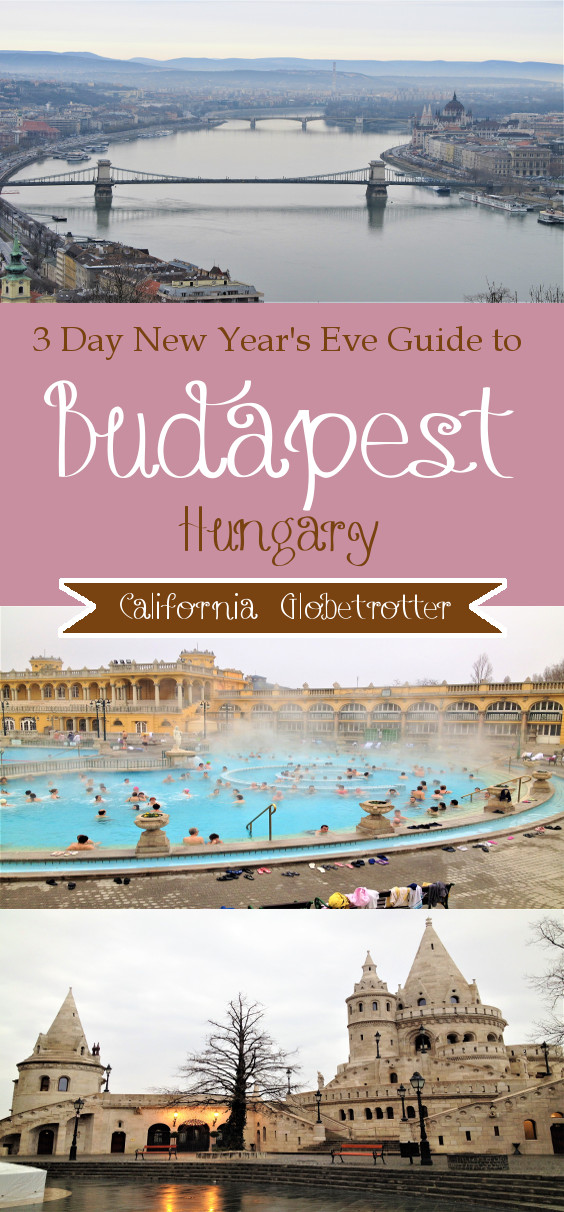 Like this post? Take it with you as GPS Guided App directly to your phone via GPSMyCity!
How to AVOID Looking Like a Tourist in Europe
New Year's Eve in Prague, Czech Republic
New Year's Eve in Salzburg, Austria
Some quick history:
We enjoyed Budapest and the history so much, we spent several hours researching and reading a lot about the history of Budapest, the last King, WWII, Communism up until the current history. I really had no idea that Hungary had their own version of the "Nazis" before joining the Axis Powers, called the Arrow Cross Party. King Horthy who was the last Hungarian King was terrified of Communism and the Soviet Union and both the USSR and Germany were terrible powers. He decided to go with the lesser of two evils, Nazi Germany, only later realizing how terrible Germany was at that time. He later tried to side with the Allies, but was forced to abdicate after his son had been kidnapped by the Nazis. Nonetheless, his worst fear became true with the Soviets won Budapest and made it a Communist country up until 1989. Today, it's one of the most up and coming destinations to visit in Europe and is often touted as one of the best places for solo travel, so if you're considering there are plenty of useful solo female travel tips for Budapest!
Fisherman's Bastion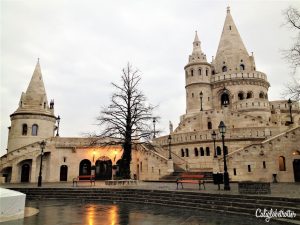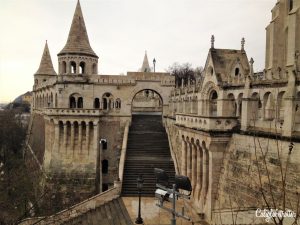 On the first night in Budapest we walked around the Castle District where our hotel was. We stayed in the Hilton Budapest on the Buda side, which overlooked all of Pest. Our hotel is actually in the travel guide. Our hotel was built in 1976 and was one of the first international hotels in a still Communist country. The hotel is special because they incorporated the remains of a 1254 church/monastery.
Right outside of our hotel you can find Fisherman's Bastion – built in 1895 solely to add to the Mátyás Church (Matthias) and to honor the fisherman who used to sell fish on the banks of the Danube. Now its just an amazing piece of architecture overlooking the all of Pest and the Danube river. It was almost completely destroyed during the war and the son of the father who built it, quickly restored it. Today, it's one of the top sights and one of the best free things to do in Budapest!
Mátyás Church
Next to the Fisherman's Bastion is the Mátyás Church. This church has been used mostly as a site to crown the Hungarian Kings. King Horthy was the last Hungarian King to be crowned before he was forced to abdicate during WWII by Hitler.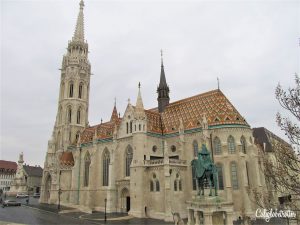 Hungarian Parliament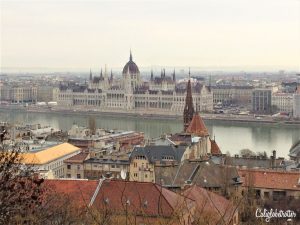 From the Fisherman's Bastion you have a fantastic view of the Hungarian Parliament building just across the river. Later in the day we would walk around the building. But we couldn't see much because there was construction all around it. Many of the buildings which surround the Parliament building show scars left over from the Hungarian Revolution where peaceful citizens marched on the Parliament Building demanding democratic changes to in a country which was at the time still Communist. It was here that the students were fired upon which would later lead the country to withdraw from the Warsaw Pact and allow free elections again.
View of Buda Castle from the Chain Bridge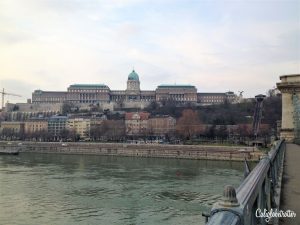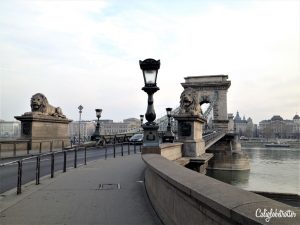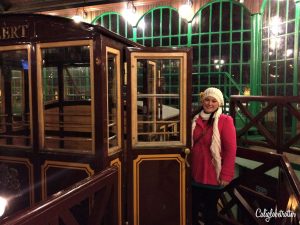 And just around the corner from here is the Buda Castle or "Royal Castle". By far one of the LARGEST castles I have ever seen in my life. Not only is it huge, but monumental! Especially if you're at the bottom of Buda looking up. The Buda Castle has been destroyed many many times, the worst damage being from the Siege of Budapest in 1945. Heavy fighting and artillery was used and put the castle into complete ruins. Afterwards, any furniture within later vanished. Soon after the war, the Communist government quickly started to rebuild the palace it what became Europe's biggest renovation project. The Communist government though made changes to the interior of the castle and modernized it, seeing it as a symbol of the former regime. There is one section of the castle that is still completely destroyed and left to sit in ruins. I am thinking it was where the horse stables were. Nonetheless, they were badly damaged and then destroyed afterwards. It is all fenced off and not entirely sure if they will rebuild it as well, or just turn it into a museum, since there is a section that you can tell will one day be a museum.
Buda Castle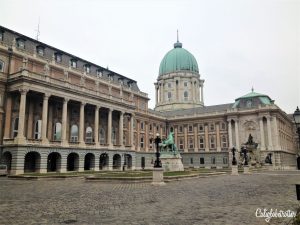 Citadella
We also checked out the Citadella while we were there. We didn't have much time to walk around & check it out, but we did get to enjoy the views it offered over Budapest! You could see as far as the Hungarian Parliament Building and the Buda Castle!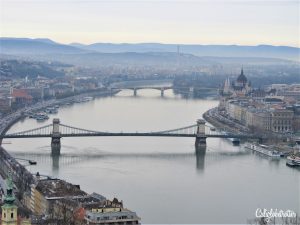 The Metro
We learned how to use the not so difficult underground. The Metro has 3 lines and one of the lines, you can still ride in the yellow old fashioned trolley cars! And each line is completely different from the next, and you can tell that each line becomes more and more modernized. They still have people who sit in a cubby box and sell you Metro tickets! The Metro in Budapest was the very first electronic underground station in Continental Europe.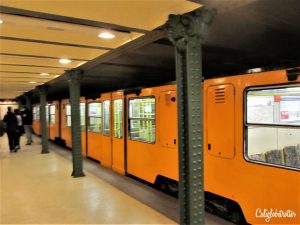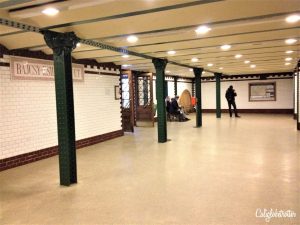 Before we went to one of the coolest things I enjoyed, we stopped and had lunch at a restaurant that you would think was some super high fancy expensive restaurant, but one of the greatest things about Budapest, is its all extremely cheap! I ordered a yummy duck with this amazing mashed potato thing fried in a pan called Dödölle…OMG, it was delicious and I must learn to make this!!! So if you're wondering what to eat in Budapest, keep an eye out for Dödölle!!
St. Stephan's Basilica
While walking around town we stopped and took a look at St. Stephen's Basilica which was built and dedicated to the First Hungarian Christian King. The inside has a beautiful 315ft dome which is visible throughout Budapest.

 Vajahunyad Castle
One of the coolest things I really enjoyed seeing was the Vajahunyad Castle. It's actually not really a castle. It was originally designed as a small project made out of paper mache and the public enjoyed it so much, they built it out of bricks. The castle incorporates the best architecture or replica buildings from around Budapest all into one castle and is one of the best things to do in Budapest!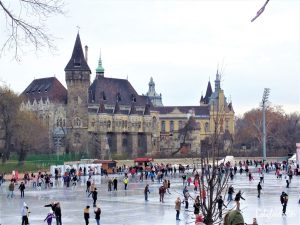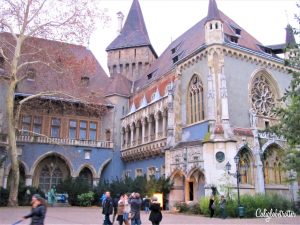 The Széchenyi Baths
On the second day, we got up early in the morning and took the train back into town so that we could go to the Széchenyi Baths, one of Budapest's best thermal spas, therefore I could get ready afterwards instead of getting dressed twice. Surprisingly, for early in the morning, it was still really busy! We still had to stand in line to get our pass watch. Once inside, you change and shower before getting into the thermal pools. We went directly outside in 38*F winter weather to enjoy the nice hot thermal pool which is surrounded by the beautiful outside exterior of the building and many statues. I honestly couldn't believe something this beautiful was open to the public. It more looked like a big pool for royalty! We went around all the indoor thermal pools and the outside pool for about an hour, and Hans enjoyed a steam room for a little bit.
If you're looking for other spa in Budapest, then perhaps consider visiting Gellért Thermal Baths!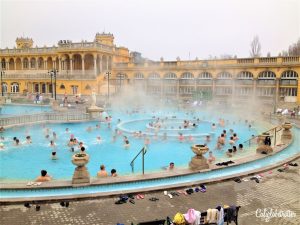 Afterwards, we walked around and saw a few other things. But the fog started coming in thick and heavy, so we decided to find some lunch. We ended up finding the Hard Rock Café. I know, so cliché that I would eat there in Budapest, but Hans had never been to one before and so we went and enjoyed a nice meal for our late lunch, early New Years Eve dinner. We had decided to eat early because it seemed that all the restaurants were getting busy and required a reservation for New Years Eve. We didn't want to take the risk of not being able to find somewhere to eat.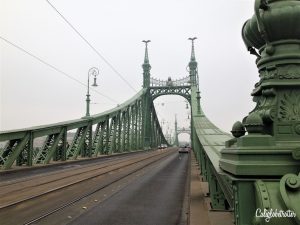 Soon, we started hearing fireworks set off outside, so we got dressed and went outside to inspect. It was just people lighting off their own fireworks. We walked around Fisherman's Bastion and the Buda Castle getting more pictures and looking around. We went back up to our room, grabbed our bottle of Prosecco and went back to the Fisherman's Bastion, found a good spot for pictures and sat there and hung out waiting for midnight to strike. It honestly wasn't nearly as crowded as I thought it was going to be. We thought it would get super crowded because its on top of the hill, overlooking all of Pest and the Parliament building where we thought the government would also set off fireworks at midnight. Nope. None. Nothing. We were rather disappointed that only individual people with fireworks and hotels and other buildings along the Danube were setting off one firework here, one firework there throughout the night. No real big bang kaboom crack sizzle and pop explosions of fireworks. What a letdown! Next year, we will do NYE, America style!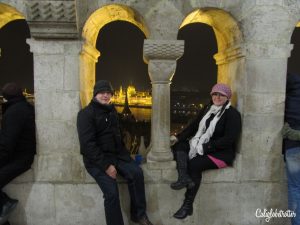 We walked around Buda Castle for the first time in the day time. It really is a magnificent castle, and its hard to believe it was almost completely destroyed and then rebuilt. We didn't have much time to do much else, we had to catch our train at 11. Our train ride to and from Budapest took us 7 hours. Going to Budapest the train was extremely crowded with people standing in the aisles and everyone being loud and drinking on the train. Coming home, dead quiet! I think everyone was tired and hungover from the previous night's excitement!
Overall, it was an amazing trip and I cant wait to visit Budapest in the summer.
I love me some cold weather, but man, when that fog rolls in, it gets damn cold! If no one has ever been to Budapest, you should go. Immediately. It was awesome! The food was awesome! The people were awesome! Everything was awesome! And all Hungarians practically speak 3 languages fluently: Hungarian, German and English. But as a tourist, don't bother trying to speak Hungarian. It's really difficult to pronounce anything. Sounds like a bunch of mumbled sounds, which somehow form words!
We'd also like to go back because there are many unique things to do in Hungary and in general, many hidden gems in Eastern Europe that we have yet to discover!
Where to stay: Hilton Budapest ⭐⭐⭐⭐⭐ – Directly next to the Fisherman's Bastion in the Castle district of Budapest, this is a top notch hotel, comfortable beds and a delicious breakfast!
If you're looking for Budapest travel guides, look no further than Lonely Planet or DK Travel Guides! These are my travel Bibles and I don't go anywhere without them!
Disclaimer: This post contains affiliate links. If you click on one and make a purchase, I might make a little extra spending money, at no extra cost to you. As always, all opinions are my own and these products/services have been found useful during our travels and come highly recommended to you from yours truly!
Hungary Travel Guides:
How to Spend a Romantic Weekend in Vienna
12 Day Itinerary for Prague, Vienna, Bratislava & Budapest 
15 Essential Things to See in Bratislava, Slovakia
Liked this post? PIN IT FOR LATER!!
Save
Save
Save