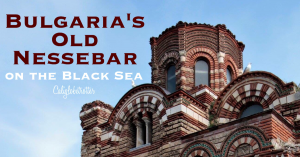 Disclaimer: This post contains affiliate links. If you click on one and make a purchase, I might make a little extra spending money, at no extra cost to you. As always, all opinions are my own and these products/services have been found useful during our travels and come highly recommended to you from yours truly!
Set on a rocky peninsula jutting out into the Black Sea, the ancient Bulgarian town of Old Nessebar is one of the country's few UNESCO World Heritage Sites. Today, it is one of Bulgaria's most popular tourist destinations, and for good reason: it's packed with exceptionally picturesque wooden houses and churches. The small peninsula is connected to the main land via a man-made isthmus meaning "narrow strip of land connecting two areas of land" in Ancient Greek. 
Upon driving down the narrow isthmus, I could see that this was going to be a wonderful day trip from Sunny Beach, Bulgaria's most popular beach, nearby. As you cross the narrow strip of land, a wooden windmill welcomes you to this ancient town, hidden away behind the remains of the Roman Fortress walls.
If you're looking for some of the best beaches in Bulgaria, then consider Old Nessebar, the perfect day trip from Sofia which is easily reachable in just a few hours! But since it's sooo gorgeous, you'll want to make this a weekend trip and having a relaxing time! Plus, you really wouldn't want to rush through one of the most amazing cities in the Balkans! It's definitely one location I would love to go back to again and again and is definitely not an exaggeration when I say that it's one of the best places to visit in Bulgaria, so if you're looking for STUPID PRETTY, look no further!
Sound delightful yet? PIN IT FOR LATER!!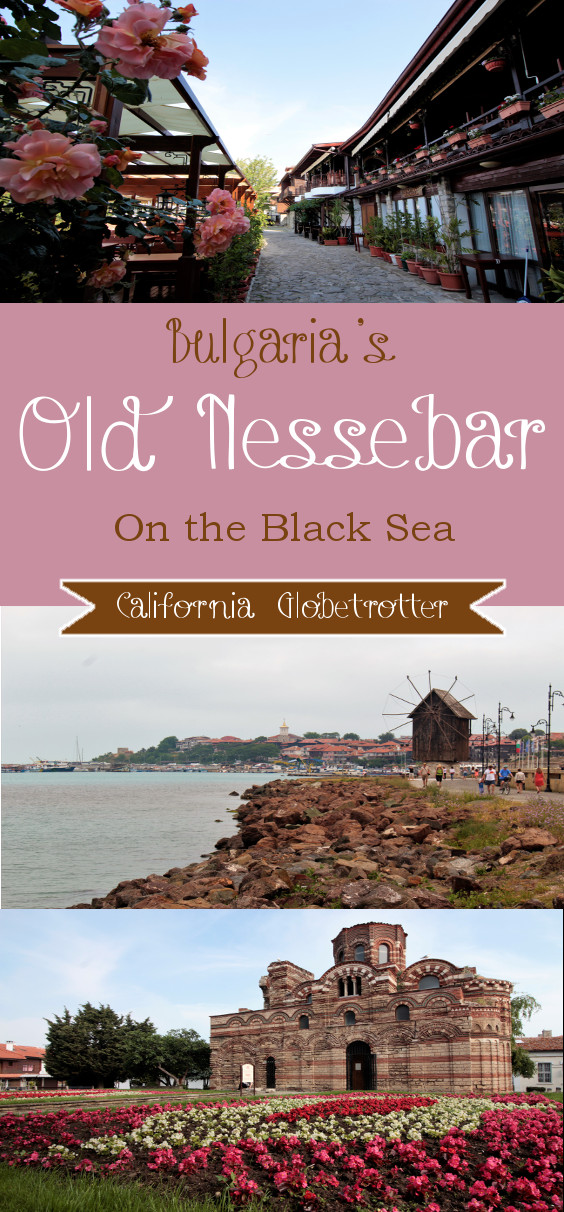 This article is now available as a mobile app. Go to GPSMyCity to download the app for GPS-assisted travel directions to the attractions featured in this article!
How to AVOID Looking Like a Tourist in Europe
History of the Town
The Ancient city of Nessebar is often referred to as "the Pearl of the Black Sea", and dates back well over 3,000 years and was once a Thracian settlement known as Mesembria. The town is often referred to as Nesebur or Nesebar but Nessebar is the most commonly used spelling. At the beginning of the 6th  century, it became a Greek colony and a vital trading route from that point on, rivaling what is now known as Sozopol. During the Middle Ages it became a very important city when it was under the control of the Byzantines. The city's prominence began to decline after being captured by the Turks in 1453, therefore preserving the town's mixture of history which can be seen throughout the various styles of churches found on the peninsula.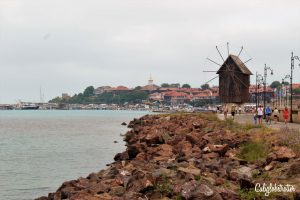 Towards the end of the 19th  century, the town was mostly inhabited by Greek fishermen and vine growers. The town remained a relatively empty place with few residents and by 1925 a new part of town was developed known as "New Nessebar" for the ever growing population. Since then, the old town has been meticulously restored and preserved.
What to Do in the Town
Without a doubt, what draws most tourists here is the picturesque 19th century wooden houses which was typical for this region along the Bulgarian Black Sea, in a similar style as found in Plovdiv, where the upper floors extend over the lower floors. This style of architecture is known as "National Revival" which dates back to the time period in which Bulgaria regained its independence in 1878.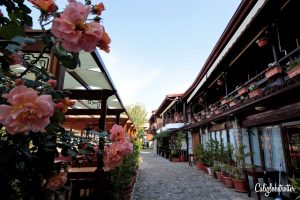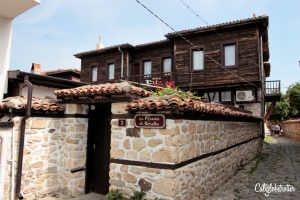 Endless winding cobbled-stoned roads lead you through some of the most charming alleys, where perhaps you might discover a hidden beach front bar or a stray cat hidden beneath a bush of red roses. As you stroll along, you can feel the romance and the history and can even begin to imagine what life was like here all those centuries ago. Since it was our honeymoon after all, we meandered down any side street away from any tourists and eventually we found absolute serenity and a few palm trees which made me feel back at home!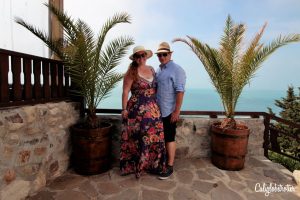 Having shaken off its Communist roots, the tourists have begun pouring in so you'll find one tourist shop after another. Each one imploring you to take a peak inside for many hand made items, even perhaps leather or fur jackets, which is quite a popular Eastern European style. Despite this, it didn't put me off of Old Nessebar's quaintness.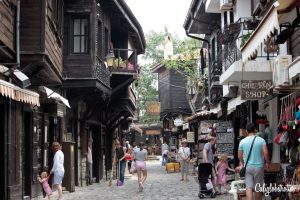 According to some legends, there was once around 40 churches on this tiny peninsula, and today barely 23 remain. The small town is a museum city, and with each church or ruin, it is possible to go inside and visit. Consider buying a package deal if you have the time and the interest to visit each one. We were perfectly content to check out each of the churches from the outside.
Though there aren't many things to do in Old Nessebar, of importance here and located in the center of the town, is the Church of Christ Pantokrator whose outer façade is unlike any I have ever seen before. With a row of blind arches built with alternating bricks and stones, this was typical during the 13th and 14th  centuries and is quite a common theme here. You'll also perhaps notice the decorative red brick motifs in the shape of a swastika, predating anything having to do with Nazism by several millennia! It is simply the symbol of an ancient sun cult.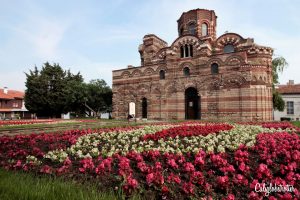 Of all the ruins, the Hagia Sophia Church is perhaps the most impressive with its brick arched columns which dates back to the 5th  century. During the Middle Ages it was used as a cathedral, later looted by the Venetians and many religious relics were taken and eventually the basilica was abandoned in the 18th  century. Today, many tourists gather round here for the shops that surround it and for a few selfies.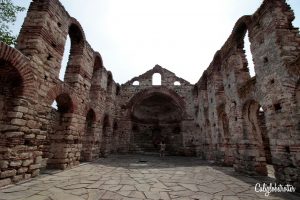 Jutting out from the peninsula is a small, shabby make-shift pier where you can find locals baitin' a hook and fishin'. We took a stroll down along the pathway which encircles the peninsula and took a stop here to admire the views of the town. Careful though, the make-shift pier was on the verge of collapsing into the blue waters below! You won't find any soft sandy beaches here, but instead a beach of broken seashells. 
Where to Eat in Old Nessebar
As the small peninsula is quite touristy, it naturally caters to the plethora of tourists, therefore there is an abundance of restaurants and cocktail bars to choose from. Locals will try to entice you to eat at their restaurant, especially those without a sea-side view and hidden down a side alley. Sometimes though, it could have been slightly overwhelming and aggressive. I had to lie a few times and simply say "It's too early, but we'll be back!"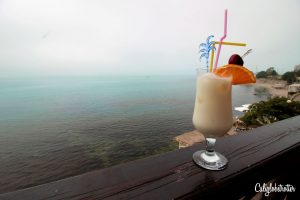 While we were too early for lunch, we did take the time to stop at one of the many restaurants which offered a sea-side view and have a cocktail…or two. Prices were incredibly affordable, and during our time in the area, on average we spent about 15 € for two meals and two drinks as Bulgaria is one of the cheapest destinations in Europe!
Being a town on the coast, you can expect to find many varieties of fish, crab and lobster as your main course, while there is also the possibility of finding non-fishy foods for the anti-fish eaters out there such as soups and chicken strips! Holla! 
How to Get to Old Nessebar
The historic portion of town itself is inaccessible to drivers, however, you can drive on to the peninsula and find parking on the left side.
For cars: 1 – 4 hours: 2 BGN (lev) per hour
Should you being staying on the mainland at New Nessebar or even Sunny Beach, you can consider walking over the isthmus which takes around 10 minutes or less. 
There is also the option of taking one of the many touristy boats from Sunny Beach to Old Nessebar by simply approaching one along the beach. 
When Should You Visit Old Nessebar?
On the day that we had arrived, June 2nd , it was the opening of the summer season. The number of tourists was still rather low and many restaurants had yet to unpack and open, however we did not feel in any way that this hindered our visit. If anything, we prefer the lack of tourists which allowed us to better enjoy the town!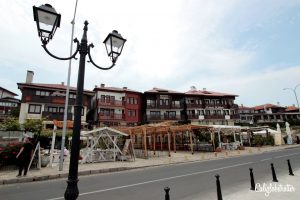 Sunny Beach, and therefore, Old Nessebar are divided into three categories:
Low season from beginning of May to mid-June, September
Middle season: mid-June to (mid-)July, mid-August to September
High season: (mid-)July to mid-August, or even until end of August
During the winter months, Sunny Beach and Old Nessebar are pretty much closed up, as expected during the cold months. However, apparently, even visiting in May can be rough. Even if some hotels are open, many restaurants don't open until June! Same can be said for the end of the season. 
The weather during this time was already rather warm and humid and unfortunately for us, we were trying to outrun the impending thunderstorm. We were rather successful, but felt that we had to slightly rush through the town as the thunder off in the distance sounded like a massive incoming storm… and it was! Upon our return home, I had discovered that the plankton in the water made the Black Sea the most turquoise it had been since 2012!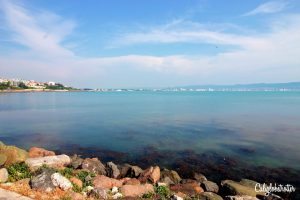 Where to Stay on the Black Sea
Originally, we had booked at the Boutique Hotel St. Stefan ⭐⭐⭐ in the heart of the historic peninsula with simple decor but with views of the Black Sea. I would have kept it, had I not been casually perusing and found an all inclusive resort towards the northern end of Sunny Beach. 
⭐⭐⭐⭐ Fort Noks Premier Fort Cuisine – with a beach front view, outdoor pools, private beaches and restaurants, this all-inclusive hotel was exactly what we needed for an incredibly low price! Highly recommended for families!!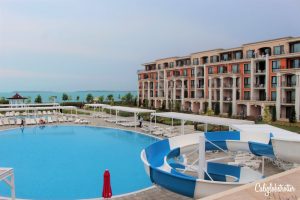 Don't Miss Sunny Beach!
Off in the distance is Bulgaria's first and largest beach resort, lined one hotel after another. Established in the 1960's to draw tourists to this region, it quickly became a coastal beach resort town stretching 5 miles (8 km) but is only now becoming known to Westeners since the fall of the Iron Curtain. 
With soft sandy beaches lined with beach umbrellas and sun chairs for rent, and the occasional private sun beds at the White Bar, this is the perfect paradise to come and get your relaxation on! Hopefully, with a mattress!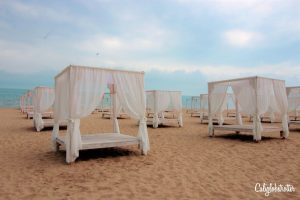 If you're not laying out at the beach, stroll the main promenade loaded with restaurants, bars, night clubs and even a few fun park rides! If you're looking to party hardy, Sunny Beach was made for you! Or even consider Golden Sands not much further!
Looking for more practical information on Balkan Travel? Grab a copy the following travel guides which we found incredibly useful on our trip and has something for everyone from outdoor activities to historical sites!
Disclaimer: This post contains affiliate links. If you click on one and make a purchase, I might make a little extra spending money, at no extra cost to you. As always, all opinions are my own and these products/services have been found useful during our travels and come highly recommended to you from yours truly!
Other Top Sights to See in Bulgaria:
The PERFECT Two Week Balkan Road Trip
Exploring the Crown Jewel of Bulgaria: Rila Monastery
Unlucky Misadventures in Sofia, Bulgaria
Head Over Heels in LOVE with Plovdiv!
Liked this post? PIN IT FOR LATER!!