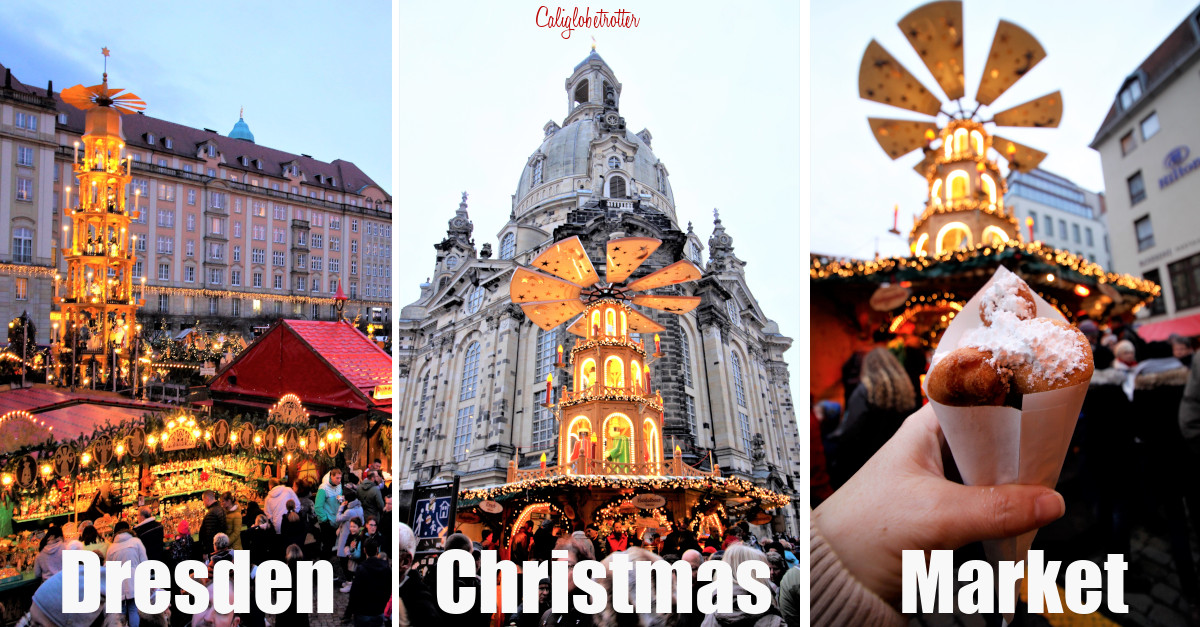 Disclaimer: This post contains affiliate links. If you click on one and make a purchase, I might make a little extra spending money, at no extra cost to you. As always, all opinions are my own and these products/services have been found useful during our travels and come highly recommended to you from yours truly!
As of writing this, there are 79 days and 7 hours to go until the opening of Dresden's Christmas Market and I can hardly contain my excitement than Christmas is just around the corner! To say that Christmas in Germany is anything less than magical would be a complete understatement! So, when you're looking for the best Christmas Markets in Germany, Dresden's Striezelmarkt is right up at the top of the list! Why, well for one, it's the oldest Christmas Market in Germany and two, because its über pretty!
Want to visit the Dresden Weihnachtsmarkt? PIN IT FOR LATER!!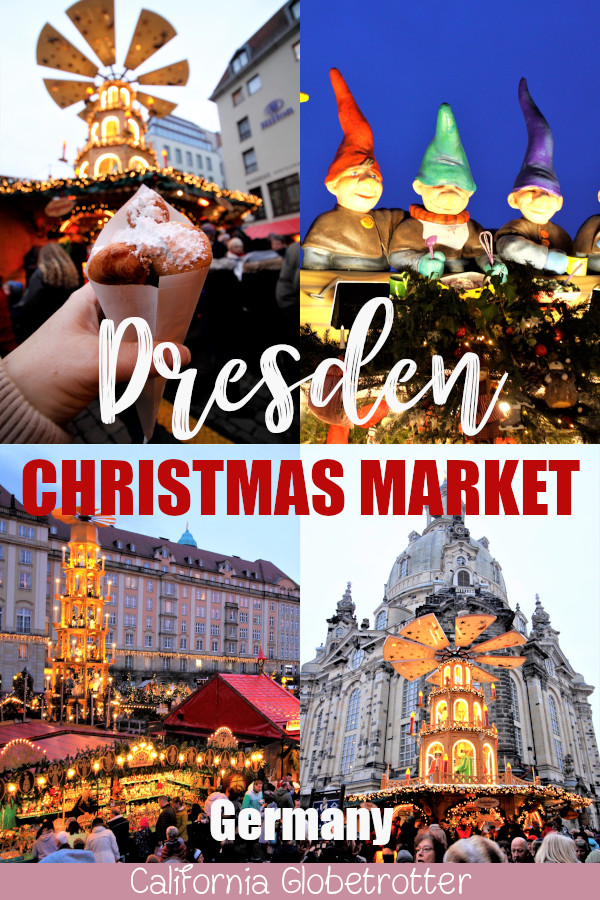 EVERYTHING You Need to Know About Germany's Christmas Markets
Photos to Inspire Christmas in Europe
UNIQUE Christmas Markets in Germany
Christmas Market aside for the moment, Dresden truly is one of the most beautiful cities to visit in Germany at any time of year. But the city center truly lights up and comes to life throughout the Christmas Market holiday season. No matter where you go as you walk throughout the entire historic city center, you're bound to bump into a collection of Christmas huts with the warm small of pipping hot Glühwein wafting through the air and the sweet smell of Stollen tickling your taste buds. From the Altmarkt to across the Elbe River to the Neustadt quarter of Dresden, you'll find a Christmas Market.
The historic part of the Christmas Market is predominantly found on the Altmarkt Square, in the heart of the historic city center. Lovingly referred to as the 'Striezelmarkt', in reference to a much beloved sweet delicacy known as "Hefestriezel", which would later more commonly be known as the Dresden Christ Stollen. Dating back to 1434, it's often referred to as the most genuine Christmas Market in Germany, while other markets such as Vienna (1298), Munich (1310) and Frankfurt (1393) were more commonly referred to as "December markets".
It's hard to believe that every year, Christmas Markets around Germany are built from the ground up and only last a month, when so much attention to detail goes into building these Christmas villages all over city centers. Some are more decorated then others, such as the Stuttgart Christmas Market, as well as Dresden's. Others are a little less flashy but equally just as Gemütlich! So, whether you want to visit the Dresden Christmas Market or one of many Christmas Markets in Germany, you'll walk through a Christmas wonderland no matter where you go!
Dresden's Christmas Markets
The Striezelmarkt at Altmarkt Square
The focal point of Dresden's Christmas Market is the world's tallest Christmas pyramid at a whopping 14 meters high! Should be so, considering that the Christmas pyramid, as well as nutcrackers and the Schwibbogen arch are some of the most popular hand carved items made locally in the Erzgerbirge (Ore Mountains) just outside of Dresden. When the mines outside of Dresden closed up, many resorted to hand carving, thus making many of Germany's beloved Christmas items.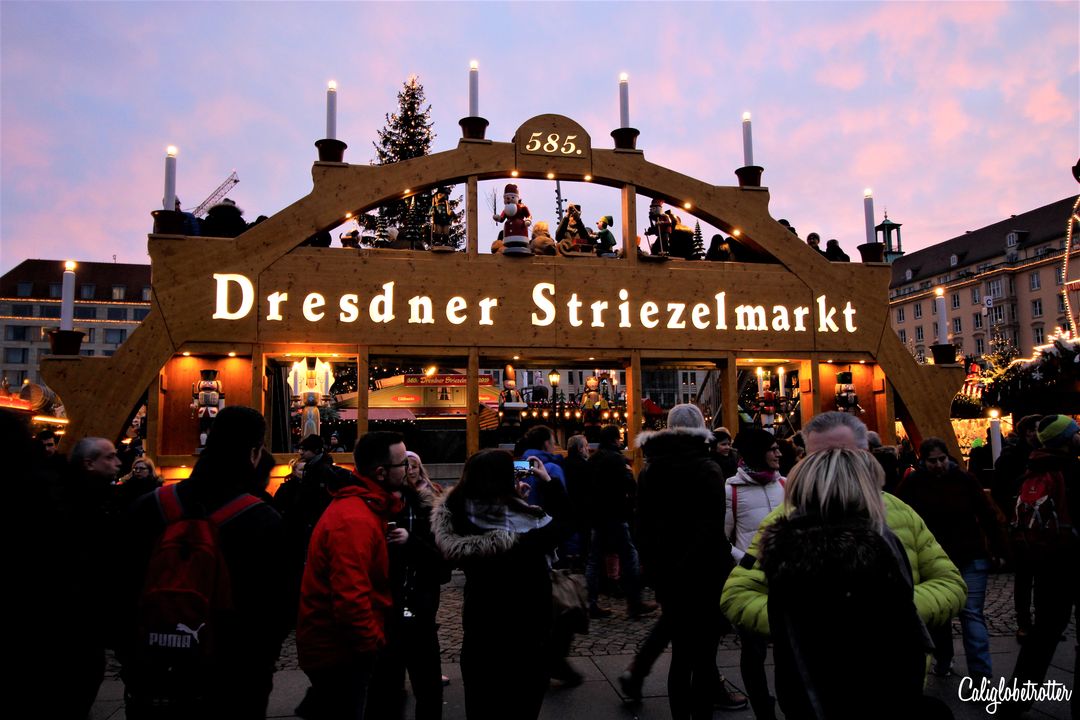 Tip: When you see 'Erzgebirge', you know it's a locally made product, made in Germany and not imported, and you will typically find many of these same items at Christmas Markets all around Germany.
At the front of the square, the market is decorated with its own larger than life Schwibbogen, a wooden arch with candles and figurines, which you can climb up for a aerial view over the market. It is believed that miners used to hang candles over the entrance of the mines on their last working day before Christmas.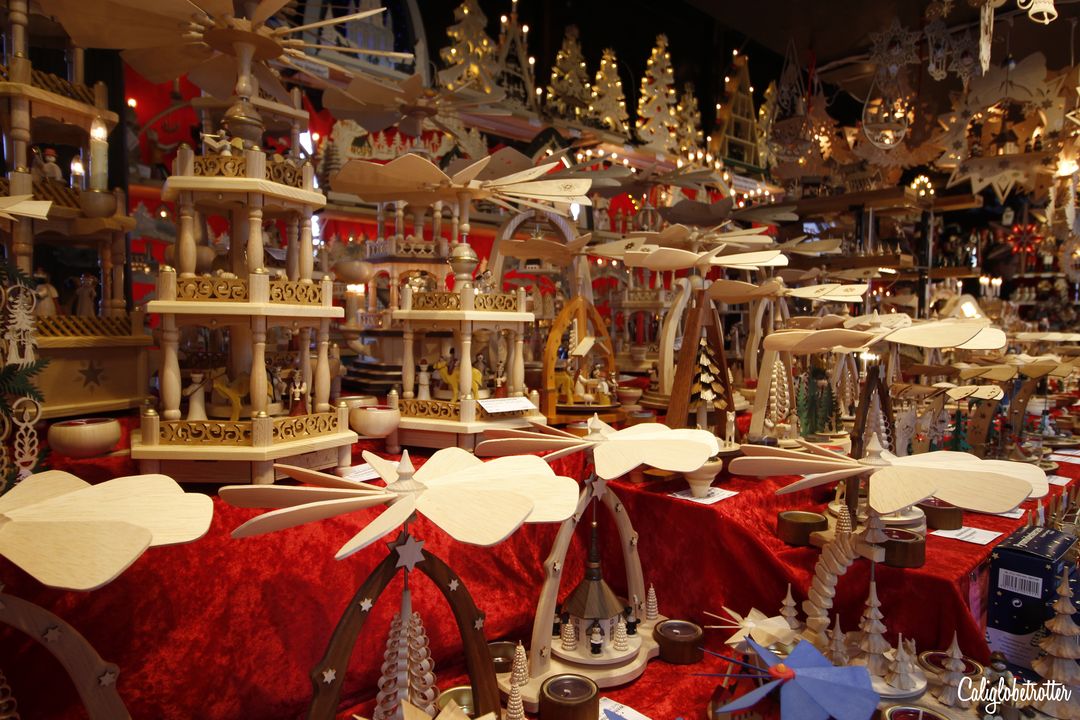 Originally, the market was intended as a one day market where farmers and craftsmen could sell their wares before winter fully set in and where locals would gather to stock up on goods to last them through the winter months. Obviously, back then the markets were simpler and a lot less full of that glitzy holiday decor which can be found atop many a Christmas stall in Dresden!
Today, those Christmas stalls are decorated to the max, above and beyond the typical stall decor you find at any other market in Germany. Here, the bigger, the better. The glitzier, the better. And in the center of it all is a massive twinkling Christmas tree. It's no wonder why Dresden's Christmas Market is one of the most popular markets in Germany and brings in around 3 million visitors per year!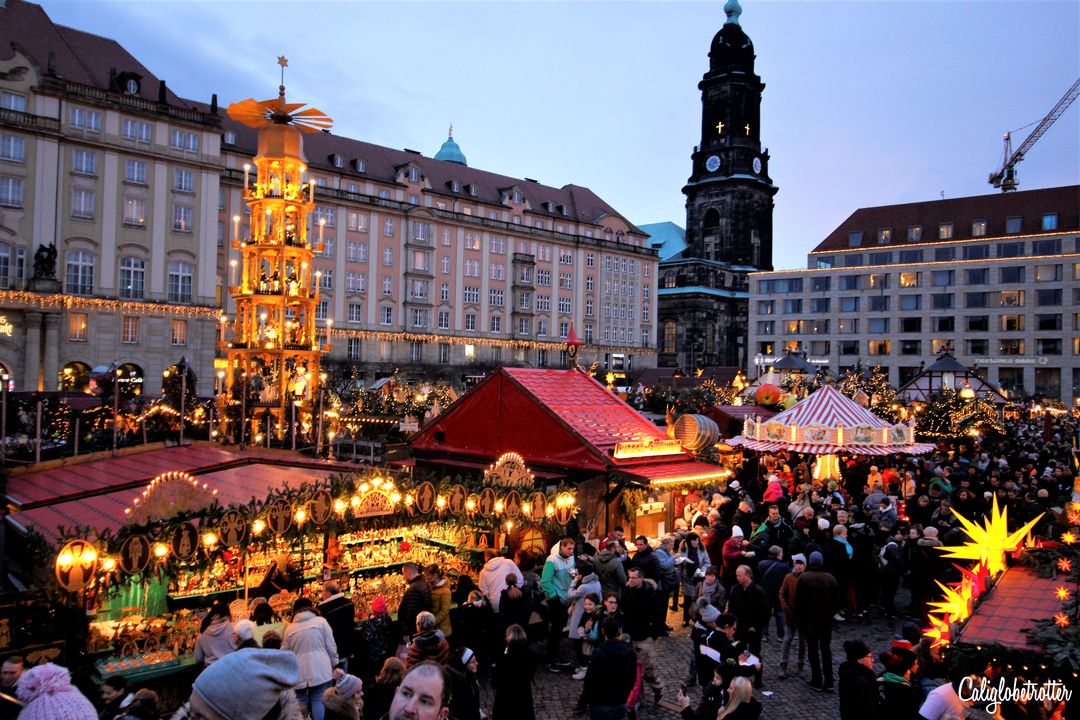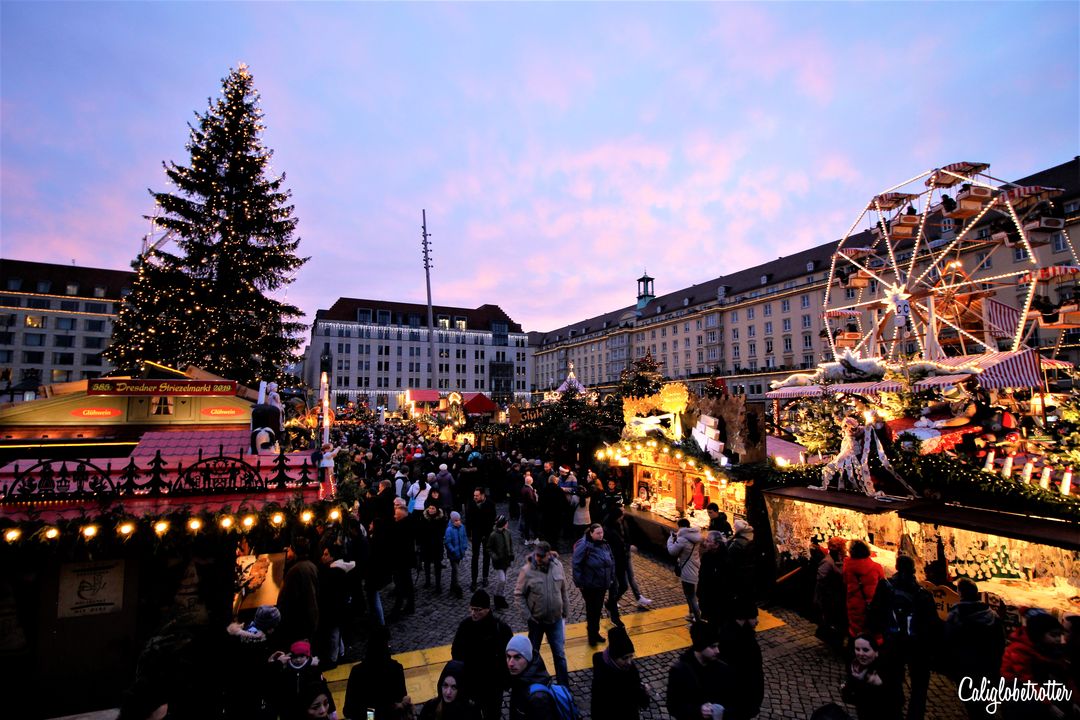 The best time to visit the Dresdener Striezelmarkt is obviously right at Blue Hour, that perfect time of day between late afternoon and early evening when the sky is at its bluest hour, for a brief 10 minutes. To figure out when that is, check the time for sunset on that particular day and get there just before, as blue hour is merely a fleeting moment in time when the golden hues illuminate the Christmas Market, when the lighting is just right and before it gets too dark!
Related: Tips for Taking Blue Hour Photos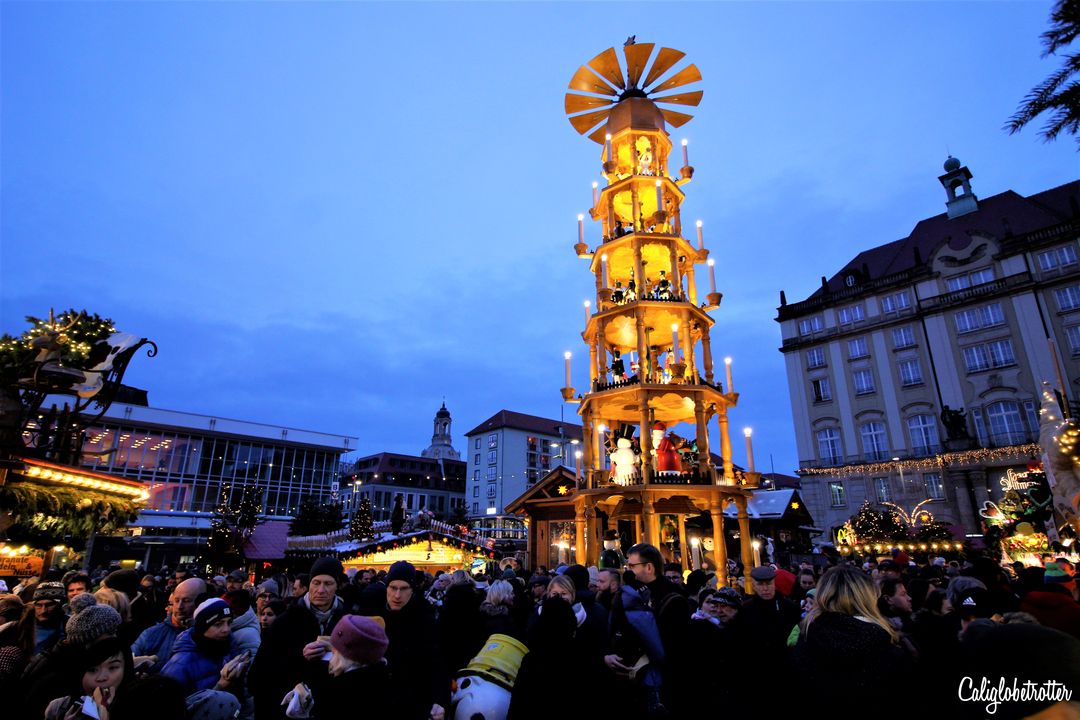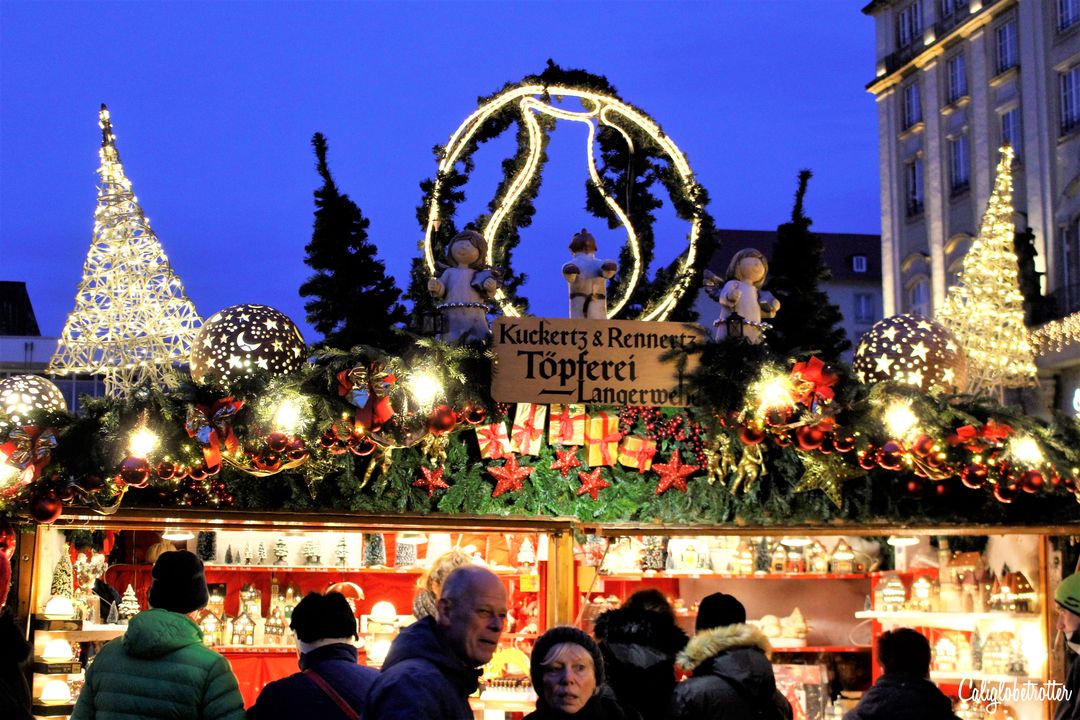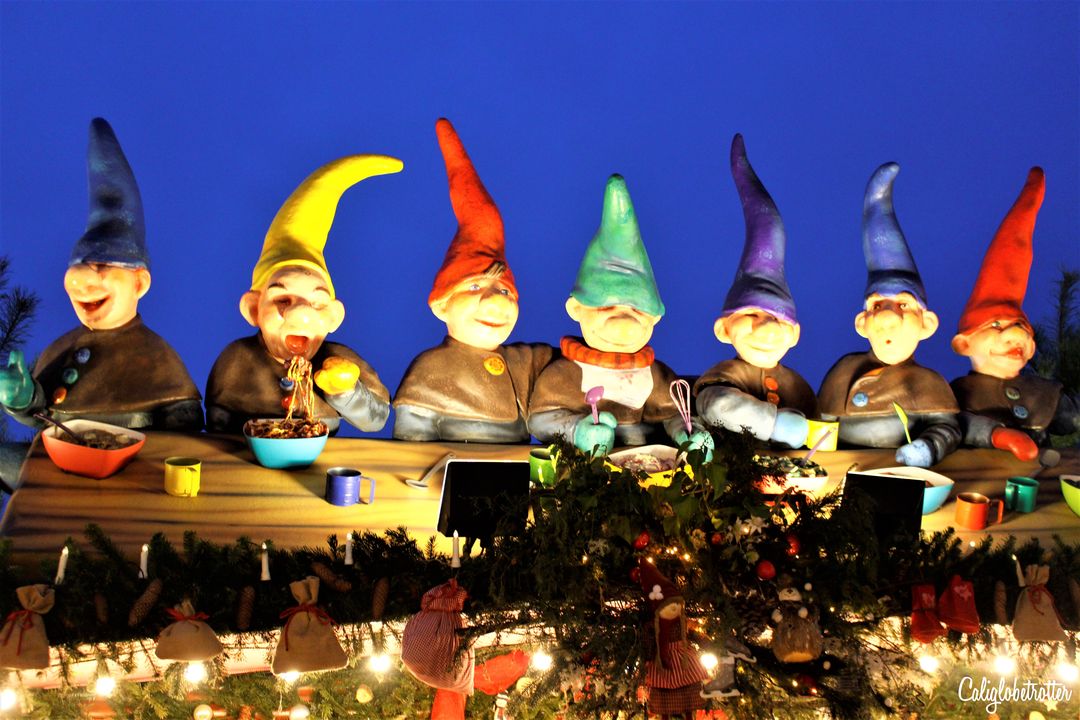 At this market, you'll find many of the traditional Christmas Market drinks and food, however, you'll also find a wide variety of interesting sweets and drinks. In Regensburg and many markets around Germany for example, you can find a new trend of Glühbier, an alternative to Glühwein. While I do love the traditional Glühbier, I was even more excited to find Belgian Glühbier, considering I love, Love, LOVE Belgian beer, as well as Italian White Hot Chocolate!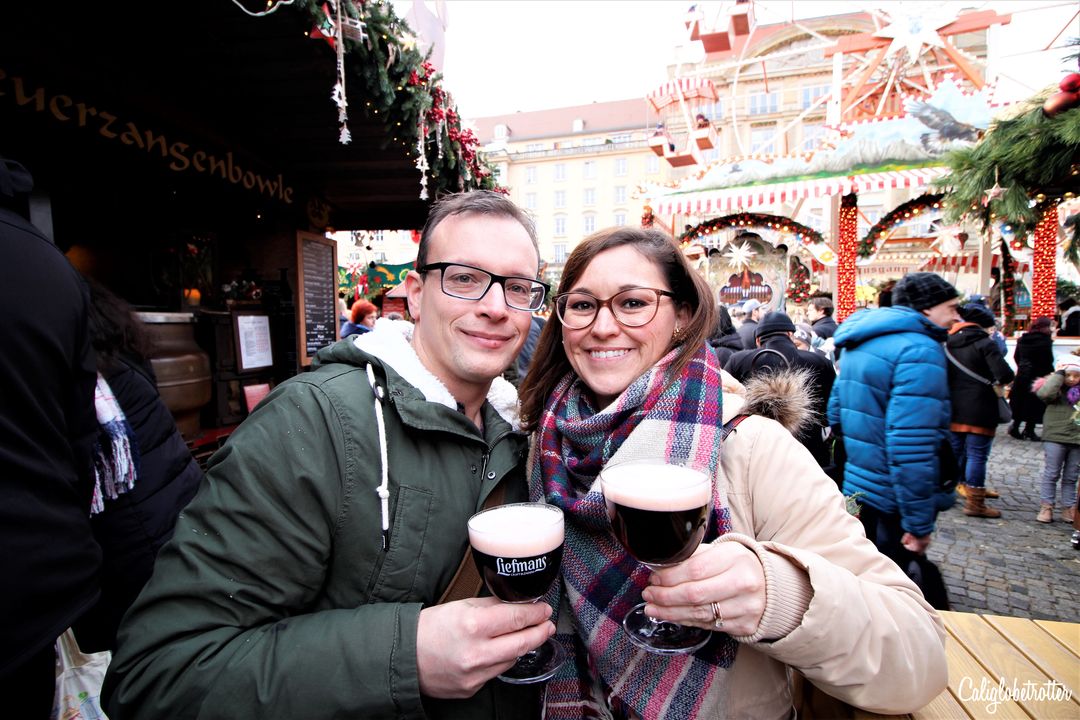 If you're a family with children, then here you'll want to come so the kiddies can also having fun riding on the mini-ferris wheel, bake their own cookies or even catch a glimpse of Santa and his elves!
The Striezelmarkt is open from November 26th to December 24th from 10am – 9pm.
Free
Adventsmarkt on Neumarkt near the Frauenkirche
Often nicknamed the "Adventsmarkt", it's located on the large square called Neumarkt with the Dresden's best known landmark nearby, the Frauenkirche (Our Lady of Church). Completely destroyed towards the end of WWII, the church sat for 50 years in a pile of ruin as a war memorial before extensive restoration and rebuilding of the church was finally completed in 2004 and reopened in 2005. Kind of hard today to imagine this beautiful church in a pile of rubble.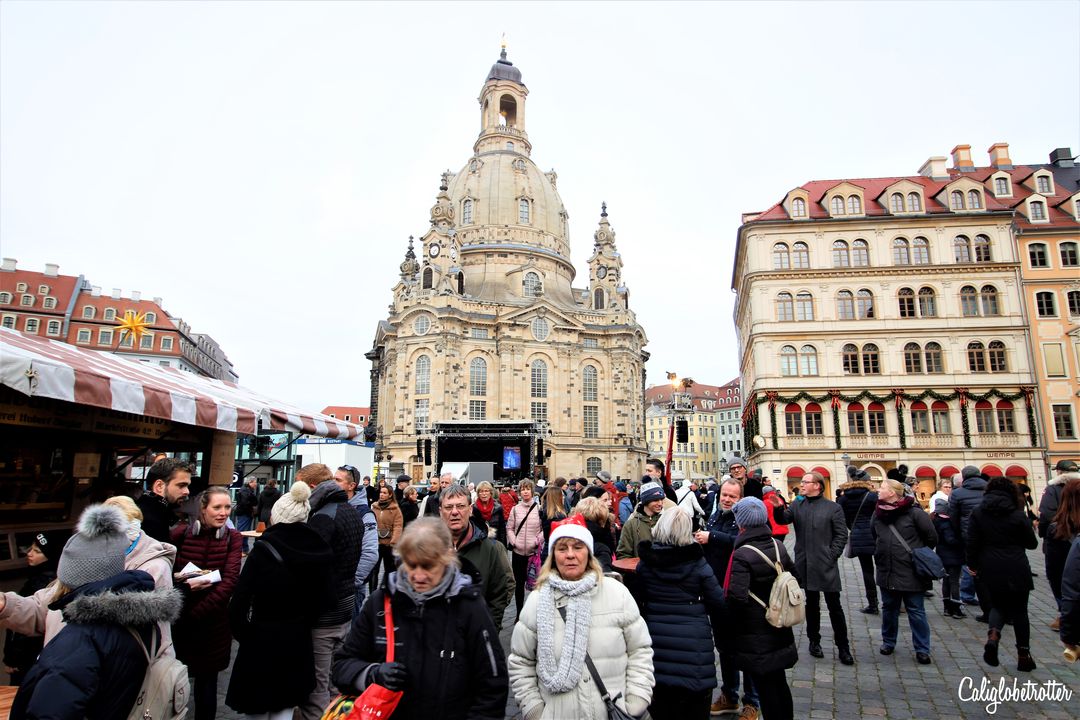 At the market here you'll only find quality, hand-crafted goods for sale, ranging from handmade chocolates, wood-fired bread and even large copper pots serving up an authentic cup of steaming hot Glühwein, all in an attempt to recreate the traditional market that could be found here between 1820-1920.
This market is also lovingly referred to as the Christmas Market of Angels because scattered around the market, you'll find angels dressed in white.
Locals enjoy coming to this particular market also for the evening events where you'll find live holiday music adding to the infectious holiday cheer wafting through the market.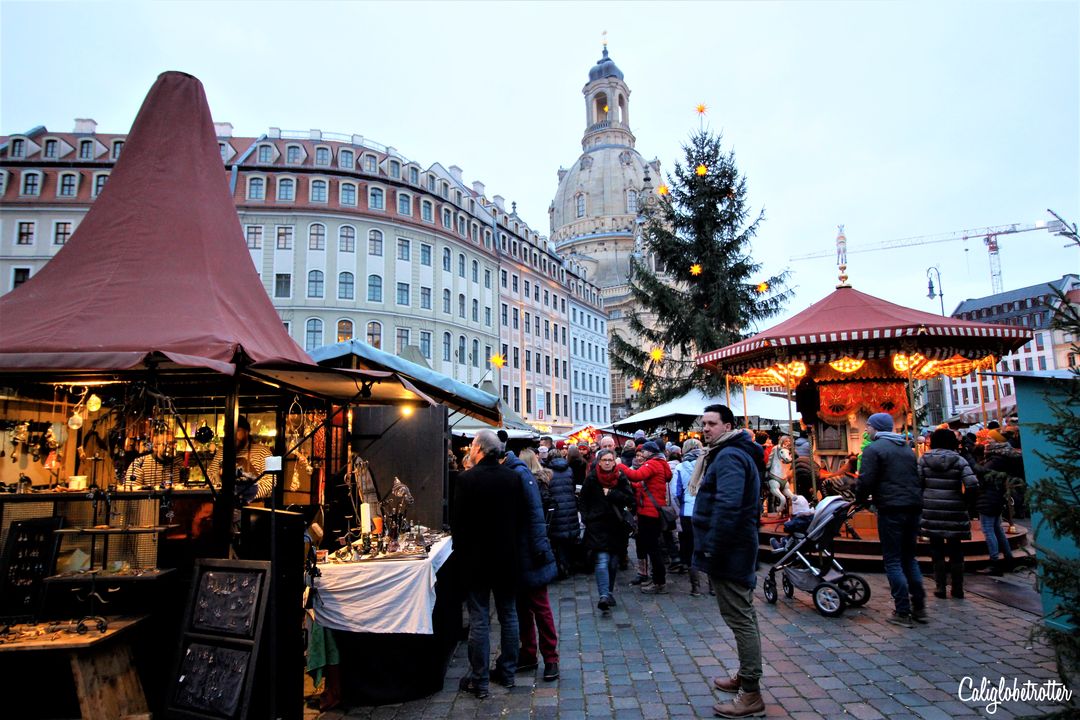 Open from November 26th to December 23rd every Sunday to Thursday from 11am to 9pm with the schedule alternating every Friday and Saturday until 10pm.
Free
Christmas down Münzgasse & an der Frauenkirche
Just behind the Frauenkirche is a small hidden Christmas market, with it's own mini-pyramid and which stretches along Münzgasse leading to the Elbe River and Brühl's Terrace, a popular lane home to around 45 merchants. Here, the cozy Christmasy atmosphere is in full swing, and when the bells from the Frauenkirche chime, it's a wonder of its own!
If I'm honest, of course I loved the main Striezelmarkt, but there was just something extra cozy and Christmasy about this little Christmas alley. I'm always drawn to Christmas pyramids and lots of Christmas lights, and honestly, you just can't beat the view!
Plus, I knew this was the market for me when I found Gingerbread Punsch…and let me just tell you now, it was ever bit as delicious and heavenly as it sounds, not to mention a big oozing dollop of whipped cream atop. And it was perfetly paired with some delicious "Kräppelchen", a sort of fried sugary donut ball.
This market stays open later than the Striezelmarkt, so pop over here for one last cup of Glühwein or Gingerbread Punsch and a few Quarkbällchen before the night ends.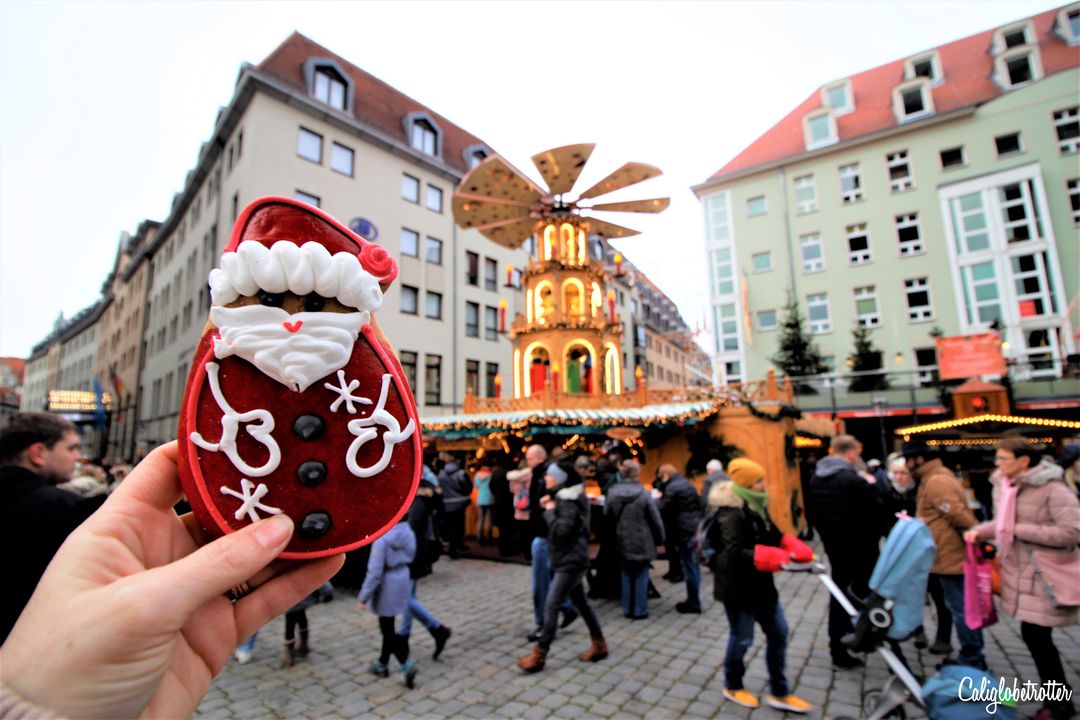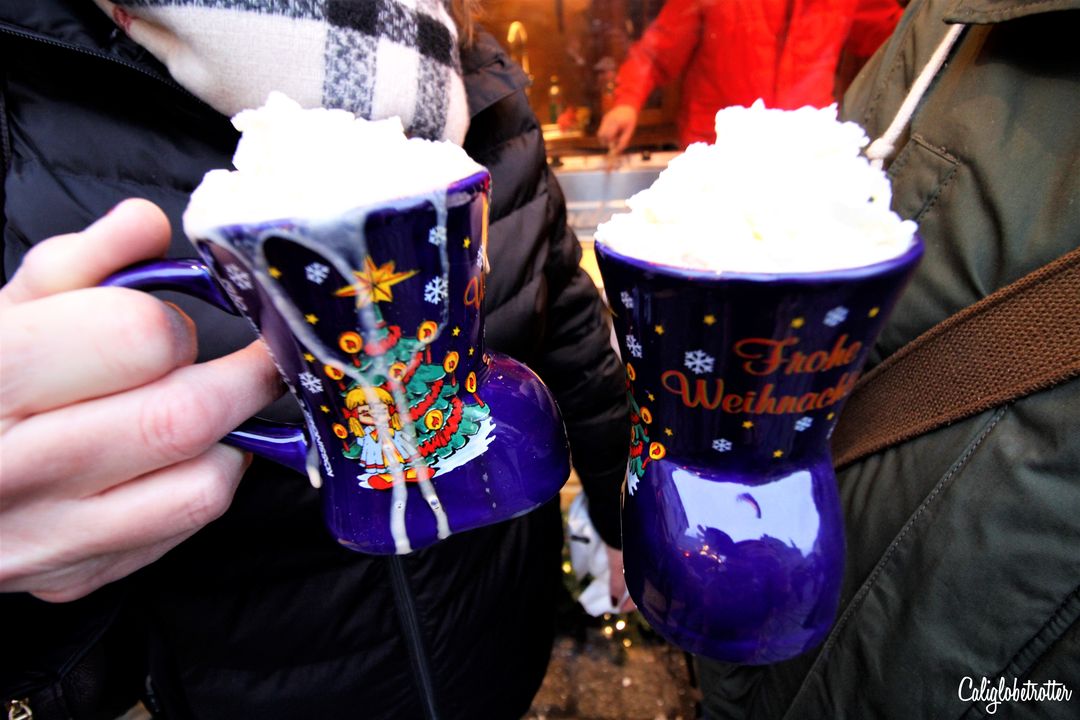 The market here is open from November 28th to December 24th every Sunday through Thursday from 10am – 9pm. However, should you visit on a Friday or Saturday, the shops are open until 10pm.
Free
Medieval Market in the Stallhof
If you want to experience a different aspect of Dresden's Christmas Market, then pop over to the Stallhof for the Medieval Market in the Dresden palace courtyard. Here you'll find 50 stands taking you back to a time long gone. You won't be served food on paper plates, no twinkling lights and no cell phones. Here you'll find instead a collection of craftsmen hard at work displaying their skill in pottery, leather works, carving, felt makers and iron works. Here, haggling is not only common practice but encouraged. You'll even find fortune tellers where you can seek your destiny and people walking around in robes and gowns as if it really were the 9th century!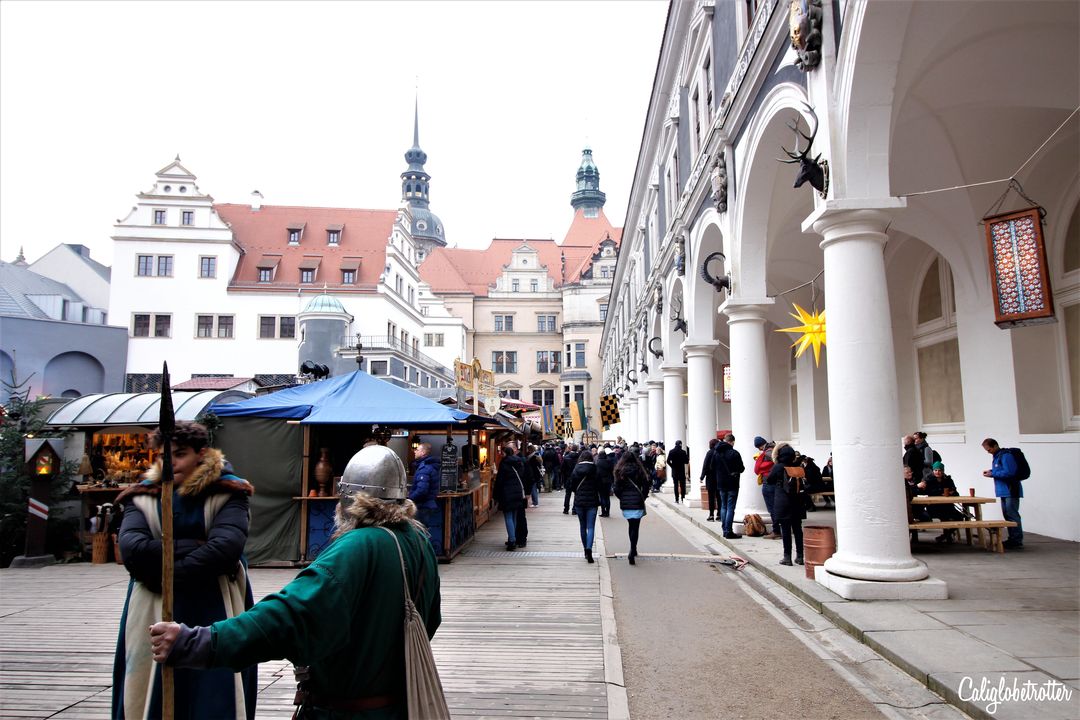 Open from November 2th to December 23rd every day from 11am to 9:30pm.
Entrance Fee:
Adults 4€
Children 2€
Romantic Market at the Castle
Not far from the Zwinger, and between the Dresden City Palace and the Taschenberg Palace, you'll find a tiny square perfectly positioned for a quaint little Christmas Market known as 'Weihnachtsmarkt am Schloss'. Here you'll find plenty of sausages and Glühwein to warm you up as well as many hand carved items from the region. 
Should you be interested, the Kempinksi Hotel in the Taschenberg Palace converts its inner courtyard into an elegant winter ice skating rink.
Free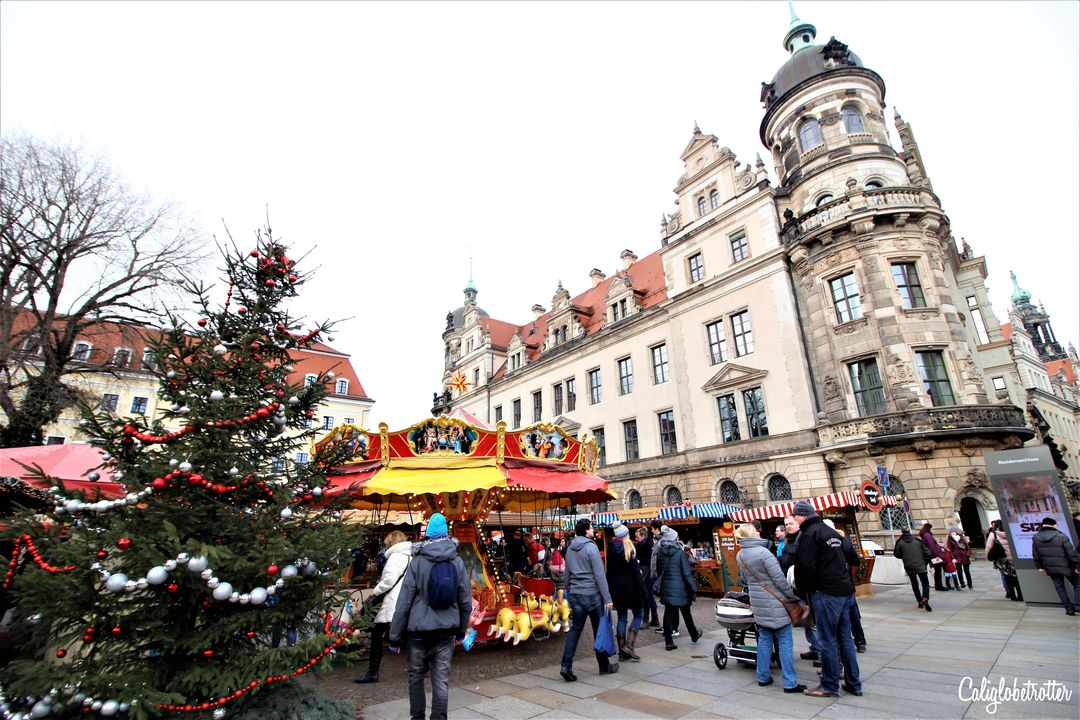 Augustus Market in the Neustadt quarter
Just across the Elbe River, you can explore the second largest Christmas Market in Dresden loaded with an international ambience you won't find anywhere else! Boasting a transnational appeal where you can find anything ranging from Swedish Julskinha, Finnish Piparkakut, and Italian Pandoro, it offers something for everyone. Stretching from the Golden Rider statue all the way down the Hauptstasse to the Jorge Gomondai Square, you'll have plenty here to peruse at your own leisure.
Typically, the Augustusmarkt is open from November 30th – December 23rd. Monday to Thursday the market is open from 11am to 9pm, Fridays from 11am to 10pm and on Saturdays from 10am to 10pm and Sundays from 10am to 9pm.
Free
Things to Eat & Drink at the Dresden Christmas Market

Savory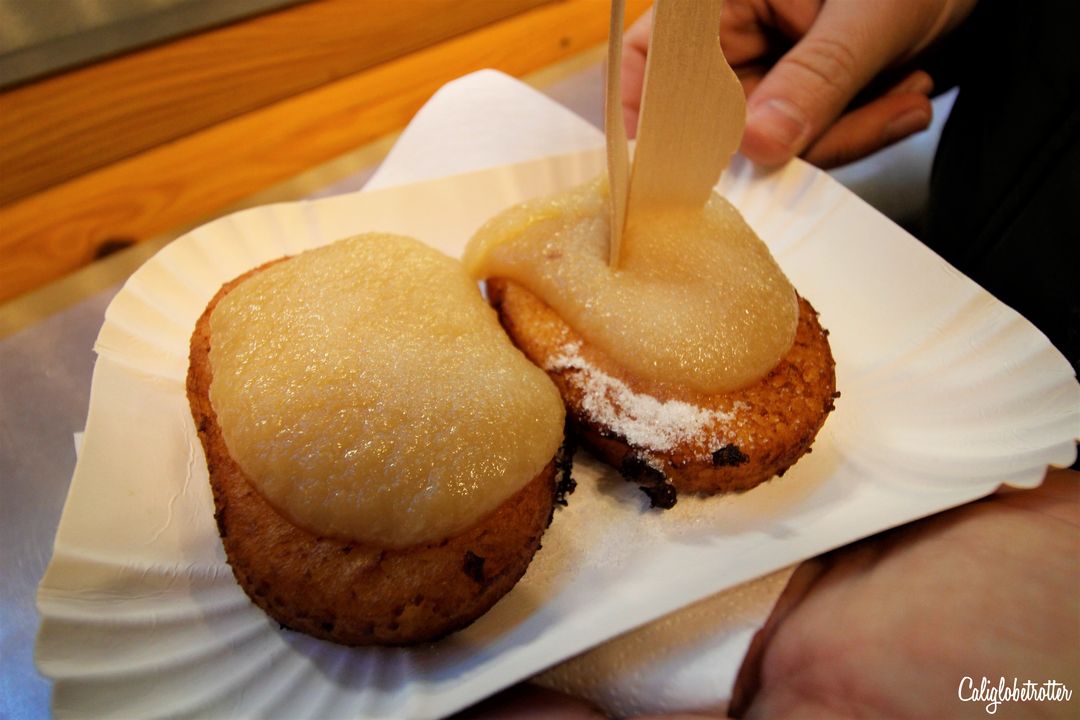 Bratwurstsemmeln – locally made sausages with bread rolls
Kartoffelpuffer – like a hash brown, often served with apple sauce
Wild Gulash, Wild Burger, Wild Bratwurst – made from wild boar and deer
Sweets

Dresdener Stollen – classic German fruit bread containing small pieces of dried fruit and with a heavy dusting of powdered sugar. Typically, this is bought to be taken home or given as a gift.
Quarkkeulchen – a "little quark ball" made from dough from mashed potatoes and quark (German cream cheese), spiced with cinnamon
Kräppelchen – sweet "donut" balls, fried and coated in powdered sugar
Roasted Nuts
Dried Fruits
Drinks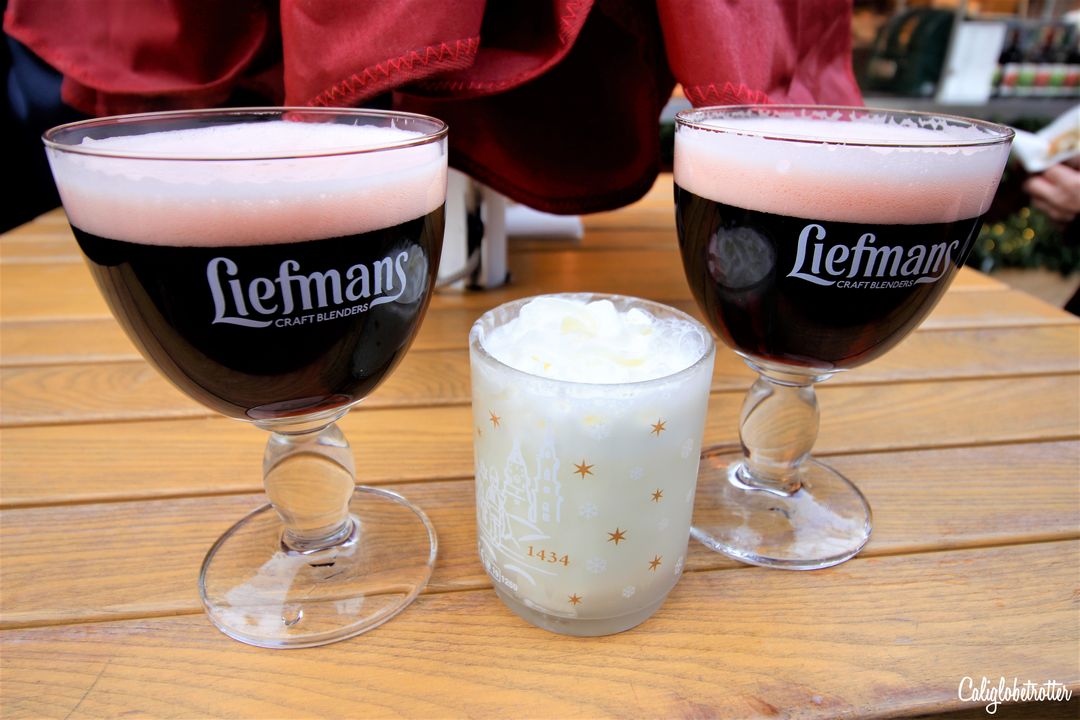 Glühwein – pipping hot mulled red or white wine 
Belgian Glühbier – mulled Belgian beer, sweetened
Gingerbread Punsch – a non-alcoholic warm beverage
Feuerzangenbowle – Glühwein is mulled wine with rum lit on fire
Italian White Hot Chocolate
Eierlikor – a German version of eggnog, typically with alcohol served with a dollop of whipped cream
Tips for visiting the Dresden Christmas Market
Dresden's historic city center is flat and walkable, however good walking shoes are needed to endure the cobblestones.
The Christmas Markets are rather spread apart, so consider taking the city tram for around 2.20

€ each way.

It's best to visit the Christmas Markets in the afternoon before 4pm if you want to avoid crowds. By 6pm, it can get very crowded quickly and long lines.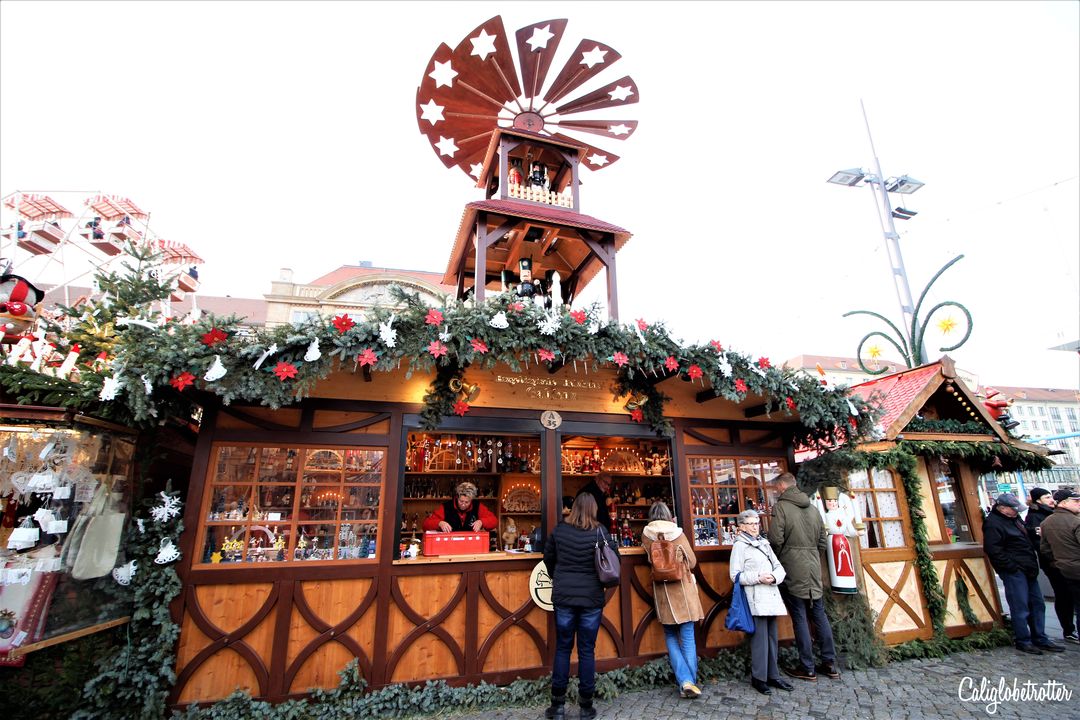 Overall Opinion
I loved it! When I visit a Christmas Market, I look for personality and Dresden certainly had that. From the beautifully decorated stalls, to a plethora of Christmas pyramids obviously implying they originated from this region, as well as a huge variety in food and drinks that will have me craving a return every year. While I love all Christmas Markets, only a few make it in my top 5, and I would say, crowds aside, Dresden is now in my top 5 favorite Christmas Markets in Europe!
But, like several of my favorite markets, come dusk, people flock to the markets and it makes it that much harder to explore the markets, reach any stall and waiting in line for food and drink with a bunch of other hangry Glühwein drinkers takes up a lot of time. It's truly best to see as much of the market in the day time and during the week and plan on leaving once it's dark.
Where would I be without my trusty DK Travel Guides? Lost probably! With quick details, easy to follow suggested sightseeing routes, I can find my way through any city! I also enjoy Rough Guide's Travel Guide to Germany with more thorough information and history on the country, which I have recently fallen in love with!
Disclaimer: This post contains affiliate links. If you click on one and make a purchase, I might make a little extra spending money, at no extra cost to you. As always, all opinions are my own and these products/services have been found useful during our travels and come highly recommended to you from yours truly!
Other German Christmas Markets to Visit:
Heidelberg's Romantic Christmas Market
A Local's Guide to the Regensburg Christmas Market
A Guide to Vienna's Christmas Markets
Liked this post? PIN IT FOR LATER!!