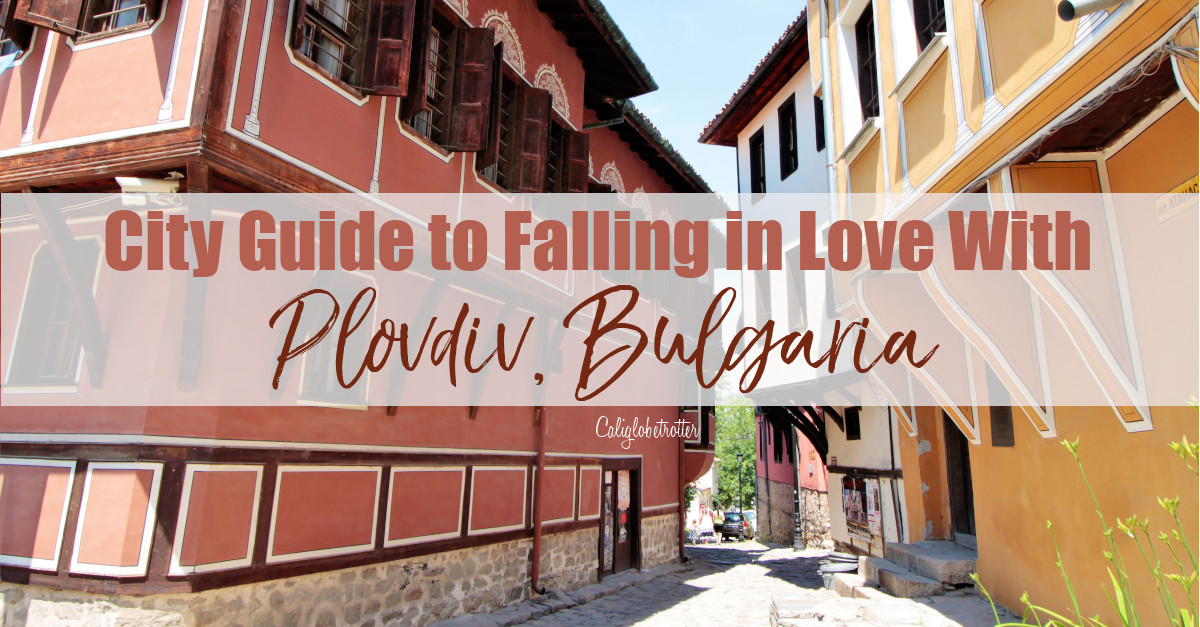 Disclaimer: This post contains affiliate links. If you click on one and make a purchase, I might make a little extra spending money, at no extra cost to you. As always, all opinions are my own and these products/services have been found useful during our travels and come highly recommended to you from yours truly!
Plovdiv, Bulgaria's second largest city and quite possibly the oldest in Europe, and therefore the world, was originally supposed to be a wham-bam-thank-you-ma'am kind of day trip between our drive from Sofia to Sunny Beach. I had heard so many wonderful things about this beautiful city which boasts some of the best "National Revival" architecture that I knew we absolutely had to visit because it's as STUPID PRETTY as they come!
Want to Fall in Love with Plovdiv? PIN IT FOR LATER!!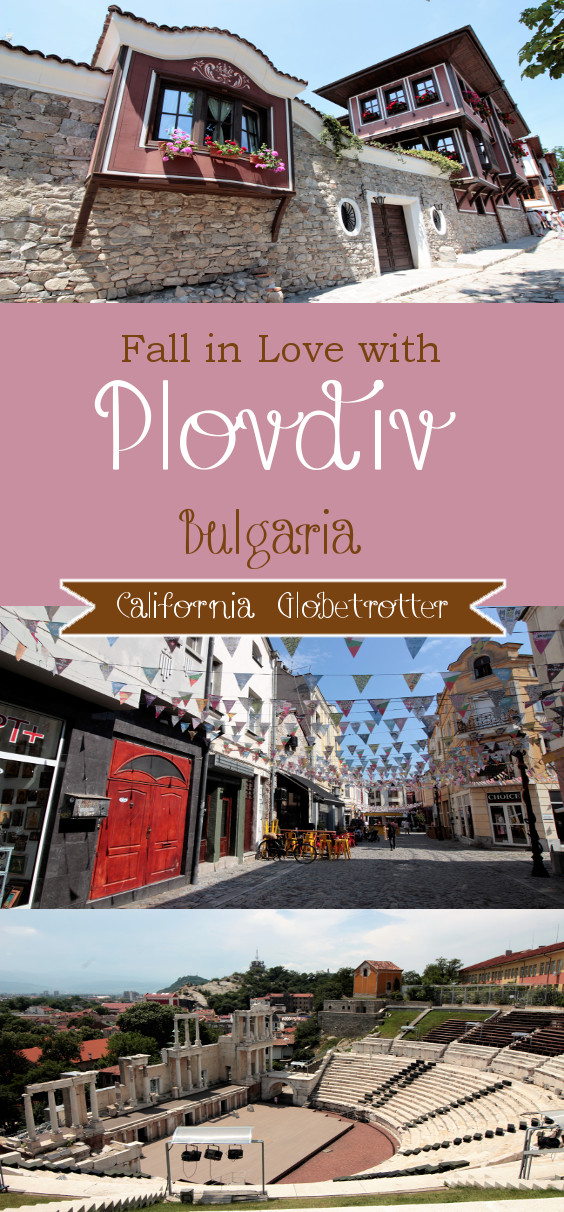 This article is now available as a mobile app. Go to GPSMyCity to download the app for GPS-assisted travel directions to the attractions featured in this article!
How to AVOID Looking Like a Tourist in Europe
That was until our two days in Sofia got shot to hell and we wanted nothing more than to leave as quickly as possible. I was unable to find another hotel that would appease me in Sofia after our terrible experience, so I started looking towards our next destination: Plovdiv. And before I knew it, I cancelled the remainder of our stay in Sofia and booked us in an AMAZING hotel in Plovdiv and as the travel gods would have it, it would be a complete blessing in disguise!
I absolutely fell head over heels IN LOVE with Plovidv and it was a great addition to our 2 Week Balkan Road Trip!! I would love to say you should totally skip Sofia and head straight for Plovdiv, but that would be incredibly unfair as so many other travel bloggers out there have raved about how amazing the capital is. But for us, it was anything but.
Since we had more time to explore Plovdiv than we thought we would have, I've put together a little Plovdiv travel itinerary of the main sights to see in Plovdiv as well as some interesting facts about Bulgarian history! I honestly can't rave enough and when I say that Plovdiv is one of the most amazing cities to visit in the Balkans, I am not over-exaggerating or using superlatives just to convince you. As one of Bulgaria's top cities to visit, you simply can't pass up an opportunity to visit!
So why did I fall madly IN LOVE with Plovdiv and why should you go? 
1.  The History
Looking for some interesting facts about Bulgaria? Well,  we'll start with the simple fact that you simply can't go anywhere in Bulgaria without some piece of vital information or history always leading back to Plovdiv. Why's that you wonder? Because the the city has been inhabited since the 6th millennium B.C. when it was first established as a Neolithic settlement. That makes Plovdiv quite possibly THE OLDEST city in Europe, and therefore, possibly the world! It was founded by the Thracians and conquered by Philip II of Macedon in the 4th century B.C. which came with a name change to Philippopolis. Until the arrival of the Romans, the city would go back and forth between the Thracians and the kings of Macedon. The Ottomans would later seize control in the 14th century and would later be reunified with Bulgaria in 1885.
The city flourished under the rule of the Romans and the town became known as Trimontium, as it was on a vital road network that led through the Balkans to Istanbul. Today, Plovdiv is home to some of the most impressive ancient ruins in Europe outside of Rome scattered throughout the city center. 
2. Plovdiv's Roman Ruins
One such example are the best Roman ruins in Eastern Europe, the Roman Theater, which was built in 117 AD and could hold between 5-7,000 people, but wasn't discovered until the 1970's due to a landslide which led to a major excavation. Set into the hillside overlooking the city and the surrounding Rhodope Mountains, the Romans were big fans of attending the theater to watch performances and gladiator fights with animals. Names of honorary citizens, such as representatives of the city council, the magistrates and even friends of the Emperor were inscribed on to the seats. Sections of the theater are also inscribed with names of the city quarters so that citizens knew where they belonged. Today, it is one of the world's best preserved ancient theaters and is now a symbol of the town's rich history making it one of the top things to see in Plovdiv! 
Located in the center of the town along the city's main street, buried beneath the city is yet another Roman ruin, the Stadium of Trimontium. It wasn't discovered until 1923 when renovations of today's buildings started to take place. By the time they were done excavating it, the stadium stretched from one end of town to the other, however, only a portion of it has been excavated due to the fact that the city unknowingly built atop it. Only the northern end can be viewed. 
The white marble stadium is one of the largest structures from Ancient Rome in the Balkan Peninsula and could hold up to 30,000 spectators. It was used to host games similar to the Olympics and was built at the beginning of the 2nd century A.D. How fascinating is it to know that just below your feet is a completely different world?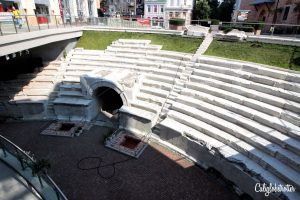 3. The City Center
As the city is gearing up for many cultural events in 2019 as part of the European Capital of Culture, many buildings have gloriously been renovated and several others are currently undergoing renovations. The main pedestrian thoroughfare is lined with colorful houses, restaurants, cafes and shops. And just below your feet is the Roman stadium I mentioned earlier.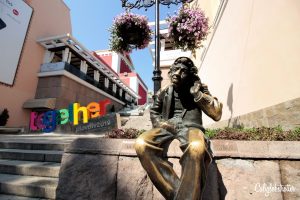 In the town, you'll meet Miljo, nicknamed "The Great Gossiper". He was a poor man who lived in Plovdiv that all the rich women in the city "wanted to meet". He is also often nicknamed "Mijlo, the Crazy" as they say he was mentally unstable but he loved to make people laugh. Supposedly, the city has received harsh criticism for having a statue of a mentally unstable person, but he has come to represent the hope for a better future to those of Plovdiv. He's always sitting there, waiting to hear your hopes and dreams for a better future! So, go tell him!
4. The Creative District of Kapana, "The Trap"
You won't find this part of town in full detail in any guide book as it is an up and coming part of town and therefore is one of the best neighborhoods to visit in Plovdiv! The young locals have taken to reinventing this quarter, lined with hipster cafes and restaurants, some street murals and installations which will trap you here for hours of endless fun! "It is the heart of urban living!"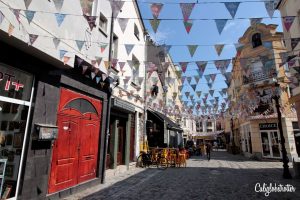 This neighborhood is actually one of the oldest in Plovdiv, but here you won't find any Ottoman houses or ancient Roman ruins. Historically, it was home to the town's craftsmen but today you it is a bustling hub for artists, curators, artisans, architects, urbanists, writers, musicians and sooo much more!
The "Kapana Creative District" was promoted by the "Plovdiv 2019" project which hopes to devlope this neighborhood as an area for creative industries within Bulgaria and is today one of the best "hipster cities" in Europe!
Located between the Old Town and the city center, it is the newest hot spot to chill where old Roman ruins meet young hipsters. We sat down for a while to enjoy some frappes from a F•R•I•E•N•D•S inspired cafe with a mismatched collection of chairs, sofas and tables with a ton of paraphernalia from the show lining the walls.
Throughout this neighborhood, you'll notice it has been livened up with a plethora of colorful bunting strung from one street to the next, and even a fun streamer installation which took up a ton of my time playing in it!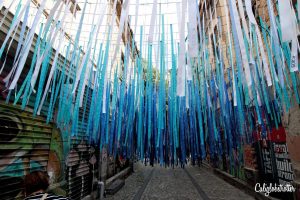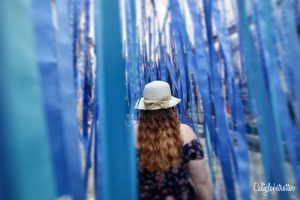 5. The Old Town
THIS is why I wanted to come to Plovdiv! Once we managed to escape "the Trap", we headed into the Old Town where you can find the city's most picturesque neighborhood. As Plovdiv's Old Town is considered one of the best things to do in Plovdiv, with steep cobbled streets all lined with National Revival houses, it felt like stepping back in time. Many of these colorful houses were built for wealthy merchants during the mid-19th century when the city found stability under the Ottoman Turks. This era is often referred to as the Bulgarian National Revival which lasted until the Liberation of Bulgaria in 1878. They slowly fell into decay as they became too expensive to maintain, however, since the 1970's Plovdiv has been preserving these unique houses and many of them today are museums. 
On the day that we visited, June 2nd, while touring one of the houses, we were alarmed to hear the air raid sirens ringing for 3 long minutes. A museum employee must have seen our fright, and informed us not to be alarmed. 
Every year on June 2nd at noon, for three minutes, the air raid sirens blare. The sirens no longer mean imminent danger, but a stark reminder of those who have fought and died for Bulgaria's freedom and present-day peace throughout history. On June 2, 1876, Hristo Botev was killed in battle and is today one of the country's most celebrated heroes. In honor of this day, cars stop, pedestrians bow their heads and students stand up from their desks in a moment of silence and remembrance.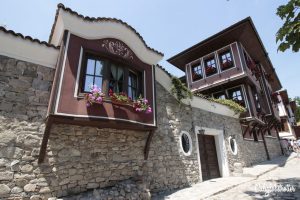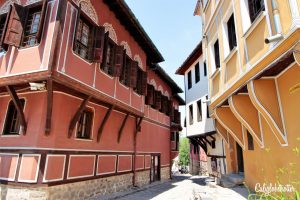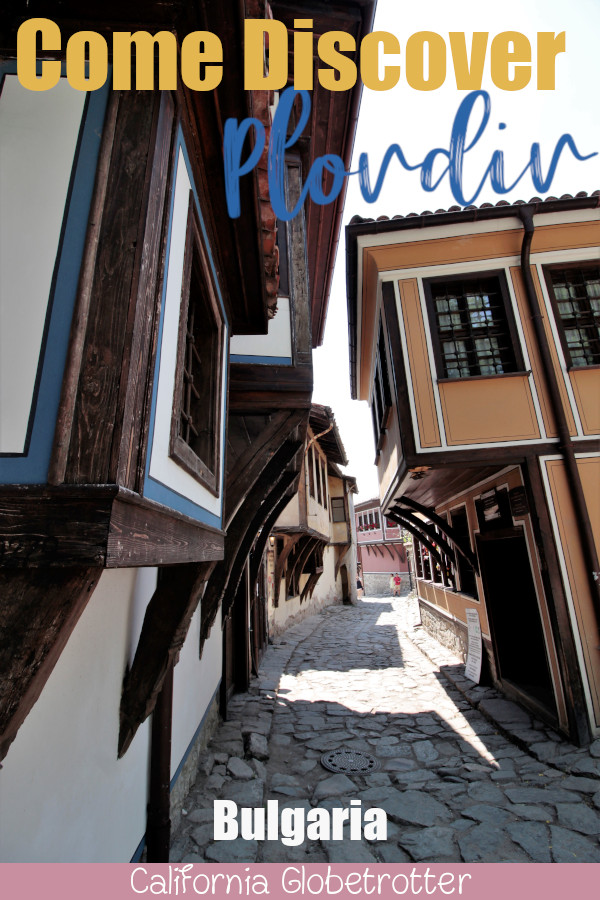 You can either pay to visit particular houses individually, or you can purchase a combination ticket giving access to all of the houses. Be sure to come with CASH ONLY as they do not accept credit cards. Unfortunately, we only had enough money with us to give us access to the Stepan Hindlyan House and being such a hot day, we were not in the mood to walk back into town to find an ATM. The owner was one of the four wealthiest Armenian families whose business sent him all the way to India. 
The Stephan Hindlyan House was definitely one of the most beautiful with its pale blue exterior and wooden beams while the inside had an exquisite paneled ceiling reminiscent of the sun, a marble fountain and the only house with running water.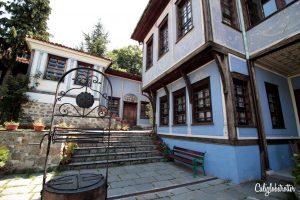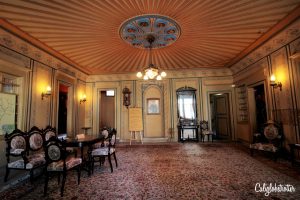 Individually, adults cost 5 BGN (lev), children or students 2 BGN. However, combination tickets for up to 5 sites of your choosing for adults cost 15 BGN, children and students 5 BGN. Families with children 30 BGN. 

Taking amateur photos is 5 BGN, while professional photo shooting is 100 BGN per hour.
The houses usually have very intricate paintwork not just on the walls, but even the ceilings. In typical Ottoman architecture, the upper floors hang over the ground floor to allow for more living room. Two of the most beloved houses well worth a visit are the Stepan Hindlyan House and the Balabanov House. 
However, with its deep blue and intricate façade, the most impressive house is without a doubt Kuyumdzhiogh House, built in 1847 (Try saying THAT 5 times fast!) . Today, it houses the Ethnographic Museum.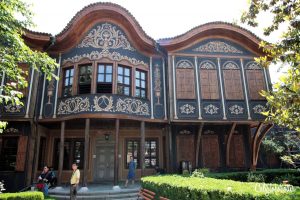 6. The Hills of Plovdiv
To really be able to capture the mixture of Plovdiv's historic and modern personalities, heading to Nepet Tepe is a great place for a panoramic view of the city. Originally, there were seven hills but during the 20th century, the seventh hill, Markovo Hill, was used to build the pavements throughout the town and eventually destroyed.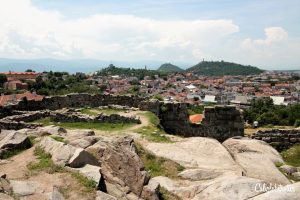 Three of the remaining six hills are accessible to explore; Nepet Tepe, Dzhambaz Tepe and Taksim Tepe. Nepet Tepe is easily accessible while still strolling through the Old Town and the remains of a Thracians settlement dating back to the 12th century is still visible. Sadly, not much has been done to preserve these ruins and there is the occasional unfortunate graffiti and trash, but still very much worth the two minute hike. 
7. The Diversity of Religions
Plovdiv was and still is a multicultural city and the mixture of cultures and religions can still be seen today. One such example of the peaceful coexistence of the different religions in the city is the Dzhumaya Mosque right in the city center. It is thought to have been built as early as 1364 during the reign of Sultan Murad I. On the mosque's outer walls is a café which serves Turkish coffee and baklava! And you can bet your patottie we stopped!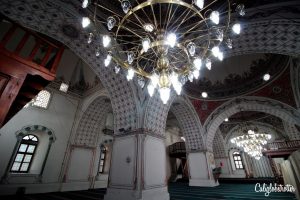 I took the time to quickly visit my first mosque. My husband was not allowed inside as he was not appropriately dressed. I kindly asked the gentleman working the entrance of the mosque to explain the appropriate etiquette for visiting a mosque upon which I was given a hooded robe to wear before entering. Etiquette also demands that you take your shoes off before entering a mosque. Once inside, I was amazed at how large it was with its nine domes. The gentleman also explained that the women went upstairs to pray while the men were downstairs.
Related: How NOT to Look Like a Tourist
8. Plovdiv Singing Fountains
About a ten minute walk from the city center, through a lovely green park and a ton of playgrounds loaded with children who still play outside is a relaxing part of town to sit down and have a break. The large artificial lake has hundreds of pipes which spout water performances. In the evening, locals gather here to enjoy the light and music show. During the afternoons, people enjoy a light lunch or coffee at one of the surrounding cafes or restaurants and children splash around in one of the water installations. 
Where to Stay in Plovdiv
⭐⭐⭐⭐ Imperial Plovdiv Hotel & SPA – After our terrible experience in Sofia, this hotel was HEAVENLY! We couldn't have scored a better deal as it has free parking, spa facilities with a hot tub, lovely gardens and comfortable rooms! They welcomed us with an adorable honeymoon cake and we booked us both an amazing one hour massage for 45 lev. The hotel is a 5 minute drive away from the city center or a 15-20 minute walk. I honestly feel like this is THE best place to stay in Plovdiv and it doesn't get much better than this!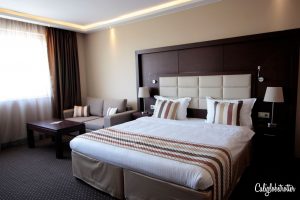 How to Get to Plovdiv
Plovdiv is situated just off of the A1 Trakia that links the city with the capital Sofia. The drive from the capital is roughly a straight shot for about 1 hr 45 min. 
It is also a great place for a quick stay when heading to the Black Sea to Sunny Beach, which was another 3 hour drive on the A1. 
Tips for Driving in Bulgaria
Just a quick note of warning: We found most Bulgarian drivers to be VERY aggressive on the roads, to the point it was often quite dangerous. They speed like crazy in their luxury cars, driving 200 kph no matter the speed limit. The A1 is well maintained, with the occasional bumps stretching from Sofia via Plovdiv to Burgas (Sunny Beach/Old Nessebar).
Off of the A1, on the back roads, we still found drivers over took at every opportunity they had. Even when it wasn't allowed. Back roads are often not maintained, full of potholes. So drive slowly as the last thing you want is to pop a tire in the middle of nowhere! 
Overall Experience
There are many things to do in Plovdiv and I wish we had spent 2 days in Plovdiv, if not more instead of going to Sofia. However, no one could have known our experience in the capital would have been so terrible. But we wasted a full day in Sofia which could easily have been more thoroughly enjoyed here. Would I go back!? Definitely! I wouldn't have wanted to skip Plovdiv for the world!
I also wish we had planned to do a Plovdiv free walking tour, but as usual, we like to get up super early before the crowds to do as much sightseeing before the tourists come out. I guess a 6 am tour is too much to ask for, eh?
Looking for more practical information on Balkan Travel? Grab a copy the following travel guides which we found incredibly useful on our trip and has something for everyone from outdoor activities to historical sites!
Disclaimer: This post contains affiliate links. If you click on one and make a purchase, I might make a little extra spending money, at no extra cost to you. As always, all opinions are my own and these products/services have been found useful during our travels and come highly recommended to you from yours truly!
Other Posts About Bulgaria:
Unlucky Misadventures in Sofia, Bulgaria
Exploring the Crown Jewel of Bulgaria: Rila Monastery
Bulgaria's Old Nessebar on the Black Sea 
The PERFECT Two Week Balkan Road Trip
Liked This Post? PIN IT FOR LATER!!