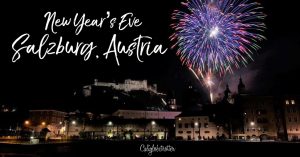 If you're looking to ring in the New Year with fireworks, concerts and a night of partying, then Salzburg, Austria is the place to be! The city turns into a complete party zone with concerts throughout the city and at the stroke of midnight, Salzburg becomes a festival of lights as fireworks blast throughout the city!
Want somewhere amazing to ring in the New Year? PIN IT FOR LATER!!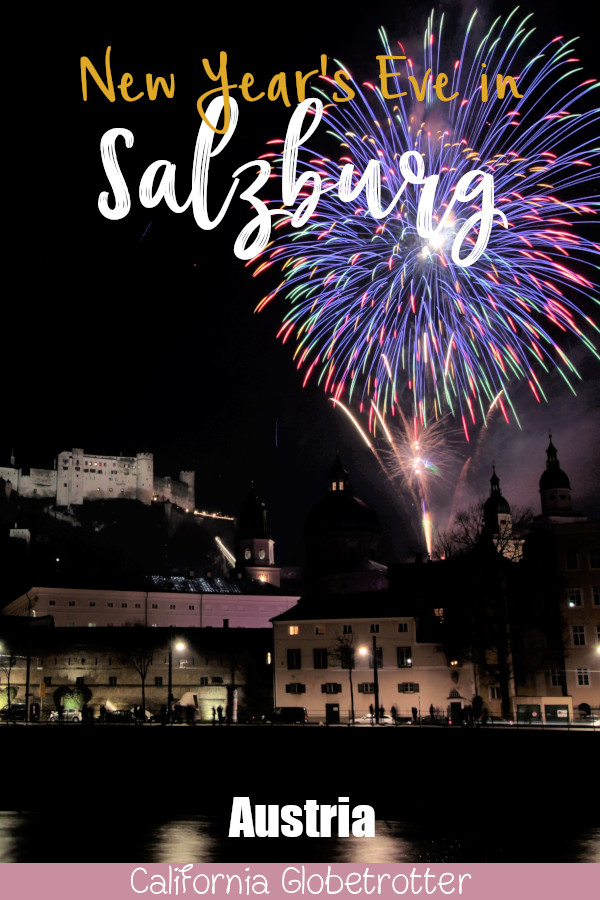 How to AVOID Looking Like a Tourist in Europe
Every year we try to have some kind of plan to ring in the New Year in style and the thought of visiting a super big, crowded city like Munich on New Years Eve just doesn't interest me. Coming from the States, I like a BIG firework show and I promised myself I'd never celebrate another NYE in Regensburg again after my first felt more like a war zone with fireworks blazing in every which direction, the air heavy with so much smoke you could hardly see 10 feet in front of you. 
This year, ringing in 2018 seemed like we would be celebrating from the comfort of our couch and pjs. We had just finished cooking dinner, slipping into a slight food coma while perusing Instagram when suddenly I stumbled upon a picture of a fireworks display in Salzburg! A slight mention of "OOh, Salzburg does fireworks" and a glance at my husband who sat with a slight cold on the couch, 5-10 minutes debating if we could make it in time and suddenly we were on the road by 8pm and arrived in the city by 10:30pm. Quite possibly the most spontaneous thing we have ever done and worth every minute we drove there! 
We found a place along the Salzach River, near the Mozartsteg facing the direction of the Altstadt and the Hohensalzburg Fortress. By 11pm, people were beginning to stand their ground and lighting off their own fireworks and rocket launchers!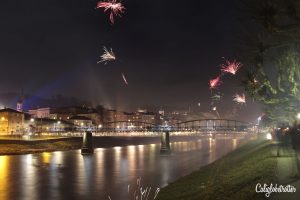 Music could be heard echoing from the Altstadt from several of the concerts taking place, ending shortly before midnight. Songs by Bob Marley, Eifel 65 and other dance songs created an exciting atmosphere as we counted down the minutes to midnight! Large circulating lights gave the impression that the city center was just one large disco.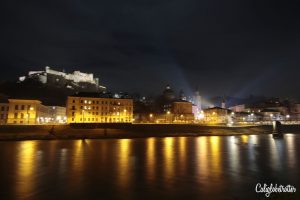 Then the countdown began… 10…
9…
8..
7..
6..
5..
4..
3..
2..
1..
???✨

HAPPY NEW YEAR!!!

?✨??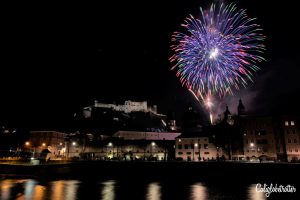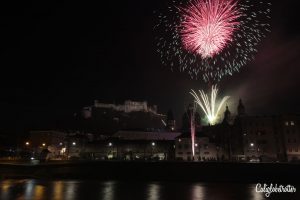 Shouts of delight, oohs and ahhs all echoed throughout the city and along the river as fireworks all along the embankment shot off at once, the largest and the best coming from the city fireworks display. Numerous church bells from around Salzburg struck twelve, booming throughout the city as we clinked our champagne glasses toasting a wonderful 2017 goodbye and welcoming the coming of 2018.
For 10 minutes, we enjoyed a spectacular fireworks show, one of the best we've found yet after visiting Budapest and Prague. Afterwards, we diddle-daddled along the river, watching and ducking as revelers shot off their own fireworks and rockets.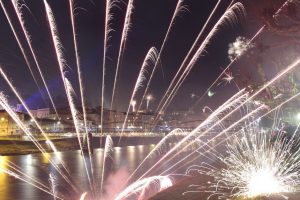 Like Germany, Austria also allows citizens to buy rockets and fireworks, sparklers and spinners and light them off where and how they please. Be warned, that you may find yourself ducking or hiding behind a tree when a rocket doesn't shoot off as it should. 
By 1am, we were back on the road and headed home, bringing in the New Year in typical Hans and Lolo fashion – on the road! What was quite possibly the MOST SPONTANEOUS moment ever for us, turned out the be the best decision ever! Roads were completely clear with NO traffic which made getting to and from Salzburg in less than 6 hours easy-peasy! We should have better planned to stay in Salzburg and enjoy some of the concerts and culinary delights, but we had a wonderful time and it felt better bringing in the New Year being spontaneous than falling asleep on the couch! 
If you're looking to celebrate New Years Eve with a big bang, then consider a winter city break to Salzburg where you can make the most of your visit with all the bells and whistles that accompany going out in style! Like the rest of Europe though, New Year's Eve in Austria will be as cold as anywhere else so you will definitely need to bundle up! Bring some ear muffs, a warm jacket, gloves and snuggle up with a loved one on a bench along the Salzach with a bottle of bubbly and simply enjoy the fireworks from Hohensalzburg! Honestly, what could possibly be better for bringing in the New Year in Europe? 
Honestly, if we hadn't lived so close, I would have considered an extended visit to Salzburg which combined both the Christmas Markets in Salzburg with the festivities of New Year's Eve. I'm sure there were many Salzburg holiday packages we could have taken advantage of. Coulda, woulda, shoulda I guess!
Where would I be without my trusty DK Travel Guides? Lost probably! With quick details, easy to follow suggested sightseeing routes, I can find my way through any city!
Disclaimer: This post contains affiliate links. If you click on one and make a purchase, I might make a little extra spending money, at no extra cost to you. As always, all opinions are my own and these products/services have been found useful during our travels and come highly recommended to you from yours truly!
New Years Eve Destinations in Europe:
New Year's Eve in Prague, Czech Republic
New Year's Eve in Budapest, Hungary
New Year's Eve in San Francisco, California
Want to Celebrate New Year's Eve in Salzburg? PIN IT FOR LATER!!