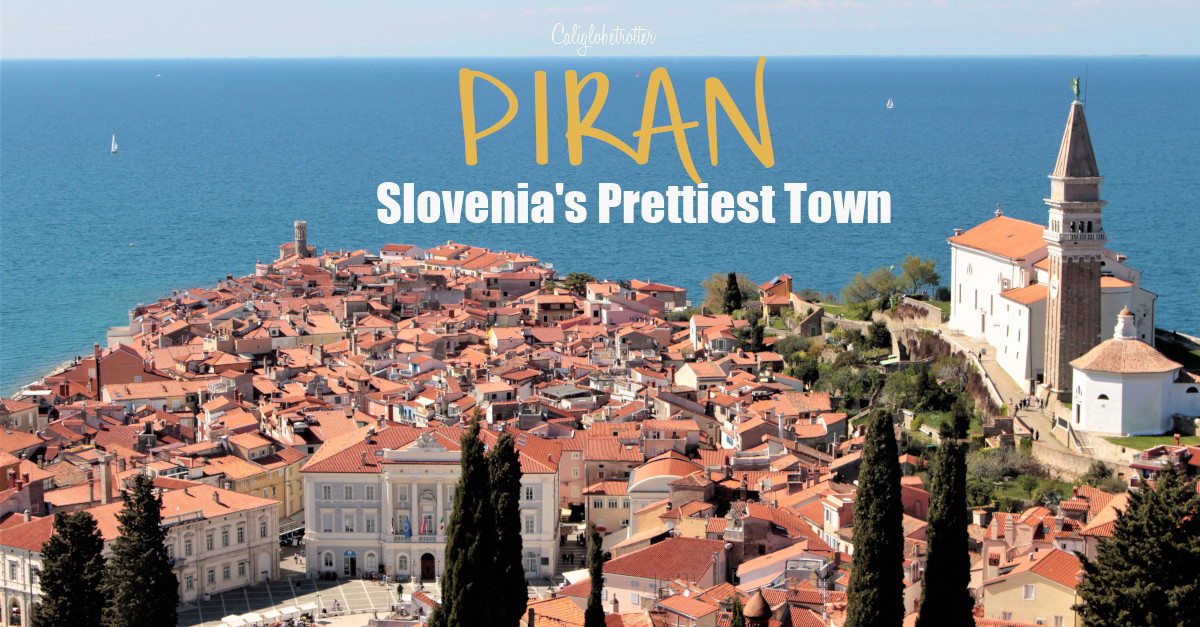 Disclaimer: This post contains affiliate links. If you click on one and make a purchase, I might make a little extra spending money, at no extra cost to you. As always, all opinions are my own and these products/services have been found useful during our travels and come highly recommended to you from yours truly!
You may not know it, but there are more things to do in Slovenia than just visiting Ljubljana or Lake Bled. And perhaps it may come as a surprise to you, but Slovenia also has a little sliver of beautiful coastline along the Adriatic Sea. While we settled in Piran (Pirano), the gem of the Slovenian Riviera, for our 4 day Easter weekend, it's also an easy day trip from both Ljubljana and Lake Bled and I can say with absolute certainty that if you're planning a Balkan road trip, you will want to add this to your itinerary! But what makes this enchanting city along the Adriatic so special?
Love Coastal Towns in Europe? PIN IT FOR LATER!!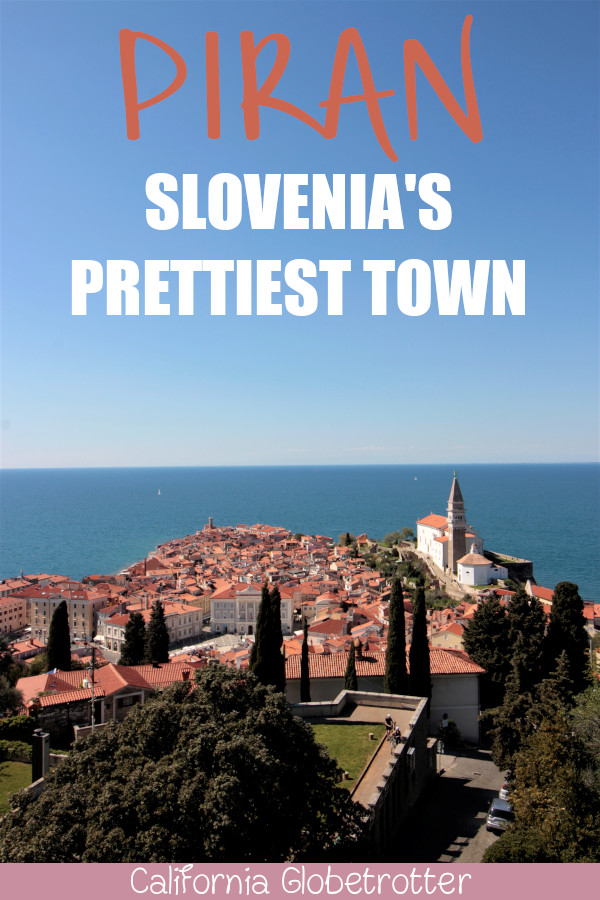 How to AVOID Looking Like a Tourist in Europe
Your ESSENTIAL Guide to Europe
Gorgeous Seaside Towns Along the Adriatic Sea
This article is now available as a mobile app. Go to GPSMyCity to download the app for GPS-assisted travel directions to the attractions featured in this article!
While the Slovenian coastline is still relatively under the radar, there are several coastal treasures, such as nearby Portoroz, Izola, Koper and Piran as the cream of the crop! Located along the Istria region, the largest peninsula along the Adriatic Sea which is stretches from the Bay of Trieste to the Kvarner Gulf and is shared between Italy, Slovenia and Croatia. Sat along the tiny sliver of Adriatic coastline which belongs to Slovenia, Piran is choc-a-bloc of red roofed, medieval houses with Venetian palazzos littered with cafes and souvenir shops guiding you to the town center, Tartini Square. While there aren't exactly a plethora of things to do in Piran, Tartini Square is one of the most iconic images of Piran you'll come across. While you could do a Piran Walking Tour which includes food tasting and a sunset tour for 14 € each, wandering the peninsula of Piran and discovering the town for yourself is much more relaxing!
Piran City Walls
Today, to enter the town, you'll need to pass through the Seven City Gates, which can also be explored. Signs to finding Piran's town walls are scattered around Tartini Square, so keep your eyes peeled! Just know that you'll have to pay 2 € a pop to enjoy those views!
Related: 15 Things to Do When You Travel
Before you pop all the way downhill into Piran, I would suggest beginning with a walk along the Piran City Walls, especially as the parking garage is not far from here. And trust me when I say you really do NOT want to have to hike up the gargantuan hill from the town to the city walls/parking garage more times than you have to, though your ass will thank you for it later!
There is no question in my mind as to what the best things to do in Piran are. Short of owning a drone or a helicopter, the next best way to catch a bird's eye view over Piran is to meander the fortress walls which once enclosed the town, dating back to the 10th century. Still intact and well-preserved, you can appreciate the immaculate view laid out before you, and put some perspective on just how tiny this tiny coastal town really is, which is quite reminiscent of Kotor or Dubrovnik. The town walls were gradually pushed back as the town grew under the Venetians and guarded against a Turkish invasion.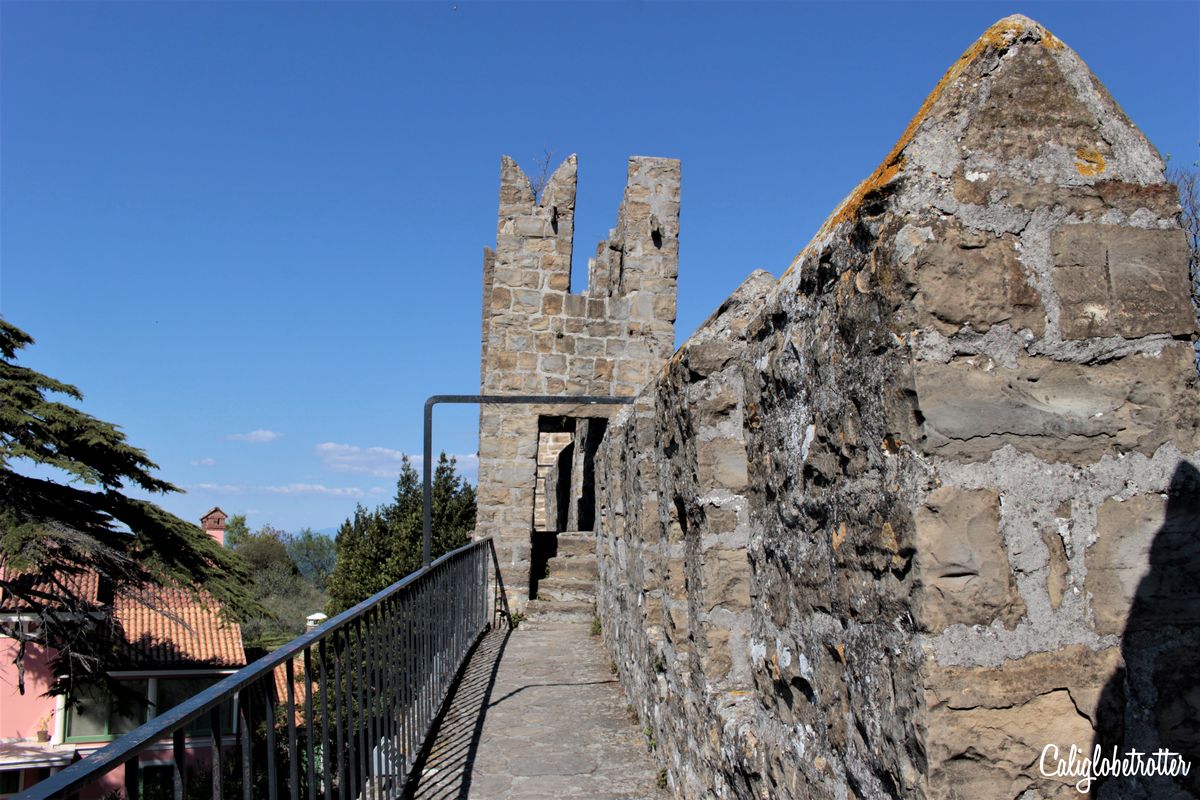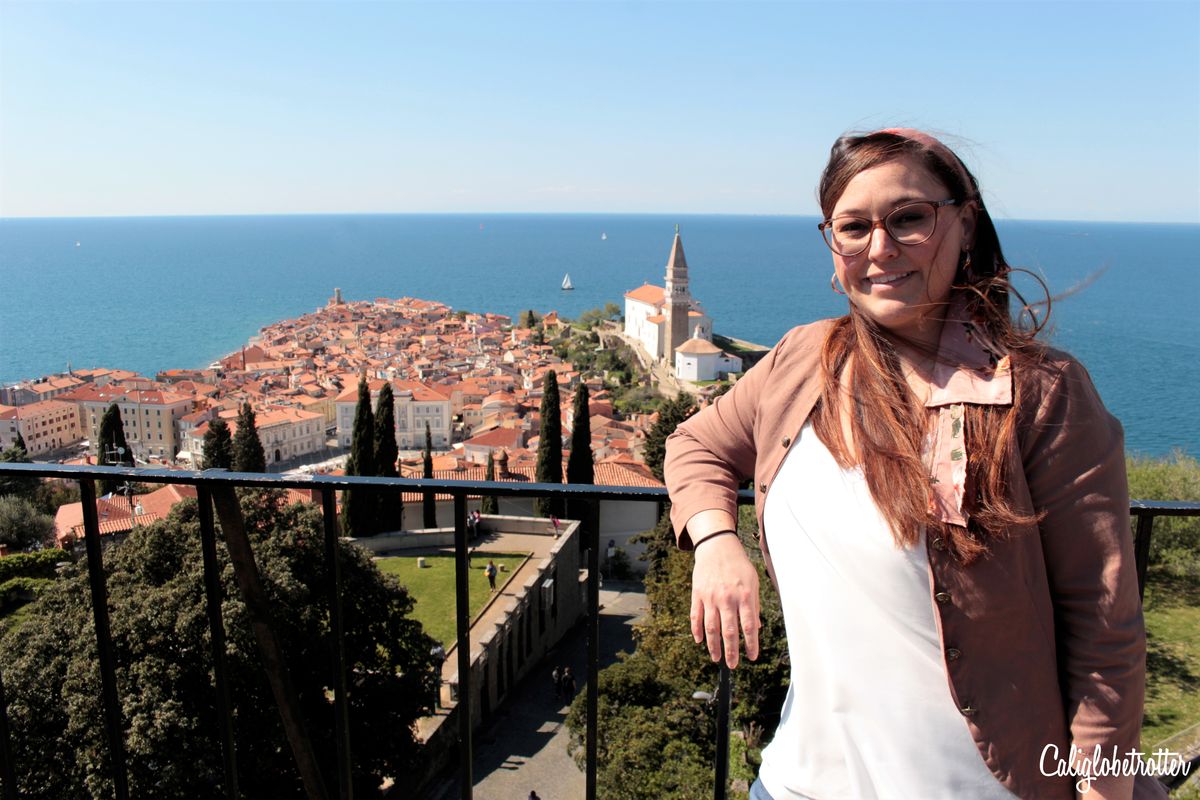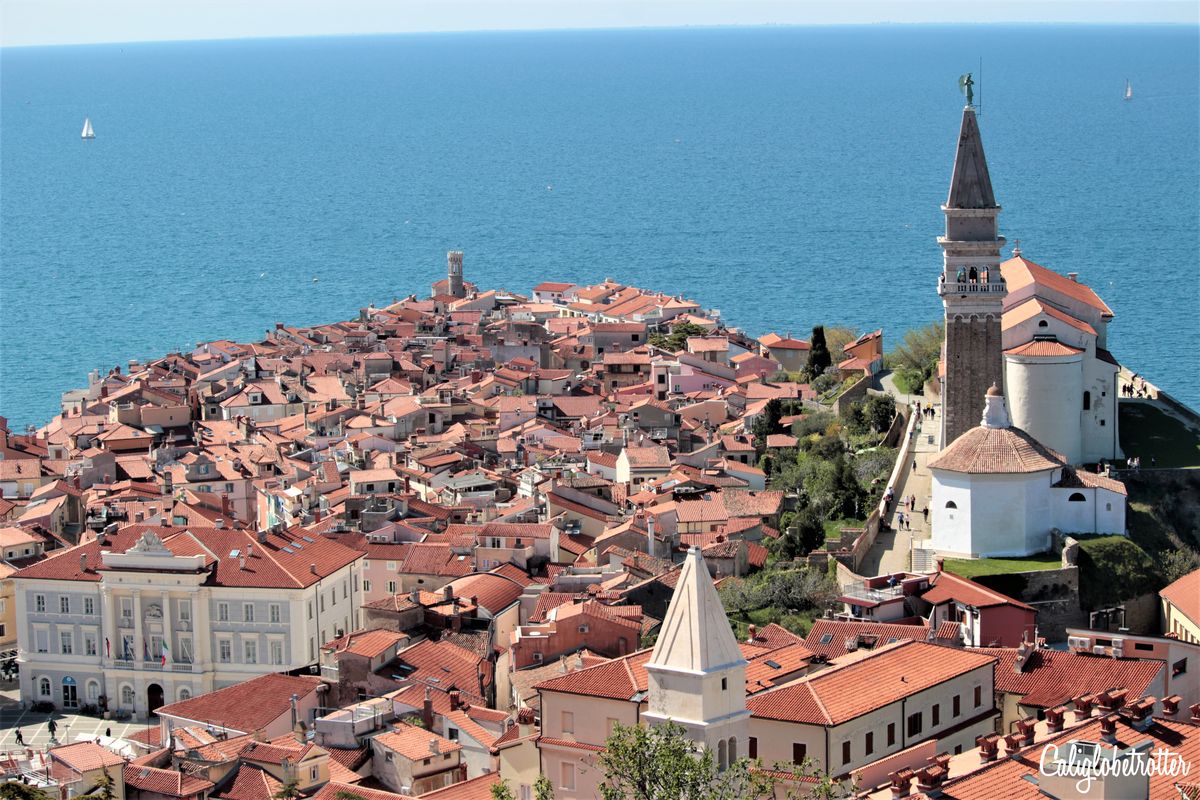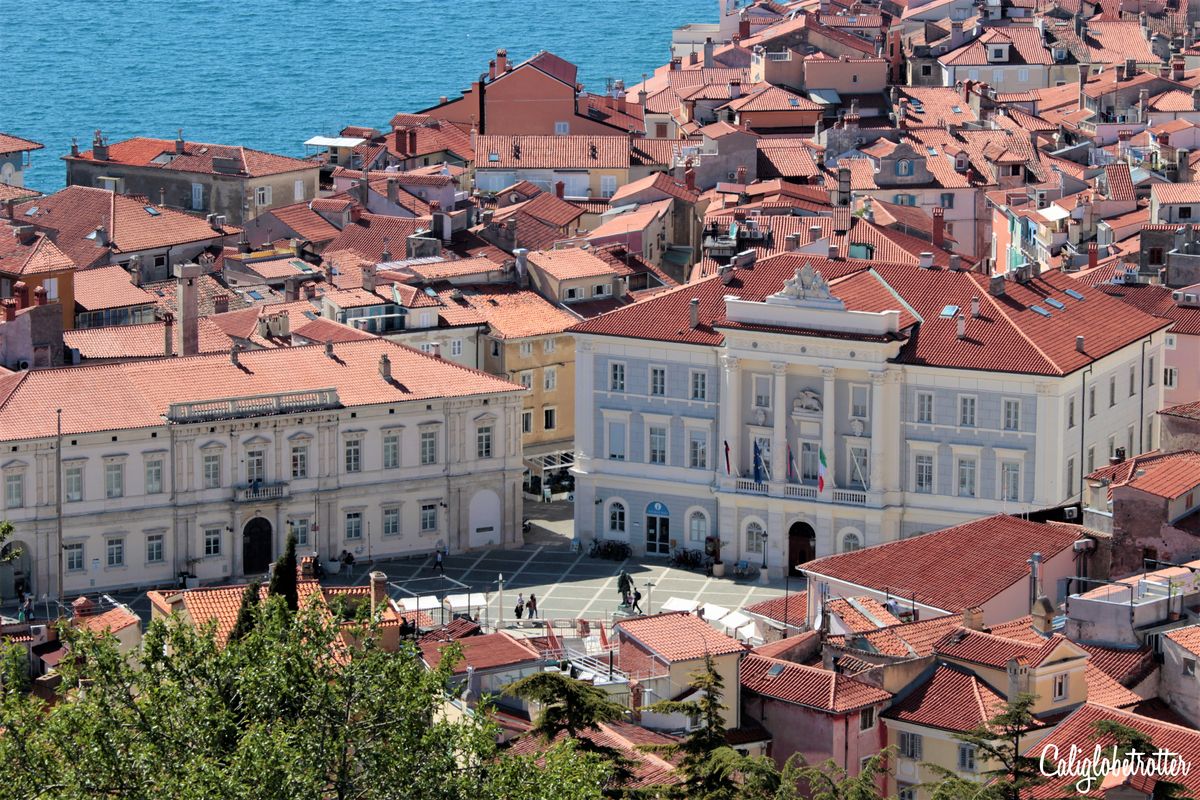 Tartini Square
As the symbol of Piran, this white marble paved square is named after Giogio Tartini, a beloved violinist and composer. What makes this square so relaxing to sit back and enjoy a coffee at any of the cafes is the fact that it's 100% car-free! That means if you're driving to Piran, you'll need to park outside the Piran city center and walk down the steep hill onto the peninsula which is Piran. Can I get a hallelujah!?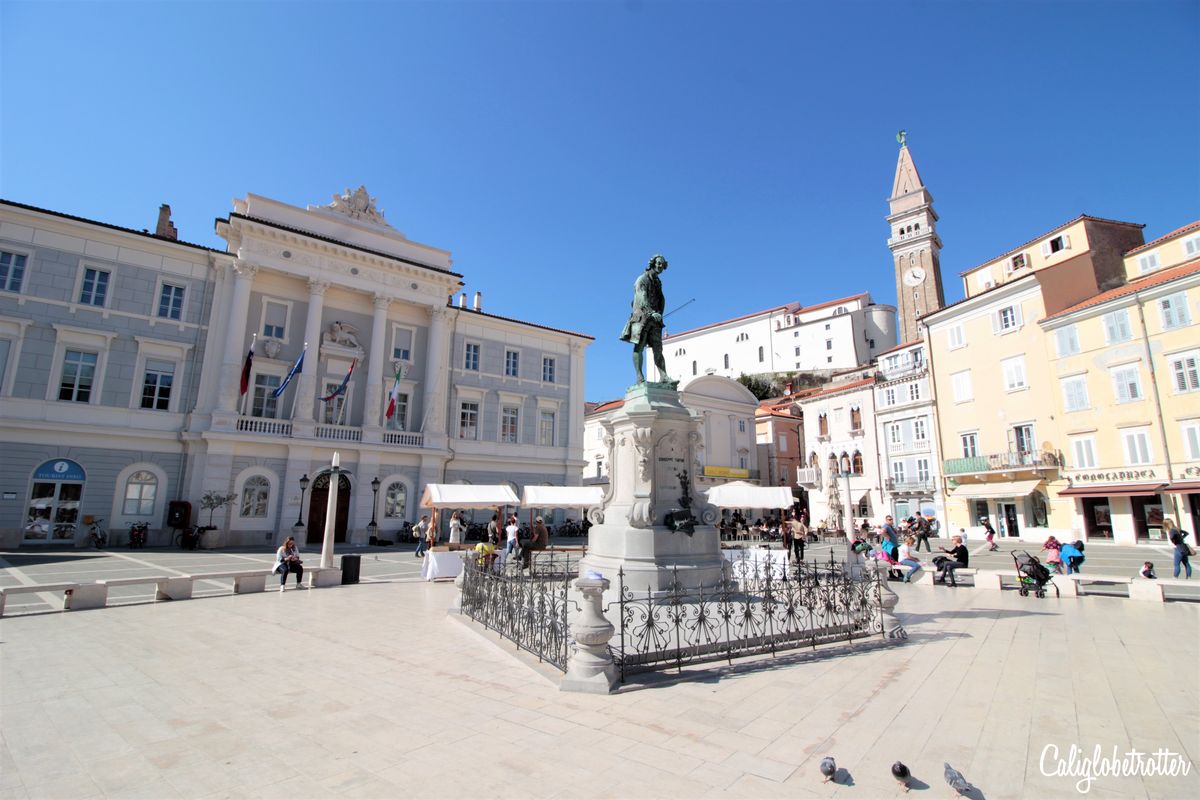 Prior to the second half of the 19th century, the square was actually an inner port for fishing boats, but was later filled and the beautiful square you see before you today was laid out in an attempt to forgo any further fishy smells and lingering filth. Now, it's one of the most beautiful town squares in Europe, surrounded by Venetian architecture as well as some Austro-Hungarian influences. You can always spot a town once inhabited by Venetians when you can spot the iconic winged lions.
Dominating the main square is the Town Hall, built by the Venetians in the 13th century and who would rule here for half a millennium, in a Roman-Gothic style, naturally with an immured winged lion on the Town Hall. The lion is holding an open book symbolizing peace, whereas a closed book would mean war, as I previously mentioned to look out for.
We found Piran to be one of the most child-friendly destinations in Europe we've been to yet. Though we don't have kids, there were certainly tons of local children and tourists who gather around Tartini Square and along the Piran waterfront, playing on their scooters and bikes, laughter echoing around the square. That beautiful waterfront though is just feet away from the main square and is littered with small fishing boats and beautiful turquoise, glistening water. I suggest walking out on to a small wave breaker for excellent views of the town square.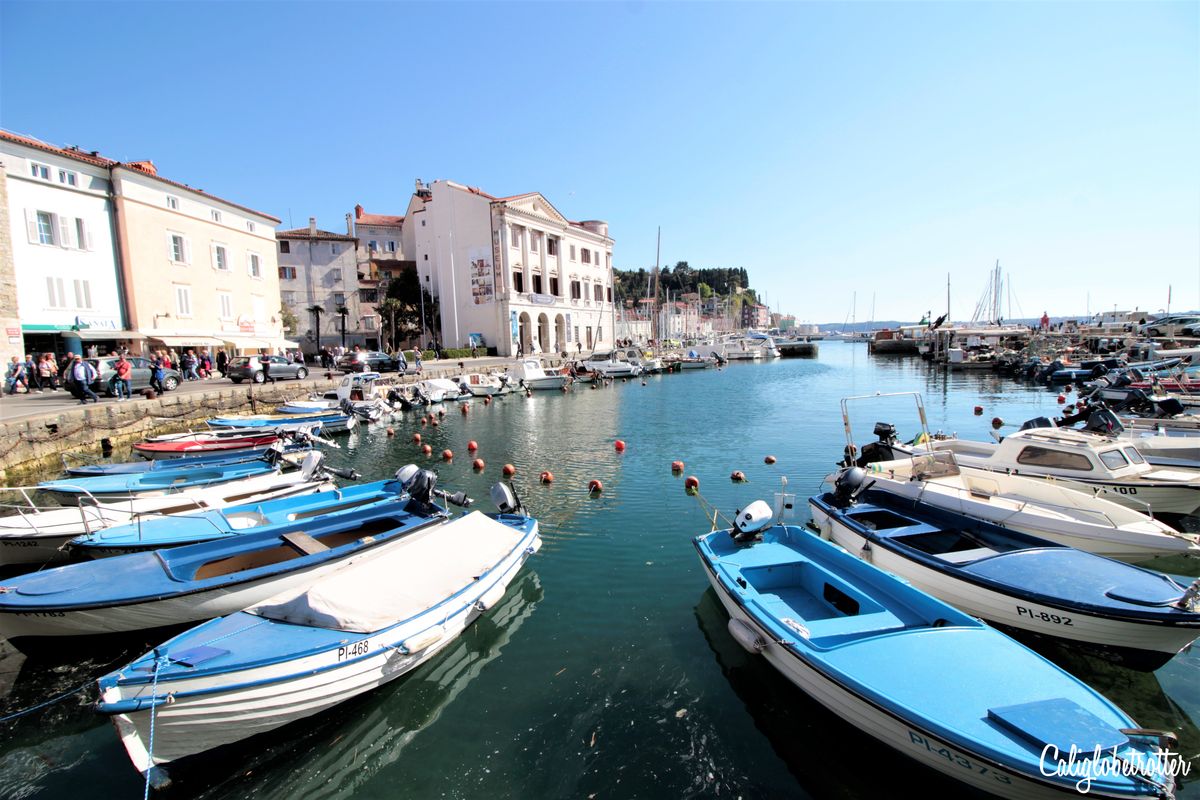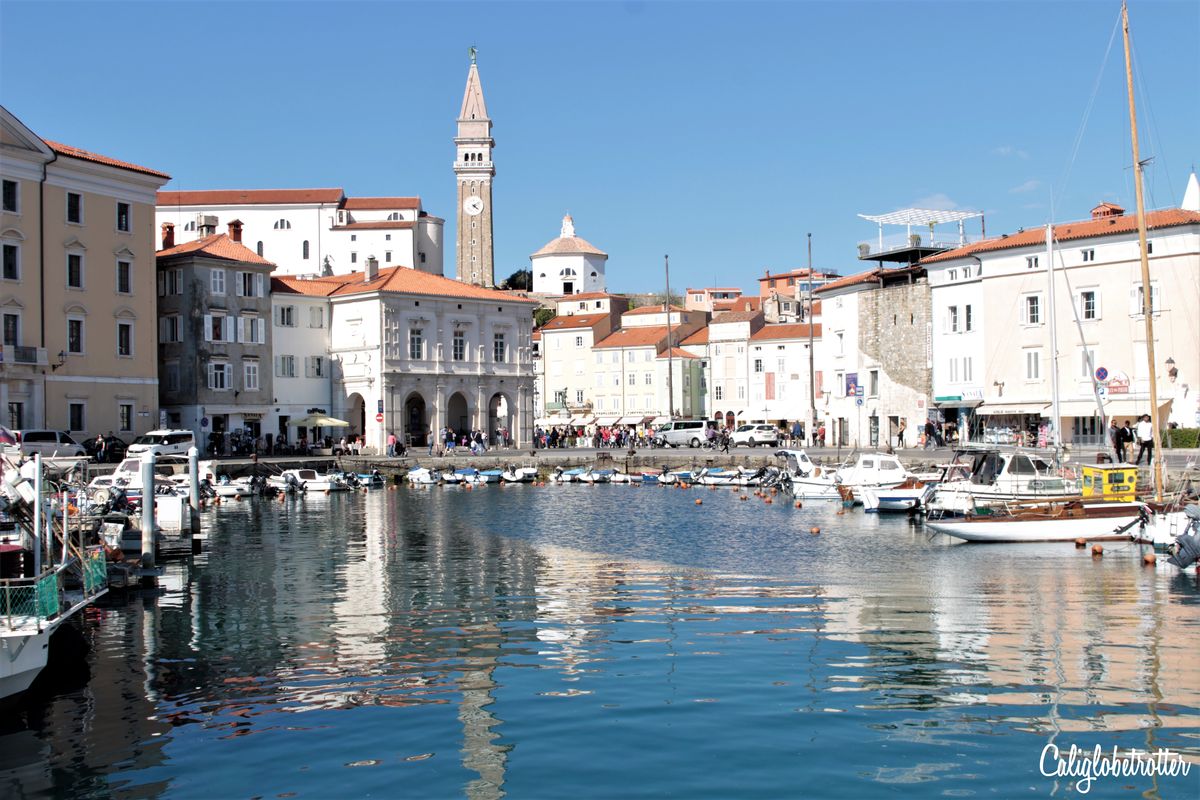 St. George's Church Tower
Above the piazza, looming over the square is the tower of St. George's Church, dedicated to the patron saint of Piran. For incredible views over Piran, then I suggest a climb to the top of the bell tower for 2 € a person. Though if you're not fond of heights, you can still catch an amazing view from the steps of the church! From here, you not only have a glorious view over Tartini Square, but an expansive view of the Bay of Trieste, which on a clear day, can provide views all the way to Italy! The bell tower itself is a replica of the San Marco Campanile in Venice, Italy, yet another testimony to the time of the Venetians. From this view, I can understand why Piran is one of the best places to visit in the Balkans!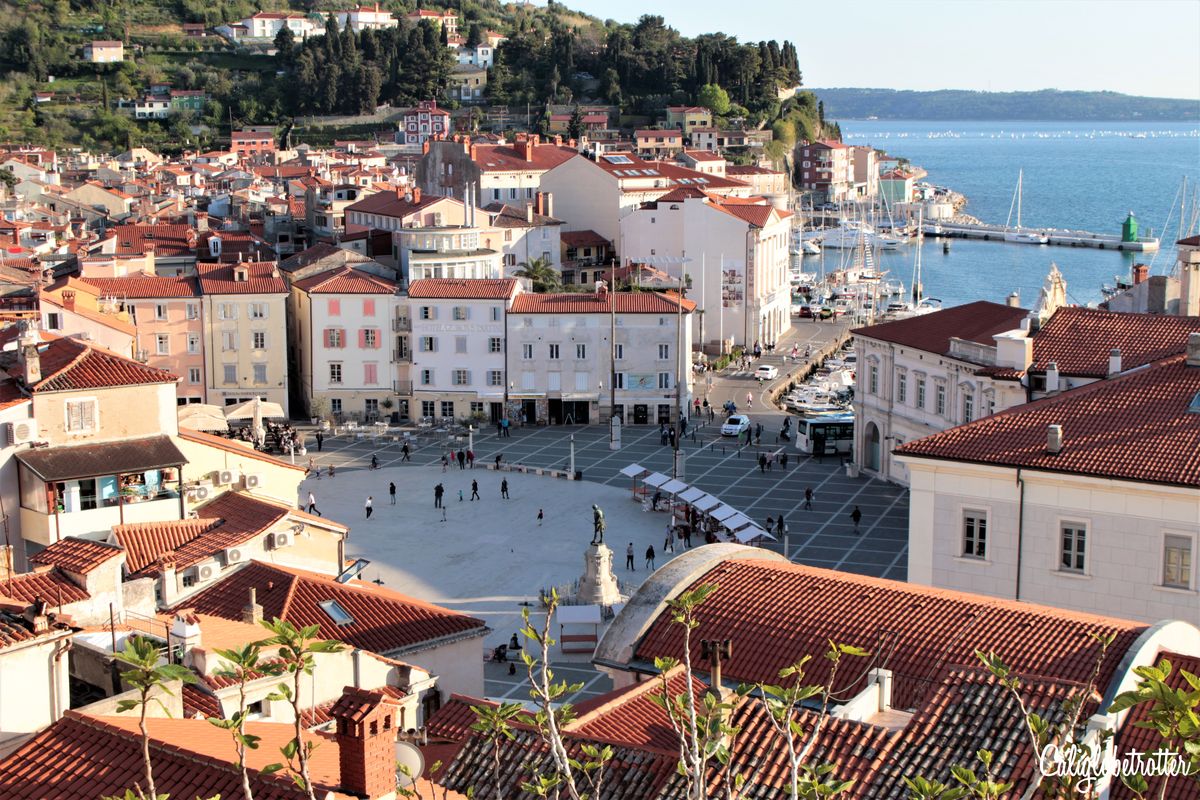 Cobbled Alleys
Short of having Venetian canals with gondolas, Piran is, however, littered with winding cobbled stone alleys that meander here and there. Gelato in hand, perusing the alleys will lead you to a variety of places, such as the 1st of May Square. Better yet, don't even use a map and just get "lost" in this tiny town and admire the rustic buildings, arches and plethora of Vespas parked in the most picturesque spots.
To be honest, we even wandered in through the alleys and found ourselves a lovely little restaurant called Verdi void of many tourists after having had searched for a restaurant that doesn't harass you into eating at their restaurant. This turned out to be the best choice because our food was delicious, the tiny "square" was peaceful and romantic and the service divine, which paired well with my accidental order of a 21 € bottle of wine. Oppsy daisy!
Houses of Piran
Several historical houses of interest to check out are the Venetian House and Tartini House. The former is one of the oldest houses in Piran, and by far one of the most striking. Dating back to the 15th century, the Venetian House is an exquisite example of Venetian Gothic architecture, which even features a very Juliet-esque balcony, located back in the town square. As the story goes, the house was built by a wealthy Venetian merchant who fell in love with a poor girl from Piran whom he met during a visit to the town. Needless to say, the town was not overly thrilled about this particular relationship and they were the center for gossip, which led the merchant to inscribe 'Lassa pur dir' ('let them talk') at the top of the building facade, indicating his lack of concern for gossipers.
Tartini House, however, is obviously the former house of Giogio Tartini, which is another of Piran's oldest houses. The first floor is dedicated to the life and work of Tartini, with some of his violins on display.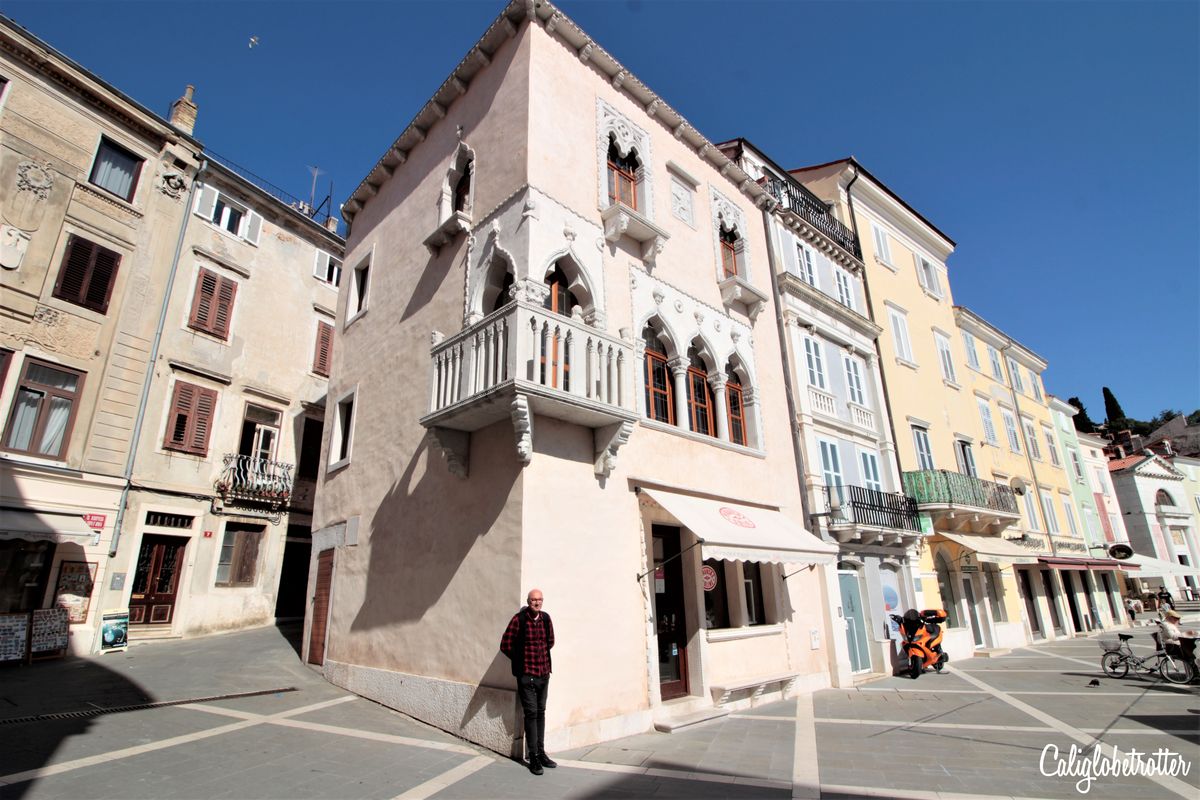 The Piran Waterfront & Swimming in Piran

It comes without saying that when in Piran, it is a must to stroll along the Piran Waterfront and soak up the amazing coastal views. Stop at any of the restaurants and cafes which offer full frontal views of the bay, or even sit down at the exquisite Hotel Piran to enjoy their famous Sour Cherry Cake, a 40 year tradition made only here, and watch endless sunsets until your heart's content. Sunsets here simply seemed to last an eternity!
Though we visited for Easter, it wasn't yet swimming season, however, for future reference, one could take a dip at the Piran Beach. Lacking a sandy beach, it certainly wouldn't stop those wanting to cool off by climbing into the watering hole. You'll also notice a few limestone sculptures artists have left behind over the years, such as the siren of Piran.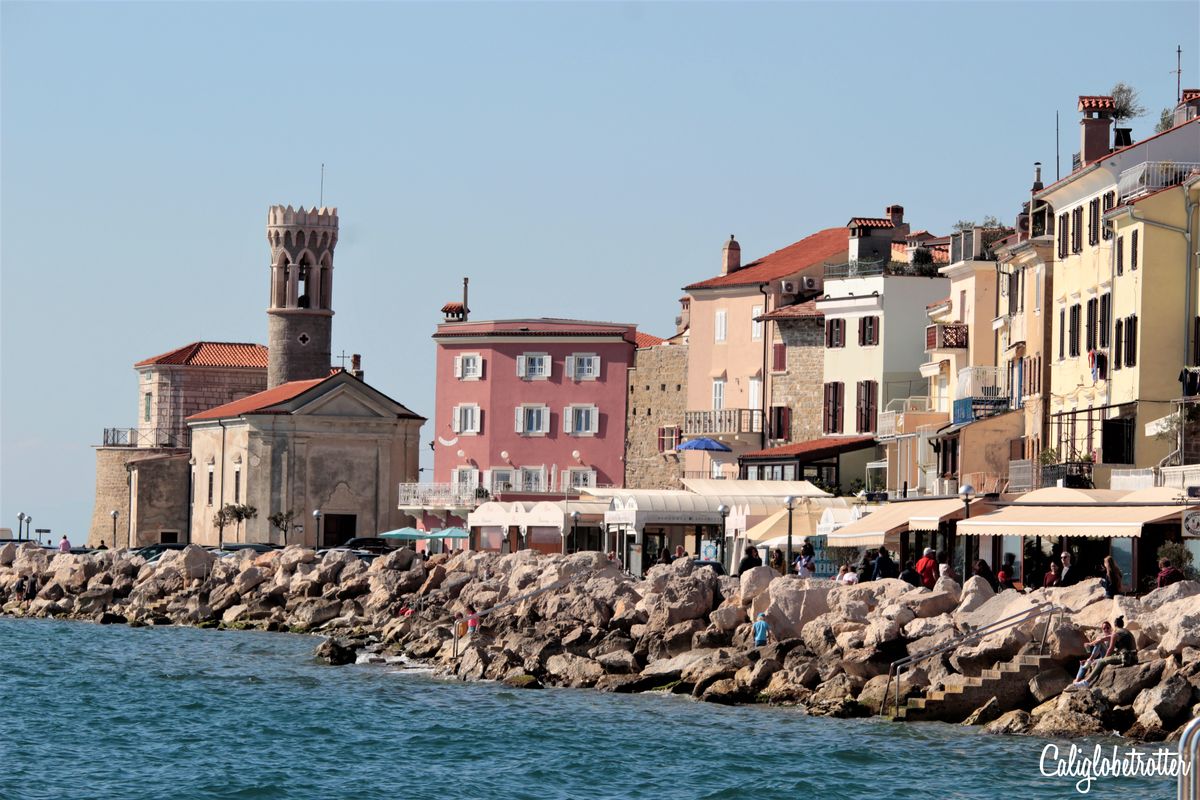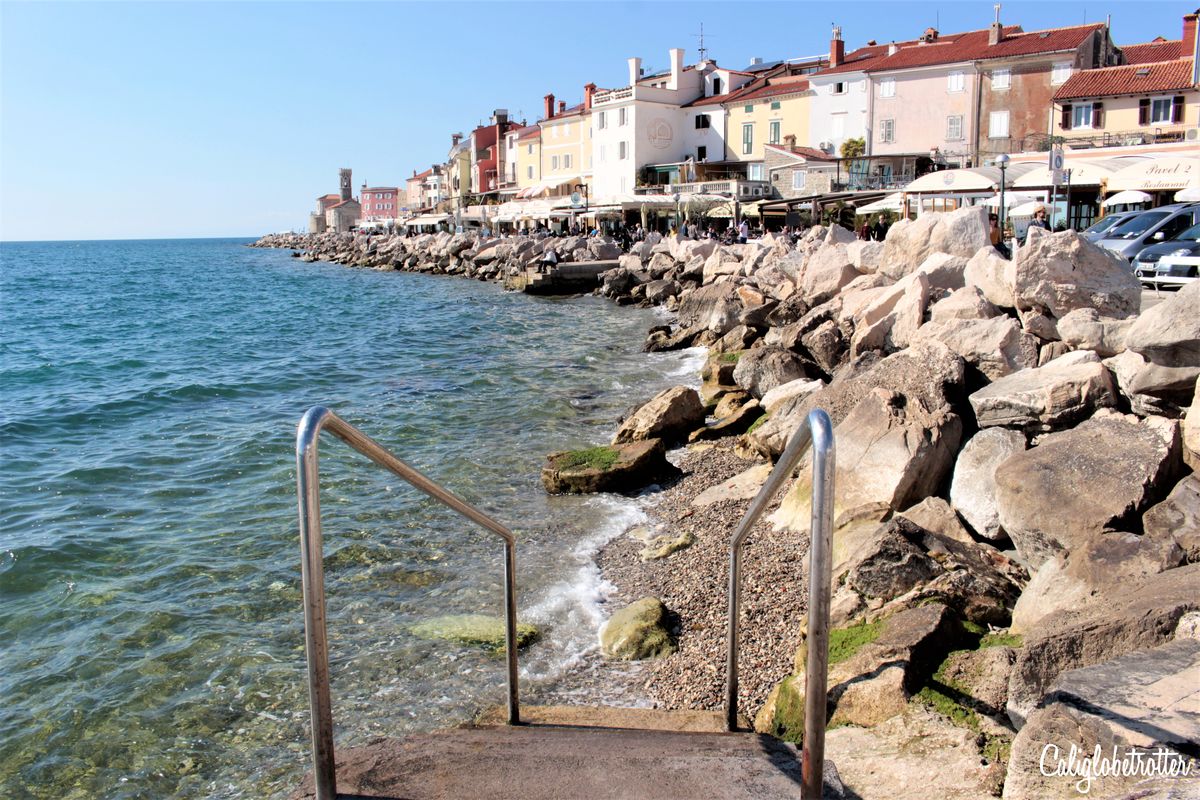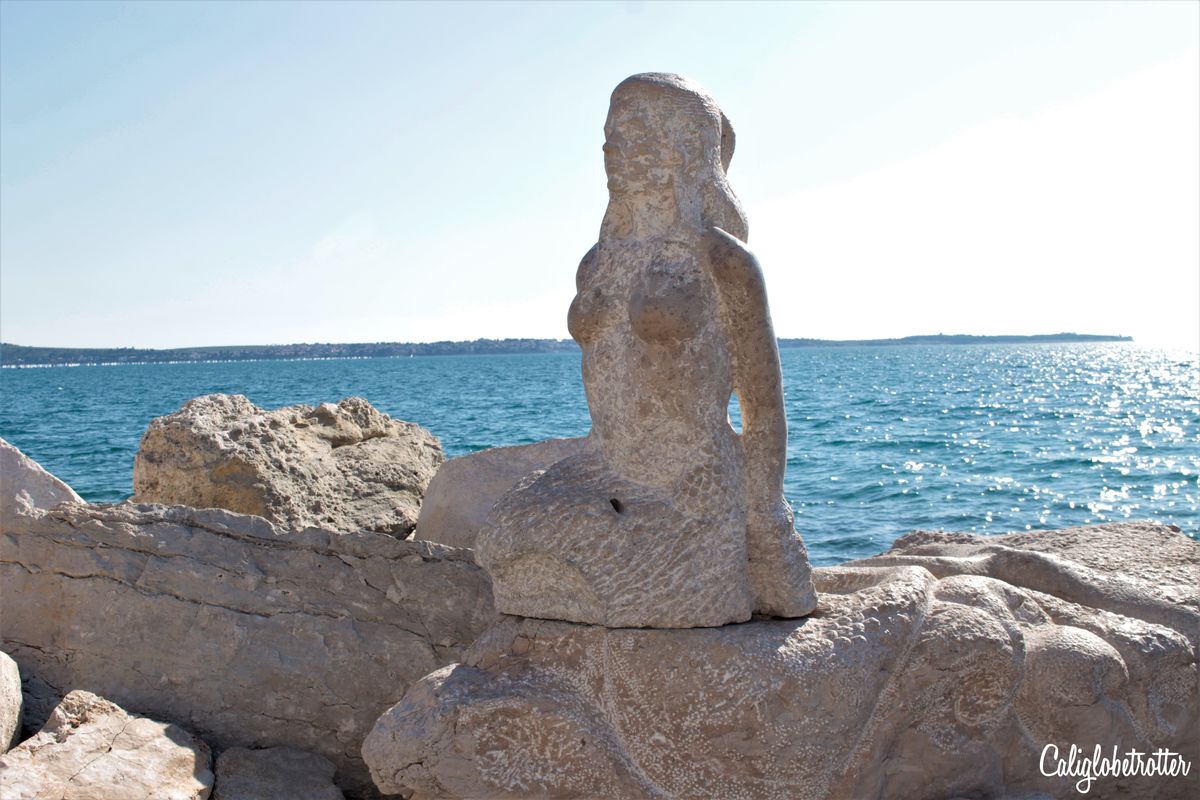 Even if you're not one for taking a dip in the Adriatic Sea, walking around the peninsula provides glorious views along the coastline with beautiful blue water stretching as far as the eye can see. I found this to truly be one of the most relaxing things about Piran.
Even towards the tip of the peninsula you'll eventually find a lovely, little lighthouse, one of the most photographed spots in Slovenia, called the Punta Lighthouse. But don't stop there, continue on around the tip to the northern side of the peninsula where you'll find more cafes, bars and restaurants. On our last night here, we enjoyed a magnificent sunset from Fine del Mondo. I could have sat here forever and been completely content sipping on my Hugo.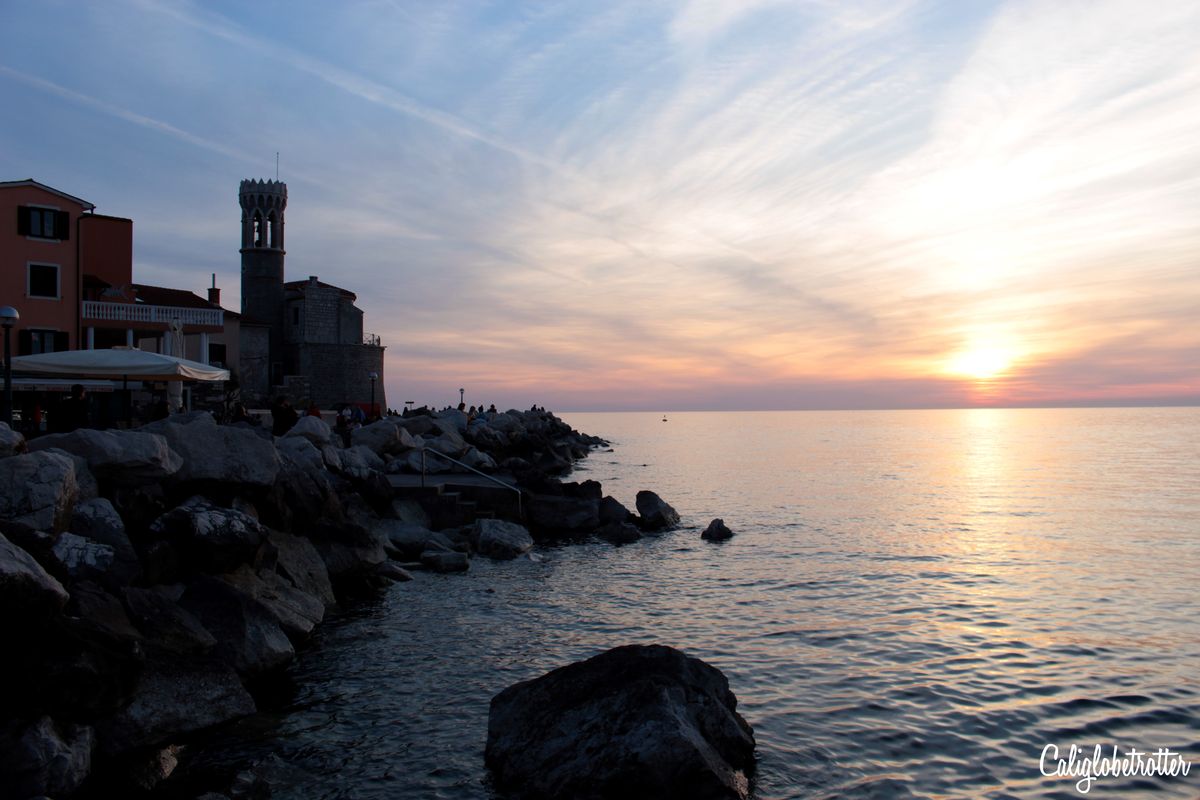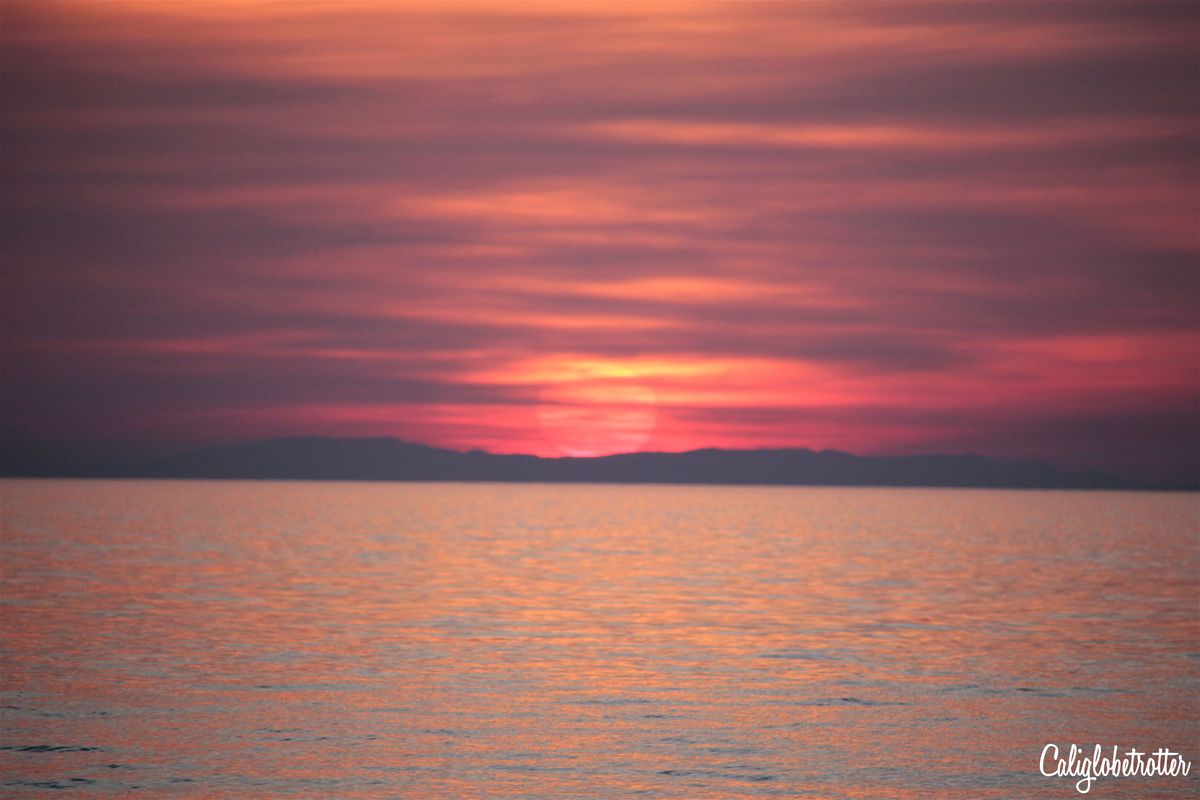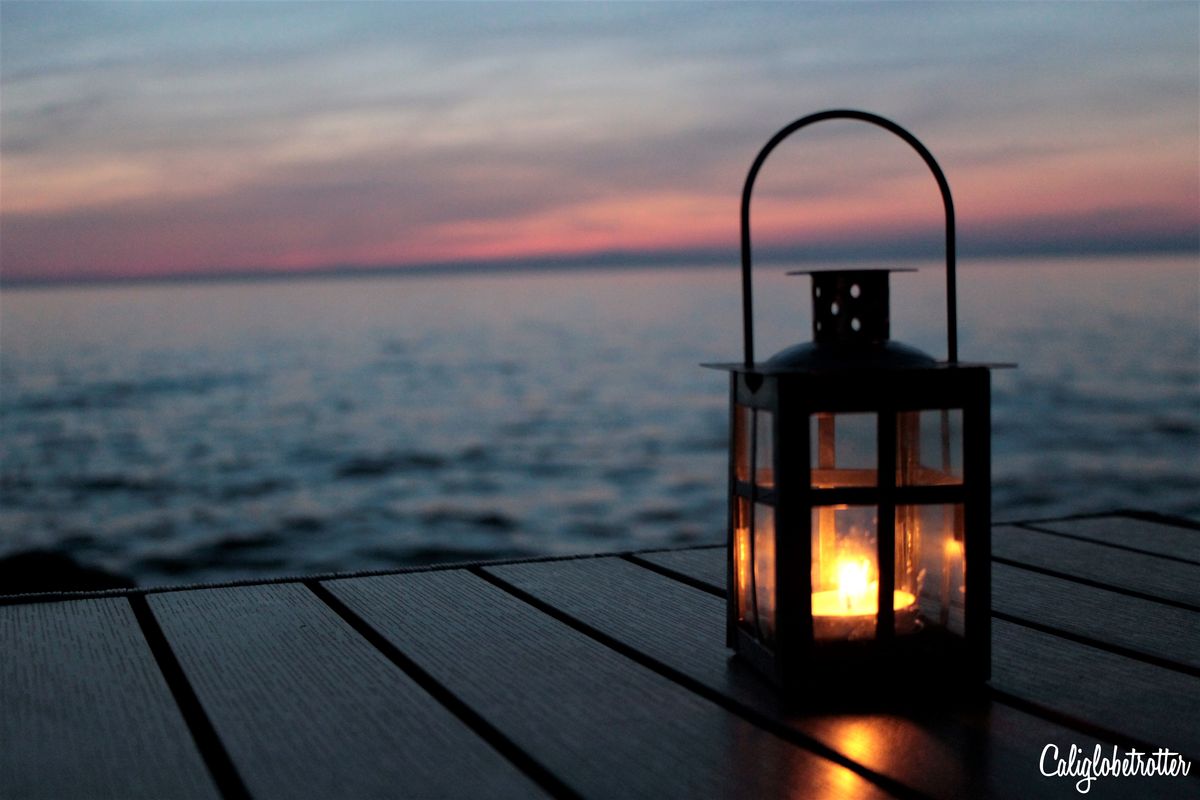 Where to Eat in Piran
Besides devouring scoopfuls of gelato and sightseeing, eating in Piran was by far one of our favorite things to do! With my husband being a big fan of all things seafood, we enjoyed quite the feast at Verdi as previously mentioned. Nothing is better than fresh, local seafood from just feet away. Restaurants were scattered along the coastline of the peninsula along the way to the lighthouse. Not being a big seafood fan myself, I'll have to take my husband's word that the endless list of fresh mussels and other sea creatures was delicious. I on the other hand, revel in the more expensive fish like shrimp! Though I am certainly not accustomed to my shrimp still fully dressed.
While Pavel 1 and Pavel 2 are renowned for great seafood and pastas, we decided to enjoy Ribja Kantina which offers delicious Balkan cuisine, as well as seafood, two of our favorite cuisines. However, it comes as no surprise when I say prices at either location were not exactly the cheapest, but was still a great value for delicious food with amazing views!
How to Get to Piran
Short of few hours drive from Germany, getting to Piran was rather easy and we decided to make Piran our weekend home base, while combining it with day trips to Trieste, Italy as well as Rovinj, Croatia, both of which were just a short drive away. Nothing like combining three towns, in three countries in one weekend!
Though for some, the biggest question is likely, should we visit Piran just for a day or make a weekend trip out of it? If you're driving to Piran, then I definitely recommend at least staying a night so that you can fully experience the town. Everything was easy enough to see in a single day and then some, but if you were to come by public transport from Ljubljana, a trip consisting of 2-3.5 hours one way might make it a little more difficult to accomplish everything in a single day, and make you feel quite rushed.
However, driving to Slovenia will require a vignette (15 € / 10 days) before entering the country and driving on their highways which can be purchased at gas stations close to the border. You'll likely be coming from central Europe, driving through Austria which also will require its own vignette (9.20 € /7 days). You'll also likely need to drive through the Karawendel Tunnel between Austria and Slovenia, which will cost about 7.40 € (one way, for cars). You can generally expect to sit in a bit of tunnel traffic 30 min – 1hr+ depending on the tourist season as it is the main route from West Europe to Southeast Europe. However, from now until 2024, expect delays due to construction. If you have more time and don't mind going a slower, more casual pace along share, windy roads, then take the back roads for some beautiful scenery.
Parking in Piran
Considering that Piran is a car-free zone unless you're a local, driving into the town center is not possible. We were able however, to drive to our hotel, drop off our luggage and then were shown where to go for public parking, which was 12 € a day. There is absolutely no parking in the historic town and parking which is only for locals is forbidden and comes with a parking ticket, as we saw for another tourist. However, you are forewarned that Piran is quite popular with day trippers from Slovenia and Italy and therefore, parking can be very, very limited. I would either recommend to arrive mid-morning as hotel quests will be leaving, or parking on the outskirts of town at the Fornače parking garage (Fornače 23, 6330 Piran – Pirano, Slovenia) or Garage Arze (Arze 1b, 6330 Piran – Pirano, Slovenia) which is where we parked every day. From here, it's an easy walk downhill into town, or a shuttle bus is provided for those who need it most.
Where to Stay in Piran
Wanting to fully explore the town, soak up the sunsets and admire the sunrise, I obviously wanted to stay in Piran. So, I booked us a lovely bed and breakfast at Max Piran ⭐⭐⭐not far from Tartini Square, in a guesthouse dating back to the 18th century. Offering a view of St. George's Church from every room, it was a no brainer and every morning and every evening, I threw open the windows and leaned out the window to absorb every moment. 
The owners were very friendly and offered lots of tips. They also provided us with a lovely Eastern morning breakfast with traditional La Putizza, a delicious walnut, almonds and liqueur patisserie which derives from Trieste, Italy!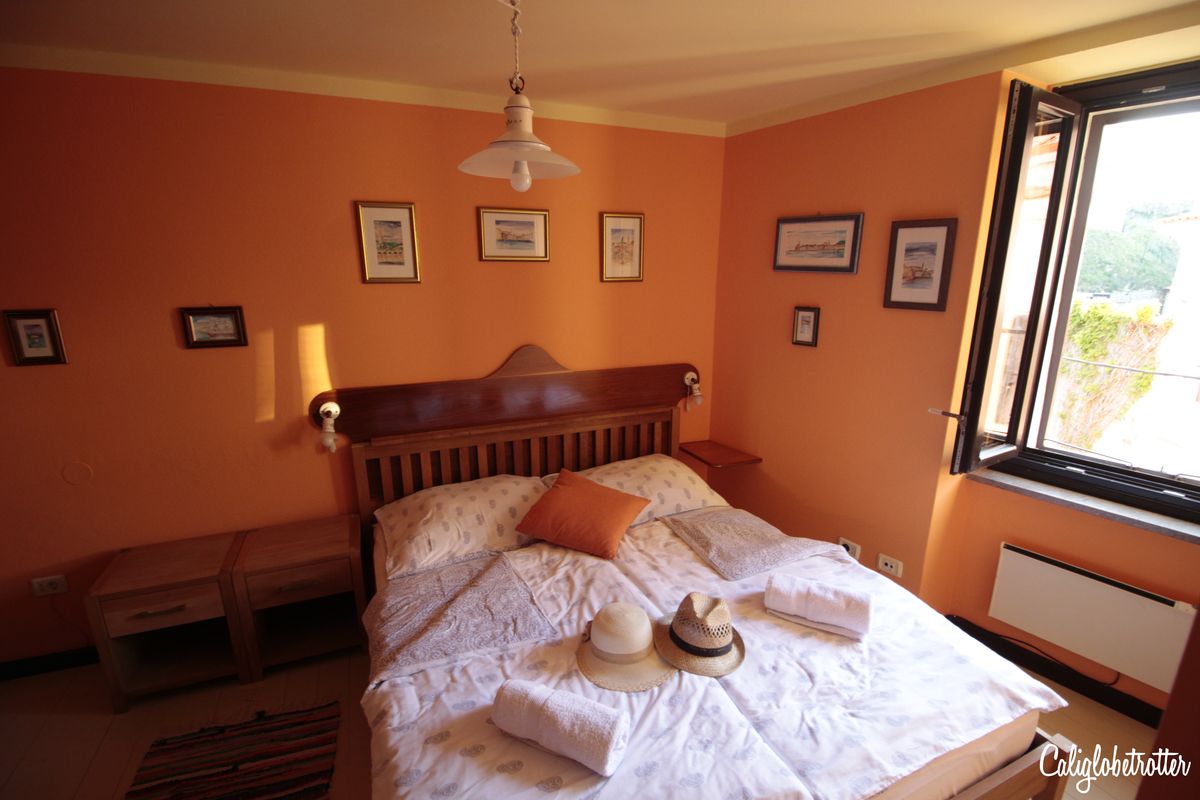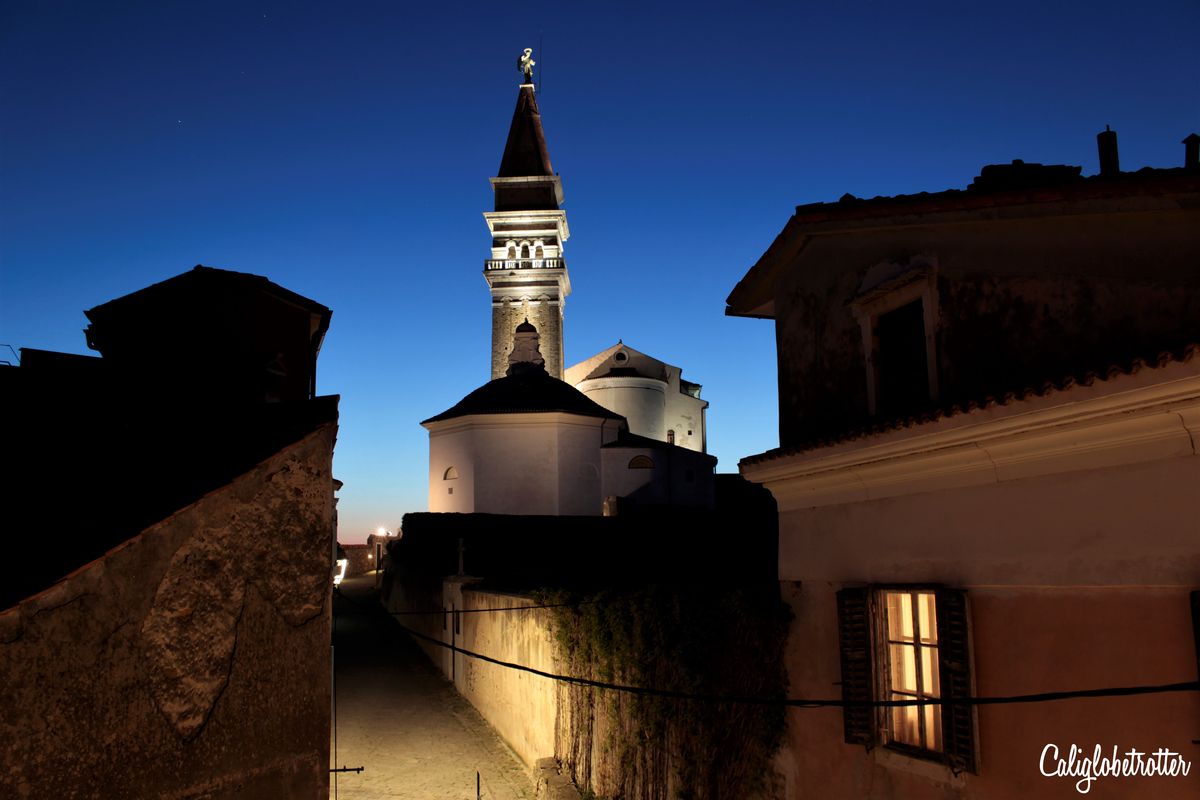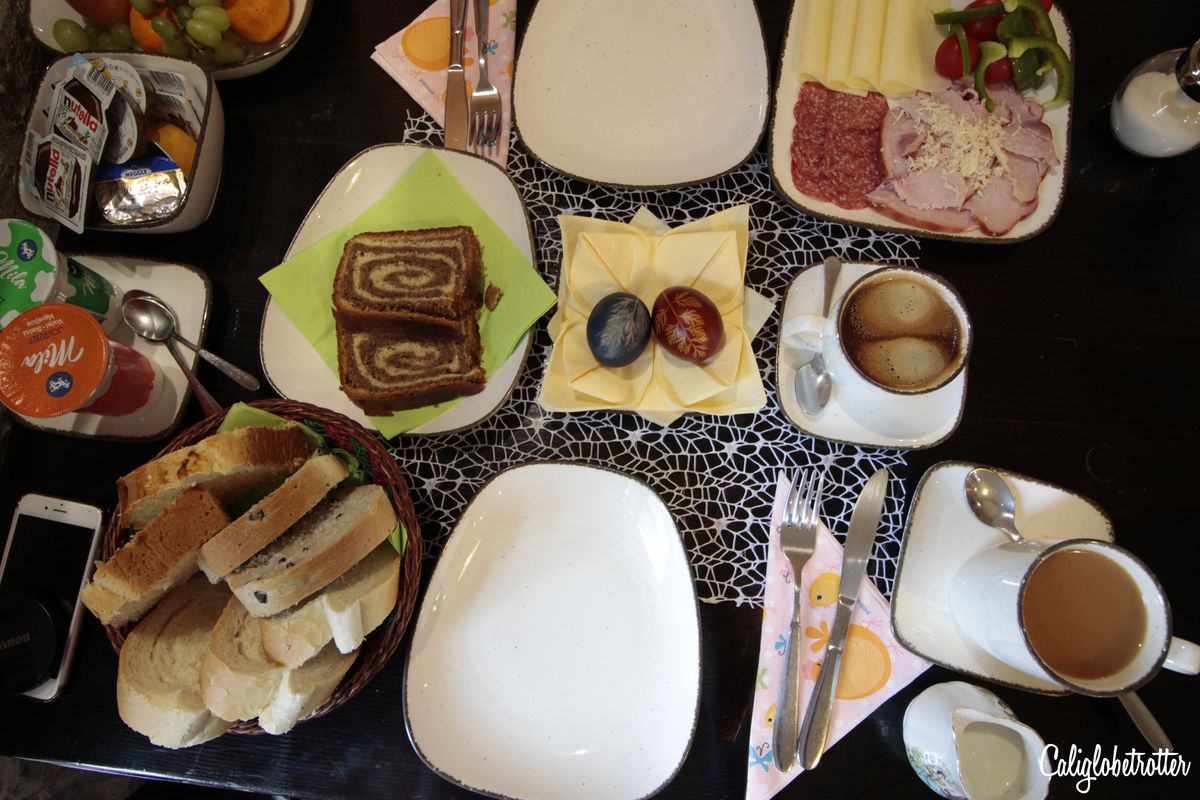 Another of the best places to stay in Slovenia is Portoroz, a neighboring town to Piran which also offers luxurious hotels and casinos with yet another beautiful church and tower dominating the center of town. If you're looking to fly into Slovenia, consider the Portoroz International Airport which is not far away.
Overall Experience of Piran
Having wanted to visit Piran for many years, I was glad we finally made it! It lived up to all of my expectations and was beautiful no matter how gloomy or sunny it was! I found the town to be incredibly tranquil and a great place to lift my spirits after months of not traveling and being in a funk. I guess eating bucket loads of gelato in a pretty place will do that to you! And I can always do with a pretty town with endless winding alleys to explore and sunsets to last a lifetime!
Overall, we felt that Piran was definitely a small town very much still lived in by locals and has not been overrun with hotels and Air B&Bs etc. Clothes still hung from drying lines, criss-crossing over alleys, a music school in the heart of town and locals who come into town every evening. It was great to feel outnumbered locals to tourists, which is a rare occasion.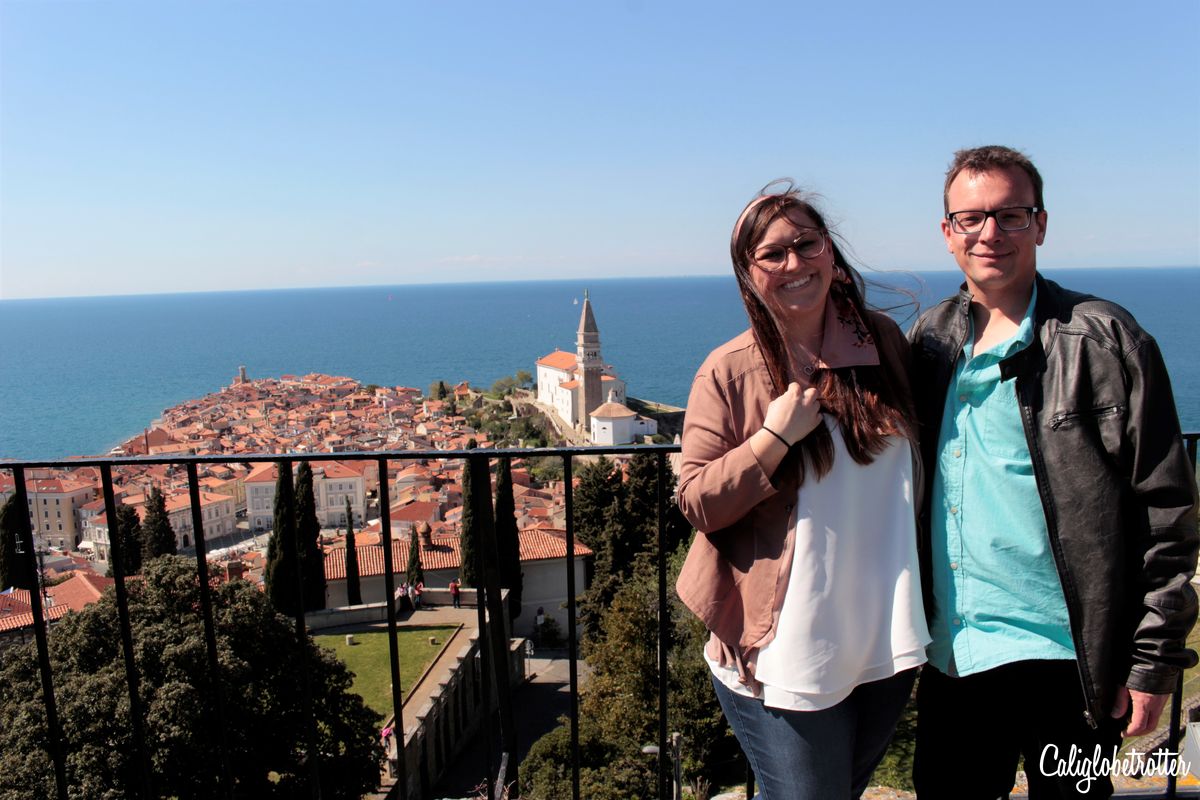 Looking for more practical information on Slovenia and Balkan Travel? Grab a copy the following travel guides which we found incredibly useful on our trip and has something for everyone from outdoor activities to historical sites!
Disclaimer: This post contains affiliate links. If you click on one and make a purchase, I might make a little extra spending money, at no extra cost to you. As always, all opinions are my own and these products/services have been found useful during our travels and come highly recommended to you from yours truly!
More Amazing Places to Visit in Slovenia:
5 Things to do in Picture Perfect Lake Bled
Combine Your Trip with:
How to Spend a Day in Trieste, Italy
Liked this post? PIN IT FOR LATER!!