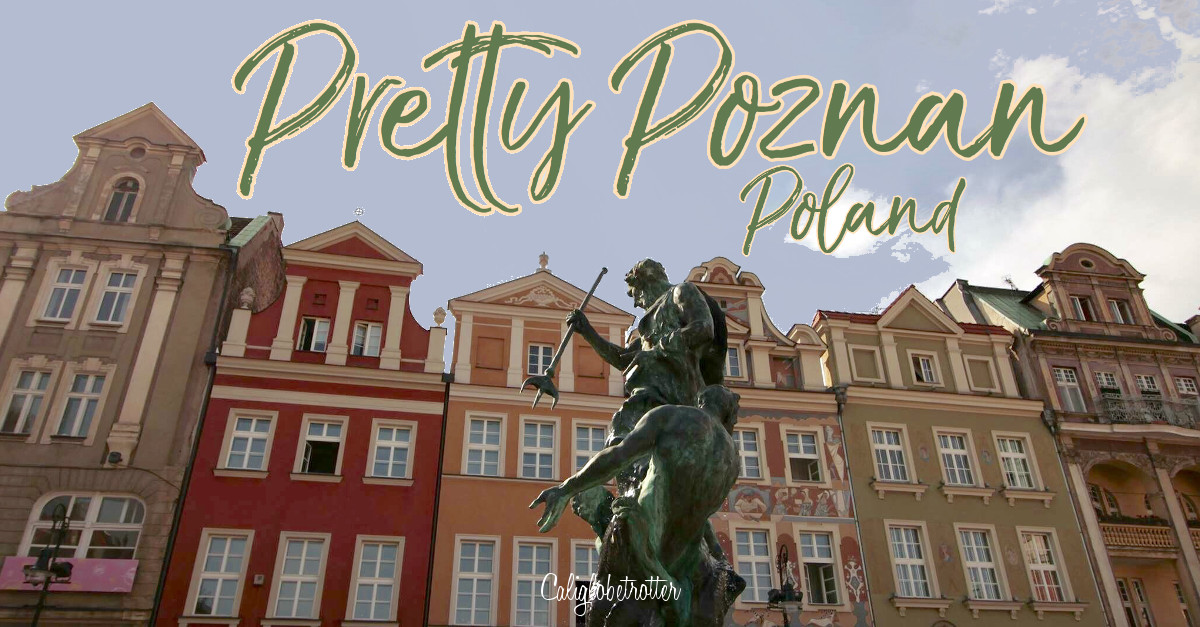 Disclaimer: This post contains affiliate links. If you click on one and make a purchase, I might make a little extra spending money, at no extra cost to you. As always, all opinions are my own and these products/services have been found useful during our travels and come highly recommended to you from yours truly!
Located in the Greater Poland region of Wielkopolska, Poznań, the regional capital is one of the largest cities in Poland, yet simultaneously relatively unheard of and under the radar in comparison to Krakow, Warsaw or Gdańsk. Poznań (Posen) boasts all the same fascinating history, vibrant architecture and delicious food as found in the more popular destinations, yet is practically tourist-free. 
Want to Visit Pretty Poznań? PIN IT FOR LATER!!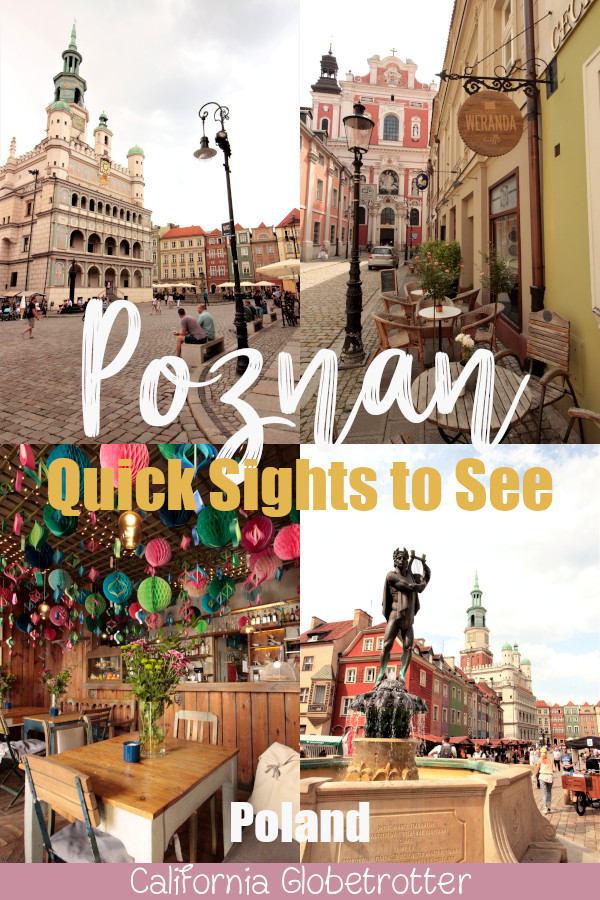 This article is now available as a mobile app. Go to GPSMyCity to download the app for GPS-assisted travel directions to the attractions featured in this article!
How to AVOID Looking Like a Tourist in Europe
The Most Beautiful City Halls in Europe
As a neighboring country to Germany, we opted to drive to Gdańsk to visit a friend and choosing to break up the drive by spending one night in this pretty city. It allowed us to stretch our legs by walking around the historic city center, grab some grub and learn about the intriguing history and architecture while being able to peruse the food market happening in town that day. However, I underestimated its beauty and size and realize now we could have easily spent a minimum of two full days here. So, I'll share with you what to do in Poznań in one day, one of the most stupid pretty towns in Europe!
History of Poznań
The name Poznań derives from a personal name meaning "Poznan's town", however it could also come from the verb poznać, which means "to get to know" or "to recognize," so it may also mean "known town". During the 8th century, a stronghold by the name of Polan stood between the Warta and Cybina rivers, on what is now known as  Ostrów Tumski (Cathedral island).
The town was an important cultural and political center and after the baptism of Mieszko I, the first known ruler of the Polans, construction began on Poznań's cathedral, the first in Poland which would be a defining moment in the country's history.
In 1793, Poznań came under the control the Kingdom of Prussia before joining forces with Napoleon to push out the Prussians. During the entire 19th century, Poland did not exist. The country's central government was too weak to contain the ambitions of war lords, and in 1785 it was divided between Russia, the Habsburg Empire and Prussia, which then became the German Empire.
Fast forward to the end of WWI, Poznań was returned to the newly reborn country of Poland under the agreement made by the Treaty of Versailles. Twenty years later. during the Second World War, Poznań was occupied by the Germans and the town's German population swelled from 5,000 to 95,000. Much of the Old Town was destroyed during the war and has since been beautifully reconstructed.
What to see in Old Town Poznań
Old Market Square 
The Old Market Square (Stary Rynek) is the heart and soul of Poznań and is entirely surrounded by town houses with colorful facades. It is the main attraction in Poznań and skipping it would be a crime! Many of the buildings were destroyed during the war and have since been rebuilt to their former glory, while others managed to survive. The square is filled with a plethora of restaurants, cafes and shops and from spring to autumn, you can occasionally find markets. Each corner of the square is dominated by large fountains – the Fountains of Proserpine, Apollo, Neptune and Mars.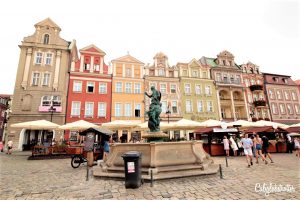 The Renaissance Town Hall
In the center of the square, is the impressive Renaissance town hall (Ratusz) which is one of the top sights to see in Poznań, built in 1550-60. Poznań's town hall is one of a kind with three tiers of arcades, topped with a grand attic and a large tower as well as being decorated with portraits of former kings of Poland. Every day at 12 o'clock, work goats emerge from the clock tower to butt heads 12 times and are a symbol of the city from a local legend.
The story goes like this: Once upon a time in the middle of the 16th century, there lived a chef in town by the name of "Pete". He was given the task of cooking an elaborate feast for the mayor and some important visiting dignitaries. As Pete was preparing a roast deer, things started to go array and the venison fell into the fire pit burning to a crisp. To save his neck, he grabbed two goats nearby when he couldn't find a replacement for the venison, but they escaped his grasp and ran towards the Town Hall. They ran up the stairs catching everyone's attention before locking horns and beginning to battle it out. The mayor and his guests found the whole situation hysterical and were less concerned about their hunger that Pete and the goats were both pardoned.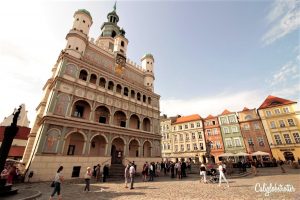 Opening Times & Entrance Fee
Open 09:00 – 15:00, Fri 12:00 – 21:00, Sat, Sun 11:00 – 18:00. Closed Mon. Last entrance 30 minutes before closing.
Admission 7/1-5zł, Sat free.
Just behind the Town Hall is a copy stone pillory from 1535 with a figure of Bamberka, a peasant women from Poznań honoring the Catholic settlers who were sent here at the beginning of the 18th century from Bamberg, Germany.
Merchants' Houses
We all know how much I love a colorful town and Poznań certainly didn't let me down. In the center of the square next to the Town Hall are an array of colorful craftsman houses (domki budnicze), another of the main sights to see in Poznań, dating back to the 16th century with intricate designs. The reason for the unique structure of the über-narrow houses is because homeowners paid property taxes based on how wide and how many windows the building had. For centuries, craftsmen sold their goods here but today are home to souvenir shops.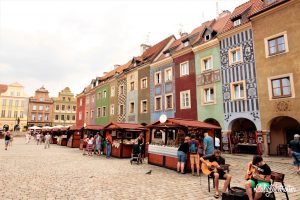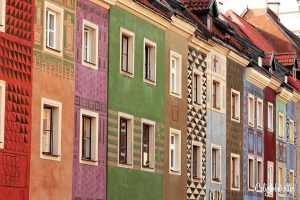 Royal Castle
You'd be surprised to know that despite looking historically old, the Royal Castle (Przemysław Castle) technically was only rebuilt in 1959 as part of a massive reconstruction project with further renovations between 2010 and 2016. The city decided to rebuild the castle using the few remaining supports which date back to the 13th and 14th centuries. It was originally built in 1249 by Przemysław II and was destroyed multiple times throughout history with the ultimate destruction taking place during WWII. Today what you see is a modern interpretation of the castle by the designer and today it houses the Museum of Applied Art. There is also an observation desk from the tower overlooking the city.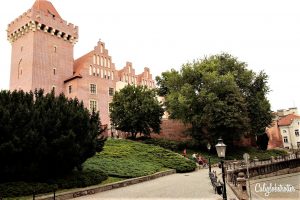 Opening Times & Entrance Fee
Open 09:00 – 15:00, Fri 12:00 – 21:00. Sat, Sun 11:00 – 18:00. Closed Mon.
Admission 12/8zł. Tue free.
Franciscan Church 
Just opposite from the Royal Palace is the Franciscan Church(Kościół Franciszkanów) built in 1674-1728 which looks bland on its exterior facade but don't let looks deceive you. Inside, is a stunning explosion of baroque stucco, colorful wood carvings and paintings. Inside is a famous picture of the Miracle-Working Virgin Mary known as the Lady of Poznań.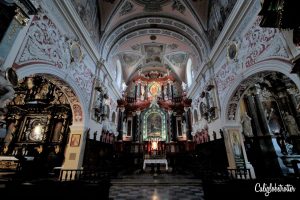 Wolności Square
Another large square besides the Old Market Square is Wolności Squarewhere locals come to gather. Although it does not have any Renaissance buildings, it is still equally charming. Dominating the square is the Raczynski's Library which was built in 1822-29, which was the first building in Poland to be specifically built to house a library.
In the center of the square is an oddly shaped geometric glass water fountain called the Liberty Square Fountain in which there were several children splashing around to cool off in the hot summer sun.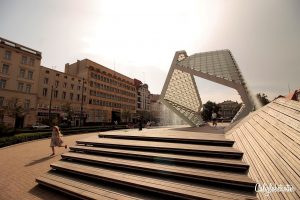 Imperial Castle
What, a second castle in one city!? You betcha! Built in the neo-Romanesque style, an architectural reference to the "Golden Age' of the Holy Roman Empire – also known as the First Reich of Germany. Built in 1910 for Kaiser Wilhelm II, it is considered to be the youngest royal residence in Europe. By the time it was finished, WWI was just getting started which eventually led to the independence of Poland in 1919 via the Treaty of Versailles. However, this was only short lived and 20 years later, the Third Reich invaded Poland which kick started WWII.
During the Second World War, Poznań unfortunately became the headquarters of a delegation for Nazi Germany and the interior of the castle was remodeled to suit the Third Reich. Kaiser Wilhelm's personal chapel was split into two offices for the terrifying governor, Arthur Greiser, and the other for Hitler as he occasionally used this as a personal residence.
Sadly, we didn't have the time to visit the Imperial Castle which is considered to be one of the best things to do in Poznań. Next time!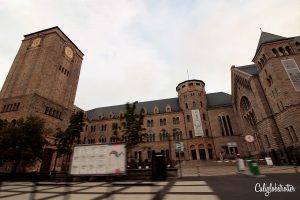 St. Stanislaw Parish Church & Jesuit College
Wrapping back round to the Old Town Square, unlike many churches throughout Poland that are built out of red brick, you'll come to a pretty in pink Parish Church called St. Stanislaw squeezed in one of the many alleys leading to the main square. If you appreciate amazing architecture and artwork then take a peek inside at the monolithic interior with gigantic columns and high alter piece. The strange thing is, there is no cupola, but rather a painting of a cupola on the ceiling which makes for a strange illusion. The church was originally built as a Jesuit chapel and the former Jesuit college and monastery stand nearby with an inner courtyard filled with benches for locals and tourists alike to take a rest.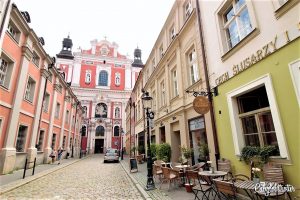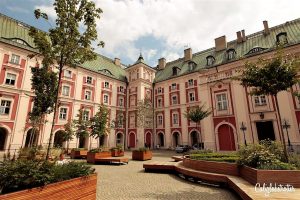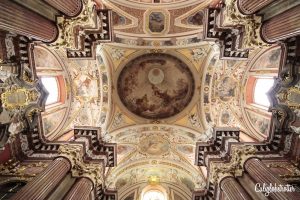 Cathedral Island
Ostrów Tumski (Cathedral Island) is the oldest part of Poznań where the country's first church was built in 966 shortly after the country adopted Christianity and the baptism of the first king of Poland, Miesko I. Like many churches you'll see throughout Poland, the church is designed in a pre-Romanesque style with red brick. It was once considered the city center, but over time, the city grew up around the Old Market Square.
The church is considered to be a vital historical site to the country as it played a huge role in the spread of Christianity after the king converted from Catholicism and was later recognized by the Holy Roman Empire and the Pope. This was a defining moment in the creation of Poland as a nation.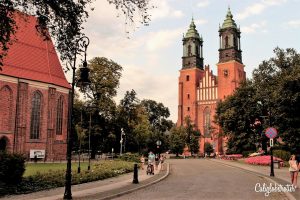 What to eat in Poznań
Near St. Stanislaw Parish Church, you'll find one of the top cafes in Poznań, a gorgeous cafe called Weranda, which is actually a chain. So, if you're looking for a unique place to eat in Poznań, this is it! What I especially loved about this cafe was that the interior decor was incredibly unique and vibrant, making for a picturesque environment while sipping on my Rose iced latte! Yes, I'm still on my rose flavored anything kick. To be honest, I really wanted the very American style pancakes with bacon and maple syrup, but that's only available for breakfast! (More on What to Eat in Poland here)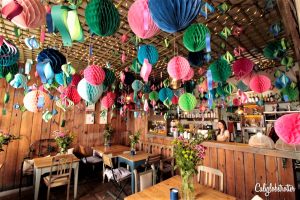 Near the Fountain of Apollo, we sat down at one of the many Polish restaurants which line the Old Market Square, Dom Polonii Stowarzyszenia, for traditional Polish cuisine. We enjoyed two different platters of pierogi – traditional stuffed dumplings with a side of sauerkraut and bacon bits. You absolutely NEED to try Pierogi while in Poland!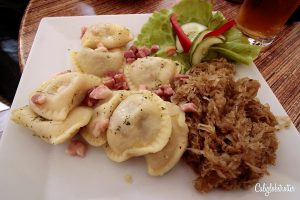 St. Martin's Croissant
Not so much a where, but a what. If you're looking for things to eat in Poznań, then it is absolutely 100% ESSENTIAL to find, buy & devour possibly not one but two of Poznań's famous croissant, St. Martin's Croissant. It's so special it can ONLY be made in Poznań. Unlike normal croissants, these are jam packed with almond paste, nuts and poppy seeds and come in a unique shape. Just off the corner of the Old Market Square, near the Fountain of Neptune on Paderewskiego Street, you'll find a small little one woman bakery shop selling fresh croissants. We went back and bought seconds for our breakfast the next morning. If you have more time, consider taking a cooking classto learn to make these special croissants at Rogale.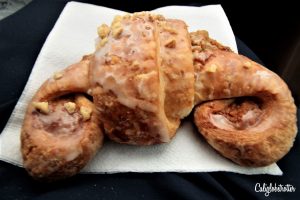 Pyra Bar 
Pyra Bar, one of the best restaurants in Poznań, came highly recommended to me by fellow travel blogger, David from Travelsewhere as being a delicious place to grab some grub, especially if you like anything potato related. Unfortunately, we didn't have enough time to make it here, however, there is also another in Gdańsk.
Where to stay in Poznań
⭐⭐⭐⭐ Hotel DeSilva Premium Poznań – If you're looking for the best place to stay in Poznań, then look no further. A relatively new hotel just feet from the Old Market Square, we stayed here not just because of the private parking, air-conditioning and comfy rooms, but because of the added bonus of the awesome wall mural of the two goats of Poznań on the side of the hotel.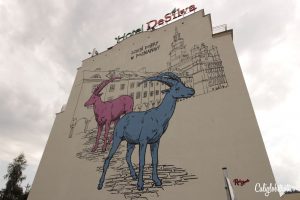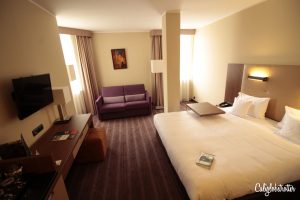 Overall Experience
We loved it! Winner winner, chicken dinner! Poznań was a wonderful city and I wish we had had more time to stay longer. There are many things to do in Poznań and if we had stayed longer, I would have gone to Malta Lake not far from the city, done a brewery tour at the Lech Brewery or visited the The Unrecognized at the Cytadela Park. I would have also liked to have done a tour of the Imperial Castle, but when you're suffering from two heel spurs in one foot, the thought of more walking just doesn't sound pleasant.
If you're interested in visiting Europe and are looking for more information, I highly recommend using the DK Eyewitness Travel Guide: Europe! Without these guides, I would be lost! This is my travel Bible as well as some of my favorite cook books and the Ultimate Foodie Book!!
Disclaimer: This post contains affiliate links. If you click on one and make a purchase, I might make a little extra spending money, at no extra cost to you. As always, all opinions are my own and these products/services have been found useful during our travels and come highly recommended to you from yours truly!
Day Trips from Pozńan:
A Foodie's Guide to Eating in Poland 
Where to Find Gdansk Street Art
Experience the Charm of Wroclaw: What to See, Do & Eat
The Dwarfs of Wroclaw: How Many Can You Find?
Liked this post? PIN IT FOR LATER!!