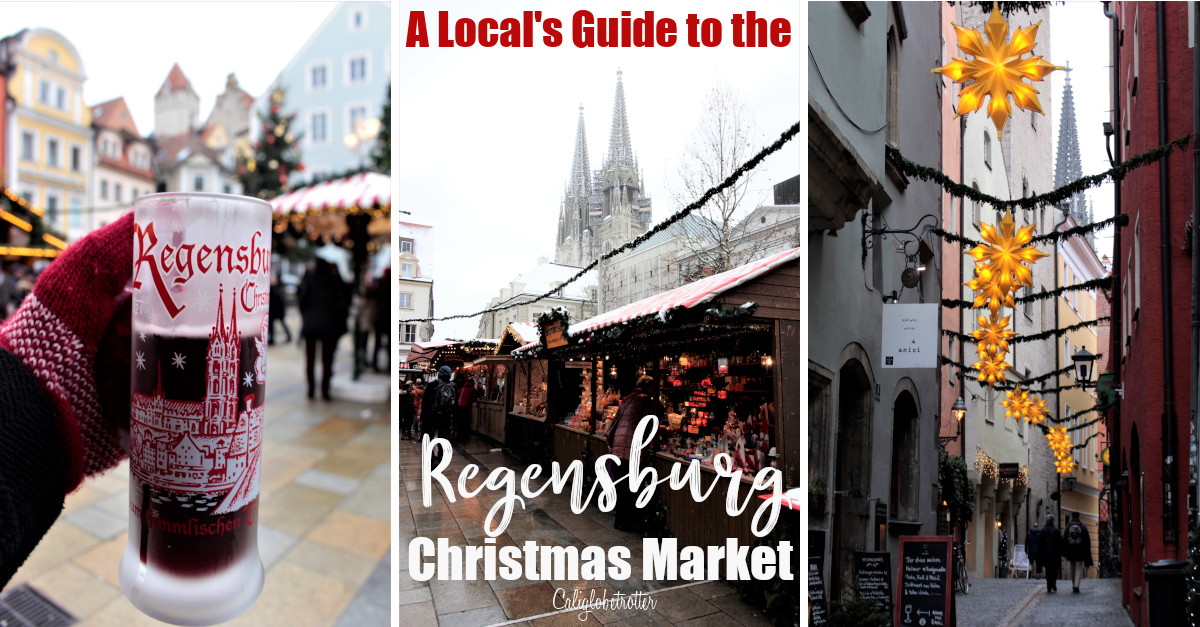 Disclaimer: This post contains affiliate links. If you click on one and make a purchase, I might make a little extra spending money, at no extra cost to you. As always, all opinions are my own and these products/services have been found useful during our travels and come highly recommended to you from yours truly!
There are few towns or cities in Germany which managed to survive the Second World War practically unscathed and Regensburg is one of the lucky ones. The town is already incredibly picturesque with small winding alleys zigzagging every which way and a glorious cathedral dominating over the city making you feel like you're stepping back 2,000 years in time.
Yet, when Christmas comes around, the town becomes even more remarkably beautiful with Christmas stalls snuggled up against the Neupfarrkirche with their red and white stripped roofs and twinkling lights shining brightly. Best of all? Regensburg's Christmas Market won the "Best Christmas City" for Christmas lights in 2017, making it for sure, one of the best Christmas Markets in Germany!
Love Romantic Christmas Markets? PIN IT FOR LATER!!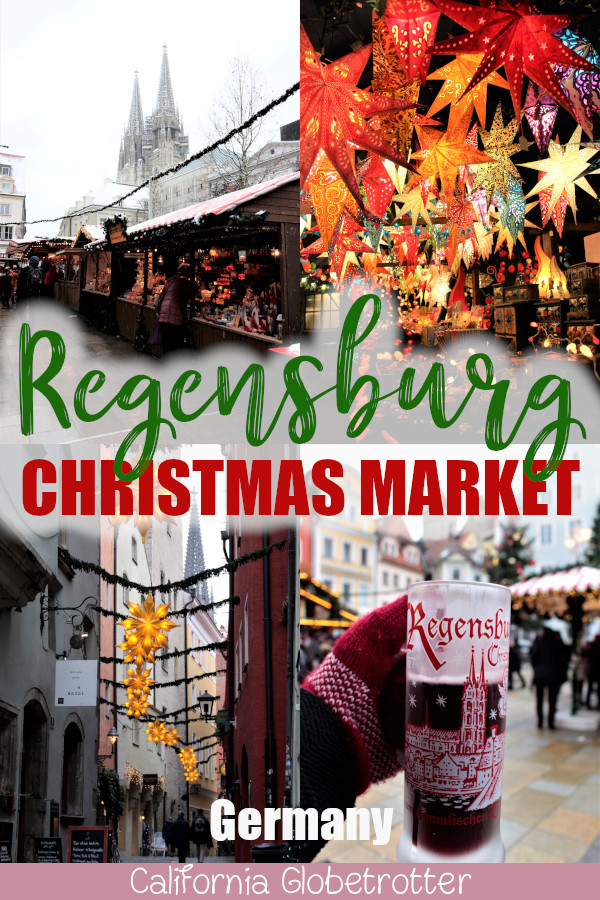 How to AVOID Looking Like a Tourist in Europe
A COMPLETE Guide to the Historic Town of Regensburg by a Local! – Me!
What makes Regensburg special is that there are 4 markets spread throughout the town. Visit the more traditional and most popular market in the main square or stroll through Lucrezia Markt for handcrafted items. If you're looking for a special market with a plethora of unique items and gifts, consider a visit to the Thurn and Taxis Christmas Market for an unforgettable experience! But, don't forget to do your fair share of sightseeing in Regensburg while you're here! Stop by the impressive Regensburg Cathedral, one of the main things to see in Regensburg, and admire the unique mismatching features on its facade! Santa showed up while I was walking around!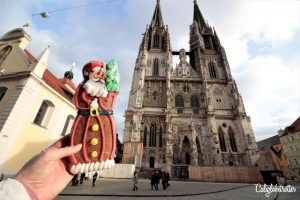 Regensburger Christkindlmarkt Neupfarrplatz
The main Christmas market snuggly wraps itself around the 500 year old Neupfarrkirche, with the cathedral dominating the skyline, over looking the markets and there are tons of stalls for good food, lots of Glühwein and knickknacks to buy for gifts! The market here was first mentioned as far back as 1791 and was recently voted the most popular Christmas market in 2015! The sweet sweet smell of roasted chestnuts, gingerbread cookies and warm mulled red wine wafts through the air and the laughter of children fills the air!
Opening Dates: November 18th – December 23rd, 2022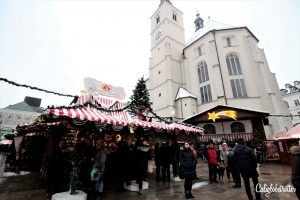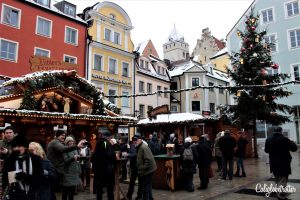 Neupfarrplatz is the place to be, especially in the evenings when children choir groups perform on the small stage to a crowd of thirsty Glühwein drinkers, usually between 5-6pm. On special days, especially December 6th which is St. Nikolaus Day, you may see St. Nikolaus and Knecht Ruprecht walking around town. 
I was particularly excited to find Glühgold this year! It's a mixture of white wine, spices and tiny pieces of gold! When I saw it, I knew I had to try it and I must say it was gooood! Too bad it didn't make me rich though, but it is without a doubt one of the best things to drink at a German Christmas Market!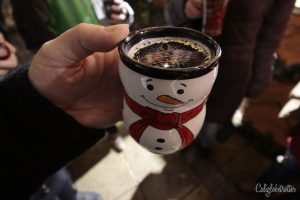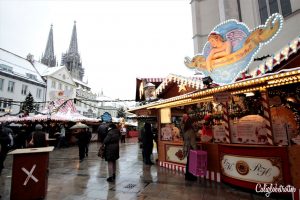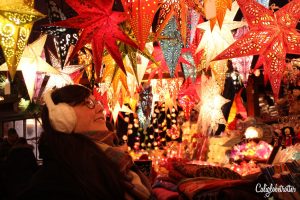 Strolling around the Neupfarrplatz market, you'll find many traditional gifts and souvenirs such as Räuchermann (Smoking men) in different outfits such as Santa, a Bavarian man, cooks and more, as well as other items like ceramic half-timbered houses, Christmas ornaments and decorations, which are all some of the most traditional German Christmas souvenirs you can get at a market!
If you're wondering what to eat at a German Christmas Market, you'll also find many wooden stalls which cater to hungry Christmas market goers with a variety of sausages, fish sandwiches, sweet desserts and of course, a plethora of Glühwein stands. Take a stroll around and decide which stall has the prettiest cup if you plan on keeping one as a souvenir! My personal favorite is the cute little boot cups! But don't stick to just one stall, each one here has a different cup and there are many to choose from!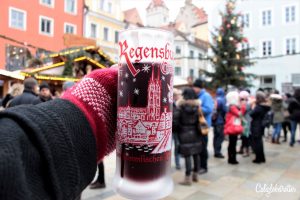 There are also two carousels for the little ones to ride around on. A smaller carousel for the little little tots and a slightly larger and more elegant one that every adult wishes they could ride on but can't.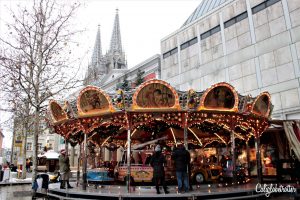 **Special Tip: After you have strolled around the Neupfarrplatz Christmas market, head to the Galleria Kaufhof. Head to the top floor to their restaurant which has a balcony on the rooftop for the most amazing view not just over the Christmas Market but even a great full frontal view of the majestic Regensburg Cathedral. For the first time, beginning in 2017, you can now enjoy a cup of Glühwein while enjoying the view from the top!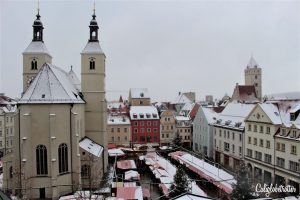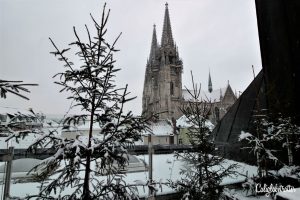 The allies are lit up with romantic Christmas lights, stringing their way around town making for en evening stroll with a loved one incredibly memorable as you make your way from one market to the next. I personally think we have some of the sweetest Christmas lights in Germany!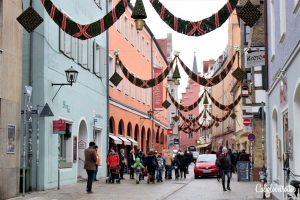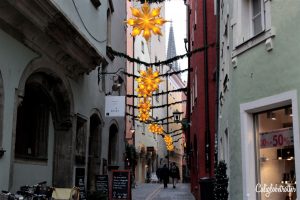 Lucreziamarkt at Kohlenmarkt & Haidplatz
Opening Dates: November 30th – December 23rd, 2018
In a small square near the Rathaus (city hall) is the Kohlenmarkt Christmas market, also named the Lucreziamarkt. Between these two markets, craftsmen and women set up their own stalls and sell handmade Christmas gifts.
It's here that you can find Glühbier, one of the most unique things to drink at a German Christmas Market. It's warm malted beer with an interesting taste. Glühbier is definitely one of those things that you either love or hate and it's certainly not everyone's cuppa tea! But I do love it!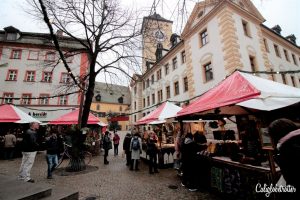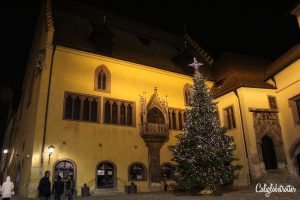 Afterwards, stroll up towards the Rathaus, for a great photo op in front of the big tree before heading to the Haidplatz Christmas market. The tree is its most beautiful in the evening when the lights are turned on! 
Once you reach Haidplatz, you will have arrive in one of the most beautiful squares in Regensburg with each building a different color and styles. The small market here, also known as the Lucreziamarket, is the extension of handmade Christmas knickknacks stalls. All gifts sold here are high-quality self-designed items by the merchants.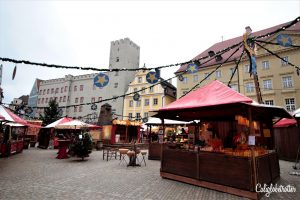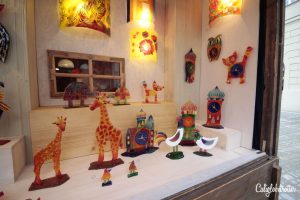 Krampus in Regensburg
One of the less romantic bits of the Regensburg Christmas Market is when Krampus come to town! They are predominately found in the southern state of Bavaria and their sole purpose is to frighten the sh** out of you while walking around town, stomping their feet and coming up behind unsuspecting people. Krampus are half goat, half demon who, during the Christmas Market season, punishes children who have misbehaved as part of a tradition that dates back to pre-Christian times. Luckily, it's only once a Christmas season they make an appearance in Regensburg!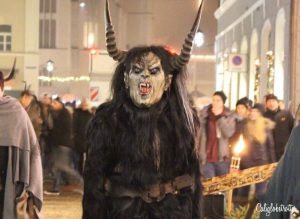 Advent Market in the Katharinenspital
Opening Times: November 26th – December 23rd, 2018
After you have hit up several of these markets, it's worth it to head over the Steinerne Brücke (Stone Bridge) over the Danube River to Spitalgarten, which during the summer is a thriving biergarten. Now, come the holiday season, it is turned into another special Christmas market with lots to offer!
Not only does the Spitalgarten Christmas market have your traditional gifts and Glühwein, but it has much more to offer than other markets throughout Regensburg. Right off the bat, you can enjoy a Feuerzangenbowle which is a Glühwine with a sugar cube and rum lit on fire! Definitely worth a try if you're looking to go wild and one of the coolest things to drink at a Christmas Market! While also here in this market, you can find Schoko-Churros! As a Californian who grew up with a Mexican influence in food, I was quite excited to find Churros at this market with unlimited chocolate refills for dipping!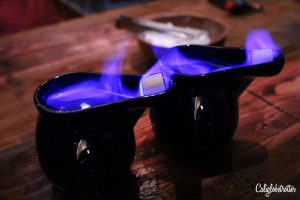 One last special qualities of this market is that it offers a great view of the Regensburg Cathedral off in the distance lit up in the night! Oh an of course, you can also find some "Liebezauber" aka Loooove Potion if you need a little help in the romance department!
Romantic Christmas Market at the Schloss Thurn & Taxis 
Opening Times: November 28th to December 23rd, 2018
The palace is still home to a noble German family and therefore it's not often that visitors can stroll through the palace grounds freely, however there are a few times a year it does open to the public. The most magical time to visit the Thurn and Taxis Castle is during the Christmas market season when the grounds are turned in a romantic playground for hopeless romantics.
You will have to pay a small fee to enter, but trust me, it's worth it for the unique gifts you can find here that you won't find anywhere else! While here, enjoy a the Champagne Pavilion where you can even find Bulleit (a Kentucky Bourbon) mixed with apple juice and cinnamon, take a stroll through the park with twinkling lit paths or even admire the llamas. 
On special occasions, Princess Gloria from Thurn and Taxis will make an appearance, either by opening the market or by doing a special reading of a Christmas story.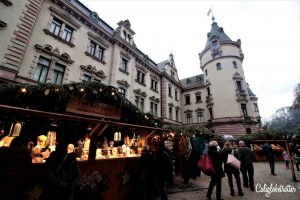 Fit pits are sporatically located throughout the market either the stand around and warm up or sit down and have a chat by the fire. Either way, you'll leave smelling like my favorite winter smell! You'll find that the market spreads to every crevice of the castle, all the warm to the far back tower and into the inner courtyard.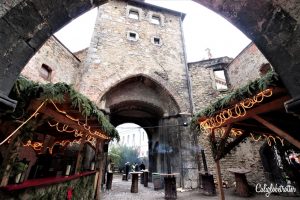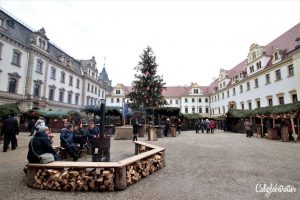 OPENING HOURS
Sunday – Wednesday 12pm – 10pm, Thursday – Saturday 12pm – 11pm
PRICES
Monday 4€
Tuesday – Friday 7 €
Saturday – Sunday 9,50€
Children & disabled 2,00€
If you're able to stay in Regensburg later in the evening, consider visiting the market between 9-11pm and the entrance fee drops to 2€ and the crowds are less making for a more intimate experience.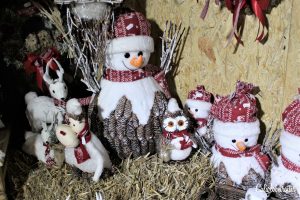 Having lived here for several years and having had quite a few friends and family come for a visit, I know all the best hotels for the best stay!
⭐⭐⭐⭐ – Eurostars Park Hotel Maximilian – By far the most impressive hotel in Regensburg with a soft yellow and white stucco facade, the hotel offers absolute comfort and class in the heart of the Old Town!
⭐⭐⭐⭐- Hotel Bischofshof am Dom – Located just feet from the Regensburg Cathedral, you'll be right in the heart of the city center. With large and luscious beds, you'll have a comfortable sleep! We loved it so much, we decided to have our City Hall Wedding lunch here!
⭐⭐⭐ – Star Inn Hotel Regensburg Zentrum, by Comfort –  an affordable and comfortable stay, near the Main Station and only a 5 minute walk from the city center!
⭐⭐ – Brook Lane Hostel – Don't let the stars turn you away from this comfortable hostel, down a small alley in the heart of the city center. I stayed
If you're interested in visiting Germany and are looking for more information, I highly recommend using the DK Eyewitness Travel Guide! Without these guides, I would be lost! This is my travel Bible!
Disclaimer: This post contains affiliate links. If you click on one and make a purchase, I might make a little extra spending money, at no extra cost to you. As always, all opinions are my own and these products/services have been found useful during our travels and come highly recommended to you from yours truly!
Liked this post? PIN IT FOR LATER!
Other blogs about Christmas Markets in Germany
Germany's Magical Christmas Markets
Heidelberg's Romantic Christmas Market
Lake Tegernsee's Christmas Markets
Exploring Nuremberg's Chriskindlmarkt
Kuchlbauer Brewery's Weihnachtsmarkt in Abensberg
Esslingen's MEDIEVAL Christmas Market
Save
Save
Save
Save
Save
Save
Save
Save