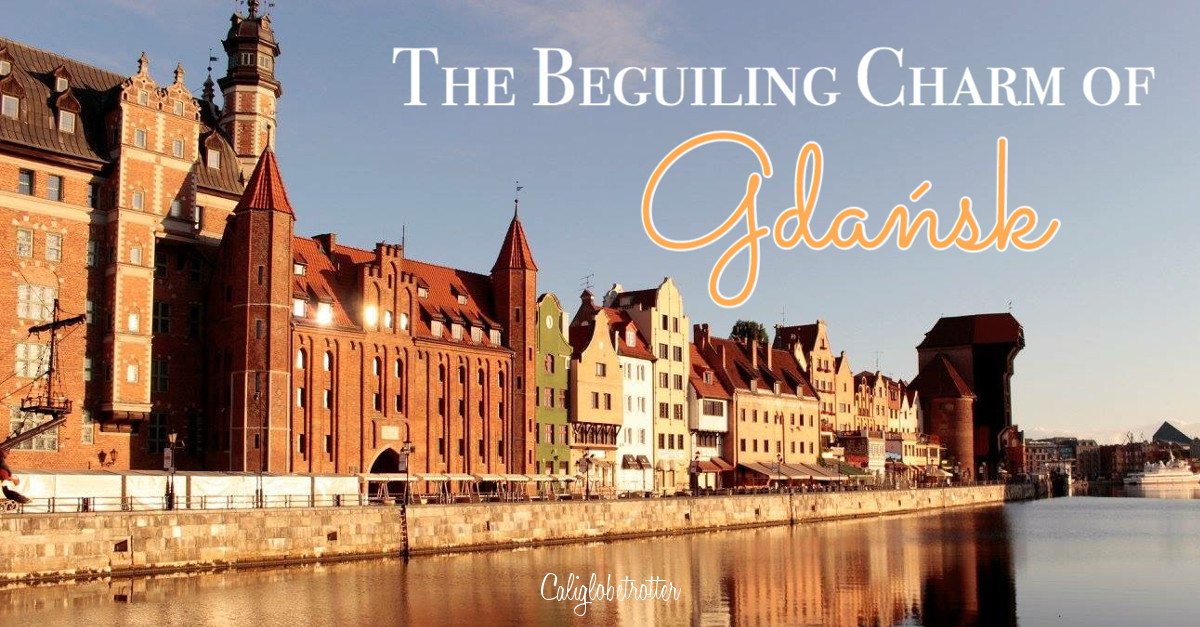 Disclaimer: This post contains affiliate links. If you click on one and make a purchase, I might make a little extra spending money, at no extra cost to you. As always, all opinions are my own and these products/services have been found useful during our travels and come highly recommended to you from yours truly!
As one of the finest cities in northern Europe along the Baltic coast, Gdańsk is a charming city loaded with beautiful architecture and waterfront views along its ports. Having had the misfortune of being the location of the first shots fired during the Second World War, it would later lay in almost complete ruin by the end of the war. Almost eight decades later, the city has been gloriously rebuilt and has so much to offer, along with the neighboring towns of Gdynia and Sopot. 
Dedicated to my friend M who showed us around her beautiful city!
A special thanks for showing us around you're beautiful city for which without you I may never have made it to! Sorry it took me 10 years to finally get there, but I see many future returns and a life long friendship! xx
Want to be beguiled by Gdańsk? PIN IT FOR LATER!!

How to AVOID Looking Like a Tourist in Europe
The Most Beautiful City Halls in Europe
Gdańsk – a city I had always wanted to visit ever since I made friends with a fellow exchange student while studying abroad in Heidelberg back in 2007. Over the last 10 years, there were multiple attempts and much discussion of visiting my dear friend, and even secret plotting being drawn up to send me there as a gift by my mother before I up'ed and moved to Europe. Needless to say, a decade later, I finally made it to visit my friend and see her beautiful hometown. And boy, I fell deeply in love with Gdańsk and foresee many future returns! So I forewarn you that this post is picture intense!!
While visiting Gdańsk, you may feel like you're back in the Netherlands. Well that's because there was a lot of Flemish inspired architecture built during the era of the Hanseatic League stretching from the Baltic to the North Sea. From an architectural viewpoint, beautiful red brick building, colorful faces and gilded houses slightly resembles Copenhagen, Hamburg and to some extent, Amsterdam. Though it isn't exactly a "Canal City", it offers a plethora of romantic embankments to explore or the chance to discover Gdansk by boat!
This article is now available as a mobile app. Go to GPSMyCity to download the app for GPS-assisted travel directions to the attractions featured in this article!
History of Gdańsk
Also known as Danzig in German, the city was first mentioned in 997 and was the capital of the Slav duchy of Pomerania until the Teutonic Knights took over in 1308 becoming quite prosperous. By 1361, Gdańsk would join the Hanseatic League – a trade association of Baltic towns. As a major port and an important center of trade it would become the largest and most vital port .
The city gained its independence from the Teutonic Knights in 1457 and became the Kingdom of Poland which would later be annexed by the Kingdom of Prussia in 1793, becoming part of Imperial Germany (Second Reich) in 1871. It would remain part of Germany until the end of the First World War when it once again regained its independence from the Treaty of Versailles. On September 1st, 1939, Germany invaded Poland with the first shots being fired in Gdańsk. By the end of the war, the city laid in ruins and fell under Communist control but many buildings have once been restored to their former glory.
During the 1970s, Gdańsk once again played a major role in history when anti-regime demonstrations against the country's communist leader, Władysław Gomułka, broke out. His downfall would ensue and 10 years later, Gdańsk would once again make headlines at the Gdańsk Shipyard where the birth of the Solidarity trade union movement would take place. They opposed the Communist regime and by 1989 would defeat Communism and encourage similar protests throughout the Soviet bloc. Eventually Lech Wałęsa would become the first President of Poland in 1990. Today, Gdańsk is one of the top destinations to visit in Eastern Europe!
What to See & Do in Gdańsk
Old Town Gates
Considering that you'll likely pass through one of these gates to first enter the most popular part of the city, I'll begin with these. Coming from the east, we first entered through the impressive Green Gate along the River Motława, modeled after the Antwerp City Hall. It was built as the residence for Polish Kings upon their visits, but only used once, however, it was the presidential office of Lech Wałęsa. Unfortunately, the weekend we went, there was a market set up throughout the town. At the opposite end, you'll find the Golden Gate, a ceremonial gate which embodies the town's golden age.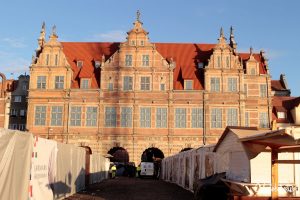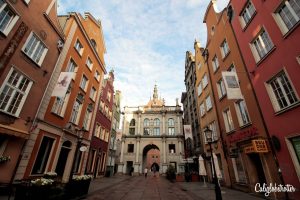 Next to the Golden Gate is the old Prison Tower which dates back to the 14th century as part of the town's original medieval fortifications. I was locked up for stealing my husband's last pierogi.
Long Street & Long Market
Unlike most European cities, Gdańsk doesn't have a "Main Square", however, the city does have a long pedestrian zone. Stretching from the Golden Gate at the west end and the Green Gate at the east end, Długi Targ and Długa is the Gdańsk's most popular and attractive street and was once the residence of the city's wealthiest citizens. Completely destroyed during WWII, the street has been meticulously restored as much as possible, while a remaining few still need a little TLC.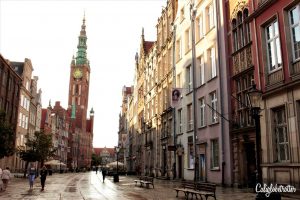 Clearly, the hustle and bustle here meant that this was the beating heart of the city with tourists, cruise ship goers and locals all merging together to admire the beautiful architecture and perusing the special market or enjoying the few restaurants. Getting a photo without wall to wall people meant getting up early in the morning. To be honest, seeing Gdańsk in the morning was much more enjoyable!
Located where the two streets converge is the Main Town Hall. First built in 1298 and rebuilt and remodeled several times, it's final appearance is in the Dutch-Flemish Mannerist style that is so prominent throughout the city which today now houses the History of Gdańsk. Next to it is the Fountain of Neptune, a popular meeting point in front of the Artus Court– a which was once a meeting point for the wealthy citizens of the city but is today still a popular meeting point in Gdańsk!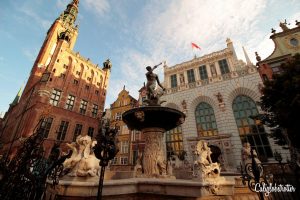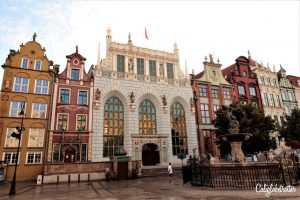 The Great Arsenal
Quite possibly the loveliest building in Gdańsk in my opinion is the Arsenal, a fine example of Dutch Mannerism with a finely decorated facade built between 1600-9 as the armory. Today, the lower floor now houses an art gallery as the city is not sure what to do with it as it's to big and too expensive to rent out.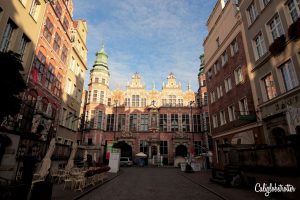 Church of St. Mary
As the largest brick-built church in Europe, the Church of St. Mary is an impressively large beast which took 150 years to complete. Like many other buildings in the city, the church was destroyed during WWII but was beautifully rebuilt. The interior combines the Gothic, Mannerist and Baroque styles. Consider climbing a ton of stairs to the top of the tower for impressive panoramic views over Gdańsk. Unfortunately, not having enough time and not wanting to drag my friends up the tower, we opted out of climbing the tower.
Amber Street
Ulica Mariacka (Amber Street) is regarded as Gdańsk's finest street which was also once the residence of wealthy citizens. Each building has ornamented facades and raised terraces with parapets that were once common to find along Long Street and Long Market. Considered to be one of the most picturesque streets in the city, it comes as no surprise that today, you can find local merchants selling their beautiful amber jewelry here. Shopping for amber is definitely one of the top things to do in Gdańsk. It's here you'll also find the oldest building in the city! Not far from here is St. Bridget Basilica whose entry fee will pay for the ambitious project of Henry Jankowski of an amber alter which is yet to be completed.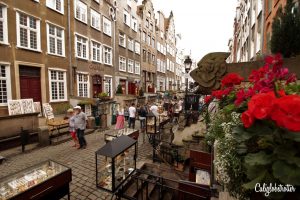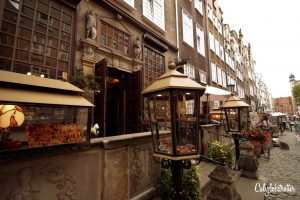 Gdańsk Crane & the River Motława Embankment
Located along the River Motława embankment is the Gdańsk Crane, often considered to be an iconic landmark of Gdańsk and one of the most unique medieval structures in Europe. It was built in the 14th century and combined the functions of both city gate and a port crane that was used to load and unload goods as well as attaching masts to ships.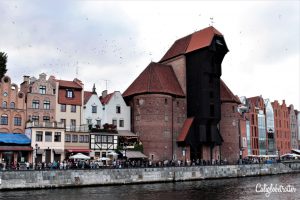 Walking along the embankment, you'll find several cafes and restaurants. While strolling the promenade we went on the hunt for traditional Polish cuisine and our friends took us to Restauracja Cała Naprzód which offered pretty amazing views over the river. This restaurant will forever hold a special place in my heart for having introduced me to the most delicious dark, chocolaty beer of my life: Książęce's Ciemne Łagodne! (More on food to eat in Poland here)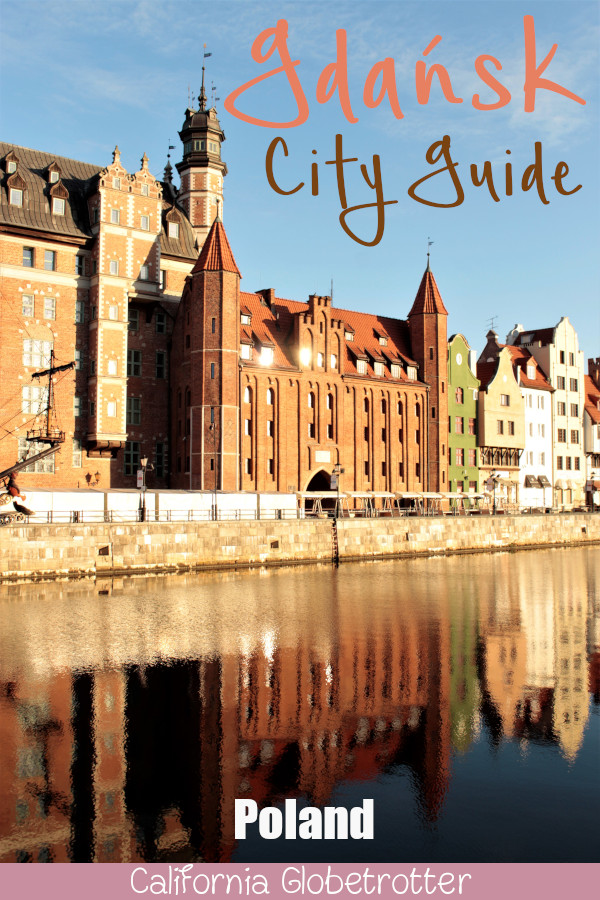 Gdańsk Old OLD Town
A short walking distance from the heart of the city, is the Old OLD Town which seemed a little less void of tourists. Located around the Raduna Canal, which was dug in 1350 by the Teutonic Knights, it is full with traditional buildings with a simpler architectural style of red brick. Among them are the Old Town Hall, the Great Mill, St. Catherine's Church and a few other churches.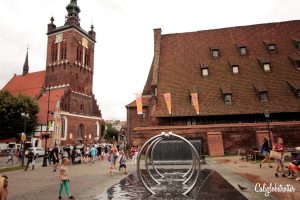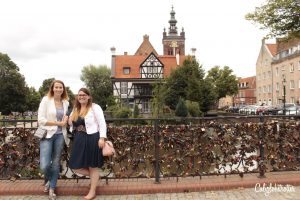 Keep an eye out for Hevelions!
Like Wroclaw, Gdańsk has found their own "gnomes" to place around the city. Relatively new as there are currently 5-10 of the 50 to be, a Hevelion is a combination of a lion which has been the symbol of the city ever since 1457 and a Hevelius, an astronomer who was born in the city. While walking around the Old Old City, I spotted this rather chill looking business Hevelion near the Old Mill which was once a thriving marketplace. I have a feeling that sooner or later the town will be taken over by these adorably fun sculptures! (More on the dwarfs of Wroclaw here)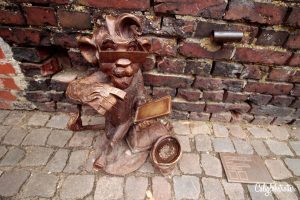 Monument to the Shipyard Workers
Even further afield and void of many tourists was the site of the Shipyard Workers Rebellion. Now outside of the shipyard is a monument dedicated to the workers' strike of 1980 who lost their lives during the demonstrations. After 1989, the shipyard endured some hard times which included a bailout, the workforce decimated and the end of the production of large ships. Today, you can visit an exhibition on the history of the Gdańsk Shipyard which led to the rise of the Solidarity Trade Union and resulted in the fall of Soviet Empire. If you're looking for an educational visit to Gdańsk, then consider visiting the Shipyards!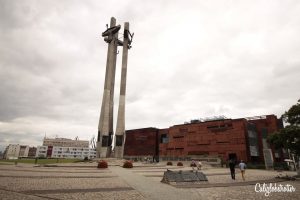 Dinner at Pierogarnia Mandu
For dinner, my friend took us to Pierogarnia Mandu which is the best Pieorgi in Gdańsk and trust me, it's worth the wait! There are two locations in Gdańsk! Here, you can even try fried Pierogi called Mazurskie or you can try any of the other variations like the Russian style dumplings, Pielmieni. (More on Polish Cuisine here)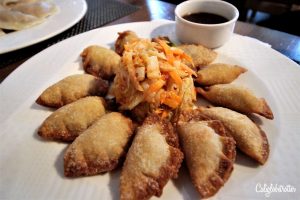 Appetizers & Snack Bar
Later that night, our friends took us out for drinks and late night snacks, the Polish way! 'Zakąski Przekąski' (literally 'Appetizers & Snacks' bar) is the trendy new bar which is open 24/7 and decorated in Communist nostalgia. Considered to be the "Polish Tapas", you can get cheap, local appetizers which are usually served cold with a vodka drinks. Pictured left to right: Herring (Śledź), Tarar (Tatar Wołowy) and Pork in Jelly (Zimne Nóżki). Not pictured: the amount of vodka shots we drank! This is honestly one of THE most popular things to do in Poland!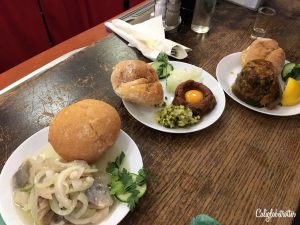 Where to Stay in Gdańsk
Dom Muzyka⭐⭐⭐⭐ – Located just a 5 minute walk from the promenade and heart of the city center, our lovely hotel was once the former Prussian military barracks which can be seen in the layout of the building. The rooms offer simple but comfy decor while the breakfast room was loaded with the best breakfast buffet we've ever enjoyed! This was honestly the best place to stay in Gdańsk for an affordable price and good location!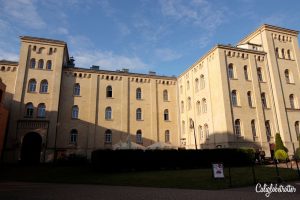 If you have more time:
Where to Find Street Art in Gdańsk
Prior to visiting, I had discovered there was a ton, and I mean A TON of street art in Gdańsk and told my friend I'd love to find some! Well she came through and took us for a little drive around a neighborhood not far from the city center called Zaspa. Turns out, there's even a guided street art tour! These large apartment block complexes were predominately filled with shipyard workers and I guess a collection of art helped to express their feelings. (More on Gdańsk street art here)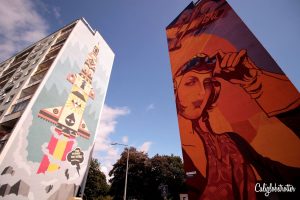 Seaside Fun in Sopot
Just a mere 10 minute drive from Gdańsk is Poland's most popular seaside resort and spa town with an impressive wooden pier which stretches out into the sea and is the longest wooden pier in Europe. Established as a seaside resort in 1824, it quickly became popular with the wealthiest people in Europe and generally an easy day trip from Gdańsk. There are many things to do in Sopot, beginning with The Grand Hotel which has welcomed guests such as Marlene Dietrich, Fidel Castro, Adolf Hitler, Vladimir Putin and Greta Garbo. Also of interest here is the Crooked Housewhich is a Costa Coffee built in 2004 and is considered to be one of the most photographed strangest buildings in the world and looks like something straight out of a Dr. Seuss storybook!
We also ducked into Pijalnie Czekolady Wedel, one of the top cafes in Sopot, to escape the light rain upon which we discovered this chocolatey sweet shop offered Chocolate Pierogies and Rose Flavored Hot Chocolate!
Gdynia
Yet another quick drive from Gdańsk to Gdynia – Poland's popular seaside port, will make for an easy Baltic beach excursion. Until 1918, Gdynia was a small fishing town which has blossomed into one of the newest developed beach towns. Today, you can walk along the beach promenade or take a spin on the Gdynia Eye which is the largest observation wheel in Poland! We dipped our toes into the Baltic Sea and discovered the plethora of jellyfish lining the shore which didn't seem to both anyone before we enjoyed a few beers at the Gdynia Port Brewery, one of the best bars in Gdynia!
Westerplatte
It was here where the first shots of World war II were fired by the Germans. They expected to take the garrison within hours, but it would lead to a seven day battle which today is honored by the Monument to the Defenders of Westerplatte. Their resistance became a symbol of Polish resistance against the Nazis. Today, the large park still has ruined bunkers and barracks as a reminder to what the 182-man garrison endured.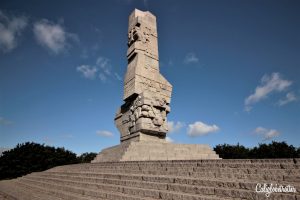 If you're interested in visiting Europe and are looking for more information, I highly recommend using the DK Eyewitness Travel Guide: Europe! Without these guides, I would be lost! This is my travel Bible as well as some of my favorite cook books and the Ultimate Foodie Book!!
Disclaimer: This post contains affiliate links. If you click on one and make a purchase, I might make a little extra spending money, at no extra cost to you. As always, all opinions are my own and these products/services have been found useful during our travels and come highly recommended to you from yours truly!
Day Trips from Gdańsk:
A Foodie's Guide to Eating in Poland 
Where to Find Gdansk Street Art
Experience the Charm of Wroclaw: What to See, Do & Eat
The Dwarfs of Wroclaw: How Many Can You Find?
Liked this post? PIN IT FOR LATER!!