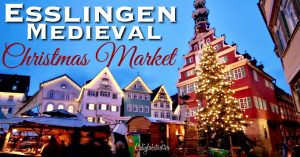 There are few towns and cities in Germany which escaped the destruction of the Second World War, and those that did, managed to survive with little to no damage. Esslingen am Neckar is one of those few towns which survived completely in tact, therefore, preserving its very special and unique medieval appearance. The town is home to over 200 picturesque half-timbered houses which feels like one is stepping back into history, 500 years before. And if you're looking for unique Christmas Markets in Germany to visit, this is it! When Christmas comes around, the town puts on a show like no other. Medieval tents to peruse through searching for the best armor or perhaps the best stall to grab a cup of honey met (mead).
Want to visit the BEST Medieval Market in Germany? PIN IT FOR LATER!!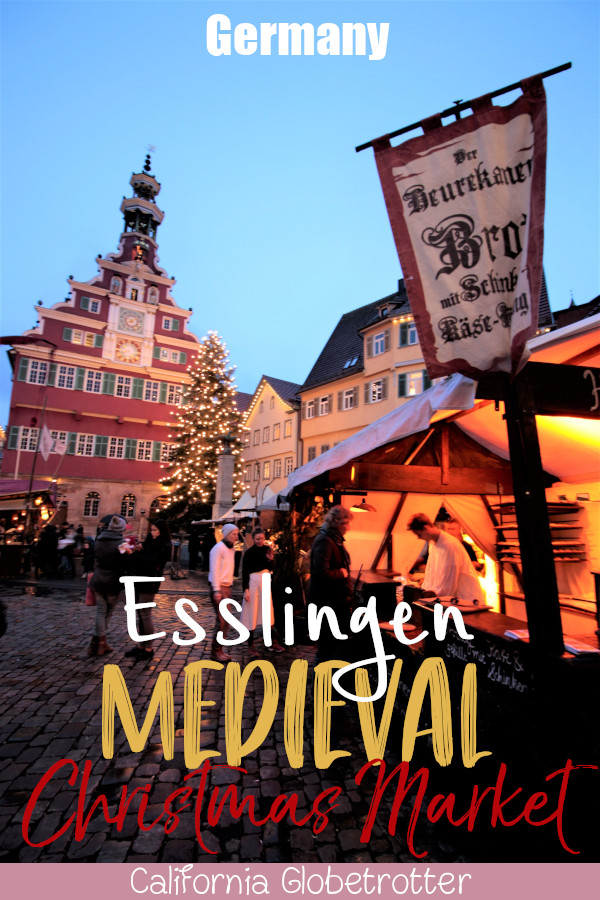 How to AVOID Looking Like a Tourist in Europe
35 Photos to Inspire Christmas in Europe
You'll find this amazing market is the perfect Christmas Market day trip from Stuttgart, just a mere 20 minute train/car drive away, spread throughout the town with a the beautiful backdrop of the impressive Rathaus (city hall).  Upon entering the market, you'll pass through what looks like perhaps a medieval entry with two towering guard stands. Directly in front of the Rathaus is an impressively tall Christmas tree with lights, which when thinking about it, now seem out of place.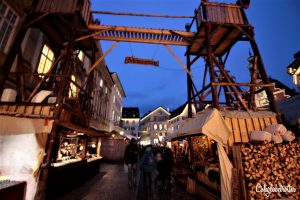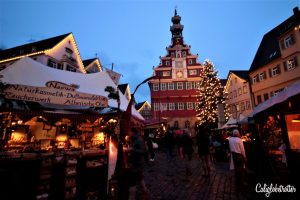 When: November 22nd – December 22nd, 2022
Opening Times: Opening Day 4 pm – 8:30pm, then Sunday – Wednesday 11 am – 8:30pm, Thursdays – Saturdays 11 am – 9:30 pm
We planned to visit on the opening day of the Christmas Market and were greeted to a small stage performance by musicians and the town mayor giving a welcome speech to the visitors.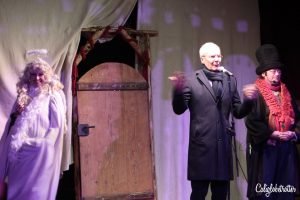 **TIP** Check the Program of the Christmas Market to catch any special events here.
With over 200 booths, merchants in historical costumes reenact selling their goods and wares just has they did hundreds of years ago. Blacksmiths, rope-makers, broom-makers, glass-blowers basket-makers and more demonstrate their craftsmanship by illustrating their techniques used to make their goods. It's an amazing experience to stop and watch a blacksmith pound away at a piece of iron while it's glowing hot and create something wonderful within a few minutes. 
More on the Medieval Wine Town of Esslingen am Neckar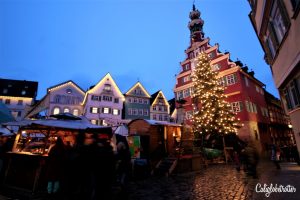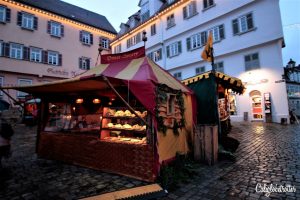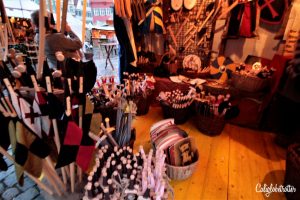 You'll also be able to enjoy street artists entertaining market goers with juggling, music and other funny things. Locals will be dressed up in traditional costumes as they really bring this fairy tale medieval Christmas market to life making it one of the most family-friendly Christmas Markets in Germany! It's definitely fun for the whole family! And the kids will certainly get a kick out of the costumed towns people!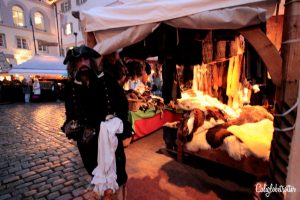 You'll be sipping on your hot Glühwein or Glühbier from traditional clay cups with the imprint of the Rathaus (City Hall) on it, but be careful, they're hot without gloves! And let's just be honest right now, half of the reason why we go to the markets is to drink massive quantities of one or the other and collect the cups, am I right??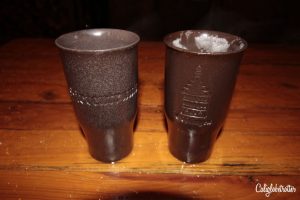 Large torches are set up throughout the market to illuminate the Christmas market and medieval banners and flags are strung to and fro but the only thing I was missing was jousting and a prince charming!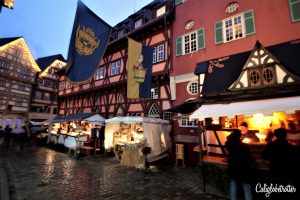 The town doesn't skimp out on any small details, as even the bathroom was a medieval wagon with soap that needed to be grounded in order to wash your hands! 
Behind the Rathaus, the market flows into another square of yet more fun and interesting things to do. From participating in archery to boozing it up in a medieval hot tub with curious onlookers all jealous to sipping on yet more Glühwein or perhaps you might be interested in discovering your destiny by doing a Tarot Reading.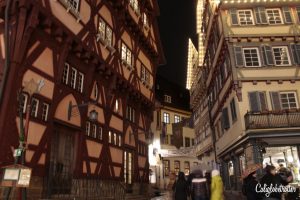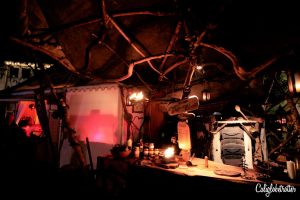 The Traditional Modern Market
While in Esslingen, you'll also find a more traditional Christmas Market with modern gifts, stalls and Glühwein which can be bought from a lovely stall with a Christmas pyramid similar to Heidelberg's. You'll find doilies, nutcrackers and so much more here.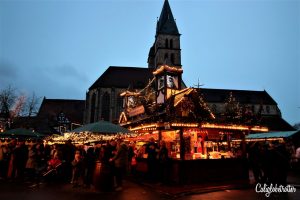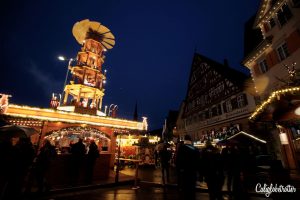 If you're interested in visiting Germany and are looking for more information, I highly recommend using the DK Eyewitness Travel Guide! Without these guides, I would be lost! This is my travel Bible!
Disclaimer: This post contains affiliate links. If you click on one and make a purchase, I might make a little extra spending money, at no extra cost to you. As always, all opinions are my own and these products/services have been found useful during our travels and come highly recommended to you from yours truly!
Christmas Markets near Esslingen:
Everything You NEED to Know About German Christmas Markets
Exploring the Nuremberg Christmas Market
Heidelberg's Romantic Christmas Market
Germany's Magical Christmas Markets
Liked this post? PIN IT FOR LATER!!